Yet another prosumer/enthusiast camera review… this one is on the Coolpix P6000, Nikon's top end compact digital camera with a wide-angle lens, lots of manual controls and built-in GPS. Be sure to check out full-sized photos taken straight out of the camera in the Nikon Coolpix P6000 photo gallery as well. Hit the link for the full review of the camera.
DPInterface Nikon Coolpix P6000 Review
Brad Soo – March 16th, 2009
The Nikon Coolpix P6000 is one of few compact cameras recently to be aimed at photo enthusiasts and manual control lovers with a wide-angle zoom lens, 2.7 inch LCD with an optical viewfinder, expandability via accessories, a flash hotshoe and of course full manual controls. Besides offering more megapixels than you can count with your fingers (almost 14 megapixels), what sets the Coolpix P6000 apart from its competitors (*ahem*Canon and Panasonic*ahem*) is its built-in GPS functionality which allows photo geotagging and Ethernet port for direct uploading of photos to the web. Let's find out how the P6000 compares against competition now.
Size and Weight
(232.7) 109.1 x 77.7 x 45.9 mm (350 g) - Canon PowerShot G10
(192.8) 89.5 x 64.3 x 39.0 mm (164 g) - Kodak EasyShare Z1485 IS
(214.5) 107.0 x 65.5 x 42.0 mm (240 g) - Nikon Coolpix P6000
(195.3) 108.7 x 59.5 x 27.1 mm (265 g) – Panasonic Lumix LX3
All the weight figures above show when the camera is empty without a battery or memory card
The Nikon Coolpix P6000 is one of the larger of the enthusiast cameras above (along with the Canon G10). It probably won't fit into your shirt or pants pocket with ease (it's too thick for that!) but putting the camera in a bag or slinging it on your shoulder/around your neck should be fine.
Box packaging
Open up the box and you'll find exactly what you'd expect (and nothing more) from a normal digital camera:
Rechargeable lithium-ion battery
Battery charger
Neck strap
USB and A/V cables
Camera software CD
User's manual
There's about 48 MB of internal memory in the Nikon Coolpix P6000 which isn't much, considering this is a 13.5 megapixel camera. The Coolpix P6000 is able to use SD/SDHC memory cards (Nikon said something about dropping compatibility with MMC cards, which rarely anyone uses nowadays anyway) so it is advisable getting at least a 2 GB card with the camera right away.
400 shots - Canon PowerShot G10
250 shots - Kodak EasyShare Z1485 IS
260 shots – Nikon Coolpix P6000
380 shots - Panasonic Lumix LX3
All the cameras above are rated with rechargeable batteries according to CIPA Standard
The Coolpix P6000 uses the EN-EL5 rechargeable lithium-ion battery and it comes with an AC adapter charger in the box (instead of a dedicated battery charger you normally see). You basically attach the charger directly to the P6000 to charge the battery in the camera. It takes a painful 3 hours to charge one battery in the camera so if you plan to buy additional batteries, you should really consider getting the OPTIONAL $25 Nikon dedicated battery charger… or else, you can't do much with the P6000 while waiting for the batteries to charge, one-by-one, in the camera.
With the LCD screen on, the Nikon Coolpix P6000 gets about 260 shots per charge (CIPA Standard) which is below average compared to other cameras in its class. You can probably squeeze more shots out of the camera if you use the optical viewfinder. Likewise, the number of shots will drop when you switch on the GPS functionality of the camera.
Accessories
As you would expect from a prosumer camera, there are many optional accessories available for the Coolpix P6000:
Conversion lens adapter (needed to attach conversion lenses and filters)
Wide-angle conversion lens (0.75X lens factor brings wide-angle down to 21 mm)
Lens filters
External flashes (only Nikon flashes will sync automatically with the camera)
Wireless remote control
Dedicated battery charger
Various camera cases
Camera Tour
The Nikon Coolpix P6000 is a solidly build prosumer camera. You'll notice the Coolpix P6000 is partly influenced by Nikon's digital SLRs – it has a customizable button, My Menu page and two custom mode dial spots. There's also a row of controls on each side of the camera so you can do a lot of things with both hands on the camera. The only issue here is lack of space for your left hand to hold the camera once you pop up the flash.
The Nikon Coolpix P6000's lens isn't anything too special and it fits in between the Canon G10 and Panasonic LX3 in terms of focal length coverage. The lens covers 28 – 112 mm in 35 mm terms which means it covers neither ultra wide-angle nor a lot on the telephoto end. The aperture range of f2.7 to f5.9 is decent on the wide-end and not very bright on the telephoto side. There's also Vibration Reduction VR (optical image stabilization) here, which is of course expected on a prosumer camera like this one.
The Coolpix P6000 has an optical viewfinder window to the left of the NIKON logo. Between the viewfinder and the sticker boasting the P6000's features are the autofocus assist/self-timer countdown lamp and wireless remote receiver; below the sticker is the microphone.
Directly above that NIKON logo is the Coolpix P6000's concealed popup flash unit. The flash is fairly powerful with a range of 30 cm to 6 m at wide-angle and maximum range of 3 m at telephoto. If that's not enough, there's a hotshoe right next to the flash for using an external flash unit.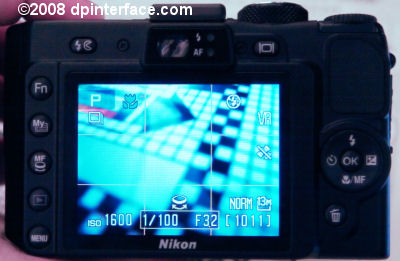 The Nikon Coolpix P6000 features a 2.7 inch LCD which has a nice 230,000 pixels. Visibilities in low and bright light were both very good. On disappointment here is the LCD shows just 97% of the scene when shooting, and I'm wondering why… Hello, Nikon, just about ALL compact cameras nowadays show 100% of the frame on the LCD!
Above the display is the camera's optical viewfinder; along with indicator lights for flash and focus status respectively next to it. The viewfinder here is decently sized (for a compact camera) – bigger than the ones found on, say, Digital ELPHs and Coolpix ultra-compacts, but not as large as viewfinders you'll find on digital SLRs. However, the viewfinder does not have dioptric correction, used to focus the image when you're not wearing glasses.
The Nikon Coolpix P6000 has several buttons on both sides… I'll cover the right side first. To the right of the viewfinder is the Display toggle button which goes through different levels of information on the LCD screen and also for swapping between the LCD and viewfinder.
There's a nice textured spot for your right thumb to rest and that's followed by the five way navigation pad:
Up – Flash setting (Auto, auto with red-eye reduction, off, on, slow sync, rear sync)
Down – Focus mode (Normal, macro, infinity, manual focus)
Left – Self timer (Off, 2 seconds, 10 seconds, remote control)
Right - Exposure compensation (+/-2 EV in 1/3 steps)
Center – OK/Set
At the bottom is a dedicated "delete photo" button.
Now we'll move to the controls on the left side. Next to the viewfinder is a button for releasing the popup flash. Then there are five buttons directly to the left of the LCD (reminds me of using digital SLR):
Function button – you can assign a shooting function to this button for quick access to changing it
My Menu – customizable menu page which holds 6 functions of your choice
Manual focus – when the camera is in "Manual focus" mode, hold this button while turning the top command dial to focus
Playback button
MENU button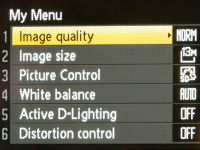 Here are the camera's My Menu (left) and Function button (right). You can put up to six of your favorite/frequently changed settings in the My Menu and also assign a single shooting option to the Function button (in this case, I have assigned ISO).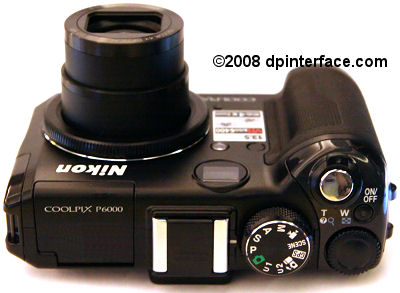 The top of the Nikon Coolpix P6000 is a little on the cluttered side but still manageable in my opinion. First there's the popup flash I was talking about (where the "Coolpix P6000" logo is located); I don't like its position because there's no space to hold the camera on the left once the flash is popped up.
Directly next to that is the hotshoe, and Nikon is kind enough to include a hotshoe protection cover with the camera. You can use any external flash with the Coolpix P6000, though only Nikon flashes will sync automatically with the camera; you can use 3rd party flashes in manual mode only. And photography enthusiasts rejoice – Nikon's wireless flash system works here, provided you have an SB800, SB900 or wireless commander attached to the hotshoe.
Close to the hotshoe is the Nikon Coolpix P6000's mode dial:
Program mode – All the settings are unlocked but the camera still decides exposure for you. Program shift is available so you can select different aperture/shutter speed combinations; Program Shift is available
Shutter priority – Choose a shutter speed (between 1/2000 to 8 seconds) and the camera will pick a matching aperture value
Aperture priority – Choose an aperture and the camera will pick a matching shutter speed
Manual mode – All the menus are unlocked AND you get full control over shutter speed and aperture. The selectable shutter speed range is expanded to a full 1/2000 to 30 seconds
Movie mode
Scene modes
GPS mode settings
Picture Bank mode
User 1 and User 2 – store two sets of frequently used settings
Automatic shooting mode
The Nikon Coolpix P6000 has built-in GPS functionality where the camera can geo-tag photos with location coordinates. The great thing about the GPS feature on the P6000 is that it WORKS. And the bad news… it only works outdoors most of the time, where the signal is clear, and even then, it is very sluggish (picking up a signal for location is measured in minutes, NOT seconds). It also decreases battery life a lot; and let me remind you the P6000's battery life isn't fantastic to begin with.
There's also the other mode known as Picture Bank which allows you to upload photos online without going through a computer. Don't mistake this function as "built in WiFi" though… there's no WiFi functionality on the P6000. Instead, you'll have to use the Ethernet port located at the bottom of the camera.
Whether anyone will use this feature is another question: The setup of Picture Bank/Ethernet connectivity is on the tedious side (at least you can do it right on the camera), uploading photos takes longer than when using a computer (probably due to the camera's limited processing power) and you can only upload photos to Nikon's "My Picturetown" site. That means you still need a computer if you wanna put your pictures on Flickr or even add captions to photos..
Clustered to the right are the camera's power button, shutter button + a zoom controller wrapped around it and command dial.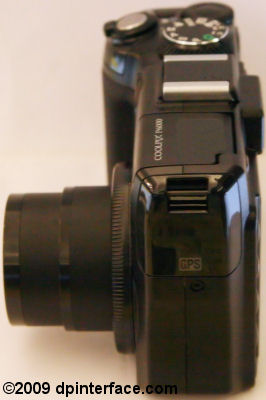 On this side of the Nikon Coolpix P6000 is the camera's GPS receiver.
The other side features two ports: one for DC-IN and another for USB + A/V out connectivity. The camera supports USB 2.0 High-speed connectivity.
The things you'll find at the bottom of the camera include a speaker and metal tripod mount (which is not in-line with the lens). There's also the battery/memory card compartment and a rubber cover over an Ethernet port – used for uploading photos online directly without a computer.
Taking pictures (Shooting mode)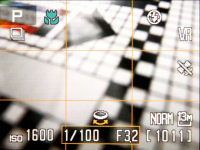 The Nikon Coolpix P6000 doesn't tell you a lot of things for a prosumer camera of this price. There's full exposure info but only a small handful of shooting details shown on-screen. There's a zoom indicator when you use the zoom lens and optional framing gridlines but no live histogram or battery indicator available here.
The Nikon Coolpix P6000 offers a LOT of combinations of image resolution and compression settings. Image resolution choices include 13 MP, 8 MP, 5 MP, 3 MP, 2 MP, 1 MP, XGA and VGA; while there are three image compression settings available for JPEG images: Fine, Normal and Basic plus a RAW image mode. You can also select an aspect ratio from 4:3 standard, 3:2 for print, 16:9 widescreen and 1:1 square; but only at the highest 13 MP setting. There is no RAW + JPEG mode on the P6000; just RAW.
With RAW mode, file sizes are much bigger (20+ MB per shot) but you'll get complete control over almost every single aspect of the image: white balance, noise reduction, contrast, saturation, exposure, colors, etc. If you messed up some camera settings but took the picture in RAW format, then most likely you'll be able to correct it later on your computer. You'll probably want a high-speed memory card here so the camera can write those huge files quicker. The bad thing about RAW on the Coolpix P6000 is that files are taken in a weird NRW format (different from Nikon digital SLRs) and NO RAW editing software is supplied in the box with the camera.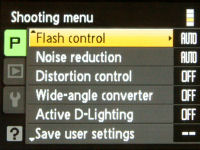 Let's head on now to the Nikon Coolpix P6000's menu system. It's split into three categories: shooting, playback and setup; just like Nikon's digital SLR cameras:
Picture size and quality
Film mode (Standard, Dynamic, Nature, Smooth, Vibrant, Nostalgic, Black & White Standard/Dynamic/Smooth, My Film 1 & 2)
Picture Control and Custom Picture Control
White balance (Auto, daylight, incandescent, fluorescent, cloudy, flash, custom)
ISO sensitivity (Auto, high auto, 64, 100, 200, 400, 800, 1600, 2000, 3200, 6400)
Metering mode (Matrix, center weighted, spot, spot AF area)
Continuous mode (Single shot, continuous shooting, Best Shot Selector, continuous flash, multi-shot 16, interval shooting)
Exposure bracketing – Take three photos with different exposures; adjustable up to +/-1 EV in 1/3 step increments
Focus mode (Face detection, auto, manual focus, center point)
AF mode (Single/continuous)
Flash exposure compensation – adjustable up to +/-2 EV in 1/3 step increments
Built-in flash control (Auto/off)
Noise reduction (Auto/off)
Distortion control (On/off)
Wide-angle converter (On/off)
Active D-Lighting
Save/reset user settings – for the User 1 and User 2 mode dial spots
Much like other prosumer cameras as well as Nikon's own digital SLR cameras; the Coolpix P6000 gives you the ability to adjust how your pictures turn out via Picture Control. There are four preset modes and two custom ones where you can adjust image sharpness, contrast and saturation. If you're shooting monochrome pictures, then you can also choose filter effects and the tone for your photos
There's also Active D-Lighting on the P6000 (D-Lighting has been on Nikon cameras for years now) which allows you to improve brightness and contrast of your photos. You can choose between low, normal and high, or turn it off. Why would anyone want to turn such a useful feature off? The reason is due to the extra processing needed, which slows down shot-to-shot times (expect to wait several seconds between photos).
The Nikon Coolpix P6000 has a very good macro mode where you can go in as close as 2 cm from your subject. There are also lots of scene modes on the P6000 in case you don't wanna use manual controls all the time. The scene modes include portrait, landscape, spots, night portrait, party & indoor, beach & snow, sunset, dusk & dawn, night landscape, closeup, museum, fireworks, copy, backlight, panorama assist and voice record.
Video Recording
The Nikon Coolpix P6000's movie mode is nothing to shout about. You can record VGA (640 x 480) movie clips at 30 FPS with sound. Each movie clip is limited to 2 GB, and that works out to be about half an hour at the highest setting. To record longer clips, you can also lower frame rate to 15 FPS or resolution to QVGA (320 x 240). All movies are recorded in AVI Motion JPEG format.
You cannot use any zoom while recording a video clip but you can activate optical image stabilization. Video quality was decent in general, but audio was out of sync as with many Coolpix models… and it isn't just me who has been experiencing such problems.
Performance
All performance testing of the Nikon Coolpix P6000 was performed using a high-speed 4 GB SanDisk Ultra II SDHC (90X) card.
The Nikon Coolpix P6000 has a decent start up time of 1.5 seconds. Auto focusing speeds were quite decent as well, taking 0.3 to 0.6 seconds at wide-angle, and up to a more sluggish 0.7 to 1 second in low-light or at telephoto. Something worthy of note here is that both the P6000's competitors, the Canon G10 and Panasonic LX3 focus faster.
Shot-to-shot speed - 1 shot every 1.9 seconds, fast and above average
Shot-to-shot speed (RAW mode) - 1 shot every 6 seconds; sluggish
Flash recharge time using a fully charged battery - 4 seconds on average (built-in flash)
The Nikon Coolpix P6000 has several continuous shooting modes. Regular continuous shooting is quite pathetic – it shoots at full resolution at just 0.9 frames per second and then after 6 shots, the "processing…" sign appears on the screen. Flash continuous shoots at the same rate with flash for up to 3 photos.
There are two more modes which aren't quite "burst modes" but nevertheless, I'll talk about them here. Best Shot Selector snaps at 0.8 frames per second up to 10 pictures, then the camera will select the best/sharpest one from the bunch while Multi-Shot 16 has been on Nikon compacts for a while now. On the P6000, it takes 16 tiny pictures at a little over 1 frame per second before combining them into a 5 MP collage.
The Nikon Coolpix P6000 zooms its lens quickly from wide-angle to full-telephoto in under one second. Overall, the Nikon Coolpix P6000 demonstrated merely average performance everywhere, and sluggish shooting in terms of burst mode. In regards to performance, both the P6000's competitors out-do it.
Image Quality
Right, now let's find out how the Nikon Coolpix P6000 does in the image quality department:

ISO 64 (f2.7, 1/7 sec)
ISO 100 (f2.7, 1/11 sec)

ISO 200 (f2.7, 1/22 sec)

ISO 400 (f2.7, 1/44 sec)

ISO 800 (f2.9, 1/70 sec)

ISO 1600 (f2.9, 1/130 sec)

ISO 2000 (f3.6, 1/120 sec)

ISO 3200 (f4.1, 1/153 sec)

ISO 6400 (f4.1, 1/207 sec)
The Nikon Coolpix P6000 produces good image quality at ISO 64 and 100. There's a little additional noise at ISO 200 but image quality is still acceptable for many uses. Noise and noise reduction start to take over from ISO 400, limiting images to mid-sized display and print here. Noise from ISO 800 onwards become horrible and unusable up to ISO 6400 – this entire range cannot be used if you care at all about image quality. Image resolution is lowered to 3 megapixels at ISO 3200 and ISO 6400. The sad part is that there's no ability to tweak in-camera noise reduction level for JPEGs; in case you want to savage image quality, you HAVE to use RAW.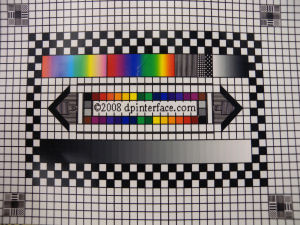 Barrel distortion levels are moderate while there are low pincushion distortion levels. Edge softness and color fringing (chromatic aberration) are not issues, thankfully. The Nikon Coolpix P6000 has the traditional multiple flash redeye reduction method as well as a very effective software-based redeye removal system, so redeye isn't an issue on the camera.
The Nikon Coolpix P6000 has some average to good image quality traits (ie no edge softness or redeye) in all areas except noise. The camera compromises noise for resolution, which is not a bright idea, in my opinion. Its noise characteristics make the Nikon Coolpix P6000 suitable only for shooting in bright light and outdoors; using low ISO values. Use anything over 200, and even using RAW can't save your images much.
Photo gallery
If you're looking for full-sized photos taken with the camera, you should visit the Nikon Coolpix P6000 photo gallery.
Playback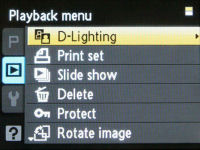 The Nikon Coolpix P6000 has a good playback mode. There are the basics such as print marking, image protection, simple slideshow and voice clip attachment. Photos can be enlarged by 10X to inspect details or check focus.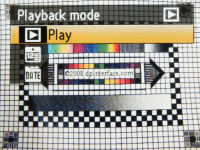 You can view photos individually, in sets of thumbnails, by date in a list or calendar view. There are a handful of editing features available for JPEG mode, none of which are particularly exciting… you can rotate, crop, resize, add borders or apply D-Lighting to photos. The Coolpix P6000 has no movie editing tools available; not like it's movie mode is fantastic either.
Two features I find very useful is the ability to create a small version of a photo using the "Small Pic" function or hide specific photos in playback (they still show up in your memory card when downloading to a computer though).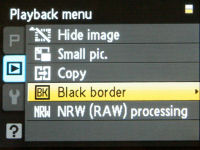 Now, have a look at the Coolpix P6000's RAW edit mode and here is where the camera really shines. Although you can't adjust noise reduction or any advanced settings that you'll find on a full-fledged piece of computer software like Photoshop, you can convert RAW files into JPEG photos right in the camera itself while being able to adjust exposure, white balance, Picture Control mode, image resolution and compression. Nice.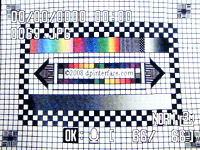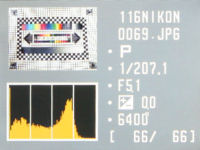 The Nikon Coolpix P6000 shows exposure information and a histogram in playback… unfortunately, there aren't any shooting settings shown here at all (ie white balance, flash setting, metering mode).
Conclusion
The Nikon Coolpix P6000 tries really hard to be a prosumer camera that offers digital SLR-like functionality, or at least features to distinguish itself from the competition. If you used one of Nikon's digital SLRs before, then you'll feel a bit of déjà vu when using the P6000's menu system, its button layout on the back and degree of customizability (it has a function button, My Menu and two mode dial spots, all of which can be customized).
There are extras such as GPS and Picture Bank Ethernet transfer, which you won't find on the competition. It's questionable if P6000 users would even use them though – GPS is slow, sucks up battery life and only works outdoors where the signal is good. Direct Ethernet transfer works but is a hassle to set up, has limited functionality besides direct uploading (ie, you can't add captions) and apparently you can do the same thing on your computer – except it's MUCH faster than doing it from the camera.
Besides customizability and the two unique features above, the Coolpix P6000 also has the standard prosumer affair – you'll get full manual controls, RAW shooting, a hotshoe for external flash, an optical viewfinder and small (but not pocketable) design. On the unfortunate side, the camera has many downsides: there's no RAW editing software in the box (which means shelling out some extra dollars for photo editing software), below average battery life and it's 2.7 inch LCD doesn't even show 100% of the frame.
The Nikon Coolpix P6000 has a lens that's "neither here nor there": it's 28 mm isn't ultra wide (compared to the Panasonic LX3's lens) and it doesn't reach very far either (compared to the Canon G10's lens). It has optical image stabilization, but that doesn't make up for the slow aperture at the telephoto end of the lens. Build quality is good but ergonomics of the P6000 isn't fantastic. There's nowhere for your left fingers to hold the camera once you pop up the built-in flash and neither the flash hotshoe or tripod mount are in-line with the lens.
In other areas, the Nikon P6000 performance/speed ranges from average to slow, with fast autofocusing and shot-to-shot times (but the competition are faster) but slow, limited continuous shooting and RAW snapping times. The Coolpix P6000's movie mode is most unimpressive for a prosumer camera of this price – VGA 30 FPS with sound; no high-definition mode, no zoom or focusing allowed when recording and there are the audio sync issues that almost ever Coolpix model has been having.
Image quality is decent but you'd want to limit usage of the camera in bright light/low ISO only. As of whole, the Nikon Coolpix P6000 is just a so-so prosumer camera… but unless you desperately in need for GPS built into a compact-ish camera or own Nikon flashes, and must absolutely have them sync automatically with the camera, I would recommend looking at the Coolpix P6000's competitors instead.
What's hot:
Good image quality below ISO 200
Very good LCD visibility
GPS and Ethernet transfer built into the camera
Full manual mode, with RAW and hotshoe
Active D-Lighting and effective redeye removal; built-in help tooltips if you need them
Function button, My Menu and 2 mode dial areas are user-configurable
What's not:
Soft images from ISO 400;some banding from ISO 2000 onwards
Popup flash hinders holding of left side; tripod mount and hotshoe not in-line with lens
LCD doesn't have 100% coverage; no viewfinder dioptric correction
Below average battery life
RAW issues: slow shooting using RAW and no bundled RAW editing software
GPS further reduces battery life, and GPS only works outdoors
Slow & limited continuous shooting; competition outperform it in other areas too
Below average movie mode; audio sync problems
Recommended Accessories:
2 GB or 4 GB high-speed SD/SDHC memory card
Extra lithium-ion rechargeable battery
Related articles: