I've just posted my review of the Canon PowerShot SX200; a compact super-zoom camera with full manual controls. Check out sample pictures in the Canon PowerShot SX200 photo gallery as well. Hit the link and check out the full review of the camera now!
DPInterface Canon PowerShot SX200 Review
Brad Soo – August 28th, 2009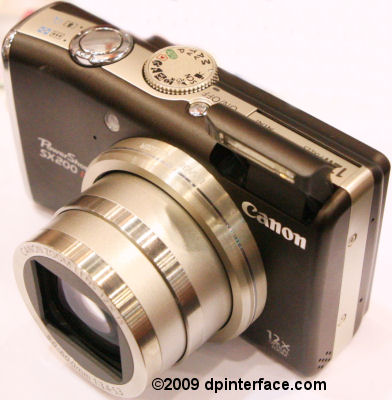 The Canon PowerShot SX200 is a more compact and premium version of the SX100-line of cameras that Canon started two years ago. Featuring a 12X optical zoom lens, 12 megapixels of resolution, a 3 inch LCD and full manual controls, the Canon SX200 sets out to compete with the likes of other 'compact' super-zoom cameras such as the Panasonic ZS3/TZ7.
Find out how the Canon PowerShot SX200 stacks up against other cameras in its class now.
Size and Weight
(225.7) 110.6 x 70.4 x 44.7 mm (245 g) – Canon PowerShot SX120 IS
(201.1) 103.0 x 60.5 x 37.6 mm (220 g) – Canon PowerShot SX200 IS
(188.8) 102.5 x 62.0 x 24.3 mm (164 g) – Casio Exilim H10
(180.9) 99.3 x 58.9 x 22.7 mm (180 g) – Fujifilm FinePix F70 EXR
(212.3) 110.0 x 66.8 x 35.5 mm (223 g) – Kodak EasyShare Z950
(179.5) 96.5 x 57.5 x 25.5 mm (140 g) – Nikon Coolpix S630
(179.4) 97.5 x 55.7 x 26.2 mm (125 g) – Olympus Stylus 7010
(187.0) 96.0 x 60.0 x 31.0 mm (185 g) – Olympus Stylus 9000
(195.7) 103.3 x 59.6 x 32.8 mm (206 g) – Panasonic Lumix ZS3/TZ7
(203.6) 105.0 x 61.4 x 37.2 mm (219 g) – Samsung HZ15W aka WB550
(223.1) 107.3 x 68.7 x 47.1 mm (250 g) – Sony Cyber-shot H20
All the weight figures above show when the camera is empty without a battery or memory card
Compared to other compact super-zoom cameras, the Canon PowerShot SX200 is somewhere in the middle in terms of size and weight. The Canon SX200 is quite a bit smaller than the SX120 (you're essentially paying for a more compact and stylish design with the SX200) though it still has a bit of trouble finding a home in many pockets. Maybe, just maybe, the camera will fit in your coat or large pants pocket; otherwise, the next best place would be to carry it in a bag of sorts.
Box packaging
In the box, you'll find a pretty average digital camera bundle:
Rechargeable lithium-ion battery (NB-5L)
Battery charger
Wrist strap
USB and A/V cables
Camera software CD
User's manual
The Canon PowerShot SX200 doesn't come with any memory card or internal memory, and it takes SD/SDHC cards. You should go out there and get a 4 GB SDHC card with the camera. The PowerShot SX200 can perform faster with high-speed cards and you'll probably want to go for that option while out shopping for memory cards.
370 shots – Canon PowerShot SX120 IS
280 shots – Canon PowerShot SX200 IS
1000 shots – Casio Exilim H10 (This is crazy yet true!)
230 shots – Fujifilm FinePix F70 EXR
280 shots – Kodak EasyShare Z950
220 shots – Nikon Coolpix S630
170 shots – Olympus Stylus 7010
250 shots – Olympus Stylus 9000
300 shots – Panasonic Lumix ZS3/TZ7
280 shots – Samsung HZ15W aka WB550
290 shots – Sony Cyber-shot H20
All the cameras above are rated with rechargeable batteries with LCD on according to CIPA Standard
The Canon PowerShot SX200 utilizes the NB-5L lithium-ion battery, shared by several Digital ELPH/IXUS models as well. The camera's battery life is a tad below average here, though not by a far margin – 280 shots per charge is decent for a fixed lens camera though there are other cameras that out-do it.
Accessories
There aren't many accessories available for the PowerShot SX200. You can plug in an optional AC adapter, store the camera in one of various camera cases or attach a slave flash to the camera (it merely detects if the built-in flash fires and fires along with it); but there aren't any lens attachments or filters available. A HDMI cable is also available for connecting the camera to your television set, but the cable is not proprietary so you'll probably be able to use the one you have in your living room.
Camera Tour
As I previously mentioned, the Canon PowerShot SX200 is a sleeker, more compact branch off the SX100 series. The SX200 sports a design that's fresh from Canon's other cameras (though the front of it reminds me a lot of Panasonic's LX3 camera) and has good ergonomics in general. What I don't understand, however, is why Canon forces the flash to popup EVERY time you start up the camera, regardless of flash setting. As long as the camera is turned on, you can't close the flash (it just comes back up again)… if you're like me - the type of person who doesn't take photos with flash often, you'll probably find this an annoyance.
The Canon PowerShot SX200 is a well built camera, and it comes in your choice of three colors: black, maroon or dark blue.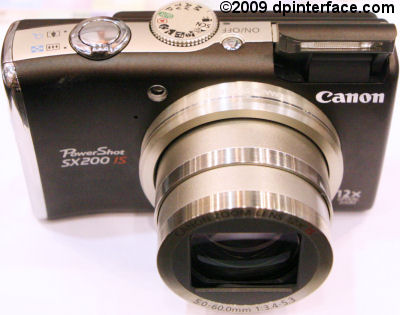 The Canon PowerShot SX200 IS has a 12X optical zoom lens which covers 28 – 336 mm. The aperture range of this lens is f3.4 – f5.3; a tad on the slow side but that's what you get with a lens covering such a large range. Compared to its direct competitor, the Panasonic Lumix ZS3 aka TZ7, that camera has a 25 – 300 mm lens, which is roughly 12% wider. The SX200 also has optical image stabilization which helps in reducing blur caused by slow shutter speeds and/or shaky hands.
To the upper right of the SX200 is its popup flash unit. The flash here isn't very powerful as it only covers 50 cm to 3 m at wide-angle and 1 to 2 m at telephoto (Auto ISO), so expect to take flash photos only when your subject is at close range. As I mentioned the flash will ALWAYS popup automatically every time you turn on the camera, which may annoy some people (on the contrary, it doesn't automatically close when you turn off the camera) To the upper left of the lens is the camera's autofocus assist/self-timer lamp and microphone.
The Canon PowerShot SX200 IS has a large 3 inch screen which takes up almost two thirds of the back of the camera. This isn't the same high-resolution one found on the SD970 IS Digital ELPH though, as the one here on the SX200 has only 230,000 pixels. Despite the resolution not being as high as it could be, the screen is still fairly sharp and viewable most of the time. In bright light or outdoors, sometimes you may have to find the correct viewing angle because of the glossy, reflective layer on top of the screen.
To the right of the LCD is a small divot where your thumb goes; followed by a row of buttons. The first two buttons nearer to the top are the print and direct playback buttons. If you like, you can also assign a shooting mode function to the print button. Near the print button is the camera's activity/power indicator light.
Next up is the 5 way navigation pad + command dial combo. The command dial is used to scroll through pictures, menu items as well as adjust camera settings, and it provides good tactile feedback when rotated. Taking a closer look at the navigation buttons, each direction provides access to a dedicated function:
Up – Exposure compensation (+/-2 EV in 1/3 steps)
Down – Self-timer (Off, face self-timer, 2 or 10 second self-timer, custom)
Left - Focus mode (Normal, macro, super macro, manual focus)
Right - Flash setting (Auto, on, slow sync, off; red-eye reduction turned on/off in the menu)
Center – Function menu/Set
The Canon PowerShot SX200 has a Face Self-timer mode which works in conjunction with face detection. The camera will watch the scene until an 'extra face' is detected, then start counting down to take up to 10 pictures in a row. Of course there's the regular 2 and 10 second countdown modes available as well as a custom timer mode which allows you to set the countdown period and number of shots the camera will take.
The PowerShot SX200 also gives you the ability to manually focus; and provides a distance guide and frame enlargement while you're at it.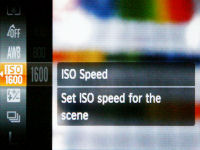 Canon's function menu with a makeover for 2009
Pressing the center button brings up the camera's function menu which contains several settings that can be changed. I'm having mixed feelings about the new Function menu - it takes a step forward in terms of design but one step backward in terms of operation. Sure it looks nice (complete with an orange color scheme which looks eerily Sony) and now comes with a new 'hints and tips' feature (the camera displays a one-line description about each function)… but it typically takes an additional button press to change a setting compared to the old Function menu.
Metering method (Evaluative, center-weighted, spot)
My Colors (Normal, vivid, vivid [blue/green/red], neutral, sepia, black & white, positive film, lighter/darker skin tone, custom)
White balance (Auto, daylight, cloudy, tungsten, fluorescent, fluorescent H, custom)
ISO (Auto, 80, 100, 200, 400, 800, 1600)
Flash exposure compensation (+/-2 EV in 1/3 steps)
Drive mode (One shot, continuous shooting, continuous AF shooting
Image size and compression
The custom option in the My Colors/Photo Effects area enables you to manually tweak contrast, saturation, sharpness and individual red, green, blue and skin tone levels; all up to +/- 2 in 1 step increments)
Then there are the usual DISPlay and MENU buttons to toggle on-screen information and bring up the camera menu respectively.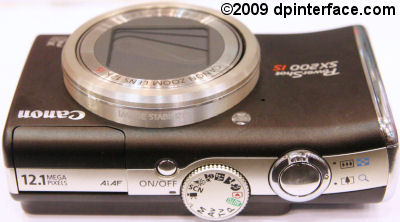 Over here, you'll find the mode dial, power and shutter buttons. If you thought the inclusion of manual focus was great, I have more good news – the PowerShot SX200 has full manual controls. For those who prefer to point-and-snap, there are plenty of scene modes here as well:
Manual mode – allows you to select both aperture value and shutter speed (same ranges as below)
Aperture priority – you select an aperture value (between f3.4/f5.3 to f8/f11) and the camera will select a matching shutter speed
Shutter priority – you select a shutter speed (between 1/3200 to 15 seconds) and the camera will select a matching aperture value
Program mode – all menu options are unlocked, but the camera still controls exposure
Smart Auto mode
Easy mode
Portrait mode
Landscape mode
Night snapshot
Kids and pets
Indoor
Other scene modes (Night scene, foliage, snow, beach, sunset, fireworks, aquarium, ISO 3200, color accent, color swap and stitch assist)
Movie mode
The camera's Smart Auto mode works by detecting the scene you're shooting and picking appropriate settings and a scene mode for it. There's also an Easy Mode where the only two buttons you can operate are the shutter button and flash setting button on the D-pad. And again, it's pretty nice that the Canon PowerShot SX200 has full exposure control for 'control freaks' as well as plenty of scene modes for casual snap shooters.
One side of the PowerShot SX200 features a speaker while on the other side, there's a wrist strap loop and two ports – one being a mini-B port for both USB and A/V Out connectivity to your computer and television set respectively (the SX200 supports USB 2.0 High-speed); while the other port is a mini HDMI port, where you can connect the camera to a high definition display via an optional cable.
The Canon PowerShot SX200 features a metal tripod mount and a compartment for the memory card and battery. The fact that the compartment door is quite sturdy AND the ability to swap memory cards/batteries while the camera is on a tripod really made my day here.
Taking pictures (Shooting mode)
The Canon PowerShot SX200's screen shows you plenty of info; including exposure, camera settings, a simple battery indicator and you can even choose to turn on framing gridlines. A zoom indicator also makes itself visible when you use the zoom controls. There is one item missing here, however, and that item is a live histogram.
The PowerShot SX200 gives you a total of six choices for image resolution (12 MP, 8 MP, 5 MP, 2 MP, VGA and widescreen) plus two compression options: fine and standard. A 4 GB memory card will hold around 1,250 Fine images at the 12 megapixel setting.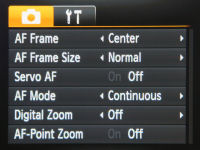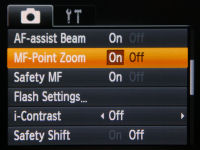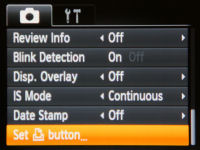 Most of the camera's main settings can be adjusted via the Function menu I described in the previous section, but now let's head on to the other settings in the camera's main menu:
Autofocus mode (Face detection, center AF)
AF point size (Normal, small) – Choose how size of the camera's focusing point
Servo AF – For subject tracking
AF mode (Single, continuous) – Continuous AF means the camera will be focusing all the time, reducing lag time when taking a shot but also draining battery power
Digital zoom – keep this turned off, it lowers picture quality
AF point zoom – magnify the focus point once AF has been locked
AF assist beam On/Off
MF point zoom On/Off
Safety MF – the camera will automatically correct focus if your manual focusing didn't manage to nail your subject
Flash settings
iContrast
Safety shift – similar to safety MF, but the camera will correct exposure instead if it thinks your settings won't properly expose your subject(s)
Review – Determine how long the camera shows the image on the screen after a picture is taken
Review info – amount of info shown in post-shot review mode
Blink detection On/Off
Display overlay (Off, grid lines, 3:2 guide, both)
Optical image stabilization mode – Off, Continuous, Shoot-only, Panning
Date stamp (Off, date, date and time)
Set print button – customize what this button does in shooting mode; you can assign it as a shortcut to a shooting function
The iContrast feature brightens up dark parts of your photo and improves contrast. Even though it works well, there are also reasons to NOT use iContrast in shooting mode: it slows down shooting speed and the feature is also available as a tool in playback.
The flash settings menu allows you to toggle the camera's redeye reduction settings, adjust flash exposure compensation (+/-2 EV in 1/3 step increments) as well as set flash power (low, medium, high).
Face Detection
The Canon PowerShot SX200 has a decent face detection system that detects up to 10 faces. There's also blink detection, which alerts you if anyone blinked while you were taking a shot – useful so you can retake the photo. I've already talked about the Face Self-timer feature which essentially starts counting down the moment the camera detects that an additional face has entered the scene.
Macro mode
The Canon PowerShot SX200 has two very impressive macro modes. The first 'normal' macro mode allows you to go as close as 2 cm to your subject at wide-angle, while super macro mode eliminates the minimum focusing distance completely. You can be right up against your subject (0 cm) in super-macro mode, with the condition that you cannot operate zoom in this mode.
Video Recording
The Canon PowerShot SX200 has an HD movie mode. You can record 720p (1280 x 720) video clips at 30 FPS with sound, which matches that of the competition. There's the usual restriction of 4 GB or 30 minutes per movie clip, whichever comes first. If you step down to VGA (640 x 480) or QVGA (320 x 240), the time limit is extended to 1 hour per movie clip. Frame rate is fixed at a smooth 30 frames per second, regardless of video resolution.
The PowerShot SX200 records movies in MOV format using the efficient H.264 codec. A 4 GB memory card will be able to hold 22 minutes of 720p 30 FPS video or 48 minutes of worth of VGA 30 FPS video..
One of the strengths of the competing Panasonic models is that you could use optical zoom while recording movies and select bit rate settings. That's not the case here on the Canon SX200, as you can only use digital zoom while recording. However, you can activate optical image stabilization and utilize color accent and color swap.
Overall movie quality was good in terms of quality and audio sounded pretty clear.
Performance
All performance testing of the Canon PowerShot SX200 was performed using a high-speed 4 GB SanDisk Ultra II SDHC (90X) card.
The Canon PowerShot SX200 starts up faster than you'd expect from a camera with such a big lens – you'll wait just 1.4 seconds for the camera to boot up. Autofocus at wide-angle was generally quite fast, taking 0.2 to 0.4 seconds in good light and 0.5 to 0.8 seconds in low-light. Double those numbers and you'll get focusing speed with the lens at telephoto. Focusing in low-light is no problem for the SX200, though focusing speeds at telephoto could've been faster.
Shot-to-shot speed - 1 shot every 1.6 seconds, very fast
Flash recharge time using a fully charged battery - 5 seconds on average
The Canon PowerShot SX200 has three continuous shooting modes. First and foremost is the full-resolution continuous shooting mode where you can shoot as quickly (or slowly, rather) as 0.9 FPS until the memory card fills up. The other two modes, Continuous AF and Continuous LV do the same thing, except they operate in autofocus and manual focus modes respectively. Either way, the frame rate in Continuous AF/LV mode drops to a rather sluggish 0.5 FPS as the camera tries its best to autofocus/show the live view feed between shots.
The camera moves its lens from wide-angle to telephoto in a quick 1.5 seconds. You can be really precise with zooming as there are plenty of zoom steps throughout the 12X range and the camera also shows an on-screen zoom indicator.
The Canon PowerShot SX200 is a good performer in terms of speed. The camera is quite fast in shot-to-shot, startup and focusing (at wide-angle). There are two areas that could be improved though – continuous shooting speed and telephoto focusing.
Image Quality
Let's take a look at the Canon PowerShot SX200's image quality:

ISO 80 (f3.4, 1/5 sec)

ISO 100 (f3.4, 1/6 sec)

ISO 200 (f3.4, 1/13 sec)

ISO 400 (f3.4, 1/25 sec)

ISO 800 (f3.4, 1/50 sec)
ISO 1600 (f3.4, 1/100 sec)

ISO 3200 (f3.4, 1/200 sec)
Until ISO 200, image quality remains pretty clean and fit for large print sizes. ISO 400 looks quite decent as well, though noise reduction has been tuned up a notch to produce such clean looking results – You can easily tell by the slight smudging of details.
Climbing up to ISO 800, there's more noise and detail smudging, plus additional artifacts in photos. ISO 800 can still be saved for small to midsize prints. You'd best stay away from the ISO 1600 and 3200 settings, unless you want to be limited to 4 x 6 prints of so-so quality. Image resolution is fixed at 2 megapixels in ISO 3200 mode.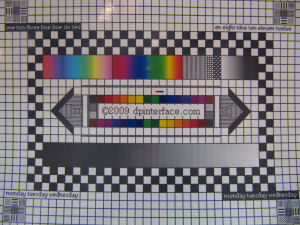 There's mild lens distortion here along with quite a bit of corner softness and chromatic aberration (color fringing) to be seen. Center sharpness and color accuracy were both good, but go towards edges and sharpness isn't that impressive anymore. Redeye was not an issue as the camera's software based redeye removal system does away with any automatically.
The Canon PowerShot SX200 produces very good image quality in terms of cleanliness (noise), detail and color accuracy. Image quality is usable thru ISO 800. What you need to note down is the fact that the SX200's lens isn't fantastic at the edges though, with visible softness and color fringing at the corners of images.
Photo gallery
Head on to the Canon PowerShot SX200 photo gallery for full-sized photos taken by the camera.
Playback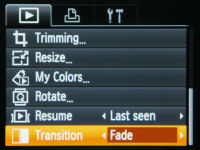 The Canon PowerShot SX200 features a nice playback mode where you can browse through pictures and movie clips with animated transition effects between. You can choose to view photos by date, category, folder or in sets of 9 thumbnails. The SX200's basic playback features include print marking, slideshows, image protection and 10X image magnification.
On to the editing features: there's image resizing, cropping (trimming) and rotation along with some more elaborate tools such as applying My Colors (photo effects), iContrast (brighten dark areas) and removing redeye from photos. There are no real movie editing tools except a 'trim' function which allows you to cut footage from the beginning/end of a video file. Images can be deleted individually, or queued by date, category, folder or your own picks for deletion.
The Canon PowerShot SX200 can display a whole lot of information about exposure (with shutter speed and aperture value) and shooting details, as well as a brightness histogram and overexposure alert feature in playback mode. Just hit the DISPLAY button to cycle through the various screens.
Conclusion
Featuring 12 megapixels, 12X optical zoom with optical image stabilization and both automatic and manual controls, Canon has certainly made a solid offering in the compact super-zoom market. The Canon PowerShot SX200 is a compact super-zoom with good ergonomics and build quality. There's enough room for both hands to hold the camera, a rear rotary dial and customizable print button.
There's a decent handful of scene modes (with automatic scene selection) as well as full exposure controls, which I'm sure many will appreciate. In addition to exposure, you can manually focus, set custom white balance and tweak several flash settings too. Speaking of flash, the one here on the Canon SX200 is on the weak side. It's underpowered and also annoying, as it pops up from the instant you turn on the camera and you can't close it until you turn off the camera.
The Canon PowerShot SX200's speed and image quality were both 'typically Canon'. The camera's picture taking speed was above average, except the continuous shooting department. Image quality was very good as well; noise levels are kept fairly low with good center sharpness. If you're planning to make huge prints or put your photos on a large display, you might want to watch out for the camera's noise reduction from ISO 400 onwards and lens flaws. But for the general audience making medium to large prints (letter size), quality should be quite usable.
The Canon PowerShot SX200 is a compact super-zoom camera that's worth considering. The Canon SX200 is quite compact considering it has a 12X lens and has one (big) advantage over the competition – full manual controls. The camera produces good looking photos and has a good feature set with few flaws.
What's hot:
Good image quality with good color accuracy and overall sharpness
Compact design with good ergonomics; packs a 12X zoom lens with image stabilization
Big 3 inch LCD with good sharpness and visibility
Very good performance (two exceptions)
Variety of scene modes with auto scene selection
Full manual controls over exposure, focus and flash
Playback editing tools include redeye removal and iContrast (brighten images)
What's not:
Rather obvious color fringing (chromatic aberration) and edge softness
Annoying popup flash comes up whenever the camera is turned on
Weak flash with long recycle times
Optical zoom is locked when recording movies
Slow burst mode frame rate; telephoto focusing could've been faster
4 - Design and build quality
3- Bundle in the box
3 - Lens (Zoom, aperture range, image stabilization)
4 - Feature set and manual controls
4 - Ergonomics and ease of use
4 - Performance and speed
4 - Image quality
3.7 over 5.0 - Overall rating
Related articles: