Summer is just around the corner; and if you're looking for a simple, point-and-snap digital camera, check out the Nikon Coolpix L20 review I just posted! I've also got the Nikon Coolpix L20 photo gallery online too. Click the link for the full review of the camera.
DPInterface Nikon Coolpix L20 Review
Brad Soo – April 21st, 2009
The Nikon Coolpix L20 is a simple digital camera and the latest in Nikon's entry-level camera lineup. The Coolpix L20 features a 10 megapixel sensor, 3.6X optical zoom lens and point-and-shoot operation with automatic scene mode selection and Motion Detection. There's also face, smile and blink detection too, for those who can't get enough of people photos.
How does the Coolpix L20 perform? Read on to find out.
Size and Weight
(185.2) 92.1 x 62.0 x 31.1 mm (140 g) - Canon PowerShot A480
(171.0) 97.0 x 56.0 x 18.0 mm (100 g) – Casio Exilim S5
(173.7) 91.5 x 60.5 x 21.7 mm (130 g) - Fujifilm FinePix A150
(164.4) 91.0 x 56.0 x 17.4 mm (97 g) - Fujifilm FinePix J20
(173.2) 95.5 x 58.5 x 19.2 mm (115 g) - Kodak EasyShare M340
(186.5) 96.5 x 61.0 x 29.0 mm (135 g) – Nikon Coolpix L20
(163.0) 89.5 x 55.5 x 18.0 mm (100 g) – Nikon Coolpix S220
(166.6) 93.0 x 55.8 x 17.8 mm (108 g) – Olympus FE3010
(173.3) 96.1 x 56.6 x 20.6 mm (130 g) – Olympus FE5010
(188.5) 96.7 x 62.0 x 29.8 mm (128 g) - Panasonic Lumix LS85
(181.0) 97.5 x 60.0 x 23.5 mm (110 g) – Pentax Optio E70
(172.7) 93.1 x 55.7 x 23.8 mm (135 g) - Sony Cyber-shot S950
All the weight figures above show when the camera is empty without a battery or memory card
The Nikon Coolpix L20 is one of the larger cameras in the budget camera category thanks to its usage of AA batteries (versus lithium-ion ones). It's also one of the heaviest… but those aren't entirely bad things – the camera is easy to hold and with AA batteries, it can last much longer than most other cameras. Besides, the Coolpix L20 is still quite pocketable.
Box packaging
The Nikon Coolpix L20 comes with an average bundle:
2 AA alkaline batteries
Wrist strap
USB cable
A/V cable
Camera software CD
User's manual
The Nikon Coolpix L20 comes with a measly 20 MB of built-in memory and doesn't come with a memory card. The Coolpix L20 takes SD/SDHC memory cards and I would recommend getting a 2 GB card to start with. If you want, you can make that a high-speed card.
470 shots - Canon PowerShot A480
150 shots - Fujifilm FinePix A150
165 shots - Fujifilm FinePix J20
320 shots - Kodak EasyShare M340
440 shots – Nikon Coolpix L20
180 shots – Nikon Coolpix S220
180 shots - Olympus FE5010
550 shots - Panasonic Lumix LS85
620 shots – Pentax Optio E70 (Using lithium batteries)
330 shots - Sony Cyber-shot S950
All the cameras above are rated with rechargeable batteries according to CIPA Standard
The Coolpix L20 uses 2 AA batteries and comes with a set of 2 alkaline ones. They'll last for around 240 shots per charge before running out and having to recycle them… which is why you should get a set of 2 or 4 AA NiMH rechargeable batteries and a charger. With them, you can get up to 440 shots, which is way up there with other entry-level models which use AA batteries. Since they're rechargeable (therefore reusable), it'll also be cheaper for you and better for the environment in the long run.
You can even opt to use lithium AA batteries with the Coolpix L20 and they'll last up to an amazing 630 shots! The downside is that lithium AA batteries are non-rechargeable, so again, I'd recommend sticking to AA NiMH if possible.
Accessories
As the Nikon Coolpix L20 is an entry-level digital camera, you shouldn't expect an array of accessories available for the camera. All you'll get are the usual AC adapter and various camera cases.
Camera Tour
The Nikon Coolpix L20 is an entry-level camera made of plastic with decent build quality. Ergonomics are good here since the camera is easy to grasp with one hand and there are few but clearly labeled buttons on the back. Following the already-established trend of colorful compacts, the Nikon Coolpix L20 comes in your choice of three colors: black, silver or red.
On the front of the Nikon Coolpix L20, you'll spot the camera's 3.6X optical zoom lens. The lens, equivalent to 38 – 136 mm, has quite a bit of telephoto power but lacking on the wide end. Well, here's some bad news for low-light shooters – the aperture range of the Coolpix L20's lens is a slow f3.1 to f6.7! This has gotta be the slowest lens that I've ever seen on a compact camera; and to top things off, there's no image stabilization (neither in lens or sensor-shift) here!
Above the Coolpix L20's lens is its autofocus assist/self-timer lamp, and to the right of that is the flash. Nikon doesn't say anything about flash power, but based on my testing, it's about average – the flash managed to light up subjects 10 to 12 feet across the room. The other two things on the camera's front are the speaker and microphone.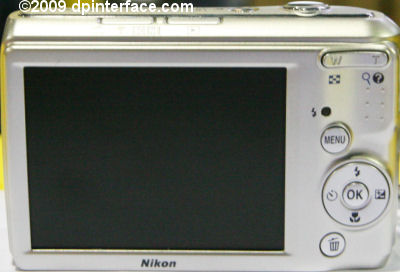 The Nikon Coolpix L20 features a large 3 inch LCD with 230,000 pixels. The screen has good visibility in both low and bright light. Next to the screen are the Coolpix L20's navigation pad, zoom controller and two other buttons.
To the upper right of the Nikon Coolpix L20 is the zoom controller. If you're in the camera's menu, you can press the "zoom in" button to bring up a help tooltip about individual menu items. Below that is a decent space where your thumb goes, flash indicator light and MENU button.
The Nikon Coolpix L20 has a standard issue navigation pad (it doesn't have a rotary dial like more expensive Coolpix models):
Up – Flash setting (Auto, auto with red-eye reduction, off, on, slow sync)
Down – Focus mode (Normal, macro, infinity)
Left – Self timer (Off, on - 10 seconds)
Right - Exposure compensation (+/-2 EV in 1/3 steps)
Center – OK/Set
The final control is located at the very bottom – that's the delete photo button.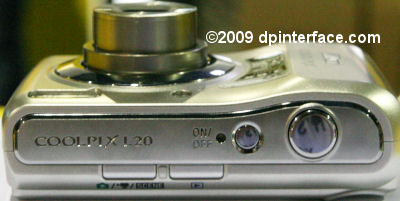 Over here are four buttons. The two skinny buttons above the LCD area are for shooting mode selection and entering playback respectively.
Press the shooting mode button and you'll see this screen
The shooting mode button brings up a semi-transparent overlay on the display with four tabs showing the main shooting modes of the camera:
Easy auto mode with scene auto selector
Scene modes – Portrait, landscape, sports, night portrait, party/indoor, beach/snow, sunset, dusk/dawn, night landscape, close-up, food, museum, fireworks, copy, backlight, panorama assist
Smile mode (Nikon Smart Portrait)
Movie mode – more on this later
Auto mode, color options, date imprint and Best Shot Selector
There are two things I wanna explain here before we move on. The Coolpix L20 has an "Easy mode" (not that normal shooting isn't easy enough) which is PURELY point-and-shoot; you can't even change any settings or press any buttons. Easy mode comes with Nikon's "Scene Auto Selector" which detects the scene you're shooting and the camera will automatically pick a scene mode according to the situation.
Next up is Nikon's "Smart Portrait system" which is simply called Smile Mode here so it's easier for beginners to understand. All you have to do is press the shutter button and the camera will wait until a smile is detected before automatically taking a photo. The other part of the Smart Portrait system is Blink Detection, which runs in the background, alerting you if any blinks were detected after a shot is taken and then advising you to retake the photo.
The two other circular buttons are your usual power and shutter buttons.
One side of the camera is blank while on the other side, there's a port for USB and A/V out connectivity.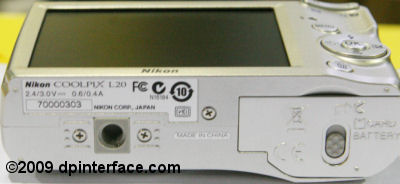 At the bottom of the Nikon Coolpix L20 are the camera's plastic tripod mount and battery/memory card compartment. The compartment door has a locking mechanism but doesn't feel sturdy in terms of build quality. Something else that the camera needs here is a clip to hold the batteries in place while swapping memory cards.
Taking pictures (Shooting mode)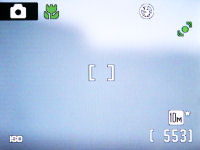 The Nikon Coolpix L20 is a very simple camera. Unfortunately, I don't appreciate the fact that the Coolpix L20 doesn't display any shooting information at all; though you do get a zoom indicator and macro and flash icons). I think that even newbies would appreciate the camera telling them at least something about their photos.
The Nikon Coolpix L20 has a grand total of 6 image resolution options; including 10 MP, 5 MP, 3 MP, 1 MP, VGA and widescreen. You can choose between two image quality options (compression): High or Normal only for the 10 MP setting… at lower resolutions, compression is fixed at "Normal" quality.
The Coolpix L20 has Nikon's 2009 menu system but as a low-end, budget camera, it has significantly less items than more expensive Coolpix models:
Picture size/quality
White balance (Auto, daylight, incandescent, fluorescent, cloudy, custom)
Drive mode (Single shot, continuous shooting, Best Shot Selector, Multi-shot 16)
Color options
Best Shot Selector takes up to 10 pictures in a row before the camera selects the best/sharpest one from the bunch; while Multi-shot 16 takes 16 pictures in a row and combines them into a single 10 megapixel collage.
As expected, the Coolpix L20 features face detection which detects up to 12 faces in a scene so the camera can make adjustments for proper exposure. There's also red-eye fix, which picks up and removes redeye in photos.
There's also Motion Detection (in the setup menu), where the camera will automatically set ISO based on the amount of action going on in the scene (a still scene prompts the camera to choose a low ISO value, while ISO will be increased when there's a lot of movement in the frame). And just in case anyone didn't notice, you can't manually set ISO on the Coolpix L20. The camera is on Auto ISO all the time, regardless of mode, and will pick a value between ISO 64 and 1600 – so you're practically at the mercy of the camera's imaging processor.
I've already covered most of the Coolpix L20's shooting modes earlier on, now there's only macro mode to talk about. The macro mode here is great; the minimum focusing distance is 5 cm at wide-angle and you can even zoom into the picture slightly (indicated by the "green area" on the zoom indicator).
Video Recording
The Nikon Coolpix L20 has a decent VGA movie mode. It can record 640 x 480 video clips at 30 FPS with sound. Each movie clip is limited to 2 GB (around 30 minutes at the highest settings). You can extend recording times by lowering resolution to QVGA (320 x 240). All movies are recorded in AVI Motion JPEG format.
There's no zoom or focusing available while recording movies on the Coolpix L20. Video quality was decent but audio was out of sync AGAIN like on other Nikon compacts.
Performance
All performance testing of the Nikon Coolpix L20 was performed using a high-speed 4 GB SanDisk Ultra II SDHC (90X) card.
The Nikon Coolpix L20 has a decent start up time of 1.7 seconds. In good light, focusing was decent, typically taking 0.3 to 0.6 seconds to focus. In low-light, things were much worse – the camera frequently hunts back and forth, taking over a second to lock focus.
Shot-to-shot speed - 1 shot every 1.9 seconds, quite snappy
Flash recharge time using a fully charged battery - 5 seconds
The Nikon Coolpix L20 has a decent continuous shooting mode which shot at 1.4 frames per second for up to 20 photos before slowing down. The lens moved from wide-angle to telephoto in 1.8 seconds while I measured shut down time to be 2.4 seconds with the lens at telephoto.
In terms of performance, the Nikon Coolpix L20 is no slouch. Given the opportunity to shoot in well lit conditions, the camera performs well (though not at breakneck speeds) and you'll rarely notice any delays in taking pictures. It's only in low-light conditions that the camera disappoints in terms of focusing speed, despite having an autofocus assist lamp.
Image Quality
Moving on, we're gonna look at the Coolpix L20's image quality now:

ISO 800 (f3.3, 1/30 sec)
Since the Nikon Coolpix L20 has no manual ISO control, I was unable to perform the usual ISO test here. The Coolpix L20's auto ISO will automatically pick a value between 64 - 1600. In this case, the camera kept insisting on using ISO 800, no matter how many times I tried. Based on my time with the camera, the Coolpix L20 will only go down to the lowest ISO speeds in VERY good lighting (ie: outdoors on a bright, sunny day) and at most times, the camera will use ISO 200 to 800.
At lower ISO speeds, picture quality is fairly clean. It's only when you hit ISO 400 that noise reduction comes into play. As you can see from the ISO 800 shot above, noise isn't the only problem – the real issue here is noise reduction, which causes noticeable color bleeding in the red/blue areas as well as detail loss.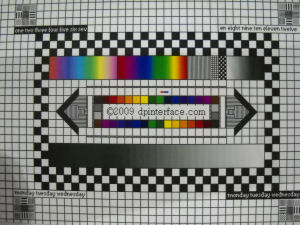 The Nikon Coolpix L20 showed little lens distortion and much to my surprise, not much edge softness, save for the bottom left corner. Color fringing (chromatic aberration) levels were very, very low in photos. Redeye wasn't a problem here either.
Overall, I was quite satisfied with the Nikon Coolpix L20's image quality in most shooting conditions except in low-light. The lens used had good image quality characteristics, unlike most "cheap" lenses on entry-level cameras. It's a pity the aperture range of the lens is crummy and there's no manual ISO control on the L20.
Photo gallery
Visit the Nikon Coolpix L20 photo gallery.
Playback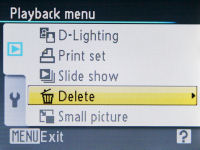 The Nikon Coolpix L20 has an extremely basic playback mode. You can perform print marking, set up a simple slideshow and of course, delete photos. But other than that, you can't even rotate, resize or do anything else here! Photos can be enlarged for detail inspection and you can even opt to make a downsized copy using the "small picture" function. D-Lighting is the only other item worth mentioning – where you can brighten dark areas of your photos and improve contrast slightly.
As far as the rest of the world is concerned, every other camera out there will tell you a lot about your photos in playback. Not so with the Coolpix L20 (or most of Nikon's other compacts for that matter) – the camera tells you NOTHING about your photos, besides image resolution. That's unacceptable.
Conclusion
The Nikon Coolpix L20 is a plain and easy-to-use entry-level digital camera. The L20 offers 10 megapixels of resolution, a large 3 inch LCD and a 3.6X zoom lens which is unfortunately slow and has no image stabilization.
As you'd probably expect from an affordable, entry-level camera like this one, the Coolpix L20 doesn't sport any manual controls or a sexy, slim design. In fact, things are just the opposite – the camera is larger than most cameras (though it still fits into most pockets without doubt) and barely has any settings you can change. You can't even set ISO yourself!
Despite that, there's great news for people who don't want to get involved in their camera's settings at all. The Coolpix L20's operation is quite straightforward – there's plenty of scene modes, an "Easy mode", all sorts of detection features (Face, smile, blink and motion) and the camera can even pick a scene mode for you! So turn on the camera, pick a mode and you're ready to go – press the shutter button to fire.
Speaking of taking photos, the Coolpix L20 performs the best (image quality and performance wise) outdoors or at least, in places with good lighting. Otherwise, if you're planning on shooting in low-light, expect the camera to take ages to focus, use very high ISO settings and produce mushy, low-detail photos.
If you're in the market for a simple barebones camera for casual picture taking in good light, then the Nikon Coolpix L20 is probably for you. That said, the camera may be just TOO simple – it doesn't even have manual ISO control! For the majority of consumers out there who typically look for the most features for their buck or at least some settings they can play with, the Coolpix L20 is out of the question.
What's hot:
Large 3 inch LCD with good visibility
Good battery life
Performs well and fairly fast
Easy to use with help tooltips and automatic scene mode selection available
Smart Portrait, motion detection and auto scene selection features
Good image quality in well-lit conditions; decent quality lens
What's not:
Auto ISO only; camera uses lower ISO settings only in good light
Oversimplified in some areas (ie, barely any on-screen information, no manual ISO, skimps on playback features)
Slow lens aperture range and no image stabilization
Poor low-light performance where camera uses high ISO and struggles in focusing
Movie audio sync problems
Recommended Accessories:
2 GB SD/SDHC memory card
Set of 2 or 4 AA NiMH rechargeable batteries and charger