I've just published my review of the Nikon Coolpix P90, Nikon's latest ultra-zoom camera with a huge zoom lens, manual controls and all. As usual, full-sized photos taken straight out of the camera are available in the Nikon Coolpix P90 photo gallery.
What are you waiting for? The full review of the Nikon Coolpix P90 awaits you after the link.
DPInterface Nikon Coolpix P90 Review
Brad Soo – May 19th, 2009 (Updated May 25th, 2009)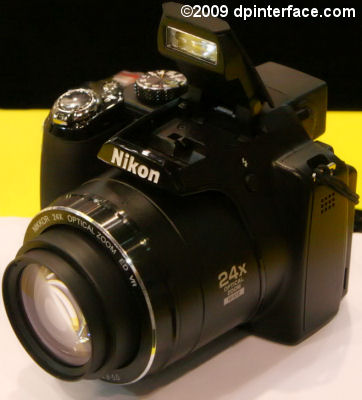 The Coolpix P90 is Nikon's latest super-zoom camera that replaces last year's P80 model. The Nikon Coolpix P90 looks similar to its predecessor, with a slight facelift… but the biggest changes are INSIDE the camera. So here is a rundown of the Coolpix P90's main features:
12 effective megapixels
24X optical zoom lens with sensor-shift image stabilization
3 inch LCD with tilting ability
Full manual controls
Sports Continuous scene mode that shoots at 15 FPS (at 3 MP)
VGA movie mode with sound (640 x 480 resolution at 30 FPS)
ISO range of 100 - 6400
Face, smile, blink and motion detection
Times have changed a lot since Nikon's previous step into the land of super-zooms – competition now is more intense, zoom lenses are getting bigger (super-zoom cameras nowadays have almost double the zoom of cameras a few years back) and most manufacturers continue to, perhaps foolishly, delve in the megapixel and features (*ahem* gimmicks *ahem*) race.
Is the Nikon Coolpix P90 a super-zoom camera worth checking out? Time to find out…
Size and Weight
(303.5) 127.5 x 88.3 x 87.7 mm (585 g) - Canon PowerShot SX1 IS
(299.2) 124.0 x 88.3 x 86.9 mm (560 g) – Canon PowerShot SX10 IS
(288.5) 122.6 x 81.4 x 84.5 mm (483 g) – Casio Exilim FH20
(377.4) 133.4 x 93.6 x 150.4 mm (918 g) - Fujifilm FinePix S100fs
(319.2) 123.7 x 90.5 x 105.0 mm (415 g) – Kodak EasyShare Z980
(296.0) 114.0 x 83.0 x 99.0 mm (460 g) – Nikon Coolpix P90
(297.0) 110.0 x 89.0 x 98.0 mm (435 g) – Olympus SP590UZ
(281.8) 117.6 x 75.3 x 88.9 mm (370 g) - Panasonic Lumix FZ28
(282.5) 110.5 x 82.5 x 89.5 mm (390 g) – Pentax X70
(289.1) 114.5 x 82.8 x 91.8 mm (453 g) - Sony Cyber-shot HX1
All the weight figures above show when the camera is empty without a battery or memory card
The Nikon Coolpix P90 is an average sized super-zoom camera which isn't huge, but doesn't come close to fitting in pockets either. Tipping the scales at about one pound, the P90 is much lighter than a digital SLR (even more so if you want to match the focal length coverage of the P90's 24X lens) and isn't much of a burden to carry around your neck/shoulder or in a small camera bag.
Box packaging
The Nikon Coolpix P90 comes with an average bundle, though some of the competition does include lens hoods in the box:
EN-EL5 Rechargeable lithium-ion battery
Battery charger
Neck strap
Lens cap
USB cable
A/V cables
Camera software CD
User's manual
The Nikon Coolpix P90 takes SD/SDHC memory cards but comes with just 47 MB of internal memory and no memory card. I would recommend at least a 2 GB SD for starters, that'll hold several hundred full-resolution photos, which should be plenty for most people. Many cameras nowadays are able to take advantage and perform faster using a high-speed memory card… the Coolpix P90 can too, except the speed boost here isn't as significant as on some other cameras. So it's up to you if you wanna go for a high-speed card or not.
420 shots - Canon PowerShot SX1 IS
600 shots – Canon PowerShot SX10 IS
430 shots – Casio Exilim FH20
250 shots - Fujifilm FinePix S100fs
410 shots – Olympus SP590UZ
200 shots – Nikon Coolpix P90
460 shots - Panasonic Lumix FZ28
170 shots – Pentax X70
390 shots - Sony Cyber-shot HX1
All the cameras above are rated with rechargeable batteries according to CIPA Standard
One of the things that may come as a surprise is the Coolpix P90 uses a lithium-ion battery for power, instead of AA batteries used by most of the competition. But that's only half the story – to be precise, the camera uses the anemic EN-EL5 battery, shared by several other compact Coolpix models – so what's it doing here on a big zoom camera?
As one would probably expect from a battery that doesn't pack a lot of juice, the underpowered battery here allows you to take only up to 200 shots per charge (CIPA Standard). After that, you'll have to pop the battery into its charger and wait for 2 hours for it to fill up. It's very disappointing; the Nikon Coolpix P90 has almost the worst battery life in its class, and by a far margin too – the average super-zoom can last more than twice as long compared to the P90.
Accessories
The list of accessories available for the Coolpix P90 has shrunk tremendously since Nikon's pre-2005 era super-zoom cameras. You can get an optional AC adapter and various camera cases for the camera, but that's about it. No conversion lenses, no external flash units, no lens hood and heck, you can't even attach filters!
Camera Tour
The Nikon Coolpix P90 is a solid camera with an almost digital SLR look and feel to it. The camera doesn't have as many buttons as most super-zoom cameras, making it less daunting to those who are picking up their first 'large', non-pocketable camera, and there's a rear command dial on the upper right edge, which adds to the overall experience of using the camera. I prefer the command dial here over the button pressing or rotating scroll wheel of other super-zooms, because it feels much more natural and there are prominent, tactile clicks when you use it.
The Coolpix P90 certainly gets some points for style, with its clean and sharp lines as well as its simple yet professional look. No, it doesn't come in pink though - the only color available for the P90 is black.
The Nikon Coolpix P90's front is relatively simple for a super-zoom camera. The biggest feature (no pun intended) you'll immediately notice is the P90's 24X optical zoom lens stabilization. The lens over here is close to the largest zoom range you'll find, with only the Olympus SP590 Ultra Zoom's 26X lens ahead of it. The Coolpix P90's lens is equivalent to a versatile 26 – 624 mm, with an aperture range of f2.8 – f5.0. Nikon includes sensor-shift Vibration Reduction (image stabilization) to help reduce blur caused by shaky hands.
But with the lens reaching super-telephoto territory and the rather slow aperture at full zoom, something tells me that despite built-in image stabilization, you should still brace yourself or lean on something (ie a wall, streetlight, etc) for support when using the lens at full 24X zoom. Or better yet, use a tripod.
Directly above the Coolpix P90's lens is its pop up flash (it's closed at the moment, but you can see it popped up in the Introduction section at the beginning of our review). Nikon doesn't say anything about flash range but based on my testing, its range is about average. With the built-in flash, you can cover small to midsize rooms and outdoor subjects who are 15 feet away from the camera (typical portrait distance). But nothing beats the power and flexibility of an external flash… and unfortunately, you can't attach one to the P90.
To the left of the lens is the autofocus assist lamp, which doubles as a self-timer visual countdown light. The camera's built-in microphone for recording sound is discretely located right next to the AF-assist lamp as a single, small hole.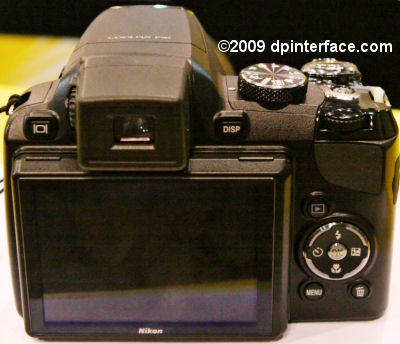 The Nikon Coolpix P90 has yet another big feature, this time on its back. Over here is a 3 inch LCD, which you'll use to compose your shots. The LCD has a pretty decent resolution of 230,000 pixels with good visibility indoors and average outdoor visibility. The screen is mounted on a double-tier hinge, which means you can tilt it downwards for over-head concert/crowd shots as well as tilt it upwards from there for low-angle hip shooting. It isn't as flexible as flip out-and-twist style displays but it does the job well and is of course; better than having a fixed LCD.
Directly above the LCD is the P90's electronic viewfinder. The viewfinder is average in size and I believe it has the same resolution as the LCD. It comes in handy when you're shooting outdoors or to steady the camera against your eye; and there's even a dioptric correction wheel located on the left side to focus the EVF image.
There's also a button to the left of the EVF – that's for switching between the LCD and EVF for composing your photos. The other button, on the right, is the DISPLAY button which toggles the amount of on-screen information shown on the LCD/EVF.
To the upper right of the back of the Nikon Coolpix P90 is a nice padded and slightly curved area where your right thumb goes. Your upper part of your thumb also rests on the P90's command dial in a natural manner. And the camera's command dial is wonderful to use (like on a digital SLR) – it's easily reachable and has tactile "clicks" so you don't have to look at the screen while changing a setting; which is yet another a plus over button mashing or rotary wheel solutions on other super-zoom cameras.
Next up is the Coolpix P90's five-way navigation pad with three buttons around it. Let's start things off with a look at each of the directional functions:
Up – Flash setting (Auto, auto with red-eye reduction, off, on, slow sync, rear-curtain sync)
Down – Focus mode (Normal, macro, infinity)
Left – Self timer (Off, 2 seconds, 10 seconds, Smile Timer, Blink proof)
Right - Exposure compensation (+/-2 EV in 1/3 step increments)
Center – OK/Set
The Nikon Coolpix P90 has two new features under the Self-Timer section: Smile timer and blink proof. The latter will take two pictures in a row and save the one where your subject wasn't blinking.
The three controls around the navigation pad of the Coolpix P90 are the playback, MENU and delete photo buttons.
The Coolpix P90 has not as many buttons as most super-zoom cameras, which is a good thing if you like simplicity. Over here is a better view of the Coolpix P90's built-in flash, which is released electronically with a press of a button on the left side. There's no hotshoe on the P90, which means you can't attach any external flash unit to the camera.
Custom
Automatic shooting
Program mode – the camera will select both shutter speed and aperture
Shutter priority – pick a shutter speed (between 1/2000 to 8 seconds) and the camera will select a matching aperture value
Aperture priority – pick an aperture value (between f2.8/f5.0 to f8.0) and the camera will select a matching shutter speed
Manual mode – you get full control over both shutter speed and aperture
User defined 1 and 2
Movie mode
Auto Scene Selector mode
Scene modes
Sports mode
The Nikon Coolpix P90 has two User Defined custom mode positions where you can save two sets of your frequently used settings so they are easily accessible. If tweaking exposure and creating your own 2 sets of settings isn't your game, the P90 also has a bunch of scene modes as well as an Auto Scene Selector that analyzes the scene you're shooting and picks one of six scene modes automatically to match the situation.
In Sports Mode, the Coolpix P90 adjusts itself for high-speed, action shooting by doing things like boosting ISO, increasing shutter speed and activating continuous focusing. There are also three "Sports Continuous" modes which I'll discuss in the Performance section of our review.
Finally, there's the power button and shutter button with a zoom controller wrapped around it. Pulling the controller towards the 'zoom in' area can also bring up help tooltips in the P90's menu system, just in case you want to know what a menu item does.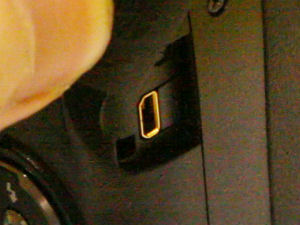 On this side of the Coolpix P90 is a single port used for both USB + A/V out connectivity (The camera supports USB 2.0 High-speed).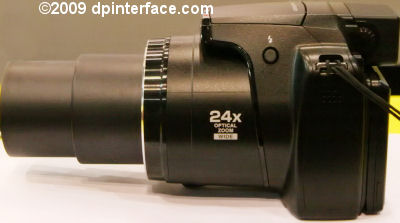 This is the other side of the Nikon Coolpix P90 with the camera's lens extended to full telephoto position. Yes, this is what 24X optical zoom looks like!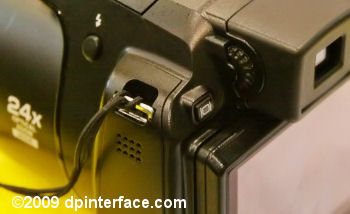 Here's a close-up of that same side of the camera. Here, you'll spot the button used for releasing the camera's popup flash, speaker and the left neck strap loop. There's also a clearer view of the dioptric correction view on the EVF side and button for switching between the LCD/EVF.
At the bottom of the Nikon Coolpix P90 are its battery/memory card compartment (the door over it is solid) and metal tripod mount, which isn't in-line with the lens, sadly.
Taking pictures (Shooting mode)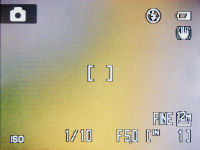 Here's another nasty surprise – the Nikon Coolpix P90 skimps on shooting information when you're composing photos on its display. There's exposure information, image resolution/remaining images and a battery indicator which only appears when you're running low on power. A zoom indicator also appears when you're operating the zoom controller… but other than that, there aren't any other shooting details, no live histogram or any other details.
The Nikon Coolpix P90 has quite a number of image resolution options as well as two compression settings. Image resolution choices include 12 MP, 8 MP, 5 MP, 3 MP, 2 MP, 1 MP, XGA, VGA, widescreen 16:9 (8 or 2 MP), print 3:2 and square 1:1. You can also choose between Fine or Normal image compression.
Nikon P90 Feature Set
Nikon recently redesigned their Coolpix menu system for the better – it's now split into different tabs like on Nikon's digital SLRs and the color scheme here is a whole lot more attractive than the dull white and yellow of the old menu system.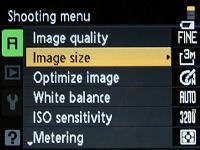 Picture size/compression
Optimize image aka picture effects (Normal, vivid, natural, monochrome)
White balance (Auto, daylight, incandescent, fluorescent, cloudy, flash, custom)
ISO sensitivity (Auto, fixed range auto, 64, 100, 200, 400, 800, 1600, 3200, 6400)
Metering mode (Matrix, center weighted, spot metering, spot AF)
The Coolpix P90 has two high-sensitivity settings: ISO 3200 and ISO 6400, where image resolution is lowered to 3 megapixels if you use them.
Spot metering and Spot AF are slightly different – spot metering fixes the metering point to the center of the frame while spot AF makes the metering point follow the autofocus point around.
Continuous mode (Single shot, continuous shooting, Best Shot Selector, Multi-shot 16)
Auto exposure bracketing (bracketing up to +/-2 EV in 1/3 step increments)
Focus area (Face detection, auto, center point, flexible) – the last option allows you to move the AF point freely around the frame
AF mode (Single/continuous)
Flash exposure compensation (+/-2 EV in 1/3 step increments)
Noise reduction Auto/On/Off
Then there are Best Shot Selector and Multi-shot 16, two items that have been on Nikon's Coolpix models for quite a while now. Best Shot Selector allows you to take up to 10 pictures in a row (you have to hold down the shutter button) and after that, the P90 will select the best/sharpest shot from the bunch. Multi-shot 16 takes 16 low-resolution pictures in a row, which the camera later stitches into a single, large collage.
Distortion control On/Off
Active D-Lighting
Save and reset user settings – for the 2 custom mode dial spots
The Nikon Coolpix P90 has a feature called Distortion Control which tries to reduce lens distortion (ie when barrel distortion causes straight lines and buildings to appear curved in photos). Taking into consideration the huge zoom range of the P90's lens, you might wanna consider turning this option on.
Active D-Lighting adjusts contrast and brings out dark areas while preserving bright parts of your photos. You can choose to have the camera do it on-the-fly after each shot (Active D-Lighting), or apply them to photos in playback by yourself (D-Lighting). What's the catch of the former? It increases processing time and slows down shooting slightly; and for obvious reasons, it can't be done if you've toggled continuous shooting.
Like the two 2009 Coolpix compacts I reviewed earlier this year, the Nikon P90 also features Motion Detection (toggled on/off in the setup menu). When you activate Motion Detection, the camera is able to automatically adjust ISO speed based on the amount of action in the scene (a still scene prompts the camera to choose a low ISO value, while ISO will be increased when there's a lot of movement in the frame).
Face Detection
The Nikon Coolpix P90 has Nikon's Smart Portrait system built-in. Smart Portrait is made up of several things, including face detection (up to 12 faces in a frame), software-based redeye removal, smile detection and blink detection. Blink detection displays an on-screen warning if your subject blinked while the photo was being taken and will tell you to re-take the shot.
Macro and scene modes
The Nikon Coolpix P90 has a very good macro mode which allows you to shoot as close as 1 cm from your subject at wide-angle. As far as super-zoom cameras go, the Coolpix P90 isn't unique – its competitors can go just as close, or even right up against your subject (ie Canon SX10's 0 cm super-macro).
As for scene modes, the Nikon Coolpix P90 has a large handful of them. The scene modes available on the P90 include portrait, landscape, sports mode, night portrait, party/indoor, beach/snow, sunset, dusk/dawn, night landscape, close-up, food, panorama assist, museum, fireworks, copy and backlight.
The Coolpix P90 brings up a virtual overlay interface which helps you line up several shots so you can later stitch them into a single panorama. Copy mode allows you to take pictures of documents while the camera applies corrections so text can be viewed clearly.
Video Recording
Movie mode isn't one of the Coolpix P90's strong points. You can record VGA (640 x 480) video clips at 30 FPS with sound up to 2 GB per clip (around 30 minutes at the highest settings). You can extend recording times by lowering the resolution to QVGA (320 x 240). All movies are recorded in AVI Motion JPEG format.
There are two rather basic 'effects' that can be applied to your movies – either turn them black & white or sepia. And it seems you can only do this in QVGA mode. A time lapse option allows you configure the camera to take pictures based on a preset interval, and then all the pictures will be combined into a silent VGA movie clip that is played back at 30 FPS (again, sound is not recorded in time lapse mode). Time lapse mode comes in handy if you have the time to station the camera somewhere all day to capture your garden flowers blooming, and perhaps you should use an AC adapter too.
Unfortunately, the P90's movie mode is pretty limited in other areas as well: you cannot use sensor-shift image stabilization, zoom or focus while recording. The camera produced videos of acceptable quality but the video/audio out-of-sync issue makes its grand appearance yet again, as with Nikon's previous Coolpix cameras. Why can't they fix it already?
Performance
All performance testing of the Nikon Coolpix P90 was performed using a high-speed 4 GB SanDisk Ultra II SDHC (90X) card.
The Nikon Coolpix P90 starts up and is ready to go in 1.5 seconds. Focusing typically took 0.3 to 0.5 seconds in bright light and 0.6 up to over 1.5 seconds in low-light, depending on zoom position. If you're using the camera at wide-angle, then focusing should be acceptable (though you'll wait a while) in low-light. But towards the middle of the zoom range (and past that), and the camera struggles to lock focus without decent lighting.
Shot-to-shot speed - 1 shot every 1.6 seconds, fast
Flash recharge time using a fully charged battery - 5 seconds
The Nikon Coolpix P90 has a single full-resolution continuous shooting mode along with three high speed options which come under the Sports scene mode. Regular continuous shooting shoots at full 12 megapixels at a decent 1.4 frames per second up to 10 shots before slowing down tremendously, forcing you to either pause for the camera to write the images to the card or continue shooting at a paltry frame rate of 1 frame every 3 to 4 seconds. Apparently this bottleneck is due to the camera's processor/buffer, since a high-speed card was used for testing.
There are three "Sports Continuous" modes (comes under the scene mode section) which lowers resolution to 3 megapixels but allows you to shoot at your choice of 4, 6 or 11 FPS up to around 35 photos in a row. If you use the 16:9 widescreen aspect ratio (which indirectly 'crops' out the top/bottom, reducing resolution further), you can shoot up to 15 FPS.
The Nikon Coolpix P90 moves its lens from wide-angle to telephoto in 3 seconds. The Coolpix P90 produced mixed levels of performance: on one hand, there's relatively fast start-up and shot-to-shot speeds… and on the other is poor low-light focusing, especially if the lens is at telephoto, and limited continuous shooting buffer.
Image Quality
Moving on, we're gonna look at the Coolpix P90's image quality now:

ISO 64 (f2.8, 1/7 sec)

ISO 100 (f2.8, 1/9 sec)

ISO 200 (f2.8, 1/18 sec)
ISO 400 (f2.8, 1/34 sec)

ISO 800 (f2.8, 1/69 sec)

ISO 1600 (f2.8, 1/136 sec)

ISO 3200 (f2.8, 1/250 sec)
ISO 6400 (f2.8, 1/638 sec)
The Nikon Coolpix P90 kicks off with a noisy start – the ISO 64 and 100 crops look similar with good amounts of detail but visible noise. The camera proceeds to use noise reduction at ISO 200, giving the impression that quality here is cleaner. Indeed there is less noise visible to the eye, but picture quality turns a little soft too.
Image quality goes further south at ISO 400 – pictures look muddy thanks to noise reduction, but it doesn't get rid of all the noise as you can see; resulting in soft-ish and noisy images. By ISO 800, image quality becomes unusable and things just get worse as you go up to ISO 1600 to 6400. And by the way, the P90 limits the ISO 3200 and 6400 settings to 3 megapixels of resolution only.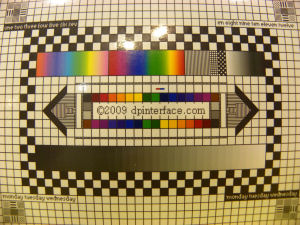 The Nikon Coolpix P90 produces a lot of lens distortion at both ends of its zoom range, which doesn't come as a surprise, considering the huge 24X range that the lens covers. You might want to make use of the camera's Distortion Control feature to tame distortion a bit (but won't eliminate the problem completely).
There was some noticeable color fringing (chromatic aberration) as well as prominent edge softness in images. Redeye is somewhat of an issue on the Coolpix P90 – the camera removes any redeye it detects after a photo is taken, but half the time, redeye just slips by the system and there's no in-camera solution (ie playback tool) to rectify the issue. So be prepared to do some editing and corrections on your computer…
Overall, the Coolpix P90's image quality lets it down with visible noise at low ISO speeds and muddy pictures as you increase ISO. There's also plenty of lens distortion, visible chromatic aberration and edge softness; the latter is especially annoying if you enjoy shooting landscapes.
Photo gallery
View full-sized photos straight out of the camera in the Nikon Coolpix P90 photo gallery.
Playback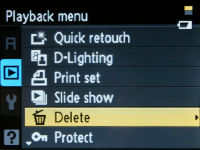 The Nikon Coolpix P90's playback mode is quite good. First of all are the usual print marking, image protection, rotation, simple slideshow and voice clip attachment. Photos can be enlarged by 10X for detail inspection and also can be "hidden" from view in playback.
Images can be copied between the internal memory and memory card or "shrunk" into a small copy of the original photo for easy posting onto the web/email via the Small Picture function. There are also three editing playback editing tools in the Coolpix P90: Quick Retouch adjusts contrast and saturation to apparently make photos look better, and D-Lighting which brightens up dark areas in photos. A third tool doesn't really "edit" your photos – it just adds black borders around your photo for that "motivational poster" look.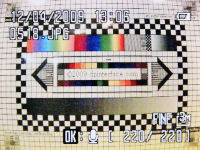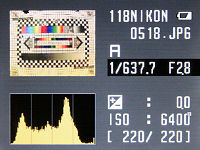 The amount of on-screen information in playback mode was below average on the Coolpix P90. While there's exposure information and a brightness histogram, the camera doesn't tell you about your photos' shooting details (ie white balance setting).
Conclusion
The Coolpix P90 is Nikon's latest offering in the super-zoom camera arena. It may have one of the largest zoom lenses on a fixed lens camera (24X optical zoom) but that doesn't make it the best camera out there in the market.
Then there are things like 12 megapixels of resolution, a huge 3 inch LCD that you can tilt up/down for unusual shooting angles and full manual controls. Ergonomics and build quality were both good; I especially appreciate the rear command dial, and there are also two mode dial positions where you can store your favorite settings on. On the negative side, the Coolpix P90 isn't the type of camera which you can soup up with many accessories – the camera doesn't support lens hoods, filters, conversion lenses and external flashes… so the only thing you can add on is an AC adapter.
Apart from that, the P90 has features you'll find in the typical year 2009 camera, including face, smile, blink and motion detection, automatic scene mode selection and D-Lighting (brightens your photos). There are plenty of scene modes, automatic shooting and help tooltips available at your disposal, in case you're not ready fiddle around with all the camera's settings just yet.
The Nikon Coolpix P90 performed pretty well in terms of shooting speed but has a burst mode with rather limited buffer. Battery life was utterly underwhelming as well, with every other ultra-zoom camera out there having at least 2 times the battery life. In addition, Nikon has a bad habit of skimping on details about your photos – the camera doesn't display any shooting details in playback, and barely anything in shooting mode.
Another thing we know for sure is that the Nikon Coolpix P90 is NOT a "bridge" camera. To be frank, the camera's movie mode sucks. You can record VGA movie clips with mono sound and that's pretty much it. You can't use zoom at all, or focus, and not even sensor-shift image stabilization. To add to the disappointment, the video-audio sync issue that's been plaguing Coolpix cameras for the past few years is STILL here!
Image quality is the final blow to the Nikon Coolpix P90. Image quality isn't good at all. While high levels of lens distortion are expected for zoom lenses that cover such a large range, prominent edge softness in photos and visible noise at low ISO speeds are inexcusable. Chromatic aberration is noticeable as well and the camera doesn't perform well in low-light (in terms of image quality and focusing speeds at telephoto).
The Nikon Coolpix P90 may look professional on the outside and pretty on paper, but the truth is, it isn't as great as it seems. Movie mode, battery life and especially image quality (the utmost important criteria of a digital camera) are three of the various crucial areas where a camera needs to perform well in order to fight off the competition… and the unfortunate part is the Coolpix P90 falls short of all three. And to make things worse, the camera doesn't even have any features which stand out from the crowd, which makes letting go of the P90, and going for the competition instead, an easier choice to make.
If you're looking for a super-zoom camera, or even a camera with good value and image quality, you won't find the Nikon Coolpix P90 on my recommendation list.
What's hot:
Image quality is "just" acceptable outdoors; up to medium sized prints/display
Huge 24X optical zoom lens with image stabilization
Large, tilt-able 3 inch LCD with good visibility
Full manual controls
Two custom mode positions
Time lapse feature and built-in help tooltips
Fancy bells & whistles: Smart Portrait, active D-Lighting, motion detection and auto scene selection
Good performance; blazing fast (but low-res) sports mode
What's not:
High levels of lens distortion and edge softness; visible noise at low ISOs and poor low-light performance
No RAW mode or HD movie capabilities
Not a lot of on-screen information display in shooting/playback modes
Worst-in-class battery life by a far margin
Below average movie mode; no zoom allowed and audio sync problems
External flashes, conversion lenses and lens filters not supported
Recommended Accessories:
2 GB or 4 GB high-speed SD/SDHC memory card
Extra lithium-ion rechargeable battery
Related articles: