Yes, I'm keeping to the promise I made to readers back in August, so here's my review of the Nikon Coolpix S70. It's Nikon's third touchscreen camera and the Coolpix S70 takes things one step further with a new touchscreen UI (Again!) and multi-touch support. Head on to the Nikon Coolpix S70 photo gallery to view sample photos as well.
Brad: DPInterface is just as pumped up about the holiday season as you readers out there so look forward to plenty of camera reviews coming soon. This review got delayed because I was busy covering the Olympus PEN E-P2 launch last week.
DPInterface Nikon Coolpix S70 Review
Brad Soo – November 11th, 2009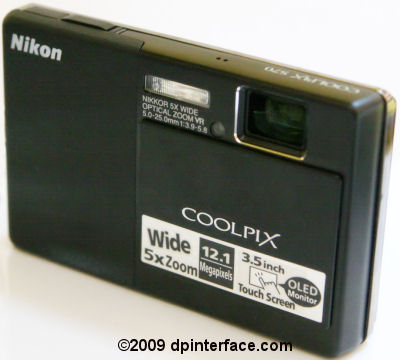 The Coolpix S70 is yet another interesting model in Nikon's fall 09 lineup: it's their third touchscreen camera and Nikon's first multi-touch model. The Nikon Coolpix S70 has the usual features you'd come to expect from an ultra-thin compact camera: 12 megapixels, a 5X optical zoom lens, a 3.5 inch touchscreen (that supports multi-touch and gestures), automatic operation and plenty of playback editing tools.
The holiday season of 2009 is approaching fast… with plenty of stylish cameras out there and an increasing number of manufacturers making one touchscreen camera or another, the Nikon Coolpix S70 has its work cut out for it. How does the camera stack up against the rest? Let's find out now!
In the box
The Nikon Coolpix S70 comes with the standard digital camera bundle:
EN-EL12 Rechargeable lithium-ion battery
Battery charger OR charging AC adapter
Wrist strap
USB cable
A/V cables
Camera software CD
User's manual
The Nikon Coolpix S70 comes with a useless 20 MB of internal memory, that's barely enough to begin with. The camera takes SD/SDHC memory cards and I would recommend 4 GB to begin with. A high-speed card is optional since the camera doesn't perform significantly faster with one.
The Nikon Coolpix S70 comes with the rechargeable EN-EL12 battery and charger. This compact little battery can power the camera for up to an estimated 200 shots per charge, which is rather average and comparable to the 'other' big touchscreen camera in the group; the Sony TX1.
Depending on where you live/bought the camera, the Nikon Coolpix S70 can come with either a charger, where you plug in the battery as you would using a normal camera, or AC adapter, which plugs the S70 directly into the socket and charges the battery while it sits INSIDE the camera (ala a mobile phone). You can also charge the camera via USB when you connect it to your computer.
Accessories
There are no accessories available for the Nikon Coolpix S70 besides replacement chargers and camera cases.
Camera Tour
The design of the Nikon Coolpix S70 isn't a major departure from most ultra-thin, internal zoom cameras out there; it has a simplistic looking front (complete with a sliding lens cover), surprisingly good build quality and huge display on the back. The Coolpix S70 has two nice touches: such as the faux-leather front and lens/flash layout that's shifted slightly away from the edge (so you don't block the lens when holding the camera).
However, Nikon took the concept of 'simplicity' a bit too far here with just ONE button on the Coolpix S70. That's right folks, no on/off or zoom buttons to be found on this camera. I probably could've lived without the former, but the lack of physical zoom controls really bothers me. Even a tiny zoom knob at the top would've been better than the clumsy touchscreen zoom controls, but that's just me.
The Nikon Coolpix S70 comes in your choice of four colors: beige, light brown, black and red. Not all colors will be available throughout the world, however.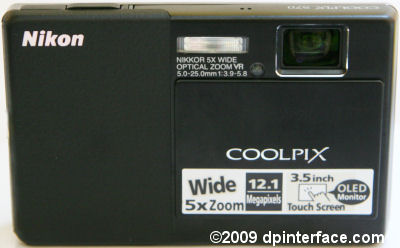 The Nikon Coolpix S70 looks a lot like your typical ultra-compact digital camera. It has a familiar 28 – 140 mm, 5X zoom lens (that we also saw on the S1000pj projector camera) which comes with optical Vibration Reduction (image stabilization) but a rather slow aperture range of f3.9 – f5.8. To the left of the lens are the Coolpix S70's average-powered flash unit and autofocus assist/self-timer lamp.
I like how the lens isn't located at the very edge of the camera, so it's not very prone to getting blocked by your fingers when holding the camera. Below that is the Coolpix S70's sliding lens cover, which also doubles as a power switch for the camera – slide it down to reveal the lens and turn the camera on, slide it back up to protect the lens and turn the camera off.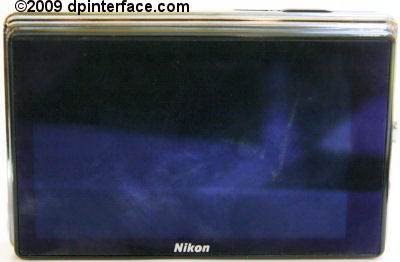 Believe it or not, there's nothing at the back of the Coolpix S70 except its big 3.5 inch touchscreen. It's also one of the few OLED screens found on cameras and features a glass cover for protection. On the downside, the screen has a rather low resolution of 288,000 pixels (WQVGA) and it shows, images on-screen don't look as tack-sharp as they could have been.
In terms of interface design and responsiveness, the camera is user-friendly with clearly labeled icons, which also happen to be large enough to press with your thumb. The touchscreen is very responsive, even to light touches so you don't have to keep jamming and hitting the on-screen icons for something to happen. That's also a bad thing, however, since the touchscreen is prone to accidental 'presses' when holding the camera (there's not much space for your hands to go as you can see).

Over here, you'll find the one and only button on the Coolpix S70 – the shutter button. There's also a power status light and microphone towards the center.

Nothing to see on this side of the camera. And now, moving on…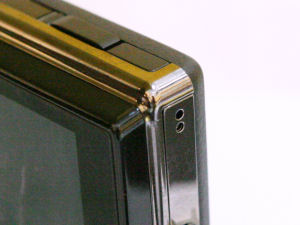 On this side is the camera's speaker.
At the bottom of the Nikon Coolpix S70 are its battery/memory card compartment with an average-quality door over it and tripod mount.
Taking pictures (Shooting mode)
The Nikon Coolpix S70 is a nice change from Nikon's other compact cameras in the sense that it shows a lot more on-screen information than before. You can view shooting information of all sorts, exposure detail, a zoom indicator and if that's too messy for you, you can toggle the info on/off. Well Nikon, time to remodel the UI's of your other non-touchscreen compacts to make them just as brilliant as the one here on the S70!
Another great thing is the camera's shooting settings can be changed within two taps, which is about as good as accessibility can get. Heck, you can even take a picture simply by tapping your desired focus area on-screen – the camera will immediately autofocus and snap a photo. I'm not a big fan of this 'tap to take' feature though, as I found myself frequently taking pictures by accident when I had meant to tap on one of the setting icons (and then I have to enter playback to delete the usually-blurry, accidental shot). In my opinion, making the default function 'tap to focus' instead of 'tap to snap' would've been much less annoying in the event someone hits the wrong area on screen.
Well, enough of ranting, let's move along to those on-screen icons:
Self-timer (Off, 2 seconds, 10 seconds, Smile Timer, Blink proof)
Flash mode (Auto, auto with red-eye reduction, off, on, slow sync, rear-curtain sync)
Image resolution/compression
Face Detection
Exposure compensation (+/-2 EV in 1/3 step increments)
Focus mode (Normal, macro, infinity)
Drive mode (Single-shot, continuous shooting, best shot selector)
White balance (Auto, daylight, incandescent, fluorescent, cloudy, flash, custom)
ISO sensitivity (Auto, fixed range auto, 80, 100, 200, 400, 800, 1600, 3200, 6400)
Date imprint
Around the edges of the screen are icons for toggling between shooting/playback, tap to shoot, the INFO icon, HOME icon and on-screen zoom controller (which also happens to show zoom position and macro range).
The Nikon Coolpix S70 has quite a number of image resolution options as well as two compression settings (but as usual, High quality is only available for the highest resolution, other image sizes are fixed to Normal quality). Image resolution choices include 12 MP, 8 MP, 5 MP, 3 MP, 2 MP, 1 MP, VGA and widescreen 16:9 (at 8.8 MP).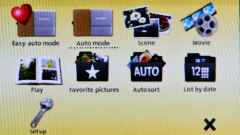 Nikon's Home menu is more homely than the one by S
And here's the Nikon Coolpix S70's Home menu. For the past few years, you've heard horror stories from me, other reviewers and regular camera users about the Home Menu found on some other camera brand (*cough*Sony*cough*)… but the one by Nikon is as user and finger-friendly as things can get with large icons, captioned that are easy to press with just your fingers. In fact, Nikon's Home menu is just a nice term for their mode selection interface.
Let's list down the various shooting modes available on the Coolpix S70 while we're at it, shall we?
Easy auto mode – Entirely automatic shooting, just point and shoot (you can't change camera settings here)
Auto mode – More like Program mode, mostly automatic shooting but you can change some camera settings
Scene modes
Movie mode
Playback mode
Favorite pictures
Auto sort
Sort by date
Setup menu
The Nikon Coolpix S70 has a macro mode that lets you go as close as 3 cm to your subject at wide-angle. The camera allows you to zoom in slightly as well.
The Nikon Coolpix S70 has the same set of numerous scene modes shared by Nikon's other compact cameras; which include portrait, landscape, sports mode, night portrait, party/indoor, beach/snow, sunset, dusk/dawn, night landscape, close-up, food, panorama assist, museum, fireworks, copy and backlight. If you find yourself having a hard to time trying to pick a scene mode, you can let the camera choose for you using the scene auto selector mode. To take advantage of the Coolpix S70's touchscreen, the camera even allows you to change the intensity or level of some scene modes via on-screen sliders.
Setup menu
Seeing that you can change commonly used settings directly on-screen when shooting, the only other menu on the Coolpix S70 is the Setup Menu, buried inside the mode area. This section contains a list of things you would change only occasionally, usually when you first unbox the camera.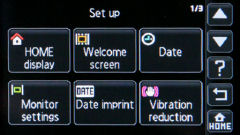 Home display – you get to choose your own theme for the Home menu
Welcome screen – customize the camera's startup animation
Date/time settings
Monitor settings – choose what info you want to see on the camera's display
Date imprint – applies a date stamp on every photo you take
Vibration Reduction – optical image stabilization mode
Well, the items here are pretty self-explanatory, Nikon even includes some degree of personalization by allowing you to tweak the camera's Home and welcome displays (first seen on the Coolpix S60 last year). I've been receiving quite a number of questions regarding the camera's date stamp option – well, don't say I didn't tell you: the date stamp function (or date imprint, as Nikon calls it) is located here in the setup area of the camera.
Two more Setup menu pages and we're done…
Autofocus assist lamp
Digital zoom
Sound settings – camera sound effects, playback and beeps
Auto power off – to conserve battery life
Format memory card
Language
Video mode (NTSC/PAL)
Charge by computer – yes, you can charge the Coolpix S70 via USB!
Blink warning
Reset all settings
Copy – transfer images from the camera's internal memory to the memory card
Firmware version
Well, again, all the stuff here is pretty self-explanatory. One neat feature about the Coolpix S70 is its support for USB charging. If you're the type that forgets to charge your camera batteries, you can simply connect the camera to your computer and it'll start charging (albeit quite slowly). But of course, just remember not to leave the camera on your computer desk when you leave home!
Face Detection (Nikon Smart Portrait)
The Coolpix S70 has the Nikon's standard-issue Smart Portrait feature set which can come in handy when taking photos of people. Smart Portrait consists of a few 'detection' features related to people photos, including face detection (up to 12 faces in a frame), software-based redeye removal and blink detection.
Blink detection comes in two forms: The passive blink warning, which displays an on-screen notice if someone blinked, or the more pro-active Blink Proof mode, which takes two pictures in a row and picks the shot with your subject(s)' eyes open. There's also smile detection in the form of Smile Timer mode, where the camera starts counting down to take a picture when a smile is detected.
One new addition to Nikon's Smart Portrait suite is the skin softening function, which allows you adjust from 3 levels of softening so your subjects have smooth skin.
Video Recording
Believe it or not, the S70 is the first ever Nikon Coolpix camera to feature HD movie recording; about time too! The Nikon Coolpix S70 can record 720p HD (1280 x 720) movies at 30 FPS with sound. Movies are recorded in AVI Motion JPEG format, with a file size limitation of 2 GB per movie clip, which works out to 12 minutes of HD video or 30 minutes of VGA video. Lower settings such as VGA recording are available (frame rate remains at 30 FPS) if you want to record longer movies or fit more video clips onto your memory card.
You can use optical image stabilization when recording movies but there isn't anything else that's too remarkable here. Overall movie quality was average.
Performance
All performance testing of the Nikon Coolpix S70 was performed using a high-speed 4 GB SanDisk Ultra II SDHC (90X) card.
It takes just 1.2 seconds for the Nikon Coolpix S70 to be ready for shooting after you slide down the lens cover. The lens mechanism is entirely self-contained so there's no lens to extend or retract. The camera is able to move its lens from wide-angle to telephoto in 2 seconds. Focusing times were quite pedestrian, clocking in between 0.2 to 0.5 seconds at wide-angle and/or with good lighting around. In less favorable, dimmer conditions, focusing can take up to a second or more, though focusing was still pretty accurate.
Shot-to-shot speed - 1 shot every 1.7 seconds, fast
Flash recharge time using a fully charged battery - 4 seconds
I noticed the Nikon Coolpix S70 has a rather small buffer, either that, or slow writing times. If you take photos one at a time, you probably won't notice the difference. But if you take a lot of photos in a row, expect to wait a while (longer than some cameras) while the camera processes and puts them into the memory card. The camera's continuous shooting performance was just so-so because of this – I managed to take around 15 shots at 1.2 frames per second before the camera slowed down.
The Nikon Coolpix S70 felt rather pedestrian in the speed department. The camera's shooting performance was overall 'average' for a compact camera – there are faster cameras out there if you want speed. The only thing that stands out (in a bad way), is the S70's below average buffer/writing speed, which in turn, negatively affects the number of shots you can take in a single burst.
Image Quality
Time for image quality tests with the Nikon Coolpix S70::

ISO 80 (f3.9, 1/4 sec)

ISO 100 (f3.9, 1/4 sec)

ISO 200 (f3.9, 1/9 sec)
ISO 400 (f3.9, 1/18 sec)

ISO 800 (f3.9, 1/36 sec)

ISO 1600 (f3.9, 1/72 sec)

ISO 3200 (f3.9, 1/144 sec)

ISO 6400 (f3.9, 1/252 sec)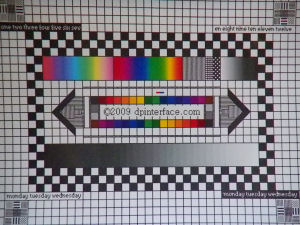 Photo gallery
Head on to the Nikon Coolpix S70 photo gallery to view full-sized sample pictures from the camera.
Conclusion
Nikon has been doing a good job with touchscreen implementation of their cameras and the new Coolpix S70 takes things a step further by including multi-touch and gesture support. On its surface, the Nikon Coolpix S70 looks like your typical ultra-thin camera but switch it on and browse about, and you'll discover that it has one of the better touchscreen user interface/menu systems you can find on a digital camera.
The camera is build very well with a nice faux-leather front and responsive touchscreen. Of course, there are drawbacks to the Coolpix S70's big touchscreen, such as the lack of space to hold the camera, almost zero physical controls/buttons (poor choice on Nikon's part) and low display resolution (another poor decision). It kind of makes me wonder why Nikon chose to put a WQVGA screen on the S70 when some of the competition has much high resolution WVGA displays.
The Nikon Coolpix S70 takes one step forward with its nice 5X lens but then, it takes a step back with the lens' crummy aperture range. It may have some shortcomings, but the S70 is much better in the feature set department. n fact, it does boast a few nice bells and whistles, including a very rare (on digital cameras) support for USB charging. For travelers, that can mean one less charger to carry around if you're bringing your laptop/netbook, since the Coolpix S70 can charge while you're using your computer.
The Coolpix S70 is mainly a point-and-shoot camera, with no direct control over exposure available. The camera has lots of scene modes, plenty of portrait-related features (face, blink and smile detection) and camera settings that are very easy to access in Program/regular Auto mode (just two taps away). Performance-wise, the Coolpix S70's average speed will suffice for casual shooting but not for those planning to capture action or shoot in poorly-lit conditions.
I'm glad to report that image quality of the Coolpix S70 was good, on par with most cameras in this class and a definite improvement over Nikon's compact cameras of the past The Coolpix S70 managed to produce photos with nicely saturated colors and good levels of detail, that were usable up till ISO 800. The camera also happily removed redeye without fuss, though the same cannot be said about noise reduction at higher ISOs (starting from 800). Like on most cameras, once you hit ISO 800, things start to get muddy, and I wouldn't advise using anything ISO 1600 and above. There's also some edge softness and color fringing.
The Nikon Coolpix S70 is a capable touchscreen camera which deserves my recommendation. It excels at shooting outdoors and in bright light, has a basket of neat features and takes good quality photos. Consider the Coolpix S70 if you're looking for a point-and-shoot compact with a 'cool' touchscreen (how can multi-touch be uncool?!), but back away if you plan to shoot in low-light or moving subjects often.
What's hot:
Good image quality, vivid colors and good detail; improvement over old Coolpix'es
Big 3.5 inch LCD; responsive to touch and supports multi-touch/gestures
5X optical zoom lens with optical image stabilization
USB charging can be useful; less chargers when going on trips (with a laptop)
Very user-friendly touchscreen interface; 'thumb-able' large icons
Automatic scene selection, elaborate face detection/portrait features
Excellent playback mode: swipe gestures, plenty of editing tools, including painting and writing
What's not:
Some edge softness, prominent color fringing (chromatic aberration); muddy images over ISO 800
Slow lens aperture range
Lack of manual controls
Low resolution display; visibility could've been better
No physical controls (except shutter button); on-screen zoom controller is small and clumsy
Poor buffer and burst mode
3.0 - Design and build quality
3.5 - Bundle in the box
3.4 - Lens (Zoom, aperture range, image stabilization)
4.3 - Feature set and manual controls
4.0 - Ergonomics and ease of use
3.4 - Performance and speed
3.7 - Image quality
7.23 over 10.0 - Overall rating
Related articles: