Check my review of the Nikon Coolpix L100, a simplistic big zoom camera. I've also posted the Nikon Coolpix L100 photo gallery as well. Hit the link for the full review.
DPInterface Nikon Coolpix L100 Review
Brad Soo – July 13th, 2009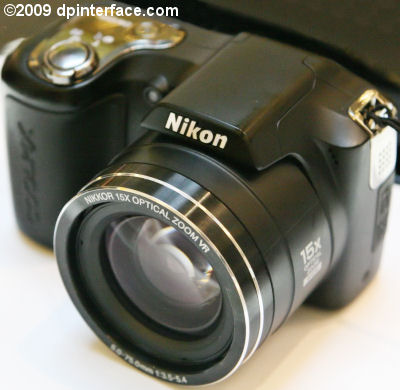 The Nikon Coolpix L100 is a basic, big zoom camera which looks and feels like a 'true' ultra zoom yet offers the simplicity of a point-and-shoot compact. The L100 offers 10 megapixels of resolution, 15X optical zoom with image stabilization, a 3 inch LCD screen and excellent battery life. In terms of size, it's parked right in between "pocket" and "true" super zoom cameras – not too big to carry around, but not pocketable either.
How does the Coolpix L100 perform? Read on to find out.
Size and Weight
(201.1) 103.0 x 60.5 x 37.6 mm (220 g) – Canon PowerShot SX200 IS
(177.6) 96.4 x 55.9 x 25.3 mm (132 g) – Olympus Stylus 7000
(187.0) 96.0 x 60.0 x 31.0 mm (185 g) – Olympus Stylus 9000
(260.0) 110.0 x 72.0 x 78.0 mm (335 g) – Nikon Coolpix L100
(195.7) 103.3 x 59.6 x 32.8 mm (206 g) – Panasonic Lumix ZS3/TZ7
(200.7) 104.1 x 61.0 x 35.6 mm (219 g) – Samsung HZ10W
(223.1) 107.3 x 68.7 x 47.1 mm (250 g) – Sony Cyber-shot H20
All the weight figures above show when the camera is empty without a battery or memory card
At first sight, it can be puzzling trying to decide if the Nikon Coolpix L100 should come under the compact super zoom or a real ultra-zoom class. The Coolpix L100 is larger than most compact super-zoom cameras, but noticeably smaller than 'real' ultra zoom cameras like the Coolpix P90. Also unlike real big zoom cameras, the Coolpix L100 doesn't have any manual controls.
In my opinion, however, the Coolpix L100 is more closely related to the compact super-zoom class – it doesn't have any manual controls, no viewfinder but it has a large zoom lens. The Coolpix L100 may be the largest and heaviest in its class, but it also has the biggest lens.
Box packaging
The Nikon Coolpix L100 comes with an average bundle:
4 AA alkaline batteries
Neck strap
Lens cap
USB cable
A/V cable
Camera software CD
User's manual
The Nikon Coolpix L100 comes with just 44 MB of internal memory and doesn't come with a memory card. The camera takes SD/SDHC memory cards and I would recommend starting off with a 2 GB card.
280 shots – Canon PowerShot SX200 IS
150 shots – Olympus Stylus 7000
250 shots – Olympus Stylus 9000
600 shots – Nikon Coolpix L100
300 shots – Panasonic Lumix ZS3/TZ7
290 shots – Sony Cyber-shot H20
All the cameras above are rated with rechargeable batteries with LCD on according to CIPA Standard
The Coolpix L100, which is quite a bit larger than the competition, uses 4 AA batteries and comes with a set of alkaline ones. The bundled batteries will last for around 350 shots per charge, which is a refreshing change from cameras which get paltry battery life from in-the-box batteries, but nevertheless they still end up in the trash after running low. I'd suggest picking up a set of 4 AA NiMH rechargeable batteries and a charger, seeing that they cost less and are more environmentally friendly in the long run versus their alkaline counterparts. With a set of rechargeable batteries, battery life shoots up to 600 shots per charge, which is above average for any fixed lens camera.
Accessories
The only accessories available for the Coolpix L100 are an AC adapter and various camera cases. The camera is not compatible with conversion lenses or filters.
Camera Tour
The Nikon Coolpix L100 has a rather mixed design - From the front, it looks like a 'real' ultra-zoom camera but on the back, the camera shares many similarities to compact super-zooms such as the Sony H20.
One area where Nikon didn't skimp on the Coolpix L100 is build quality. The camera is made of both plastic and metal elements, and it feels sturdy in hand. Ergonomics was good too; there's a decent right hand grip and not a whole lot of buttons to confuse beginners.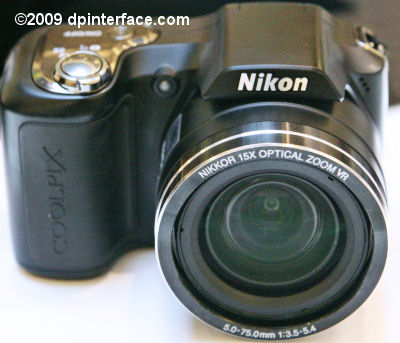 The Nikon Coolpix L100 features a large 15X optical zoom lens, which is a lot bigger (both physically and in terms of total zoom) than 7X or 10X lenses on 'compact' super zooms; yet smaller than those 20X to 26X lenses we've been seeing on things like the Coolpix P90. The L100's 15X lens is equivalent to a nice 28 to 420 mm but with a rather slow aperture range of f3.5 – f5.4. Naturally, there's sensor-shift image stabilization backing the lens to compensate for camera shake, especially when using the telephoto end of the lens.
Directly above the lens is the camera's popup flash unit and flanking the flash on both sides are the autofocus assist/self-timer countdown lamp and microphone. As usual, Nikon doesn't say anything about flash power for their Coolpix models, so here's what my usage reveals: the flash is actually on the powerful side with a decent 'recharge' time of 3 to 4 seconds after firing at full blast. However, if you need more flash power or flexibility, you cannot attach an external flash unit to the camera.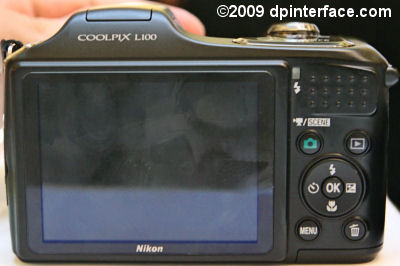 The Nikon Coolpix L100 features a large 3 inch LCD with 230,000 pixels on the back, and no electronic viewfinder. Visibility in low-light was good while outdoor visibility was decent, but could've been better.
Next to the large screen is a small LED indicator for flash status, followed by two buttons. The buttons are for changing shooting mode (Auto, movie, scene) and entering playback respectively.
The Nikon Coolpix L100 has a standard issue navigation pad (it doesn't have a rotary dial like more expensive Coolpix models):
Up – Flash setting (Auto, auto with red-eye reduction, off, on, slow sync)
Down – Focus mode (Normal, macro, infinity)
Left – Self timer (Off, on - 10 seconds)
Right - Exposure compensation (+/-2 EV in 1/3 steps)
Center – OK/Set
There are two more buttons below the navigation pad, and they are the MENU and delete photo buttons respectively.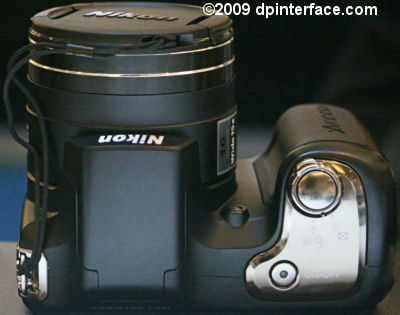 Unlike Nikon's more expensive cameras with more controls, the only things you'll find over here are the usual power and shutter buttons, plus a zoom controlled wrapped around the shutter button.
One side of the camera is blank while on this side, there's the Coolpix L100's speaker. There is also a single rubber flap which covers the ports for USB and A/V out connectivity as well as for the optional AC adapter accessory.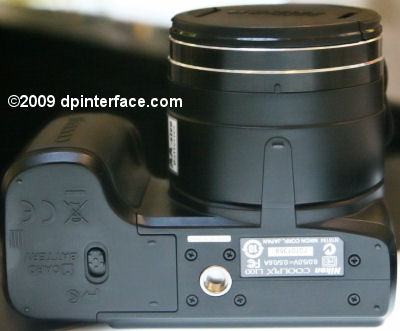 At the bottom of the Nikon Coolpix L100 are the camera's metal (surprise!) tripod mount and battery/memory card compartment. Unfortunately, I've got two pieces of bad news here: the tripod mount is not in-line with the lens and the batteries don't have any locking clip to hold them in place while swapping memory cards.
Taking pictures (Shooting mode)
Like its L-series "lifestyle" siblings, the Nikon Coolpix L100 is made to be simple, perhaps too simple unfortunately. The camera doesn't display any sort of information besides a zoom indicator with macro and flash icons (and number of pictures remaining too). Looking for a live histogram? Nope, there's none here. How about exposure information? Well, no. I think that even newbies would appreciate the camera telling them at least something about their photos.
The Nikon Coolpix L100 has a grand total of 6 image resolution options; including 10 MP, 5 MP, 3 MP, 1 MP, VGA and widescreen (7 or 2 MP). There are two image quality options (compression): High or Normal but only for the 10 MP setting… at lower resolutions, compression is fixed at "Normal" quality.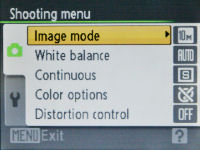 As expected, the Nikon Coolpix L100 features Nikon's redesigned menu system for 2009. However, as a camera that's meant to be simple, there are just five things you can change for shooting mode:
Picture size/quality
White balance (Auto, daylight, incandescent, fluorescent, cloudy, custom)
Drive mode (Single shot, continuous shooting, Best Shot Selector, Multi-shot 16, interval shooting)
Color options
Distortion control – applies software-based barrel distortion reduction
Best Shot Selector takes up to 10 pictures in a row before the camera selects the best/sharpest one from the bunch; while Multi-shot 16 takes 16 pictures in a row and combines them into a single 10 megapixel collage. There's also interval shooting which allows you to configure the camera to take pictures at preset intervals.
There's also Motion Detection (in the setup menu), where the camera will automatically set ISO based on the amount of action going on in the scene (a still scene prompts the camera to choose a low ISO value, while ISO will be increased when there's a lot of movement in the frame).
And speaking of ISO, you can't select an ISO speed yourself. You're at the mercy of the camera's imaging processor – the camera will pick an ISO setting anywhere from ISO 80 to 800 in auto mode, and will go as high as ISO 3200 in high ISO mode.
Face Detection (Smart Portrait)
Next up is Nikon's "Smart Portrait system" which consists of face detection (up to 12 faces), smile and blink detection as well as software-based redeye removal. When you activate smile mode, all you have to do is press the shutter button and the camera will wait until a smile is detected before automatically taking a photo. Blink Detection works passively, alerting you if any blinks were detected after a shot is taken and then advising you to retake the photo.
Shooting modes
Press the shooting mode button and you'll see this screen
The shooting mode button brings up a semi-transparent overlay on the display with five tabs showing the main shooting modes of the camera:
Easy auto mode with scene auto selector
Scene modes – Portrait, landscape, sports, night portrait, party/indoor, beach/snow, sunset, dusk/dawn, night landscape, close-up, food, museum, fireworks, copy, backlight, panorama assist
Sports continuous mode
Movie mode – more on this later
Auto mode, Smile detection, date imprint and Best Shot Selector
There are two things I wanna explain here before we move on. The Coolpix L100 has an "Easy mode" (not that normal shooting isn't easy enough) which is PURELY point-and-shoot; you can't even change any settings or press any buttons. Easy mode comes with Nikon's "Scene Auto Selector" which detects the scene you're shooting and the camera will automatically pick a scene mode according to the situation.
The Coolpix L100 has a nice macro mode that allows you to go as close as 1 cm to your subject at wide-angle and you can even zoom into the picture slightly (indicated by the "green area" on the zoom indicator).
Video Recording
The Nikon Coolpix L100 has a decent VGA movie mode. It can record 640 x 480 video clips at 30 FPS with sound. Each movie clip is limited to 2 GB (around 30 minutes at the highest settings). You can extend recording times by lowering resolution to QVGA (320 x 240). All movies are recorded in AVI Motion JPEG format.
There's no zoom or focusing available while recording movies on the Coolpix L100. Video quality was decent but audio was out of sync AGAIN like on other Nikon compacts.
Performance
All performance testing of the Nikon Coolpix L100 was performed using a high-speed 4 GB SanDisk Ultra II SDHC (90X) card.
The Nikon Coolpix L100 doesn't seem to be in any particular hurry when it comes to boot up time. It takes 2.3 seconds for the camera to start up. Focusing speeds were average, taking around 0.3 to 0.5 seconds in good light and 0.6 to 1.5 seconds in low-light.
Shot-to-shot speed - 1 shot every 2.1 seconds, quite snappy
Flash recharge time using a fully charged battery - 5 seconds
The Nikon Coolpix L100 has a decent continuous shooting mode which shoots at full resolution, at 1.1 frames per second for up to 22 photos before slowing down. The camera also features three 'sports continuous' modes which lowers image resolution down to 3 megapixels in order to boost shooting speed to staggering high frame rates. In sports continuous mode, you can take up to 30 pictures at your choice of 4.3, 6.5 or 13 frames per second.
The lens moves from wide-angle to telephoto in a decent 2.6 seconds while shut down time with the lens at telephoto was 3.4 seconds. The Nikon Coolpix L100 is an average performer; it's not particularly fast but it won't keep you waiting for long either. The only big letdown was the continuous shooting frame rate (which is below average for a 10 megapixel camera) and limited buffer.
Image Quality
Let's take a look at image quality now:

ISO 400 (f3.5, 1/30 sec)
ISO 872 (f3.5, 1/63 sec)
Since the Nikon Coolpix L100 has no manual ISO control, I was unable to perform the usual ISO test here. The Coolpix L100's auto ISO will automatically pick a value between 80 – 800 while high ISO mode will boost sensitivity up to 3200 as the camera sees fit.
The first shot was taken in auto mode, with auto ISO and the camera chose to use ISO 400. Picture quality here looks slightly muddy with visible noise and decent sharpness. The second shot was taken at ISO 872 in high ISO mode (which unfortunately forces resolution down to 3 megapixels) and picture quality is already quite soft and muddy… I can't imagine if the camera had chosen to use ISO 1600 or 3200.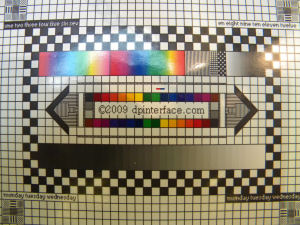 With distortion control off, the Nikon Coolpix L100 showed a moderate amount of lens distortion… though you could always turn distortion control on if you wish. Color fringing (chromatic aberration) on the other hand, was prominent while edge softness was minor yet visible.
Overall, the Nikon Coolpix L100's photo quality was not impressive. Noise levels were fairly high and the camera's noise reduction methods give photos a soft, muddy look. The worst part is you don't have any say over ISO sensitivity whatsoever and I noticed that the camera would use low ISO speeds only with good lighting around. Then there's color fringing which is very visible in pictures.
Photo gallery
Visit the Nikon Coolpix L100 photo gallery.
Playback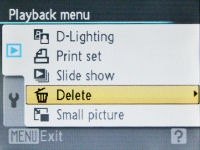 The Nikon Coolpix L100 has an oversimplified playback mode. There's print marking, basic slideshow and a 'small pic' function which essentially creates a reduced-size version of photos (useful for posting on the web). The last feature is D-Lighting which, when used, brightens dark areas of your photos and improves contrast slightly. There are no other playback features besides the five above – you can't rotate photos or protect them, or edit them in any way.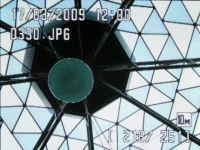 The Nikon Coolpix L100 tells you absolutely nothing about your photos besides the date/time they were taken and image resolution. And frankly, I'm unable to accept that – even most cheap entry-level cameras show you exposure information and such.
Conclusion
To summarize, the Nikon Coolpix L100 is a big zoom camera which has more optical zoom than your typical pocket super-zoom. It's also physically larger - good for ergonomics but not good for portability – than competing cameras.
The Coolpix L100′s plus points include excellent battery life (with rechargeable batteries of course) and a large 3 inch LCD. I consider the camera's simplicity more bad than good; there's practically nothing to adjust on the L100 besides a handful of white balance settings. The camera lacks both shooting and playback features, making it appealing only to users who would stick strictly to auto/scene modes, and do nothing else between composing the shot and transferring photos out of the memory card.
If it's a movie camera you're looking for, then the Coolpix L100 is not it. It's acceptable for a camera this price to record VGA quality clips (though movie mode fanatics would rather 720p or 1080p HD) but the main issue here is audio-video sync is out. Audio tends to cut out more quickly than video - something that's very obvious when filming people talking, plays and musical instruments, etc.
As of whole, the Nikon Coolpix L100 doesn't give much bang for your buck. The Coolpix L100 sits in the same price range as 'pocket' super-zoom cameras yet significantly less feature-packed (those cameras have 'typical' point-and-shoot operation or even some manual controls, while the L100 has the feature set of a cheap $80 entry-level camera). The Coolpix L100 is not a pocket zoom camera, neither is it a real ultra-zoom; it's an overpriced entry-level camera with a huge zoom lens!
What's hot:
Large 3 inch LCD
Excellent battery life
Plenty of optical zoom with image stabilization
Easy to use (perhaps too much so)
Smart Portrait, motion detection and auto scene selection features
What's not:
Below average image quality – noise, softness with noise reduction, prominent color fringing
Oversimplified everywhere (ie, barely any on-screen information, no manual ISO, skimps on playback features)
Lacks even the most basic of controls (like ISO)
So-so performance with crummy full-resolution burst mode
Movie mode audio-video sync issues
Larger than 'compact' super-zooms; form-factor and size makes it non-pocketable
Recommended Accessories:
2 GB SD/SDHC memory card
Set of 4 AA NiMH rechargeable batteries and charger
Related articles: