The Olympus SP590 Ultra Zoom currently holds the title of having the world's largest zoom lens on a fixed lens camera. Here's my review of this super-zoom camera with a huge 26X lens, 12 megapixels, full manual controls with a bulb mode and lots of playback tools. You can check out full-sized photos taken straight out of the camera in the Olympus SP590 photo gallery.
What are you waiting for? The full review of the Olympus SP590 awaits you after the link.
DPInterface Olympus SP590 Ultra Zoom Review
Brad Soo – May 26th, 2009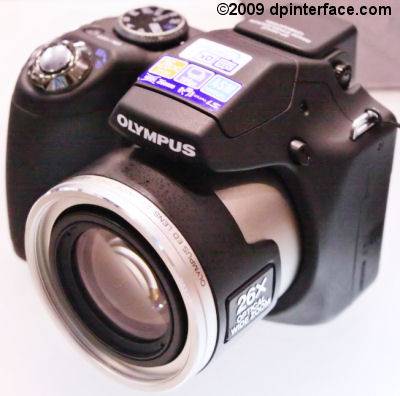 The Olympus SP590 Ultra Zoom (or SP590 UZ for short) marks another achievement by Olympus in the super zoom camera arena. On the outside, the SP590 doesn't look very different from previous Olympus Ultra Zoom cameras but there are many new features here and there, the biggest of them is the massive 26X optical zoom lens.
Aside from that are the usual specifications of a 2009 super-zoom camera: 12 megapixels of resolution, image stabilization, full manual controls (including an 8 minute bulb mode and built-in wireless flash control), a 2.7 inch LCD and a slew of shooting and playback tools.
Having the "world's largest zoom lens" doesn't do justice – the Olympus SP590 has a lot to live up to as Olympus' latest Ultra Zoom and as a participant in the crowded super-zoom market. And so, our review begins now.
Size and Weight
(303.5) 127.5 x 88.3 x 87.7 mm (585 g) - Canon PowerShot SX1 IS
(299.2) 124.0 x 88.3 x 86.9 mm (560 g) – Canon PowerShot SX10 IS
(288.5) 122.6 x 81.4 x 84.5 mm (483 g) – Casio Exilim FH20
(377.4) 133.4 x 93.6 x 150.4 mm (918 g) - Fujifilm FinePix S100fs
(319.2) 123.7 x 90.5 x 105.0 mm (415 g) – Kodak EasyShare Z980
(296.0) 114.0 x 83.0 x 99.0 mm (460 g) – Nikon Coolpix P90
(297.0) 110.0 x 89.0 x 98.0 mm (435 g) – Olympus SP590UZ
(281.8) 117.6 x 75.3 x 88.9 mm (370 g) - Panasonic Lumix FZ28
(282.5) 110.5 x 82.5 x 89.5 mm (390 g) – Pentax X70
(289.1) 114.5 x 82.8 x 91.8 mm (453 g) - Sony Cyber-shot HX1
All the weight figures above show when the camera is empty without a battery or memory card
The Olympus SP590 is somewhere in between the group in terms of size and weight. It's not really a burden to sling it around your shoulder to bring out on a stroll and in fact, it is a wonder that the camera is this "small" and has a 26X optical zoom lens.
Box packaging
There's nothing really special about the Olympus SP590's box – the SP590 comes with the typical digital camera bundle and nothing more:
4 AA alkaline batteries
micro SD to xD-Picture card adapter
Neck strap
Lens cap
USB cable
A/V cables
Camera software CD (Olympus Master)
User's manual
The Olympus SP590 supports both xD-Picture cards (natively) and micro SD cards via the bundled adapter. And no, the camera doesn't come with any memory card, just a measly 22 MB of internal memory.
I would suggest starting off with a 2 GB memory card (preferably micro SD, unless you already have an xD-Picture card or two lying around). The only thing going for xD-Picture cards is the fact the Olympus SP590 REQUIRES Type H xD-Picture cards in order to record VGA 30 FPS video clips until the memory card fills up. If you're using something else, you'll either have to lower resolution/frame rate for unlimited recording or be stuck with the 40 second per clip limitation if you're using VGA 30 FPS.
420 shots - Canon PowerShot SX1 IS
600 shots – Canon PowerShot SX10 IS
430 shots – Casio Exilim FH20
250 shots - Fujifilm FinePix S100fs
410 shots – Olympus SP590UZ
200 shots – Nikon Coolpix P90
460 shots - Panasonic Lumix FZ28
170 shots – Pentax X70
390 shots - Sony Cyber-shot HX1
All the cameras above are rated with rechargeable batteries according to CIPA Standard
The Olympus SP590 Ultra Zoom takes 4 AA batteries for power but only comes with alkaline, non-rechargeable ones. That means you will have to get a set of 4 or 8 rechargeable AA NiMH batteries along with a decent charger, which is cheaper and more environmentally friendly versus alkaline AA's in the long run.
With rechargeable batteries, you should be able to go up to 410 shots on a single charge, which is about average compared to other super zoom cameras.
Accessories
Besides an optional AC adapter and various camera bags, there's also an optional 1.7X teleconverter lens available for the Olympus SP590 that will extend the camera's telephoto coverage up to a whopping 1149 mm. You'll first have to get the lens adapter which has a 55 mm thread and attach the 1.7X teleconverter from there. Strangely, Olympus recommends fitting ONLY the teleconverter lens onto the adapter, and not anything else (ie filters).
You can also get Olympus' FL-50R or FL-36R external flash units to work with the SP590. Since the SP590 has no flash hotshoe, you can't really mount them to the camera… you can, however, control flashes wirelessly from the camera which is more flexible, and the only way to trigger them anyway.
Finally, there's a wired remote control available. The remote control plugs itself into the camera's USB connectivity port and from there, you can release the camera's shutter (and there is a shutter lock for bulb mode too).
Camera Tour
The Olympus SP590 is a decently built super zoom camera made of plastic and metal, and it's easy to hold. The camera does suffer from two issues however - In reality, the camera doesn't have a lot of buttons, but because the small buttons clustered together in one location, things do look a bit cluttered and confusing initially. I was also disappointed by the fact the Olympus SP590 is missing a dedicated control/command dial – that means you'll have to do a lot of button pressing when you want to adjust exposure.
Over here is the Olympus SP590 Ultra Zoom's massive 26X optical zoom lens, you can't miss it. The lens is equivalent to a very useful 26 – 676 mm and has a decent aperture range of f2.8 – f5.0. Naturally, there's sensor-shift image stabilization available, where the camera will move the sensor around to counteract camera shake.
But even with built-in image stabilization, it can be hard to steady the camera at full zoom - You'll need at least a shutter speed of 1/200 to get a sharp photo at 676 mm (1/focal length + 3 stops stabilization). If you're planning to get the SP590 for long zoom shots (ie wildlife, action or astronomy), I'd suggest investing in a decent monopod or tripod as well.
Directly above the lens is the SP590's flash, popped up with the press of a button next to it. The range of the Olympus SP590's flash isn't amazing in any way, but it can do its job fine. At wide-angle, it covers a range of 30 cm to 6.4 m (ISO 400) and at telephoto, that range shrinks tremendously to a mere 1.7 to 3.6 m. The good news here is that the SP590 is able to wirelessly control Olympus external flashes. So if you feel the built-in flash hinders your creativity, go out there and get a couple of external flash units instead.
Between the camera's lens barrel and right hand grip are its self-timer countdown/AF-assist lamp and microphone, used for recording sound.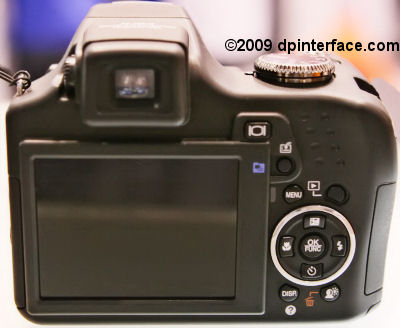 The Olympus SP590 has a 2.7 inch LCD with 230,000 pixels on the back. Low-light visibility was good while outdoor visibility was just average. Directly above the LCD is the camera's electronic viewfinder which comes complete with a dioptric correction wheel on the left (for glasses wearers to focus the viewfinder image).
Just about all the SP590's rather small controls are located on the right side of its screen, causing quite a bit of clutter (And confusion, if you're new to super zooms). To the upper right of the LCD screen is a button for swapping between the LCD and EVF.
Above the navigation pad are the MENU and direct playback buttons – pretty self-explanatory, so let's move on to the Olympus SP590's five-way navigation pad:
Up – Exposure compensation (+/-2 EV in 1/3 step increments)
Down – Self timer (Off, on - 12 seconds)
Left – Focus mode (Normal, macro, super macro)
Right – Flash setting (Auto, on, slow sync [1st or 2nd curtain], off – redeye reduction available for all flash settings)
Center – OK/Function
Hitting the center button on the navigation pad brings up the SP590's function menu which contains six camera settings: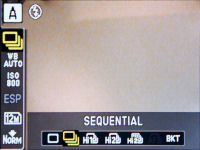 Olympus SP590's Function menu
Drive mode (Single shot, normal burst, high-speed 1, high-speed 2, pre-capture, bracketing)
White balance (Auto, daylight, overcast, tungsten, fluorescent 1, 2 & 3, flash, custom)
ISO sensitivity (Auto, high auto, 80, 100, 200, 400, 800, 1600, 3200, 6400)
Metering mode (Matrix, center weighted, spot metering, face detection AE)
Image resolution and compression
The last two controls are the DISPLAY button (used for toggling on-screen info plus bringing up help tooltips for menu items) and Shadow Adjustment button (which doubles as the 'delete photo' button in playback)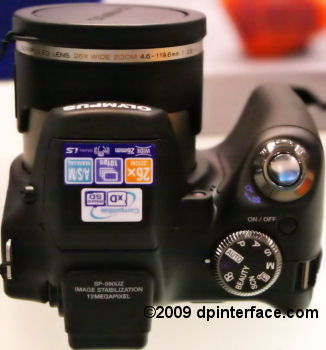 With majority of the camera's buttons located on its back and remaining shooting functions relegated to the SP590's five page Camera Menu, there isn't much left to cover at the top of the Olympus SP590 Ultra Zoom.
There's no hotshoe up here, which means you can't attach an external flash to the camera without a flash bracket… but as I mentioned, the Olympus SP590 has built-in wireless flash control (no adapters or wireless trigger attachments needed).
Now, let's take a look at the SP590's mode dial:
Automatic shooting
Program mode – the camera will select both shutter speed and aperture
Aperture priority – pick an aperture value (between f2.8/f5.0 to f8.0) and the camera will select a matching shutter speed
Shutter priority – pick a shutter speed (between 1/2000 to 15 seconds) and the camera will select a matching aperture value; bulb mode available
Manual mode – you get full control over both shutter speed and aperture
My Mode (Customizable mode position)
Scene modes
Beauty mode – removes wrinkles/blemishes and smoothens the skin of your subjects
Movie mode
Playback mode
The first thing that sets the Olympus SP590 Ultra Zoom apart from the competition is its bulb mode, which I don't think any other super zoom camera has at the moment. In bulb mode, you can expose your photo for up to 8 minutes.
Then there's also the custom mode dial spot, which Olympus calls My Mode. You can store a set of frequently used shooting settings here for easy accessibility.
The last two items on the top of the Olympus SP590 are its shutter button with a zoom controller wrapped around it and power on/off button.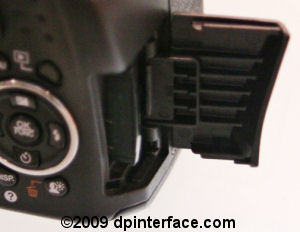 Here's the Olympus SP590 Ultra Zoom's memory card slot, which is strategically placed so you can swap memory cards while the camera is on a tripod. The camera takes both xD-Picture cards and microSD cards (via the included adapter).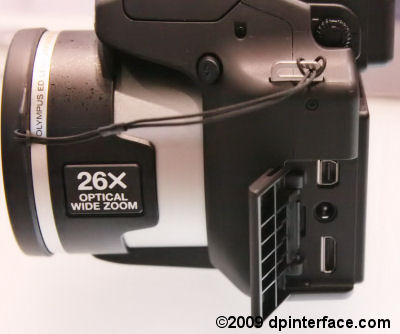 There are a couple of things to see on this side of the Olympus SP590 Ultra Zoom. Firstly, there's a better view of the popup flash release button as well as dioptric correction wheel to focus the viewfinder image (for glasses wearers).
There's a nice, big "26X zoom" badge on the lens barrel to boast about the SP590's optical zoom factor and three connectivity ports hidden behind a plastic door on the camera. The first port is used for connecting the camera to USB, A/V Out and the optional wired remote control, the middle port is for the optional AC adapter and the last one is a mini HDMI port, so you can connect the SP590 Ultra Zoom to your high-definition television set.
Over here is the Olympus SP590's battery compartment which has a solid door with a locking mechanism over it. The camera's tripod mount is located right next to the battery compartment (And not in-line with the lens), which means you won't be swapping batteries while the camera is on a tripod anytime soon. There's also the speaker located to the far right corner of the camera.
Taking pictures (Shooting mode)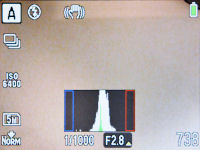 The Olympus SP590 displays plenty of on-screen information in shooting mode, including shooting details, exposure information, shooting mode, a live histogram, simple battery indicator and a zoom indicator. Framing gridlines are also available. The good thing is the screen still remains quite clutter-free so you can still see your subject.
The Olympus SP590 has several image resolution options available: 12 MP, 5 MP, 3 MP, 2 MP, 1 MP, VGA and widescreen 16:9 (8 or 2 MP) along with your choice of Normal or Fine image compression.
Olympus SP590 Feature Set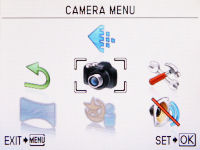 Olympus has recently spiced up their user interface with a new look, but the underlying basics of operation remains the same – press the menu button and a grid of icons appear. Select the Camera Menu and there are 5 pages worth of shooting items.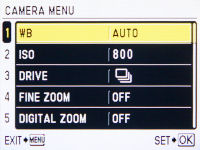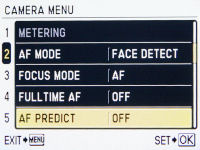 White balance (Auto, daylight, overcast, tungsten, fluorescent 1, 2 & 3, flash, custom)
ISO sensitivity (Auto, high auto, 80, 100, 200, 400, 800, 1600, 3200, 6400)
Drive mode (Single shot, normal burst, high-speed 1, high-speed 2, precapture, bracketing)
Fine zoom – instead of interpolating images, the camera can "crop" images to lower resolutions, giving the impression of more zoom
Digital zoom
Metering mode (Matrix, center weighted, spot metering, face detection AE)
Autofocus mode (Face detection, auto multi-point, spot center)
Focus mode (Autofocus, manual focus)
Fulltime AF – the camera will focus continuously
AF prediction – subject tracking and focus prediction
Image resolution is lowered to 3 megapixels at the two higher ISO settings; 3200 and 6400.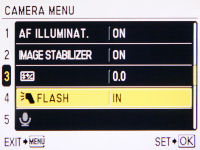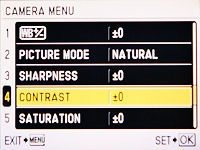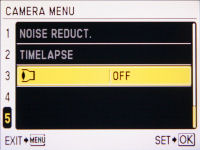 Autofocus assist lamp
Sensor-shift image stabilization
Auto exposure bracketing (bracketing up to +/-2 EV in 1/3 step increments up to 5 shots)
Flash (Built-in/wireless control)
Voice clip attachment
White balance compensation
Picture mode
Sharpness, contrast and saturation (+/-2 EV in 1 step increments)
Noise reduction
Time lapse shooting
Teleconverter On/Off
The Olympus SP590 offers you the ability to tweak white balance (cooler or warmer colors), picture sharpness, contrast, saturation and noise reduction – that should please most people who enjoy controlling the outcome of their images.
A time lapse shooting option is available too, where you can set up the camera to automatically capture photos at preset intervals.
Face Detection
The Olympus SP590's face detection system is pretty straightforward – the camera can detect up to 16 faces in a single frame. There's Beauty Mode, which I talked about earlier on (it removes blemishes and softens skin), as well as Smile Shot mode which automatically takes three pictures in a row when the camera detects a smile.
Macro and scene modes
The Olympus SP590 has two macro modes: Normal macro allows you to shoot as close as 10 cm (wide-angle) or 1.7 m (telephoto) from your subject while Super Macro reduces minimum focusing distance to just 1 cm. So you can get really close to your subject in Super Macro; the catch here is that the lens will be locked at wide-angle.
While the Olympus SP590 has full manual controls, point-and-shooters don't need to worry since the camera features plenty of scene modes as well, including portrait, landscape, sports, night scene, night portrait, indoor, candle, sunset, fireworks, multi fireworks, multiple exposure, cuisine, documents, smile shot, beach & snow, bird watching, pre-capture movie, quick shutter and soft background. There are three scene modes which caught my interest, which I'll highlight below:
Multiple exposure allows you to take two photos and 'combine' (overlap) them into a single image
Quick shutter turns on continuous autofocus and predictive AF while attempting to capture your subject as quickly as possible (not sure why they didn't integrate it into sports mode here)
Soft background works in-conjunction with face detection – the camera detects your subject's face and proceeds to "soften" the background behind your subject
The Olympus SP590 has a panorama mode with two options: In-camera mode allows you to take 3 photos before the camera stitches them right away into a single panorama. PC panorama mode lets you line up more photos (up to 10) but as its name says, the photos can only be stitched later on your computer using the included Olympus Master software.
Video Recording
With more and more cameras starting to move to HD video recording, it's rather surprising that Olympus decided to include a pedestrian VGA (640 x 480) movie mode with the SP590 Ultra Zoom. You can record VGA video clips at 30 FPS with sound up to 2 GB per clip but ONLY with a Type-H xD-Picture card. Otherwise, movies will be limited to 40 seconds per clip.
If you're really intent on filling up your memory card with video clips longer than 40 seconds, you'll have to lower frame rate to a choppy 15 FPS, reduce resolution to QVGA (320 X 240) or both.
Movies are recorded in AVI format which means it's only a matter of minutes before you hit that 2 GB per clip limitation. There are also other restrictions in the SP590's movie mode – you can't focus or use sensor-shift image stabilization while recording. And if you want to use optical zoom, you'll have to sacrifice sound recording (and vice versa).
The Olympus SP590 produced video clips of average quality with acceptable sound. There's only one word which stands in the way of the SP590's movie mode – limitations; there are just too many of them. You can't use the movie mode at its full potential without a Type H xD-Picture card, you can't operate zoom without the sound cutting off and sensor-shift image stabilization is completely unavailable while recording.
Performance
All performance testing of the Olympus SP590 Ultra Zoom was performed using a 1 GB Type H Olympus xD-Picture card.
The Olympus SP590 boots up in 2.4 seconds, which is nothing to jump about. Auto focusing varies a lot depending on both lighting and zoom position. Typically towards the 1-12X range with good lighting, focusing can take anywhere from 0.2 to 0.4 seconds while things can stretch by another 0.1 to 0.3 seconds if you're nearing full 26X zoom on the camera.
Low-light focusing is good, but only if you're using the camera from wide-angle to around 10X zoom. Towards the telephoto end of the lens, the camera frequently has trouble focusing if there isn't enough lighting.
Shot-to-shot speed - 1 shot every 1.8 seconds, fast
Flash recharge time using a fully charged battery - 4 seconds
The Olympus SP590 features a full-resolution burst mode that isn't that great – the camera can shoot at 1.2 frames per second up to just eight photos before slowing down (Note to Olympus, more buffer please!).
There are also two "high speed" burst options (albeit at reduced resolutions): High-speed 1 enables you to shoot at 6 frames per second, while limiting image size to 5 megapixels, up to 30 photos. High-speed 2 reduces resolution further – down to 3 megapixels – but lets you shoot at a whopping 10 frames per second up to 30 shots. A pre-capture mode is available for High-Speed 2, where the camera will continuously buffer photos until you press the shutter button – then the previous 10 shots before pressing the button and 20 shots after are saved to the camera's memory.
The Olympus SP590 Ultra Zoom's lens has a fixed zooming speed of 2.5 seconds (some cameras have "fast" and "slow" variable zoom speeds) without many stops between, so you can't be as precise with zooming on the SP590 compared to other cameras.
The Olympus SP590's performance was a mixed bag, ranging from below average to 'just usable' to good. The positive things here are good focusing at the wide end of the lens/with good lighting, quick shot-to-shot speeds and two nice 'High-speed' options, one of which has a pre-capture option. On the other hand, focusing isn't that hot if you pair up telephoto with low-light shooting (though pairing up the camera with wireless flashes may help), the camera doesn't have a lot of buffer and writing speed isn't that quick – and it shows when you utilize the camera's full-resolution burst mode
Image Quality
Let's check out the Olympus SP590's image quality now:
ISO 64 (f2.8, 1/2 sec)

ISO 100 (f2.8, 1/4 sec)

ISO 200 (f2.8, 1/10 sec)

ISO 400 (f2.8, 1/20 sec)

ISO 800 (f2.8, 1/50 sec)

ISO 1600 (f2.8, 1/80 sec)

ISO 3200 (f2.8, 1/160 sec)
ISO 6400 (f2.8, 1/250; sec)
The Olympus SP590 takes a pretty light-handed approach when it comes to noise reduction. At ISO 64, image quality is very good but there's a hint of grain here (which isn't visible unless you view photos at 100%). Visible grain appears at ISO 100 but pretty much all detail remains intact with good color accuracy. While details are STILL here, image quality gets quite noisy at ISO 200 – you may need to run images through noise reduction if you plan to make large prints.
The camera's processing kicks in at ISO 400 (regardless of whether NR is turned on or off), reducing color noise but also making images a touch softer. If usable photos are what you want, then ISO 400 is where you should stop. From ISO 800 onwards, image quality becomes increasingly worse and there's too much noise and detail loss to use photos at those settings. Image resolution is also reduced to 3 megapixels when using the ISO 3200 and 6400 settings.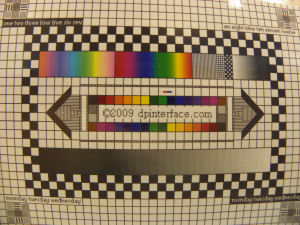 The Olympus SP590's images show prominent lens distortion, not surprising for a 26X zoom lens (you can't have everything, right?). Color fringing (chromatic aberration) and edge softness were both present in images, the latter is annoying if you enjoy taking photos with a lot of fine detail in them (ie foliage, scenery).
Redeye is a non-issue with the Olympus SP590 since the camera removes it automatically after you take a photo. If that doesn't work, you can always remove it manually via the built-in playback tool.
For even capturing casual snapshots, the Olympus SP590's image quality has "Good lighting ONLY" plastered all over. The camera takes photos with a good amount of detail in them (thanks to the low amount of noise reduction it uses) but at the cost of more visible noise at low ISOs. Don't get me wrong here, when I say "visible noise" here, I mean you can see it when viewing at 100% but it's not gonna be an issue for most mid-size to large prints – the noise 'pattern' here isn't as intrusive, neither does it destroy details as say, the Nikon P90 I just reviewed last week.
Photo gallery
View full-sized photos straight out of the camera in the Olympus SP590 photo gallery.
Playback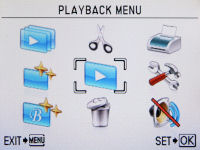 The SP590 Ultra Zoom has Olympus' elaborate playback mode. As usual, the basic playback items are here: print marking, image protection, rotation, simple slideshow and voice clip attachment. You can also enlarge photos up to 10X to inspect details closely.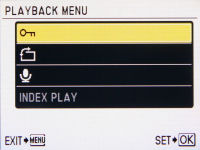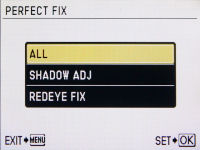 Photos can be played back as single shots, in sets of 4, 9, 16 or 25 thumbnails or by date in calendar view. And here comes the interesting part – the Olympus SP590 has large suite of playback editing tools. You can remove redeye, brighten (Shadow Adjustment), resize and crop photos as well as convert them into black & white or sepia shots. Beauty Fix is here too with two options: smoothen skin or emphasize your subject's eyes. Well, while the Olympus SP590 has plenty of photo editing features, there aren't any movie editing tools.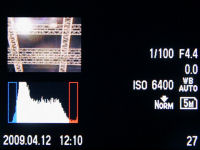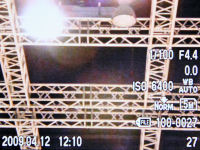 The Olympus SP590 is generous in terms of information display in playback – you can view shooting details, exposure info and even a histogram.
Conclusion
The Olympus SP590 Ultra Zoom is a decent super-zoom camera, but certainly not the best out there. The Olympus SP590 boasts the world's largest zoom lens for a fixed lens camera (that's 26X optical zoom), a 2.7 inch LCD, full manual controls and modern features (which you may or may not find useful) such as Shadow Adjustment, face detection and now, beauty mode which removes blemishes and smoothens your subjects' skin.
The Olympus SP590 comes with a decent bundle, though you'll have to shell out extra for rechargeable batteries. The camera can take both xD-Picture cards and micro SDs (a good thing since I don't know many people who are fans of the proprietary and slow xD-cards). But that problem comes back again if you want to use the Olympus SP590's movie mode to its full potential – you'll need a Type H xD-Picture card for that; otherwise, there'll be a 40 second per clip limit.
Speaking of movie modes, the one on the Olympus SP590 is full of limitations – the memory card type restriction if you want to record VGA 30 FPS movie clips up to 2 GB (instead of 40 seconds), the inability to use optical zoom without the sound cutting out and sensor-shift image stabilization is completely unusable when recording video.
The SP590 Ultra Zoom's shooting functions are typical for a big zoom camera. There are full manual controls; including aperture and shutter priority and a manual mode, manual focus and custom white balance as well as automatic shooting with various scene modes. The features unique to the Olympus SP590 are bulb mode (up to 8 minutes) and wireless flash control right out of the box.
The Olympus SP590's operation, however, proved to be less user friendly than other super zoom cameras of its class. The SP590 has a Function menu which allows for quick access to certain shooting features (such as white balance and ISO), but for everything else, you'll have to dig into the 5 page Camera Menu. The camera also lacks a control dial of any sort (ie rear rotary wheel or front command dial), so you'll have to resort to tedious button mashing if you want to tweak exposure.
Performance can be below average or good, depending on where you look. Focusing and shot-to-shot are the strong points of the camera while the full resolution burst mode buffer and telephoto focusing were pretty crummy. Image quality was not pleasant but still usable for prints/display if you stick to ISO 400 and below AND shoot with good light around. If you're looking for a camera for low-light or high-speed (with high sensitivity) shooting, forget about the SP590.
Probably the number one reason to own the Olympus SP590 is to boast about your camera having 'the world's largest optical zoom lens' (that's true, by the way). But looking at the camera as a whole, it is nowhere near great and looking at noise levels and image quality, I would only recommend it if you're going to be taking pictures in good lighting most of the time (ie wildlife), and hopefully, with still subjects. Don't forget to check out the competition before you buy though; there are other super zoom cameras which perform better in terms of speed, image quality and, especially, in the movie department.
What's hot:
Good detail levels and images usable up to ISO 400; suited mostly for good lighting/outdoor shooting
26X optical zoom lens with image stabilization (the most zoom you'll find on a camera at the moment)
2.7 inch LCD with good visibility
Full manual controls
Wireless flash control out of the box
Bulb mode and customizable mode dial spot
Time lapse shooting option and sharpness/saturation/contrast adjustment
Lots of point-and-shoot features: scene modes, beauty mode, face & smile detection
Good focusing and shot-to-shot (but see below); fast, but reduced resolution, high-speed modes with pre-capture available
Plenty of playback editing tools
What's not:
Visible noise starting from ISO 100, horrible noise above ISO 800; edge softness
Sluggish AF at telephoto/low-light, limited burst buffer
No RAW mode or HD movie capabilities
Controls on the back a bit cluttered; no dedicated command dial for changing settings
Many movie restrictions; Type H xD-cards for VGA 30 FPS, image stabilization disabled, audio needs to be sacrificed if you want to use zoom (and vice versa)
Recommended Accessories:
2 GB microSD memory card (Type H xD-card if you're planning to record movies at VGA, 30 FPS)
Set of 4 or 8 AA NiMH rechargeable batteries
Battery charger