I've just finished writing my review of the Canon PowerShot D10; Canon's first rugged digital camera with 12 megapixels, a 3X lens and interchangeable front plates. Do visit the Canon PowerShot D10 photo gallery as well. Hit the link and check out the full review of the camera now!
DPInterface Canon PowerShot D10 Review
Brad Soo – August 6th, 2009 (Updated August 7th, 2009)
The Canon PowerShot D10 is Canon's first rugged digital camera. Packing 12 megapixels, a 3X zoom lens, 2.5 inch screen and point-and-shoot feature set, this waterproof, shockproof and freezeproof little camera is set out to compete with the various offerings from other manufacturers. The camera also has two unique features: interchangeable front plates and four connectors for accessories/attachments, as well as manual focus…
Is the Canon PowerShot D10 a desirable rugged camera? Will it succeed at drawing the market audience? We're about to find out now.
Size and Weight
(219.3) 103.6 x 66.9 x 48.8 mm (190 g) – Canon PowerShot D10
(172.2) 92.0 x 59.6 x 20.6 mm (110 g) - Fujifilm FinePix Z33 WP*
(177.0) 96.5 x 60.5 x 20.0 mm (140 g) – Nikon Coolpix S70**
(181.1) 95.3 x 63.4 x 22.4mm (149 g) – Olympus Stylus Tough 6000
(178.2) 95.0 x 61.7 x 21.5 mm (182 g) – Olympus Stylus Tough 8000
(176.8) 93.6 x 61.7 x 21.5 mm (127 g) – Olympus Stylus 550 WP*
(184.4) 98.3 x 63.1 x 23.0 mm (163 g) - Panasonic Lumix TS1 aka Lumix FT1
(180.0) 99.5 x 56.0 x 24.5 mm (135 g) – Pentax Optio W80
(172.0) 97.9 x 57.8 x 16.3 mm (124 g) – Sony Cyber-shot T900**
All the weight figures above show when the camera is empty without a battery or memory card
*Waterproof only
**Non-rugged camera
The Canon PowerShot D10 is the largest and heaviest among the rugged cameras in the market. The D10's size and weird shape (a cross between a baseball and a bar of soap, and very much like a Russet potato) means that you won't be able to stuff it into your pocket. You can, however, carry it in a bag or around your neck using the optional neck strap.
Box packaging
In the box, you'll find a pretty average digital camera bundle:
Rechargeable lithium-ion battery (NB-6L)
Battery charger
Wrist strap
USB and A/V cables
Camera software CD
User's manual
The Canon PowerShot D10 takes SD/SDHC cards but doesn't come bundled with any memory card. If you really wanna go out there and take some pictures, I'd suggest starting out with a 4 GB SDHC card, which is pretty common size nowadays. The PowerShot D10 can perform better with high-speed cards so you might want to consider adding that to your shopping list (60X speed would be good enough).
220 shots – Canon PowerShot D10
200 shots - Fujifilm FinePix Z33 WP*
200 shots – Nikon Coolpix S70**
230 shots - Olympus Stylus Tough 6000
240 shots – Olympus Stylus Tough 8000
140 shots – Olympus Stylus 550WP*
340 shots - Panasonic Lumix TS1 aka Lumix FT1
170 shots – Pentax Optio W80
200 shots – Sony Cyber-shot T900**
All the cameras above are rated with rechargeable batteries with LCD on according to CIPA Standard
*Waterproof only
**Non-rugged camera
As of whole, the Canon PowerShot D10's 220 shot rating (CIPA standard) is about average for a rugged/waterproof camera. Only the Lumix TS1/FT1 blows the entire group away with better battery life numbers.
Accessories
There are several accessories available for the PowerShot D10, including an AC adapter, numerous faceplates (the front 'colored' part of the camera is interchangeable for aesthetic purposes) and a very cool neck strap. The D10's optional neckstrap has a metal attachment at each end, which let you screw on the neck strap to the camera in any possible way (check out the camera tour section for details)
Camera Tour
The Canon PowerShot D10 is a camera which looks completely different from what Canon's cameras looked like in the past. It is also Canon's first rugged camera. To recap, the PowerShot D10 is waterproof to 33 feet (11 meters), freezeproof to 14 degrees (or -10 Celcius) and also shockproof to 4 feet (1.3 meters) – yes, this is a very hardy camera. Build quality is very good, though I'm not a big fan of leaving the camera's lens out in the open (the D10 lacks a built-in lens cover and it doesn't come with a lens cap either).
The PowerShot D10 has a queer, round design which makes it stand out of the crowd – its potato shape makes it easy to hold and the large buttons certainly help a bunch. The Canon D10 is entirely silver, but you can change the front faceplate of the camera (in this case, it's the blue plate here). Optional plates include orange, gray and green + digital camouflage.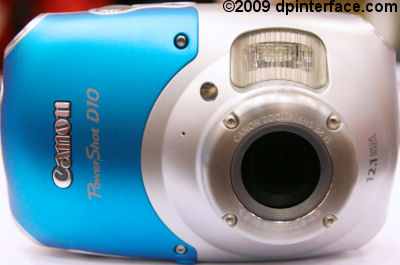 On the front of the Canon PowerShot D10 is its 3X optical zoom lens, which seems to have been borrowed from Canon's Digital ELPH cameras (ie SD1200). The only difference here is that the lens is self-contained and doesn't extend from the camera – you see, the lens is already 'extended', except the camera's body covers it (hence the protruding snout) so there won't be any moving parts outside. The lens is equivalent to 35 – 105 mm, with an aperture range of f2.8 – f4.9. And there's even optical image stabilization to reduce the effects of camera shake on your photos.
Directly above the lens is the built-in flash: it looks powerful but in reality, its range is just average. At wide-angle, Auto ISO, the flash covers 30 cm to 3.2 m and at telephoto, maximum range drops to 2.0 m. Over on the left side are the camera's microphone and autofocus-assist lamp (also the self-timer light).
There's also the interchangeable faceplate to be seen here – that blue part of the camera is actually removable, kinda like the way Nokia does it with their phone Xpress-On skins, except you have to undo two bolts (a mini wrench is provided) in order to take the front plate off.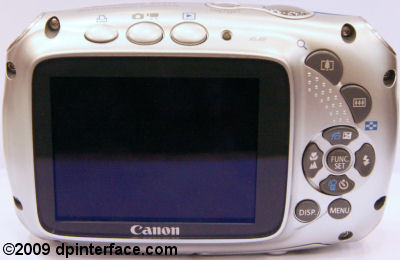 On the back of the Canon PowerShot D10 is a 2.5 inch PureColor II LCD (yes, not 2.7 inches as some of you have been led to believe). The LCD packs 230,000 pixels and is quite sharp. People who take their camera everywhere will be pleased to hear that visibility is good in both low-light and outdoor/bright conditions.
Above the LCD are three buttons and an activity indicator light. From left to right, here they are: print button, shooting/movie mode button and playback button. The print button works to call up the direct transfer/print menu when your camera is connected to a printer or computer… and it also doubles as a Shortcut button in shooting mode.
On the upper right side of the camera are its zoom controls, followed by the navigation pad and two buttons below it. Before we move on, let's take a closer look at the navigation pad:
Up – Exposure compensation (+/-2 EV in 1/3 steps)
Down – Self-timer (Off, 2 seconds, 10 seconds, Face self-timer, custom)
Left - Focus mode (Normal, macro, landscape, manual focus)
Right - Flash setting (Auto, on, off; red-eye reduction and slow sync are turned on/off in the menu)
Center – Function menu/Set
The D10 has a manual focus feature which I'll discuss later on in the review.
The Canon PowerShot D10's Face Self-timer mode works in-conjunction with the camera's face detection. The camera will watch the scene until it detects an additional face coming into the scene, then start counting down to take up to 10 pictures in a row. There's also custom timer mode which allows you to set the countdown period and number of shots the camera will take.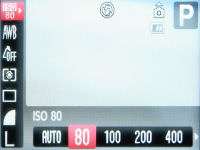 The good ol' Function menu
Pressing the center button brings up the Function menu – this is Canon's 'classic' function menu, while it's certainly not fluffed up in terms of visual appeal versus Canon's 'modern' 2009 function menu found on their more upscale cameras, it does its job well; granting quick access to six shooting settings as listed below:
ISO (Auto, 80, 100, 200, 400, 800, 1600)
White balance (Auto, daylight, cloudy, tungsten, fluorescent, fluorescent H, underwater, custom)
My Colors (Normal, vivid, vivid [blue/green/red], neutral, sepia, black & white, positive film, lighter/darker skin tone, custom)
Metering method (Evaluative, center-weighted, spot)
Drive mode (Single-shot, continuous shooting, custom timer)
Image size and compression
The custom option in the My Colors/Photo Effects section allows you to manually adjust contrast, saturation, sharpness and individual red, green, blue and skin tone levels (each up to +/- 2 in 1 step increments).
The final two buttons are the DISPlay (toggles on-screen information) and MENU (for the camera menu) buttons.
At the top of the Canon PowerShot D10 is the power on/off button and shutter button. You can also spot the two connecting points for the optional neck strap and other accessories.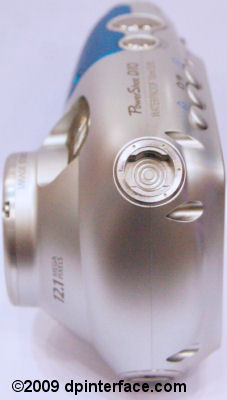 This side of the camera is blank.
Over on this side of the PowerShot D10 are two ports, securely covered by a sealed door when not in use. The top port is DC-IN where you plug in the optional AC adapter, while the one below it is a mini-B port for both USB 2.0 High speed and A/V Out connectivity.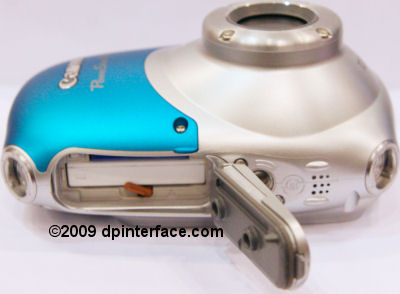 At the bottom of the Canon PowerShot D10 are three things. On the left side is the battery/memory card compartment, protected by another well-sealed door. There's also a tripod mount and speaker; and two more connector points for the neck strap and any other optional attachments
Taking pictures (Shooting mode)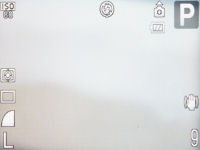 On its display, the Canon PowerShot D10 will tell you things about exposure, camera settings, power remaining (via a simple battery indicator) and you can even choose to turn on framing gridlines. A zoom indicator also makes itself visible when you use the zoom controls, but the camera does lack a live histogram.
The PowerShot D10 gives you a total of six choices for image resolution (12 MP, 8 MP, 5 MP, 2 MP, VGA and widescreen) as well as two compression options: fine and standard. A 4 GB memory card will hold around 1,250 Fine images at the 12 megapixel setting.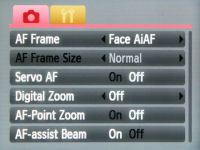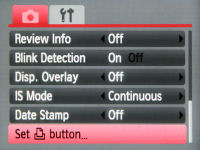 Most of the camera's main settings can be adjusted via the Function menu I described in the previous section, but now let's head on to the other settings in the camera's main menu:
Autofocus mode (Face detection, center AF)
AF point size (Normal, small) – Choose how size of the camera's focusing point
Servo AF – Turning this on will make the camera focus continuously; turn it off and the camera only auto focuses when you half-press the shutter button
Digital zoom – keep this turned off, it lowers picture quality
AF point zoom – magnify the focus point once AF has been locked
AF assist beam On/Off
MF point zoom On/Off
Flash settings – turn red-eye reduction and slow sync
iContrast – see below
Review – Determine how long the camera shows the image on the screen after a picture is taken
Review info – amount of info shown in post-shot review mode
Blink detection On/Off
Display overlay (Off, grid lines, 3:2 guide, both)
Optical image stabilization mode – Off, Continuous, Shoot-only, Panning
Date stamp (Off, date, date and time)
Set print button – customize what this button does in shooting mode; you can assign it as a shortcut to a shooting function
The Canon PowerShot D10 has a pretty handy manual focus feature (which I believe no other rugged camera has). The D10 actually gives you access to true manual focus (whereby you adjust focus using the navigation pad) and even includes a distance scale with focus frame enlargement (AKA MF point zoom). Neat!
The iContrast feature brightens up dark parts of your photo and improves contrast. You can set it to one of three levels or simply leave it in Auto adjustment. There are reasons to NOT use iContrast in shooting mode, however: it slows down shooting speed and the feature is also available as a tool in playback.
Face Detection
The Canon PowerShot D10 has a decent face detection system that detects up to 10 faces. There's also blink detection, which alerts you if anyone blinked while you were taking a shot – useful so you can retake the photo. I've already talked about the Face Self-timer feature which essentially starts counting down the moment the camera detects that an additional face has entered the scene.
Scene modes and macro
The Canon PowerShot D10 is mainly a point and shoot camera with some control options here and there (white balance and manual focus). There are plenty of scene modes, as you'd expect from a camera like this. They include portrait, landscape, night scene, foliage, snow, beach, sunset, fireworks, aquarium, underwater, ISO 3200, indoor, kids & pets, night snapshot, color accent, color swap, long shutter and stitch assist. The D10's long shutter mode allows you to manually pick a slow shutter speed for taking night shots (anywhere from 1 to 15 seconds).
There's also a Smart Auto mode that automatically picks a shooting mode for you and makes automatic adjustments to camera settings, so you don't need to do anything but press the shutter button. Oh, you can pick a shooting or scene mode by pressing the mode button next to the playback button.
The macro mode of the PowerShot D10 is quite good. You can go as close as 3 cm to your subject at wide-angle or down to 30 cm at telephoto.
Video Recording
The one area of the Canon PowerShot D10 where there's nothing to shout about is the camera's movie mode. The Canon D10 is able to record VGA (640 x 480) video clips with sound at 30 frames per second. Movies are recorded pretty efficiently in MOV format using the H.264 codec and a 4 GB memory card will be able to hold 48 minutes of worth of VGA 30 FPS video. Oh, speaking of that, there's a software limit which restricts movies to a maximum of 4 GB or 60 minutes per clip, which ever comes first.
Alternatively, you could lower movie resolution to QVGA (320 x 240) at 30 FPS to more-than-double recording times. You can use the color accent and color swap features as well as optical image stabilization and digital zoom while recording movies. Video and audio quality were both fine on the D10, but you'd know that Canon didn't place a lot of emphasis on this rugged camera's movie mode.
Performance
All performance testing of the Canon PowerShot D10 was performed using a high-speed 4 GB SanDisk Ultra II SDHC (90X) card.
The Canon PowerShot D10 boots up in just one second – that's very fast. The camera is also a quick performer in terms of autofocus – taking 0.2 to 0.4 seconds in good light and 0.8 to 1.2 seconds in low-light. Low-light focusing was good thanks to the help from the AF-assist lamp.
Shot-to-shot speed - 1 shot every 1.7 seconds, fast
Flash recharge time using a fully charged battery - 4 seconds on average
The Canon PowerShot D10 has a continuous shooting mode that's as paltry as the other 12 megapixel cameras on the market. You can shoot as quickly as one frame per second (yes, just one) until the memory card fills up.
The camera's zoom lens moves from wide-angle to telephoto in 1.2 seconds and there's finally an on-screen indicator when you operate the zoom. The camera shuts down in a speedy 1.5 seconds.
In the group of waterproof/rugged cameras in the market, and among typical compact cameras, the Canon PowerShot D10 is quick on its feet with fast startup and shut down times, as well as good autofocus performance. I just wished that continuous shooting speed would be faster (and sadly, that doesn't seem to be the case as resolution goes up, up and away at a rate quicker than a camera's processing can improve).
Image Quality
Next up, we'll analyze the Canon PowerShot D10's image quality

ISO 100 (f2.8, 1/8 sec)
ISO 200 (f2.8, 1/13 sec)

ISO 400 (f2.8, 1/25 sec)

ISO 800 (f2.8, 1/60 sec)

ISO 1600 (f2.8, 1/100 sec)

ISO 3200 (f2.8, 1/200 sec)
Pictures are clean and sharp at ISO 100. Going up to ISO 200, there's some grain added into photos followed by slightly more grain speckles and a saturation drop at ISO 400. Despite that, image quality remains usable for large prints and detail levels are still quite good. At ISO 800, noise goes up and saturation comes down again, and you can see how noise reduction begins to intrude – details get smudged and images become a tad soft. You may be able to use ISO 800 for small/mid-sized prints and display though.
You can't count on the ISO 1600 setting, which destroys too much details and is too noisy for practical user. The last ISO setting comes labeled as a 'scene mode' (called the ISO 3200 mode). In that mode, ISO is pegged at ISO 3200 while resolution is fixed at 2 megapixels. If you're willing to make a 4 x 6 print/postcard and where small details aren't a priority (ie a landmark photo taken on vacation to send to friends and family), then you may consider using this final setting, at your own discretion, of course.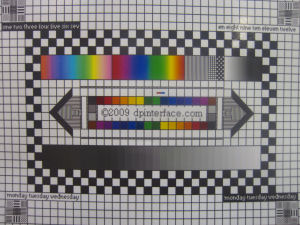 There was little distortion with the Canon D10's lens along with very minor corner softness. However, chromatic aberration (color fringing) is an issue that occurs sometimes when taking pictures of high contrast scenes. Redeye was not an issue as the camera's software based redeye removal system does away with any automatically.
Overall, I was pleased by the good image quality produced by the Canon PowerShot D10. Good color accuracy, controlled noise with high levels of detail up till ISO 400. ISO 800 and ISO 3200 (which scales images down to 2 MP so noise isn't as prominent) are usable too for midsize and tiny prints respectively. Just ignore the ISO 1600 setting as it's 'neither here nor there'. Lens flaws and redeye ranged from very minor to being non-issues.
Photo gallery
Head on to the Canon PowerShot D10 photo gallery for full-sized photos taken by the camera.
Playback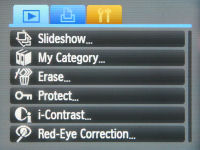 The Canon PowerShot D10 features Canon's usual playback mode which offers several editing functions in addition to the 'playback basics'. If you've used a Canon compact camera before, then you can recite this list of basic playback functions with me: print marking, slideshows, voice clip attachment, image protection and 10X image magnification. Photos can be viewed as single shots, in sets of 9 thumbnails or by date using the JUMP feature. The JUMP button also enables you to leap 10 or 100 photos at a time, or right away to the next folder.
On to the editing features: there's image resizing, cropping (trimming) and rotation – simple yet useful functions. Then there are the more interesting things, such as the ability to apply My Colors (photo effects) and iContrast (brighten dark areas in photos) to photos as well as a built-in software tool to remove redeye. There are no movie editing tools on the PowerShot D10, but then again, none of the rugged or compact cameras in the market do.
Images can be deleted individually, or queued by date, category, folder or your own picks for deletion.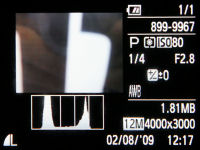 Pressing the DISPLAY button repeatedly on the PowerShot D10 cycles through its various image display screens in playback. The screen above is the 'busiest' you can find on the camera; showing exposure information (with shutter speed and aperture value), shooting details, a brightness histogram and overexposure alert feature all at once.
Conclusion
Take the SD1200 Digital ELPH, wrap a rugged/water-tight design around it as its body, throw in a bit of cuteness, a few new functions and a big leap in ergonomics and what does it become? The Canon PowerShot D10, of course! The PowerShot D10 is a waterproof, freezeproof, shockproof, very solid digital camera; and it's Canon's first attempt at the rugged camera market as well.
My first and foremost praise is regarding the camera's design. Canon did an excellent job in creating the PowerShot D10. Not only is it solid, and cute and eye-catching, but ergonomics are very good – The camera's potato-like shape makes it easy to hold, the buttons are the biggest I've seen on a compact camera and you get this satisfying rubbery 'click' each time you press on the buttons. Regardless if you're in scuba-diving gear or out in the cold wearing gloves (well, winter is around the corner), the Canon D10's physical controls alone deserve a big thumbs up from me in terms of operability. However, negative aspect here is the camera's physical size. While I could easily bring any of the competing cameras with me in my pocket (or carry several of them in a single, small bag), the D10 is just too large for pockets; instead, you'll have to use a dedicated pouch or neckstrap when bringing it out.
The Canon PowerShot D10 uses a familiar 3X zoom lens from the Digital ELPH family and while the lens is of good quality, I feel that Canon needs to come up with something fresh. In a world of 28 mm 'wide-angle' lenses and large zoom multiplication numbers, the lens here isn't sufficient. With the exception of the two budget 'waterproof only' cameras in the market, the rest of the competition sport lenses ranging from 3.6X to 5X zoom. The D10's lens also lacks any sort of protection; I'm sure many would feel insecure as well about their lenses not having lens covers.
Besides the fancy design, the PowerShot D10 Digital ELPH has a rather plain point-and-shoot feature set which comes with the usual handful of scene modes, face and blink detection, iContrast and Smart Auto mode. There are no manual controls with the exception of long shutter mode where you get to pick a slow shutter speed for night shots. Can't we have manual controls in more Digital ELPH models instead of just one?
In addition to that, we have a nice point-and-shoot feature set comprising of a Smart Auto mode, lots of scene modes, a nice face self-timer feature and face/blink detection. There are also three basic manual controls on-board the PowerShot D10 – custom white balance, true manual focus and slow shutter speed. Not quite the real deal though, as you still can't control aperture, shutter speed, bracketing and all.
The PowerShot D10 performed well in terms of speed and image quality. The camera was very fast and responsive (though continuous shooting definitely needs a frame rate boost). Image quality was good with nice sharpness and usable photos up to ISO 400. There was little lens distortion and edge softness to be seen, though you have to be careful of the camera's tendency to smudge images with noise reduction at high ISOs and the occasional bit of color fringing (chromatic aberration) that appears.
I would recommend the Canon PowerShot D10 to anyone who needs a tough camera that can handle all the rigors of daily life (and more) thrown at it. Canon certainly did a lot of homework when they entered the rugged camera arena – the PowerShot D10 is a well-rounded camera in terms of design (no pun intended), performance and image quality output. The only big thing that may set you off is the D10's size – compared to the pocketable competition, this thing is huge; and no, it doesn't fit into your pants pocket.
What's hot:
Good image quality with good color accuracy and overall sharpness
Solid construction (sturdy, waterproof, shockproof, freezeproof); huge buttons for easy operation
Design is appealing to kids and anyone fond of 'cute' things; four on-board connectors for attachments
Good LCD visibility in variety of conditions
Fast in terms of performance (except continuous shooting)
Decent point-and-shoot feature set with ample scene modes (two 'manual controls below are a plus)
Manual focus is a handy feature to have; Long shutter mode allows for selection of slow shutter speeds (above 1 second)
Playback editing tools include redeye removal and iContrast (brighten images)
What's not:
Noise reduction smudging from ISO 400 onwards; slight color fringing
Bulky size (compared to other rugged cameras); camera doesn't fit in pockets
3X lens doesn't go very wide (starts at 35 mm); least zoom among rugged cameras
Sluggish continuous shooting frame rate
Camera doesn't include any lens cap/cover
Lacks manual exposure controls and a live histogram
Recommended Accessories:
2 GB or 4 GB high-speed SD/SDHC memory card