I've just posted my review of the Canon PowerShot S90; a very capable little camera that sports Canon's 10 MP 'High sensitivity' sensor. Check out sample pictures in the Canon PowerShot S90 photo gallery as well. Hit the link to read the full review of the camera now!
DPInterface Canon PowerShot S90 Review
Brad Soo – December 4th, 2009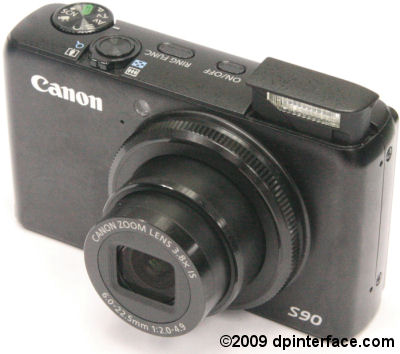 It's been a very long while since Canon last updated their S-series line of mini-prosumer cameras: four years to be exact. The arrival of the PowerShot S90 this year shows that Canon is not yet done with the series. There have been so many changes since the camera's predecessor appeared in 2005 that the PowerShot S90 is a new camera on its own. The main highlights of the PowerShot S90 include:
10 megapixel 'high sensitivity' image sensor
3.8X optical zoom lens (28 - 105 mm; f2.0-f4.9)
3 inch LCD display
Full manual controls
Advanced white balance adjustment
Ability to capture photos in RAW format
VGA movie mode
How well does the Canon PowerShot S90 perform? Take a deep breath now, this review is gonna be a fairly long one!
Comparison versus PowerShot G11
If you're interested in knowing the difference between the Canon PowerShot S90 and the Canon PowerShot G11, I've made a handy comparison table which you may want to check out.
Size and Weight
(232.7) 109.1 x 77.7 x 45.9 mm (350 g) – Canon PowerShot G10
(236.6) 112.1 x 76.2 x 48.3 mm (355 g) – Canon PowerShot G11
(199.8) 104.0 x 57.0 x 38.8 mm (225 g) – Canon PowerShot S80
(189.3) 100.0 x 58.4 x 30.9 mm (175 g) – Canon PowerShot S90
(180.9) 99.8 x 58.5 x 22.6 mm (146 g) – Casio Exilim FC150
(180.0) 97.7 x 58.9 x 23.4 mm (153 g) – Fujifilm FinePix F200 EXR
(214.5) 107.0 x 65.5 x 42.0 mm (240 g) – Nikon Coolpix P6000*
(195.3) 108.7 x 59.5 x 27.1 mm (265 g) – Panasonic Lumix LX3*
(177.8) 96.5 x 61.0 x 20.3 mm (160 g) – Samsung TL320 aka WB1000
(162.1) 90.5 x 51.8 x 19.8 mm (120 g) – Sony Cyber-shot WX1
All the weight figures above show when the camera is empty without a battery or memory card
*Camera announced in 2008
The Canon PowerShot S90 is a fairly compact camera – it's definitely lost a lot of bulk and weight compared to its 4 year old predecessor, and now measures about the same height/length as Canon's larger ELPH/IXUS models. Though the PowerShot S90 is by no means as tiny or light, it'll definitely fit into most pockets or purses with ease. The numbers above make the camera sound thicker than it really is – the 30.9 mm measurement takes the protruding control ring into account; while the rest of the camera body is about 5 mm thinner than that.
Box packaging
The Canon PowerShot S90 comes with a very standard bundle:
Rechargeable lithium-ion battery (NB-6L)
Battery charger
Wrist strap
USB and A/V cables
Camera software CD
User's manual
The Canon PowerShot S90 doesn't come with any bundled memory, which is perfectly fine by me (other cameras that do include built-in memory have so little space that you'll still have to buy a memory card anyway).
The Canon PowerShot S90 takes SD/SDHC memory cards and I'd recommend 4 GB to begin with. A 4 GB card will hold around 1,500 JPEG photos or 270 RAW images at full-resolution, plenty for most people. Make it a high-speed card if possible (60X-90X speed would be good) since the camera can store photos faster with one.
400 shots – Canon PowerShot G10
390 shots – Canon PowerShot G11
220 shots – Canon PowerShot S90
300 shots – Casio Exilim FC150
230 shots - Fujifilm FinePix F200 EXR
260 shots – Nikon Coolpix P6000*
380 shots - Panasonic Lumix LX3*
280 shots – Samsung TL320 aka WB1000
350 shots - Sony Cyber-shot WX1
All the cameras above are rated with rechargeable batteries with LCD on according to CIPA Standard
*Camera announced in 2008
The Canon PowerShot S90 shares the same NB-6L rechargeable lithium-ion battery used by some Digital ELPH/IXUS models. This battery doesn't pack much of a punch and consequently, the PowerShot S90's 220 shot per charge rating sits in the below average range in terms of battery life.
Accessories
Unlike its predecessors (or should I say, ancestors), the Canon PowerShot S90 has a pretty limited accessory range. Gone is the ability to attach conversion lenses and filters to the camera – if that's crucial for you, consider stepping up to the PowerShot G11. The camera has also lost the ability to be remotely controlled via computer as opposed to its predecessors.
The only accessories available for the camera include a waterproof case, AC adapter and external slave flash (which fires alongside the camera's built-in flash). A HDMI cable is also available for connecting the camera to your television set, but the cable is not proprietary so you'll probably be able to use the one you have in your living room or easily find one at your local electronics store.
Camera Tour
The Canon PowerShot S90 has undergone a major transformation since the days of the S80. The PowerShot S90 dumps the traditional sliding lens cover that's been on the S-series since forever, and cuts down dramatically on physical size and number of buttons. In fact, the camera looks so different, it now resembles its Digital ELPH/IXUS cousins more than a Canon S-series camera. Almost everyone who saw me with my cameras had no trouble identifying everything I had except the PowerShot S90. I kept getting the question "Is that the latest IXUS?"
So the Canon PowerShot S90 is a camera packed with functionality and controls, and keeps a fairly low profile by looking much like a Digital IXUS/ELPH. Great. Build quality of the camera is top-notch and ergonomics are decent. Shooting with one hand is usually no problem, but the PowerShot S90's design is geared towards two-handed operation, especially if you want to use that handy control ring on the front. I have just one rant about the camera's design… and it's about the rear scroll wheel which lacks any sort of tactile feedback and is very easy to bump. The front control ring around the lens is fine though – it's fairly stiff and produces assuring 'clicks' when turned.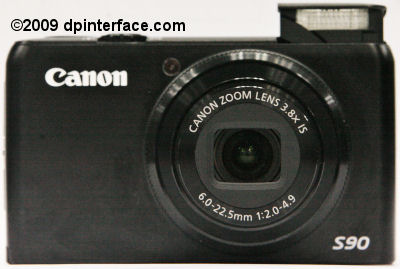 The Canon PowerShot S90 features an all-new, fast and wide lens. This 3.8X lens is equivalent to 28 – 105 mm in 35 mm terms, on par with other similar cameras. The main thing that makes this lens shine is the f2.0 starting aperture, which comes in handy when you want to take close-up or portrait shots with a background that's more 'blurred' versus the average camera. It's also useful in low-light, where you get a full stop advantage (means faster shutter speeds) over cameras with f2.8 lenses. Based on my observation, the lens apparently has a real aperture mechanism (much like a digital SLR lens) which truly 'stops down' aperture according to your settings (as opposed to compact cameras that normally use a built-in ND filter as a cheap substitute). As you would probably expect, optical image stabilization is also present in the PowerShot S90's lens.
Probably one of the more exciting features of the PowerShot S90 is found around the camera's lens. The outer most lens rim (probably not that visible here, but we'll get to a better angle in a minute) functions as a control ring which grants you instant access to one of five functions (and you get to choose which function). Want to 'pretend' you're using an SLR by using it as a zoom ring? Done. How about direct manual focus? It does that too. More on the control ring later.
Near the 'Canon' logo is the camera's autofocus assist light which also doubles as the self-timer lamp and a well hidden microphone hole.
To the upper right side of the PowerShot S90 is its pop-up flash unit. The flash is fairly powerful at wide-angle, covering 50 cm to 6.5 m (21 feet) but the maximum range drops to just 2.5 m (8 feet) at telephoto. You'll get full control over various flash settings in the camera's flash menu, and if that's not enough power, an external slave flash is available. Canon has done a lot of fancy things with the PowerShot S90, and another nice touch they've added is the flash that's actually motorized. Change the flash mode to 'slow sync' or 'on' and the flash comes up automatically; turn off the camera or set the flash mode to 'off' and the flash will (also automatically) retract into the camera.
The Canon PowerShot S90 has a large 3 inch screen with a great 461,000 dots of resolution. The screen is sharp and visibility in low-light is excellent. Under bright light, the display is almost as good, though there were times that required me to boost the LCD brightness setting or tilt the camera slightly to view the on-screen image.
From press release pictures, I thought that THING under the mode dial was a controller of sorts, but turns out it's just a weirdly-shaped grip for your thumb. You'll find the camera's power/focus indicator light and speaker grille nearby.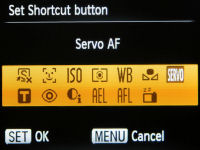 Customizing the Shortcut button
The first two buttons are the Shortcut and Playback buttons respectively. By default, it doesn't do anything but dig into the camera menu and can assign one of many functions to the Shortcut button. The Shortcut button also doubles as the camera's print marking button in playback.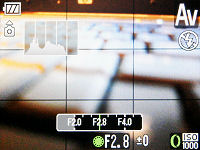 Using the rear dial to change aperture value
Next up is the 5 way navigation pad + rear dial combo. The rear dial is used to scroll through pictures, menu items as well as adjust camera settings. The rear dial's main appeal is that changing settings is now a breeze since it allows direct access to exposure control in Av/Tv/M modes. Unfortunately, the rear dial is totally 'smooth' when turned, providing zero tactile feedback and is prone to accidental bumps (which, in turn, can really mess up exposure if you don't take note).
Taking a closer look at the navigation buttons, each direction provides access to a dedicated function:
Up – Exposure compensation (+/-2 EV in 1/3 steps)/Playback image JUMP
Down – Self-timer (Off, face self-timer, 2 or 10 second self-timer, custom)
Left - Focus mode (Normal, macro, manual focus)
Right - Flash mode (Auto, on, slow sync, off; more settings available in the flash menu)
Center – Function menu/Set
The Canon PowerShot S90 has a Face Self-timer mode which works in conjunction with face detection. The camera will watch the scene until an 'extra face' is detected, then start counting down to take up to 10 pictures in a row. Of course there's the regular 2 and 10 second countdown modes available as well as a custom timer mode which allows you to set the countdown period and number of shots the camera will take.
Unlike other Canon cameras which require quite a bit of button pressing to setup custom timer mode, the PowerShot S90 has an exclusive "clock and shot" interface where you can setup custom timer by turning the front control ring (countdown period) and rear dial (number of shots). Functionality wise, it does the same thing as other Canon cameras, but without the intense button-pressing and the interface looks super cool (too bad I forgot to take a screenshot before I returned the camera).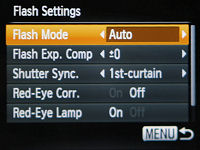 Flash settings menu
Like most Canon cameras, the PowerShot S90 has a dedicated Flash Settings menu which allows you to adjust flash exposure compensation (+/-2 EV in 1/3 step increments), flash power (low, medium, full) if you're using Manual mode, flash sync mode and redeye reduction settings (for both the lamp and software based systems).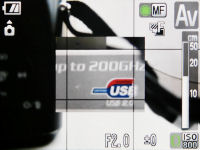 Manual focus with frame enlargement and distance guide
The PowerShot S90 also gives you the ability to manually focus; and provides a distance guide and frame enlargement while you're at it. Unless you've already got the manual focus function assigned to the front control ring, you'll have to use the rear dial to fine-tune focus (which is sometimes clumsy if you want to adjust focus, aperture and shutter speed together)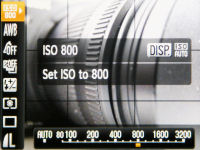 Canon's traditional Function menu, now with 'Hints & Tips' for each function
Pressing the center button brings up the camera's function menu which contains several settings that can be changed. Good move on Canon's part to use the more user-friendly, 'traditional' version of their function menu instead of the flashier but less intuitive one found in Digital IXUS/ELPH models:
ISO (Auto, 80 – 3200 in 1/3 step increments)
White balance (Auto, daylight, cloudy, tungsten, fluorescent, fluorescent H, flash, underwater, custom)
My Colors (Normal, vivid, vivid [blue/green/red], neutral, sepia, black & white, positive film, lighter/darker skin tone, custom)
Bracketing (Off, exposure bracketing, focus bracketing)
Flash exposure compensation (+/-2 EV in 1/3 steps)/flash power
Metering method (Evaluative, center-weighted, spot)
Drive mode (One shot, continuous shooting, continuous AF shooting)
Image size and compression
The custom My Colors option allows you to manually tweak contrast, saturation, sharpness and individual red, green, blue and skin tone levels; all up to +/- 2 in 1 step increments)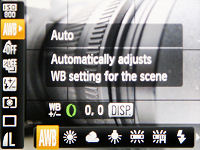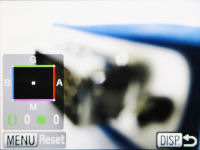 Advanced white balance tuning is available for each white balance setting
I know that I'm starting to sound a bit repetitive here, but yet ANOTHER notable feature found on the PowerShot S90 is advanced white balance adjustment. This is the first time such an option has appeared on a Canon PowerShot model (it's normally found on digital SLRs only) and it allows you to fine tune white balance on the green/magenta and blue/amber axes with 9 steps available for each direction. As usual, you can easily make adjustments here using the control ring/rear dial combo or using the navigation pad. Something worthy of note is that this feature can also be found on the Canon PowerShot G11 (the S90's big brother) as well as the Panasonic Lumix LX3 (the S90's main competitor)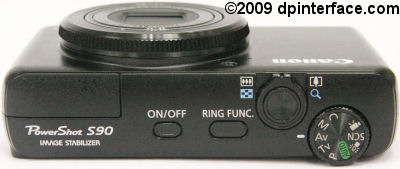 There are a few more things to go through at the top of the PowerShot S90. There's the S90's popup flash in its retracted position on the left and a much clearer view of the control ring (the protruding part around the lens). You can also find the camera's power on/off button, Ring Function button and shutter button with a zoom controller wrapped around it.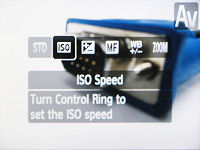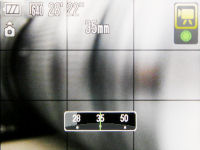 Customizing control ring function (left) and using control ring when assigned to 'zoom' (right)
There are five choices to choose from as to what the control ring does. And those choices are: ISO speed, exposure compensation, manual focus, white balance tweaking (in 2 directions for warmer/cooler colors) and operation of zoom. My personal favorite is the ability to adjust ISO on the fly, though some may prefer assigning it to zoom or focus to mimic the handling of a digital SLR. Note when assigning the 'zoom' function to the control ring, the camera only allows five zoom steps (they are: 28 mm, 35 mm, 50 mm, 85 mm and 105 mm which are focal lengths commonly found on SLR lenses)
Next up we have the mode dial, which you can turn a full 360 degrees. The mode dial provides a subtle hint to the 'seriousness' of the Canon PowerShot S90, with the various exposure control modes being directly accessible but all of the camera's scene modes stuffed under one 'Scene' position. Going counter-clockwise from the 'C' marking, we have:
Custom mode – you can store all your favorite camera settings here
Manual mode – allows you to select both aperture value and shutter speed (same ranges as below)
Aperture priority – you select an aperture value (between f2.0/f4.9 to f8) and the camera will select a matching shutter speed
Shutter priority – you select a shutter speed (between 1/1600 to 15 seconds) and the camera will select a matching aperture value
Program mode – all menu options are unlocked, but the camera still controls exposure
Auto mode
Low-light mode
Scene position – where you'll find all of the camera's scene modes
Movie mode
One rant I have here is regarding how the smallest aperture is limited to f8.0 (regardless of zoom setting) and the 'fastest' shutter speed is 1/1600 sec. Supposedly these are hardware related limitations but more choices/higher limits would've been nice.
Low-light mode boosts ISO up to 12,800
New to the Canon PowerShot S90 is Low-light Mode, a fancy name for high sensitivity mode. This mode takes advantage of the new 10 megapixel 'high sensitivity' sensor found in the S90 and allows the camera to pick a setting anywhere from ISO 320 to ISO 12,800 depending on lighting conditions. It's useful for people who want to take clear photos in poorly lit places with minimal fuss. The catch here is that image resolution is fixed at 2.4 megapixels (which should be fine for 4 x 6 prints). The camera doesn't use 'super high' sensitivities unless there's really not much light (close to pitch darkness) around – I suppose that's a good thing because ISO 12,800 results weren't exactly pretty.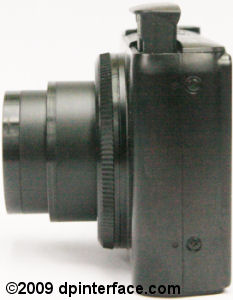 Here's the side view of the Canon PowerShot S90 with the popup flash in the 'up' position. Remember that the flash automatically comes up/retracts so there's no input required from your fingers! The flash itself is pretty stiff so it's difficult to accidentally close it.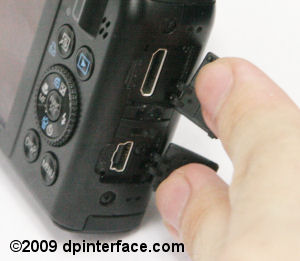 Over here is the S90's wrist strap loop and two ports – one being a mini-B port for both USB and A/V Out connectivity to your computer and television set respectively (the Canon S90 supports USB 2.0 High-speed); while the other port is a mini HDMI port, where you can connect the camera to a high definition display via an optional cable.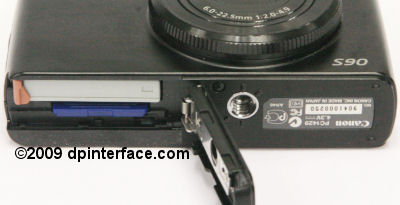 The Canon PowerShot S90 features a metal tripod mount (that's slightly off-center from the lens) and a compartment for the memory card and battery. The spring loaded compartment door is quite sturdy but by the looks of it, it's obvious you can't swap memory cards/batteries while the camera is on a tripod.
Taking pictures (Shooting mode)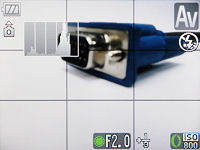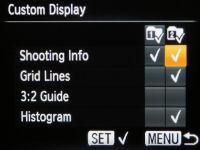 Live view image (left) and picking what on-screen info you'd like to see (right)
Kudos to Canon for including almost everything possible on the PowerShot S90's on-screen display. You can view exposure details, camera settings, a 3-step battery indicator, a live histogram and even toggle framing gridlines/3:2ratio guide on/off. The only thing missing here is a zoom indicator (which only comes up if you bind the Control Ring with the Zoom function). You can also opt to customize two sets of display settings so you can switch from information-bombardment-overload to simple on-screen info anytime.
The PowerShot S90 gives you a total of six choices for image resolution (10 MP, 6 MP, 4 MP, 2 MP, VGA and 7.2 MP widescreen) plus two compression options: fine and standard. A 4 GB memory card will hold around 1,500 Fine images at the 10 megapixel setting.
There's also RAW image mode which allows you to take raw images that are untouched by the camera's processing. You can then process images to your own liking using software like Adobe Photoshop, or Canon's own bundled software. The main advantage of taking RAW images is you have control over just about every setting available (ie white balance, noise reduction, exposure, etc), which is handy if you accidentally mess up a shot with the wrong settings or want to give images your own look/style of processing instead of the camera's. The downsides to this is that 1) you'll have to process pictures on your computer before you can actually post/use/share photos and 2) RAW file sizes are huge compared to traditional JPEG photos. A typical RAW image produced by the Canon PowerShot S90 averages 12 MB per file and a 4GB card will only hold 270 RAW images (less if you opt to shoot in RAW+JPEG). Oh, speaking of which, did I mention that the PowerShot S90 also has a RAW+JPEG mode that you can enable?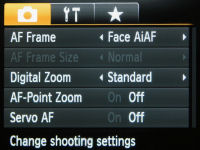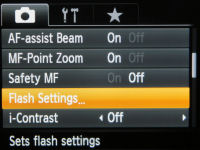 Hey, let's talk about the Canon PowerShot S90's shooting menu now. We've got four menu pages to cover and here are the options available in the first two:
Autofocus mode (Face detection, center AF)
AF point size (Normal, small) – Choose how size of the camera's focusing point
Digital zoom (standard, fixed Digital Teleconverter) – keep this turned off, it lowers picture quality
AF point zoom – magnify the focus point once AF has been locked
Servo AF – For subject tracking
AF assist beam On/Off
MF point zoom On/Off
Safety MF – the camera will automatically correct focus if your manual focusing didn't manage to nail your subject
Flash settings
iContrast (Off, low, medium, high, auto)
The iContrast feature brightens up dark parts of your photo and improves contrast slightly. Even though it works well, there are also reasons to NOT use iContrast in shooting mode: it slows down shooting speed and the feature is also available as a tool in playback.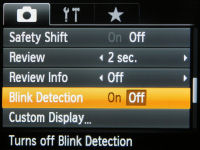 Most of the settings are pretty self-explanatory and there's always the camera's "Hints & Tips" feature which provides a brief description of each setting/option at the bottom of the menu. On to the next two pages:
Safety shift – similar to safety MF, but the camera will correct exposure instead if it thinks your settings won't properly expose your subject(s)
Review – Determine how long the camera shows the image on the screen after a picture is taken
Review info – amount of info shown in post-shot review mode
Blink detection On/Off
Custom Display - toggle grid lines, 3:2 guide, shooting settings and live histogram
Optical image stabilization mode – Off, Continuous, Shoot-only, Panning
Date stamp (Off, date, date and time)
RAW+JPEG mode (On/off)
Set Shortcut button – customize what this button does in shooting mode; you can assign it as a shortcut to a shooting function
Save settings – save current mode's settings into the Custom spot on the mode dial
There are exactly 12 things you can choose from to assign to the camera's Shortcut button, and they include: Face detection, ISO speed, metering mode, white balance, set custom white balance, Servo AF, Digital Teleconverter, redeye removal, iContrast, exposure/focus lock and display off.
Face Detection
The Canon PowerShot S90 has a decent face detection system that detects up to 10 faces. There's also blink detection, which alerts you if anyone blinked while you were taking a shot – useful so you can retake the photo. I've already talked about the Face Self-timer feature which essentially starts counting down the moment the camera detects that an additional face has entered the scene.
Bracketing features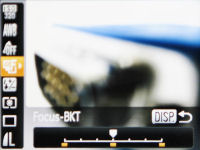 Focus bracketing
The Canon PowerShot S90 has two bracketing modes. One of them is exposure bracketing, which takes three photos, each at different exposures. The other is focus bracketing (which only works if you use focus lock or manual focus) which takes three photos at varying distances. The focus 'difference' in focus bracketing mode is very vague as the camera doesn't say anything about how near is 'near' or how far is 'far'.
My Menu and Setup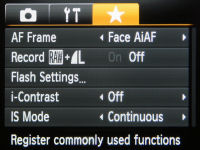 My Menu display
The Canon PowerShot S90 has a My Menu area which allows you to pick and reorder up to five options found in the regular Camera Menu above for quick access to your favorite settings. You can even set My Menu to appear as the default screen when you press the MENU button.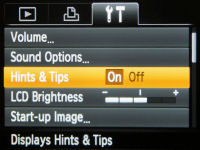 Setup menu
Then there's the setup menu which allows you to customize various settings (usually when you first unbox the camera) and leave them there as they are – things like date/time, volume, startup picture, etc.
Macro mode
The Canon PowerShot S90 has a fairly conventional macro mode that allows you to get as close as 5 cm (2 inches) to your subject at wide-angle or 50 cm (20 inches) at telephoto.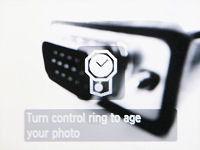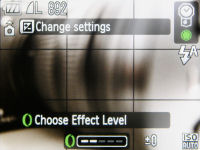 Scene mode icon and description (left) and adjusting Nostalgic mode effects (right)
The PowerShot S90 has quite a number of scene modes under the Scene position on the mode dial. The scene modes available on the camera include: portrait, landscape, foliage, snow, beach, sunset, fireworks, aquarium, night scene, night snapshot, indoor, kids & pets, underwater, stitch assist and a brand new scene mode called Nostalgic Mode. Nostalgic Mode is the only scene mode which allows you to use the Control Ring to adjust the scene effect level (up to 4 steps). Turning the Control Ring allows you to 'age' your photo with faded colors to a grainy black-and-white look.
Video Recording
For such a feature-rich camera and with many cameras having HD recording capabilities, the area where the Canon PowerShot S90 falls short is in the movie department. The camera can record VGA (640 x 480) video at 30 FPS with mono sound, which should be sufficient for basic home videos. Video bloggers (vloggers), people looking to record their kids at a school play/sports game and the like may desire HD video, however, which the S90 doesn't offer.
Movies are recorded in MOV format, using the efficient H.264 codec, though there's a software limitation that restricts movies 4 GB or 60 minutes per clip, whichever comes first. A 4 GB card will hold roughly 50 minutes of VGA video but if you'd like to pack longer recording times, you can opt to lower resolution to QVGA (320 x 240) at 30 FPS.
You can activate optical image stabilization and use digital zoom while recording movies but you can't use the camera's optical zoom lens (since the camera will pick up the lens motor noise). Overall movie quality was just average.
Performance
All performance testing of the Canon PowerShot S90 was performed using a high-speed 4 GB SanDisk Ultra II SDHC (90X) card.
With the startup animation disabled, the Canon PowerShot S90 boots up in under 1 second which is very fast. Autofocus speeds were very fast, hovering in the range of 0.1 to 0.3 seconds at wide-angle and 0.3 to 0.8 seconds at telephoto. Focusing in low-light was no problem either – the camera managed to focus in close to pitch dark conditions thanks to its AF-assist light (also explains how I got those ISO 12,800 samples, which are very noisy yet still in focus).
Shot-to-shot speed (JPEG) - 1 shot every 1.4 seconds, very fast
Shot-to-shot speed (RAW) - 1 shot every 2.4 seconds, good
Flash recharge time using a fully charged battery - 4 seconds on average
The Canon PowerShot S90 has three continuous shooting modes, none of which are particularly impressive. First and foremost is the full-resolution continuous shooting mode where you can shoot at a sluggish 1 frame per second until the memory card fills up. The other two modes, Continuous AF and Continuous LV do the same thing, except they operate in autofocus and manual focus modes respectively. Either way, the frame rate in Continuous AF/LV mode drops to a rather sluggish 0.7 FPS as the camera tries its best to autofocus/show the live view feed between shots. The good news here is that you can use continuous shooting with RAW mode without seeing any drop in frame rates (since they are already paltry in the first place)
The camera moves its lens from wide-angle to telephoto in 1.8 seconds. There aren't many steps throughout the zoom range so it can be difficult to be precise when zooming.
Save for continuous shooting speeds, the Canon PowerShot S90 is a fast and responsive little camera. The camera does notably well in terms of auto focus and shot-to-shot speeds, and let me remind you – you really SHOULD get a high speed card to use with the Canon S90, it helps a bunch.
Image Quality
Let's take a look at the Canon PowerShot S90's image quality:

ISO 80 (f2.0, 1/20 sec)
ISO 100 (f2.0, 1/25 sec)

ISO 200 (f2.0, 1/50 sec)

ISO 400 (f2.5, 1/60 sec)
ISO 800 (f4.0, 1/60 sec)
ISO 1600 (f4.0, 1/125 sec)

ISO 3200 (f4.0, 1/200 sec)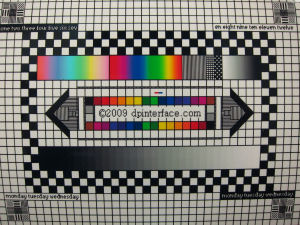 Comparison vs other cameras
10 MP Canon PowerShot S90 at ISO 800

12 MP Canon SD940 Digital ELPH/Digital IXUS 120 at ISO 800
12 MP Fujifilm FinePix F200 EXR at ISO 800
10 MP Canon PowerShot S90 at ISO 1600
12 MP Canon SD940 Digital ELPH/Digital IXUS 120 at ISO 1600
12 MP Fujifilm FinePix F200 EXR at ISO 1600
Photo gallery
I've taken plenty of photos using the PowerShot S90 and you can check them out (all 71 of them) in the Canon PowerShot S90 photo gallery (in full-sized glory, no less).
Playback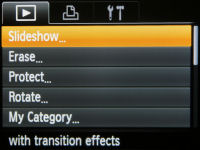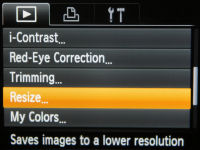 The Canon PowerShot S90 has a fairly complete playback mode with a decent amount of editing tools. Photos can be played back with transition effects and, by turning the rear wheel, you can scroll through 3 photos at a time. Videos can also be played back with sound, with an option to toggle slow-motion playback. The S90's basic playback features include print marking, slideshows (with transition effects), image protection, sorting by category (called My Category) and up to 10X playback zoom.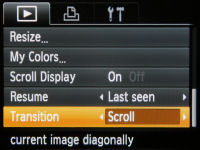 There are basic 'editing' tools such as image resizing, cropping (trimming) and rotation along with some more elaborate ones like using My Colors (photo effects), iContrast (brighten dark areas) and redeye removal from photos. There are no real movie editing tools except a 'trim' function which allows you to cut footage from the beginning/end of a video file.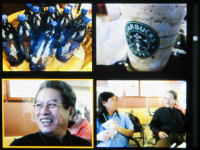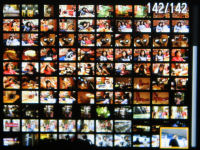 Photo thumbnails: 4 photos and 100 photos
Photos and videos can be viewed by date, category, folder (press UP on the navigation pad to bring up the JUMP feature) or thumbnails. You can view thumbnails in sets of 4, 9 and all the way up to 100 if you wish!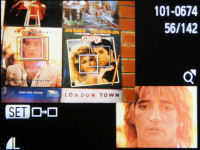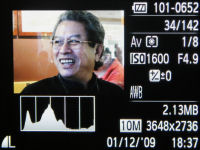 AF point/face magnification (left) and full info display (right)
The Canon PowerShot S90 can display a full range of information about your photos, including details about exposure (with shutter speed and aperture value), shooting settings, a brightness histogram and a feature that alerts you about overexposed areas in photos (indicated by the flashing area). Just hit the DISPLAY button to cycle through the various screens, including one that automatically zooms into faces/focus points and if you don't like busy screens, you can also choose to show little to no info.
Conclusion
I'll be straightforward here – I like the Canon PowerShot S90, I like it a LOT. Here's why – it's packed to the brim with features, yet is as small as an average compact camera. After four long years, the Canon S-series is finally back with the all new PowerShot S90. While the camera doesn't look at all like any of its predecessors, it still continues the legacy of the S-series, packing a big punch in a relatively compact body.
On the outside, the PowerShot S90 innocently looks like a sprout off the Digital IXUS/ELPH line, but don't let its looks fool you – this camera is much more than that. The camera sports a 3.8X optical zoom lens which starts at an impressive f2.0. There's a big 3 inch display with good visibility to compose your photos; along with the ability to store two sets of display settings. Canon also added a nice touch to the S90: a motorized pop-up flash which smoothly rolls out into view when you want to use it, and automatically goes back in when you power off the camera.
Exposure manipulation and full manual mode – check. Manual focus with distance indicator and focus magnification – check. The Canon PowerShot S90 practically packs almost every manual control imaginable, including advanced white balance tuning which you'll rarely find in a compact camera. If that isn't enough, there's also exposure and focus bracketing available, along with control over various flash settings.
And having so many controls and settings, it's nice to know you can conveniently access and change them thanks to the camera's dual control dials – that control ring around the lens and also the rear dial around the navigation pad. Outside of doing things like tuning white balance and setting a custom countdown period, the control ring can also be customized so you can instantly access/change one of five functions. The control ring provided excellent tactile feedback and audible 'clicks' when turned, but the rear dial was the exact opposite: not stiff at all and easy to bump by accident. You can further tailor the PowerShot S90 to your personal liking with the ability to customize a dedicated position on the mode dial, My Menu area and the camera's shortcut button.
The Canon PowerShot S90 managed to produce image quality that's above average compared to most other cameras. Colors were vivid, images were sharp and very usable up to ISO 1600 and there was little saturation loss at higher ISOs (an issue that's been plaguing most cameras). In some cases, even ISO 3200 was usable for small prints, which really says a lot about the S90. I'd say the PowerShot S90's ability to excel at taking still photos makes up for the camera's shortcomings in the movie department. In fact, seeing the Canon S90's image quality alone was enough to convince a few friends of mine to go out there and buy one of these back home, in time for the holiday season.
I would highly recommend the Canon PowerShot S90 to anyone else who wants a capable, imaging-savvy compact camera that excels at taking pictures. The camera's image quality is easily better than most of the competition and its overall value will make buying the Canon S90 something you'll –never– regret.
What's hot:
Very good image quality with good color accuracy and overall sharpness
Camera excels in low-light: f2.0 starting aperture and powerful flash at wide-angle, ISO usable till 1600, good AF in dim conditions
Compact design; 28-105 mm lens starts at f2.0 and has image stabilization
Dual control dials: Front Control Ring and rear dial
Big 3 inch LCD with good sharpness and visibility
Very fast performance (except continuous shooting)
Full manual controls (exposure, focus, flash and all)
RAW image mode; RAW+JPEG option available and very capable, bundled RAW processing software
Customizable mode position, My Menu and Shortcut button
Variety of scene modes with auto scene selection
Playback editing tools include redeye removal and iContrast (brighten images)
What's not:
Prominent color fringing (chromatic aberration) at wide apertures; visible lens distortion
Below average battery life
Rear dial lacks tactile clicks and is easily bumped
No HD movie recording capabilities; can't use optical zoom while recording
Sluggish continuous shooting performance (would expect more for a 10 MP camera)
4.5 - Design and build quality
3.0 - Bundle in the box
4.3 - Lens (Zoom, aperture range, image stabilization)
4.7 - Feature set and manual controls
4.0 - Ergonomics and ease of use
4.0 - Performance and speed
4.2 - Image quality
8.20 over 10.0 - Overall rating (Highly recommended)