Here's my review of the Nikon Coolpix S60 along with the Nikon Coolpix S60 photo gallery. If you're more interested in the recently announced Coolpix S70, then you should still read this review if you wanna get an idea of Nikon's touchscreen user interface.
DPInterface Nikon Coolpix S60 Review
Brad Soo – August 4th, 2009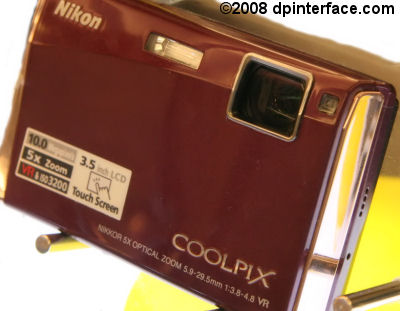 The Coolpix S60 is Nikon's first attempt at creating a digital camera with a 100% touchscreen interface. Set out to compete with the likes of Sony's Cyber-shot T900, the Coolpix S60 has 10 megapixels of resolution, a 5X internal optical zoom lens, huge 3.5 inch touchscreen and an ultra-slim profile.
As of today, the Coolpix S60 will have a brand new sibling, the S70, with 12 megapixels and a few extra features, priced at $400 ($100 more than the S60). The S70 will hit stores in September, by which time the price gap between the two would've widened.
Is the Nikon Coolpix S60 a good camera? Or should you wait out for the new S70 instead?
Size and Weight
(159.9) 87.0 x 54.5 x 18.4 mm (115 g) - Canon PowerShot SD780 IS Digital ELPH
(172.8) 97.1 x 59.4 x 16.3 mm (121 g) – Casio Exilim FS10
(175.2) 90.5 x 59.0 x 25.7 mm (117 g) - Fujifilm FinePix Z30
(179.5) 97.5 x 60.0 x 22.0 mm (145 g) – Nikon Coolpix S60
(177.0) 96.5 x 60.5 x 20.0 mm (140 g) – Nikon Coolpix S70
(173.1) 97.0 x 54.4 x 21.7 mm (117 g) - Panasonic Lumix FS7
(176.7) 97.0 x 57.9 x 21.8 mm (126 g) - Panasonic Lumix FS25
(172.5) 97.0 x 54.0 x 21.5 mm (110 g) – Pentax Optio P70
(167.7) 94.0 x 55.9 x 17.8 mm (121 g) – Samsung TL100
(165.8) 93.6 x 57.2 x 15.0 mm (128 g) - Sony Cyber-shot T90
(172.0) 97.9 x 57.8 x 16.3 mm (124 g) - Sony Cyber-shot T900
All the weight figures above show when the camera is empty without a battery or memory card
The Nikon Coolpix S60 is one of the largest and heaviest cameras in the group. That doesn't stop you from stowing it away in your pocket though – the S60 is still pretty small, though there are even smaller cameras out there. The Coolpix S70 is slightly smaller and lighter than the S60.
Box packaging
The Nikon Coolpix S60 comes with an average bundle; I doubt you'll be using that stylus often since it isn't stored inside the camera when not in use, and the camera's UI can be operated easily using your fingers:
EN-EL10 Rechargeable lithium-ion battery
Battery charger
Wrist strap
Stylus
USB cable
A/V cables
Camera software CD
User's manual
The Nikon Coolpix S60 takes SD/SDHC memory cards but comes with a paltry 20 MB of internal memory. I would recommend starting off with a 2 GB SD card.
210 shots - Canon PowerShot SD780 IS Digital ELPH aka Digital IXUS 100
200 shots - Fujifilm FinePix Z30
140 shots – Nikon Coolpix S60
200 shots – Nikon Coolpix S70
360 shots - Panasonic Lumix FS7
330 shots - Panasonic Lumix FS25
200 shots – Pentax Optio P70
200 shots – Samsung TL100
220 shots – Sony Cyber-shot T90
200 shots - Sony Cyber-shot T900
All the cameras above are rated with rechargeable batteries according to CIPA Standard
The Nikon Coolpix S60 uses the tiny EN-EL10 battery and comes with a charger. Battery life isn't an area where the S60 performs well, with a battery life rating of 140 shots per charge (CIPA Standard) – that's a loooong way off from the group average. The new Coolpix S70 performs 50% better, but those numbers are still not fantastic either.
Accessories
There are only two optional accessories available for the Coolpix S60: an optional AC adapter and various camera cases.
Camera Tour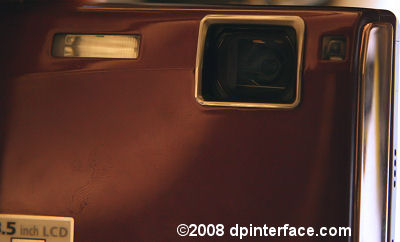 The Coolpix S60's modern, angular design
The Nikon Coolpix S60 is a stylish looking ultra-compact, more modern looking than the Coolpix S70, in my opinion - the Coolpix S70's square-ish design with the leather accents make it look too much like a Louis Vuitton product from the 1920s, less like a camera launched in 2009. Back to the S60, the camera has good build quality but mixed ergonomics. Like the Sony Cyber-shot T900, there's little space for your fingers to hold the camera… but fortunately, unlike the T900, the Nikon S60 has a very user-friendly (and touch friendly too) interface.
The Coolpix S60 comes in your choice of white, black, maroon, bronze, pink and burgundy – that's a lot of colors for one camera!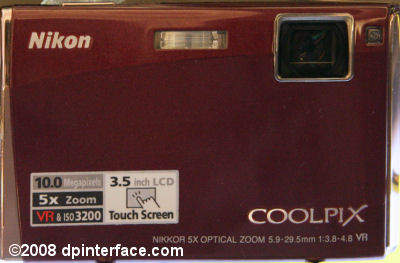 The Nikon Coolpix S60 has a 5X optical zoom lens, equivalent to 33 – 165 mm and it has an aperture range of f3.8 – f4.8. In comparison, the new Coolpix S70 has a 28 – 140 mm lens, but sacrifices aperture range for the wide-angle coverage (f3.9 – f5.8). The Coolpix S60 also has optical Vibration Reduction (image stabilization) to help reduce blur caused by shaky hands.
Right next to the camera's lens is autofocus assist lamp, which doubles as a self-timer visual countdown light. And to the left of the lens is the built-in flash. As usual, Nikon doesn't provide any numbers about flash range, but I had to measure things myself. The flash was able to cover up to 4 meters/12 feet, which is average for a compact camera.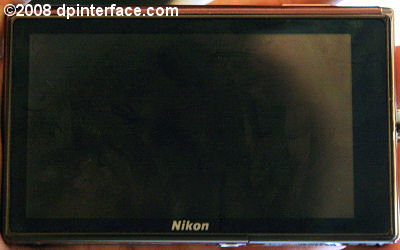 The one and only feature on the back of the Coolpix S60 is a huge 3.5 inch touchscreen. While the screen is very large, its resolution is a puny 230,000 pixels. Compared to the Sony Cyber-shot T900 which also has a 3.5 inch touchscreen, the one on the Sony has 920,000 pixels and is MUCH sharper than that of the Coolpix S60. Screen visibility was just decent in low and bright light conditions.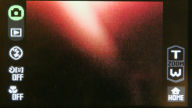 Nikon Coolpix S60's main shooting screen
With everything done via the touchscreen (even zooming the lens), let's take a look at the Coolpix S60's user interface. Power on the camera and you'll see the live view image along with a row of icons on each side of the image. On the right row, we have five icons which serve their respective purposes:
Shooting mode icon
Enter playback mode
Flash setting (Auto, auto with red-eye reduction, off, on, slow sync, rear-curtain sync)
Self timer (Off, 2 seconds, 10 seconds, Smile Timer)
Focus mode (Normal, macro, infinity)<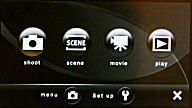 Nikon's Home screen isn't even remotely related to Sony's similarly-named, mediocre Home menu
On the left side are the camera's virtual zoom controls and Home icon. Well, if you've used Sony's cameras before (or read reviews of them), chances are you'll cringe at the sound of 'Home menu'. Rest assured that Nikon's Home menu is nothing like Sony's insanely useless and confusing Home menu – In fact, the Home screen here has more in common with the main menu screen on Olympus cameras.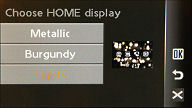 To top things, off you can even change the theme of the Home screen
You'll see four large mode icons on the Nikon Coolpix S60's Home screen for Shooting, Scene, Movie and Playback modes respectively. There are also two smaller icons below for you to enter either the 'camera menu' or setup menu. See, quite user-friendly, right? Sony could certainly learn a few things here!
The best part is the Nikon Coolpix S60's touchscreen is responsive – not quite near a 'capacitive touchscreen' yet, but you don't need to press down hard on the on-screen icons.
The Coolpix S60's only two buttons are located on the top of the camera. They are the power and shutter buttons respectively.
On this side of the camera are its speaker (top four holes) and microphone (bottom hole)

At the bottom of the Nikon Coolpix S60 are its battery/memory card compartment, metal tripod mount and single connectivity port for both USB 2.0 High speed and A/V out connectivity.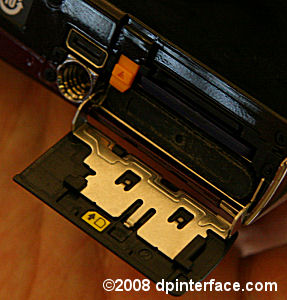 The battery/memory card compartment door is fairly sturdy and there's even a clip which holds the battery in place.
Taking pictures (Shooting mode)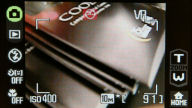 Nikon has a bad habit of skimping on shooting details but for some mysterious reason, they've chosen to include a good amount of info here on the Coolpix S60's screen. You'll get to see some shooting information, exposure details and a zoom indicator when you operate the lens… now, if only they'll do this for ALL of their other cameras. The only thing that's missing is a live histogram.
The Nikon Coolpix S60 has quite a number of image resolution options as well as two compression settings. Image resolution choices include 10 MP, 5 MP, 3 MP, 2 MP, 1 MP, VGA and widescreen 16:9 (7 or 2 MP), print 3:2 and square 1:1. The two compression settings are: High quality and Normal quality – the former is only available if you choose the 10 MP setting.
Nikon S60 Feature Set
The Nikon Coolpix S60 has Nikon's first generation touchscreen user interface. I'm very impressed with the camera's interface – considering it's Nikon's first try at a touchscreen camera, they've done very well. Everything is finger-friendly large and clearly labeled; and at any time you feel unsure of a menu item, you can touch the Help icon located on the right for assistance. Oh, did I mention the interface is very fluid and responsive too?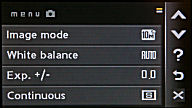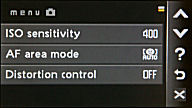 Image size/compression
White balance (Auto, daylight, incandescent, fluorescent, cloudy, flash, custom)
Exposure compensation (+/-2 EV in 1/3 step increments)
Drive mode (Single shot, continuous shooting, Best Shot Selector, Multi-shot 16)
ISO sensitivity (Auto, 64, 100, 200, 400, 800, 1600, 2000, 3200)
Focus area (Face detection, auto, center point, flexible)
Distortion control (On/off) – to reduce barrel distortion
The Coolpix S60 has a high-sensitivity ISO 3200 setting which lowers image resolution down to 5 megapixels when used.
Then there are Best Shot Selector and Multi-shot 16, which have been on Nikon's Coolpix models for years. Best Shot Selector allows you to take up to 10 pictures in a row (you have to hold down the shutter button) and after that, the S60 will select the best/sharpest shot from the bunch. Multi-shot 16 takes 16 low-resolution pictures in a row, which the camera later stitches into a single, large collage.
The Coolpix S60 has a flexible focus area setting, which allows you to select an autofocus point just by 'touching' the area where your subject is located.
Setup menu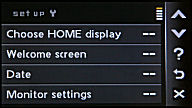 The Nikon Coolpix S60 has a typical setup area which allows you to set the camera date and time, language and more.
Face Detection
The Nikon Coolpix S60 has a face detection system that can pick up to 12 faces in a frame. There's also smile and blink detection; the camera will display a message for the latter if your subject blinked while the photo was being taken. The camera's software based redeye removal tool works automatically to remove redeye right after a shot is taken.
Face Priority Auto Zoom works in-conjunction with the camera's flexible 'touch' focus area feature. Just 'touch' the screen where your subject's face is, and the camera will automatically zoom in to the face and take a picture.
Macro and scene modes
The Nikon Coolpix S60 has a so-so macro mode which allows you to shoot as close as 9 cm from your subject. There's a nice selection of scene modes to choose from on the S60, including portrait, landscape, sports mode, night portrait, party/indoor, beach/snow, sunset, dusk/dawn, night landscape, close-up, food, panorama assist, museum, fireworks, food, copy and backlight.
A new 'Handwritten Memo' scene mode allows you to write directly on the touchscreen (using your fingertip or stylus), which is useful if you wanna jot down some quick notes; while Scene Auto Selector mode automatically picks out a scene mode for you.
Video Recording
The Nikon Coolpix S60 has a below average VGA movie mode that allows you to record 640 x 480 video clips at 30 FPS with sound up to 2 GB per clip (around 30 minutes at the highest settings). You can extend recording times by lowering the resolution to QVGA (320 x 240). All movies are recorded in AVI Motion JPEG format.
Unfortunately, the video/audio out-of-sync issue is still here and makes movies pretty crummy. Movie quality itself wasn't that fantastic either
Performance
All performance testing of the Nikon Coolpix S60 was performed using a high-speed 4 GB SanDisk Ultra II SDHC (90X) card.
The Nikon Coolpix S60 has a good startup time of 1.6 seconds. Autofocusing speeds were good as well, the camera usually takes between 0.3 to 0.5 seconds to focus in bright light and up to about 1.3 seconds in low-light. The camera managed to lock focus in low-light thanks to the AF-assist lamp.
Shot-to-shot speed - 1 shot every 1.8 seconds, fast
Flash recharge time using a fully charged battery - 4 seconds
The Nikon Coolpix S60 has a decent full-resolution continuous shooting mode that shoots at 1.3 frames per second. The Nikon Coolpix S60 moves its lens from wide-angle to telephoto in 2 seconds.
Overall, the Nikon Coolpix S60 performed quite decently. It certainly won't win any awards or beat some of its competitors, but it won't keep you waiting after you take several pictures.
Image Quality
Moving on, we're gonna look at the Coolpix S60's image quality now:
ISO 64 (f3.8, 1/4 sec)
ISO 100 (f3.8, 1/7 sec)

ISO 200 (f3.8, 1/16 sec)

ISO 400 (f3.8, 1/32 sec)

ISO 800 (f3.8, 1/62 sec)
ISO 1600 (f3.8, 1/122 sec)

ISO 2000 (f3.8, 1/158 sec)

ISO 3200 (f3.8, 1/248 sec)
Images start out just decently at ISO 64, with tiny hints of noise. At ISO 100, noise already appears with visible graininess and a bit of artifacting. Noise goes up a notch at ISO 200 and noise reduction comes into play at ISO 400, giving images a very soft and muddy look. Well, that doesn't help with details much as the noise reduction 'blends' it all away. From ISO 800 onwards, photos are completely unusable.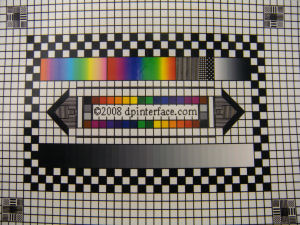 The Nikon Coolpix S60 produced moderate lens distortion and chromatic aberration (color fringing) levels. Images also looked a tad soft in the center with prominent softness at the edges. The Nikon Coolpix S60 produced sub-standard image quality with very high noise levels and unimpressive characteristics – trust me, you won't want to use anything above ISO 200.
Photo gallery
View full-sized photos from the camera in the Nikon Coolpix S60 photo gallery.
Playback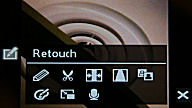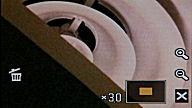 The Nikon Coolpix S60 has playback mode with many retouch features. Photos can be reviewed by pressing the up/down icons or you can even 'swipe' your finger across the screen to go to the next photos. The D-Lighting feature brightens your photos while the camera's fancy slideshow feature plays back your photos automatically with background music and effects.
There are a bunch of retouch tools, including trimming/cropping, image rotation, resize and voice clip attachment. Some more interesting retouch tools include the camera's paint feature, which allows you to draw on photos with your finger/stylus (complete with 5 pen colors and pen width options), keystone/perspective correction and the ability to add image stamps and frames onto your photos. The camera saves your edited photos as a separate image so the original shot is preserved.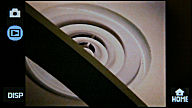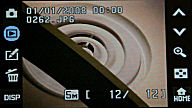 Unfortunately, the Nikon Coolpix S60 doesn't tell you much in playback mode – no shooting info, no exposure details, no histogram, nothing.
Conclusion
Armed with 10 megapixels, a 5X zoom lens with optical image stabilization and a large 3.5 inch touchscreen, the Nikon Coolpix S60 is set to compete with the plenty of ultra-compact cameras in the market, creeping closer to its direct rival, the Sony T900 in terms of feature set.
The Nikon Coolpix S60 does several things right – such as the great touchscreen interface, decent feature set, plenty of scene modes with auto scene selection and the big bunch of retouch features in playback. Unfortunately, there are some negative points as well, such as the low resolution LCD, disappointing battery life and the lack of manual controls.
Image quality, however, was disappointing due to high noise levels (noise starts to become visible at ISO 100), color fringing and some image softness. Noise starts to get really bad at ISO 200 and pictures look very muddy at ISO 400.
The Nikon Coolpix S60 has a decent feature set and well implemented user interface; but the camera is letdown by its image quality (high noise levels and slightly soft results) and crummy battery life. It COULD have been an overall fantastic touchscreen camera, but unfortunately, it is not. Well, at least you now know what Nikon's touchscreen interface looks like… perhaps it's worth waiting till September when the Coolpix S70 (another touchscreen camera) comes out to see if that camera produces better images.
What's hot:
Nice 5X optically stabilized zoom lens in a compact body
Huge 3.5 inch touchscreen
Very good touchscreen interface – easy to use and responsive
Decent camera performance
Auto scene selection, face, blink and smile detection for beginners
Many retouch options in playback
What's not:
Below average image quality: Visible noise at low ISOs, softness and color fringing (chromatic aberration)
Disappointing battery life
Not much playback info shown
Low resolution LCD
Camera lacks manual controls
Recommended Accessories:
2 GB or 4 GB high-speed SD/SDHC memory card
Extra lithium-ion rechargeable battery
Related articles: