I've just finished writing my review of the Canon PowerShot SD970 IS Digital ELPH aka Digital IXUS 990 IS; a stylish little camera with a large 5X zoom lens and 3 inch LCD. It also has blink detection, auto scene detection and several other fancy features. Do visit the Canon SD970 Digital ELPH/Digital IXUS 990 IS photo gallery as well. Hit the link and check out the full review of the camera now!
DPInterface Canon PowerShot SD970 IS Digital ELPH/Digital IXUS 990 IS Review
Brad Soo – June 29th, 2009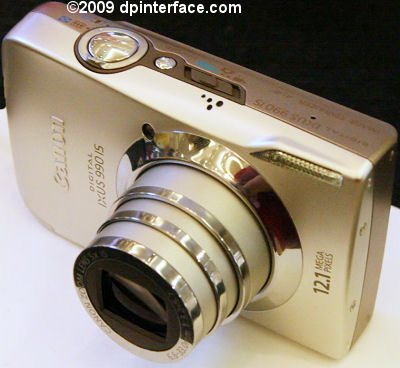 Leading the pack of fresh 2009 Digital ELPHs is the new PowerShot SD970 IS packing 12 megapixels, 5X optical zoom, a big 3 inch LCD and a slightly reworked user interface. Oh, there are also a few new bells and whistles, namely; auto scene detection, blink detection and Active Display for shaking your way through photos in playback. There are also two other things: Zoom Blur and Creative Light Effect, both of which are exclusive to the SD970 only.
The PowerShot SD970's predecessors were fairly hot sellers in the market. Let's find out if the SD970 itself follows the suit now.
The Digital ELPH naming convention has evolved to become increasingly confusing over the years. Despite having the most zoom, Canon doesn't consider the SD970 as its flagship model. Here's something to clarify the position of each camera in their latest lineup:

The Canon PowerShot SD970 IS Digital ELPH is the camera's name in the US. In other parts of the world, it is known as the Canon Digital IXUS 990 IS. For consistency's sake, I'll be using the SD970 name in this review.
Size and Weight
(177.9) 94.8 x 56.8 x 26.3 mm (160 g) - Canon PowerShot SD970 IS Digital ELPH
(180.9) 99.8 x 58.5 x 22.6 mm (146 g) – Casio Exilim FC100
(180.0) 97.7 x 58.9 x 23.4 mm (153 g) - Fujifilm FinePix F200 EXR
(179.5) 96.5 x 57.5 x 25.5 mm (140 g) – Nikon Coolpix S630
(177.6) 96.4 x 55.9 x 25.3 mm (132 g) – Olympus Stylus 7000
(173.9) 94.9 x 57.1 x 21.9 mm (145 g) - Panasonic Lumix FX580 aka FX550
(172.5) 97.0 x 54.0 x 21.5 mm (110 g) – Pentax Optio P70
(176.8) 97.6 x 56.6 x 22.6 mm (135 g) - Sony Cyber-shot W270
All the weight figures above show when the camera is empty without a battery or memory card
In terms of size and weight, the Canon PowerShot SD970 IS Digital ELPH isn't exactly the smallest or lightest of the bunch, though it is still compact and should fit most pockets well.
Box packaging
In the box, you'll find a pretty average digital camera bundle:
Rechargeable lithium-ion battery (NB-5L)
Battery charger
Wrist strap
USB and A/V cables
Camera software CD
User's manual
The Canon PowerShot SD970 IS Digital ELPH doesn't come with any memory card. That isn't really bad news as Canon has always been including tiny (and useless) memory cards with their past cameras. The Canon PowerShot SD970 IS supports SD, SDHC (SD cards which are 4 GB and above) and MMC (typically slower than SDs) memory cards. I would recommend getting at least a 2 GB SD card to start with or a 4 GB SDHC card if you're planning to use the camera's movie mode frequently. You can opt to pick up a high speed SD/SDHC card if you want the camera to be able to perform faster.
270 shots - Canon PowerShot SD970 IS Digital ELPH
300 shots – Casio Exilim FC100
230 shots - Fujifilm FinePix F200 EXR
220 shots – Nikon Coolpix S630
150 shots – Olympus Stylus 7000
350 shots - Panasonic Lumix FX550 aka FX580
200 shots – Pentax Optio P70
330 shots - Sony Cyber-shot W270
All the cameras above are rated with rechargeable batteries according to CIPA Standard
The Canon PowerShot SD970 IS Digital ELPH uses the NB-5L rechargeable lithium-ion battery shared by some other Digital ELPH models (such as the SD880 IS or 14.7 megapixel SD990 IS); and comes with a charger. The SD970 IS Digital ELPH can last for around 270 shots per battery charge (CIPA Standard); which is about average.
Accessories
There aren't many accessories available for the Canon SD970 IS Digital ELPH. You'll find an AC adapter, waterproof case, slave flash, mini HDMI cable and various cases for the camera. The mini HDMI cable is used to connect the camera to your high-definition TV… you don't have to get this one directly from Canon; since such cables are widely available in electronic/technology device stores (and much cheaper too).
Camera Tour
The Canon PowerShot SD970 IS Digital ELPH is an aggressively-styled camera (which makes me wonder, does someone from Audi design these cameras?) with good build quality and is a lot sleeker than its predecessor. The back of the camera is follows the design cues of last year's SD880 IS very closely – a large screen with glossy and tactile buttons which are easy to press. The camera's triangular buttons are nicely sized and easy to press; and ergonomics of the camera are generally good. I see Canon has also addressed the issue I've been complaining about – the lack of any tactile feedback when rotating the control dial. Now, they've added slight 'clicks' for each step you turn the rear control dial.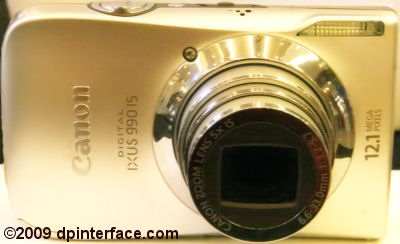 The front of the SD970 Digital ELPH sports a 5X optical zoom lens equivalent to 37 – 185 mm. The lens is a bit lacking in the wide-angle coverage department, but if it's more-than-average telephoto power you're looking for, then you've got it. In terms of aperture range, the lens is quite slow; f3.2 – f5.7 is what you'll get, so don't expect the camera to excel in low-light telephoto shooting. Then there's optical image stabilization incorporated into the lens – it can help to reduce blur caused by slow shutter speeds and/or shaky hands (it works but that doesn't mean you take handheld night shots).
If you've seen Digital ELPHs in the past, you'll definitely know that the flash is located to the upper right of the camera lens. The SD970's flash is a tad weaker than I expected, covering a range of 30 cm to 3.5 m at wide-angle and up till 2 m at telephoto (Auto ISO). Nearby the lens, there's a little circular window which is the camera's autofocus assist/self-timer lamp.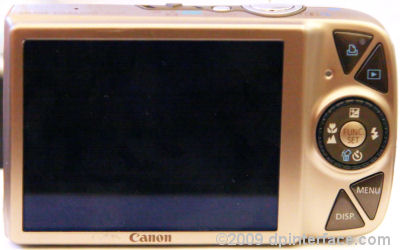 On the back of the Canon PowerShot SD970 IS Digital ELPH is a 3 inch LCD. While it may look like a plain-old screen, it's actually a high-resolution one with 461,000 pixels (double the resolution of 3 inch displays on previous Digital ELPHs)… and the screen is pleasantly nice and sharp. Visibility was good in both indoor and outdoor conditions. The SD970 IS Digital ELPH does away with the optical viewfinder of its predecessor since apparently more people nowadays favor single, large screens rather than smaller screen + viewfinder. Whether this is an issue is entirely up to you.
The first button to the right of the LCD screen is Canon's (in)famous print button. When the camera is connected to a printer or computer, it works to bring up the direct transfer/print settings. In shooting mode, you can assign it as a Shortcut button to a shooting function. Now, feel lucky and appreciate the print button the SD970 has here because it's starting to disappear from lower-priced Digital ELPH models (means they lack a "shortcut" button).
Below the print button are an activity indicator light and playback button. The playback button quite obviously brings you to the camera's playback mode. Next is the SD970 Digital ELPH's 5 way navigation pad; where there is also a command dial around it. The command dial can be used to change settings, navigate menu items and scroll through pictures; and now, you can feel slight "clicks" when rotating the wheel for tactile feedback.
Let's have a closer look at the directional buttons now:
Up – Exposure compensation (+/-2 EV in 1/3 steps)
Down – Self-timer (On/off)
Left - Focus mode (Normal, macro, landscape)
Right - Flash setting (Auto, on, off; red-eye reduction and slow sync are turned on/off in the menu)
Center – Function menu/Set
The Canon PowerShot SD970 IS Digital ELPH has a Face Self-timer mode which works in conjunction with face detection. The camera will watch the scene until it detects an additional face coming into the scene, then start counting down to take up to 10 pictures in a row. Of course there's the regular 2 and 10 second countdown modes available as well as a custom timer mode which allows you to set the countdown period and number of shots the camera will take.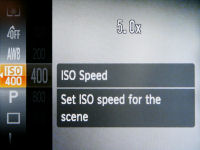 Function menu with a new design
Pressing the center button brings up the camera's function menu which contains several settings that can be changed. I'm having mixed feelings about the new Function menu - it takes a step forward in terms of design but one step backward in terms of operation. Sure it looks nice (complete with an orange color scheme which looks eerily Sony) and now comes with a new 'hints and tips' feature (the camera displays a one-line description about each function)… but it typically takes an additional button press to change a setting compared to the old Function menu.
Metering method (Evaluative, center-weighted, spot)
My Colors (Normal, vivid, vivid [blue/green/red], neutral, sepia, black & white, positive film, lighter/darker skin tone, custom)
White balance (Auto, daylight, cloudy, tungsten, fluorescent, fluorescent H, custom)
ISO (Auto, 80, 100, 200, 400, 800, 1600)
Sub-shooting mode (Program
Drive mode (Single-shot, continuous shooting, custom timer)
Image size and compression
The custom option in the My Colors/Photo Effects area enables you to manually tweak contrast, saturation, sharpness and individual red, green, blue and skin tone levels (all up to +/- 2 in 1 step increments).
The last two buttons we have are the DISPlay and MENU buttons. The former toggles the information being displayed on-screen while the latter brings up the camera menu.
Over here are the SD970 Digital ELPH's speaker and microphone. I like the microphone placement here – it's neither on top, where your finger can block it, but not directly in front either, which makes it prone to wind noise and distortion when recording loud sounds.
Towards the center is a mode switch which moves the camera between Smart Auto, normal shooting and movie mode. The camera's Smart Auto mode works by detecting the scene you're shooting and picking appropriate settings and a scene mode for it. The final items here are the power button and shutter button with a wrapped around zoom controller.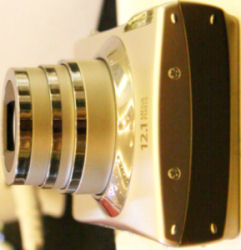 This side of the Canon PowerShot SD970 Digital ELPH is blank. But check out the camera's lens at wide-angle (Left picture) compared to how it extends a lot at telephoto (Right picture).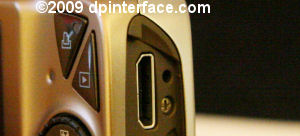 One side of the PowerShot SD970 Digital ELPH is blank while on the other side, there's a wrist strap loop and two ports – one being a mini-B port for both USB and A/V Out connectivity to your computer and television set respectively (the SD970 Digital ELPH supports USB 2.0 High-speed); while the other port is a mini HDMI port, where you can connect the camera to a high definition display via an optional cable.
The Canon PowerShot SD970 IS Digital ELPH features a metal tripod mount (you won't find metal ones on many compact cameras nowadays) and a compartment for the memory card and battery. The compartment door here comes complete with a sturdy metal hinge… but you can't open the door when the camera is on a tripod.
Taking pictures (Shooting mode)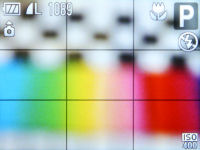 On the Canon PowerShot SD970 IS Digital ELPH's shooting display, you'll find an array of information; which includes camera settings, exposure information, a simple battery indicator and optional grid lines you can superimpose over the frame. The SD970 Digital ELPH does lack a live histogram though.
There are several image resolution settings you can choose from: 12 MP, 8 MP, 5 MP, 2 MP, VGA and widescreen. There are also two compression options: fine and standard. A 2 GB memory card will hold about 625 Fine images at the 12 megapixel setting.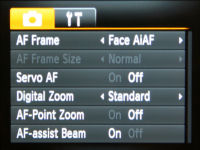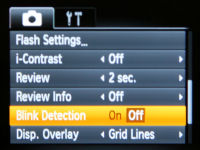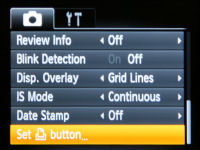 Most of the camera's main settings can be adjusted via the Function menu I described in the previous section, but now let's head on to the other settings in the camera's main menu:
Autofocus mode (Face detection, 9 point AF, center AF)
AF point size (Normal, small) – Choose how size of the camera's focusing point area
Servo AF – Turning this on will make the camera focus continuously; turn it off and the camera only auto focuses when you half-press the shutter button
Digital zoom – you should keep this turned off, it lowers picture quality
AF point zoom – magnify the area the camera focuses on
AF assist beam On/Off
Flash settings – turn red-eye reduction and slow sync
iContrast – see below
Review – This option decides whether the camera will show the image on the LCD screen right after the picture is taken
Review info – amount of info shown in post-shot review mode
Blink detection On/Off
Display overlay (Off, grid lines, 3:2 guide, both)
Optical image stabilization mode – Off, Continuous, Shoot-only, Panning
Date stamp (Off, date, date and time)
Set print button – customize what this button does in shooting mode; you can assign it as a shortcut to a shooting function
Face Detection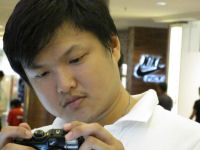 SD970 Digital ELPH's face detection system worked here
In addition to the usual face detection, that you'll find on just about all cameras nowadays, there's also a feature new to 2009 Canon cameras on the PowerShot SD970 IS Digital ELPH – it's blink detection. Blink detection works with face detection by checking all faces detected for anyone blinking while the photo was taken. If there's any blink(s) in your photo, the camera will alert you of them and suggest that you retake the photo.
iContrast, Zoom Blur and Creative Light Effect
The Canon PowerShot SD970 IS Digital ELPH's iContrast feature brightens dark areas in your photos and is just like image brightening features on other cameras which go by different names. The difference here on the SD970 Digital ELPH is quite subtle and not that obvious.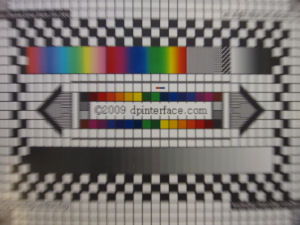 The SD970 Digital ELPH's Zoom Blur mode works well
There are two scene modes, which are exclusive to only the Canon PowerShot SD970 IS Digital ELPH aka Digital IXUS 990 IS, that I wanna talk about. The first one is Zoom Blur where the camera will zoom into a photo as it is being taken to give that "motion" effect to photos (this works the best with long exposures and when the camera is on a steady surface).
The other item is the Creative Light Effect scene mode. This mode will turn background lighting (photo enthusiasts will know this as "bokeh") into shapes of your choice; ie stars, hearts, criss-crosses, etc. And it works best in night shots of people. Creative Light mode doesn't work well for two reasons: you can't control aperture on the camera and the fact the SD970 isn't a digital SLR (so, it's hard to produce shallow depth-of-field).
Scene modes and macro
The Canon SD970 IS Digital ELPH is mainly a point-and-shoot camera with few manual controls (only long exposure and custom white balance) but it has plenty of scene modes: portrait, foliage, snow, beach, sunset, fireworks, aquarium, underwater, ISO 3200, indoor, kids & pets, night snapshot, color accent, color swap, digital macro, long shutter, stitch assist, Zoom Blur and Creative Light Effect. The Long Shutter feature of PowerShot cameras has been relocated to the scene modes area this year, and what it does is enable you to manually choose a slow shutter speed (from 1 to 15 seconds) for low-light or night shots. And that's the closest thing you'll get to "manual exposure control" on the SD970.
The SD970 IS Digital ELPH has a very good macro mode which has a minimum focusing distance of 2 cm at wide-angle. To get in even closer, there's always the Digital Macro scene mode where the camera locks the zoom at wide-angle and you can zoom in using the camera's 4X digital zoom (though image quality will obviously be lowered.
Setup menu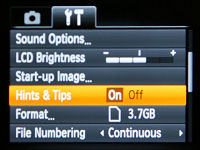 The Canon PowerShot SD970 Digital ELPH features a pretty standard setup area where you can set date and time, screen brightness, NTSC/PAL modes, toggle Function menu 'hints and tips' on/off and more.
Video Recording
Another great thing the Canon PowerShot SD970 IS Digital ELPH has is a 720p HD movie mode, which Canon recently implemented into a select few PowerShots this year. The camera is able to record 720p (1280 x 720) videos with sound at 30 FPS. Movies are now recorded in MOV format using the H.264 codec; which take up considerably less space than the old AVI MJPEG format. A 4 GB memory card will hold around 22 minutes of high-definition video or 48 minutes of VGA video.
Of course, if you don't need the high resolution of HD video, there's always regular VGA (640 x 480) and QVGA (320 x 240) resolutions available. Both record at 30 FPS with sound. I hope nobody's gonna stick a 16 GB memory card into the camera and think they can go on recording forever - there's a 4 GB or 30 minute (HD)/60 minute (VGA/QVGA) per clip limit, whichever comes first. The limit here shouldn't bother most people as it takes quite some time to hit the limit (20+ minutes for HD) and you can always start another movie clip after that.
You are able to use the color accent and color swap features I mentioned above as well as change most of the settings in the function menu before recording a movie. Both optical image stabilization and digital zoom are usable during recording, but you cannot operate optical zoom.
The Canon PowerShot SD970 IS Digital ELPH goes two steps further compared to the old Digital ELPHs by featuring both a HD movie mode and H.264 codec so movies take up less space. Movie quality was good in general (it will be lowered a bit if you use digital zoom) and sound quality was acceptable.
Performance
All performance testing of the Canon PowerShot SD970 IS Digital ELPH aka Digital IXUS 990 IS was performed using a high-speed 4 GB SanDisk Ultra II SDHC (90X) card.
The Canon PowerShot SD970 IS Digital ELPH takes just 1.5 seconds to start up. Focusing speed, depending on lighting conditions, can range between 0.2 to 0.4 seconds in good light all the way to 0.7 to 1.2 seconds in low-light. The AF-assist lamp helped a lot in the latter, and the SD970 managed to achieve focus even in dimly lit conditions.
Shot-to-shot speed - 1 shot every 1.8 seconds, fast
Flash recharge time using a fully charged battery - 3 seconds on average
The unfortunate thing about the increased resolution on the SD970 IS Digital ELPH is that continuous shooting has suffered as a result. The camera has a full-resolution burst mode which shoots at just one frame per second, until the memory card fills up.
In terms of zooming speed, the SD970's 5X optical zoom lens moves from wide-angle to telephoto in a prompt 1.6 seconds. A zoom indicator is shown on-screen when you operate the lens. Shutting down the camera took 2 seconds with the lens at telephoto position.
The Canon PowerShot SD970 IS Digital ELPH demonstrated speedy performance in all areas except continuous shooting which could've been improved (the processor needs to be clocked at a higher speed, in my opinion). Getting too caught up in the megapixel race isn't entirely a good thing - as you can see, burst mode performance takes a toll here.
Image Quality
We're gonna take a look at the Canon PowerShot SD970 IS Digital ELPH aka Digital IXUS 990's image quality now:

ISO 80 (f3.2, 1/8 sec)

ISO 100 (f3.2, 1/13 sec)
ISO 200 (f3.2, 1/20 sec)

ISO 400 (f3.2, 1/40 sec)

ISO 800 (f3.2, 1/100 sec)

ISO 1600 (f3.2, 1/160 sec)

ISO 3200 (f3.2, 1/160 sec)
Image quality starts out very clean (but a tad soft for my liking) at ISO 80 and 100. If you pixel peep at ISO 200, you'll notice a little more grain but it hasn't turned so much into an issue yet… using photos for large prints/displays at this point are still viable.
Noise reduction steps in at ISO 400, keeping image quality clean and very usable but introducing one side effect – detail smudging. The smudging of the border between normal blue and dark blue in the crop above illustrates the issue nicely. In real life, details in photos such as foliage make look soft and you can't make out fine details.
Saturation and detail levels both drop at ISO 800, relegating this setting to small prints only. Photos get even muddier and less vivid at ISO 1600. The last ISO setting comes as a 'scene mode' (called the ISO 3200 mode) where the lowers resolution to 2 megapixels. If I were you, I wouldn't use the last two ISO settings (1600 and 3200) for general shooting.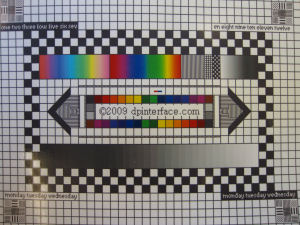 It comes as a surprise that the SD970 Digital ELPH's 5X lens has very little distortion. Then again, there isn't really much of a wide-angle component to the lens either since it starts at 37 mm. Chromatic aberration (color fringing) and edge softness were both slightly noticeable in photos, but not to the point where you would have to worry about either. Redeye was not an issue as the camera's two tier redeye removal system works nicely.
The Canon PowerShot SD970 Digital ELPH takes good, vivid photos up to ISO 200 and there's some detail smudging from ISO 400 onwards (something that's common as compact cameras increase noise reduction levels). One thing that I'd recommend, though, is you may want to turn up sharpness by a notch (via the custom My Colors feature) since pictures do look slightly soft by default.
Photo gallery
Be sure to check out full-sized images taken straight out of the camera in the Canon PowerShot SD970 IS Digital ELPH aka Digital IXUS 990 IS photo gallery.
Playback
The Canon PowerShot SD970 IS Digital ELPH shares the same good playback mode as other Canon cameras but also adds a fancy feature which I'll talk about soon enough. First off are the basic functions of print marking, slideshows, voice clip attachment, image resizing, trimming and rotation are all here. You can magnify still photos by 10X and pan around using the 4 navigational buttons.
There not one, not two but THREE ways (four, including the slideshow feature) to play back photos on the SD970 IS Digital ELPH: using the navigation buttons, rotating the rear command dial or by using the Active Display feature. Transition effects are, of course, standard on a camera like this. Oh, if you use the command dial, the camera displays and scrolls through three photos at once on the screen.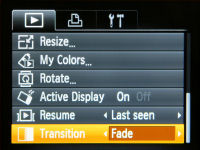 The Canon PowerShot SD970 IS Digital ELPH probably takes the cake for "gimmick of the year" (yes, more gimmicky than Intelligent Auto and Beauty modes, if you asked me). Ladies and gentlemen… I present to you the SD970's "Active Display" feature. This feature takes advantage of the camera's accelerometer (which has been on Digital ELPHs for years, used for "auto rotating" photos) to detect camera movement and scroll through photos accordingly. A gentle shake, to the left or right, will move the camera to the next/previous photo one-by-one. Tilt the camera on its side and the camera will start flipping through photos quickly; the more it's tilted, the faster playback will go. Does it work? Yes, just about all the time in fact, so it is well-implemented. But what's the use? I'm not sure actually… to show off your stylish camera maybe?
There's also thumbnail view (9 thumbnails) and you can even browse through your pictures by category (provided they've already been organized by you or the camera). Image Inspection mode is activated when you press the DISPlay button; which magnifies the camera's focus point(s) so you can check if the picture is in focus. You can apply My Colors (photo effects), iContrast (brighten dark areas in photos) as well as red-eye removal tool to photos in playback as well.
Like some other recent Canon models, Canon has included more ways you can delete photos in the SD970 instead of the regular "delete one" or "delete all" selections. You can delete single images or select multiple pictures, choose by date, category or folder for deletion as well. As for movies, you are able to "trim" sections of a movie clip or delete the whole movie clip all together.
You can use the DISPLAY button on the SD970 IS Digital ELPH to toggle the information shown in playback mode. In one of the busier screens, you can see shooting details, mode, exposure information (with shutter speed and aperture value), a histogram and an overexposure alert feature all at once.
Conclusion
The Canon PowerShot SD970 Digital ELPH continues the 'large zoom' Digital ELPH line for those who want above average zoom in a compact camera. The SD970 Digital ELPH features a new, sleeker design, a higher resolution 3 inch LCD screen but keeps the same 5X zoom lens as its predecessor. The 5X zoom lens packs more telephoto power than your typical compact camera but is unfortunately lacking on the wide-angle end. The aperture range of the lens isn't that amazing either – the lens is 'slow' on the telephoto end.
I'm glad the SD970 Digital ELPH finally features a rear scroll wheel WITH tactile clicks – perhaps the clicks are subtle, but definitely more noticeable than on previous Canon cameras. The large 3 inch screen is sharp and nicely viewable in a variety of conditions. Whether you're composing photos or 'shaking' your way through pictures in playback, you'll find the screen's resolution a nice step up from other compact cameras.
Besides the fancy design, the PowerShot SD970 Digital ELPH has a rather plain point-and-shoot feature set which comes with the usual handful of scene modes, face and blink detection, iContrast and Smart Auto mode. There are no manual controls with the exception of long shutter mode where you get to pick a slow shutter speed for night shots. Can't we have manual controls in more Digital ELPH models instead of just one?
The Canon SD970 Digital ELPH has a vastly improved movie mode versus last year's model. The camera can now take 720p resolution video clips at 30 FPS with sound. And it's not only that – the camera now uses a more efficient recording codec so movies now take up less space on your memory card. Optical image stabilization and digital zoom are available when recording videos, but I'd still like to see optical zoom usable on the next Canon compact please.
Performance of the SD970 Digital ELPH was 'typically Canon'. Focusing and start up were both quick, and using a high-speed card, the camera waits for you – not the other way round. Shot-to-shot times were very good since the camera writes photos quickly to the card but despite quick write and processing times, continuous shooting frame rate was underwhelming, due to the large images that the imaging sensor has to output
In terms of image quality, the Canon PowerShot SD970 does pretty well with bright colors and low noise. The only issue is the camera's noise reduction kicks in at ISO 400 onwards and starts smudging details in photos. You're limited to ISO 800 if you want usable images out of the camera, well, preferably you should stick to ISO 400 and save ISO 800 for emergencies. Other aspects of image quality are good – low lens distortion, redeye removal that works and decent edge sharpness.
In conclusion, the Canon PowerShot SD970 Digital ELPH is a nice little compact camera with more zoom than you'd typically expect. The SD970 Digital ELPH deserves my recommendation, though its biggest feature; the 5X zoom lens can be a love-hate thing. It's appealing to those who crave telephoto zoom power… yet a turn-off for those who want wide-angle for indoor/people shots.
What's hot:
Effective red-eye removal tool, good image quality in general (though there are two issues)
Stylish design; rear command dial now has tactile 'clicks'
Large and very sharp 3 inch LCD (good visibility indoors and out too)
More telephoto power than your average compact
Very fast performance (except continuous shooting)
Smart Auto, fancy face self-timer and "Zoom Blur" features, iContrast, face and blink detection
HD/720p movie mode with more efficient codec and optical image stabilization available; HDMI Output port
Great playback mode with handful of editing tools and extremely fancy (and gimmicky) shake playback feature
What's not:
Images look a tad soft; noise reduction smudging from ISO 400 onwards
Lens doesn't go very wide; has a slow aperture range
Sluggish continuous shooting frame rate
Cannot use optical zoom while recording movies
Lacks manual controls and a live histogram
New Function menu takes an extra button press to change settings
Recommended Accessories:
2 GB or 4 GB high-speed SD/SDHC memory card
Related articles: