Check out my review of the Samsung HZ10W aka WB500, a compact super-zoom camera from Samsung. I'll also be covering a bit of tthe Samsung HZ15W aka WB550 in this review since both cameras are so similar. As usual, full-sized photos are available in the Samsung HZ10W photo gallery. Hit the link for the full review of the camera.
DPInterface Samsung HZ10W aka WB500 Review
Brad Soo – August 11th, 2009
The HZ10W is one of Samsung's two compact super-zoom offerings for the year 2009. The Samsung HZ10W (also known as the Samsung WB500 outside of the US) has a 10X ultra wide-angle lens (that starts at 24 mm), optical image stabilization, 2.7 inch LCD, a full manual mode and 720p HD movie mode. There's also a Smart Album feature to allow easy searching of photos in playback and many other bells and whistles.
Is the Samsung HZ10W a good camera? Find out now!
The Samsung HZ10W also has a higher-end sibling, called the HZ15W (WB550). Aside from a few small differences, including a $30 price gap, they are almost the same camera:

| | | |
| --- | --- | --- |
| Difference | Samsung HZ10W/WB500 | Samsung HZ15W/WB550 |
| Resolution | 10 megapixels | 12 megapixels |
| LCD screen | 2.7 inch (230k pixels) | 3.0 inch (230k pixels) |
| Smart Auto | No | Yes |
| HDMI port | No | Yes |
| Internal memory | 30 MB | 21 MB |
That said; 90% of this review (except the image quality part, of course) can be applied if you're looking at the HZ15W/WB550.
Size and Weight
(201.1) 103.0 x 60.5 x 37.6 mm (220 g) – Canon PowerShot SX200 IS
(179.5) 96.5 x 57.5 x 25.5 mm (140 g) – Nikon Coolpix S630
(179.4) 97.5 x 55.7 x 26.2 mm (125 g) – Olympus Stylus 7010
(187.0) 96.0 x 60.0 x 31.0 mm (185 g) – Olympus Stylus 9000
(195.7) 103.3 x 59.6 x 32.8 mm (206 g) – Panasonic Lumix ZS3/TZ7
(202.9) 105.0 x 61.4 x 36.5 mm (219 g) – Samsung HZ10W aka WB500
(203.6) 105.0 x 61.4 x 37.2 mm (219 g) – Samsung HZ15W aka WB550
(223.1) 107.3 x 68.7 x 47.1 mm (250 g) – Sony Cyber-shot H20
All the weight figures above show when the camera is empty without a battery or memory card
The Samsung HZ10W, along with the HZ15W, is one of the larger/heavier cameras in the group. It's most likely that you'll have to carry the camera in a pouch or bag, but there's also a chance that it will fit into larger pockets such as the ones found on jackets).
Box packaging
The Samsung HZ10W comes with a decent bundle:
SLB-10A Rechargeable lithium-ion battery
Battery charger
Wrist strap
USB cable
A/V cables
Camera software CD
User's manual
The Samsung HZ10W has only 21 MB of built-in memory and doesn't come with a memory card. The HZ10W takes SD/SDHC memory cards; and a 2 GB card would be great to start with.
280 shots – Canon PowerShot SX200 IS
220 shots – Nikon Coolpix S630
170 shots – Olympus Stylus 7010
250 shots – Olympus Stylus 9000
300 shots – Panasonic Lumix ZS3/TZ7
270 shots – Samsung HZ10W aka WB500
280 shots – Samsung HZ15W aka WB550
290 shots – Sony Cyber-shot H20
All the cameras above are rated with rechargeable batteries according to CIPA Standard
The HZ10W uses the Samsung's SLB-10A lithium-ion rechargeable battery and comes with a charger. The Samsung HZ10W has good battery life, sitting somewhere near the group average with its 270 shot rating.
Accessories
Samsung doesn't offer much expandability for the HZ10W. There's an optional AC adapter, various camera cases for the camera and an optional wireless remote control.
Camera Tour
The Samsung HZ10W bears an uncanny resemblance to Panasonic's TZ/ZS series (It also looks exactly like its sibling, the HZ15W). The camera has a decent-sized right hand grip and good build quality. Ergonomics are pretty decent – there's even a command dial-like rocker for changing camera settings, which makes adjusting exposure in manual mode so much easier. One exception is the flash unit, which is prone to being accidentally blocked by your fingers.
The Samsung HZ10W comes in your choice of two colors: black or dark gray; both colors look very similar to each other.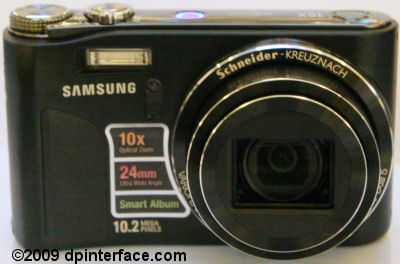 The Samsung HZ10W features a 10X optical zoom lens equivalent to a very useful 24 – 240 mm. For the sake of comparison, the Canon PowerShot SX200 has a 28 – 336 mm lens (12X zoom) and Panasonic Lumix ZS3/TZ7 has a 25 – 300 mm lens. The HZ10W's aperture range of f3.3 – f5.8 is slightly slower compared to the 12X lenses on the other two cameras. Oh, the lens also has optical image stabilization (Samsung doesn't have a fancy moniker for their stabilization system)
To the left of the lens is a small window which houses the camera's autofocus assist lamp and remote control receiver. There's also the built-in flash, placed in a location that's all too easy to be blocked by your fingers. The flash has a decent range of 30 cm to 4.7 m at wide-angle.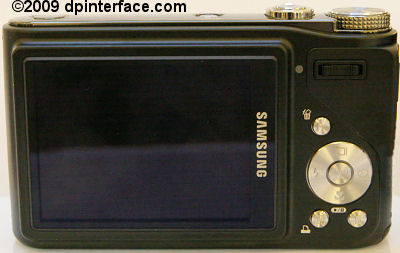 The Samsung HZ10W has a 2.7 inch LCD screen with 230,000 pixels. Here is where another difference lies between HZ10W and HZ15W – the latter has a larger 3 inch screen (which has the same 230,000 pixels).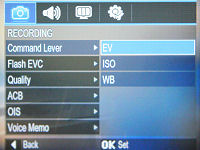 You can customize the command lever to adjust exposure, white balance or ISO
Over on the right side, there's a bunch of well-spaced controls. There's a 'command rocker', where you'll rest your thumb, used for adjusting certain settings. It's used for adjusting exposure compensation in Program mode (+/-2 EV in 1/3 increments) or exposure itself in Manual mode, though you can customize it and assign it to white balance or ISO instead. Next to the rocker is the HZ10W's activity indicator light.
Samsung HZ10W's Function menu
The first button we have here is the Fn button, used to bring up the Function menu when you're taking pictures (which doubles to delete photos in playback mode):
Image resolution
Metering mode (Multiple, center-weighted, spot)
Autofocus area (Center, multiple, selection, manual focus)
Drive mode (Single shot, continuous shooting, high-speed continuous, exposure bracketing, motion capture)
ISO sensitivity (Auto, 80, 100, 200, 400, 800, 1600, 3200)
White balance (Auto, daylight, cloudy, fluorescent L, fluorescent H, tungsten, custom)
Face Detection On/Off
The Samsung HZ10W has a focus point selection option as well as true manual focus.
Next up is the 5-way navigation pad:
Up – Toggle display information
Down – Focus mode (Normal, macro, infinity)
Left – Flash setting (Auto, auto with red-eye reduction, off, on, redeye reduction, slow sync)
Right – Self timer (Off, 2 seconds, 10 seconds, double picture, motion timer, remote control)
Center – Menu/OK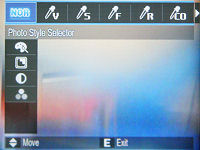 The effect menu
Right below the navigation pad, you'll find the camera's playback button and E-button. The E-button is used to adjust Photo Effects, which isn't something that you'll change frequently and you can't reassign the button. The seven Effects available are: Normal, vivid, soft, retro (sepia), cool, calm and classic. You can also tweak the color tone, sharpness, contrast and saturation for each of the Effects.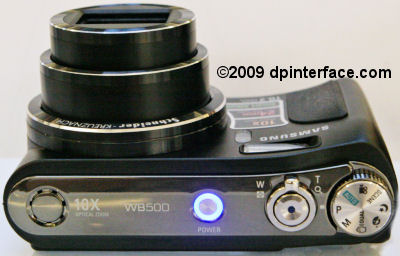 Up here, you'll find the usual suspects: the power button, shutter button with a zoom controller wrapped around it and the camera's mode dial. Also located here is the camera's speaker (yes, that weird thing on the far left which LOOKS like another shutter button).
Alright, let's get our eyeballs off that alluring blue LED light around the power button (Very Xbox-like, indeed) and take a closer look at the mode dial:
Program mode
Automatic shooting
Movie mode – more on this later
Scene modes – Portrait, children, backlight, landscape, sunset, dawn, fireworks, snow, close-up, self-portrait, café, food and text
Night scene
Beauty shot
Dual image stabilization
Manual mode
There are a couple of interesting things to talk about here, all having to do with the camera's mode dial. The Samsung HZ10W has two interesting point-and-snap scene modes: Beauty shot (directly accessible from the mode dial) automatically removes blemishes and smoothens skin of your subjects as you take a picture… hmm I'm sure many of us have seen this before on other cameras this year.
The other mode, Self-portrait/Angle guide is much more fascinating. Self-portrait mode works in-conjunction with the camera's face detection system, and as you hold the camera at an arms' length to take your own picture, the camera will sound off a beep once it detects your face in the center of the photo. It certainly works, and is absolutely appealing to the crowd of Facebook, or MySpace, users out there… I'm sure we'll start seeing improved composition of 'self-portraits' once this feature starts making its way to more cameras.
Dual image stabilization isn't really ground breaking – it merely activates the camera's optical image stabilization system and simultaneously boosts ISO as needed in order to take a sharp photo. The REAL deal here is the Samsung HZ10W and its full manual mode (which the Canon SX200 also has, but the Panasonic TZ7/ZS3 doesn't). The HZ10W's manual mode allows you to adjust both aperture and shutter speed (ranging from 1/1500 to 16 seconds); and naturally, other camera settings such as white balance in the Function menu – manual control fans rejoice!
One last thing that's worth of note here is the Samsung HZ10W has a 'regular' Auto mode, while the HZ15W has a Smart Auto mode (which automatically picks out a scene mode for you).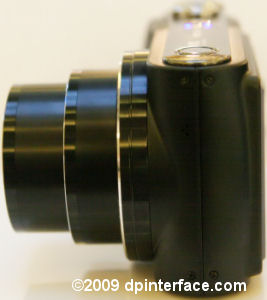 On this side of the camera, you'll find one of two microphones used for recording sound (on the HZ15W, you'll also find a HDMI port, something this camera doesn't have). The Samsung HZ10W doesn't extend its lens much – the second barrel sticks out just slightly from the first at wide-angle (left picture) and extends only a bit more at full zoom (right picture).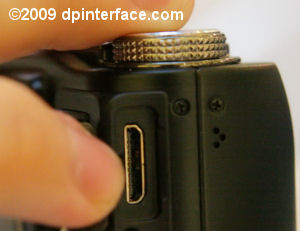 Over on this side is the other microphone along with a proprietary connector port under a rubber cover. The port is used for both USB and A/V Out connectivity.

There's nothing much to see at the bottom of the Samsung HZ10W: A tripod mount and battery/memory card compartment (whose door cannot be opened if the camera is attached to a tripod).
Taking pictures (Shooting mode)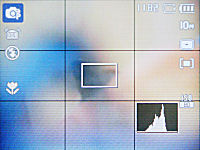 The Samsung HZ10W has a nice-looking user interface that comes with plenty of shooting details, full exposure information, a live histogram and a nice three-step battery indicator. There are also compositional grid lines (you can choose between a 2 X 2 or 3 x 3 grid display) to help you take level photos.
The Samsung HZ10W has several image resolution options (which are; 10 MP, 8 MP, 5 MP, 3 MP and 1 MP as well as two image quality settings (Fine or Normal).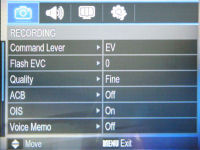 The HZ10W aka WB500 has Samsung's standard menu system, which is split into several main tabs. The thing I like here is the translucent menu display, so you can see what's going on in live view and quickly exit the menu (by half-pressing the shutter button) if a sudden special moment arises.
Command lever function (Exposure, ISO, white balance)
Flash exposure compensation (+/-2 in 1/3 step increments)
Image quality (compression)
Auto Contrast Balance (ACB)
Optical image stabilization (OIS)
Voice memo
The Samsung HZ10W has what Samsung calls Auto Contrast Balance, yet another fancy name for the feature which brightens dark areas and improves contrast in photos.
Sound and display menu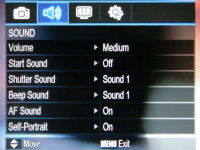 The Samsung HZ10W actually has three main 'setup' parts in its menu, though they're named Sound, Display and (Main) Setup respectively. Regardless, you won't be visiting these sections often after your first time unboxing the camera.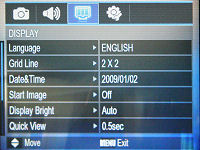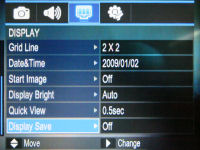 Then we have the camera's Display menu (actually a masquerading setup menu) and here, you get to select language, date and time as well as a few display related settings.
Face detection
The Samsung HZ10W comes complete with face, blink and smile detection. The smile detection system automatically takes pictures whenever the camera detects a smile, while blink detection will trigger off another three shots if the camera notices any subjects who blinked in the first photo.
Macro mode
By compact camera standards, the Samsung HZ10W has an average macro mode. You can take pictures as close as 5 cm from your subject at wide-angle, and 50 cm at telephoto.
Video Recording
As you'd probably expect from a camera like this, the Samsung HZ10W has high-definition movie mode. The camera can record 720p (1280 x 720) video clips at 30 FPS with stereo sound. Movies are recorded using the very efficient H.264.
To increase recording times, you can also lower resolution down to VGA (640 x 480) at 30 or 15 FPS; or QVGA (320 x 240) at 60, 30 or 15 FPS. Both optical image stabilization and optical zoom can be used while recording video, which is great news.
Video quality was good with decent audio quality.
Performance
All performance testing of the Samsung HZ10W was performed using a high-speed 4 GB SanDisk Ultra II SDHC (90X) card.
The Samsung HZ10W boots up in an average 2 seconds. The Samsung HZ10W focuses quickly and accurately with good lighting around, typically taking 0.2 to 0.4 seconds. However, when it comes to low-light, there's a whole different story to it. The camera's focusing becomes inaccurate in low-light and frequently misses the 'real' point of focus. Despite that, the HZ10W likes to report "focus lock", even if it didn't manage to focus, leading to out-of-focus pictures.
Shot-to-shot speed - 1 shot every 1.6 seconds, very fast
Flash recharge time using a fully charged battery - 5 seconds
The Samsung HZ10W has a full-resolution continuous shooting mode that shoots at 1.5 frames per second. The Samsung HZ10W moves its lens from wide-angle to telephoto in a decent 2.2 seconds.
To be frank, the Samsung HZ10W is a responsive and fast camera. Shot-to-shot and focusing in bright light were both good but Samsung could really work on autofocus when there's not much light around. For scenery and outdoor use, the Samsung HZ10W is great… but once the sun sets, it becomes less of a joy to use.
Image Quality
Time to evaluate the Samsung HZ10W's image quality:

ISO 80 (f3.3, 1/4 sec)

ISO 100 (f3.3, 1/4 sec)
ISO 200 (f3.3, 1/8 sec)

ISO 400 (f3.3, 1/20 sec)

ISO 800 (f3.5, 1/30 sec)

ISO 1600 (f3.5, 1/60 sec)
ISO 3200 (f3.3, 1/125 sec)
The Samsung HZ10W produces good looking photos at ISO 80 and ISO 100 with low noise. ISO 200 is not bad either, looking fairly clean but with a little noise reduction already in play. At ISO 400, image quality starts to become slightly muddy, though you could still make a midsize to large print out of pictures using this setting.
Head up to ISO 800 and you'll notice a drop in saturation, smearing and noise reduction doing harm to image quality. Image quality continues to head south at ISO 1600 and at ISO 3200, there's even more artifacts (plus, image resolution is fixed at 3 megapixels).
For a lens that starts at 24 mm and has a pretty large 10X zoom range, the Samsung HZ10W doesn't exhibit a lot of lens distortion. However, color fringing (chromatic aberration) and edge softness are both noticeable. Redeye is a non-issue since the camera has a software-based redeye removal system that works pretty effectively.
Overall, the Samsung HZ10W's image quality was a mixed bag. On one hand, there was good color reproduction, little lens distortion and decent center sharpness. But on the other, images looked fairly over-processed and the camera's noise reduction system isn't the best we've seen. Color fringing was also quite prominent.
Photo gallery
Visit the Samsung HZ10W photo gallery for more, full-sized pictures.
Playback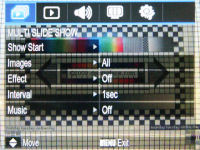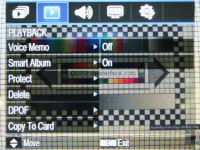 The Samsung HZ10W has a decent playback mode with an elaborate search feature which Samsung calls Smart Album. Aside from the basics such as print marking, image protection and voice clip attachment, the camera also has a fancy slideshow feature which comes with transition effects and background music. Another cool feature is the 'recycle bin' in playback, which allows you to 'undelete' and restore photos you unintentionally deleted.
The camera's Smart Album feature allows you to sort and filter out photos according to shooting date, color, content (still photos, movies, voice clips), subject's faces and shooting mode. Sorting by 'color' lets you pick out photos with a specific color which dominates the scene. For example, filtering 'blue' will automatically bring out photos containing the color blue (ie landscape shots, beach photos, photos with plenty of skies to be seen, blue cars, etc.).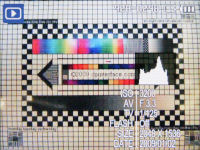 The Samsung HZ10W shows full exposure information and a histogram in playback mode, though I wish it had more shooting details (such as white balance setting, Effect used, etc).
Conclusion
Looks like Samsung came up with a pretty solid competitor to Canon's SX200 and Panasonic's ZS3/TZ7. The HZ10W AKA WB500 has a relatively modest 10 megapixels of resolution (in the insane megapixel race nowadays), a 10X optical zoom lens and a 2.7 inch screen.
The lens starts out really wide at 24 mm, wider than the rest of the competition actually, but is a bit slow on the telephoto end and its two main competitors have slightly longer 12X lenses. The camera is great for landscapes and shooting in confined spaces. Ergonomics were good with a command lever used for changing camera settings and a decent, raised right hand grip. The only quirk is the built-in flash, which is located in a place easily blocked by fingers.
The Samsung HZ10W has a full manual mode, which allows you to select both shutter speed and aperture value (there are no separate shutter or aperture priority modes though). There's also manual focus, custom white balance and exposure bracketing for people who need manual controls. If you're not that kind of person, the HZ10W also offers a bunch of scene modes, a fancy self-portrait mode and face, smile and blink detection.
The camera has a capable 720p HD movie mode which allows you to use optical zoom and image stabilization while recording, among other things. Performance and image quality were both good as well. The Samsung HZ10W is fast and responsive… it takes good pictures too, provided you have good lighting to go along with them. Lens distortion is low for a 24 mm lens and there's software based redeye removal to get rid of redeye in people photos. Unfortunately, the camera disappoints when it comes to low-light – the camera doesn't focus accurately in low-light (it even reports 'focus lock' despite not being able to focus) and pictures suffer from noise reduction that's a little over the top. I recommend sticking to ISO 400 and below.
Provided that you're going to take photos mostly with good lighting around, the Samsung HZ10W is a great camera. The camera combines an ultra wide-angle 10X zoom lens with manual controls, HD movie mode and speedy performance which landscape shooters, soccer moms and everyone else in between will love. The HZ10W's only letdown is poor low-light performance, making it unsuitable for night club goers and candle-lit dinners.
Note from Brad: Well, many have also written to ask about the HZ10W/WB500 versus its sibling, the HZ15W/WB500. They're both very similar, with the latter HZ15W having 2 additional megapixels, a HDMI port and Smart Auto (see the table at the beginning of the review) – so if you're not in need of the HDMI port (the megapixel difference isn't big and shouldn't be a deal breaker), you can get almost the same camera for 30 bucks less.
What's hot:
Good image quality in well-lit conditions, surprisingly little lens distortion for 24 mm lens
10X lens with optical image stabilization; starts at ultra-wide 24 mm
Dedicated command lever for adjusting exposure directly
Manual exposure mode with manual focus, white balance and bracketing
720p HD movie mode with stereo sound and optical zoom
Plenty of scene modes, handy self-portrait 'frame assist' mode
Speedy camera performance
Fancy Smart Album image search feature and recycle bin (image recovery) in playback
What's not:
Over-processing (especially noise reduction) and color fringing (chromatic aberration)
No aperture or shutter priority modes
Below average low-light focusing; misleading 'focus lock' confirmations
Poor flash placement: easily blocked by fingers
Lens is on the slow side at telephoto; less zoom than the competition
Lack of standard playback editing tools (ie cropping, effects, etc)
Recommended Accessories: