I've just posted my review of the Sony Cyber-shot HX1, a super zoom camera that uses a CMOS sensor and has a 10 FPS burst mode. As you would expect, I also have a bunch of full-sized photos taken straight out of the camera ready in the Sony Cyber-shot HX1 photo gallery.
What are you waiting for? The full review of the Sony Cyber-shot HX1 awaits you after the link.
DPInterface Sony Cyber-shot HX1 Review
Brad Soo – June 13th, 2009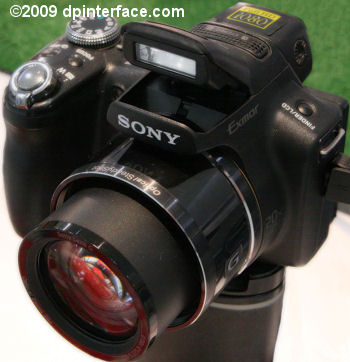 In a world of 10, 12 and even 15 megapixel compact cameras, the occasional camera that breaks away from that pattern and strives on improving other picture taking aspects is always welcome. Sony takes a break from the big megapixel race with the 9 megapixel Cyber-shot HX1… and instead, they focus on other, more important aspects such as burst mode, movie mode and image sensor features (the HX1 uses a CMOS, which supposedly produces less noise and can take pictures at high-speed).
Well, too bad the Sony HX1 can't just sit back and relax in today's competitive super zoom market. Its closest nemesis is the PowerShot SX1 from Canon, which also features a CMOS sensor, HD movie mode and a high-speed burst option. Is the Sony Cyber-shot HX1 really a first rate super-zoom camera that it appears to be?
Size and Weight
(303.5) 127.5 x 88.3 x 87.7 mm (585 g) - Canon PowerShot SX1 IS
(299.2) 124.0 x 88.3 x 86.9 mm (560 g) – Canon PowerShot SX10 IS
(288.5) 122.6 x 81.4 x 84.5 mm (483 g) – Casio Exilim FH20
(377.4) 133.4 x 93.6 x 150.4 mm (918 g) - Fujifilm FinePix S100fs
(319.2) 123.7 x 90.5 x 105.0 mm (415 g) – Kodak EasyShare Z980
(296.0) 114.0 x 83.0 x 99.0 mm (460 g) – Nikon Coolpix P90
(297.0) 110.0 x 89.0 x 98.0 mm (435 g) – Olympus SP590UZ
(281.8) 117.6 x 75.3 x 88.9 mm (370 g) - Panasonic Lumix FZ28
(282.5) 110.5 x 82.5 x 89.5 mm (390 g) – Pentax X70
(289.1) 114.5 x 82.8 x 91.8 mm (453 g) - Sony Cyber-shot HX1
All the weight figures above show when the camera is empty without a battery or memory card
The Sony Cyber-shot HX1 is about average in size and weight for a super zoom camera. I doubt anyone will be complaining, much, since the HX1 is already 'compact' for a 20X zoom camera (try a digital SLR with equivalent lenses).
Box packaging
The Sony Cyber-shot HX1 comes with a decent, but unspectacular, bundle:
NP-FH50 Rechargeable lithium-ion battery
Battery charger
Neck strap
Lens cap with strap
USB + A/V Out multi-connector cable
HDMI adaptor
Camera software CD (Picture Motion Browser and Music Transfer)
User's manual
The Sony Cyber-shot HX1 is one of the last in the dying breed of "cameras which use proprietary memory cards" (the other brand is Olympus, but at least they provide microSD adapters in the box) – it uses the usual Memory Stick Duo/PRO Duo cards which you only can use in Sony products. The camera doesn't come with a memory card though, so you'll have to use your own. The HX1 comes with a pathetic 11 MB of built-in memory so you should get at least a 2 or 4 GB card with the camera.
420 shots - Canon PowerShot SX1 IS
600 shots – Canon PowerShot SX10 IS
430 shots – Casio Exilim FH20
250 shots - Fujifilm FinePix S100fs
410 shots – Olympus SP590UZ
200 shots – Nikon Coolpix P90
460 shots - Panasonic Lumix FZ28
170 shots – Pentax X70
390 shots - Sony Cyber-shot HX1
All the cameras above are rated with rechargeable batteries according to CIPA Standard
The Sony Cyber-shot HX1 uses the rather powerful NP-FH50 lithium-ion battery and the result is the HX1's 390 shot per charge battery life rivals that of competing super zoom cameras which use AA batteries. The Cyber-shot HX1's battery is also the "Info Lithium" type, which is able to tell you the exact time remaining before it runs out. On the negative side, the battery takes an average of 3.5 hours to charge which is insanely long for a lithium-ion battery.
Accessories
While the accessory range of 2009 super zoom cameras is not as broad as cameras just three years ago, the Sony HX1 does offer one interesting accessory – a 1.7X teleconverter that brings your maximum lens reach up to 952 mm (35 mm equivalent). You can get an optional AC adapter, HD/HDMI output cables and various camera cases for the camera. There's also an external GPS tracker (though it doesn't sync directly with the camera; it only matches time with location when you plug in the memory card).
What's missing here? External flash support – most of the competition have either a flash hotshoe or built-in wireless flash control (for cameras without any hotshoe). Sony does not offer any lens hood or filter options for the camera either.
Camera Tour
The Sony Cyber-shot HX1 is a sturdy super zoom camera which has a digital SLR look and feel to it. Build quality was very good and so was ergonomics for most part. I liked the command dial on the back of the camera, which is operable with your right thumb – much better than the non-tactile, loose rotary wheel on the old H50.
The Cyber-shot HX1 doesn't have a lot of buttons – depending on how you look at it, it may be a good or bad thing (operation speed vs ease of use) – but the best new s is the disappearance of the dreaded Home Menu section; we're back to more traditional-looking menus that are less confusing.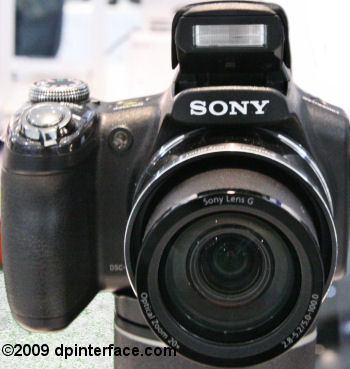 On the front of the Cyber-shot HX1 is its 'premium' 20X Sony G lens. The lens is equivalent to 28 – 560 mm in 35 mm terms, has a standard aperture range of f2.8 – f5.2 and apparently the "G" moniker indicates the lens is of higher grade (featuring ED and aspherical elements) than Sony's usual lenses. We'll see if that works out to be true in the image quality section of our review. The lens has Optical Steady Shot built-in (or simply known as optical image stabilization) to help reduce blurring caused by camera shake.
Directly above the Sony Cyber-shot HX1's lens is the popup flash. The flash is released electronically, though not in the usual 'press a button and it comes up' fashion – you'll have to select a flash setting (other than 'off'), half-press the shutter button and the flash will pop up. You'd better be happy with the popup flash because the HX1 does not support the ability to attach or control external flashes – thankfully, the numbers here are very powerful: the flash has a range of 30 cm to 9.1 m at wide-angle and 1.5 m to 5.1 m at telephoto.
To the upper left of the lens is the autofocus assist lamp, which doubles as a self-timer visual countdown light and smile shot "Hey I'm going to take a picture, so look here" lamp.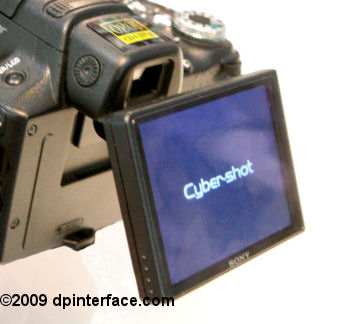 One feature that (literally) sticks out on the Cyber-shot HX1 is its large, tilt-out LCD (I'm sure Sony didn't want to put a flip-and-rotate screen here because it would look ungainly). The screen measures a big 3 inches in size and is mounted on a two-tier hinge which enables you to tilt it upwards for low-angle hip shots or downwards for over-head concert/crowd shots. Visibility in bright light and low light were both good, I had no trouble viewing the screen image.
One thing that's less impressive about the HX1's big display is its resolution – the LCD has just 230,400 pixels. It would have been great if Sony used one of their higher resolution 3 inch displays instead, considering the price of the Cyber-shot HX1.
Directly above the LCD is the electronic viewfinder, which as just 201,000 pixels. I wasn't very pleased with the size of the HX1's EVF – it's noticeably smaller than that of some other super zoom cameras. On the left side of the viewfinder is a dioptric correction wheel for adjusting the focus of the EVF image.
On the direct right side of the electronic viewfinder are two buttons: one to enter playback mode and one is a custom button. The 'Custom' button isn't as customizable as you think since you can only assign one of three preset functions to it (smile detection, white balance or metering mode)… compare that to the 10 selectable functions that you can assign to the Canon SX1's print button.
To the upper right side of the Sony HX1 is its command dial, which is placed a wee bit too close to the edge of the camera. The command dial has nice tactile 'clicks' and you can even press it down like a normal button to jump between aperture value, shutter speed, ISO and exposure compensation.
Lower down is the MENU button and the Cyber-shot HX1's five-way navigation pad:
Up – DISPLAY (Toggle amount of on-screen information shown on the LCD)
Down – Self timer (Off, 2 seconds, 10 seconds)
Left – Focus mode (Normal, macro, auto macro)
Right - Flash setting (Auto, off, on, slow sync – redeye reduction toggled separately in camera menu)
Center – OK/Set
The button below the navigation pad is used for deleting photos in playback.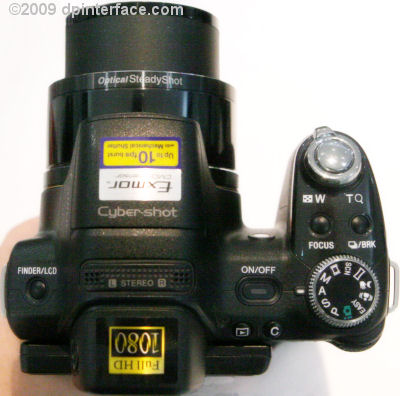 The remainder of the Sony HX1's controls can be found at the top of the camera. On the left is a button to switch between the camera's electronic viewfinder and LCD screen. Although smaller than EVFs on other cameras, the electronic viewfinder here is still useful outdoors or for steadying the camera against your eye.
In place of where you'd normally find a flash hotshoe on a super-zoom camera is the Sony HX1's stereo microphone which, naturally, enable stereo sound recording in movie mode. Next up is the power on/off button – you know what this button does.
Towards the right side is the mode dial:
Intelligent auto – Automatic shooting; the camera can even select a scene mode for you if you activate its scene recognition feature
Program mode – the camera will select both shutter speed and aperture
Shutter priority – pick a shutter speed (between 1/4000 to 30 seconds) and the camera will select a matching aperture value
Aperture priority – pick an aperture value (between f2.8/f5.0 to f8.0) and the camera will select a matching shutter speed
Manual mode – you get full control over both shutter speed and aperture
Movie mode
Scene modes
Sweep panorama mode
Anti blur
Handheld twilight
Easy mode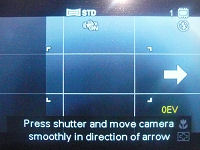 Do as the camera tells you to and you'll be fine
The Sony Cyber-shot HX1 has three modes which put its CMOS sensor's high-speed capabilities to good use. I'll start off with Sweep Panorama which allows you to compose a panorama and let the camera do all the work just by panning the camera from one side to the other (the HX1 does this by continuously capturing images and blending them into a single panorama). There are four panorama resolutions available so you can capture landscapes up to 224 degrees wide.

Panorama failure (you MUST pan the camera from start to finish, indicated by the status bar… otherwise, expect less-than-perfect output from the camera if you stop abruptly or slow down)
The catch here is the camera only has four fixed options for panoramas (which, by the way, are 7152 x 1080, 4912 x 1080, 4912 x 1920 or 3424 x 1920). That means your scene has to span the precise field-of-view of the selected resolution (there's a small on-screen status bar which appears and indicates the required span of the panorama) – you cannot tell the camera to stop where you want it to. If you slow down or stop panning, the camera will stitch whatever was captured and leave the remaining void area gray (the camera might also 'squash' parts of your panorama if you don't sweep the camera from start to finish).
The other two modes (anti-blur for low-light, handheld twilight for night shots) work in the same way by capturing 6 shots at high-speed and blending them into a single photo. This allows the camera to produce a non-blurry photo, even if you don't use a tripod… but again, there's always a catch – noise levels will be noticeably higher than if you were to sit the camera down and use a low ISO speed with long exposure.
Towards the protruding grip are the camera's shutter button with a wrap-around zoom controller and two other buttons for focus mode and bracketing/burst respectively. So now we have more things to cover before moving on…
There are a total of FIVE focus modes on the Sony Cyber-shot HX1: Multi-point, center-weighted, flexible spot, focus preset and manual focus. Flexible spot allows you to move the focus point freely around the frame while focus preset is a faux-manual focus mode that offers several preset focus distances for you to choose from. Then there's real manual focus which allows you to adjust focus (using the left/right controls on the navigation pad) and comes complete with a distance indicator and focus enlargement.
I'll put the HX1's burst modes away for later so we can cover its 3 bracketing modes now. There's the usual 3 shot auto exposure bracketing feature which allows you to take pictures up to +/-1 EV in 1/3 step increments, white balance bracketing (the camera takes a 'normal' photo along with two cooler/warmer looking shots) and color mode bracketing (the camera takes three shots, each with normal, natural and vivid colors respectively).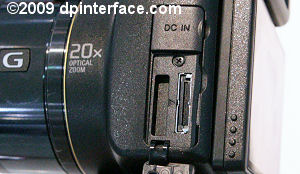 Alright, no more buttons; we're gonna take a look at the ports on the Sony Cyber-shot HX1 now. There's the DC-IN port for the optional AC adapter and the multi-connector port below it for everything else. You'll be using the multi-connector port directly with the bundled A/V Out and USB cables as well as HDMI connections (HDMI cable is optional) via the bundled adapter.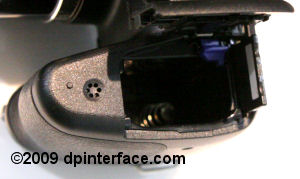 Down here are the battery/memory card compartment (with a weak door), metal tripod mount (which isn't in-line with the lens) and speaker.
Taking pictures (Shooting mode)
The Sony Cyber-shot HX1 features plenty of on-screen information; including exposure and shooting details, zoom indicator, a live histogram and a very precise battery indicator (down to the number of minutes remaining before the battery runs out of juice).
The Sony Cyber-shot HX1 has a handful of image resolution options available: 9 MP, 5 MP, 3 MP, VGA, widescreen 16:9 (7 or 2 MP) and print 3:2, but there are no image compression settings to be found. A Smart Zoom option is available (aka auto cropping) where the lower the resolution selected, the higher the camera's "maximum zoom" will be. This is certainly better than conventional digital zoom (which digitally magnifies and lowers image quality) and at VGA resolution, you can get up to a whopping 104X Smart Zoom.
Sony HX1 Feature Set
The confusing Home Menu is gone (thank goodness), at least on the Sony Cyber-shot HX1, and the camera features just a single shooting menu along with a setup area deeper down.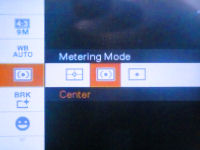 Image resolution
White balance (Auto, daylight, cloudy, incandescent, fluorescent 1, 2 or 3, flash, custom)
Metering mode (Multiple, center weighted, spot metering)
Bracketing mode (Exposure, white balance, color mode)
Scene recognition
Smile detection threshold (Slight, normal or big smile)
Face detection priority (Off, auto, child, adult)
Flash exposure compensation (+/- 2 in 1/3 step increments)
Blink detection mode
Redeye reduction
Dynamic range optimizer
Noise reduction
Color mode (Normal, vivid, natural, sepia, monochrome)
Color filter (Off, R, G, B, cool or warm)
Contrast, saturation and sharpness adjustment (-1, 0, +1)
Optical Steady Shot (Off, shooting, continuous)
Setup menu – enter the setup section to configure things like date and time
Most of the menu items above are self-explanatory. Dynamic Range Optimization brightens dark areas of your photos by adjusting contrast.
Face Detection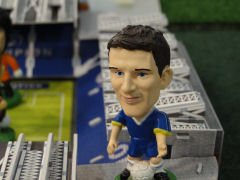 As long as it looks human, the Sony HX1 is more than happy to pick up faces in the scene
The Sony Cyber-shot HX1 has a very elaborate face detection system which, in addition to detecting up to 8 faces in a frame, can give priority to either adults or children and a face recognition function even identify faces to give them priority the next time you take pictures. The HX1 adds a Face Motion Detection feature as well which tracks your subject(s) across the frame until you press the shutter button. The Sony HX1 also has a Smile Shutter mode which automatically takes pictures continuously as long as the camera detects a smile in the frame and you can set the 'minimum' smile threshold to activate the system (slight, normal or big smile).
Finally, there's blink detection (which works in a similar manner to Nikon's Blink Proof feature) where the Sony HX1 will take two pictures and save only the photo where your subject did not blink. If the camera detects that your subject blinked in both photos, an on-screen message will appear to advise you to retake the picture.
Macro and scene modes
The Sony Cyber-shot HX1 has a very good macro mode which allows you to shoot as close as 1 cm from your subject at wide-angle and 150 cm at telephoto (remember the camera has a 20X lens).
The Sony Cyber-shot HX1 has just a few scene modes, compared to some cameras which have pages upon pages of scene modes, and they include: twilight (normal, portrait or tripod modes), backlight, backlight portrait, landscape, macro and standard portrait.
Video Recording
The Cyber-shot HX1 touts a very misleading 'full HD' movie mode since the camera doesn't record natively at full HD anyway. The Sony HX1 records 1440 x 1080 resolution video clips at 30 FPS with stereo sound up to 2 GB per clip. Along the way, movies are interpolated to 'real' full HD 1080p resolution (1920 x 1080). Using the highest setting, you can select one of two recording bit rates: 12 Mbps Fine or 7 Mbps Standard. So depending on movie bit rate, a 2 GB movie clip can be 20 to 30 minutes long at the highest settings.
There are also two lower resolution video settings available: 720p (1280 x 720) at 30 FPS and VGA (640 x 480) at 30 FPS; though you cannot select recording bit rate for either setting. All movies are recorded using the AVC H.264 codec in MP4 format. Both optical zoom and optical image stabilization are usable while recording movies without compromise.
But wait, that's not everything – the Sony HX1 still has another CMOS trick it can perform… A high-sensitivity mode is available while recording movies, where the camera boosts sensitivity for shooting in dim conditions. I suppose this replaces the infrared Night Shot mode which was last seen on the Cyber-shot H50 and now completely gone from the HX1.
Both video and audio quality was good; movies at "1080p" were surprisingly clear with not as many artifacts as I would've expected from video upscaling.
Performance
All performance testing of the Sony Cyber-Shot HX1 was performed using a 1 GB SanDisk Ultra II Memory Stick PRO Duo card.
The Sony Cyber-shot HX1 starts up in 2.3 seconds which feels relatively slow versus most super zoom cameras which boot up within 1 to 2 seconds. Focusing was good at both ends of the lens and in different lighting conditions. With good lighting around, focusing can be as quick as 0.2 to 0.3 seconds while things can stretch up to 0.8 to 1 second in low-light.
Shot-to-shot speed - 1 shot every 1.5 seconds, fast
Flash recharge time using a fully charged battery - 3 seconds
The Sony Cyber-shot HX1 has a single full-resolution continuous shooting mode with three selectable frame rates. The HX1 can shoot at an impressive 10 frames per second (yes, at full resolution thanks to its CMOS sensor) but only up to 10 photos before the camera stops and the 'processing' message appears. The two other settings shoot at full resolution at 2 and 5 frames per second respectively, but the 10 shot limit remains. One very annoying thing about the Sony HX1's continuous shooting mode is the long wait to store the photos into the memory card; it can take anywhere between 15 to 18 seconds (depending on ISO speed)… and you MUST wait until the camera is done with all 10 photos before you can blast off another burst.
The Sony HX1 has a 20X optical zoom lens with two zooming speeds available. When you pull the zoom controller hard, the lens moves from wide-angle to telephoto in just 1.8 seconds. The camera shuts down in about 2 seconds with its lens at telephoto.
The Sony Cyber-shot HX1's performance is no slouch and I was pretty impressed by its speed – the Cyber-shot HX1 performed just as quickly as or faster than the H50 before it. There is only one issue which is the camera's continuous shooting write speed/buffer depth; the Sony HX1 can shoot at a whopping 10 FPS (full-resolution) but only up to 10 pictures in a row. It also takes ages to write them to the memory card; so for every 1 second burst of action, you'll have to wait an average of 16 seconds before you can shoot again.
Image Quality
Now, let's take a look at image quality:

ISO 125 (f2.8, 1/50 sec)

ISO 200 (f2.8, 1/60 sec)
ISO 400 (f2.8, 1/125 sec)
ISO 800 (f2.8, 1/250 sec)
ISO 1600 (f2.8, 1/500 sec)
ISO 3200 (f2.8, 1/1000 sec)
While I rarely have anything to complain about when testing cameras at low ISO settings, the Sony Cyber-shot HX1 is one exception in this case. At ISO 125, the camera does indeed start out with clean looking images (crisp too) but take a closer look and you'll notice noise reduction and smudging occurring in photos. That's not something you'll see everyday; not at low ISO speeds anyway. The HX1 also has a tendency to over sharpen images, something noticeable in just about all its photos
At ISO 200, things are pretty much the same as before and at ISO 400, detail and color smudging becomes more apparent. Image quality at ISO 800 just gets worse and visible noise artifacts appear as well. I wouldn't step into ISO 1600 or ISO 3200 as there's a steep drop in saturation, detail loss and very high noise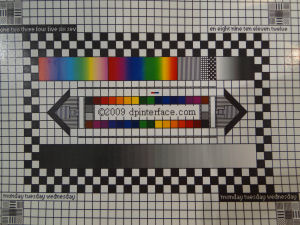 The Sony Cyber-shot HX1 has very low lens distortion levels, a pleasant surprise from a camera with a 20X lens. Both color fringing (chromatic aberration) and edge softness appeared in images but they aren't very noticeable in most cases. Redeye is not an issue either.
For a camera which uses a CMOS sensor, the Sony Cyber-shot HX1's image quality is pretty underwhelming. The camera uses strong noise reduction and excessive sharpening, even at its lowest ISO setting – producing muddy images with detail/color smudging and some visible artifacts from sharpening. There's no workaround to this either – reducing noise reduction/sharpening doesn't make a difference and the Sony HX1 has no RAW image mode to by-pass the camera's internal processing. Forget the minor lens flaws (Fringing and softness at the extreme edges), something needs to be done about the way the HX1 processes images!
Photo gallery
Head on to the Sony Cyber-shot HX1 photo gallery for full-sized photos taken using the camera.
Playback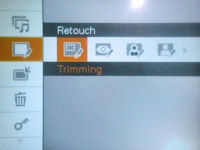 The Sony Cyber-shot HX1 has a playback mode with many features. The usual functions are here: image protection, rotation, resizing, cropping and print marking. Photos can be viewed as single shots, in sets of thumbnails, by date (in calendar view), 'burst mode' photos (the camera puts shots from continuous shooting together), face detection (all faces, children or smiles only) or just your 'favorite' photos. Playback zoom up to 8X is available.
The Sony HX1 has a ton of photo editing features; the more interesting ones include fisheye distortion, retro look and soft focus. To top things off, the camera also has a nice slideshow feature that comes with transition effects and background music. There's also a software based redeye removal tool but nothing for you to brighten photos. There are no movie editing features on the HX1 either.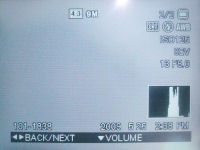 The Cyber-shot HX1 tells you just about everything you need to know about your photos – exposure info, shooting details and a histogram.
Conclusion
Sony has made the Cyber-shot HX1 an apparently hip-looking camera to own – a digital SLR like design, huge 20X zoom lens with a tilting LCD, 10 FPS burst mode at full resolution, "full HD" movie mode (yeah right) as well as the much discussed 'Sweep Panorama' feature. Sounds like the perfect super zoom camera, huh?
The Cyber-shot HX1 indeed lives up to part of its hype – the camera handles quite well and has good build quality, there's full manual controls and good battery life… and it looks REALLY close to a digital SLR. There's even a large 3 inch screen which you can tilt upwards/downwards. Unfortunately, you won't find a lot of expandability on the HX1; the camera doesn't support external flashes (neither wirelessly nor via any hotshoe), there's only ONE conversion lens available for the camera (telephoto) and unlike the competition, the HX1 lacks a customizable menu section and mode dial spot(s). And no, I don't consider the so-called custom button (which is limited to just three basic functions) to offset what the camera is lacking.
Before you become too excited about the several unique features on the Cyber-shot HX1, let me forewarn you that each feature has a catch or limitation. Take Sweep Panorama, for example, which 'forces' you to capture a panorama which covers the exact field of view that the camera dictates. If you can manage that, the system works flawlessly, but failure to do so (or if you pan too slowly) and the camera will just save an incomplete panorama; plus there's a pretty high chance that this incomplete panorama will also be messed up (see the example I posted earlier in the review). There are also two modes: Anti-blur and Handheld Twilight, both of which allow you to take sharp photos in conditions which would otherwise require you to use a long shutter speed and/or a tripod. The catch? Resulting photo quality using either mode will be too crummy for anything but tiny prints.
Some more positive things about the Sony HX1 include its handy Intelligent Auto mode, many scene modes for beginners and very sophisticated face detection system. If you love adding effects to your photos, then you'll appreciate the large selection of playback tools on the Cyber-shot HX1. Oh there's also good performance and a burst mode which shoots at a blazing fast 10 FPS at full-resolution. But wait, here's another catch – you can only take up to 10 shots in a row (regardless of image size or burst frame rate) before the camera stops and locks up for a 'mind-boggling' 16 seconds to save those images. You may of course, cancel the writing process but obviously, you lose your pictures as well.
One of the other spotlight features on the Cyber-shot HX1 is its movie mode, capable of recording videos at 1080p 'full HD' resolution (Complete with stereo sound recording). Well, that's only half the truth – what you'll find out by reading the small print or the press release is the fact the camera's 'full HD video' comes from the interpolation of not-so-real-1080p recording (1440 x 1080 isn't REAL HD). Video quality is not bad, but I'm sure many of us would've appreciated the real deal. Of course, there's a 720p setting if you're not a fan of upsampled video. Both optical zoom and optical image stabilization are available but there are no other movie options (Wind filter, anyone? How about the ability to take a still photo while recording?) or editing features to be found on the camera.
Moving on, the Sony Cyber-shot HX1 does indeed produce photos with acceptable image quality but nowhere near what you'd expect from a camera which uses a CMOS sensor (note: CMOS sensors are normally associated with good image quality, in addition to high speed capturing). The HX1's high price is supposedly justified by its CMOS sensor, but somehow, the camera's image quality is underwhelming; taking away its "CMOS advantage". The Sony HX1 produces muddy and quite un-natural looking photos thanks to over-sharpening and noise reduction. And to make things worse, there isn't much of a difference even if you turn down noise reduction or use a low ISO speed – the issue still exists.
To wrap up, the Sony Cyber-shot HX1 looks great on paper and indeed has some appealing features but has too many catches and limitations that put a stop to all that potential fun you could have with the camera. The only thing going for the Cyber-shot HX1 is the initial thrill of having a full-resolution 10 FPS burst mode without buying a $4000-$5000 high end digital SLR. Otherwise, look at the other CMOS super zoom (Canon PowerShot SX1), or if you want to save some money, check out the other, more conventional super zoom cameras in the market.
What's hot:
Acceptable image quality up to mid-sized prints/display; please use low ISOs and shoot outdoors too
Huge 20X optical zoom lens with image stabilization
Large, tilt-able 3 inch LCD with good visibility
Full manual controls
HD movie mode (1080p and 720p options available) with stereo sound and optical zoom
Elaborate face/smile/blink detection modes
Many playback features and tools
Very good performance; excellent 10 FPS, full-resolution burst mode
What's not:
Noise reduction and over-sharpening produces muddy photos
Proprietary and expensive Sony Memory Stick Duo cards
No image compression settings or RAW mode
No custom mode position on mode dial; 'custom' button can only be tasked to one of three limited functions
Electronic viewfinder size is below average; LCD resolution could be higher
Fixed field of view coverage in Sweep Panorama mode; camera messes up photo if you pan too slowly/stop abruptly
Only 10 shots in a single burst, very long after-burst waiting time
Non-native 1080p movie mode (fills screen up using upsampling)
External flashes and lens filters not supported
Recommended Accessories:
2 GB or 4 GB Memory Stick Duo memory card
Related articles: