I've just completed my review of the Fujifilm FinePix F200 EXR; a compact camera which boasts Fujifilm's latest 'Super CCD EXR' imaging sensor for low noise in images. Remember to visit the Fujifilm FinePix F200 EXR photo gallery as well, for full-sized photos. Hit the link for the full review of the camera.
DPInterface Fujifilm FinePix F200 EXR Review
Brad Soo – July 28th, 2009 (Updated August 12th, 2009)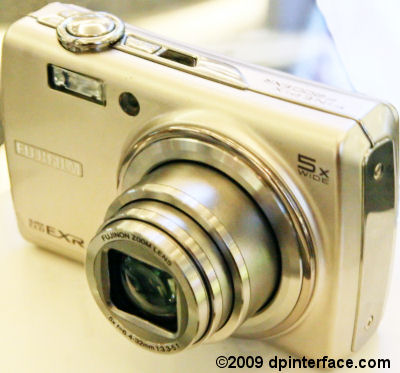 The FinePix F200 is Fujifilm's first compact camera with their innovative SuperCCD EXR sensor (which also happens to be the biggest change over the preceding F100). While the 'normal' SuperCCD sensors could produce lower noise levels by nature (but nothing else), the new 'EXR' type sensor allows you to select between resolution, noise or dynamic range priority to suit the shot you're taking.
Other than that, the FinePix F200 hasn't changed much, there's the same front design with a 5X optical zoom lens and image stabilization, a reworked back (return of the mode dial and a slightly larger LCD), new Film Simulation settings passed down from higher end FinePix cameras and supposedly better flash metering.
Let's take a look at how well the Fujifilm FinePix F200 EXR performs.
Size and Weight
(177.9) 94.8 x 56.8 x 26.3 mm (160 g) - Canon PowerShot SD970 IS Digital ELPH
(180.9) 99.8 x 58.5 x 22.6 mm (146 g) – Casio Exilim FC100
(180.0) 97.7 x 58.9 x 23.4 mm (153 g) - Fujifilm FinePix F200 EXR
(179.5) 96.5 x 57.5 x 25.5 mm (140 g) – Nikon Coolpix S630
(177.6) 96.4 x 55.9 x 25.3 mm (132 g) – Olympus Stylus 7000
(173.9) 94.9 x 57.1 x 21.9 mm (145 g) - Panasonic Lumix FX580 aka FX550
(172.5) 97.0 x 54.0 x 21.5 mm (110 g) – Pentax Optio P70
(176.8) 97.6 x 56.6 x 22.6 mm (135 g) - Sony Cyber-shot W270
All the weight figures above show when the camera is empty without a battery or memory card
The Fujifilm FinePix F200 EXR is about average in terms of size and weight compared to the other cameras in its class. The camera isn't tiny or light but will fit into most pockets easily.
Box packaging
The Fujifilm FinePix F200 comes with an average bundle:
NP-50 rechargeable lithium-ion battery
Battery charger
Wrist strap
USB and A/V cables
Camera software CD (FinePix Viewer)
User's manual
The Fujifilm FinePix F200 has only 48 MB of internal memory and you're expected to get your own memory card. The camera takes SD/SDHC and xD-Picture cards, and a 4 GB card will do you good. Unless you already have xD-Picture cards (which happens to be a dying format) lying around, I would advise to go with SD/SDHC instead.
270 shots - Canon PowerShot SD970 IS Digital ELPH
300 shots – Casio Exilim FC100
230 shots - Fujifilm FinePix F200 EXR
220 shots – Nikon Coolpix S630
150 shots – Olympus Stylus 7000
350 shots - Panasonic Lumix FX550 aka FX580
200 shots – Pentax Optio P70
330 shots - Sony Cyber-shot W270
All the cameras above are rated with rechargeable batteries according to CIPA Standard
Unlike its predecessors from a few years back which had class-leading battery life, the FinePix F200 EXR manages to produce so-so battery life numbers. That's 230 shots per charge, which is a good 30-40% lower than leading cameras in its class.
Accessories
The Fujifilm FinePix F200 isn't compatible with a lot of accessories. Those optional extras that exist include a waterproof case, AC adapter and camera cases.
Camera Tour
From far, the Fujifilm FinePix F200 EXR is really easy to mistake for its predecessor, the F100 FD – they look exactly the same from the front. Aside from the looks, build quality is about the same too; the F200 is well constructed and nothing feels particularly soft or flimsy. Turn the camera around and the main changes from its predecessor are on the back – the buttons and controls. The mode dial that was missing from the F100fd is back but the rotary wheel is now gone.
The re-addition of the mode dial is welcome but I could've done without the button mashing in manual mode, had the wheel remained. Ergonomics have gone done a notch with the camera's tiny buttons and navigation pad (which I found difficult to operate). That's a shame because it looks like there was ample room between the buttons and LCD for Fujifilm to make those controls larger.
The FinePix F200 EXR comes in your choice of three colors: brown, dark gray or silver.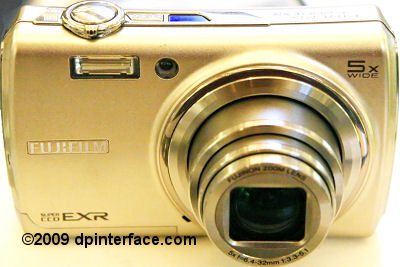 The Fujifilm FinePix F200 EXR has the same 28 – 140 mm, f3.3 – f5.1 zoom lens as the old F100. The camera also has sensor-shift image stabilization, which moves the image sensor about to help compensate for the effects of camera shake. Well, speaking of that, the new Super CCD EXR image sensor has got to be the biggest change in the Fujifilm FinePix F200. The new sensor allows for resolution, low noise or high dynamic range priority (though you can use the modes only one at a time); more on this later.
The other items found on the front of the FinePix F200 EXR include its flash, AF-assist light and, at the 7 o' clock position around the lens rim, microphone. The FinePix F200's flash range is quite decent, covering 60 cm to 4.3 m at wide-angle and up to 2.8 m at telephoto (Auto ISO).
The Fujifilm FinePix F200 has a large 3 inch LCD, which has just 230,000 pixels – it isn't one of those fancy high resolution screens like the one we saw on the Canon SD970. Still, visibility is decent in bright light and very good in low-light; and the resolution isn't noticeable unless you've handled one of those extra sharp LCDs before.
To the upper right side of the LCD is the mode dial, which disappeared on the F100 for unknown reasons. I'm glad it's back anyway:
Auto mode
EXR mode selection
Program + aperture priority – you get to pick an aperture value in aperture priority while the camera will select a matching shutter speed. No program shift available
Manual mode – you get control over both aperture value (only two given choices at a time) and shutter speed (1/1000 to 8 seconds)
Movie mode
SP Scene Position – where all the scene modes are located
Natural light – the camera will increase ISO and not use the flash in order to produce a 'natural looking' photo
Natural light with flash – the camera will take one 'Natural light' photo along with a normal shot with flash; you can keep both or choose to dump one or the other
Adjusting exposure in manual mode
The FinePix F200 EXR has an aperture priority mode as well as full manual mode but there isn't any shutter priority mode available. Unfortunately, you're limited to two aperture values, which can range from f3.3/f9.0 at wide-angle to f5.1/f14.0 at telephoto. You'll miss the rotary dial of the F100 the most when in manual mode, where you can adjust both shutter speed and aperture… and without a scroll wheel, you need to do a lot of button pressing to tweak exposure.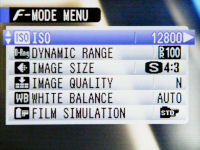 The FinePix F200's "F-menu"
Below the mode dial are two buttons: the F-menu button and direct playback button. The F-menu is essentially like the function menu of other cameras and holds a bunch of settings you can change quickly:
ISO sensitivity (100, 200, 400, 800, 1600, 3200, 6400, 12800, Auto [Normal, 400, 800, 1600, 3200])
Dynamic range (Auto, 100%, 200%, 400%, 800%)
Image resolution and compression
White balance (Auto, custom, sunlight, shade, fluorescent [daylight, warm, cool], incandescent, underwater)
Film Simulation (Provia, Velvia, Astia, B&W monochrome, sepia)
The FinePix F200 EXR's F-menu settings have several useful options. For example, you can set the ISO limit of Auto ISO (from 400 to 3200), so the camera will boost ISO as needed up to your preset point. The FinePix F200 also has several 'Film Simulation' modes, which is Fujifim-speak for picture settings. They're named after Fuji's old film names: Provia (default, normal), Velvia (Vivid) and Astia (Soft focus/subdued colors).
Next up is the (rather small) five-way navigation pad:
Up – Exposure compensation/Delete photo
Down – Self timer (Off, 2 seconds, 10 seconds, couple timer, group timer)
Left – Macro (On/Off)
Right - Flash setting (Auto, on, off, slow sync; redeye reduction available for all settings)
Center – Menu/OK
The last two are the camera's DISPLAY + BACK (previous menu screen) and Face Detection + redeye reduction buttons.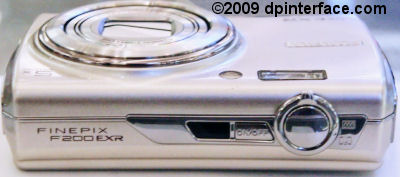 Up here, there's the camera's power button and shutter button + zoom controller combo. The 'IR Simple' infrared transfer feature is gone (not that it was very useful, anyway) on the F200 but Fujifilm decided to recycle the old F100's parts and left the now-pointless infrared window here.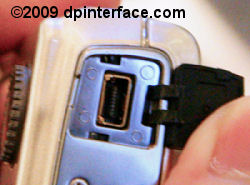 Over on this side of the FinePix F200 EXR is a single connectivity port for USB 2.0 High Speed and video out.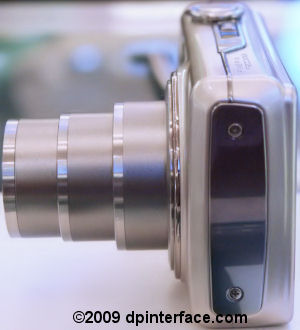 There's nothing of interest on this side of the camera, besides a view of the lens extended to full telephoto.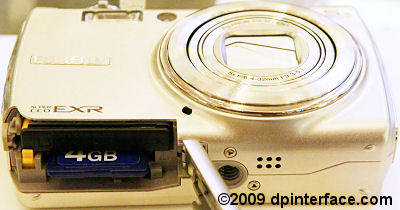 At the bottom of the FinePix F200 EXR is a single compartment for both SD/SDHC and battery. Beside the compartment are a plastic tripod mount and speaker for playing back sound. Due to the placement of the tripod mount, you won't be able to open the compartment door when the camera is on a tripod.
Taking pictures (Shooting mode)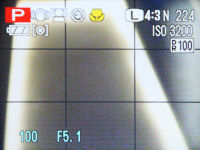 The Fujifilm FinePix F200 displays a decent amount of on-screen information – exposure and some shooting details, a simple 3-step battery indicator and compositional gridlines. What's missing here is a live histogram.
The Fujifilm FinePix F200 has just three image resolution settings to choose from: 12 MP, 6 MP and 3 MP, along with three aspect ratio options for each resolution setting (4:3, 3:2 and 16:9). The two image compression options available are Fine and Normal. A 4 GB memory card will hold around 800 Fine photos at full resolution.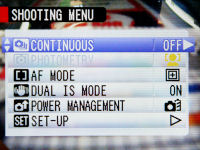 Unlike other digital cameras (and even some of Fujifilm's own cameras), the FinePix F200 doesn't have a "Quick" or "F-menu" of any sorts. Instead, everything is put into its main menu (which thankfully is just 3 pages long):
Continuous shooting (Off, top 3, final 3, top 12, final 12, long period)
Photometry aka metering mode (Multiple, average, spot)
Autofocus mode (Center, multi-point, continuous)
Image stabilization (On, off)
Power management (Power saver, quick focusing, display quality)
Setup menu – configure things like date/time, camera volume levels, language and menu color schemes
Face detection
The FinePix F200 has Fujifilm's sophisticated Face Detection 3.0 system, which detects up to 10 faces in a scene. What's so special? Well, the camera can detect faces at any angle, whether looking directly at the camera or not.
Macro and scene modes
The Fujifilm FinePix F200 has a large variety of scene modes, which include portrait, landscape, sports, night scene, night tripod, fireworks, sunset, snow, beach, underwater, museum, party, flower and text. There's also a 'portrait enhancer' mode that works like Beauty mode on Olympus cameras – the camera will take a photo then process it to soften and smoothen skin. If you're not a fan on hand-picking scene modes, the FinePix F200 can do it for and automatically pick one of six preset modes (portrait, landscape, night, macro, night portrait and backlit portrait).
Moving on to macro mode, the FinePix F200 EXR can go as close as 5 cm at wide-angle and 50 cm at telephoto. That's pretty decent.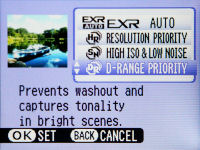 The EXR mode menu
As I mentioned, the Fujifilm FinePix F200 EXR has a unique imaging sensor, which brings us to the camera's EXR modes. You can pick one of the three available EXR modes, depending on what means the most to you:
High resolution – the camera shoots at full 12 megapixels
High sensitivity with low noise – the camera adapts its sensor in order to shoot at high ISO speeds with minimal noise. However, image resolution is lowered to 6 MP
Dynamic range – same thing as above, except the camera will place emphasis on improving dynamic range/contrast. Image resolution is also lowered to 6 MP here
For convenience, there's also an EXR Auto mode which automatically picks an EXR mode based on the scene you're shooting.
The F200's EXR modes sound great but you need to remember three things: you can only use one at a time (means you can't have a high resolution picture with high ISO and low noise), image resolution is lowered in the last two modes (but then again, 6 MP should be more than enough for decent prints)… and the biggest drawback is you can't manually tweak exposure (shutter speed/aperture) with any of the EXR modes.
Video Recording
The Fujifilm FinePix F200 has a VGA (640 x 480) movie mode, which isn't mind-blowing in a growing arena of cameras with HD capabilities. You can record VGA movie clips at 30 FPS with sound up to 2 GB per clip (around half an hour). Movies are recorded in AVI MJPEG format. You can also opt to lower resolution to QVGA (320 x 240) 30 FPS to double recording times.
Neither optical zoom nor sensor shift image stabilization is usable while recording movies. It may have a fancy sensor and fair well in taking still pictures, but that's precisely what the Fujifilm FinePix F200 EXR is for – taking good still pictures; because doesn't excel in the movie department.
Performance
All performance testing of the Fujifilm FinePix F200 was performed using a high-speed 4 GB SanDisk Ultra II SDHC (90X) card.
The Fujifilm FinePix F200 starts up in 2 seconds; acceptable but it could've been faster. In terms of autofocus performance, the FinePix F200 is one of the better cameras out there – with sufficient lighting, the camera focuses quickly within 0.2 to 0.5 seconds and in low-light, focusing is still relatively quick and precise, taking 0.8 to 1 second on average to lock-on.
Shot-to-shot speed - 1 shot every 2.3 seconds, decent
Flash recharge time using a fully charged battery - 3 seconds on average
The FinePix F200 has five (!) different continuous shooting modes; three of which shoot at full resolution but none of which are particularly impressive.
Top 3 – shoots at 1.5 frames per second up to 3 photos
Final 3 – allows you to take up to 40 shots at 1.5 frames per second, but only saves the last 3 photos
Long period – shoots at 0.7 frames per second until your memory card fills up
Top 12 – shoots at 4 frames per second up to 12 photos (but resolution is lowered to 3 MP)
Final 3 – allows you to take up to 40 shots at 4 frames per second, but only saves the last 12 photos (again, resolution is lowered to 3 MP)
None of the continuous shooting modes are too impressive. The F200's long period mode could've been great, if not for the sluggish frame rate since the camera refocuses after every shot taken, slowing things down tremendously. I also think that the FinePix F200 has a rather limited buffer size, so it can't take a lot of photos in a row without pausing to write them.
In terms of focusing and shot-to-shot speeds, the FinePix F200 does fine. What Fujifilm needs to work on here are buffer size, and a little on processing speed; as the camera is slightly (not a lot, but still noticeable at times) slower in writing than the competition and its buffer fills up quickly, especially after taking successive shots in burst mode.
Image Quality
Let's take a look at the FinePix F200's image quality right now:
ISO 100 (f3.7, 1/4 sec)

ISO 200 (f3.7, 1/8 sec)

ISO 400 (f3.7, 1/17 sec)
ISO 800 (f3.7, 1/34 sec)
ISO 1600 (f3.7, 1/60 sec)

ISO 3200 (f3.7, 1/110 sec)

ISO 6400 (f3.7, 1/210 sec)
ISO 12800 (f3.7, 1/420 sec)
The Fujifilm FinePix F200 EXR uses Fujifilm's new Super CCD EXR image sensor. One of the claimed benefits is better high ISO/low noise characteristics. Let's see how well that claim holds up. Photos are relatively spotless at ISO 100 and 200. Image quality still looks very fine at ISO 400; though there are signs of artifacts being introduced here.
Going up to ISO 800, noise is still pretty low. Image artifacts at this level become slightly visible but plenty of detail is still retained and you could make a decent-quality print out of this. At ISO 1600, grain and artifacts get worse but that still won't stop you from making small-sized prints and display out of pictures. Things get really bad at ISO 3200 (and definitely unusable) and from there, it just gets worse as you climb the ISO ladder. Image resolution is forced down to 6 and 3 megapixels for ISO 6400 and ISO 12800 respectively.
What's impressive here is the Fujifilm FinePix F200 EXR manages to produce good quality images up till ISO 800 (and still usable till 1600 if you're willing to stick to small prints). Aside from some artifacts in images, I didn't notice any saturation drops or smudging – two common issues that plague other compact cameras once you go above ISO 400/800.
Now let's have a look at 'normal ISO' compared to ISO in EXR mode. Do note that resolution is fixed at 6 megapixels in the camera's High ISO/Low noise EXR mode:
ISO 800 at 12 MP, normal mode
ISO 800 at 6 MP, EXR High ISO priority mode
I'll cut to the chase here… since you're probably using the camera's low noise EXR mode at higher sensitivities (where the advantage is more prominent), I'm gonna start at ISO 800 here. Compared to normal mode, the F200's EXR mode produces slightly cleaner results here with significantly fewer artifacts (which apparently appear mostly at the 12 MP setting).
ISO 1600 at 12 MP, normal mode

ISO 1600 at 6 MP, EXR High ISO priority mode
Going up to ISO 1600, the EXR mode definitely produces better looking pictures. It also saves memory card space and the hassle of downsizing photos if you're planning to make small prints.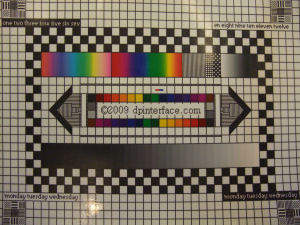 There are mild levels of lens distortion with the Fujifilm F200's lens but good edge sharpness and very little color fringing (chromatic aberration). Redeye wasn't an issue as the camera automatically removes any redeye it finds.
The Fujifilm FinePix F200 EXR strives in the image quality department, especially in terms of noise. The camera produces very clean images which are usable till ISO 800 in low-light/for decent prints, and up till ISO 1600 if you can bear with small 4 x 6 prints. The F200 retains a good chunk of image sharpness, detail and saturation; and noise levels are up to one or two stops better than the competition (depending on whether you use EXR mode and which camera you compare). The only negatives here are the image artifacts (which appear most often in 12 MP images shot at high ISO) and lens distortion.
Photo gallery
Visit the Fujifilm FinePix F200 photo gallery for full-sized sample photos from the camera.
Playback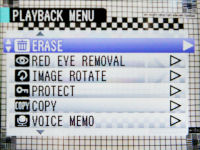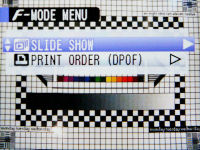 The Fujifilm FinePix F200 has a playback mode that seems quite basic compared to the one I saw on the low-end waterproof Z33. The usual culprits are here: simple slideshow, print marking, voice clip attachment, image protection and rotation. You can also copy photos between the internal memory and storage card. Photos can be enlarged by so you can inspect details/confirm focus or you can display them in sets of up to 100 thumbnails or by date.
By pressing the Face Detection button, the FinePix F200 can also 'auto zoom' up to any faces detected in a photo, pretty neat. There are also some basic editing features such as image cropping, downsizing and software-based redeye removal.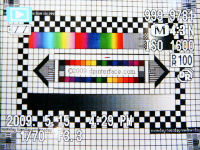 The Fujifilm FinePix F200 shows you exposure info and a small handful of shooting details in playback mode but lacks a histogram.
Conclusion
The FinePix F200 EXR is a nice change to the plain world of ever-increasing megapixels in compact cameras. It has a 5X optical zoom lens, 3 inch LCD screen and a special Fujifilm image sensor that allows you to choose between image resolution, low noise or high dynamic range priority.
The FinePix F200 has a full manual mode and aperture priority mode, but sadly, lacks shutter priority and gives you limited aperture values to choose from in either mode (just 2 aperture choices at a time). There are also many scene modes and a mode which automatically picks out a mode for you.
The camera performed decently in terms of speed with good autofocus speed and accuracy, but rather sluggish processing times and continuous shooting frame rates. The main advantage of the F200 over the competition lies in the camera's image quality department. The camera produces low noise images which you can use up till ISO 800/1600, with no flaws besides some artifacts and lens distortion.
The FinePix F200 EXR certainly isn't a flawless camera, but is nevertheless a good one. The camera's main advantage/appeal is that it excels in taking pictures, especially in low-light, and offers noise levels which are one to two stops better and more usable than the competition. If your utmost important criteria in getting a compact camera is "high quality images" and you care less about other aspects, then the FinePix F200 EXR should be at the top of your consideration list. Don't forget to check out the new prosumer super-zoom S200 EXR and compact mega zoom F70 EXR cameras that Fujifilm recently announced as well!
What's hot:
Good image quality with impressive noise levels for a compact camera (usable till ISO 1600 with the right conditions)
EXR modes work well (the dynamic range and low noise priority modes are particularly useful)
Supports the old xD-Picture card as well as the more common SD/SDHC format
5X zoom lens with good edge sharpness and sensor-shift stabilization
Manual exposure and aperture priority modes
Large 3 inch display with decent to good visibility
Auto scene selection mode and good selection of scene modes
Face detection with redeye removal in shooting/playback
Good focusing speed and accuracy, even in low-light
What's not:
Image artifacts, especially noticeable at full 12 MP
No shutter priority mode, aperture priority gives only 2 choices at any zoom setting
Manual exposure/control unavailable when using any EXR mode
Tiny navigation pad and the scroll wheel is gone, making it clunky to adjust exposure in manual mode (among other things)
Below average battery life
Unimpressive continuous shooting and processing times could have been faster
VGA movie mode is a bit 'lowly' for a camera this price; sensor shift image stabilization cannot be used while recording
Recommended Accessories:
4 GB SDHC memory card
Spare lithium-ion rechargeable battery
Related articles: