Alright, I have one more Nikon camera review before I move on to other things like the Canon PowerShot S90. The Nikon Coolpix S640 is a compact point-and-shoot that packs a 5X zoom lens and supposedly "very fast AF". Remember to head on to the Nikon Coolpix S640 photo gallery to view sample photos as well.
DPInterface Nikon Coolpix S640 Review
Brad Soo – November 30th, 2009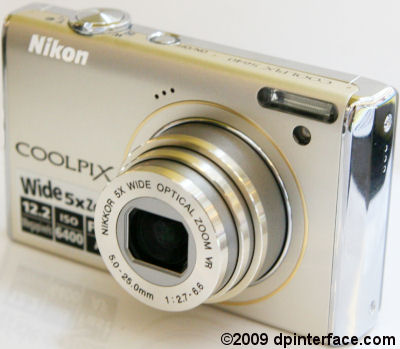 The Coolpix S640 is Nikon's latest point-and-shoot camera. The S640 comes with 12 megapixels, a 5X optical zoom lens, 2.7 inch LCD and supposedly "very fast" autofocus. Shopping season is in full swing now and there are plenty of cameras fighting for attention out there.
While it doesn't cost a bomb, is the Nikon Coolpix S640 good enough to be at the top of your shopping list? And how true is Nikon's claim about the Coolpix S640's autofocus capabilities? We're gonna put the camera to the test now and find the answers to both those questions.
Size and Weight
(159.9) 89.5 x 54.9 x 20.0 mm (120 g) - Canon PowerShot SD940 IS Digital ELPH
(176.2) 99.9 x 53.4 x 22.9 mm (130 g) - Canon PowerShot SD980 IS Digital ELPH
(180.9) 99.8 x 58.5 x 22.6 mm (146 g) – Casio Exilim FC150
(172.8) 96.5 x 55.9 x 20.3 mm (130 g) – Casio Exilim Z450
(180.0) 97.7 x 58.9 x 23.4 mm (153 g) - Fujifilm FinePix F200 EXR
(172.5) 92.0 x 57.9 x 22.6 mm (151 g) - Fujifilm FinePix J250
(185.0) 99.5 x 62.5 x 23.0 mm (155 g) – Nikon Coolpix S1000pj
(166.5) 91.0 x 55.0 x 20.5 mm (110 g) – Nikon Coolpix S640
(173.1) 97.5 x 55.7 x 26.2 mm (125 g) – Olympus Stylus 7010
(173.1) 95.7 x 59.6 x 20.2 mm (131 g) - Panasonic Lumix FP8
(172.5) 97.0 x 54.0 x 21.5 mm (105 g) – Pentax Optio P80
(167.7) 99.8 x 59.7 x 18.5 mm (149 g) – Samsung Dual View TL220
(176.8) 97.6 x 56.6 x 22.6 mm (135 g) - Sony Cyber-shot W290
(165.8) 90.5 x 51.8 x 19.8 mm (120 g) - Sony Cyber-shot WX1
All the weight figures above show when the camera is empty without a battery or memory card
The Nikon Coolpix S640 is one of the smaller cameras in the group – it's about the size of a Digital ELPH and very light. The Coolpix S640 will, without doubt, be able to slip into any pocket and probably even the smallest of purses.
In the box
The Nikon Coolpix S640 comes with a pretty standard-issue bundle:
EN-EL12 Rechargeable lithium-ion battery
Charging AC adapter
Wrist strap
USB cable
A/V cables
Camera software CD
User's manual
The Nikon Coolpix S640 includes a rather limited 45 MB of built-in memory. The camera takes SD/SDHC memory cards and I would recommend 4 GB to begin with. A high-speed card is optional since the camera doesn't perform significantly faster with one.
220 shots - Canon PowerShot SD940 IS Digital ELPH
240 shots - Canon PowerShot SD980 IS Digital ELPH
300 shots – Casio Exilim FC150
550 shots – Casio Exilim Z450
230 shots - Fujifilm FinePix F200 EXR
200 shots - Fujifilm FinePix J250
220 shots – Nikon Coolpix S1000pj
270 shots – Nikon Coolpix S640
170 shots – Olympus Stylus 7010
380 shots - Panasonic Lumix FP8
200 shots – Pentax Optio P80
200 shots – Samsung Dual View TL220
330 shots – Sony Cyber-shot W290
350 shots – Sony Cyber-shot WX1
All the cameras above are rated with rechargeable batteries according to CIPA Standard
The Nikon Coolpix S640 comes with the rechargeable EN-EL12 battery and, strangely, an AC adapter. Unlike your average camera (which comes with a dedicated battery charger), the S640 plugs directly into the socket and charges the battery while it sits INSIDE the camera (ala a mobile phone). You can also charge the camera via USB when you connect it to your computer.
If this was 2008, then the Nikon Coolpix S640's battery life rating of 270 shots per charge would've been above average in its class. But it's not – we're about to enter 2010 here, and the Coolpix S640 is about average in terms of battery life compared to current competition.
Accessories
There are no accessories available for the Nikon Coolpix S640 besides replacement chargers and camera cases.
Camera Tour
The Nikon Coolpix S640 looks pretty conventional for a digital camera with nothing particularly striking about its design. The camera's build quality and ergonomics were both fairly average as well. Made of a mix of plastic and metal elements, the camera feels decent in hand. The scroll wheel on the back could've been stiffer, in my opinion, but it gives sufficiently tactile clicks when turned.
The Nikon Coolpix S640 comes in your choice of five colors: silver, black, white, pink and red; though for some odd reason, not all colors will be available everywhere. You can differentiate the Coolpix S640 from its identical sibling, the Coolpix S570, by the gold ring around the lens rim (the S570's rim is chrome).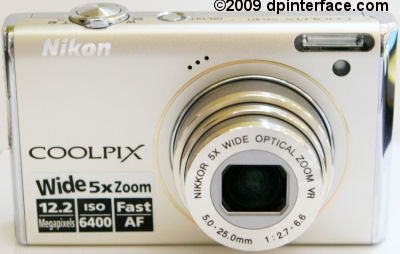 The Nikon Coolpix S640 has a 5X optical zoom lens; seems like a growing trend that compact cameras are sporting more and more zoom. The lens covers a good 28 – 140 mm but the aperture range has been compromised, presumably by the ambitious zoom range. The aperture range starts out at a fast f2.7 at wide-angle but slows down to a very dark f6.6 at telephoto. That means that you sure wouldn't want to take photos at full zoom in low-light, or face slow shutter speeds. Of course, no camera nowadays is complete without image stabilization and the Coolpix S640's lens has optical VR (optical image stabilization) to help reduce the effects of hand shake.
To the upper right side is the Coolpix S640's autofocus assist lamp that doubles as a self-timer lamp and also its built-in flash. The Nikon S640's flash is surprisingly powerful, covering a range of 50 cm to 8 m (about 26 feet) at wide-angle, and up to 4 m (13 feet) at telephoto. Of course, these numbers were obtained with ISO set to Auto, and effective range may be reduced when using ISOs… but nevertheless those are still impressive numbers there. The camera's microphone is located almost directly above the lens (spot the three holes).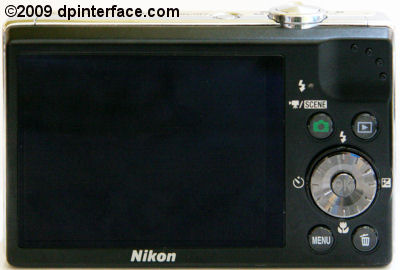 The Nikon Coolpix S640 sports a 2.7 inch LCD display on the back. The screen has 230,000 pixels which is average for an LCD this size. Visibility was good in low-light but just okay under bright light. You'll probably have to tilt the camera a little to find the right viewing angle outdoors.
All of the Nikon Coolpix S640 buttons are located to the right of the LCD, making single-handed operation of the camera easy. There's a small indent for your thumb to go on the upper right side of the camera, along with a small indicator light for the camera's flash status.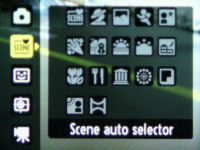 The first two buttons are the shooting mode and direct playback buttons respectively. Pressing the shooting mode button will bring up the screen above and allow you to pick one of the numerous point-and-shoot modes on the camera.
Next is the Coolpix S640's five-way navigation pad:
Up – Flash setting (Auto, auto with red-eye reduction, off, on, slow sync, rear-curtain sync)
Down – Focus mode (Normal, macro, infinity)
Left – Self timer (Off, 2 seconds, 10 seconds, smile timer, blink proof)
Right - Exposure compensation (+/-2 EV in 1/3 step increments)
Center – OK/Set
I'll be talking about the camera's Smile Timer and Blink Proof features later in the Smart Portrait section of the review. The last two buttons at the bottom are for bringing up the camera MENU and deleting photos respectively.
The top of the Coolpix S640 is pretty simple with just the camera's power button and shutter button with a zoom controller wrapped around it.
This side of the Coolpix S640 is just about blank, save for the camera's speaker (which output sound from the three small holes).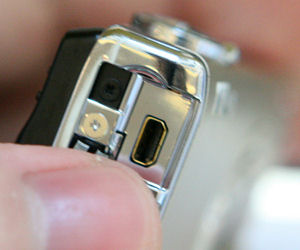 On this side of the camera is its single connector port used for both A/V Out and USB connections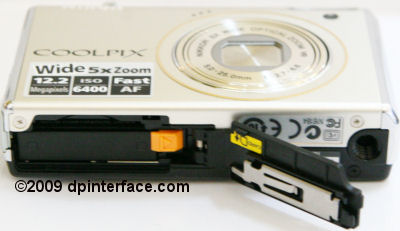 At the bottom of the Nikon Coolpix S640 are its battery/memory card compartment with an average-quality door over it and tripod mount.
Taking pictures (Shooting mode)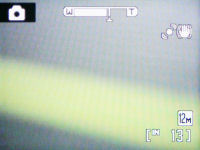 There's not much to see on the Coolpix S640's display, unfortunately. Shooting details are very scarce compared to competitors. The few things that the camera does show include a zoom indicator, low battery indicator and exposure info.
The Nikon Coolpix S640 has quite a number of image resolution options as well as two compression settings (but as usual, High quality is only available for the highest resolution, other image sizes are fixed to Normal quality). Image resolution choices include 12 MP, 8 MP, 5 MP, 3 MP, 1 MP, VGA and widescreen 16:9 (at 8.8 MP).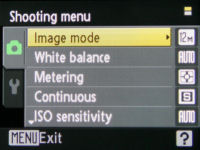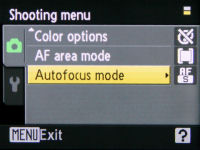 Coolpix S640's camera menu
The Nikon Coolpix S640 has the standard issue, tabbed Nikon menu interface. The menu area is broken down into two parts: camera settings and setup. The setup menu contains things like date/time, image stabilization mode and mostly set-and-forget options, so let's just go through the regular camera menu now.
Image mode (resolution/compression)
White balance (Auto, daylight, incandescent, fluorescent, cloudy, flash, custom)
Metering mode (Matrix, center-weighted, spot)
Drive mode (Single-shot, continuous shooting, best shot selector)
ISO sensitivity (Auto, fixed range auto, 100, 200, 400, 800, 1600, 3200, 6400)
Color options (Standard, vivid, monochrome, sepia, cyan, pastel)
Focus area (Face detection, auto, center point, flexible)
Autofocus mode (Single, continuous) – The camera will continuously focus in the latter mode
Face Detection (Nikon Smart Portrait)
The Coolpix S640 has the Nikon's standard-issue Smart Portrait feature set which can come in handy when taking photos of people. Smart Portrait consists of a few 'detection' features related to people photos, including face detection (up to 12 faces in a frame), software-based redeye removal and blink detection.
Blink detection comes in two forms: The passive blink warning, which displays an on-screen notice if someone blinked, or the more pro-active Blink Proof mode, which takes two pictures in a row and picks the shot with your subject(s)' eyes open. There's also smile detection in the form of Smile Timer mode, where the camera starts counting down to take a picture when a smile is detected. One new addition to Nikon's Smart Portrait suite is the skin softening function, which allows you adjust from 3 levels of softening so your subjects have smooth skin.
Macro and Scene modes
Auto mode – More like Program mode, mostly automatic shooting but you can change some camera settings
Scene modes
Smile detection
Subject tracking
Movie mode
The Nikon Coolpix S640 has a macro mode that lets you go as close as 2 cm to your subject at wide-angle. The camera allows you to zoom in slightly as well.
The Nikon Coolpix S640 has the same set of numerous scene modes shared by Nikon's other compact cameras; which include portrait, landscape, sports mode, night portrait, party/indoor, beach/snow, sunset, dusk/dawn, night landscape, close-up, food, panorama assist, museum, fireworks, copy and backlight. If you find yourself having a hard to time trying to pick a scene mode, you can let the camera choose for you using the scene auto selector mode.
Video Recording
By now, I am somewhat puzzled as to why the ultra-thin S70 is Nikon's only compact camera to be able to record HD video. Now, we're back to the Coolpix S640 which can only record VGA sized videos (640 x 480). The camera can record them at 30 FPS with mono sound up to 2 GB per movie clip (around 30 minutes) in AVI Motion JPEG format.
More nasty surprises here – you can NOT use optical zoom or optical image stabilization while recording movies. Instead, only their 'digital' counterparts are usable (digital zoom and electronic image stabilization) which have a tendency to be not as good as the 'real thing' since they degrade quality. Overall movie quality was just acceptable for emails and posting online (not in HD though). Movies may also look a little pixilated in higher end digital photo frames.
Performance
All performance testing of the Nikon Coolpix S640 was performed using a high-speed 4 GB SanDisk Ultra II SDHC (90X) card.
The Nikon Coolpix S640's 2 second startup time is nothing to boast about, but Nikon was not playing the fool when bragging about the camera's autofocus speeds. By Nikon Coolpix standards, the S640 had very fast autofocus times, ranging from 0.1 to 0.4 seconds at wide-angle and 0.3 to 0.8 seconds in low-light. Compared to the competition, this is on par with other 'above average' performers in its class. Low-light focusing was pretty accurate thanks to the AF-assist lamp.
Shot-to-shot speed - 1 shot every 1.9 seconds, fairly decent
Flash recharge time using a fully charged battery - 4 seconds
The Nikon Coolpix S640 was unimpressive in the continuous shooting department. With a sluggish frame rate of 0.7 frames per second (1 photo every 1.4 seconds) and long writing times after a burst, it's really hard to capture fast paced 'action'. Well, other 12 megapixel cameras in this class are not much better off, but at least most of them can take at least 1 frame per second and don't take ages to write photos after shooting.
Overall performance of the camera was a mixed bag. The Nikon Coolpix S640 excels at capturing spur-of-the-moment shots with its fairly fast autofocus and response, but is the type of camera that you'll need to keep 'turned on' due to its so-so start up time. The Coolpix S640 is good for capturing single snapshots quickly, one at a time, but not good where a situation requires you to take more than several photos in a row before another round of 'action' comes.
Image Quality
Time for image quality tests with the Nikon Coolpix S640:

ISO 100 (f2.7, 1/3 sec)

ISO 200 (f2.7, 1/6 sec)

ISO 400 (f2.7, 1/13 sec)

ISO 800 (f2.7, 1/25 sec)

ISO 1600 (f2.7, 1/50 sec)

ISO 3200 (f2.7, 1/100 sec)

ISO 6400 (f2.7, 1/200 sec)
The Nikon Coolpix S640 starts out with low, but still noticeable, levels of noise at ISO 100. Thankfully, images at ISO 200 still maintain that low level of noise and should be usable for most print/display purposes. You'll hit the ceiling for 'acceptable images' at ISO 400 with more noise and some blotchy details, but images that are still usable for small to medium sized prints.
Image quality at ISO 800 is a hit or miss – noise reduction is heavy and already obliterates most fine details, but you MAY occasionally be able to savage shots that don't require details (ie a desperate shot of you and a friend in a very poorly lit restaurant). Even then, you'd be limited to small 4×6 prints only.
Photos become extremely muddy and unusable starting from ISO 1600, and from there, things only get worse until it becomes an unrecognizable mess at ISO 6400.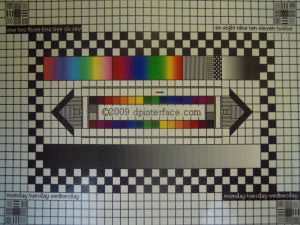 The Nikon Coolpix S640's lens shows very little distortion (that's almost unnoticeable). The same can't be said about corner sharpness though as I noticed plenty of softness in the edge of images. Redeye was a non-issue as the camera automatically removes any it detects in photos.
After reviewing two other Coolpix models launched at the same time as the S640, I had expected this camera to produce results similar to the good image quality of Nikon's own S1000pj and S70 cameras. Boy was I wrong. Somehow Nikon was able to mess up the Coolpix S640 with noisy, sometimes watery, looking images that quickly hit the borders between satisfactory and poor quality at ISO 400. The Coolpix S640 produces so-so image quality, reminiscent of 2008 Coolpix models and probably because it uses the "old way" of processing images compared to the S1000pj/S70 – at least that's one theory.
Photo gallery
Head on to the Nikon Coolpix S640 photo gallery to view full-sized sample pictures from the camera.
Playback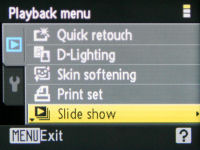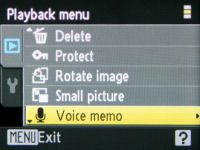 The Nikon Coolpix S640 has a standard-issue playback mode. There's print marking, image protection and rotation, voice clip attachment, slideshow view and playback zoom (up to 10X). You can copy images between the camera and your memory card, or choose to create a 'small pic' version of any image.
The Coolpix S640 has three simple editing tools: Quick Retouch adjusts brightness, contrast and saturation to apparently make photos look better, D-Lighting brightens up dark areas in photos and skin softening, which is self-explanatory.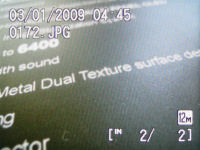 Unfortunately, the Nikon Coolpix S640 doesn't tell you ANYTHING about your photos in playback, at all. The screen above shows the maximum amount of info you can get (Read: Not much).
Conclusion
Let's put it in a simple way: The Nikon Coolpix S640 is your average compact camera which performs, well, just averagely I guess. The camera has a fairly run-of-the-mill feature set: 12 megapixels, 5X optical zoom, 2.7 inch screen, point-and-shoot operation and with nothing in particularly that stands out from the sea of other cameras out there.
The Coolpix S640 is very compact and sports a rather ordinary design with decent build quality and ergonomics. There's a 5X lens on the front that covers a range of 28 – 140 mm but with an unimpressive f6.6 aperture value at telephoto – that means you'll get slower shutter speeds at full zoom (and hence increasing the likelihood that you'll need a tripod). At least there's optical image stabilization and an LCD with decent viewability.
In terms of feature set, the Coolpix S640 has no manual controls but lots of scene modes. There's also automatic scene selection and Smart Portrait options in shooting mode, plus several simple editing playback tools. However, the Nikon Coolpix S640 has a rather sub-standard VGA movie mode that doesn't allow usage of optical zoom or optical image stabilization. Movie quality was just acceptable for uploading online, but not great if you were to inspect details or want clarity.
Performance was a mixed bag, along with image quality produced by the Coolpix S640. On one hand, there's fast autofocus and little lens distortion, but on the other, we also have sluggish writing speeds and rather soft output of images. Images were acceptable at lower ISOs and managed to scrape through 'acceptable' levels at ISO 400. Combined with the S640's slow aperture value at maximum zoom, I would advise sticking to taking pictures with good lighting around or at the wide-end of the camera's lens.
By itself, the Nikon Coolpix S640 is a so-so camera with some shortcomings. The Coolpix S640 excels at taking casual snapshots in well-lit conditions but for the same money (or slightly more), you can find something that does better with fewer/smaller compromises.
What's hot:
Acceptable image quality; mostly for shooting in good light
Fairly fast autofocus performance
Good battery life; USB charging enabled
5X optical zoom lens with optical image stabilization (though see below)
Automatic scene selection, many scene modes, elaborate face detection/portrait features
What's not:
Edge softness and below average image clarity
Slow lens aperture range at telephoto end
No manual controls; scarce on-screen display details
No HD video recording; optical zoom and optical stabilization unavailable when recording
Slow burst mode and below average writing times
3.0 - Design and build quality
3.0 - Bundle in the box
2.7 - Lens (Zoom, aperture range, image stabilization)
3.0 - Feature set and manual controls
3.5 - Ergonomics and ease of use
3.0 - Performance and speed
3.2 - Image quality
6.11 over 10.0 - Overall rating (So-so)
Related articles: