Here's my review of the Nikon Coolpix S220, a budget digital camera, and the Nikon Coolpix S220 photo gallery is online too! Click on the link for the full review of the camera.
DPInterface Nikon Coolpix S220 Review
Brad Soo – September 4th, 2009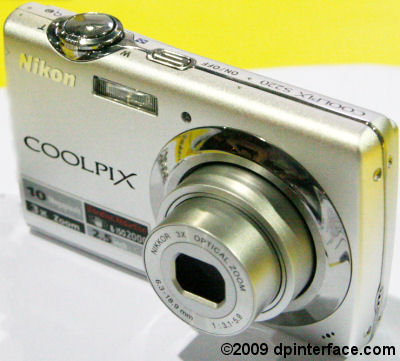 The Coolpix S220 is Nikon's other entry-level camera. It offers the simplicity that you'd expect from a basic camera, but with more settings you can change (like ISO speed) over the oversimplified Coolpix L20 I reviewed a while ago.
Is the Nikon Coolpix S220 a good entry-level camera to consider? Let's find out!

Camera box
The Nikon Coolpix S220 includes an average bundle:
EN-EL10 Rechargeable lithium-ion battery
Battery charger
Wrist strap
USB cable
A/V cables
Camera software CD
User's manual
The Nikon Coolpix S220 takes SD cards, but doesn't come with one. Instead, there's 44 MB of built-in memory, not enough to go out there and take pictures in real life. You should get a 2 GB card with the camera.
The Nikon Coolpix S220 uses the tiny EN-EL10 lithium-ion battery. The good news is that this keeps the camera slim and thanks to its smaller screen, the Coolpix S220 gets 10% better battery life than its sibling, the S230. The bad news is the Coolpix S220's 180 shot per charge battery life is still below average compared to other compact cameras in its class.
Accessories
Nikon doesn't offer a whole lot of accessories for the Coolpix S220. You can get an optional AC adapter and various camera cases for the camera, but that's about it.
Camera Tour
The Nikon Coolpix S220 is your typical slim and stylish camera made from plastic with average build quality. The camera measures 89.5 x 55.5 x 18.0 mm and weighs a featherweight 100 grams, so it's both smaller and lighter than the touchscreen-equipped S230 I reviewed two weeks ago (whose measurements were 91 x 57 x 20 mm and 115 grams).
The Coolpix S220 has pretty good ergonomics – there's plenty of room for your fingers to go without bumping or blocking anything and you can operate the camera with just one hand. The camera comes in your choice of seven colors, including black, blue, purple/plum, magenta, green, red and silver. This one here is the silver model.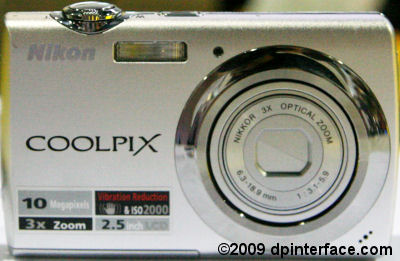 The Nikon Coolpix S220 sports the infamous 3X optical zoom lens found on many budget/cheap cameras, equivalent to 36 – 108 mm in 35 mm terms. The lens is slow, with an aperture range of f3.1 to f5.9 and there's no image stabilization either.
Above the lens is the camera's self-timer lamp and built-in flash. The flash isn't very strong – its 3 meter range is just 'fair' as far as compact cameras go. To the lower right side of the camera, you'll spot three little holes – this is where the microphone is located. The Nikon Coolpix S220 doesn't have an autofocus assist lamp.
The Nikon Coolpix S220 has a regular 2.5 inch LCD with 150,000 pixels. The LCD's visibility was about average indoors and outdoors. The screen could've also used more pixels, but for most people, the low resolution isn't that noticeable.
Next to the LCD is the camera's flash status indicator and buttons. There are four buttons surrounding the 5-way navigation pad, the upper two are the shooting mode and playback buttons respectively.
Then comes the usual five-way navigation pad, used for browsing photos, scrolling through menus and to change these functions:
Up – Flash setting (Auto, auto with red-eye reduction, off, on, slow sync)
Down – Focus mode (Normal, macro, infinity)
Left – Self timer (Off, 2 seconds, 10 seconds)
Right – Exposure compensation (+/-2 EV in 1/3 step increments)
Center – OK
The bottom two buttons are the MENU and Delete buttons respectively. And there we go, we're done for the back of the camera.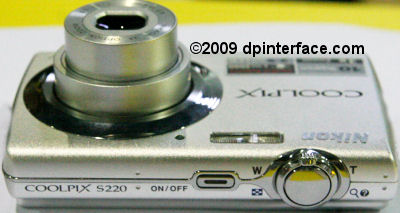 Up here you'll find the power button and shutter button with a zoom controller wrapped around it.
If you look lower down the chrome strip here, you'll spot the Coolpix S220's speaker.
At the bottom of the Nikon Coolpix S220 are its battery/memory card compartment, single connectivity port (under the tiny cover next to the battery/memory compartment) and plastic tripod mount. The connectivity port (hidden under the cover labeled 'A/V Out') is the place to connect the camera's USB and A/V Out cables.
Taking pictures (Shooting mode)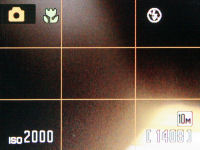 The Nikon Coolpix S220 has a live view display which shows you some basic information, 3 X 3 compositional gridlines and a zoom indicator (when you use the zoom controller), but nothing else. The camera lacks a battery indicator, exposure info and live histogram.
The Nikon Coolpix S220 offers a few image resolution choices (and they are: 10 MP, 5 MP, 3 MP, 2 MP, 1 MP, VGA and widescreen (7 MP)). As with Nikon's other Coolpix cameras, image quality (High or Normal) is only selectable if you are using the 10 megapixel setting… the default compression setting for lower resolutions is "Normal" quality.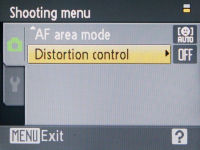 The Coolpix S220's menu system uses the same tabbed interface as other Nikon Coolpix and SLR cameras:
Image resolution setting
White balance (Auto, daylight, incandescent, fluorescent, cloudy, flash, custom)
Continuous mode (Single shot, continuous shooting, Best Shot Selector, multi-shot 16, interval shooting)
ISO sensitivity (Auto, High Sensitivity, 80, 100, 200, 400, 800, 1600, 2000)
Focus area (Face detection, auto, center point)
Distortion control On/Off – for reducing lens distortion in photos
The Coolpix S220 has Nikon's standard issue Best Shot Selector and Multi-shot features. Best Shot takes up to 10 pictures in a row then the camera proceeds to select the best/sharpest one from the bunch while Multi-shot 16 takes sixteen small pictures in a row and combines them to form a single 10 megapixel collage. The most interesting of them all is the Coolpix S220's interval shooting feature, which allows you to setup the camera to take photos at preset intervals (an AC adapter is recommended here).
There's also Motion Detection, which is activated via the setup menu, where the camera will look at the scene and automatically set ISO based on the amount of action going on (a still scene prompts the camera to choose a low ISO value, while ISO will be increased when there's a lot of movement in the frame). The setup menu also contains other things such as setup of multiple time zones, date and time.
Smart Portrait system
The Coolpix S220 features Nikon's Smart Portrait system, which includes face detection (up to 12 faces), software-based redeye removal, D-Lighting (brighten dark areas of photos), Smile detection (the camera takes a picture automatically when a smile is detected) and Blink Proof. Blink Proof mode actually combines smile detection with blink detection; and will take two pictures when a smile is detected, saving the photo where your subject(s) had their eyes open.
Macro mode
The Nikon Coolpix S220 has a so-so macro mode that doesn't get you very close to your subject. The camera's minimum focusing distance in macro mode is 10 cm from your subject, and you can use a bit of optical zoom to go slightly closer (indicated by the 'green area' on the zoom indicator).
The Coolpix S220 is a point-and-shoot camera, which means it has no manual controls (other than custom white balance mentioned earlier). There are plenty of scene modes though: portrait, landscape, sports, night portrait, party, beach & snow, sunset, twilight, night landscape, close-up, food, museum, fireworks, monochrome, backlight and panorama assist. A mode called Scene Auto Selector can help you choose an appropriate scene mode based on shooting conditions.
Video Recording
The Nikon Coolpix S220 has a VGA movie mode. You can record 640 x 480 movie clips at 30 FPS with sound, up to 2 GB per movie clip. You can extend recording times by lowering the frame rate to 15 FPS, decreasing resolution to QVGA (320 x 240) or both. All movies are recorded in AVI Motion JPEG format.
You cannot zoom or focus while recording video clips but there's electronic image stabilization available to help reduce jitter, at the cost of quality and field of view. Video quality was decent, with the usual audio sync problem present here.
Performance
All performance testing of the Nikon Coolpix S220 was performed using a high-speed 4 GB SanDisk Ultra II SDHC (90X) card.
The Nikon Coolpix S220 boots up in an average 1.9 seconds. Autofocus speeds were below average, with times ranging from 0.4 to 0.8 seconds to focus outdoors. In low-light, the camera has a hard time focusing and always seems to miss focus lock thanks to the lack of an AF-assist light.
Shot-to-shot speed - 1 shot every 2.1 seconds
Flash recharge time using a fully charged battery - 4 seconds
The Nikon Coolpix S220 has a so-so continuous shooting mode that's capable of shooting at 1.2 frames per second up to about 20 pictures. Not surprisingly, as they share the lens and sensor, and almost the same guts, the Nikon Coolpix S220 performs identically to its touchscreen-equipped sibling, the S230. The camera isn't the fastest thing around with average shot-to-shot speeds, and poor autofocus speed/reliability.
Image Quality
Let's look at the Coolpix S220's image quality now:

ISO 200 (f3.9, 1/10 sec)
ISO 400 (f3.9, 1/19 sec)
ISO 800 (f3.9, 1/30 sec)

ISO 1600 (f3.9, 1/77 sec)

ISO 2000 (f3.9, 1/84 sec)
Up till ISO 200, the Nikon Coolpix S220 produces clean images, though on the soft side. ISO 400 still looks quite acceptable in terms of noise levels, but the results here are really soft. Detail levels are poor too. Pictures at ISO 800 are on the grainy side while results produced at ISO 1600 are disastrous.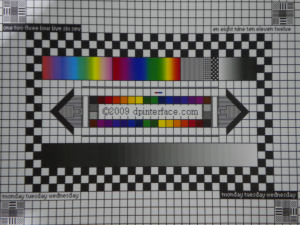 The camera exhibited mild amounts of lens distortion along with quite a bit of color fringing (chromatic aberration). Corner softness was also quite obvious here. Somehow, for some reason, image quality here is a step down from the Coolpix S230 with poorer sharpness and more blotchy noise reduction, making the Nikon Coolpix S220 a below average performer in terms of image quality.
Photo gallery
Want some full-sized photos taken straight out of the camera? Visit the Nikon Coolpix S220 photo gallery!
Playback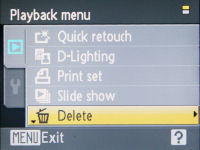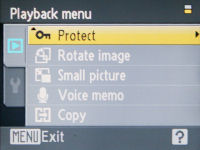 The Nikon Coolpix S220 has a simple playback mode – it also happens to be missing the various 'Retouch' features that we saw on the touchscreen S230 model. There's print marking, sound memo, slideshow, image protection, rotation and copying between the internal memory/memory card. Photos can be enlarged by 10X for detail inspection and can also be tagged as your "favorites".
Compared to the S230, the Coolpix S220 has just two playback tools, which are D-Lighting and Quick Retouch. D-Lighting gives you the ability to brighten dark areas of your photos while Quick Retouch gives a quick boost in saturation and improves contrast slightly to make photos look slightly better, more defined I would say.
The Nikon Coolpix S220 doesn't tell you anything about your photos - no shooting details, no exposure info, no histogram, nothing besides the date/time and image size.
Conclusion
The Nikon Coolpix S220 is a cheaper, non-touchscreen version of the Coolpix S230. The camera packs the same lens, sensor and most features. Unfortunately, the Coolpix S230 wasn't flawless, and neither is the Coolpix S220 here.
10 megapixels, 3X optical zoom and a 2.5 inch screen, the Nikon Coolpix S220 has a specifications sheet alike other entry-level digital cameras. The camera has good ergonomics with relatively simple operation – there are no manual controls on this budget camera, neither would I expect any. There are lots of scene modes along with Nikon's "Smart Portrait" system and auto scene selection, which should please people wanting to take pictures with minimal fuss.
Perhaps the camera was made to be a bit too simple; it barely shows you any on-screen information. Its very basic lens is also on the crummy side with no image stabilization (Real IS at least) and poor sharpness.
Quite unfortunately, the Nikon Coolpix S220 doesn't take high quality photos – and the images speak for themselves. Nikon makes very good digital SLR cameras, decent high-end compact cameras but decidedly poor low-end compacts (I've seen the S220, S230 and L20 this year). Even if you're looking for a super cheap camera, you can definitely find better $100 cameras than this one.
What's hot:
Slim design
Good ergonomics and easy to use
Smart Portrait, motion detection and auto scene selection features
What's not:
Strong noise reduction results in softness and lack of detail
Cheap lens with poor sharpness and no real image stabilizer
Low resolution LCD; doesn't show a lot of information in shooting/playback
Crummy low-light autofocus
Below average battery life
Recommended Accessories:
2 GB SD memory card
Extra lithium-ion rechargeable battery
Related articles: