I've just published my review of the Canon PowerShot SX10 IS, Canon's other ultra-zoom camera that offers 10 megapixels of resolution, full manual controls, a capable movie mode and a rotating LCD screen. You can also check out photos taken straight out of the camera in the Canon PowerShot SX10 IS photo gallery. What are you waiting for? Hit that link for the full review of the Canon PowerShot SX10 IS.
EXCLUSIVE: Canon PowerShot SX1 vs PowerShot SX10 image quality inside the review! Check it out!
DPInterface Canon PowerShot SX10 IS Review
Brad Soo – April 17th, 2009
When Canon announced their latest lineup of cameras last year, they came up with two new ultra-zoom cameras to replace the aging S5 IS model. Both of them were made available globally as the shopping season approached, except the US… which initially got only the SX10, and just recently this year, the SX1 was finally made available to them.
Compared to the small improvements over the years in the S-series, the new SX10 is a big step up from the old S5; offering much more optical zoom, an increase in resolution, a higher resolution LCD (and slightly bigger EVF), better video codec, modern Canon bells-and-whistles and better battery life.
Let's check out the Canon PowerShot SX10 now!
The SX10 also has a big brother, the PowerShot SX1 that I recently reviewed. What does the extra dough for the PowerShot SX1 buy you? A CMOS sensor (though the 10 MP resolution remains), larger 2.8 inch widescreen, ability to be controlled via the bundled remote, RAW image mode, full HD 1080p recording and 4 FPS burst mode.
Size and Weight
(303.5) 127.5 x 88.3 x 87.7 mm (585 g) - Canon PowerShot SX1 IS
(299.2) 124.0 x 88.3 x 86.9 mm (560 g) – Canon PowerShot SX10 IS
(288.5) 122.6 x 81.4 x 84.5 mm (483 g) – Casio Exilim FH20
(377.4) 133.4 x 93.6 x 150.4 mm (918 g) - Fujifilm FinePix S100fs
(319.2) 123.7 x 90.5 x 105.0 mm (415 g) – Kodak EasyShare Z980
(296.0) 114.0 x 83.0 x 99.0 mm (460 g) – Nikon Coolpix P90
(297.0) 110.0 x 89.0 x 98.0 mm (435 g) – Olympus SP590UZ
(281.8) 117.6 x 75.3 x 88.9 mm (370 g) - Panasonic Lumix FZ28
(289.1) 114.5 x 82.8 x 91.8 mm (453 g) - Sony Cyber-shot HX1
All the weight figures above show when the camera is empty without a battery or memory card
The Canon PowerShot SX10 is average in size for an ultra-zoom camera. It's one of the heavier few but you won't find it a burden to carry around in a bag or around your shoulder.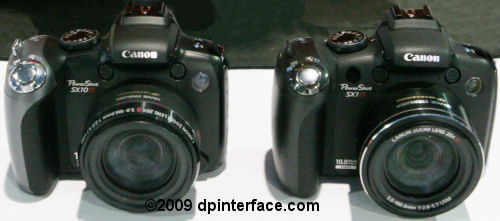 Canon SX10 on the left, Canon SX1 on the right
The PowerShot SX10 is also slightly smaller and lighter than its higher-end sibling, the SX1… but from a distance, it's hard to tell which camera is which:
Box packaging
Although I wish it came with rechargeable batteries instead, the Canon PowerShot SX10 IS comes with, an otherwise, decent bundle:
4 AA alkaline batteries
Lens cap
Lens hood
Neck strap
USB and stereo A/V cables
Camera software CD (Canon Digital Camera Solution disc)
User's manual
The Canon PowerShot SX10 IS doesn't come with any memory card in the box and it has no internal memory either. Instead, you'll have to use your own - The SX10 IS uses SD and SDHC cards, as well as MMC and its variations. MMC cards are on the slow side and I would advise against using them here on the SX10. In terms of size, I'd recommend starting out with at least a 4 GB memory card. A high speed memory card helps in boosting write speed and reducing shot-to-shot times
420 shots - Canon PowerShot SX1 IS
600 shots – Canon PowerShot SX10 IS
430 shots – Casio Exilim FH20
250 shots - Fujifilm FinePix S100fs
410 shots – Olympus SP590UZ
200 shots – Nikon Coolpix P90
460 shots - Panasonic Lumix FZ28
390 shots - Sony Cyber-shot HX1
All the cameras above are rated with rechargeable batteries according to CIPA Standard
The Canon PowerShot SX10 IS uses 4 AA batteries but comes with a set of non-rechargeable alkaline batteries. They'll last for quite a while – up to 340 shots but will eventually end up in the trash anyway. So what I'd suggest is to get a set of rechargeable AA NiMH batteries and a charger to go along with the camera. Rechargeable batteries last much longer and can be reused, thus more economical and environmentally friendly in the long run.
With rechargeable batteries, the Canon PowerShot SX10 is rated to 600 shots per charge, right on top of the list and above all the other ultra-zoom cameras in the market. Great!
Accessories
The number of accessories available for the SX10 has shrunk since the days of the PowerShot S5 IS. The Canon PowerShot SX10 IS no longer accepts conversion lenses or filters. However, you can still add on external flash units and wireless flash transmitters to the PowerShot SX10. The official flash units from Canon are the 270EX, 430EX II and 580EX II models. You can also opt for third party flash units, but only Canon models will sync automatically with the camera.
Other than that are the typical accessories you would expect from a digital camera: rechargeable AA batteries with a charger, an AC adapter and various camera cases.
Camera Tour
The Canon PowerShot SX10 IS is a camera with good build quality and ergonomics. The right hand grip is nicely sized, the lens barrel is solid and moving parts such as the rotating screen and compartment doors feel sturdy. The camera is easy to hold and operate (though the number of buttons at the back may suggest otherwise). My only dislike is the lack of tactile "clicks" on the rear command dial so you can't change settings without looking at the camera.
The Canon PowerShot SX10 features a big 20X optical zoom lens, equivalent to 28 – 560 mm in 35 mm terms, with an aperture range of f2.8 – f5.7. That is one massive zoom range… and to help counter the effects of camera shake (especially with so much telephoto power), there's optical image stabilization inside the lens. An additional feature that this 20X zoom lens has is Canon's USM drive (Ultrasonic Motor), which enables quick and quiet focusing and zooming.
Above the lens is the PowerShot SX10's manual popup flash. The flash here is above average in terms of power and surprisingly, it's a bit more powerful than the more expensive SX1. At wide-angle, the flash covers a range of 50 cm to 5.2 m and that goes down to 1 to 2.8 m at telephoto (Auto ISO).
Then there are the just three round circles above the lens: they are the PowerShot SX10's stereo microphones and the autofocus assist/self-timer countdown lamp on the right. The PowerShot SX10 does NOT support wireless remote control (and there's no remote receiver here), unlike the SX1.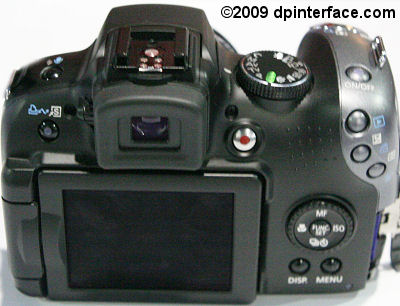 The Canon PowerShot SX10 IS has a rotating 2.5 inch LCD which you can flip it out and rotate it for self-portraits or 'creative' angled shots. The screen is sharp with 230,000 pixels, and has good low-light visibility but just average visibility in bright light.
Directly above the LCD is the electronic viewfinder which comes in handy when you want to steady the camera against your eye or improved visibility outdoors. The EVF has 230,000 pixels so it's as sharp as the LCD. It also has dioptric correction, adjustable via the knob next to the viewfinder.
To the left of the EVF is the print button which also serves as a shortcut button; it can be assigned to a function of your choice in shooting mode. To the right side is the camera's dedicated movie button which starts/stops video recording, independent of mode dial position.
At the upper right corner of the PowerShot SX10 are three buttons; the upper-most button is for entering playback. The other two are for exposure compensation/playback jump and autofocus point selection/delete photo respectively. The SX10's exposure compensation is the usual +/-2 EV in 1/3 step increments.
Next up is the Canon SX10's five-way navigation pad with a command dial around it. The command dial is used to browse menus, change settings and scroll through photos; but I don't like the fact that it has no tactile "clicks" at all. We'll look at the navigation pad right now:
Up – Manual focus
Down – Drive mode (Single shot, continuous, continuous AF, face self-timer, self-timer)
Left - Focus mode (Normal, macro, landscape; hold down the button for super-macro)
Right – ISO sensitivity (Auto, high auto, 80, 100, 200, 400, 800, 1600)
Center – Function menu/Set
The Canon PowerShot SX10 IS has a Face Self-timer mode, which works in conjunction with the camera's face detection technology. The camera will watch the scene until an 'extra face' is detected, then start counting down to take up to 10 pictures in a row – it really helps so you don't have to run to the camera the instant you press the shutter button. Of course there's the regular 2 and 10 second countdown modes available as well as a custom timer mode which allows you to set the countdown period and number of shots the camera will take.
Pressing the center button brings up the PowerShot SX10's function menu which contains several settings that can be changed:
White balance (Auto, daylight, cloudy, tungsten, fluorescent, fluorescent H, flash, custom)
My Colors (Normal, vivid, vivid red/green/blue, neutral, sepia, black & white, positive film, lighter/darker skin tone, custom)
Bracketing (Off, exposure bracketing, focus bracketing)
Flash exposure compensation (+/-2 EV in 1/3 step increments)/Flash power (1/3, 2/3, Full)
Metering method (Evaluative, center-weighted, spot)
Movie resolution
Image size and compression
The custom option in the My Colors/Photo Effects area enables you to manually tweak contrast, saturation and sharpness up to +/- 2 in 1 step increments). The PowerShot SX10 has two bracketing modes: one is the usual exposure bracketing feature which allows you to take three shots in a row with different exposure settings. The other mode, focus bracketing is more unusual – the camera will take three photos in a row with different focus settings (one normal, one back-focused, one front-focused) in "small, medium or large" increments. There are no specific indicators of focus distance in bracketing mode.
The last two buttons we have are the DISPlay (which toggles LCD display information) and MENU buttons (to bring up the camera menu).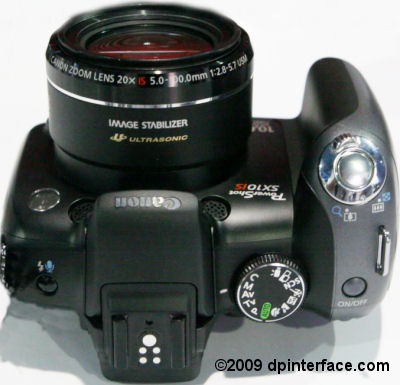 There are several things to cover at the top of the Canon PowerShot SX10 before we move on. On the left side is a button used for changing the flash setting; it doubles as a quick access button to voice recording in playback mode. The modes available for the built-in flash include auto, manual, flash on and flash off; with settings for redeye reduction and slow sync available in the menu.
Next to that is the camera's built-in flash unit (pulled up manually when you want to use it) along with an external flash hotshoe. You can use any flash with the camera but only Canon ones will sync automatically with the camera. The Canon PowerShot SX10 IS can sync as fast as 1/250 sec with an external flash.
There are just three more things: the shutter button (With a zoom lever wrapped around it), power button and mode dial. The zoom controller allows the lens to move at two speeds, depending on usage pressure. A slight pull will trigger low speed zooming, pull it all the way for high-speed zoom. The shutter and power buttons are pretty self-explanatory, so I only have to go through the mode dial here:
Custom
Manual mode – you get full control over both shutter speed and aperture
Aperture priority – pick an aperture value (between f2.8 to f8.0) and the camera will select a matching shutter speed
Shutter priority – pick a shutter speed (between 1/3200 to 15 seconds) and the camera will select a matching aperture value
Program mode – the camera will select both shutter speed and aperture; there's Program Shift available so you can tweak the shutter/aperture combinations
Automatic shooting
Portrait mode
Landscape mode
Night scene
Sports mode
Other scene modes – access to other scene modes which are not on the mode dial
Stitch assist mode – the camera brings up an interface to help you compose a panorama photo; photos need to be stitched together later on the computer
Movie mode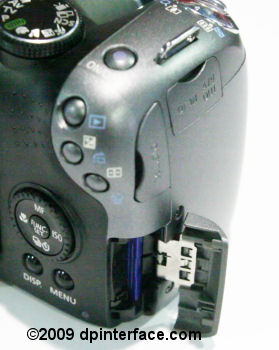 On the left side of the PowerShot SX10, there's the speaker and nothing else (there are no more buttons on the camera's lens barrel)…
…and on the right, this side, there's an AC adapter port and a single mini-B port for both USB 2.0 High-speed and A/V Out connectivity. The camera's memory card compartment is located on this side as well. The door over the compartment is of average quality and you can swap memory cards while the camera is on a tripod.
At the bottom of the Canon PowerShot SX10 IS are the camera's metal tripod mount (which is not in-line with the lens) and battery compartment. The compartment door is quite sturdy.
Taking pictures (Shooting mode)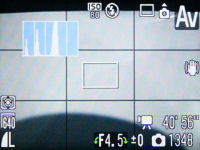 The Canon PowerShot SX10 IS tells you everything about both still shooting and movie mode on its screen; plus framing gridlines, focus point, zoom position, a live histogram and exposure settings; with the only thing missing here being a battery indicator. The screen feels a little cluttered here but just about all the info that you'll ever need is here. Another great thing is that you can separately customize the type/amount of info you want to see on the LCD and the EVF respectively.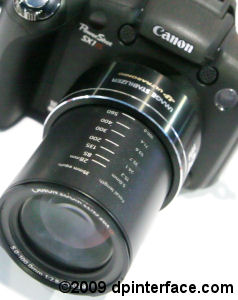 Lens barrel of the PowerShot SX1 (The SX1 and SX10 share the same 20X lens)
If you want something more precise than the on-screen zoom indicator, the PowerShot SX10 also has focal length markings (in 35mm terms) on its lens barrel. The markings available are 28 mm, 85 mm, 135 mm, 200 mm, 300 mm, 400 mm and 560 mm.
The 10 megapixel SX10 IS allows you to choose from multiple image sizes and compression modes to suit your needs. You can choose to use full 10 MP, 6 MP, 4 MP, 2 MP, VGA and widescreen (full res or 2 MP) and between Super Fine, Fine and Standard for compression. A 4 GB card will hold around 1,500 Fine photos at the 10 megapixel resolution.
The Canon PowerShot SX10 IS has no RAW image mode. For that, you'll have to pony up for the higher end PowerShot SX1.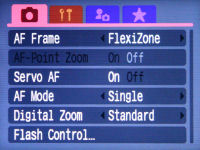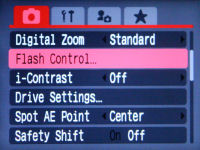 Most of the camera's main settings can be adjusted via the Function menu I described in the previous section, but now let's head on to the other settings in the camera's main menu:
Autofocus mode (FlexiZone, Face detection, center AF)
Autofocus point zoom – magnifies focus point(s) once focus is locked
Servo autofocus – subject tracking follows a moving subject in the frame
AF mode (Single/Continuous) – continuous AF means the camera focuses all the time, so you can take a shot quicker, but reduces battery life by a bit
Digital zoom – you should keep this turned off, it lowers picture quality
Flash control – adjust flash mode, flash exposure compensation, output power, sync curtain, slow sync, redeye reduction/software removal, safety FE from here
iContrast
Drive settings – customize self-timer delay and number of shots from here
Spot AE point (Center/AF point) – where the spot metering point is; in the latter, the spot metering box follows the AF point around
Safety shift – whether the camera will automatically shift settings for optimum exposure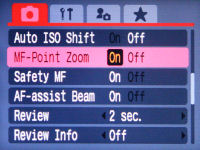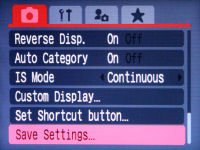 Auto ISO shift
Manual focus point zoom – magnifies manual focus point for easier focusing
Safety MF – allows quick shifting to optimum focus when you press the AF-point problem
Autofocus assist beam
Review – This option decides whether the camera will show the image on the LCD screen right after the picture is taken
Review info (Off, normal, detailed) – amount of info shown on-screen after taking a picture
Reverse display – toggle if the screen image is rotated along, based on rotation angle of the screen
Auto category – the camera will sort photos into categories automatically based on scene mode
IS Mode (Off, Continuous, Shoot-only, Panning)
Custom display - Customize shooting info, grid lines, 3:2 guide and live histogram display for the LCD and EVF respectively
Set shortcut button – assign a shooting function to the camera's print button (off, metering, white balance, custom white balance, software redeye removal, digital teleconverter, iContrast, AE or AF lock, display off)
Save settings – save custom settings to the Custom mode dial spot
The Canon PowerShot SX10 IS is able to brighten dark areas of your photos (at the cost of more noise and some extra processing time) via its iContrast feature. You can also apply iContrast after taking pictures via the playback tool.
Being a camera with full manual controls doesn't mean the PowerShot SX10 skimps on auto and scene modes. There are plenty of scene modes here; including foliage, snow, beach, sunset, fireworks, aquarium, ISO 3200, indoor, night snapshot, color accent, color swap and long shutter.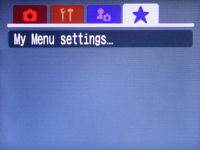 There's also a custom "My Menu" where you can add several items of your choice for easy accessibility.
Super Macro mode sample shot (from Canon SX1 review)
The Canon PowerShot SX10 IS features 2 macro modes. The first "normal" macro option lets you go as near as 10 to 50 cm to a subject at wide-angle. The other mode is known as Super Macro mode; which has been around since the days of the PowerShot S2 IS in 2005. Super Macro locks the lens at wide-angle but allowing you to go as close as 0 cm (no typo) to a subject. You'll need some pretty good lighting if you want to press the lens right against your subject (the shot above was taken with the SX1's lens almost touching the "EOS 50D" badge).
Video Recording
The Canon PowerShot SX10 IS has a pedestrian VGA movie mode. You can record VGA (640 x 480) movies at 30 FPS with stereo sound. The more expensive SX1, on the other hand, can record full HD 1080p videos - a sizeable difference. Movies are recorded in the efficient H.264 codec, up to 4 GB or 60 minutes per clip (whichever comes first). A 4 GB card will hold about 45 minutes worth of video at the highest settings.
If you want to extend recording times, you can use the VGA Long Play option (640 x 480) which uses more compression or lower resolution to QVGA (320 x 240) at 30 FPS. You can utilize both optical + digital zoom and optical image stabilization while recording video. The Ultrasonic Motor lens drive becomes useful here and the zoom lens operates silently. You can also play around with the microphone sensitivity level and toggle the camera's wind filter.
Overall video quality was good and audio quality, excellent. The PowerShot SX10 has a movie mode with a lot of potential – you can operate optical zoom and image stabilization while recording movies. The only thing I wished the camera had was AT LEAST a 720p recording option; VGA resolution was so 2006.
Performance
All performance testing of the Canon PowerShot SX10 IS was performed using a high-speed 4 GB SanDisk Extreme III SDHC card.
The Canon PowerShot SX10 has a quick start up time of 1.2 seconds. Focusing speed with good light around takes between 0.2 to 0.4 seconds. In dimmer conditions, things can move up to 0.6 to 1 second, more with the lens at the telephoto end of the zoom range. The good thing here is that the camera did manage to successfully focus most of the time. Want better low-light focusing, more flash power and/or faster flash cycle times? Consider picking up an external flash to use with the camera.
Shot-to-shot speed - 1 shot every 1.4 seconds, above average
Flash recharge time using a fully charged battery - 4 seconds on average (built-in flash)
The SX10 IS has three continuous shooting modes; all of which allow you to shoot continuously at full 10 megapixels until the memory card fills up. First off, we have Normal continuous shooting mode which is the fastest of the three – you can shoot at 1.4 frames per second in this mode. Continuous AF refocuses between shots and shoots at 0.8 frames per second while Continuous Live View (LV) shoots at the same speed while keeping the LCD image preview on between shots.
Zooming speed here is no different from the SX1; both cameras share the same lens. In high-speed zoom mode (pull the zoom controller hard), the lens flies through the 20X range, from wide-angle to telephoto in just 1.5 seconds! Shut down takes roughly 2 seconds with the lens at telephoto.
Like the SX1, the PowerShot SX10 showed excellent performance here. Everything from focusing to taking pictures and even operating the zoom lens was snappy. Continuous shooting speeds were very good, beaten only by the SX10's very own brother, the SX1 which blows it (and the competition) away.
Image Quality
Let's find out about the SX10 IS's performance in the image quality department:

ISO 80 (f2.8, 1/2 sec)

ISO 100 (f2.8, 1/4 sec)

ISO 200 (f2.8, 1/8 sec)
ISO 400 (f2.8, 1/15 sec)

ISO 800 (f2.8, 1/30 sec)

ISO 1600 (f2.8, 1/60 sec)
Unlike its big brother which uses a CMOS sensor, the PowerShot SX10 uses a more traditional CCD sensor. The camera produces clean photos at ISO 80 and ISO 100 doesn't look bad either. At ISO 200, we start to see some noise speckles, though image quality is still usable. Noise levels go up again at ISO 400; this is the stopping point if you want to use pictures for mid to large sized prints/display.
ISO 800 shots start to get rather muddy and perhaps you should save this setting for emergencies only (ie, trying to get away with a fast shutter speed in low light). There's just too much detail loss and noise in the ISO 1600 setting for it to be usable.
There was mild lens distortion with the PowerShot SX10 as well as some chromatic aberration (color fringing). Vignetting was not a problem but I did notice edge softness in the SX10's photos – pretty odd because edge softness wasn't as prominent on the SX1 (which uses the same lens). Redeye was not an issue.
The Canon PowerShot SX10 IS takes images with good picture quality. The camera produces nicely usable images up till ISO 400, with still room to go up till ISO 800 as a last stand. The only things I'd be worried about would be some edge softness and cleaning up color fringing. Look out for a simple noise comparison of PowerShot SX1 vs PowerShot SX10 in the test below.
ISO comparison
Let's compare the PowerShot SX1 (which uses a CMOS sensor) versus the SX10 now (which uses a more traditional CCD sensor):

ISO 80 from Canon PowerShot SX1 IS (CMOS)

ISO 80 from Canon PowerShot SX10 IS (CCD)
At lower ISO settings, both cameras produce clean image quality and there's not really a noticeable difference between the PowerShot SX1 and SX10… and that's why I'm gonna skip ISO 100 and 200 here, and jump straight to ISO 400 where we can start spotting the differences. If you wanna pixel peep and compare those settings, then you can pull out that Canon PowerShot SX1 review to make side-by-side comparisons.
ISO 400 from Canon PowerShot SX1 IS (CMOS)
ISO 400 from Canon PowerShot SX10 IS (CCD)
At this point, we start seeing a slight advantage, swaying towards the PowerShot SX1 which uses a CMOS sensor; known in most digital SLR cameras to have low noise characteristics. The difference here is visible but not huge though.
ISO 800 from Canon PowerShot SX1 IS (CMOS)

ISO 800 from Canon PowerShot SX10 IS (CCD)
At ISO 800, the PowerShot SX1 still doesn't blow away its own sibling in terms of image quality but things here are still quite a bit better for 'emergencies' versus the SX10.
ISO 1600 from Canon PowerShot SX1 IS (CMOS)

ISO 1600 from Canon PowerShot SX10 IS (CCD)
Pictures quality is unusable at ISO 1600, no matter which camera – noise levels are just too high and there's too much loss in detail.
It can be observed that the PowerShot SX10 uses a tad stronger level of noise reduction in an effort to keep things clean. The effect? Pictures seem less vivid than the ones output by the SX1 (Which presumably uses less NR). A quick workaround this is to turn up saturation by a notch or two in the Custom My Colors area on the camera.
The comparison here proves that it is not only the TYPE of sensor which can affect image quality, but a whole lot of other factors as well. Chief among those factors is probably sensor size and number of pixels (density), which in this case, both the PowerShot SX1 and SX10 are still small sensor cameras which pack 10 megapixels.
Overall the SX1 produces better image quality, but not by a huge margin (in the sense, that the SX1 doesn't flatten the competition with superior image quality, contrary to popular belief that 'CMOS is MUCH better than CCD').
Photo gallery
Check out full-sized, unedited photos taken straight out of the camera in the Canon PowerShot SX10 IS photo gallery.
Playback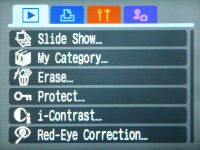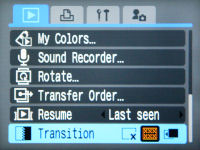 The Canon PowerShot SX10 IS has a very good playback mode. You can view your photos (complete with transition effects as you browse through them) and play back videos with sound. All the basic playback functions such as print marking, slideshows, voice recording, image protection, resizing, trimming and rotation are here. You can magnify still photos by 10X and pan around using the navigation pad.
You can view the pictures you've taken as individual photos, in sets of nine thumbnails, by category or date. You can also manually sort photos into categories, if the camera hasn't already done it for you. Rotating the rear command dial allows you to scroll through 3 pictures at one go. Pictures can be deleted one-by-one, by range, date, category, folder or all images.
Image Inspection mode is activated when you press the DISPlay button; which magnifies the focus point(s) in your photos so you can check if the picture is in focus. There are also three main, useful editing features here: the ability to apply iContrast to brighten photos, My Colors effects as well as remove redeye in people photos via the software-based redeye removal tool. There are no video editing features on the PowerShot SX10 (neither does the SX1 have any)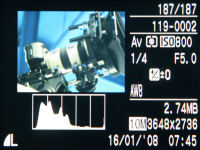 The Canon PowerShot SX10 IS shows shooting details, mode, exposure information (with shutter speed and aperture value) and a brightness histogram in playback. There's also an overexposure alert feature which "blinks" overexposed areas of your photos to warn you about them.
Conclusion
The Canon PowerShot SX10 is Canon's 'other' ultra-zoom camera with a more traditional 10 megapixel CCD sensor (versus CMOS). In many other aspects, the PowerShot SX1 and SX10 have a lot in common: a huge 20X zoom lens with optical image stabilization, similar body design (though the SX1 is slightly larger) and 98% of shooting functions.
Compared to the SX1 with its 2.8 inch widescreen, the PowerShot SX10 features a slightly smaller, more conventional 4:3 ratio 2.5 inch LCD. The ability to rotate the screen to shoot at odd angles still remains though, as well as the decent sized electronic viewfinder. Another difference is that the PowerShot SX10 does not include a remote control in the box; neither does it support the ability to be controlled via a remote.
In terms of functionality and accessory range, the PowerShot SX10 has full manual controls, support for external flash units (but not conversion lenses or filters) and just about the same menu items as the SX1. The only thing its big brother has, that the SX10 doesn't is RAW image mode. That means you can only take JPEG images on the camera, with no RAW available (though the internet has unofficial hacks which enable otherwise).
The PowerShot SX10 is suitable for photo enthusiasts, with its full manual controls, custom menu area, mode dial spot and customizable print button; as well as beginners with its array of scene modes. Sure the SX10 (and SX1) may look daunting at first but they are in fact fairly easy to operate once you get the hang of the controls (or you could just start out with Auto or one of the scene modes).
The Canon PowerShot SX10 has an excellent macro mode, best-in-class battery life and very good performance (though there's no digital SLR-rivaling high speed burst here). Image quality was good in general - you can use pictures up till ISO 400 for normal shooting, and save the ISO 800 for emergencies only. Redeye was not an issue but watch out for some color fringing and barrel distortion at times.
Don't underestimate the PowerShot SX10 – it's a great and very capable camera. If you like the SX1 a lot but don't need its full HD 1080p movie mode and 4 FPS burst mode, then you can get the very similar Canon PowerShot SX10 for a lot less money.
What's hot:
Very good image quality in general; effective redeye removal tool
20X optical zoom lens covers wide-angle till telephoto; has optical image stabilization
Nice bundle in general: includes lens hood and wireless remote
Excellent battery life
Rotating 2.5 inch LCD comes in handy in many situations
Full manual controls and flash hotshoe
Custom menu, button and mode position for your own settings
Insanely close 0 cm super macro mode
Speedy camera performance
VGA movie mode with stereo sound, zoom, stabilization and wind filter
What's not:
Some chromatic aberration (color fringing), barrel distortion and edge softness
No RAW image mode or HD movie mode
Command dial doesn't have any tactile "clicks"; no dedicated zoom/focus rings
Not bundled with rechargeable batteries; no battery indicator
No support for conversion lenses or lens filters
Recommended Accessories:
4 GB or larger high-speed SDHC memory card
Set of 4 or 8 rechargeable AA NiMH batteries and charger