I've just published my review of the Olympus FE320 digital camera. This 8 megapixel entry-level model features a 2.7 inch LCD, 3X zoom lens and slim design. Oh, and be sure to check out the Olympus FE320 photo gallery too. Hit the link for more.
DPInterface Olympus FE320 Review
Brad Soo – November 5th, 2008 (updated November 29th, 2008)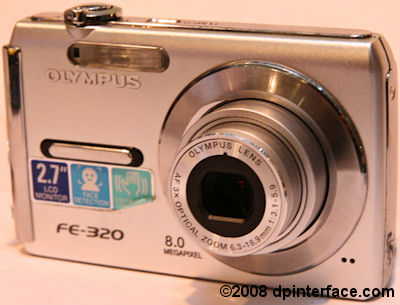 One of those other budget cameras made by Olympus is the FE320 which throws together the feature pack of the FE340 into the body akin to the FE360. That makes the Olympus FE320 a very interesting camera with a very affordable price tag. Let's find out and see whether the FE320 lives up to the hype, shall we?
Size and Weight
(200.6) 104.8 x 55.1 x 40.7 mm (165 g) - Canon PowerShot A460
(196.4) 101.2 x 63.8 x 31.4 mm (160 g) - Canon PowerShot E1
(163.8) 94.2 x 54.6 x 15.0 mm (113 g) – Casio Exilim S10
(168.0) 91.0 x 55.0 x 22.0 mm (110 g) - Fujifilm FinePix J10
(167.7) 92.0 x 56.5 x 19.2 mm (116 g) - Kodak EasyShare M883
(163.0) 90.0 x 55.0 x 18.0 mm (145 g) – Nikon Coolpix S210
(165.1) 91.3 x 56.8 x 17.0 mm (95 g) - Olympus Stylus FE320
(192.8) 97.5 x 62.0 x 33.3 mm (141 g) - Panasonic Lumix LZ10
(182.0) 98.0 x 59.0 x 25.0 mm (130 g) – Pentax Optio E60
(170.1) 91.4 x 58.4 x 20.3 mm (110 g) – Samsung SL201
(181.5) 91.4 x 61.0 x 29.1 mm (140 g) - Sony Cyber-shot S730
All the weight figures above show when the camera is empty without a battery or memory card
Based on the comparison with similar cameras, that makes the Olympus FE320 one of the smaller cameras of the bunch and at a petite 95g, it's the lightest.
Box packaging
In the box, you'll also find a few other things with the Olympus FE320:
LI-42B rechargeable lithium-ion battery
Battery charger
Wrist strap
USB and A/V cables
Camera software CD (Olympus Master)
User's manual
The Olympus FE320 has an xD-Picture card slot, but only comes with 48 MB of internal memory – that's not a lot. I would recommend getting at least a 2 GB memory card to begin with. High-speed cards aren't a deciding factor of performance so they're not really required.
The Olympus FE320 uses a single lithium-ion battery, the same one that you'll find in other Olympus compact cameras, and what do you know, the Olympus FE320 fares the same in terms of battery life as its 5X zoom sibling the FE340. approximately 240 shots per charger. While that's average for a camera which uses lithium-ion batteries, the FE340 does come in below average in the pack of AA-battery entry-level cameras below:
400 shots - Canon PowerShot A460
450 shots - Canon PowerShot E1
280 shots – Casio Exilim S10*
150 shots - Fujifilm FinePix J10*
200 shots - Kodak EasyShare M883*
220 shots – Nikon Coolpix S210*
240 shots – Olympus FE320*
200 shots – Olympus FE370*
460 shots - Panasonic Lumix LZ10
620 shots – Pentax Optio E60**
Not rated – Samsung SL201
440 shots - Sony Cyber-shot S730
* indicates the camera uses a proprietary lithium-ion battery
** the Pentax Optio E60′s battery figure is based on lithium AA batteries
All the cameras above are rated with rechargeable batteries according to CIPA Standard
Extras
There aren't many accessories available for the FE320; various camera cases, 'premium' colored wrist straps and an underwater case for the camera.
Camera Tour
The Olympus FE320 is a small digital camera and is made mostly of plastic, including the tripod mount. There's nothing particular that stands out about the FE320, it just looks like a plain camera – but nothing wrong about that right? Pick up the FE320 and although it doesn't creak, you'll feel this is one light camera, so you might wanna use both hands to steady your hold while shooting.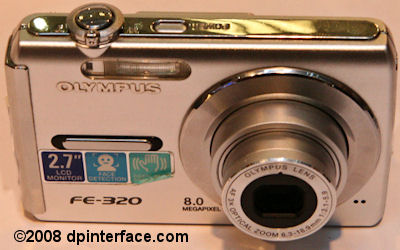 The 8 megapixel Olympus FE320 has a 3X optical zoom lens equivalent to 36 – 108 mm. It seems to be the same lens shared by the FE320′s newer sibling, the Olympus FE360, and it has an aperture range of f3.1 – f5.9. To the bottom right of the camera, there's a microphone for sound recording during movies.
The FE320′s built-in flash and self-timer lamp both share a common 'window' and is located to the upper left of the camera. This flash has a fairly average working range of 10 cm to 4.3 m at wide-angle, 60 cm to 2.3 m at telephoto, both rated at ISO 800. There's no AF-assist light on the FE320.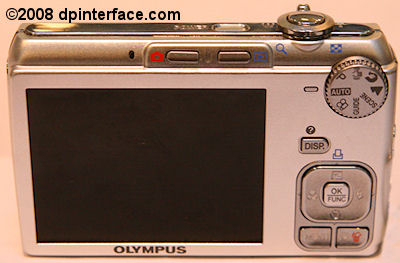 The Olympus FE320 has a big bright 2.7 inch LCD unit on the back. With a plentiful 230,000 pixels, it's sharp and I had no problem viewing it indoors and outdoors. Still, I think the screen could be improved a tad brighter in indoors.
Above the LCD are two buttons for entering the shooting and playback modes on the camera respectively. The indicator light nearby between the two buttons glows solid red in shooting mode, yellow in playback mode and flashes when a file is being processed.
The upper corner of the camera, where your right thumb goes, is the FE320′s mode dial. We'll look at the modes on the dial going clockwise:
Automatic
Program
Digital image stabilization
Portrait
Landscape
Scene modes
Guide
Movie mode
Digital image stabilization mode boosts ISO automatically to help you take a sharp photo. However, it isn't as effective as 'real' (mechanical) image stabilization and the higher ISOs the camera chooses leads to more noise in photos, so I suggest selecting ISO yourself whenever possible.
Next up comes the DISPlay button which toggles the info shown on the FE320′s LCD display. It also serves to bring up the help system (which is just like a built-in simplified user's manual). Being equally useful as the help button is the guide spot on the mode dial, which contains ways to achieve certain photo effects.
Then you'll also see the five-way controller which also allows direct changes to these settings:
Up – Exposure compensation (+/- 2 EV in 1/3 steps)/Print marking in playback
Down – Self-timer for 12 seconds (Off/On)
Left – Macro mode (Off, macro, super macro)
Right – Flash setting (Off, on, auto, on with red-eye reduction)
The center FUNCtion button lets you quickly access several settings (most of them only available in Program mode):
White balance (Auto, daylight, overcast, tungsten and three fluorescent modes)
ISO sensitivity (Auto, 64, 100, 200, 400, 800, 1600, 3200)
Image size and quality
The final two buttons are the MENU button (self-explanatory) and the backlight boost button which increases the LCD display brightness in shooting mode, so you can see what you're shooting outdoors. You also use this button to delete photos in playback mode.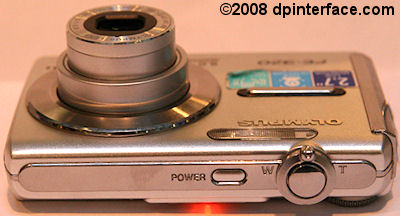 You'll find the power button and shutter button on the top of the camera, with the zoom controller wrapped around the latter.
Both sides of the Olympus FE320 are blank, no buttons anywhere else. The wrist strap mount is located on the right side of the camera.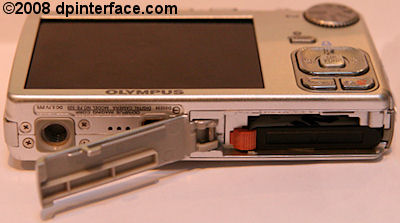 There are surprisingly quite a number of things to see at the bottom of the camera. First off is the plastic tripod, then comes the speaker (see the three little holes) and partially covered by the open door, a single connection port for USB and A/V Out connections. The FE320 only supports USB 2.0 Full Speed, which means transfers won't be nearly as fast as USB High Speed (which all 2008 cameras SHOULD have anyway – worse, the FE320 is a 2008 camera). The plastic tripod mount is far enough from the compartment so you can change memory cards and batteries when the FE320 is attached onto a tripod.
Taking pictures (Shooting mode)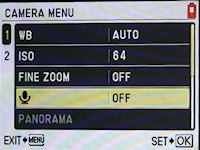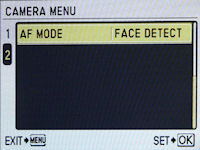 By default, the Olympus FE320 doesn't show much information on its display, and it doesn't get any better than that. The most you can view is the camera mode and main camera settings, you won't find any live histogram or exposure information (shutter speed and aperture indications) anywhere on the shooting mode display.
The FE320 has the same traditional Olympus menu system; pressing the MENU button opens up a main menu which is divided into a few sections:
Camera menu – Change settings on the camera, there's only six things over here: white balance, ISO, fine zoom, sound recording, panorama and autofocus.
Setup menu – For your first time with the camera when you set the date/time, language, screen brightness, etc.
Panorama – T ake up to ten photos so they can be combined into a single large 'stitched' photo. An Olympus-branded xD-Picture card is required for this.
Reset – Reset the camera to its factory settings.
Scene mode – Pick another scene mode (only available using scene modes, of course!)
Silent mode – Turns off all the camera sounds; great when taking photos during a presentation or play.

You can select a range of image resolutions from 8 megapixels (with a widescreen 16:9 option) down to VGA with two compression options. The widescreen image option shoots at 1080p resolution (1920 x 1080) which is essentially two megapixels and enough to fit your television perfectly. The other resolution options include 5MP, 3MP, 2 MP, 1MP and VGA.

There's Perfect Shot Preview available on the Olympus FE320 which divides the screen into four separate 'previews', each showing the photo effects of various settings such as exposure compensation. So it lets you select your desired settings before taking a photo, therefore saving a lot of time and hassle to take multiple photos with different settings and picking the best one.

The Olympus FE320 comes with two macro modes; the first 'normal macro' mode has a minimum focus distance of 10 cm at wide-angle and 60 cm at telephoto. That isn't really close, so for some real closeup work, you should use Super Macro, which lowers that minimum distance to 5 cm.

There're many scene modes available on the FE320: Portrait, landscape, night portrait, night scene, sports, indoor, candle light, self-portrait, sunset, fireworks, cuisine, behind glass, documents and auction. Face Detection is present and so is Smile Shot which works to fire off three shots automatically when a smile is detected. Oh, speaking of Face Detection autofocus, you can also select the autofocus mode on the FE320 such as iESP and spot focus (Center).

The Olympus FE320 has a shutter speed range of 1/2000 to 1/2 second. The slowest shutter speed available in 4 seconds, available in the Night Scene mode. There's no manual control over shutter speed or aperture whatsoever, which is acceptable since this is an entry level camera. However, the FE320 does also lack a few things which really should be here, like a burst mode.

Video Recording

The Olympus FE320 features a VGA (640 x 480) movie mode which is considered 'just typical' nowadays. Still, it should be of use to typical users since it records at 30 FPS with sound. To record longer movies, you can either reduce the resolution to QVGA (320 x 240), cut the frame rate by half (15 FPS) or do both. You can't use autofocus or zoom while recording. Video and audio quality were both average.







Performance

The Olympus FE320 takes about 2.2 seconds to boot up, extend its lens and all. Focusing isn't too quick either – it takes about a third of a second in bright conditions to a full second or more in dimmer places (like indoors). In darker areas like night clubs or night scenes, the FE320 had problems focusing.

Shot-to-shot speed - 1 shot every 3.3 seconds, below average
Flash recharge time using a fully charged battery – Usually around 8 seconds

Unfortunately, the FE320 does not feature any sort of burst mode which is a bummer considering its slow shot-to-shot times (you can't take another picture either until the camera is done processing).

The lens takes about 1.6 seconds to move from wide-angle to telephoto and with the lens at th same position (telephoto), 1.2 seconds for the camera to shut down. I was disappointed with the FE320 in terms of speed as it lacks enough processing power for decent picture taking, sure you can take static subjects with relatively little fuss but don't expect shooting to be instantaneous.

Image Quality

Enough of sad performance numbers, let's see if the Olympus FE320 can take some good photos:


ISO 64 (f3.1, 1/13 sec)

ISO 100 (f3.1, 1/20 sec)

ISO 200 (f3.1, 1/50 sec)

ISO 400 (f4.6, 1/40 sec)

ISO 800 (f4.6, 1/80 sec)

ISO 1600 (f4.6, 1/160 sec)

ISO 3200 (f4.6, 1/320 sec)

At ISO 64 and ISO 100, the Olympus FE320 performs decently. But starting at ISO 200, things already start to go downhill. ISO 200, though still usable for prints and display, is worse compared to other entry-level cameras. At ISO 400, we start seeing more noise entering the scene. Be prepared to use this setting for smaller prints or display.

We see noise reduction doing its thing at ISO 800 – mashing away finer details in photos and introducing artifacts, definitely not a good thing. I can't see this setting being usable unless you're absolutely desperate for a shot (ie in low light). You can forget about using the last two settings: ISO 1600 and ISO 3200. The ISO 1600 setting is plagued with noise and artifacts while ISO 3200 is very soft and really unusable.

Overall the Olympus FE320 wasn't a good performer in terms of image quality. Things were below average with high noise levels (especially versus competition) and noticeable chromatic aberration (color fringing); check out the full size photos for proof. At higher ISO settings, the FE320's noise reduction turns fine details into a messy bunch in photos and the proximity of the flash to the lens makes red-eye a norm in photos. Barrel distortion was present while pincushion distortion at telephoto wasn't as bad. The only piece of good news I have here is that red-eye can be digitally removed using the playback tool, but other than that, things do not bode well for the FE320's ability to take good quality pictures.

Photo gallery

Wanna see some full-sized shots? Take a visit to the Olympus FE320 photo gallery!

Playback

The Olympus FE320 has simple playback mode with some useful editing features. First off, the things that you'll typically expect from a camera's playback mode are here: erase, slideshows, image resize, rotation and cropping, print marking and short voice clip. You can zoom into your photos by up to 10X and scroll around using the five direction controller.

Images can be displayed as single photos or in thumbnail sets of four, nine, sixteen or even twenty-five tiny little thumbnails plus a calendar view is available to show you photos taken on specific dates.

"My Favorites" lets you store your favorite photos in an album that's on-board the FE320. Then the Olympus FE320 also has some editing features (known as Perfect Fix) which lets you correct red-eye, lighting, image stabilization (the digital version of course) and even expressions. The expression edit feature is one which literally turns frowns upside down. Finally, face focus detects faces in photos, crops the photo and blurs the background (only a little), placing emphasis on the face in the scene. Do note that Face Focus works best with portraits than large groups of people.

The Olympus FE320 shows quite a bit of information about your photos, including shutter speed and aperture (now if only it'll show this in shooting mode as well). One thing that's missing is a histogram for more accurate judgment of photo brightness.

Conclusion

The Olympus FE320 is yet ANOTHER compact camera with very typical standard-sounding features; 8 megapixels, 3X zoom, big LCD and it's "compact". In terms of design and presentation, the Olympus FE320 does not disappoint – it looks good and is slim, it has a nice (as in sharp and viewable) LCD with a quick backlight boost button and pretty straightforward controls that won't get the average user confused on their first experience.

Pick up the camera and try it out, and you'll find the features that the typical user wants: lots of scene modes, point-and-shoot features like face detection and Perfect Shot Preview, a handful of useful playback edit functions and even a help system. Unfortunately, it's also when you try out the camera that you'll notice the fairly major flaws of the camera.

First of all, it's slow to use: The FE320′s disappointing performance makes it one of those cameras where most of the time you'll have to tell your subjects to "look here and smile" rather than quickly snapping away several (candid) shots – and there's no burst mode here, and you can't take two pictures in a row either (you must wait until the camera is done processing the previous photo which takes a few seconds).

There aren't any manual controls, so you'll have to rely purely on the scene modes or just stick to program mode. The battery life is also below average, that's the compromise of having such a tiny camera with a big screen, and the camera lacks USB 2.0 High-speed.

My experience with the Olympus FE320 was one that ended with me saying 'ugh' in the end. Sure it's a decent sounding point-and-shoot camera on paper but when it comes to using the camera in real life, the FE320 was completely underwhelming. Performance and battery life were both disappointing and even several other entry-level cameras have at least some manual controls. Most importantly, image quality here was unimpressive … and considering taking pictures is the main point of getting a camera anyway, you'd be better off checking out some other camera instead.

What's hot:

Slim design for a budget camera, comes with rechargeable battery
LCD is sharp and viewable in many conditions, thanks to backlight boost
Many scene modes with playback edit features
Function guide and help system
Decent VGA movie mode
Perfect Shot Preview and smile detection automatically takes pictures

What's not:

No manual controls at all
Absence of burst mode
Below average battery life
Sluggish performance
Plastic tripod mount and no USB 2.0 High-speed
Below average image quality

Recommended Accessories:

2 GB xD-Picture card
Additional battery pack
Memory card reader