How about another stylish camera? Check out my review of the Canon PowerShot ELPH 310 HS, a new pocket camera from Canon that packs a big 8X optical zoom lens. Head on to the Canon ELPH 310 HS/IXUS 230 HS photo gallery to view our usual large gallery of sample photos.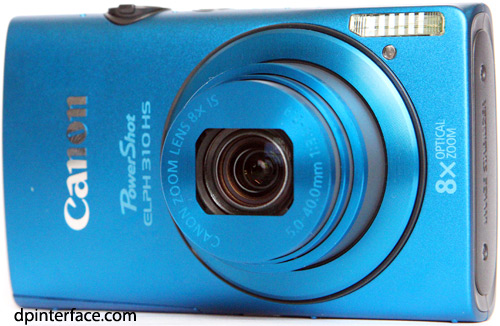 The Canon PowerShot ELPH 310 HS is the 'normal' sibling of the big and chunky ELPH 510 HS/IXUS 1100 HS we reviewed last month. The camera sports the same 12 megapixel backlit CMOS sensor, a smaller 8X optical zoom lens, 3 inch non-touch LCD (and after the unimpressive experience with the ELPH 510's touchscreen, we'd say this regular LCD is a good thing), same Full HD movie mode and more manageable price tag. Is the Canon ELPH 310 the camera you've been waiting for?
Before we continue, the camera follows Canon's long-standing tradition of being known by three names: Canon ELPH 310 HS, Canon IXY 600F or Canon IXUS 230 HS, so don't freak out or become confused, all three are the same camera!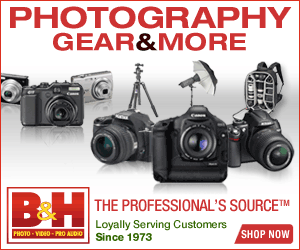 In the camera box
The Canon PowerShot ELPH 310 HS comes with a standard set of accessories in its box:
Canon ELPH 310 HS camera
NB-4L lithium-ion rechargeable battery
Battery charger
USB cable
Wrist strap
Camera software CD
The Canon PowerShot ELPH 310 HS comes with no memory card or built-in memory, which means you need to already have memory cards on hand or buy them. The camera takes SD, SDHC and SDXC cards and if you plan on getting one, make it high-speed card since the camera can perform faster with one. I would recommend something like this 8 GB high-speed SanDisk model to begin with.
The Canon PowerShot ELPH 310 HS uses the familiar NB-4L lithium-ion battery and comes with a standalone battery charger; which I believe is much nicer than those USB charging solutions bundled with most cameras these days (you can't leave a second battery charging at home with AC adapters, but you can with a standalone charger). The camera's battery life rating is slightly underwhelming, capable of taking just 210 shots per charge before you run out of juice
Accessories
There aren't many accessories available for the ELPH 310 HS; there's an AC adapter kit, replacements for the bundled cables as well as an optional mini HDMI to HDMI cable to connect the camera to your television. There isn't any waterproof case available for the camera. However, there's a generic slave flash that Canon sells, which provides more flash power and works by firing at the same time as when the built-in flash does.
Camera Tour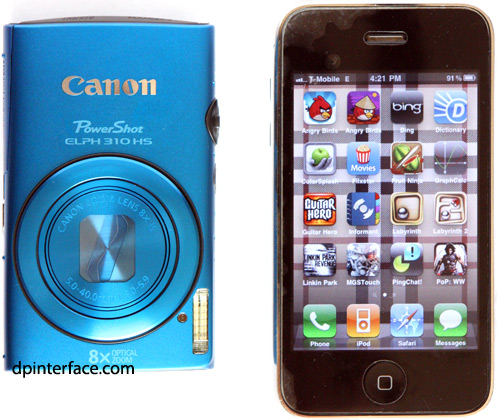 Canon ELPH 310 HS compared to the Apple iPhone
The Canon ELPH 310 is a really small digital camera, being around the same size as preceding models. Some might be surprised how Canon started out with 2X optical zoom eleven years ago to cramming an 8X optical zoom lens into this camera. The ELPH 310 measures 95.8 x 56.8 x 22.1 mm (3.8 x 2.2 x 0.87 inches), which is quite a bit smaller than the ELPH 510 HS/IXUS 1100 HS I reviewed last month.
The ELPH 310 has contours and rounded corners which help in making it seem smaller. The ELPH 310 is also very light, weighing in at just 121 grams (4.3 ounces) empty; so this is one camera you'll definitely be able to carry around in the smallest of pockets all the time. Ergonomics here are good on the ELPH 310 with ample room for your hands to hold the camera. Canon has also decided to move the MENU button and mode switch to the right surface of the camera, which makes them less easily accessible but helps a lot in making room for your thumb on the back of the camera. Build quality is good; the camera feels well put together and doesn't flex in hand.
The Canon ELPH 310 aka IXUS 230 comes in five colors: Silver, purple, pink, yellow and baby blue. The Japanese IXY 600F also comes in an additional limited edition pale pink.
The Canon PowerShot ELPH 310 HS sports an all new 8X optical zoom lens, which is more than the 5X lens found on the preceding ELPH 300 HS/IXUS 220 HS we reviewed. The lens is equivalent to 28 – 224 mm, which is slightly less wide than the 24 mm starting point of the old camera, but reaches further towards maximum zoom; a decent tradeoff for most folks. The aperture range of the lens is f3.0 to f5.9 which is so-so in terms of brightness. There's optical image stabilization within the lens which helps reduce blur caused by camera shake.
There are just two other things on the front face of the ELPH 310, the autofocus assist light (which works also as a self-timer visual countdown and redeye reduction lamp) and the camera's flash. The flash is just average in terms of power, reaching 4 meters (13 feet) at wide-angle and 2 meters (6.5 feet) at telephoto.
The Canon PowerShot ELPH 310 has a big 3 inch display with just 461,000 dots. That makes it nice and sharp, but it's not the highest resolution 3 inch display around… there's no excuse for that 921,000 dot 3 inch screen not to be used here since cameras like the similarly priced Sony Cyber-shot WX9 have it.
On the right side are two lone buttons for movie start/stop and entering playback along with the 5 way navigation pad. The navigation pad offers quick access to four functions and the camera's Function menu:
Up –Exposure compensation
Down – Display (Toggle information shown on the display)
Left – Focus mode (Auto, macro, landscape)
Right – Flash setting (Auto, on, off, slow sync; redeye reduction toggled in the Flash menu)
Center – Function menu/Set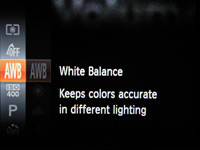 Canon ELPH 310 HS and its Function menu
The Canon ELPH 310 has the same fancy Function menu as we've seen on other Canon PowerShot compact cameras. You can adjust things like shooting mode, white balance (there's a custom white balance option available), My Colors image settings, metering mode, ISO and drive mode in the Function menu.

At the top of the Canon PowerShot ELPH 310 HS are a few more things. There's a pair of microphones (the discrete small holes) to record stereo sound, power on/off button, shutter button with zoom controller wrapped around it and speaker on the far right of the camera.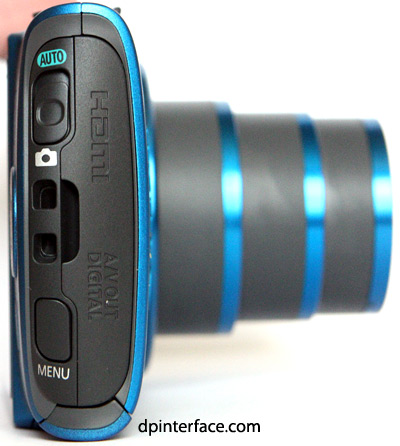 The Canon PowerShot ELPH 310 has its mode switch and Menu button placed on its right side for the sake of freeing up room on the back and top of the camera. The mode switch allows you to switch between Automatic shooting and Program/all scene modes on the camera; the menu button brings up the camera's menu (which thankfully doesn't contain a lot of settings which you'll need to adjust frequently) and is slightly recessed so you can't accidentally press it.
There are two ports behind a rubber door: a combo port for USB and A/V out, and a port for connecting the HDMI cable to hook the camera up with your television or display. You can also see the ELPH 310 and its 8X lens at full zoom in this photo.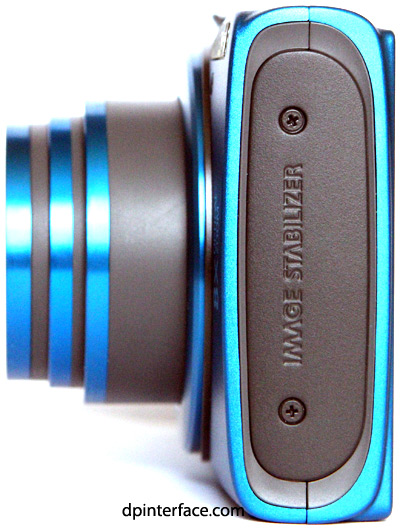 This side of the camera is blank.
At the bottom of the Canon ELPH 310, you'll find the camera's metal tripod mount and compartment for the memory card/battery. The compartment door feels decent in quality.
Shooting settings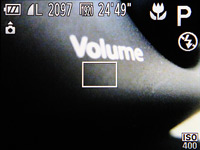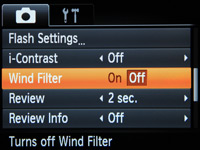 The Canon PowerShot ELPH 310 shows a good amount of information on its live preview display: exposure and shooting details are present. The camera shows a simple battery and zoom indicators, though it's missing any sort of live histogram.
Within the camera's main shooting and setup menu sections, accessed by pressing the button on the right side of the camera, there are settings such as image stabilization mode, flash settings, iContrast and autofocus settings (9 point, center or face detection).
Macro and scene modes
The Canon ELPH 310 HS has a decent macro mode. In 'regular' focus mode, the camera can get as close as 5 cm (2 inches) to your subject at wide-angle and 1 meter (3.3 feet) at telephoto. Toggle on macro mode and the minimum focusing distance is lowered to just 1 cm (0.4 inch).
The Canon PowerShot ELPH 310 HS has a variety of scene modes, which include portrait, color accent and color swap, beach, foliage, snow, fireworks, long shutter and stitch assist (which helps you manually compose photos for stitching into a panorama later in your computer). The camera has a bunch of photo effects which are known as Creative Filters on some Canon cameras, but they all do the same thing. You can read more about miniature effect, super vivid, poster effect, monochrome, fisheye and toy camera mode and image illustrations on what they do in this article.
The ELPH 310 also has the same multi-shot shooting modes we've seen on Canon's other PowerShot models. Handheld night scene mode takes multiple shots and automatically combines them into one photo with lower noise and less blur, Best Image Selection takes several photos in a row and picks the sharpest one and high-speed burst lowers image resolution to give you a big bump in continuous shooting speed.
Video Recording
The Canon ELPH 310 aka IXUS 230 has a movie mode that tops out at Full HD. The camera records video with stereo sound and allows you to use optical zoom, optical image stabilization and continuous autofocus while recording. There's a limit of 29 minutes or 4 GB per movie clip, whichever comes first.
Setting
Video resolution
Frame rate
Full HD 1080p
1920 x 1080
24 FPS
Standard HD 720p
1280 x 720
30 FPS
The Canon PowerShot ELPH 310 HS also has the same two slow-motion movie modes we saw on previous cameras; it records movies at high speed then plays them back at 30 FPS to give things a slow-motion effect. There are some limits though; including fixed focus and zoom, 30 seconds per clip (though playback will be stretched out over a longer time) and no sound will be recorded:
Setting
Video resolution
Frame rate
Slow motion VGA
640 x 480
120 FPS
Slow motion QVGA
320 x 240
240 FPS
And here we go, two sample videos captured in Full HD:
Performance
Performance testing of the Canon ELPH 310/IXUS 230 was done using a high-speed 45 MB/s Sandisk Extreme Pro SDHC card. The camera is responsive and speedy, though it would be nice if there was a full-resolution high-speed option like on the competition.
Startup
1.3 seconds
Very fast
Good light
0.2 to 0.6 seconds
Fast
Low light
0.5 to 1.1 seconds
Average
Shot-to-shot
1.9 seconds
Fairly fast
The Canon ELPH 310 has two main continuous shooting modes which allow you to shoot until the memory card fills up, provided you have a high-speed card:
Full resolution (via Function menu in P mode): 2.2 frames per second (at full 14 megapixels)
High-speed Burst (via Scene mode section): 6.5 per second (image size lowered to 3 megapixels)
Image Quality

ISO 100 (f3.3, 1/50 sec)

ISO 200 (f3.3, 1/100 sec)

ISO 400 (f3.3, 1/200 sec)

ISO 800 (f3.3, 1/400 sec)
ISO 1600 (f3.3, 1/800 sec)

ISO 3200 (f6.6, 1/400 sec)
The Canon PowerShot ELPH 310 HS produces good image quality at the lower end of the ISO range up till ISO 400. Photos are clean, have good sharpness and saturation and at 14 megapixels, you can be making some really huge prints with them. At ISO 800, things become 'just' visibly noisy and still good enough for medium sized prints and display.
Images lose saturation at ISO 1600 and have more visible amounts of noise present. There's also some detail loss thanks to the camera's attempt at noise reduction, which is why you'd want to shrink images down to use at smaller sizes if you happen to use this setting. The ELPH 310 tops out at ISO 3200, which is even grainer and muddier than the previous setting.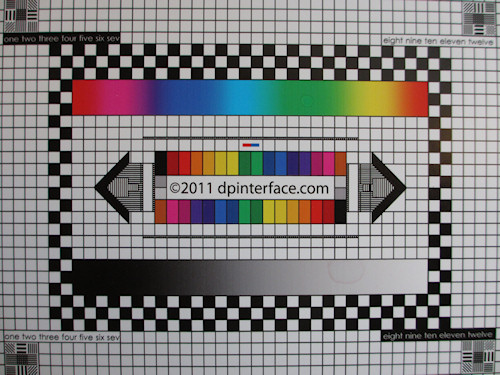 The Canon ELPH 310 isn't too hot in the lens quality area. Its 8X optical zoom lens exhibits a slight yet noticeable amount of lens distortion as well as very visible edge softness. There is a slight amount of color fringing (chromatic aberration) that is always present in photos, but most obvious in high contrast scenes. The Canon ELPH 310 outputs image quality that's fairly good, let down only by weaknesses of its 8X zoom lens.
Photo gallery
Enter the Canon ELPH 310/IXUS 230 photo gallery to view photos taken using the camera.
Playback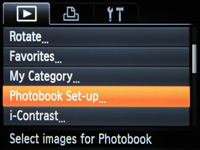 The Canon ELPH 310 has a good playback mode which comes with the usual image protection, rotation, cropping, playback zoom to 10X, fancy slideshow and print marking. The camera has the same Smart Shuffle (suggests 4 photos at a time for randomized playback) and Movie Digest (combines tiny clips taken in a day into a single movie) features we've seen on other PowerShot, ELPH and IXUS models.
The ELPH 310 also has several image editing tools, including redeye removal, iContrast (brightness and contrast improvement), basic video trimming and ability to apply My Colors effects onto still photos.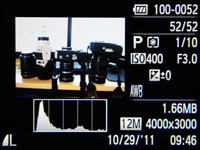 The Canon PowerShot ELPH 310 tells you everything about your photos, including a brightness histogram, shooting and exposure information.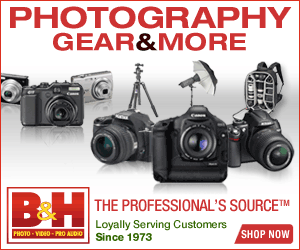 Conclusion
The Canon ELPH 310 also known as the IXUS 230 is a pocket-sized digital camera with an all new 8X zoom lens. The camera is not very different from the ELPH 300 I reviewed not a few months ago; swapping out that 5X zoom lens with this new 8X lens which starts at a slightly less-wide 28 mm (Versus 24 mm of the old lens) and upping the screen size to 3 inches with more resolution.
The ELPH 310 has a point-and-shoot feature set that's identical to the ones we've seen on other ELPH models this year and there are no manual controls (save for white balance). The camera also still lacks the in-camera HDR and automatic panorama modes that competing brands have been sporting… perhaps it's time to get those software engineers working on some firmware, Canon?
The ELPH 310 does well in terms of performance with responsive operation and fast timings, plus has an excellent Full HD movie mode with many actions you can toggle during recording (ie optical zoom); no complains here for sure! It also managed to produce photos with fairly good (for a compact) noise characteristics and sharpness, only to be let down by visible edge softness and color fringing.
The Canon PowerShot ELPH 310 HS sounds like a decent all-rounder camera and comes with a useful zoom range. I would recommend it if you want something pocketable, versatile and fairly affordable.
What's hot:
Good (but not great) image quality
Lots of zoom: 8X with optical image stabilization
3 inch display with good legibility
Nice point-and-shoot feature set with auto scene selector and many scene modes
Snappy performance with unlimited continuous shooting abilities
Good playback mode
Records Full HD video; you can use optical zoom, continuous focusing, wind filter and image stabilization
What's not:
No manual controls, no in-camera HDR or auto panorama modes
Visible edge softness; some color fringing
High shooting frame rate cannot be used at full resolution
Lens no longer starts at ultra-wide 24mm (compared to preceding ELPH 300)