It's a lovely Friday, people are busy shopping for the holiday season, so here's a review of a nice little Nikon: the Coolpix S8200.The Coolpix S8200 is a compact camera with a whopping 14X optical zoom lens, new 16 megapixel backlit CMOS sensor and Full HD movie mode. Visit the Nikon Coolpix S8200 photo gallery to see our usual large gallery of sample photos.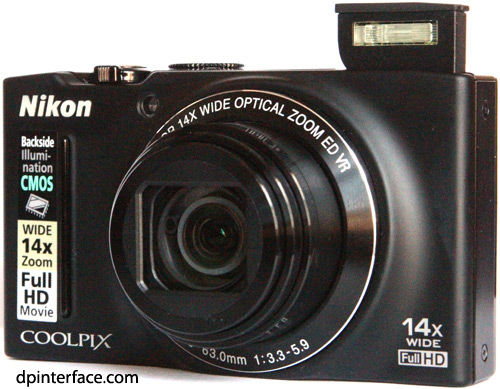 The Nikon Coolpix S8200 is Nikon's latest compact camera, packing a new 16 megapixel backlit CMOS (which we have seen on some Sony cameras already), plenty of optical zoom, yup that's 14X for you, and a big high-resolution 3 inch screen. The camera is small and light, not to mention relatively affordable, compared to its bigger sibling with an 18X lens which we reviewed a month ago. Is the Coolpix S8200 camera worth a look? That's what we aim to find out now.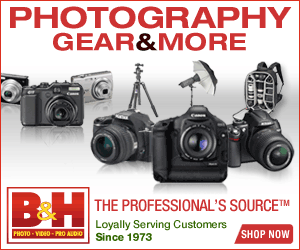 In the camera box
The Nikon Coolpix S8200 comes with an average bundle, no surprises here:
Nikon Coolpix S8200 camera
EN-EL12 lithium-ion rechargeable battery
AC adapter charger with USB cable
A/V cable
Wrist strap
Camera software CD
The Nikon Coolpix S8200 comes with a decent amount of internal memory: 89 MB worth. That's enough for backup and storing your favorite photos, but not practical for actually taking pictures. The Coolpix S8200 supports SD, SDHC and SDXC memory cards, and like that Nikon S9100 we reviewed, the Coolpix S8200 here does perform faster with a high-speed card, so getting one is highly recommended (with around a Class 4 or 10 MB/s rating, though something like 30 MB/s might be overkill). If you don't have any memory cards lying around or just want to get a new one, an 8 GB high-speed SDHC is a great place to start.
The Nikon Coolpix S8200 uses the EN-EL12 lithium-ion rechargeable battery and comes with an AC adapter style charger. That means you'll have to charge the battery by connecting the camera via USB to your wall charger or computer. The downside versus using a standalone battery charger is that you can leave spare batteries at home charging with the latter; while you're stuck with leaving the camera plugged in if you charge via USB. If you'd like that kind of convenience, Nikon will be glad to sell you a standalone battery charger as an optional extra. The Nikon Coolpix S8200 has a battery life rating of 250 shots per charge, which is a tad above average compared to other compact cameras.
Accessories
There aren't any accessories available for the Nikon Coolpix S8200 except a standalone battery charger and replacement cables for the ones that come with the camera. You can also get an optional HDMI cable with the camera for connecting to your television.
Camera Tour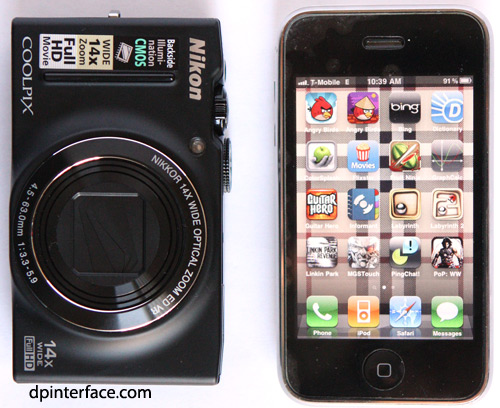 Nikon Coolpix S8200 compared to the Apple iPhone
The Nikon Coolpix S8200 is compact and fits into pockets but it isn't nearly as petite as those ultra-compact/slim models. That's what you get with the Coolpix S8200: it needs room to store that 14X optical zoom lens. The camera measures 103.7 x 59.3 x 32.7 mm (4.1 x 2.4 x 1.3 inches) which will fit in your pocket just fine but probably not your jeans back pocket or tiny purse. The camera weighs in at 213 grams (around 7.6 ounces) which isn't too heavy but just nice for the camera to feel sturdy and stable.
The Nikon Coolpix S8200 feels nice and sturdy in hand, with a pretty ergonomic design and good build quality, with the exception of the bottom compartment door. The camera has a scroll wheel on the back which gives you great tactile 'clicks'. The Coolpix S8200 is comes in your choice of silver, black or a fairly bright red.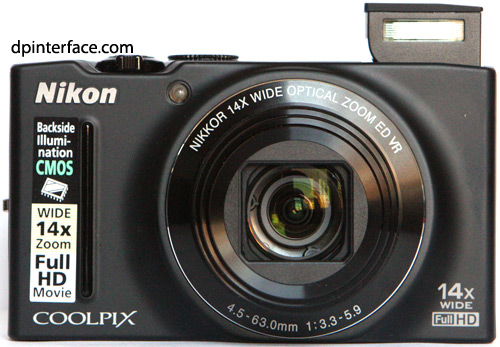 The spotlight feature of the Coolpix S8200 is the camera's 14X optical zoom lens. The lens spans a very versatile 25 – 350 mm in 35 mm terms, which means it can go really wide while offering plenty of power to get close to subjects. The aperture range of the lens is a so-so f3.3 to f5.9, making it decently bright at wide-angle but rather dim at full zoom. The lens has built-in optical image stabilization, or what Nikon calls lens-shift Vibration Reduction in their terms, which helps counter camera shake and increases the chances of taking a sharp photo at slow shutter speeds. Of course, there's also that fancy 16 megapixel backlit CMOS sensor which can do a variety of high-speed shooting trick to help counter blurry photos – more on that in a bit.
To the upper left side of the lens, there's the camera's autofocus assist light, which doubles as the self-timer lamp. The popup flash of the Coolpix S8200 is located to the upper right corner; the flash is motor-driven but like the Coolpix S9100 I reviewed last month, it behaves very well and only comes up when you have the setting set to Auto flash or Flash On. At other times, it stays down and out of the way so your left hand can easily hold the camera. The flash itself is on the powerful side, covering a range of 50 cm to 5.5 meters (1.5 to 18 feet) at wide-angle and up to 3 meters (10 feet) at telephoto.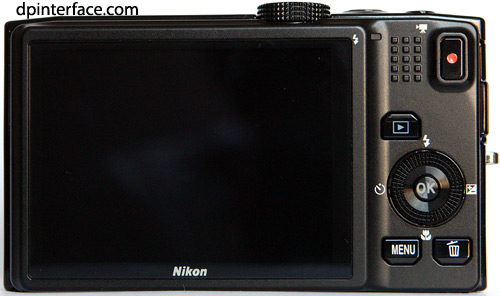 Turn the camera around and you'll find that the Coolpix S8200 has the same screen that's been making rounds on many cameras of various brands this year. Yup, it's that nice 3 inch screen with 921,000 dots (which is said to have been made by Sony). The display has plenty of resolution, so it's nice and sharp, and it also has very good legibility in both low and bright light.
The camera's controls are placed on the right side of the camera with just enough room for your thumb to go on the textured surface to the direct upper right of the LCD. There are several clearly labeled buttons on the back of the Coolpix S8200, the first of which is the dedicated movie button, labeled with that big red dot. This button lets you start/stop movie recording from any mode that you're in.
Going downwards, we have the dedicated playback button, and Menu and delete photo buttons surrounding the navigation pad. The 5-way navigation pad itself is combined with a scroll wheel, which as mentioned, provides nice 'clicks' that you can feel while being stiff enough to prevent accidentally scrolling. The scroll wheel comes in handy when browsing photos in playback and navigating menu items.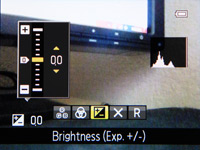 Adjusting exposure compensation and saturation (vividness) on the Coolpix S8200
The navigation pad itself provides direct access to several functions on the Coolpix S8200:
Up – Flash setting (Auto, on, slow sync, off; redeye reduction available)
Down – Focus mode (Auto, macro, landscape)
Left – Self-timer (Off, 2 seconds, 10 seconds)
Right – Hue/saturation/exposure compensation
Center – OK/Confirm

At the top of the Coolpix S8200, you'll find the popup flash where the camera model logo is placed, a pair of microphones for recording stereo sound, the mode dial, shutter button with zoom controller wrapped around it, power on/off button and speaker on the far right side.
The Coolpix S8200 has a simple mode dial which gives you Auto mode, Scene Auto Selector mode, access to five main shooting modes of the camera (night landscape, night portrait, backlighting, burst mode and effects) as well as a spot to access all other scene modes. The Coolpix S8200 is able to take several photos in a row in night landscape and night portrait mode (without and with flash respectively) and immediately combine them into a single image to reduce noise and chances of blur. There's also backlighting mode, which works in a similar fashion except the camera takes multiple shots with different exposures to make a single HDR photo.
The Coolpix S8200 is essentially a point-and-shoot camera and doesn't give you any manual controls. It does, however, have the obligatory 'panning camera, auto panorama' feature (with choice between taking 180 or 360 degrees) and five shooting effects: Low key, high key, monochrome, nostalgia sepia or selective color; all pretty self-explanatory if you asked me.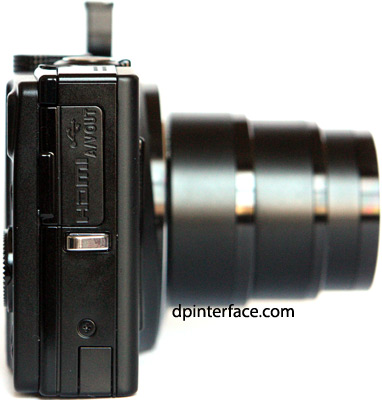 The Nikon Coolpix S8200 sports a wrist strap loop and two ports on one side.
The two ports include a combo port for USB and A/V out, and a port for connecting the HDMI cable to hook the camera up with your television or display.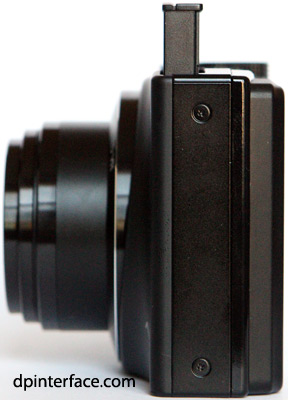 This side of the camera is blank, but you do get to see the slim popup flash in its 'up' position.
At the bottom of the Coolpix S8200 is a metal tripod mount that isn't inline with the lens plus the camera's battery/memory card compartment. The compartment door has a slightly flimsy hinge, which makes it the only weak spot of the camera.
Shooting settings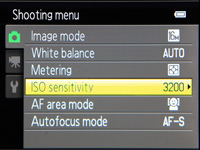 The Nikon Coolpix S8200 shows you just several pieces of shooting information and exposure details in live view. There's a basic battery indicator and zoom indicator but the live histogram remains out of sight unless you bring up the brightness adjustment control as seen in the previous section.
The Coolpix S8200 doesn't have many settings that you can adjust in its shooting menu: you can adjust picture size/compression, white balance (includes a custom option), metering mode, ISO, focus area and autofocus mode (single or continuous focus). The camera has several focus areas you can choose from: auto 9 point, center, focus point selection (you can pick one of 99 points), face detection and subject tracking.
Macro and scene modes
The Nikon Coolpix S8200 has an excellent macro mode that allows you to get as close as 1 cm (0.4 inches) to your subject at wide-angle. The camera also has a bunch of scene modes for you to choose from, which include beach, black and white, close up, dusk/dawn, fireworks, food, landscape, museum, night landscape, night portrait, panorama, party/indoor, pet portrait, portrait, snow, sports and sunset.
Video Recording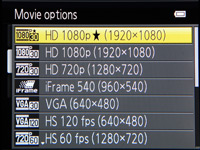 Movie options on the Coolpix S8200
The Nikon Coolpix S8200 has a great movie mode that maxes out at Full HD resolution. There are four different movie sizes to choose from, all of which are recorded at 30 frames per second with stereo sound:
Full HD 1080p
1920 x 1080
Standard HD 720p
1280 x 720
The camera allows you to use optical zoom (at a slower speed than usual so the lens motor noise isn't so apparent), optical image stabilization, wind filter and continuous autofocus while recording. There's a limit of 29 minutes or 4 GB per movie clip, whichever comes first.
The Coolpix S8200 has several other movie options which record video at high or low frame rates, play them back at a fixed 30 FPS to create slow or fast motion effects respectively:
Setting
Video resolution
Frame rate
Fast motion 1080p
1920 x 1080
15 FPS
Slow motion 720p
1280 x 720
60 FPS
Slow motion VGA
640 x 480
120 FPS
Slow motion QVGA
320 x 240
240 FPS
Here are two sample movie clips from the Coolpix S8200 taken in regular mode at Full HD:
Performance
Performance testing of the Nikon Coolpix S8200 was done using a high-speed 45 MB/s Sandisk Extreme Pro SDHC card.
Startup
1.2 seconds
Very fast
Good light
0.1 to 0.6 seconds
Very fast
Low light
0.6 to 1.1 seconds
Average
Shot-to-shot
2.2 seconds
Decent
The Nikon Coolpix S8200 is quite a speedy camera as you can see. The camera also has six (!) continuous shooting modes located under the Burst icon on the mode dial. Here they are:
Continuous shooting: Takes 5 photos at 6 frames per second (at full 16 megapixels)
Continuous H 60: Takes 25 photos at 60 frames per second (image size is lowered to 2 megapixels
Continuous H 120: Takes 50 photos at 120 frames per second (image size is lowered to 1 megapixels
Multi-shot 16: Takes 16 photos and makes them into a collage
Best shot selector: Takes 5 photos and the camera automatically picks and saves only the sharpest image
Pre-shooting cache: Buffers photos at 6 FPS and saves the 2 before and 3 after pressing the shutter button
Image Quality

ISO 100 (f3.3, 1/50 sec)

ISO 200 (f3.3, 1/100 sec)

ISO 400 (f3.3, 1/200 sec)

ISO 800 (f3.3, 1/400 sec)

ISO 1600 (f3.3, 1/800 sec)

ISO 3200 (f6.6, 1/400 sec)
The Nikon Coolpix S8200 performs well in terms of image quality with clean, detailed photos at its starting setting of ISO 100. Photos at ISO 200 and 400 look slightly fuzzy thanks to noise reduction by the camera but images remain clean and usable for large prints and display. Image quality at ISO 800 becomes worse with a smudgier look to photos thanks to noise reduction; you might be able to salvage this setting for medium sized prints.
Photos lose some saturation at ISO 1600 and become much softer, which would make this setting a go only for smaller printing and display. ISO 3200 introduces some artifacts and image quality goes further south, and I would recommend staying away from this setting if you want usable pictures.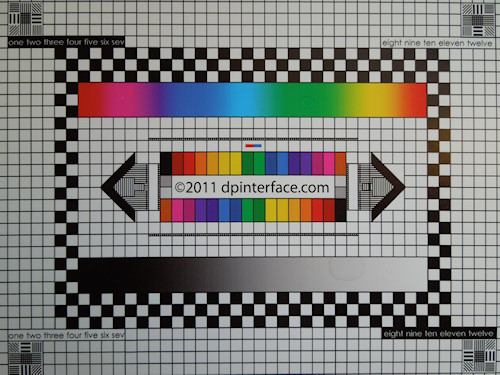 The Nikon Coolpix S8200 shows surprisingly low levels of lens distortion for a camera with 14X optical zoom. Lens sharpness was pretty good, even at the corners, and there were very tiny amounts of color fringing (chromatic aberration) to be seen. In fact, color fringing was not noticeable save for high contrast scenes.
The Coolpix S8200 produces image quality that is good with little to complain about in the sense of lens flaws, good sharpness and detail at lower ISOs, though the camera does smudge details away thanks to noise reduction above ISO 400.
Photo gallery
Visit the Nikon Coolpix S8200 photo gallery to view photos taken using the camera.
Playback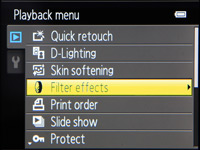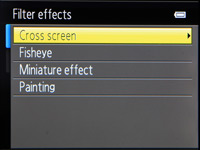 The Nikon Coolpix S8200 has a really nice playback mode. There are basic functions like image protection, print marking and rotation. It also gives you the ability to soften the skin of your subjects, improve brightness (D-Lighting) and improve saturation with contrast (Quick Retouch). The Nikon Coolpix S8200 also has four Filter Effects you can apply to photos you've taken: cross screen, fisheye, miniature effect and painting. The only bizarre thing about the Coolpix S8200 is that it does not autorotate photos you've taken vertically and you'll have to do that manually.
The Nikon Coolpix S8200 presents just a brightness histogram and details about exposure but little information about shooting settings in playback mode.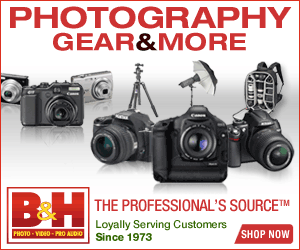 Conclusion
The Nikon Coolpix S8200 is a great little compact camera with plenty of zoom and sits at an attractive price point. The camera has the latest 16 megapixel backlit CMOS from this year, 14X optical zoom spanning a useful 25 – 350 mm and a big and sharp 3 inch screen. The Coolpix S8200 has above average battery life which is a nice thing, though as with other modern cameras of late, it's switched over to the less attractive way of USB charging (which makes charging a second battery while being able to use the camera at the same time impossible).
The Coolpix S8200 is entirely point-and-shoot in terms of operation; there aren't any manual controls save for the custom white balance option in the camera's menu. The camera does have some fancy features for the casual picture-taker, including an automatic scene selector, panorama and HDR modes, image effects as well as various playback tools.
The camera performs well in terms of speed and image quality. There's good sharpness and clean photos, though the Coolpix S8200 doesn't have a knack for capturing fine details thanks to smudging caused by noise reduction. The Coolpix S8200 is responsive and a fast shooter, but the only gripe is the really short burst duration. Sure, the camera writes its 5 photos to the card quickly after each burst session, but it'll be a lot better if the camera had a larger buffer than just a mere five pictures.
Bottom line is, the Nikon Coolpix S8200 is a versatile point-and-shoot camera that gets a thumbs up from me. While it lacks manual controls, the camera has casual users in mind with its ease of use, does well in many respects, and at a good price.
What's hot:
Good image quality; above average edge sharpness
Plenty of zoom: 14X optical zoom lens with optical image stabilization
Sharp and legible 3 inch display
Above average battery life
Auto scene selector, plenty of scene modes, in-camera panorama and HDR modes, photo effects
Responsive with good performance
Elaborate playback mode with effects tools
Full HD movie mode with optical zoom, continuous focusing and image stabilization; with fast and slow motion movie options
What's not:
Lacks manual controls
Detail smudging due to noise reduction
Flimsy bottom compartment door
Very limited number of photos per burst
No image autorotate; skimps on shooting information in playback