Here's my review of the Nikon Coolpix L21, a super-simple, budget camera. I've also got the Nikon Coolpix L21 photo gallery online too. Click the link for the full review of the camera.
DPInterface Nikon Coolpix L21 Review
Brad Soo – June 21st, 2010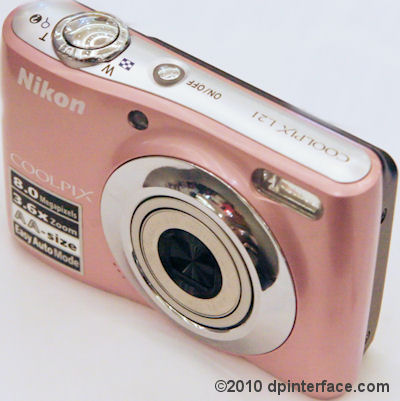 The Nikon Coolpix L21 is Nikon's most basic digital camera in their 2010 lineup (yes, even compared to the Coolpix L22 we reviewed recently). The Coolpix L21 sports an 8 megapixel imaging sensor, a 3.6X optical zoom lens (which is different from the one found on its sibling, the Coolpix L22), 2.5 inch LCD and point-and-shoot operation. Things here are as cheap and easy as they can get, for those who want a dedicated camera with better quality and more settings than a mobile phone, but without the hassle or expense of going for a more expensive digital camera or smartphone (iPhone 4 anyone?!).
Is the Nikon Coolpix L21 worth your time and hundred quid? Find out in our review now!
Size and Weight
(185.8) 93.5 x 61.7 x 30.6 mm (175 g) - Canon PowerShot A490/A495
(183.5) 97.2 x 58.2 x 28.1 mm (155 g) - Canon PowerShot A3100
(176.5) 98.8 x 57.3 x 20.4 mm (113 g) – Casio Exilim Z35
(181.0) 93.0 x 60.2 x 27.8 mm (115 g) - Fujifilm FinePix AX200
(184.5) 92.9 x 62.0 x 29.6 mm (170 g) - Kodak EasyShare C142
(178.9) 98.0 x 58.0 x 22.9 mm (125 g) - Kodak EasyShare M550
(181.4) 92.0 x 61.1 x 28.3 mm (169 g) – Nikon Coolpix L21
(186.5) 97.7 x 60.5 x 28.3 mm (183 g) – Nikon Coolpix L22
(169.6) 92.5 x 55.5 x 21.6 mm (116 g) – Olympus FE4030
(176.3) 93.0 x 60.0 x 23.3 mm (122 g) – Olympus T100
(177.6) 98.4 x 55.2 x 24.0 mm (125 g) - Panasonic Lumix FS11/FH3
(180.5) 92.5 x 60.0 x 28.0 mm (122 g) – Pentax Optio E90
(169.0) 95.3 x 55.0 x 18.7 mm (121 g) - Sony Cyber-shot W310
(158.9) 90.7 x 51.5 x 16.7 mm (100 g) - Sony Cyber-shot W350
All the weight figures above show when the camera is empty without a battery or memory card
The Nikon Coolpix L21 nears the upper end of the camera size/weight range thanks to its use of two AA batteries and more ergonomic shape compared to other entry-level digital cameras. Still, the camera should fit easily into larger pockets in your pants or bag, and no doubt you'll be able to feel it, but its weight isn't a burden to carry around.
Box packaging
The Nikon Coolpix L21 comes with a decent bundle:
2 AA alkaline batteries
Wrist strap
USB cable
A/V cable
Camera software CD
User's manual
The Nikon Coolpix L21 comes with very little (read: useless for normal shooting) built-in memory; just 19 MB worth. The camera takes SD/SDHC cards so it's advisable to get one right away, preferably one that's 4 GB or above. A high-speed card isn't really a must as it brought little noticeable improvement to the Coolpix L21's performance.
400 shots – Canon PowerShot A490/A495
240 shots – Canon PowerShot A3100
500 shots – Nikon Coolpix L21
440 shots – Nikon Coolpix L22
190 shots - Olympus T100
310 shots - Panasonic Lumix FS11/FH3
600 shots – Pentax Optio E90 (Using lithium batteries)
220 shots - Sony Cyber-shot W310
240 shots - Sony Cyber-shot W350
All the cameras above are rated with rechargeable batteries according to CIPA Standard
The Coolpix L21 uses 2 AA batteries and comes with a pair of alkaline ones – despite being very similar to the Coolpix L22, the Nikon Coolpix L21 does about 15% better in terms of battery life because of its smaller display. The camera will let you take an estimated 280 shots per set of AA alkaline batteries before you have to throw them away. I'd recommend that you buy a set of NiMH rechargeable batteries and a good 3 or 6 hour charger with the camera. With AA NiMH batteries, you can effectively almost double battery life to 500 shots per charge (and they're rechargeable too).
Overall, the Nikon Coolpix L21 comes out on top of the other entry-level cameras in terms of battery life, coming close to the Pentax Optio E90's battery life when using AA NiMH batteries, and blowing it away when using the same kind of batteries (the Coolpix L21 gets 780 shots using AA Lithium batteries).
Accessories
Like the L22, there are only two accessories available for the Nikon Coolpix L21:an optional AC adapter and various camera cases.
Camera Tour
The Nikon Coolpix L21 looks a whole lot like the Coolpix L22, only slightly smaller (thanks to the smaller screen) and with different color choices to choose from. Build quality is decent; the Coolpix L21 doesn't creak or crackle when you hold its plastic frame and usability is as easy as it can get – self-explanatory large buttons, good ergonomics and simple operation. The Nikon Coolpix L21 comes in your choice of three colors: brown, silver and pink.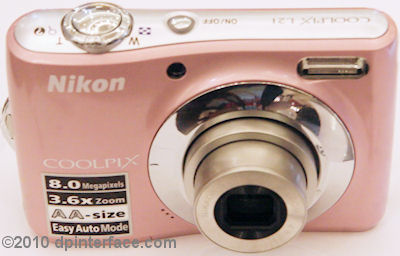 The Nikon Coolpix L21 sports a 3.6X lens that's different from the one found on the Coolpix L22. The lens here doesn't have much of a wide-angle component at all, covering 41 – 145 mm – what this translates to is you may find it a challenge at times trying to squeeze everyone into a single group photo in tight spaces (same applies when trying to take photos of 'sweeping landscapes' where the lens simply isn't wide enough). The f3.1 to f6.7 aperture range of the lens is also quite slow/small, that isn't good news when shooting in low-light as you'll need longer shutter speeds or higher ISO settings. The Coolpix L21 lacks any sort of mechanical image stabilizer (neither optical nor sensor-shift) which may also impede low-light shooting (unless you have super steady hands or a tripod handy).
Above the camera's lens, you'll find the autofocus assist/self-timer lamp and built-in flash. The flash is pretty average in terms of power, able to illuminate subjects up to 10 to 12 feet away (3 to 4 meters) at auto ISO. Towards the lower left side of the lens is the Nikon Coolpix L21's microphone used for recording sound in movie mode.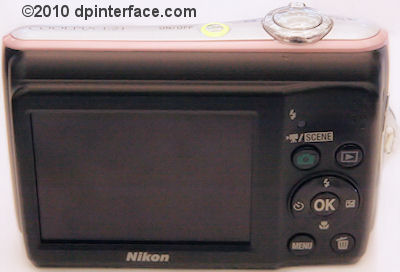 The Nikon Coolpix L21 has a 2.5 inch LCD, which is smaller than the 3 inch display found on the L22. However, it still sports the same resolution of 230,000 pixels and everything's nicely legible in both bright and dark conditions.
Directly beside the LCD screen are the camera's navigation pad and four other controls, all of which are nicely sized and make single-handed operation of the camera quite easy. There's also ample space for your thumb to rest without going on any of the buttons (And risk pressing them by accident). The first two buttons are for toggling shooting mode and entering playback respectively; with a small LED indicator nearby to tell you when the flash is ready to fire.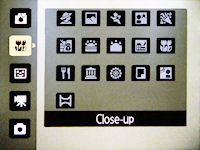 Press the shooting mode button and you'll bring up this screen
The shooting mode button brings up a semi-transparent overlay on the display with five tabs showing the main shooting modes of the camera:
Easy auto mode with scene auto selector
Scene modes – Portrait, landscape, sports, night portrait, party/indoor, beach/snow, sunset, dusk/dawn, night landscape, close-up, food, museum, fireworks, copy, backlight, panorama assist
Smile mode (Nikon Smart Portrait)
Movie mode – more on this later
Program auto mode
The Nikon Coolpix L21 features an Easy Auto mode, which tries to make the process of taking pictures as hassle free as possible by locking down all the camera's settings and automatically activating the built-in "Scene Auto Selector" (which lets the camera automatically detect and pick an appropriate scene mode to suit the scene you're pointing the camera at)..
Next up is Nikon's "Smart Portrait system" which is simply called Smile Mode here so it's easier for beginners to understand. All you have to do is press the shutter button and the camera will wait until a smile is detected before automatically taking a photo. The other part of the Smart Portrait system is Blink Warning, which remains passive until the camera detects any blinks after a shot is taken and then advises you (with an on-screen popup) to retake the photo.
Going downwards, we have the five-way navigation pad that offers direct access to several functions:
Up – Flash setting (Auto, auto with red-eye reduction, off, on)
Down – Focus mode (Normal, macro, infinity)
Left – Self timer (Off, on: 10 seconds)
Right – Exposure compensation (+/-2 EV in 1/3 steps)
Center – OK/Confirm
The last two buttons are used for bringing up the camera's main menu and deleting photos respectively. Well, Nikon managed to tick all the boxes required for "easy and hassle-free" shooting on the Coolpix L21 – all the camera's controls are straightforward (with just one function per button to make things less confusing) and plenty of automatic/scene modes that just require no adjustments or thinking from the user.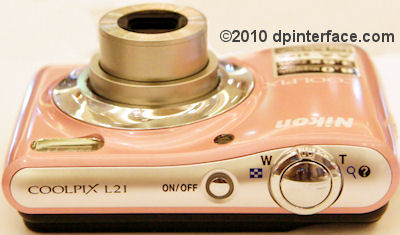 There are just three items found at the top of the camera: the power on/off button, the shutter button and also a zoom controller wrapped around the latter. Pulling the controller towards the 'zoom in' position when browsing the camera's menus will bring up a help screen about the function you last hovered on.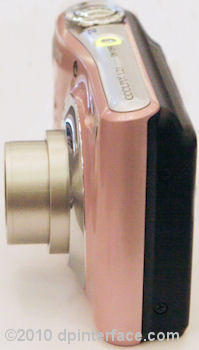 One side of the camera is blank while on the other side, there's a port for USB and A/V out connectivity. The Nikon Coolpix L21 is not compatible with any sort of AC adapter accessory neither is there any option for HDMI out.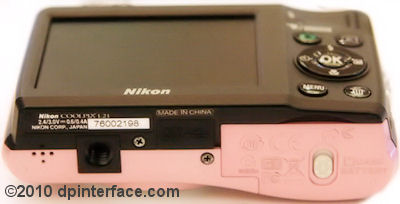 At the bottom of the Nikon Coolpix L22 are the camera's plastic tripod mount and battery/memory card compartment. The compartment door has satisfactory build quality and is equipped with a locking mechanism. However, Nikon could've added a clip to prevent the batteries from falling out when you open the door.
Taking pictures (Shooting mode)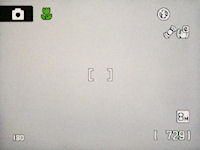 As usual, Nikon went a little overboard with the 'simple' concept here – as they've been doing to their other L-series cameras, the Nikon Coolpix L21 doesn't show any sort of shooting or exposure information on its display. A small zoom indicator along with macro and flash mode icons are all you'll get, which is pretty sad as other entry-levels and, again, some smartphones, display a lot more on-screen information than you'll find here.
There are many image resolution options available on the Nikon Coolpix L21 (ranging from 8 MP, 5 MP, 3 MP, 1 MP, VGA and 16:9 widescreen 5.7 MP) but there are no image compression/quality options to choose from.
The Nikon Coolpix L21 shares the same menu system as Nikon's other Coolpix cameras but with a lot fewer options and settings to choose from:
Image mode (Picture size)
White balance (Auto, daylight, incandescent, fluorescent, cloudy, custom)
Drive mode (Single shot, continuous shooting, Best Shot Selector, Multi-shot 16)
Color options (Standard, vivid, black and white, sepia, cyanotype)
Best Shot Selector takes up to 10 pictures in a row before the camera selects the best/sharpest one from the bunch; while Multi-shot 16 takes 16 pictures in a row and combines them into a single 10 megapixel collage.
The Nikon Coolpix L21 has a face detection system that can detect up to 12 faces in a frame along with a software-based redeye removal system that detects and removes redeye automatically each time you take a photo with flash.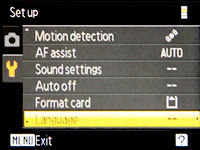 Nikon Coolpix L21's setup menu
There's also Motion Detection (in the setup menu), where the camera will automatically set ISO based on the amount of action going on in the scene (a still scene prompts the camera to choose a low ISO value, while ISO will be increased when there's a lot of movement in the frame). There's also an Electronic VR system that you can enable so that the camera can digitally compensate for camera shake (which isn't nearly as effective as real image stabilization)
One crucial feature Nikon omitted on the Coolpix L21 is manual ISO adjustment. The Coolpix L21 operates in Auto ISO all of the time, going anywhere from ISO 80 to 1600 depending on the condition of your shooting scene. Thankfully the camera sticks to low ISO settings most of the time, and we'll check out image quality in just a bit.
The Nikon Coolpix L21 has a macro mode that allows you to get as close as 5 cm to your subject . You can even use a bit optical zoom to get slightly closer (indicated by the "green area" on the zoom indicator).
Video Recording
A basic movie mode is all you'll get with the Coolpix L21. The camera can record VGA quality movies (640 x 480 resolution) at 30 frames per second, which is nothing to shout about nowadays in a world where even some phones can record HD video. Each movie clip is limited to 2 GB per movie clip (around 30 minutes at the highest settings) so you'll have to re-start recording after you hit that limit. You can opt to extend recording times by lowering resolution to the available QVGA (320 x 240) 30 FPS setting. All movies are recorded in AVI Motion JPEG format.
Once you start recording a movie clip, everything is fixed – you cannot adjust settings, zoom or use autofocus while the camera is recording a movie. Overall video/audio quality was acceptable for short and quick video postings on places like Facebook or Youtube, but not exactly the kind of quality you would want to stretch out to fullscreen, hand in for a videography assignment or play on your huge HDTV.
Performance
All performance testing of the Nikon Coolpix L21 was performed using a high-speed 4 GB SanDisk Ultra II SDHC (90X) card.
The Nikon Coolpix L21 has a decent startup time of 1.7 seconds. Focusing accuracy was good with the camera being able to focus well in both low and bright light. However, focusing speeds were just average, clocking in 0.2 to 0.5 second autofocus times in good light and 0.8 to 1.6 seconds in low-light.
Shot-to-shot speed - 1 shot every 1.8 seconds, quite decent
Flash recharge time using a fully charged battery - 4 seconds
The Nikon Coolpix L21 has a decent burst mode whose shooting speed clocks in at 1.6 frames per second. You can take up to 18 photos in row before the camera pauses to take a breather. The camera's lens moves from wide-angle to telephoto in just 1.7 seconds, with a shut down time of 2.8 seconds.
The 8 megapixel Nikon Coolpix L21 performs a hair faster than its 12 megapixel sibling, the Coolpix L22 which isn't surprising considering the smaller files the camera has to deal with. The Nikon Coolpix L21's performance as a whole was no slouch with good response times and shooting speed. The only area that could be improved would be the focusing department, where the camera takes slightly longer than its competitors to lock focus in low-light.
Image Quality
Moving on, we're gonna look at the Coolpix L21's image quality now:

ISO 400 (f3.1, 1/20 sec)
Since the Nikon Coolpix L22 has no manual ISO control, I was unable to perform the usual ISO test here. Over here, the camera decided to go with ISO 400, which produced a fairly clean image with fairly low noise levels (though with a touch of noise reduction) and good saturation. The ISO range that the camera uses typically hovers around 100 to 400, though it will go up to ISO 800 to ISO 1000 in low-light. It's a good thing that Nikon programmed the camera in such a way that it rarely uses ISO 1600 (image quality is usable till around ISO 800, and above that, noise interferes too much with details)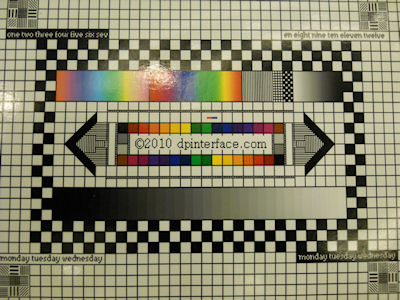 The Nikon Coolpix L21 exhibits extremely low levels (almost unnoticeable) of distortion, which is fairly typical of a camera with no wide-angle component. There's also no vignetting and good edge to edge sharpness in photos. Chromatic aberration (color fringing) was also a non-issue on the Coolpix L21.
The Nikon Coolpix L21 produced very good image quality with decent levels of image sharpness and noise control. Lens-related issues were also practically non-existent, which is a consolation considering it lacks image stabilization and the 'slow' aperture range. Redeye was not an issue for the camera since it gets detected and removed by the camera most of the time. However, for the time that the case of redeye occasionally slips through, you may just have to bear with it or remove it manually on your computer (since there isn't a redeye removal tool in playback).
Photo gallery
For full-sized photos, visit the Nikon Coolpix L21 photo gallery.
Playback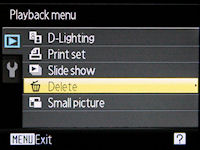 If you've read my review of the Nikon Coolpix L22, then you've seen the Coolpix L21's playback mode. The Nikon Coolpix L21 has a super-basic playback mode with just three core features and two simple editing options. There's print marking, simple slideshow playback and image deletion, but nothing else (not even image rotation). The two "editing" features include "Small pic" which creates a downsized copy of a photo (handy for quickly uploading photos online after downloading them to your computer) and D-Lighting which brightens dark areas of your photos and improves contrast slightly.
Like in the camera's shooting mode, the Coolpix L21 doesn't tell you anything about your photos in playback. So browsing through your pictures without knowing what settings were used is all you will get.
Conclusion
The Nikon Coolpix L21 is a really basic and affordable entry-level camera. The camera has 8 megapixels of resolution, and a 3.6X "not so wide-angle" zoom lens that will turn off camera enthusiasts and geeks completely but is sufficient for the crowd looking for an ultra-simple compact camera. The Coolpix L21 is mostly automatic; with an Easy Auto mode, a bunch of scene modes and not many other settings to change. In fact, there are so few settings available to change that even ISO is automatic.
For most part, many aspects of the Nikon Coolpix L21 are 'just enough' for most users – such as the average build quality, 2.5 inch screen with good legibility, simple and few buttons as well as the passable VGA movie mode. The camera's performance was also pretty good for an entry-level model with acceptable waiting times and shooting speeds, though autofocus in low-light could've been better. But before you think you can go out there to shoot the FIFA World Cup with the Coolpix L21; keep in mind that its 'speed' as a budget camera isn't meant for high speed action; it's more suited for the casual snapshooter who doesn't want to face the "processing…" sign forever.
One area where Nikon took things too far is in terms of simplicity. Yes, the camera is straightforward and easy to use (and for many, doesn't even require picking up the user's manual beforehand), but the camera doesn't have any controls aside from color options and white balance. You know, manual ISO control would've been nice! There's also a lack of any shooting/playback information – Nikon's been doing this for years now on their compact cameras but I do hope they wake up some day and figure that the average camera beginner today can be quite a bit more knowledgeable than one from three or five years ago (hence they'd like some info on their photos, please). Like other entry-level offerings, the camera also lacks real image stabilization, which is quite a bummer.
If only conclusions were based on image quality alone, then the Coolpix L21 would easily deserve a recommendation from me. Unfortunately, there are many other 'super-cheap' cameras out there (from the likes of Canon, Casio, Panasonic, Sony, etc) that offer similar levels of image quality with more shooting options and slightly better feature sets. Also, with smartphones and "convergence devices" with 5 to 12 megapixel phones and more features (including ISO control!) being all in the rage nowadays, you can't help but have second thoughts – get a super-basic and cheap camera or upgrade your phone to a more photo-centric model.
What's hot:
Good overall image quality
Class-leading battery life
Decent performance
Easy to use with help tooltips and automatic scene mode selection available
Smart Portrait: face, smile and blink detection along with many scene modes and motion detection
What's not:
Questionable value versus smartphones and other entry-level cameras
Auto ISO only; camera uses lower ISO settings only in good light
Oversimplified in some areas (ie, no on-screen information, no manual ISO, extremely basic playback)
Slow lens aperture range and no real image stabilization
Recommended Accessories:
2 GB SD/SDHC memory card
Set of 2 or 4 AA NiMH rechargeable batteries and charger
3.0 - Design and build quality
3.0 - Bundle in the box
2.5 - Lens (Zoom, aperture range, image stabilization)
2.0 - Feature set and manual controls
3.5 - Ergonomics and ease of use
3.0 - Performance and speed
4.0 - Image quality
6.0 over 10.0 - Overall rating