Today we're posting a review of a simple and cheap camera, the Nikon Coolpix L22. I've also got the Nikon Coolpix L22 photo gallery online too. Click the link for the full review of the camera.
DPInterface Nikon Coolpix L22 Review
Brad Soo – May 19th, 2010 (Updated June 16th, 2010)
The new Coolpix L22 reminds us all that Nikon isn't all about big, professional digital SLRs and fancy up-market touchscreen/projector cameras – they also have really affordable, entry-level cameras for the rest of the world too (or at least for those not willing to pay over a hundred quid for a camera). The Coolpix L22 (along with its sibling, the similar L21) replaces 2009's Coolpix L20 as Nikon's cheapest camera. This simple and affordable camera sports a price tag that hovers around $100 and gives you 12 megapixels of resolution, a 3.6X zoom lens, 3 inch screen and a bunch of automatic shooting features for hassle-free shooting.
How does the camera compare to offerings from other brands? Read on to find out.
Size and Weight
(185.8) 93.5 x 61.7 x 30.6 mm (175 g) - Canon PowerShot A490/A495
(183.5) 97.2 x 58.2 x 28.1 mm (155 g) - Canon PowerShot A3100
(176.5) 98.8 x 57.3 x 20.4 mm (113 g) – Casio Exilim Z35
(181.0) 93.0 x 60.2 x 27.8 mm (115 g) - Fujifilm FinePix AX200
(184.5) 92.9 x 62.0 x 29.6 mm (170 g) - Kodak EasyShare C142
(178.9) 98.0 x 58.0 x 22.9 mm (125 g) - Kodak EasyShare M550
(181.4) 92.0 x 61.1 x 28.3 mm (169 g) – Nikon Coolpix L21
(186.5) 97.7 x 60.5 x 28.3 mm (183 g) – Nikon Coolpix L22
(169.6) 92.5 x 55.5 x 21.6 mm (116 g) – Olympus FE4030
(176.3) 93.0 x 60.0 x 23.3 mm (122 g) – Olympus T100
(177.6) 98.4 x 55.2 x 24.0 mm (125 g) - Panasonic Lumix FS11/FH3
(180.5) 92.5 x 60.0 x 28.0 mm (122 g) – Pentax Optio E90
(169.0) 95.3 x 55.0 x 18.7 mm (121 g) - Sony Cyber-shot W310
(158.9) 90.7 x 51.5 x 16.7 mm (100 g) - Sony Cyber-shot W350
All the weight figures above show when the camera is empty without a battery or memory card
The Nikon Coolpix L22 is one of the larger cameras in the budget camera category thanks to its usage of AA batteries (versus lithium-ion ones). It's also the heaviest… but nevertheless, it's still fairly pocketable.
Box packaging
The Nikon Coolpix L22 comes with an average bundle:
2 AA alkaline batteries
Wrist strap
USB cable
A/V cable
Camera software CD
User's manual
As with many compact cameras nowadays, the Nikon Coolpix L22 comes with a paltry amount of internal memory – just 19 MB. The camera takes SD/SDHC cards so it's advisable to get one right away, preferably one that's 4 GB or above. A high-speed card isn't really a must as it brought little noticeable improvement to the Coolpix L22's performance.
400 shots – Canon PowerShot A490/A495
240 shots – Canon PowerShot A3100
500 shots – Nikon Coolpix L21
440 shots – Nikon Coolpix L22
190 shots - Olympus T100
310 shots - Panasonic Lumix FS11/FH3
600 shots – Pentax Optio E90 (Using lithium batteries)
220 shots - Sony Cyber-shot W310
240 shots - Sony Cyber-shot W350
All the cameras above are rated with rechargeable batteries according to CIPA Standard
The Coolpix L22 uses 2 AA batteries and comes with a pair of alkaline ones. They'll last for around 240 shots per charge before you end up having to dump them. Getting a set of NiMH rechargeable batteries (optional, and not bundled with the camera) and a charger will not only double battery life to last around 440 shots, but also help you to save in the long run by not having to constantly buy new batteries.
Lastly, you can also opt for a third battery type to use with the Coolpix L22 – lithium AA batteries, which will last up to a whopping 660 shots! The downside is that lithium AA batteries are non-rechargeable, so again, I'd recommend sticking to getting AA NiMH and a charger if possible.
Accessories
As one of Nikon's most basic of digital cameras, the Coolpix L22 isn't compatible with a whole lot of accessories (neither would I expect it to be, really). All you'll get are the usual AC adapter and various camera cases.
Camera Tour
Made like a typical entry-level camera – basic design with plastic build, the Nikon Coolpix L22 is not exactly built like a tank but at least it's put together well that it doesn't feel flimsy or 'cheap'. Ergonomics are decent with sizeable, clearly labeled buttons on the back, a slightly raised right hand side of the camera for holding and straightforward operation. One thing that the Coolpix L22 really needs is a battery clip/lock so those AA batteries don't fall out when swapping memory cards.
The Nikon Coolpix L22 comes in your choice of four colors: black, silver, blue or red.
The Nikon Coolpix L22 features a familiar 3.6X optical zoom lens that's equivalent to 37 – 135 mm. That's not very wide if you want to take group or landscape photos but should be sufficient for casual shooting. The f3.1 to f6.7 aperture range of the lens is also on the 'slow' side and the lens lacks any form of real image stabilization (neither in lens or sensor-shift) – this makes the Coolpix L22 a questionable candidate for shooting in dark conditions.
To the upper left of the Coolpix L22's lens is its autofocus assist/self-timer lamp, and to the right of that is the flash. Nikon doesn't state flash power but my testing shows the flash was sufficient to illuminate subjects up to 10 to 12 feet away (3 to 4 meters) at auto ISO. The other two things on the camera's front are the speaker and microphone, which are located to the bottom left and right of the lens respectively.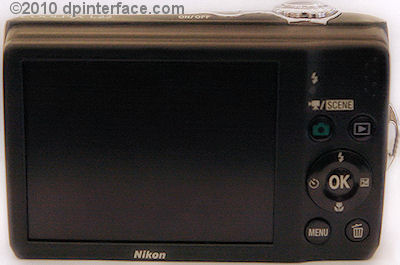 On the back of the Nikon Coolpix L22, you'll find a big 3.0 inch LCD display with a so-so 230,000 pixels – the same display you'd have found on last year's model. Legibility was good in low-light and just average under bright light.
Right beside the screen is the Coolpix L22's navigation pad and four other buttons. The upper two buttons are the shooting mode button (which moves you between auto, scene and movie modes) and direct playback mode button. There's also a small flash status LED above the mode button which tells you when the flash is ready to fire.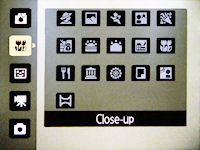 Press the shooting mode button and you'll see this screen
The shooting mode button brings up a semi-transparent overlay on the display with four tabs showing the main shooting modes of the camera:
Easy auto mode with scene auto selector
Scene modes – Portrait, landscape, sports, night portrait, party/indoor, beach/snow, sunset, dusk/dawn, night landscape, close-up, food, museum, fireworks, copy, backlight, panorama assist
Smile mode (Nikon Smart Portrait)
Movie mode – more on this later
Auto mode, color options, date imprint and Best Shot Selector
There are two things I wanna explain here before we move on. The Coolpix L22 has an "Easy mode" (not that "auto mode" isn't easy enough) which is PURELY point-and-shoot; you can't even change any settings or press any buttons. Easy mode automatically activates Nikon's "Scene Auto Selector" which detects the scene you're shooting and the camera will automatically pick a scene mode according to the situation.
Next up is Nikon's "Smart Portrait system" which is simply called Smile Mode here so it's easier for beginners to understand. All you have to do is press the shutter button and the camera will wait until a smile is detected before automatically taking a photo. The other part of the Smart Portrait system is Blink Detection, which remains passive until the camera detects any blinks after a shot is taken and then advises you (with an on-screen popup) to retake the photo.
Going downwards, we have the five-way navigation pad that offers direct access to several functions:
Up – Flash setting (Auto, auto with red-eye reduction, off, on)
Down – Focus mode (Normal, macro, infinity)
Left – Self timer (Off, on: 10 seconds)
Right – Exposure compensation (+/-2 EV in 1/3 steps)
Center – OK/Confirm
The last two buttons are for bringing up the camera menu and deleting photos respectively. And that's about it for the back of the Coolpix L22 – told you the camera was simple and that the buttons were quite straightforward.
We just have three things to cover up here: There's the power on/off button, the shutter button and also a zoom controller wrapped around the latter. Pulling the controller towards the 'zoom in' position when browsing the camera's menus will bring up a help screen about the function you last hovered on.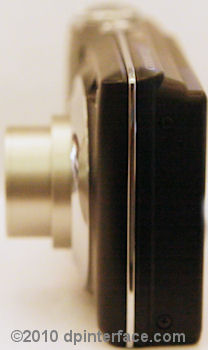 One side of the camera is blank while on the other side, there's a port for USB and A/V out connectivity.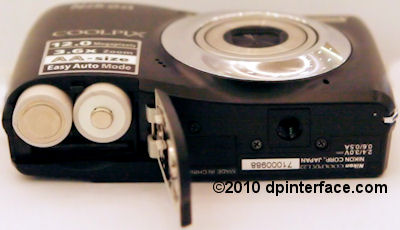 At the bottom of the Nikon Coolpix L22 are the camera's plastic tripod mount and battery/memory card compartment. The compartment door has a locking mechanism and feels just average in terms of build quality. One big improvement that could've been implemented here is a clip to hold the batteries in place while swapping memory cards.
Taking pictures (Shooting mode)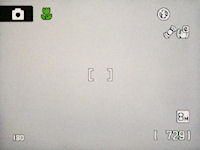 The Nikon Coolpix L22 is a very simple camera. Unfortunately, I don't appreciate the fact that the Coolpix L22 doesn't display any sort of information; though you do get a zoom indicator and macro and flash icons). I think that even newbies would appreciate the camera telling them at least something about their photos, yet the L22 shows you nothing at all
In case you don't always want to shoot at full 12 megapixels, the Nikon Coolpix L22 has a grand total of 6 image resolution options; including 12 MP, 8 MP, 5 MP, 3 MP, 1 MP, VGA and 16:9 widescreen (8.4 MP). You can choose between two image quality options: High or Normal only for the 12 MP setting… at lower resolutions, compression is fixed at "Normal" quality.
The Coolpix L22 has Nikon's modern menu system but as an entry-level camera, it has significantly less items than more expensive Coolpix models:
Image mode (Picture size)
White balance (Auto, daylight, incandescent, fluorescent, cloudy, custom)
Drive mode (Single shot, continuous shooting, Best Shot Selector, Multi-shot 16)
Color options (Standard, vivid, black and white, sepia, cyanotype)
Best Shot Selector takes up to 10 pictures in a row before the camera selects the best/sharpest one from the bunch; while Multi-shot 16 takes 16 pictures in a row and combines them into a single 10 megapixel collage.
The Nikon Coolpix L22 has a now-simplified face detection system that picks up just 3 faces at any given time. There's also auto red-eye fix, which detects and removes redeye in photos.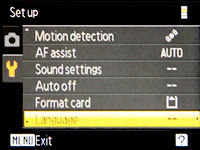 Nikon Coolpix L22's setup menu
There's also Motion Detection (in the setup menu), where the camera will automatically set ISO based on the amount of action going on in the scene (a still scene prompts the camera to choose a low ISO value, while ISO will be increased when there's a lot of movement in the frame).
In case anyone didn't notice, you can't manually set ISO on the Coolpix L22. The camera is on Auto ISO all the time, regardless of mode, and will pick a value between ISO 80 and 1600 – so you're practically at the mercy of the camera's imaging processor.
Lastly, the Nikon Coolpix L22 has a 5 cm macro mode, which is pretty decent for getting close to your subjects. You can even use a bit optical zoom to get slightly closer (indicated by the "green area" on the zoom indicator).
Video Recording
The Nikon Coolpix L22 has a basic movie mode that records VGA (640 x 480) quality video clips with sound at 30 FPS. Each movie clip is limited to 2 GB per movie clip (around 30 minutes at the highest settings). You can extend recording times by lowering resolution to QVGA (320 x 240). All movies are recorded in AVI Motion JPEG format.
There's no zoom or focusing available while recording movies on the Coolpix L22. Overall movie quality was just acceptable, but the Coolpix L22 is by no means a substitute for your camcorder – it's far away from that.
Performance
All performance testing of the Nikon Coolpix L22 was performed using a high-speed 4 GB SanDisk Ultra II SDHC (90X) card.
While not the fastest camera in the world, the Nikon Coolpix L22 still has an acceptable boot up time of 1.9 seconds. Autofocus performance was a mixed bag. Focusing takes an average 0.2 to 0.5 seconds with decent lighting around but in low-light, focusing speed drops to a much slower 1 to 2 seconds (before the camera actually manages to lock focus).
Shot-to-shot speed - 1 shot every 2.1 seconds, quite decent
Flash recharge time using a fully charged battery - 4 seconds
The Nikon Coolpix L22 has an average burst mode with a shooting speed of a 1.5 frames per second. The camera managed to take up to 20 photos before slowing down. The lens moved from wide-angle to telephoto in 1.8 seconds while I measured shut down time to be 2.4 seconds with the lens at telephoto.
In terms of performance, the Nikon Coolpix L22 is no slouch. Given the opportunity to shoot in well lit conditions, the camera performs well (though not at breakneck speeds) and you'll rarely notice any delays in taking pictures. It's only in low-light conditions that the camera disappoints in terms of focusing speed, despite having an autofocus assist lamp.
Image Quality
Moving on, we're gonna look at the Coolpix L22's image quality now:

ISO 400 (f3.1, 1/20 sec)
Since the Nikon Coolpix L22 has no manual ISO control, I was unable to perform the usual ISO test here. Like it's predecessor, the Nikon Coolpix L22 has only a single ISO setting, that's Auto ISO: where the camera makes all the decisions as to what ISO speed to select. In this case, the Coolpix L22 decided to pick ISO 400 which produces decent image quality with SOME NOISE. The camera did go as low as ISO 100 in outdoor scenes where details were preserved at decent levels. Nikon says the camera can go as high as 1600, but the highest I saw the Coolpix L22 go during my time with it was ISO 800. Even then, image quality at that level isn't pretty and you'd better hope the camera sticks to an ISO setting of 400 or below if you plan on making large prints out of photos.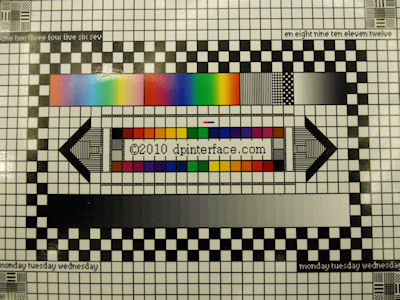 In our studio tests with the Nikon Coolpix L22, the camera's fairly conventional lens (read: no 'wide-angle' component) produced little distortion and vignetting (dark corners). There was also little chromatic aberration (color fringing) and corner softness to be seen in images. I did not find redeye to be an issue on the Coolpix L22; as with Nikon's other cameras, it automatically detects and digitally removes redeye with each flash photo taken.
Overall, the Nikon Coolpix L22's image quality turned out to be pretty good with low noise (provided the camera chooses an ISO setting of 400 or lower), good sharpness and pretty good lens performance. It's just such a shame you can't control ISO yourself, since the noise levels are only acceptable at ISO 400 and lower (and the camera will increase ISO automatically up to 1600).
Photo gallery
Visit the Nikon Coolpix L22 photo gallery.
Playback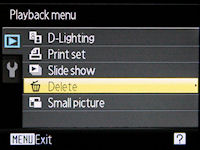 The Nikon Coolpix L22 has a 'bare bones', basic playback mode. There's print marking, simple slideshow playback and image deletion, but nothing else (not even image rotation). The camera's two "editing" features include a small picture mode which makes a downsized copy of a photo (handy for quickly uploading photos online after downloading them to your computer) and D-Lighting which brightens dark areas of your photos and improves contrast slightly.
While Nikon has just recently started including more detailed playback info displays onto their higher-priced Coolpix cameras, the Coolpix L22 remains like the Coolpix L20 – telling you literally nothing about your photos in playback besides image resolution. That's quite unacceptable, even for a budget camera, as other cheap cameras (ie Canon A495) even show you at least some shooting info.
Conclusion
The Nikon Coolpix L22 is a 12 megapixel camera with a 3.6X optical zoom lens and 3 inch screen. It's also Nikon's most basic camera, literally - the camera sports a handful of scene modes paired with point-and-shoot operation inside a plastic body that runs on a pair of AA batteries.
The Nikon Coolpix L22 is in fact such a simple camera that it barely has any settings for you to adjust, not even ISO adjustment. It's a shame that the Coolpix L22 lacks some core settings that even certain smartphones allow users to adjust. Despite that, at least a cutdown version of Nikon's Smart Portrait system is present, with face and smile detection.
Performance wise, the Coolpix L22 is not a particularly speedy camera, but it still takes pictures and responds at respectable speeds. It will serve you well for most still picture and vacation shots, but you would want another camera for burst and action shots of sports, kids and pets. In terms of image quality, the camera also does fairly well, producing good quality photos with low noise levels and good sharpness.
All-in-all, the Nikon Coolpix L22 is an entry-level camera that I would really like to recommend, based on its respectable performance and good image quality it produces. However, Nikon cut too many corners here and for the same $100, I think you can find cameras with more shooting functions elsewhere. It's your call though, if you're willing to live with an extremely basic camera with very very few functions, then take a look at the Coolpix L22.
What's hot:
Good overall image quality (at ISO 400 and below)
Very good battery life
Large 3 inch LCD with good legibility
Decent performance
Easy to use with help tooltips and automatic scene mode selection available
Smart Portrait, motion detection and auto scene selection features
What's not:
Auto ISO only; camera uses lower ISO settings only in good light
Oversimplified in some areas (ie, no on-screen information, no manual ISO, extremely basic playback)
Slow lens aperture range and no image stabilization
Recommended Accessories:
2 GB SD/SDHC memory card
Set of 2 or 4 AA NiMH rechargeable batteries and charger