Read my in-depth review of the compact super-zoom Sony Cyber-shot HX9V, a camera with a 16X optical zoom, GPS unit with compass, manual controls and a 3 inch display. Visit the Sony Cyber-shot HX9V photo gallery to see photos taken straight out of the camera.

The Sony Cyber-shot HX9V is a compact super-zoom camera which sports a 16X optical zoom lens, 3 inch screen, Full HD movie mode and GPS functionality packed into a small-sized camera body. The camera also sports manual controls, a backlit CMOS sensor, new scene modes and Sony's Superior Auto mode. Is this the travel camera you've been waiting for? Find out now.
The Sony HX9V also has a cheaper sibling called the Cyber-shot HX7V which shares the 16 megapixel CMOS sensor and GPS functionality but the HX7V has a smaller 10X optical zoom lens, no Superior Auto mode, 60i movie frame rates (versus 60p) and a slightly lower price tag.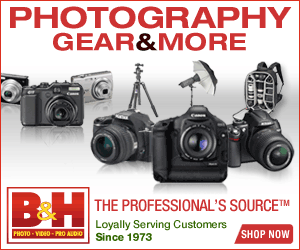 In the camera box
The Sony HX9V comes with a bundle of standard accessories, nothing particularly interesting here:
Sony Cyber-shot HX9V camera
NP-BG1 lithium-ion rechargeable battery
AC adapter charger with USB cable
Wrist strap
Camera software CD
The Sony Cyber-shot HX9V has a ridiculously small 19 MB of internal memory which means you'll have to get a memory card to use with the camera. The HX9V supports both SD/SDHC/SDXC and Sony's own proprietary Memory Stick Duo cards. I would recommend sticking to SD type cards for higher capacities and much better performance than those near-obsolete memory sticks. The Sony HX9V performs faster with a high-speed rated memory card so a nice and big 8 GB card is a good starting point.
The Sony Cyber-shot HX9V uses a lithium-ion battery which is charged via USB, a growing trend among digital camera makers lately. This means you'll have to plug the camera into a wall socket or to your computer to charge it, and you can't leave home with the camera if you wanted to charge a spare battery at home (Sony would be happy to sell you a dedicated battery charger for extra). The HX9V is rated to 300 shots per charge, which is excellent battery life and tops other compact super-zoom cameras.
Accessories
The Sony HX9V has a rather tiny accessory range. There are just four optional extras available: an A/V out cable, HDMI cable, standalone battery charger and a motorized PartyShot dock for auto picture taking using smile and face detection.
Camera Tour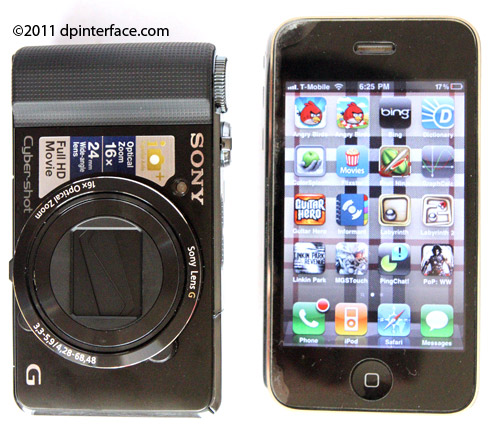 Sony Cyber-shot HX9V compared to the Apple iPhone
The Sony HX9V retains some very compact dimensions despite sporting a huge 16X optical zoom lens. Measuring 104.8 x 59.0 x 33.9 mm (4.3 x 2.4 x 1.4 inches), the HX9V probably won't fit in your back pocket but it sure will go into larger pockets or lady purses. The camera weighs in, fully loaded, at 245 grams (7.6 ounces) which is quite a bit of heft but that's nothing awfully heavy.
The Sony Cyber-shot HX9V is a solidly built camera constructed of metal and plastic. The camera feels nice and ergonomic in hand, though there were both likes and dislikes I had about the camera's design. I appreciated that the popup flash only comes up when needed (unlike those on the competing Fujifilm FinePix F550 EXR and Canon PowerShot SX230 HS) and the scroll wheel built into the navigation pad provided great tactile feedback and 'clicks'. What I felt could have been improved were the size of the buttons on the camera (could have been bigger) and the placement of the custom button at the top of the camera.
While the camera's lower-end sibling, the Cyber-shot HX7V is available in four different colors (silver, black, red and blue), the Sony HX9V here is only available in one: black. The camera looks pretty good and has chrome accents around the top/sides as well as the lens barrel rims.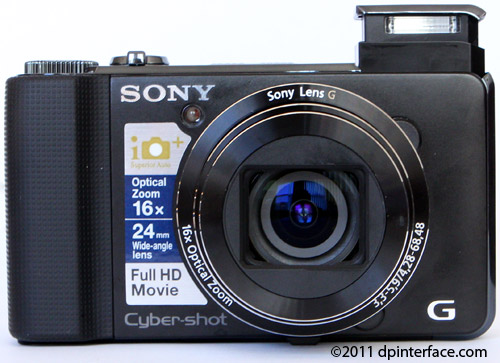 The largest feature of the Sony Cyber-shot HX9V is its 16X optical zoom lens, which is about as much zoom as you can get in a compact super-zoom camera and only topped by the Nikon Coolpix S9100 with its 18X lens. The lens of the HX9V spans a very versatile 24 to 384 mm, which in layman's terms means you can get both ultra-wide angle photos as well as extremely close-up zoomed in shots with this one camera. The lens is slightly less wide in movie mode with the use of 'Active' image stabilization due to the larger range of movement needed for more effective stabilization; a decent compromise if you asked me.
The lens has an aperture range of f3.3 to f5.9, which is just okay at wide-angle but dark at the maximum end of zoom. There's built-in optical image stabilization to help in taking steady photos and video, plus a new Active Stabilization mode which can compensate for higher levels of shakiness.
Other things you'll find on the front of the Cyber-shot HX9V include its raised and textured grip for your right hand, autofocus assist light (also serves as a self-timer countdown light) and built-in pop up flash. The popup flash is motorized for both ways, so it only comes up when needed (ie in flash on or auto flash mode) and automatically retracts back into the camera when turned off. The flash is very powerful, covering a range of 25 cm to 5.6 meters (10 inches to 18 feet) at wide-angle and up to 3 meters (10 feet) at maximum zoom.
The Sony Cyber-shot HX9V has a nice and large 3 inch display with an excellent 921,600 dots. The LCD is sharp and has good legibility under bright light. Unfortunately, low-light visibility was just average; I felt the camera could have boosted the brightness of the image more.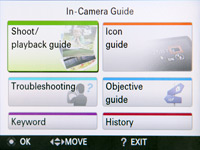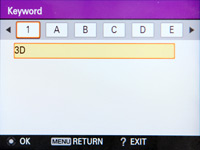 Camera guide on the Cyber-shot HX9V
The camera has four buttons along with a five way navigation pad. The top most button is a clearly labeled movie button which lets you start/stop video recording in any shooting mode. Next to that is a HDMI port and small speaker holes near the thumb grip.
That's followed by the cluster of three buttons (which could have been bigger) around the navigation pad for playback, menu and deleting photos. The delete photo button also doubles to bring up the camera's built-in help and guide.
The five way navigation pad is combined with a scroll wheel which can be used to quickly adjust settings and scroll through photos in playback. Here are the functions you can access directly using the navigation pad:
Up – Display (Toggle what you see on screen)
Down – Self-timer (Off, 2 seconds, 10 seconds, extra 1 or 2 people)
Left – Drive mode (Single shot, continuous shooting, bracketing)
Right – Flash setting (Auto, on, off, slow sync)
Center – Subject tracking autofocus
The Sony HX9V has a neat feature under the self-timer section which uses the camera's face detection system to 'look out' and wait for an extra one or two (your choice) faces to enter the scene before automatically taking a picture.
The camera also has two bracketing modes: Exposure bracketing which takes 3 pictures at different exposure settings and white balance bracketing, which does something similar for white balance.
Taking pictures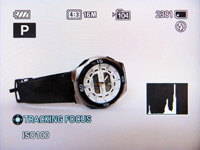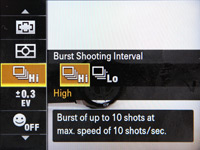 Shooting and menu screens on the Sony HX9V
The Sony Cyber-shot HX9V provides a good, detailed look at both shooting and exposure information on its display. The camera also shows a battery indicator, zoom indicator and live histogram while shooting. The HX9V has a shooting menu that contains plenty of options, the first couple of which include ISO, exposure compensation, white balance, metering mode and face/smile detection.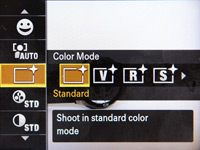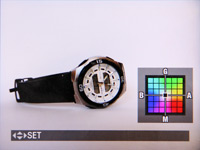 Adjusting white balance on the Sony HX9 and other menu options
Other adjustments you can make include adjustment of contrast, saturation and sharpness. The Sony HX9V allows advanced white balance adjustment, which is a nice touch; you can shift white balance along the green-magenta and amber-blue axes.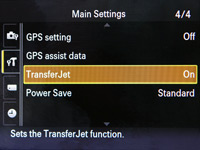 GPS on the Sony HX9
The Sony HX9V has a built-in GPS and compass which records the coordinates and direction of photos taken. Unfortunately the camera, like the Sony Cyber-shot TX100V I reviewed recently, has just one option for GPS, which is on/off toggling. The GPS on the HX9V lacks the more advanced features found on competing compact super-zoom models with GPS, such as names of locations and landmarks, location tracking or updating (means you'll have to wait for the HX9V to re-acquire signal each time you turn the camera on).
You can preload some 'assist data' to the camera using the bundled software suite with the HX9V, but I didn't find it to significantly improve acquisition times.
Camera menu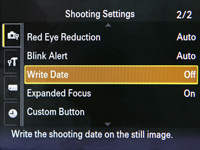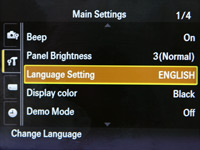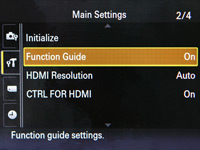 Menus on the Sony HX9
The Sony HX9V has the standard issue Sony menu. It has settings for wind noise reduction, blink alert, programming the Custom button, date/time, memory card tools and other things you won't be changing too often.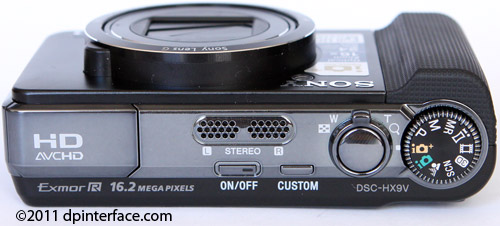 Up here you'll find the stereo microphones of the HX9V, on/off button, customizable Custom button, shutter button with zoom controller wrapped around it and the mode dial. The Custom button can be assigned to one of these 5 functions: exposure compensation, ISO setting, white balance, metering mode and Smile Shutter mode.
Macro and Scene modes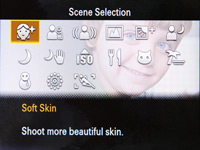 Shooting modes and scene modes on the Cyber-shot HX9V
The HX9V a mode dial that is packed with plenty of options, which we'll go through clockwise starting from the green camera icon:
Intelligent Auto: Camera handles all settings for you, including detecting shooting conditions and automatically selecting a scene mode
Superior Auto: Same as above but camera uses multi-shot handheld twilight, anti-blur or HDR image combining if needed
Program mode: Automatic exposure but you can change other settings, no exposure shift available
Manual mode: You can change aperture (F3.3-f8.0/f5.9-f14) and shutter speed (1/1600 to 30 seconds) at the same time, though aperture control is limited to two settings throughout zoom range
Memory Recall (MR): Save 3 different sets of settings here
iSweep Panorama mode: Pan the camera and it will automatically stitch a panorama anywhere from 120 to 238 degrees wide; the camera will know where to 'stop' once the panning stops. Panoramas can also be made in 3D
Movie mode
3D mode: The camera will guide you to take several differently angled shots to create a simulated 3D photo
Scene modes: Pick one of the camera's many scene modes
Background defocus: The camera takes two photos taken at two different focus points and combines them to create better background blur
The Sony HX9V has a full manual exposure mode; unfortunately aperture choices are limited in that mode and there are no shutter or aperture priority modes available on the camera.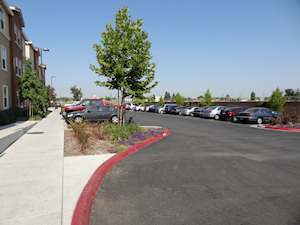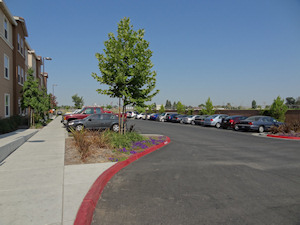 HDR on the HX9V: Left taken in auto mode, right photo taken in HDR mode
The camera can also take multiple photos in low-light (via either Handheld Twilight or Anti motion blur modes) to reduce chance of blur, or take photos at different exposures to combine them into a single HDR shot.
Panorama photo taken using Sweep Panorama HD on the Sony HX9V
The Sony HX9V also has a Sweep Panorama mode that automatically captures and creates panoramas (including 3D ones), which needs you to just pan the camera from side to side. The Sony Cyber-shot HX9V has a good macro mode that lets you go as close as 5 cm (2 inches) to your subject at wide-angle and 1.2 meters (4 feet) at maximum zoom.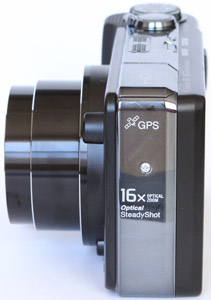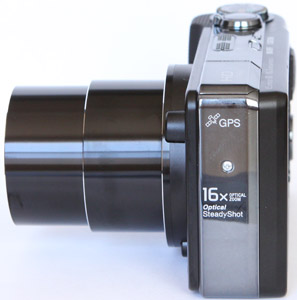 On the side of the Sony HX9V, you'll see printed labels touting the camera's 16X optical zoom and GPS feature. The two pictures above also show the lens extended at wide-angle and at maximum zoom respectively.
At the bottom of the Sony Cyber-shot HX9V is a battery/memory card compartment and a metal tripod mount, which is not in-line with the lens and obstructs the opening of the compartment door when the camera is on a tripod. Also slightly hidden by the open door is the camera's connectivity port used to plug in the USB cable for charging and image transfer and optional A/V out cable.
Video Recording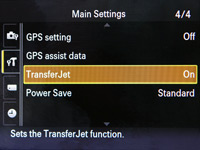 The Sony Cyber-shot HX9V can record Full HD video at 60p sensor output (though it is made into 60i) with stereo sound. The HX9V has two recording codecs available, though they rely on the resolution of movie you choose and cannot be changed. Each has their advantage as well as disadvantage here: AVCHD (smaller movie file sizes and easier TV viewing/disc burning) and MPEG4 (larger file sizes but no need for conversion to share on computer).
AVCHD 1920 x 1080, 60i; choice of 17, 24 or 28 Mbps
AVCHD 1440 x 1080, 60i; 9 Mbps
MPEG4 1440 x 1080 at 30 FPS; 12 Mbps
MPEG4 Standard HD (1280 x 720) at 30 FPS; 6 Mbps
MPEG4 VGA (640 x 480) at 30 FPS; 3 Mbps
As usual, there's that pesky 29 minute per video file limitation with the camera. And as expected, the Sony Cyber-shot HX9V allows you to use optical zoom, optical image stabilization, wind filter and continuous autofocus while recording. You can also take a still 3 megapixel photo anytime during recording. High-speed or slow-motion movie options are still nowhere to be seen, which makes us wonder when Sony is ever going to include such options on their cameras.
Here's a sample movie clip for your enjoyment:

Performance
Performance testing of the Sony Cyber-shot HX9 was done using a high-speed 45 MB/s Sandisk Extreme Pro SDHC card.
Good light
0.1 to 0.3 seconds
Very fast
Low light
0.6 to 2.0 seconds
Slow
Shot-to-shot (JPEG)
1.3 seconds
Fast
The Cyber-shot HX9V can shoot at a fast 10 FPS at full resolution (16 megapixels) in its continuous shooting mode. However, you can only take 10 pictures in a burst before you'll have to wait 2 to 3 seconds for the camera to store them (which is actually not too bad, before you can take another 10 pictures at that high speed). There is a low speed mode that allows you to take pictures at a slower 3 FPS.
Overall performance of the Sony HX9V was a mixed bag. There's fast autofocus in good light and excellent shooting speeds and continuous shooting performance. However, the camera needs some improvement in terms of startup time and autofocus speed in low-light (though the camera does somewhat redeem itself with accurate focusing in low-light).
Image Quality

ISO 100

ISO 200
ISO 400

ISO 800

ISO 1600

ISO 3200
The Sony Cyber-shot HX9V starts out with clean image quality at ISO 100, with low noise and some slight overprocessing. Overprocessing and artifacts are not as prominent as in the compact Cyber-shot TX100V I reviewed earlier on; nevertheless they are still present and visible upon close inspection. Photo quality remains similar at ISO 200 and just slightly noisier (but with more noise reduction) at ISO 400.
At ISO 800, photos become quite muddy and this would be as high as you would want to go to get acceptable medium-sized prints or display uses out of photos. At ISO 1600, noise becomes worse, color saturation drops slightly and detail levels are very poor; with the ISO 3200 further amplifying these unwanted characteristics.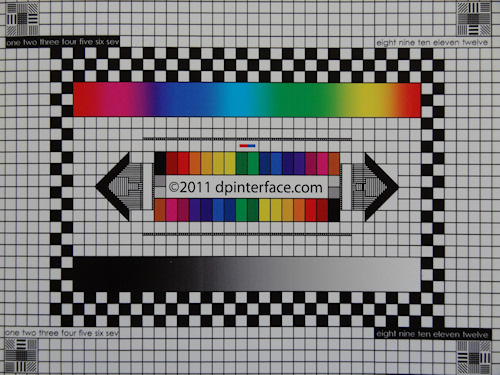 There is little lens distortion to be seen with the Sony HX9V, despite its big 16X optical zoom lens. Edge sharpness is also pretty good; however a good amount of chromatic aberration (color fringing) is still prominent in photos. Photo quality is overall acceptable and while not best in class, the camera will serve you for casual snapshots just fine.
Photo gallery
Enter the Sony Cyber-shot HX9V photo gallery to see pictures from the camera.
Playback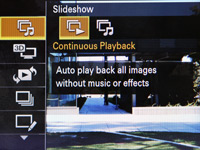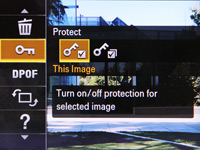 The Sony Cyber-shot HX9V has a decent playback mode which covers basic functions like print marking, rotation, cropping, image protection and fancy slideshow mode. You can also remove redeye and sharpen photos in playback. Unfortunately, it doesn't have any photo effects or other more useful tools.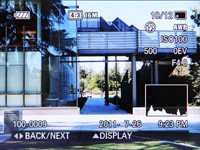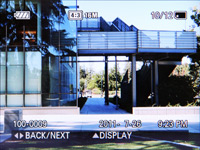 The Sony Cyber-shot HX9V tells you everything you need to know about your photos, down to camera settings, a brightness histogram and exposure details.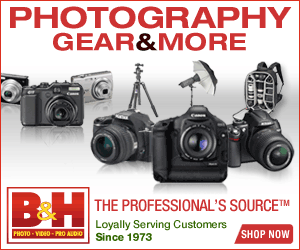 Conclusion
The Sony Cyber-shot HX9V is a compact super-zoom camera with a strong feature set. The camera sports one of the larger lenses you can find on a compact super-zoom model with 16X optical zoom and optical image stabilization. The Cyber-shot HX9V has a big 3 inch display which is good outdoors and just decent indoors.
The Sony HX9V has plenty of features such as its full manual mode, white balance adjustment and various bracketing modes, along with a good degree of customizability with a Custom button and custom mode dial spot (that can save 3 sets of settings). However, the camera's Manual mode isn't exactly true full manual as aperture options are limited; the HX9V also lacks program shift and aperture/shutter priority modes.
For those looking to take it easy with casual shooting, the Sony HX9V has 2 Auto modes, plenty of scene modes as well as a few neat tricks to combine multiple shots taken in a row into a single low noise or HDR image. The camera also features a 3D photo mode and 3D panorama mode, in addition to the traditional normal Sweep Panorama mode which works well. The HX9V also has GPS built in but it's a lot less advanced and useful compared to other compact super-zooms that have it as well.
The Sony HXV has excellent battery life that's just about class leading and also does well speed wise with quick focusing in favorable conditions and fast shooting abilities. As I noted, however, the camera's start up time is slow and so is low-light focusing (though focusing is still pretty accurate in dark situations). Image quality is just 'acceptable' with nothing spectacular at all. Edge sharpness was good and lens distortion was under control, but the camera just put images through too much processing, giving them an artificial look and poor clarity of fine details at low ISO and photos have a watery and muddy look at higher ISO settings.
The Sony Cyber-shot HX9V is a decent pick for casual users looking to get an easy to use and compact travel camera with plenty of zoom and loaded with fancy bells and whistles that I can recommend. The camera doesn't have a super useful manual mode and image quality is just usable, but the camera's other features make it very versatile when paired with its pocketable size.
What's hot:
Acceptable image quality
16X zoom lens covers a very versatile range of shooting situations
High-resolution and bright 3 inch LCD
Excellent battery life
Custom shortcut button and 3 configurable sets of settings for Memory Recall mode dial spot
Full manual mode, exposure/white balance bracketing and white balance shift
Sweep Panorama, 3D photo and 3D panorama, and HDR functionality; and lots of scene modes
Built-in compass and GPS (but very basic, see below)
Speedy shooting performance and focusing in good light; high-speed continuous shooting
Full HD video mode with high recording bit rate and stereo sound; optical zoom, autofocus, wind filter and image stabilization can be used in recording
What's not:
Photos have an overprocessed look at low ISO; muddy at high ISO
GPS feature is too simple; only on/off toggle with no other features
Only 2 aperture choices at any given time; no aperture/shutter priority modes or program shift
Slow startup time and sluggish low-light focusing
Small buttons on the back, awkward Custom button location, LCD visibility in low light could be better
Lack of playback tools versus the competition