I've just posted my in-depth review of the Nikon Coolpix S9100, a very capable compact travel-zoom camera from Nikon. The camera has the largest zoom lens for a camera around its size; a whopping 18X optical zoom along with impressive qualities that makes this camera worth a look. Be sure to also visit the Nikon Coolpix S9100 photo gallery to view sample photos.


DPInterface Nikon Coolpix S9100 Review
Brad Soo – October 25th, 2011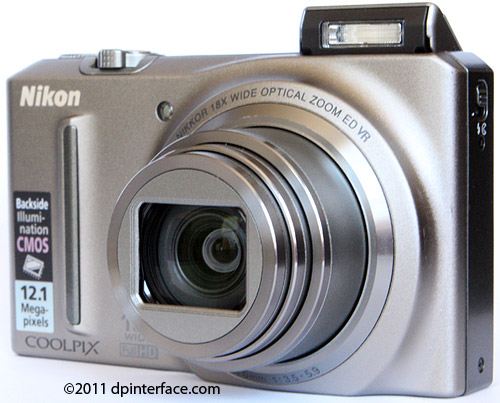 The Nikon Coolpix S9100 is marks Nikon's foray into this year's crowded travel-zoom camera market. The camera sports a 12 megapixel CMOS, much like other compact super-zoom cameras, but packs a huge 18X optical zoom lens, very good battery life and just about the highest resolution 3 inch screen you can get in a compact camera. High-speed continuous shooting abilities and Full HD movie mode are, by now, quite expected in cameras of this class, and the Coolpix S9100 has them too.
Is the Nikon Coolpix S9100 the ultimate travel-zoom of the year? Let's find out.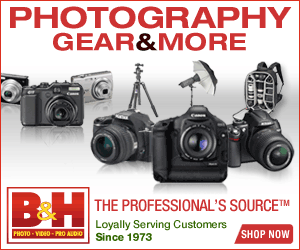 Size and weight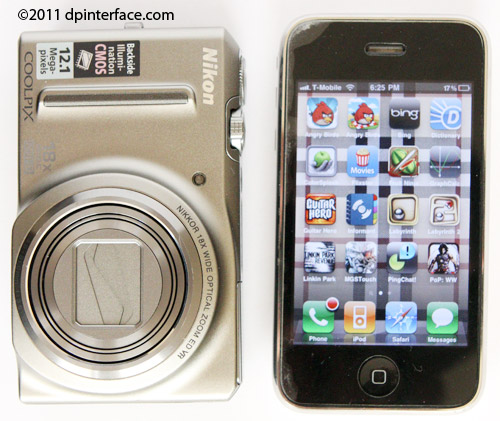 Nikon Coolpix S9100 compared to the Apple iPhone
Considering the big zoom range of its lens, it shouldn't come as a surprise that the Nikon Coolpix S9100 is one of the larger travel-zoom cameras out there. The camera is by no means huge, but it won't sit too well in the pocket of your skinny jeans. However, it does fit into most pockets, bag compartments and larger purses with ease.
The Nikon Coolpix S9100 has a footprint that's as large as a mid-size smartphone like the Apple iPhone, and is quite a bit thicker and heftier too. Measuring 104.8 x 62.0 x 34.6 mm (4.2 x 2.5 x 1.4 inches) with a weight of 214 grams (7.6 ounces) loaded, the Coolpix S9100 will definitely make its presence in your pocket clear. That's actually a good thing since the camera feels nice and solid in hand and stable when you shoot.
In the camera box
The Nikon Coolpix S9100 arrives with all the standard accessories you'd expect from a camera (ie, not much really):
Nikon Coolpix S9100 camera
EN-EL12 lithium-ion rechargeable battery
AC adapter style USB charger
Wrist strap
USB and A/V cables
Camera software CD
The Nikon Coolpix S9100 comes with 74 MB of internal memory, which isn't plentiful for a 12 megapixel camera but still a nice touch and can be used as backup memory or to store your favorite photos. The Nikon Coolpix S9100 supports all three SD card variants: SD, SDHC and SDXC so it would be wise to pick one up if you don't already have a memory card. I would recommend a 8 GB high-speed memory card for starters since they're fairly affordable and will hold plenty of photos and a good amount of video. The Coolpix S9100 does take advantage of high-speed memory cards, so you will feel a performance improvement when using one.
The Nikon Coolpix S9100 uses the fairly powerful EN-EL12 rechargeable lithium-ion battery which translates into an above average battery life figure of 270 shots per charge. The Nikon Coolpix S9100 is one of those cameras that supports USB charging and comes with a USB charger in the box. It's a disadvantage having to plug the whole camera to charge (just like how you would with a phone) and being unable to take it out to shoot while charging a spare battery… but it seems more camera makers are doing this (presumably to cut costs). Nikon would be happy to sell you an optional standalone battery charger though.
Accessories
There aren't any accessories available for the Nikon Coolpix S9100 save for various camera cases and aforementioned spare battery and standalone battery charger.
Camera Tour
The Nikon Coolpix S9100 certainly won't be winning any awards for style with its rather plain looks and chunky design. However, I'm glad to report the camera does well in terms of substance and feel: the Coolpix S9100 is very solid, since it's constructed mostly of metal, and feels sturdy in hand (save for the part where you have to open the bottom compartment whose door feels flimsy). The Coolpix S9100 is also ergonomic with well-placed and nicely sized buttons, along with plenty of room for your hands to hold the camera on each side.
The camera has all its controls reachable with your right hand and there's plenty of room to support the camera with your left hand too. The Coolpix S9100 has a built-in popup flash but unlike the Fujifilm FinePix F550 EXR and Canon PowerShot SX230 HS we reviewed recently, this one doesn't come up automatically (a good thing, since the latter two cameras had very annoying flashes that raised each time the cameras were powered on).
The Nikon Coolpix S9100 comes in your choice of three colors: silver, black and red.
The biggest feature of the Nikon Coolpix S9100 (no pun intended) is the 18X optical zoom lens it has on the front. The lens is about the biggest you will find in a travel-zoom camera (tied with the Samsung WB700 and recently introduced Samsung WB750 which also have 18X lenses) and is equivalent to an extremely useful 25 to 450 mm, which covers both ultra-wide-angle and long distance shooting. The aperture range of the Coolpix S9100 is on the dim side though, spanning f3.5 – f5.9 which might need a boost in ISO or using one of the camera's low-light modes when shooting in poorly lit situations. Behind the lens is a sensor-shift image stabilization system which moves that 12 megapixel sensor around to reduce the chances of taking blurry shots.
If that's not enough, the Coolpix S9100 has the ability to take pictures at high speed, just like other CMOS-sensor equipped compact cameras, including taking multiple shots and combining them into a single low-noise, sharp photo in dimly lit shooting conditions.
Near the lens, you'll find the camera's autofocus assist/self-timer lamp, a raised bump for gripping the camera with and manual popup flash. The flash is pretty average in terms of power, covering a range of 50 cm to 4 meters (2 to 13 feet) at wide-angle and 1.5 to 2.5 meters (6 to 8 feet) at maximum zoom; with both figures achieved using Auto ISO. The camera also uses several slightly weaker pre-flashes to reduce redeye if you choose to enable the redeye reduction setting.
At the back of the Nikon Coolpix S9100 is yet another epic feature. The camera has a 3 inch display with an impressive resolution of 921,000 dots; the same thing as you'll find on more expensive compact cameras and digital SLR models. The display is nice and fluid, plus has very good visibility in low-light and under bright situations too. The only slight (but nevertheless annoying to some) imperfection is the 97% coverage in live view, which means resulting pictures will cover a little more of your scene than what was previewed on the display.
The camera gives you plenty of room for your thumb on the right, with the movie button located to the upper right corner, opposite a small status indicator light for the flash status. Below that is a cluster of controls that includes a navigation pad and three buttons in the vicinity of it (Each assigned its own function: playback, menu and delete photo).
The Coolpix S9100 has a navigation pad combined with a scroll wheel. The scroll wheel has nice, tactile clicks that prevents accidental scrolling while providing good feedback about how many 'steps' worth of settings you have changed… too bad the camera doesn't have any manual controls.
Up – Flash setting (Auto, on, slow sync, off; redeye reduction available)
Down – Focus mode (Auto, macro, landscape)
Left – Self-timer (Off, 2 seconds, 10 seconds)
Right – Exposure compensation (+/-2 in 1/3 increments)
Center – OK/Confirm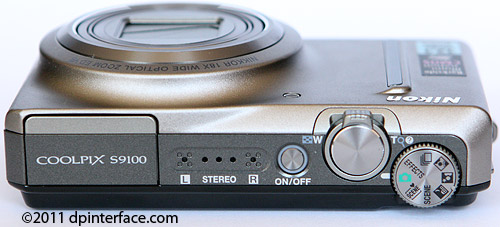 The Nikon Coolpix S9100 has plenty of stuff on the top. You can find the popup flash on the left side along with the camera's stereo microphones and speaker. Towards the other side, you'll find the power on/off button and shutter button with zoom controller wrapped around it. The Nikon Coolpix S9100 has two available zooming speeds, depending on how hard you pull the zoom controller: you can be either very quick or precise in zooming.
On the very right side is the Coolpix S9100's mode dial which consists of just 8 options (going clockwise): P-auto mode, effects, continuous shooting, backlighting (When your subject is standing in front of a very bright background; HDR and D-Lighting options are found here), night portrait, night landscape, scene modes and scene auto selector. The Coolpix S9100 has two 'night' modes above which take several photos in a row and combines them into a single lower noise, less blurry photo. If you have the camera on a tripod, you can enable tripod mode which makes the camera take long exposure shots instead.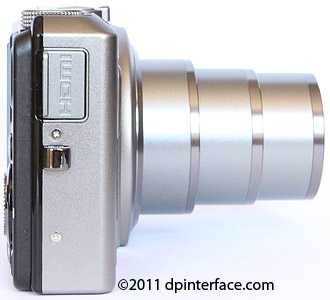 On the left hand side of the Coolpix S9100, you'll find a small switch to manually pop the flash up. On the other side of the camera, there's the wrist strap loop and HDMI port hidden behind a cover (you can also see the camera's 18X lens at maximum zoom position here).

At the bottom of the camera, you'll find the battery and memory card compartment, covered by a door that isn't as sturdy as the rest of the camera. There's also another port here, hidden by yet another cover: it's the combo port for USB and A/V Out connectivity (also where you'll plug the charger in). The last item to see is the metal tripod mount, which is far enough from the compartment door to allow it to open when the camera is on a tripod.
Taking pictures (Shooting mode)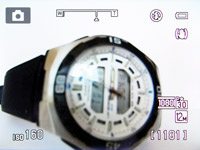 The Nikon Coolpix S9100 doesn't have a particularly busy live preview screen, mainly because of its lack of settings that you can tweak. The camera displays exposure info, shooting details and indicators for both zoom and battery level. It does lack a live histogram and some info about remaining video time would be nice.
Shooting settings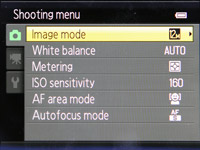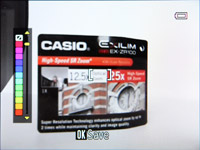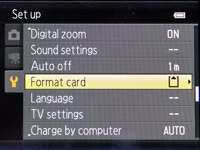 The Nikon Coolpix S9100 has a fairly basic list of six items in its main menu that cover image resolution/quality, white balance, metering mode, ISO setting (Ranges from ISO 160 – 3200 with two auto ISO modes), autofocus mode (single or continuous focusing) and area (9 point auto, subject tracking, center, face detection and manual area). The camera lacks any form of exposure control or more advanced settings, though it does have a custom white balance option and gives you the ability to select one of 99 focus points on your image, if you wish.
The middle screenshot shows the Coolpix S9100's Selective Color mode, one of the 6 effects found in the Effects area of the camera. The camera gives you the ability to select one specific color to keep, while turning the rest of the image black and white. The other five effects give you little to no control, though their results are still interesting (and you don't need to touch your computer): soft, sepia, high contrast monochrome, high key and low key.
Finally, the Coolpix S9100 does have a relatively straightforward setup menu that contains a bunch of options for you to set up the camera.
Macro and scene modes
The Nikon Coolpix S9100 has a very good macro mode. Standard minimum focusing distance is 50 cm (2 feet) at wide-angle and 1.5 meters (5 feet) at maximum zoom, but macro mode lowers minimum focusing distance to just 4 cm (1.5 inches) and allows you to use wide-angle with a little zoom.
The Coolpix S9100 has a bunch of scene modes which range from backlight mode, beach, black and white, closeup, dawn/dusk, fireworks, food, landscape, museum, night landscape and portrait, panorama, party, indoor, pet, standard portrait, snow, sports and sunset. The camera also has a mode called Scene Auto Selector which detects shooting situations and automatically picks a fitting scene mode for you.
Auto Panorama captured using the Coolpix S9100 (click image for larger)
The camera's Best Shot mode captures 10 pictures and the Coolpix S9100 will automatically choose and save just the 'best' of the bunch (sharpest with best exposure, among other criteria). The Coolpix S9100 also has a fancy 'auto' panorama mode that allows you to 'pan' the camera while the camera captures and stitches together a nice and big panoramic image up to 180 or 360 degrees in angle. Unfortunately image resolution isn't too high so you might consider manually shooting and stitching photos on your computer if you want bigger panoramas.
Video Recording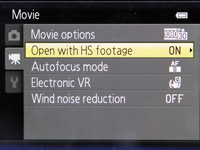 The Nikon Coolpix S9100 has a fairly capable movie mode that does Full HD movies. You can record 1080p Full HD (1920 x 1080) resolution movies at 30 FPS with stereo sound, and they're recorded in MPEG4 using the AVC H264 codec. Other resolution options include 720p Standard HD (1280 x 720), VGA (640 x 480) and an Apple iFrame optimized 960 x 540; all have frame rates fixed at 30 FPS. Movies have a limitation of 4 GB or 29 minutes per video clip, whichever comes first.
The camera can continually autofocus during recording and you can also toggle a wind filter option and use optical zoom (with slower than usual zoom to reduce lens motor noise). What the camera can NOT do is allow you to use real image stabilization (due to the nature of sensor-shift image stabilization), so it offers a very ineffective digital alternative which seems pointless to me.
The Nikon Coolpix S9100 has a fast motion movie mode that records at low frame rates and speeds playback up, and three slow motion movie modes that record at high frame rates and slows them down to give a 'slow motion effect'. Here are the options:
Fast motion Full HD (1920 x 1080) at 15 FPS
Slow motion Standard HD (1280 x 720) at 60 FPS
Slow motion VGA (640 x 480) at 120 FPS
Slow motion QVGA (320 x 240) at 240 FPS
The Nikon Coolpix S9100 records videos with good quality and decent audio quality for most casual/general videos. Check this Full HD movie sample recorded using the camera:
Performance
All performance testing of the Nikon Coolpix S9100 was performed using a high-speed 16 GB SanDisk Extreme SDHC card.
The Nikon Coolpix S9100 has a very fast startup time of just 1.3 seconds, including the time to extend its lens. The camera is just as quick in terms of focusing, clocking in times of 0.1 to 0.4 seconds at wide-angle, 0.4 to 0.8 seconds at telephoto – that's very fast and locking focus is almost instant with continuous AF enabled. In low-light, focusing speeds can drag up to a less impressive 1 to 1.5 seconds, though focus is still accurate thanks to the focus assist lamp.
Shot-to-shot speed (JPEG) - 1 shot per 1.8 seconds (very fast)
Flash recharge time using a fully charged battery - 3 seconds (add to shot-to-shot figure above)
The Nikon Coolpix S9100 has a total of 7 burst modes (!) that it has its own dedicated spot for continuous shooting on the mode dial! Thankfully they're straightforward to understand and I've got them summarized in this handy list:
Continuous High: 9 FPS shooting rate up to 5 photos at full-resolution
Continuous Low: 2 FPS shooting rate up to 12 photos at full-resolution
Continuous H 120: 120 FPS shooting up to 50 photos at 1 megapixel
Continuous H 60: 60 FPS shooting up to 25 photos at 2 megapixels
Pre-shooting: Continuously buffers shots at 7.5 FPS and saves the previous 2 and next 3 shots right as you press the shutter button
Best Shot: Takes several pictures and saves the best shot
Multi-shot 16: Takes 16 photos in a row and combines them into a collage
The Nikon Coolpix S9100 is definitely one of the best performing travel-zoom cameras in the market. The camera starts up extremely quickly and focuses with almost class-leading speeds. The Coolpix S9100 is also very responsive in operation and shot-to-shot, and gives you a huge selection of burst modes to choose from. There's just one place that could be improved, and that's a bigger buffer or faster writing so the camera can actually take more shots in a single burst.
Image Quality

ISO 160 (f3.5, 1/60 sec)

ISO 200 (f3.5, 1/80 sec)
ISO 400 (f3.5, 1/160 sec)

ISO 800 (f3.5, 1/320 sec)

ISO 1600 (f3.5, 1/640 sec)

ISO 3200 (f4.0, 1/1250 sec)
The Nikon Coolpix S9100 has a weird ISO range that starts at ISO 160. The camera does a good job at capturing a good amount of detail with vivid colors at this setting, retaining similar qualities at ISO 200. At ISO 400, we see a slight introduction of noise reduction as the camera introduces a slighty 'watery' look to images (as if they were paintings) but noise remains well controlled and image quality is still good for most part. Image quality still survives well into ISO 800 territory.
At ISO 1600, image quality becomes noticeably muddier and desaturated, so you might stay away from this setting if fine details are a priority for you. If you're looking to capture a 'just' usable snapshot in low-light (where you usually don't have a choice but to use this setting), ISO 1600 will do fine with small to mid-size viewing and printing. The camera's ISO 3200 does stretch things quite a bit and I wouldn't advise using this setting all the time. However with a little cleaning up, it still is pretty usable for rare cases.
The Nikon Coolpix S9100 shows a surprisingly low level of lens distortion and close to non-existent color fringing (chromatic aberration) except in high-contrast situations. The camera also produces corners that are average in terms of sharpness, though there's a "dreamy softness" in high-contrast situations.
The Nikon Coolpix S9100 produces fairly good image quality (but by no means the best) with controlled noise and a good amount of detail. The camera has little lens flaws except some corner softness and color fringing at times. What it could have done with was tuning noise reduction (you can't change it on the Coolpix S9100 and there is no RAW mode) down a notch to prevent muddiness in photos.
Photo gallery
View the Nikon Coolpix S9100 photo gallery to check out sample photos taken using the camera.
Playback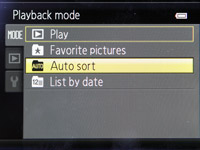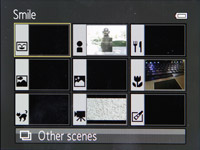 The Nikon Coolpix S9100 has a nicely feature-packed playback mode. The camera gives you the ability to browse photos normally, or by favorites or date. The camera also has an elaborate system to categorize photos, usually automatically based on scene mode. Basic features like image protection, rotation, resizing, copying, selection from 'burst stacks' and slideshow mode are here.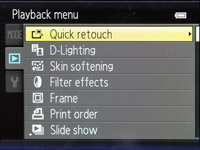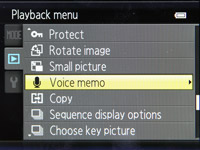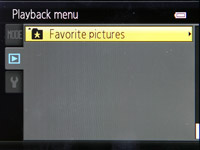 The Coolpix S9100 also includes a bunch of editing options that include Quick Retouch (improves contrast and saturation), D-Lighting (improves brightness and contrast), skin softening and various filter effects.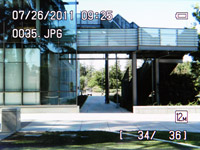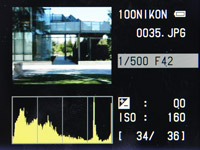 The Nikon Coolpix S9100 tells you exposure information along with a brightness histogram for each of your photos, but tells you nothing about other shooting details.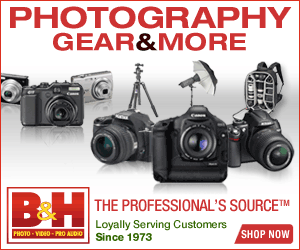 Conclusion
The Nikon Coolpix S9100 is a very well-rounded travel-zoom camera. The camera packs a 12 megapixel CMOS sensor paired with the largest zoom lens you'll find in a travel-zoom camera; amounting to 18X optical zoom. The Coolpix S9100 has an impressive set of other features: it's well-built, there's a nice scroll wheel to reduce button-pressing, a big, bright and very high-resolution 3 inch display and better than average battery life.
The main disappointment with the Coolpix S9100 is probably the lack of manual controls and its few shooting options (its shooting menu has just 6 items!). But once you look past that, the Coolpix S9100 has a nice amount of point-and-shoot features (including an auto scene selector and in-camera panorama mode) along with simplicity of usage, that anyone can use the camera on the first time they pick it up. With this camera, there seems to be more emphasis on the taking of pictures, instead of 'fiddling with settings before shooting' that has become the concentration of other travel-zoom cameras.
The Coolpix S9100 also has an elaborate playback mode, excellent performance that's just about best-in-class as it can get (Save for buffer and limited pictures in a single burst) and very good and capable Full HD movie mode. The camera's movie mode gives you plenty of resolution options and modes, but the thing preventing the Coolpix S9100 from taking the crown of 'movie champion' are two big issues: lack of real image stabilization while recording, and the 'noisier than everyone else' lens motor.
I would highly recommend the Nikon Coolpix S9100, being an impressive all-round performer in the travel-zoom category of cameras. You might have to pass on the manual controls which you'll find on similar cameras, but in return, you get a very nice camera that you will enjoy taking plenty of snapshots with.
What's hot:
Good image quality; low noise
Largest in class 18X optical zoom lens with sensor-shift image stabilization
3 inch display with very high resolution and excellent legibility
Above average battery life
Lots of scene modes, automatic scene selector, a handful of photo effects and auto panorama mode
Extremely fast performance; good selection of continuous shooting modes
Very solid build quality, scroll wheel + navigation pad combo, intuitive menus
Elaborate playback mode
Full HD 1080p movie mode with optical zoom, continuous AF, wind filter and stereo sound; high-speed movie mode settings available
What's not:
No manual controls
No real image stabilization available while recording movies; lens motor is noisier than average
Slightly smudgy photos from noise reduction above ISO 400; 'dreamy' look towards edges of photos (but good corner sharpness)
Limited number of shots in a single burst with continuous shooting at 12 MP
Light on menu options, shooting settings and on-screen info (no live histogram in shooting mode, little to no shooting info in playback mode)