Another travel zoom camera review: this time I've got the in-depth Canon PowerShot SX230 HS review online! The Canon PowerShot SX230 is a compact super-zoom camera with 14X optical zoom, 3 inch widescreen and GPS. As always, remember to visit the Canon PowerShot SX230 HS photo gallery to view sample photos.


DPInterface Canon PowerShot SX230 HS Review
Brad Soo – October 18th, 2011
The Canon PowerShot SX230 HS is the latest compact super-zoom offering from Canon. The camera is an fairly evolutionary upgrade from last year's PowerShot SX210 IS model, sporting a familiar 14X optical zoom lens, 3 inch widescreen and body design. Most of the improvements, such as the new 12 megapixel 'high speed' CMOS image sensor, much better burst mode and ability to record movies in Full HD are tucked under the hood. But one visible difference on the outside of the PowerShot SX230 HS is the addition of a small hump where Canon has added a GPS module to the camera.
If you've seen our reviews this summer, you'll know that just about every camera maker this year has their own travel-zoom camera model, making this segment quite crowded and competitive. Does the Canon PowerShot SX230 HS have what it takes to win holiday shoppers over? Let's find out.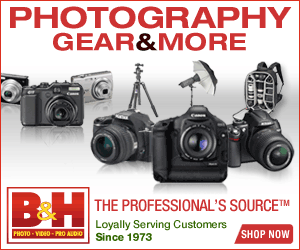 Size and weight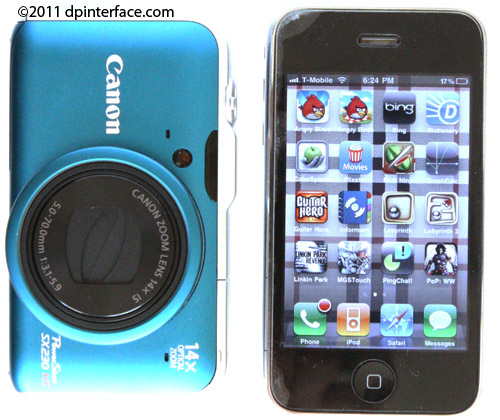 Canon PowerShot SX230 compared to the Apple iPhone
The Canon PowerShot SX230 HS is a decently-sized digital camera. The camera is close to the size of a smaller smartphone like the iPhone, but quite a bit pudgier in terms of thickness/depth thanks to the protruding bit of the lens barrel. I found the PowerShot SX230 HS fits nicely in most bag compartments and larger pockets, though stuffing the camera into your skinny jeans pocket won't be too easy.
The Canon PowerShot SX230 HS measures 105.7 x 61.6 x 33.2 mm (4.2 x 2.4 x 1.3 inches) and weighs 195 grams (6.9 ounces), which is compact enough to be pocketable, but certainly larger/heftier than the Casio Exilim ZR100 we reviewed last week (that camera packs a smaller 12.5X zoom lens though!).
In the camera box
The Canon PowerShot SX230 HS comes with an average bundle:
Canon PowerShot SX230 HS camera
NB-5L lithium-ion rechargeable battery
Battery charger
Wrist strap
USB and A/V cables
Camera software CD
The Canon PowerShot SX230 HS doesn't come with any memory, so you'll immediately have to go for your own SD, SDHC or SDXC card. The camera does well with a high-speed memory card so a good place to start would be a 8 GB high-speed memory card.
The Canon PowerShot SX230 HS uses the NB-5L rechargeable battery that Canon also uses with their IXUS/ELPH models, and comes with a standalone battery charger. Standalone chargers are nice (but increasingly rare with compact cameras this year) since you can leave a second battery at home to charge while using the camera outside; you clearly can't do the same using a USB charger (since you'll have to leave the camera plugged in like you would when charging your phone). Speaking of using the camera, the PowerShot SX230 HS is rated to last around 210 shots per charge. That's on the below average side so consider picking up a spare battery if you plan to use the camera frequently for extended periods of time.
Accessories
The Canon PowerShot SX230 is compatible with a small handful of accessories, including an optional slave flash and waterproof case (rated to 40 meters underwater). There's also an AC adapter which can be used to power (but not charge) the camera from a power source.
Camera Tour
The Canon PowerShot SX230 HS looks almost identical to the last year's model that it succeeds. The camera is shaped like a bar of soap and is fairly packed with buttons; making ergonomics a mixed bag. The mode dial is fairly stiff to prevent accidental bumps but the power button is large and positioned in an awkward place prone to inadvertent pressing as you place it in your bag or pull the camera out of your pocket.
The camera is spacious enough on the front which is good to know you won't be blocking anything with your fingers, but the front is also completely smooth and lacks any tactile or protruding grip for your right hand (something just about all the travel-zoom cameras have). The Canon PowerShot SX230 HS shares an annoyance also found on the Fujifilm FinePix F550 EXR I reviewed not long ago: that pesky popup flash keeps raising automatically every time you power on the camera… sure you can push it back down each time, but I think most folks (me included) would rather it stay down until it needs calling upon.
The Canon PowerShot SX230 HS comes in your choice of three colors: black, baby blue or a rosy/pink-like red.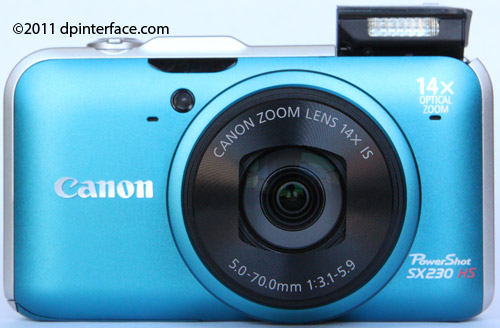 The Canon PowerShot SX230 HS has a fairly simple front, with the big 14X optical zoom lens equivalent to 28 to 392 mm being the main highlight of the camera (it's worth noting most of the competition have lenses that start out at a noticeably wider angle 24 mm or 25 mm). This lens has an aperture range of f3.1 – f5.9, which is decently bright at wide-angle but dark at maximum zoom. There's also optical image stabilization within the lens which helps reduce blur in low-light/high zoom, with an added 'dynamic mode' to compensate for large movements that comes in particular handy in movie mode.
Other things on the front include a pair of stereo microphones flanking the lens on each side, the autofocus assist/self-timer countdown light and GPS receiver window. To the upper right side is that pesky popup flash I was mentioning earlier which comes up every time you turn the camera on (but also automatically goes back down when you switch the camera off). The flash itself is nothing to shout about, in fact it is fairly weak, covering a range of up to 3.5 meters (11.5 feet) at wide-angle, and down to just 2 meters (6.5 feet) at telephoto.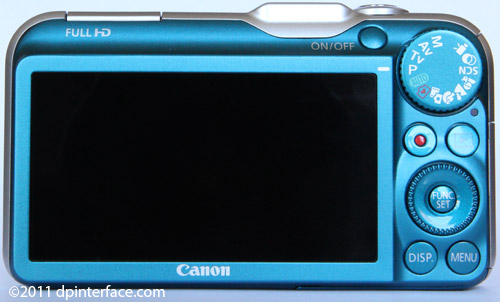 The Canon PowerShot SX230 HS is the only travel-zoom camera to currently feature a widescreen display. This 3 inch widescreen LCD has a resolution of 461,000 dots which makes it sharp and it's also decent in terms of brightness indoors and out. The widescreen is both good and bad, depending on what you're doing: movies fill up the screen perfectly while composing pictures normally leaves a blank strip on each side of the preview (leaving effective viewing area to be quite a bit less than the full 3 inches of the LCD).
We have a bunch of things to cover here on the PowerShot SX230 and we'll start with the on/off button placed in the weirdest of places; above the LCD where you'll have to stretch your thumb to reach it. As mentioned, it's too easy to bump or press, especially when pulling the camera out of your pocket or bag.
Skipping past the mode dial for a while, there are four buttons and the navigation pad; the buttons are pretty direct in terms of what they do: movie recording start/stop, playback mode, toggle display information and bringing up the camera menu.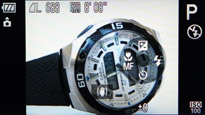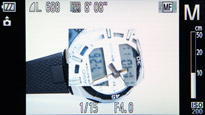 On-screen navigation pad icon guide and manual focus magnification respectively
What's not so clearly labeled is the navigation pad on the PowerShot SX230. The navigation pad also doubles as a scroll wheel for adjusting settings (there are decent tactile clicks so you know how many 'steps' worth of exposure you're changing without looking), and since there apparently wasn't enough room to print labels on, Canon has opted to display a virtual icon guide on the display to show you what each direction does:
Up – Exposure compensation (+/-2 in 1/3 increments)
Down – Self-timer (Off, 2 seconds, 10 seconds, custom)
Left – Autofocus mode (Auto macro, macro, manual focus)
Right – Flash setting (Auto, on, slow sync, off; redeye reduction available)
Center – Function menu/OK
And over here, we bump into the PowerShot SX230's first manual control: manual focus. The camera has a full-featured manual focus mode, complete with focus magnification and distance indicator as shown above.
Function menu
Over here is the function menu of the Canon PowerShot SX230 which contains a bunch of picture taking settings you can adjust, including flash exposure compensation/flash power output, metering mode and image effects (My Colors).
Going back to the camera's mode dial, the Canon PowerShot SX230 HS is equipped with a bunch of shooting modes, ranging from full manual controls (program, shutter and aperture priority and full manual modes) to automatic and scene modes (discussed later). The camera has a selectable shutter speed range of 1/3200 to 15 seconds, while the aperture range spans a less useful f3.1/f5.9 to f8.0.
Miniature mode Creative Filter (screenshot from ELPH 300 review)
The Canon PowerShot SX230 HS sports a bunch of image effects which Canon calls Creative Filters. Since this is essentially a staple feature on Canon's ELPH/IXUS and more expensive PowerShot models this year, I've figured a way to not have to repeat myself… read more about the various Creative Filters in my article I've written.

Up here, we can find a couple more things: on the left side is where the popup flash comes up (you can see how it can get in the way of your left hand here), speaker towards the center and area where the GPS module of the PowerShot SX230 HS is located. On the very right side is the camera's shutter button and zoom controller wrapped around it. As with many other travel-zoom cameras, the PowerShot SX230 HS gives you 2 variable zooming speeds, depending on how much pressure you pull at the zoom controller.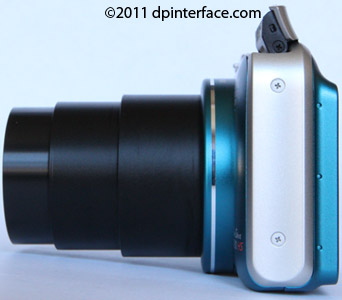 On this side of the camera, there's nothing to see except the PowerShot SX230 HS' lens extended at 1X and full 14X zoom respectively.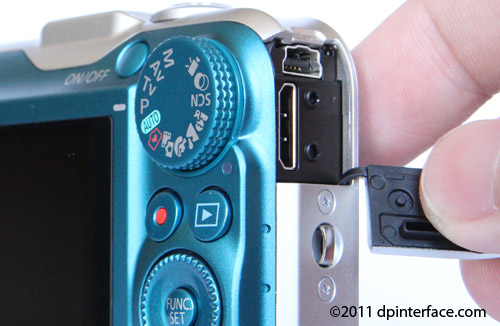 On the other side of the PowerShot SX230 HS, you can find the camera's wrist strap loop and two ports hidden under a cover (USB 2.0 High-speed output and HDMI).
At the bottom of the Canon PowerShot SX230 HS is the battery/memory card compartment covered by a good quality plastic door, along with the metal tripod mount (that isn't inline with the lens and partially covered by the open door in the picture above).
GPS feature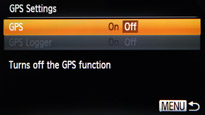 The Canon PowerShot SX230 HS has a built-in GPS that lets you geotag photos as you snap them. The camera has just two options in the GPS menu, one to toggle it on/off and another called GPS Logger, which updates the camera's location every now and then to enable faster acquisition times (at the cost of battery life). The PowerShot SX230 HS lacks one big feature that the other GPS-equipped travel zoom models (the Fujifilm FinePix F550 EXR and Panasonic Lumix ZS10 / Lumix TZ20) have, which is a location/landmark database to add location details to your photos, instead of the plain GPS coordinates you get with this camera.
The camera's GPS works best in open spaces and mostly outdoors. As with most GPS devices, things don't work too well indoors.
Taking pictures (Shooting mode)
The Canon PowerShot SX230 HS shows you plenty of information on its display in shooting mode. As you can see, the camera's widescreen makes the preview area when taking pictures smaller than the whole 3 available inches of the LCD, though the camera will fill up the entire screen when recording widescreen images and movies. There's a basic battery indicator, zoom indicator (when using zoom) as well as framing gridlines available, but no live histogram.
Shooting settings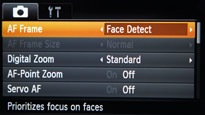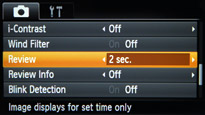 The Canon PowerShot SX230 HS has the typical Canon PowerShot menu system widened to fit the widescreen. For most part, the menu system here is not unlike previous Canon cameras we have reviewed, with addition of some options for manual focus as well as continuous AF. Everything is clear here and there's an intuitive scrolling tooltip line at the bottom of the screen that describes each function to you.
Macro and scene modes
The camera has a decent macro mode that allows you to get as close as 5 cm (2 inches) at wide-angle to your subject. The PowerShot SX230 HS also has a large variety of scene modes, including portrait, landscape, kids and pets, smart shutter, high-speed burst, best image selection, handheld night scene, low-light, beach, underwater, foliage, snow, fireworks and stitch assist.
The camera has a Smart Auto mode which enables the camera to pick the right settings based on the scene conditions you're shooting under. The camera also has 'multi-shot and combine' capabilities, as seen with handheld night scene, which takes several pictures and combines them into a lower noise 3 megapixel photo. One thing the Canon PowerShot SX230 is missing is any sort of automatic panorama mode (where you can pan the camera to automatically capture and stitch together a panorama without touching a computer).
Video Recording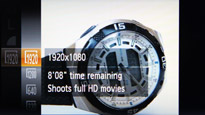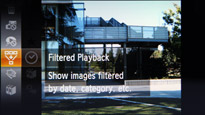 The Canon PowerShot SX230 HS has a good Full HD movie mode which records 1080p (1920 x 1080) resolution video at 24 FPS with stereo sound. A high speed memory card definitely helps here as 4 minutes of Full HD video eats up 1 GB of space. If you're not a fan of 24 FPS (or huge file sizes), you can lower resolution to 720p Standard HD (1280 x 720), VGA (640 x 480) or QVGA (320 x 240), all three have recording frame rates fixed at 30 FPS.
You can use optical zoom, optical image stabilization, wind filter and continuous autofocus while recording movies. There's a 4 GB per video clip limit for movies, with the addition of a 30 minute per clip limit with HD (1080p and 720p) settings.
The Canon PowerShot SX230 HS sports two high-speed, slow motion movie modes which record at very high frame rates and play them back in 'slow motion' at 30 FPS. There are a couple of limitations here, including fixed focus and zoom, no sound recording and limit of 30 seconds per clip:
VGA (640 x 480) at 120 FPS
QVGA (320 x 240) at 240 FPS
The Canon PowerShot.SX230 HS produces good quality video and audio, paired with a hassle-free operation that's inline with point-and-shoot PowerShot/ELPH/IXUS models (also means if you'd like more movie mode controls, you'll have to step up to the bigger and pricier PowerShot SX40). Here's a sample video taken using the PowerShot SX230 HS in Full HD:
Performance
All performance testing of the Canon PowerShot SX230 HS was performed using a high-speed 16 GB SanDisk Extreme SDHC card. A high-speed memory card is recommended if you want to get the most out of the camera in terms of performance.
The Canon PowerShot SX230 HS has a very quick bootup time of just 1.2 seconds, making it one of the fastest travel-zoom cameras to start and be ready to shoot. When it comes to autofocusing, the PowerShot SX230 HS managed average speeds in good light, around 0.2 to 0.6 seconds through the zoom range and around 0.3 to 1 full second in low-light. Low-light focusing was nice and accurate thanks to the presence of the autofocus assist lamp.
Shot-to-shot speed (JPEG) - 1 shot per 2.0 seconds (decent)
Flash recharge time using a fully charged battery - 3 seconds on average
The Canon PowerShot SX230 has a burst mode that focuses more on stamina than speed. At full resolution (12 megapixels), it can shoot at 2.2 FPS until the memory card fills up; with one of the camera's 'scene' modes called High Speed burst capable of doing the same thing at 3 megapixels, 6 FPS. For the record, other travel-zoom cameras that use high-speed image sensors shoot at full resolution, at an average of 10 FPS, up to 10 shots or so in a row. One area that we'd like to frown upon is that the two speeds above are noticeably lower than Canon's quoted 3.2 FPS and 8.1 FPS speeds respectively.
The Canon PowerShot SX230 HS is a solid performer in terms of speed and shooting capability. It's certainly not the fastest travel-zoom camera, overall, out there; but it does have one of the fastest startup speeds and its quick shot-to-shot, unlimited burst mode and autofocus performance are nothing to frown upon.
Image Quality

ISO 100 (f3.1, 1/50 sec)

ISO 200 (f4.0, 1/80 sec)

ISO 400 (f4.0, 1/160 sec)
ISO 800 (f4.0, 1/320 sec)
ISO 1600 (f4.0, 1/640 sec)
ISO 3200 (f4.0, 1/1250 sec)
The Canon PowerShot SX230 HS performs well in terms of image quality. The camera starts out with low noise at lower settings with good sharpness at ISO 100 and ISO 200. Colors are well saturated and photos at generally detailed. This continues upwards to ISO 400 with image quality remaining fairly pleasant.
Photos become slightly softer at ISO 800 with a little less saturation but image quality is still acceptable and very usable for medium to large viewing/printing. ISO 1600 makes photos even softer and less saturated but not to the point of being unusable – I'd say image quality is still good for medium to small viewing and prints, especially if downsized. ISO 3200 on the PowerShot SX230 is pushing the envelope, but there's still nothing stopping you from running photos taken at the setting through noise reduction (like in Photoshop) and squeezing out an acceptable print or computer wallpaper out of it.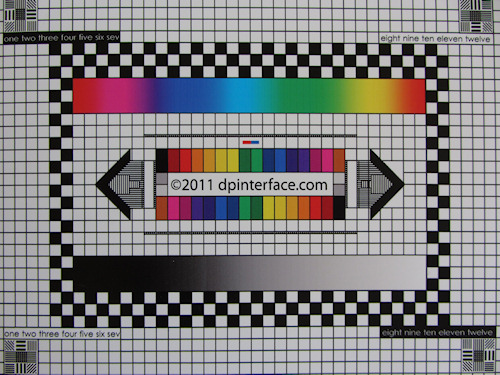 There was little lens distortion to be observed with the Canon PowerShot SX230 HS' 14X zoom lens, which is nice. Color fringing (chromatic aberration) levels were fairly low but still visible in photos. The same goes with edge softness: present but in amounts no worse than the average travel-zoom camera.
Overall image quality of the Canon PowerShot SX230 HS is very good, with nice details and saturation along with respectable performance in terms of noise and lens distortion. The only things worth being aware of are the visible color fringing and edge softness in photos, which should not come as a surprise considering the large 14X range covered by this relatively compact lens
Photo gallery
Check out the Canon PowerShot SX230 HS photo gallery to see full-sized sample photos taken using the camera.
Playback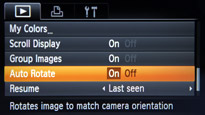 The Canon PowerShot SX230 HS has a capable playback mode with a good amount of features. There are the basics such as image rotation, protection, resizing and cropping; 10X playback zoom, slideshow playback and making photos as favorites or for printing. The camera also automatically groups photos taken in a single burst together and provides a bizarre Smart Shuffle mode which shows you sets of four 'similar' photos (but based on our testing, are usually quite random and sometimes completely unrelated).
Movie Digest mode is present here, where the tiny clips shot in Movie Digest mode are pieced together into a single long movie in playback mode.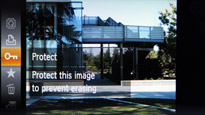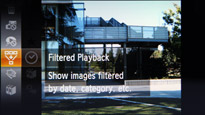 There are editing tools for digital redeye removal, iContrast (enhancing image brightness and contrast) and tweaking My Colors (image effects). There are no movie editing tools other than basic trimming of videos at the beginning/end.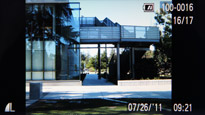 The Canon PowerShot SX230 HS shows you plenty about your photos, telling you everything covering shooting and exposure info, GPS coordinates in digits and numbers (but as mentioned, no specific location or place name) and a brightness histogram.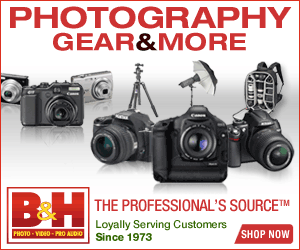 Conclusion
The Canon PowerShot SX230 HS is a nice little travel zoom camera with a good feature set. The camera has a 12 megapixel high-speed CMOS, 14X optical zoom lens, 3 inch widescreen LCD, both automatic/scene modes and manual controls and built-in GPS functionality. The camera also has the ability to record movies in Full HD with optical zoom, image stabilization and continuous autofocus.
The PowerShot SX230 HS is easily the most stylish and definitely the most 'fun-looking' travel zoom camera out there; it even comes in three different colors! But once you look past the playful and nicely accented styling, you'll find that it isn't a very ergonomic to use camera with an oddly placed power button, smooth front with lack of any grip, tripod mount that isn't inline with the lens and easily obstructed by the bottom compartment door… and then there's that love-hate affair with the 3 inch widescreen.
In terms of features, the camera has a host of scene modes and a Smart Auto mode. It also gives you manual controls over exposure (both aperture and shutter speed) and focus, which is nice for those looking to tweak various settings. The PowerShot SX230 also has two actual accessories available: an underwater case and slave flash, which is nice considering the most of the competition don't have any at 'real' ones at all (nope AC adapters and camera cases don't really count)!
The camera has built-in GPS which geotags photos with coordinates where they were taken. Unfortunately, the lack of location/landmark tagging of photos is inconvenient and makes GPS less useful since most folks would want to know names of the places, not a bunch of numbers showing the coordinates, where photos were taken. It's also noteworthy (in a bad way) to know the 14X lens of the camera starts out at 'just' 28 mm, while just about all the competition have lenses that begin at ultra-wide 24 or 25 mm.
You'll appreciate the PowerShot SX230 HS for both its performance and image quality, where it performs especially well in the latter. The camera is very responsive and does most things quickly, that includes clocking in a very fast startup time. However, the burst mode present here is geared more towards stamina (unlimited shooting with a fast card) than speed; a choice of switching between both would have been nice.
The Canon PowerShot SX230 HS is a travel-zoom camera with a fairly strong feature set which also comes with a bunch of quirks. I would recommend the PowerShot SX230 HS but with reservations, and I'd certainly suggest checking out its pros and cons and the competition too before making a final decision.
What's hot:
Commendable image quality; good details and noise control
Full manual controls with lots of scene modes; manual focus available
3 inch display with good legibility; widescreen is good if you're a fan of recording movies
Optional underwater case and slave flash (most cameras barely have any accessories)
Very good performance; unlimited continuous shooting
Scroll wheel + navigation pad combo, built-in GPS (with limited usefulness, see below)
Full HD 1080p movie mode records stereo sound and enables optical zoom and continuous focusing while recording
What's not:
Poor battery life (below average)
Design quirks: On/off button placement, no front grip of any kind, weak flash that pops up every time, live view is smaller on a widescreen versus a 'normal' 4:3 aspect ratio screen
Full resolution burst mode is slower than competition; lower than advertised speeds
No GPS location/landmark database
No automatic panorama mode, large movie file sizes versus the competition