Here's our in-depth review of the Fujifilm FinePix F550 EXR. This compact super-zoom camera sports a big 15X optical zoom lens, a familiar 16 megapixel CMOS (which is found in Fuji's high-end 'big' ultra-zoom, the FinePix HS20 EXR we reviewed last month), 3 inch display, full manual controls and Full HD movie mode. Remember to head on to the Fujifilm FinePix F550 EXR photo gallery to check out photos directly from the camera. Find out more about the FinePix F550 EXR after the jump!


DPInterface Fujifilm FinePix F550 EXR Review
Brad Soo – September 1st, 2011
The Fujifilm FinePix F550 EXR is a camera belonging to the compact super-zoom camera class (which some may also know as 'travel zoom' camera type). The camera features a 16 megapixel EXR CMOS sensor, 3 inch LCD, Full HD movie mode, GPS functionality, manual controls and various EXR shooting modes (which allow you to prioritize between resolution, dynamic range or high ISO/low noise).
The camera is the middle model between the FinePix F500 EXR (which is slightly lower priced, lacks the GPS module and RAW support) and the newly announced FinePix F600 EXR (which is a slightly pricier model to be available in October with hardware that's just about identical with three notable new software features: ISO Motion Detection, Landmark Navigator which works in-conjunction with the GPS and Intelligent Digital Zoom).
The FinePix F550 EXR is a good compromise of the three; being available now and almost identical to the F600 EXR (which won't be available for another 3 months), and having two big features (GPS and RAW) over the F500 EXR. Ready to find out more about the Fujifilm FinePix F500 EXR? Let's go! You could probably apply the 95% of the facts from this review to the other two cameras, and decide which one of the Fujifilm F-series siblings is for you by the end of the review.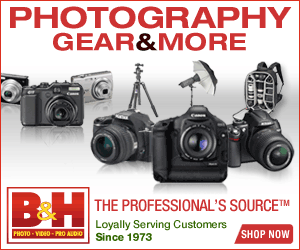 Size and weight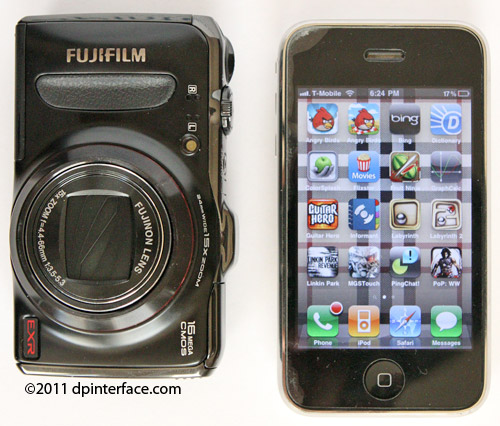 Fujfilm FinePix F550 EXR compared to the Apple iPhone
The Fujifilm FinePix F550 EXR is a fairly compact camera for one which has a huge 15X optical zoom lens. Five years ago you would've needed something close to the size and shape of an entry-level digital SLR in order to have over 10X optical zoom, how times have changed indeed. The camera measures 103.5 x 62.5 x 32.6 mm (4.1 x 2.5 x 1.3 inches) and weighs in at 195 grams (6.9 ounces) empty.
In the camera box
The Fujifilm FinePix F550 EXR comes with a pretty average bundle:
Fujifilm FinePix F550 EXR camera
NP-50 lithium-ion rechargeable battery
Battery charger
Wrist strap
USB and A/V cables
Camera software CD
User's manual
The Fujifilm FinePix F550 EXR comes with a standard bundle. The camera has 39 MB of built-in memory, which isn't much for actually taking pictures. The camera will take SD, SDHC and SDXC memory cards, and I would suggest using or getting at least an 8 GB high-speed memory card. As with just about all modern cameras, the FinePix F550 EXR is able to take advantage of high-speed memory cards and perform more quickly with one, notably when saving photos after a burst session or recording full HD video.
The Fujifilm FinePix F550 EXR comes with a rechargeable lithium-ion battery and a standalone battery charger, which is a nice touch nowadays seeing many camera makers are going the route of USB charging instead. A standalone battery charger is nice because you get to charge any additional batteries you buy, while taking the camera out and about with you (versus USB charging which requires the camera itself to be plugged in).
The Fujifilm FinePix F550 EXR is rated to 300 shots per battery charge by Fujifilm. That's a good approximation and about right based on my time with the camera. This number is also above average compared to other compact travel zoom cameras of its class.
Accessories
The Fujifilm FinePix F550 EXR is compatible with some pretty standard-issue accessories; nothing fancy here. There's a two-part AC adapter which allows you to power the camera all the time when plugged into the wall and there's an optional waterproof case which allows you to bring the camera underwater.
Camera Tour
The Fujifilm FinePix F550 EXR is a good-looking digital camera that's also pretty ergonomic. The camera is put together nicely and controls are easily accessible with just one hand. There's a scroll wheel that surrounds the navigation pad, and there's a reasonable amount of tactile notches which give you feedback while preventing accidental scrolling. The one annoyance I did notice with the FinePix F550 EXR is the automatic popup flash, which comes up automatically each and every time you turn the camera (regardless of flash setting).
The Fujifilm FinePix F550 EXR looks just about identical to its two siblings, the F500 and F600 EXR, with the former lacking the 'GPS hump' on the top of the camera. The FinePix F550 EXR is available in your choice of three colors: black, gold or red.
The Fujifilm FinePix F550 EXR sports a 15X optical zoom lens equivalent to an ambitious and very versatile 24 – 360 mm; so this lens can really go wide when you need it to, and get close at other times. The lens has an aperture range of f3.5 – f5.3, which is slightly 'darker' than typical compact camera lenses that start at f2.8. One weird thing I noticed is the camera's maximum aperture shrinks down to values smaller than f5.3 somewhere towards the upper end of the zoom range, before brightening back up to f5.3 at maximum zoom… so you might consider using full zoom sometimes to take advantage of the larger aperture value (means more light coming in to the sensor, faster shutter speeds and less chance of blur).
Behind that lens are two things. First off is the new 16 megapixel backlit EXR CMOS sensor, which in plain English, gives the FinePix F550 the ability to take pictures with lower noise and at higher speeds than traditional CCD sensors that cameras have been using all this while. The EXR moniker means the camera can switch between three different sensor 'modes' to suit your shooting situations; Fujifilm gives you the option to toggle between resolution priority, high dynamic range or low noise + high sensitivity modes.
The second feature behind the lens is the camera's sensor-shift image stabilization system, which compensates for camera shake to prevent blurry photos. That still won't allow you to take long exposures without a tripod like Superman, but the camera does offer several 'handheld low-light' modes (which I'll discuss later).
To the upper left side of the lens are the camera's bright autofocus assist light (for helping the camera focus in low-light) and a pair of stereo microphones which are placed really close to each other. To the other side is the popup flash which, as mentioned, comes up automatically each and every time you power on the camera. I found that a little annoying since it obstructs the area where your left hand is supposed to go to support the camera. If it's any consolation, though, you can manually close the flash with your finger (though I'd prefer if I didn't have to in the first place) and the flash automatically retracts when you power off the camera.
The camera's flash is on the weak side, with a range of 15 cm to 3.2 meters (0.5 to 10.5 feet) at wide-angle and 90 cm to 1.9 meters (3 to 6.2 feet). The FinePix F550 EXR does have several low-light modes and a fancy image sensor, but that's still no excuse for a weak flash.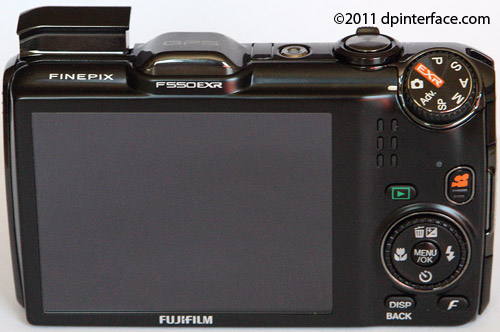 On the back of the camera, you'll find the FinePix F550's 3 inch LCD display. The display has a resolution of 460,000 dots which is decent. The preview it gives you is buttery smooth and fluid, even when you move the camera around, but it also brightens up nicely in low-light. Outdoor legibility is excellent as well, and it shows from my extensive usage of the camera under the Californian summer sun.
To the upper right side of the FinePix F550 EXR is the mode dial, which is tilted at an angle so you can both select a mode easily and be able to see what you're selecting without moving the camera. The mode dial consists of 8 main positions which I'll cover clockwise starting from the camera icon:
Automatic shooting – Good ol' "camera does everything" mode for quick and easy shooting
EXR modes – Choose between resolution priority, high ISO with low noise and dynamic range priority, or let the camera do it for you in 'EXR Auto' mode
Program mode – the camera will select both shutter speed and aperture while allowing you to change other settings; there's no program shift available so you can't tweak the shutter/aperture combinations
Shutter priority – pick a shutter speed (between 1/2000 to 8 seconds in 1/3 step increments) and the camera will select a matching aperture value
Aperture priority – pick an aperture value and the camera will select a matching shutter speed; the camera gives you just three aperture choices at any time, ranging from f3.5/f7.1/f10 at wide-angle, f5.3/f11/f16 at full zoom and other values in between
Manual mode – Pick both shutter and aperture values
Scene position – Pick one of various
Advanced shooting modes – Access the camera's Pro Focus and Pro Low-light modes here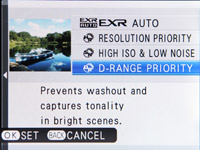 The Fujifilm FinePix HSF550 EXR has three EXR modes which relate to the Fujifilm EXR CMOS used inside the camera. You can pick from three modes (though just one at a time) to tell the camera to prioritize resolution, low noise (at high ISO speeds) or dynamic range.
EXR mode, 100% "normal" dynamic range
EXR mode, 200% dynamic range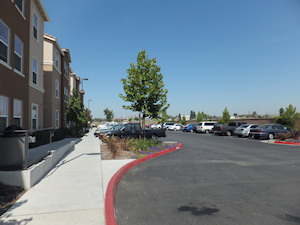 EXR mode, 400% dynamic range
The three examples above show the FinePix F550 EXR's dynamic range EXR mode in action and you can see quite a bit of improvement in detail in bright and dark areas of photos in the 400% shot over the conventional 100% dynamic range photo. You can push dynamic range up to 1600% at the expense of slightly increased noise levels.
The FinePix F550 EXR has three sub-modes under the Advanced Shooting mode position: Motion Panorama, Pro Focus and Pro Low light modes.
180 degree Motion Panorama shot (click for full sized photo)
The Fujifilm FinePix F550 EXR has the same "Motion Panorama" mode we first spotted when reviewing the FinePix HS20 EXR super-zoom. You can let the camera automatically create a big panorama (selectable between 120, 180 or 360 degrees; horizontal or vertical) by simply panning the camera from side-to-side. The camera did a good job in creating panoramas. I didn't notice any visible 'stitch points' or inconsistencies, even in our challenging 'glass structure' scene above.
Pro Low-Light mode takes several photos and combines them into one low noise 8 megapixel photo, which is useful trying to take sharp and not-so-noisy photos in low-light.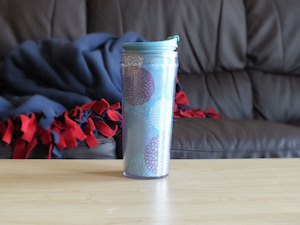 Pro Focus off and Pro Focus on shots (from FinePix HS20 EXR camera)
Pro Focus mode tries to make subjects pop in photos and simulate "digital SLR" shallow depth of field effects. The camera takes three photos at different focus points and combines them into an 8 megapixel photo. Pro Focus only can work at certain focal lengths too (and the camera tells you when you haven't zoomed in enough for the effect to be created). You can see in the before and after showcase above, which was taken from our Fujifilm FinePix HS20 EXR review.
Moving downwards, we have the camera's playback and movie buttons. The movie button allows you to quickly start recording videos in any mode, and is slightly more recessed than the other controls so you won't hit it by accident.
Next up, there's the camera's navigation pad which has a scroll wheel around it. The scroll wheel is used to navigating menus, browsing photos and making changes to settings (manual exposure, for example) and provides nice tactile feedback when used. The functions assigned to the directions on the navigation pad are:
Up – Exposure compensation (+/-2 in 1/3 increments) or switching between aperture and shutter speed in manual mode/Delete photo
Down – Self-timer (Off, 2 seconds, 10 seconds)
Left – Macro mode (Off, macro, super macro)
Right – Flash setting (Auto, on, slow sync, off; redeye reduction available)
Center – Menu/OK
The final two buttons are the display/back (either toggles on-screen information in shooting mode or moves you 'back' to the previous page in menus) and ever-useful "F" button (which brings up the camera's Function menu).
The Fujifilm FinePix F550 EXR's Function menu contains six settings you can change, and here they are:
ISO (Auto, 100, 200, 400, 800, 1600, 3200, 6400, 12800, auto 400, auto 800, auto 1600, auto 3200)
Image size (Image resolution and compression)
Continuous shooting mode (Off, Best Frame, Top multi-shot, dynamic range bracketing, Film Simulation bracketing, exposure bracketing)
Location search (Off, on, always on)
Advanced anti-blur (Off/on) – available in EXR mode where the camera will take a few pictures in a row to combine them into one (while hopefully reducing blur)
Film Simulation (Provia standard, Velvia vivid, Astia soft, Black and white, Sepia)
The Fujifilm FinePix F550 EXR has various ISO settings, including a bunch of auto modes. The various Auto ISO settings allow the camera to adjust ISO automatically while limiting the maximum setting used to either 400, 800, 1600 or 3200. The camera also has two 'very high' sensitivity settings, ISO 6400 and 12800, which reduce image resolution down to 8 and 4 megapixels respectively when selected.
Since there are several drive modes on the FinePix F550 EXR, here's a list breaking down their respective functions:
'Normal' continuous shooting (called Top-multi-shot) allows you to select between 3, 5, 8 and 11 FPS continuous shooting speeds along with maximum number of photos per burst (4, 8, 16 or 32). Something you need to be aware of is the camera reduces image size when you select 11 FPS mode and/or set the photos per burst setting to 16 or 32 images
If you're shooting in RAW, then there's a limit of 8 photos in a burst at 5 FPS
Best Frame mode does pretty much the same thing as continuous shooting, except the camera starts pre-capturing photos as you half-press the shutter button, and saves the last 8 shots before the shutter button was pressed
Finally the camera has three bracketing modes which allow you to take three shots in a row at different settings for exposure (up to +/- 1), dynamic range (fixed at 100%, 200% and 400% dynamic range) OR Film Simulation modes (fixed at Provia, Velvia and Astia) at any given time

The top of the Fujifilm FinePix F550 EXR looks fairly busy but there are just four things to take note of up here. On the very left is the popup flash, and you can see how it can get in the way of your left hand when you hold the camera (but as mentioned, you can always manually push it back down). Next up is the small hump where the GPS receiver is located.
And other two items up here are the power on/off and shutter buttons; there's a zoom controller wrapped around the shutter button.
On this side of the FinePix F550 EXR, there's nothing to see except the camera's flash popped up and its lens at the wide-angle position.
And on this side of the camera, you'll find two ports hidden beneath a plastic door (there are a combo USB+A/V Out port and HDMI port).
You'll also be able to see the FinePix F550 EXR's 15X lens at its maximum zoom position.
Over here we can find the camera's metal tripod mount along with the battery/memory card compartment. There's a decently made door over the two compartments and it stays shut nicely all the time.
GPS feature
One of the features the FinePix F550 EXR touts as a 'travel zoom' camera is its built-in GPS. The GPS function is straightforward and you can disable it or toggle it in two modes when enabled: on when you use the camera or on all the time (which acquires location more quickly but drains battery juice more quickly).
In addition to simple geotagging of photos, the camera can also match your location to its built-in database of half a million landmarks worldwide, which is very handy if you're at a popular tourist destination. One downside is the camera isn't always accurate in cities and indoors, where there isn't a lot of outdoor 'space' to reach satellites. You also can't erase locations from photos you have taken.
Taking pictures (Shooting mode)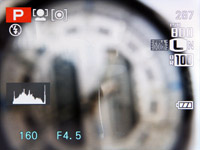 The Fujifilm FinePix F550 EXR gives you a very information-complete on-screen display. You can check out shooting information, camera and exposure settings, brightness histogram and optional gridlines. There's also a simple 3 step battery indicator as well as a zoom position indicator which appears when you use the zoom lever.
Shooting settings
Like Fujifilm's other high-end, EXR sensor using model, the HS20 EXR, the FinePix F550 EXR over here gives you 3 image resolution and aspect ratio options respectively (16, 8 and 4 megapixels; along with 16:9, 4:3 and 3:2). There are also two compression settings: Normal and Fine plus a RAW image mode (which is sadly buried deep inside the setup menu).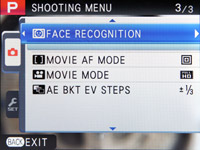 The Fujifilm FinePix F550 EXR has its menu system split into two areas: a more accessible (and rightly so) shooting menu along with a separate setup menu. We'll take a look at the shooting menu first:
ISO sensitivity
Image resolution and compression
Dynamic range (Auto, 100%, 200%, 400%)
Film simulation (Provia/standard, Velvia/vivid, Astia/soft, b&w, sepia)
White balance (Auto, sunlight, shade, fuorescent for day/warm white/cool white, incandescent, underwater, custom)
Continuous mode
Advanced anti-blur
Face detection
Photometry/metering mode (Multi, spot, average)
Autofocus mode (Center, multi point, continuous, AF tracking)
Face recognition – you can manually add faces or let the camera prompt you automatically if it detects the same face often
Movie mode autofocus (center, continuous)
Movie settings (1080p, 720p, VGA, all at 30 FPS; high-speed options: VGA 80 FPS, QVGA 160 FPS, 320 X 112 320FPS)
AE bracket steps (1/3, 1/2, 1 EV steps)
Setup menu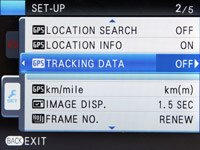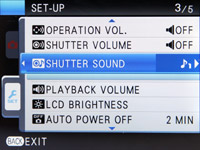 Moving on, we have the setup menu of the Fujifilm FinePix F550 EXR. Most of the options here are settings which you're likely to rarely or never touch:
Date/time
Time zone
Language
Silent mode
Reset
Format
GPS related settings (Location search, location info, tracking data and type of distance measurement term)
Image display (post shot preview) – 1.5 or 3 seconds, auto-zoom preview
Frame number (Continuous, reset)
Shutter sound; shutter, operation and playback volume
LCD brightness
Auto off
My only qualm here is the fact that image stabilization mode and the toggle for RAW image mode are tucked in here; it would seem more appropriate if they were placed in the shooting menu.
Dual IS (continuous, shoot only)
Redeye removal
Digital zoom (On/off)
AF illuminator (On/off)
RAW mode – toggle RAW image mode
Save original image during redeye removal, Pro Focus and Pro Lowlight modes
Auto-rotate images
Menu background color
Guidance display
Video system
Power management
Scene modes and macro
The Fujifilm FinePix F550 EXR gives you control over exposure settings (As we discussed during the camera tour) but also has a bunch of scene modes under the Scene Position on its mode dial. The scene modes present include Natural Light mode, portrait, portrait enhancer, dog and cat modes (!), landscape, sport, night, night with tripod, fireworks, sunset, snow, beach, underwater, party, flower and text modes.
The FinePix F550 EXR has a decent macro mode; not exactly for supermacro freaks but still more than usable. The camera can get as close as 5 cm (2 inches) at wide-angle and around 1.2 m (about 4 feet) at telephoto.
Video Recording
The Fujifilm FinePix F550 EXR has a brilliant Full HD movie mode. You can record 1080p resolution (1920 x 1080) Full HD movies at 30 FPS with stereo sound, which is about as good as things can get on a compact travel zoom camera. You can use optical zoom (the camera moves the lens slowly to reduce noise from the zoom motor) and the camera will continually autofocus while recording. One nice thing you can do is take a still picture (at 8 megapixels) in the midst of recording a movie by pressing the shutter button.
An 8 GB card will hold about 75 minutes of Full HD video, though there's a software limit of 29 minutes per clip. There are two other video settings for your choosing: Standard HD (1280 x 720) at 60 FPS and VGA (640 x 480), though the 29 minute per video file limit remains. The FinePix F550 EXR has three high-speed movie options which lower resolution to tremendously boost frame rate; there is a 30 second per movie clip limit for these three high-speed modes:
VGA (640 x 480) at 80 frames per second
QVGA (320 x 240) at 160 frames per second
320 x 112 at 320 frames per second
Movie quality was pretty good with decent sound quality (though as with all cameras without dedicated, remote microphones, there isn't much stereo separation to be heard… I'm just nitpicking here) and it's safe to say most folks will be impressed with the FinePix F550 EXR's movie mode.
Performance
All performance testing of the Fujifilm FinePix F550 EXR was performed using a high-speed 16 GB SanDisk Extreme SDHC card. A high-speed memory card is recommended if you want to get the most out of the camera in terms of performance.
The Fujifilm FinePix F550 EXR extends its lens quickly at startup but is only ready to go (ie responds to button presses) in a not-so-hot 3 seconds. The camera is able to operate its lens at two speeds: slow and fast, depending on how hard you pull/push at the zoom controller.
On the flip side of the coin, the Fujifilm FinePix F550 EXR is impressive in terms of autofocus performance. In good light, expect focusing to take around 0.1 to 0.3 seconds at wide-angle, and around twice that, 0.3 to 0.8 seconds at telephoto. Low-light focusing at both ends of the lens generally takes about a full second, but the camera does very well thanks to the autofocus assist light.
Shot-to-shot speed (JPEG) - 1 shot per 2 seconds
Shot-to-shot speed (JPEG) - 1 shot per 5 seconds
Flash recharge time using a fully charged battery - 4 seconds on average
I've already mentioned the various continuous shooting options of the FinePix F550 EXR earlier on in this review. You can take full resolution (16 megapixels) photos at up to 8 frames per second (selectable speed), with a maximum of 8 photos in a single burst; and that's followed by a 8 to 15 second wait (using a high-speed memory card helps here)! You can also shoot in RAW at a fixed 5 FPS for 8 shots, or boost speed to 11 FPS and/or total burst up to 32 photos at smaller image settings. The FinePix F550 EXR shoots at nicely high frame rates, but it would surely be nice if the buffer was bigger so the camera can take more pictures in a burst.
The Fujifilm FinePix F550 EXR certainly impresses in terms of performance, with fast and accurate autofocus, high speed continuous shooting and responsive operation. The camera won't keep you waiting for majority of the time, but does have one (or two) weaknesses: long startup time and depending on what kind of shooting you plan to do, you may find the camera's 8 shots per burst limit at full resolution rather annoying at times.
Image Quality

ISO 100 (f3.5, 1/15 sec)

ISO 200 (f3.5, 1/20 sec)
ISO 400 (f3.5, 1/38 sec)

ISO 800 (f3.5, 1/70 sec)
ISO 1600 (f3.5, 1/125 sec)

ISO 3200 (f3.5, 1/250 sec)
ISO 6400 (f3.5, 1/500 sec)
ISO 12800 (f7.1, 1/250 sec)
The FinePix F550 EXR does nicely in terms of ISO performance, kicking things off with smooth and low-noise photos at ISO 100 and 200. Image quality remains good and generally low in terms of noise even as we progress to ISO400. One thing I did notice is probably the trait of the camera's sensor and/or processing which gives photos, even at low ISO, a light tinge of softness and grain.
Going up to ISO 800, noise becomes more apparent but still not an issue. Image quality remains very usable for most printing/display purposes and you should still be freely use this setting to help get faster shutter speeds (and less chances of blur). Moving up to ISO 1600, image quality starts becoming muddy because of noise reduction and detail levels worsen as a result.
Moving up to ISO 3200, image quality becomes even less impressive, with more detail loss. The camera has two high sensitivity modes, ISO 6400 and 12800 which drop image size to 8 and 4 megapixels respectively. Image quality isn't significantly worse here, but detail loss levels are still quite bad. So you either have the choice of boosting ISO as high as possible in low-light, or keeping it at around ISO 800 or below if you want to preserve details in photos.
The FinePix F550 EXR shows surprisingly low levels of lens distortion in images, which is probably helped by the camera's processing. If you shoot in RAW, untouched images will show quite a bit more lens distortion than what you'd see with JPEG. I didn't find chromatic aberration (color fringing) to be much of an issue, but I did notice quite a bit of corner softness in photos.
The Fujifilm FinePix F550 EXR produces image quality that's fairly decent but unlike the HS20 EXR we reviewed before this, isn't heads and shoulders above the competition. The camera takes photos with slightly lower-than-average noise which is a good thing, but seems to trade some detail and sharpness for that. The high sensitivity modes work well, provided you downsize photos slightly (or let the camera do it for you).
Photo gallery
Check out the Fujifilm FinePix F550 EXR photo gallery for large and original pictures taken using the camera.
Playback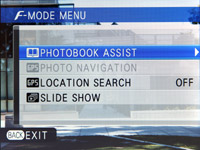 The Fujifilm FinePix F550 EXR has a fairly nice playback mode. As usual, there's image protection, cropping, resizing, rotation, voice clip attachment, transferring photos from internal memory to the memory card, print marking, playback zoom and slideshow playback. One unique feature of the FinePix F550 EXR is that you can search through photos based on the location they were taken (provided that GPS was activated when the photo was taken). You can also search photos by other characteristics such as date, scene mode, the faces in them or by your favorites.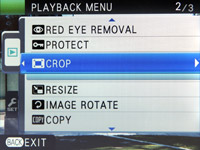 The FinePix F550 EXR also can guide you back to where a photo was taken (again, if GPS was used when the photo was taken) which is helpful for revisiting your favorite tourist spots. You can also mark photos and video clips for upload to either YouTube or Facebook, and that will be done automatically when you connect the camera to your computer (with the bundled software installed).
The FinePix F550 also has a feature called 'photobook assist' where you can put photos into various 'photobooks', or in simpler terms, collections of digital albums.
The Fujifilm FinePix F550 EXR tells you just about everything you need to know about your photos: shooting and exposure information, a brightness histogram and as you'd expect, location information and coordinates if GPS was used.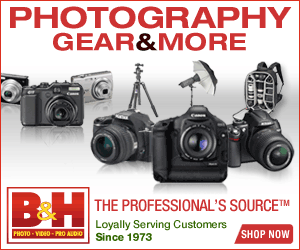 Conclusion
The Fujifilm FinePix F550 EXR is a small camera with a big optical zoom lens, and represents the long way that Fujifilm's F-series cameras have evolved from the original F10 of many years ago. The camera has a 15X zoom lens that starts at an ultra-wide-angle 24 mm and tops out at 360 mm, and it includes sensor-shift image stabilization, which makes it versatile for taking all sorts of shots.
The camera is well built with good ergonomics and a nice scroll wheel that comes in handy in more ways than one. There's good battery life, GPS functionality, a big and usable display and easy to use interface and buttons. The FinePix F550 EXR does have two annoyances in here: the flash always comes up when you power on the camera, whether you want to use it or not, and three important settings (GPS, RAW and IS) are buried within the setup menu.
The FinePix F550 EXR has an impressive feature set. I've mentioned it has a RAW image mode, where you can take photos untouched by the camera's processing and tweak them yourself using the bundled software; there's manual exposure controls, custom white balance as well as plenty of scene modes to help yourself to. The camera also has various other unique modes: EXR modes, its Advanced Shooting modes, Motion Panorama and Full HD movie mode. Unfortunately, the camera's playback mode isn't quite as feature-packed and lacks more-than-basic editing or effects.
The FinePix F550 EXR showed mostly impressive performance and was highly speedy and responsive. It did lack stamina, in terms of how many pictures you can take in a single burst, and is rather slow in booting up; so keep that in mind. The camera's image quality was a mixed bag; noise levels were slightly lower than average but at the cost of detail loss. The FinePix F550 EXR's lens was also perhaps overambitious that sharpness in photos, and especially in corners, isn't very good.
The Fujifilm FinePix F550 is a decent digital camera with plenty of optical zoom and a strong feature set. It's worth a look if you want a camera with a little bit of everything and several fancy shooting modes that may sound appealing, but I do encourage you to do a bit of comparing and see if you can bear with the downsides here.
What's hot:
Decent image quality
Compact design with 15X optical zoom, image stabilization
Good battery life
Full manual controls and RAW image mode; nice scroll wheel around navigation pad
Built-in GPS with location information
Nice and legible 3 inch LCD
Impressive 8 FPS full-resolution burst mode; up to 11 FPS at lower settings (though see con below)
Useful Pro Focus, Pro Low-light, Motion Panorama and EXR dynamic range priority modes
Great movie mode; Full HD 1080p at 30 FPS, Standard HD 720p at 60 FPS and 3 high-speed movie options; optical zoom and continuous focusing available while recording
Useful upload marking, GPS mapping and image search features in playback
What's not:
Weak flash, always automatically raises when the camera turns on
Slow startup time
Limited images per burst in continuous shooting; noticeable wait time to save photos after a burst
GPS, RAW and image stabilization settings buried within setup menu
Slight image softness in overall image and corners; detail loss with noise reduction
No fancy playback tools (like in-camera RAW conversion or effects/editing tools)