I've just posted my in-depth review of the Sony Cyber-shot HX100V ultra-zoom digital camera (it has a huge 30X optical zoom lens!). Visit the Sony Cyber-shot HX100V photo gallery to view photos taken using the camera.


DPInterface Sony Cyber-shot HX100V Review
Brad Soo – February 4th, 2012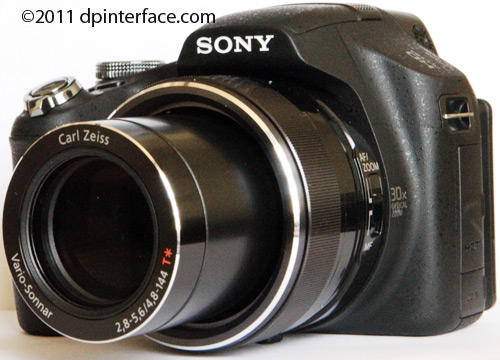 The Sony Cyber-shot HX100V is an ultra-zoom camera with a huge 30X optical zoom lens, full manual controls, a large array of scene modes and fancy photo layering modes as well as something the competition doesn't have: built-in GPS. The camera also has 16 megapixels of resolution, a 3 inch LCD which is flexible since it's mounted on hinges and Full HD movie recording capabilities.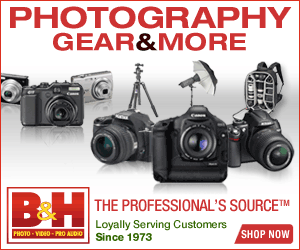 In the camera box
The Sony Cyber-shot HX100V comes with a decent (though rather unremarkable) bundle; it certainly would have been nice if Sony had thrown in a lens hood and a better lens cap (because the one that came with the Sony HX100V kept coming off unintentionally way too easily):
Sony Cyber-shot HX100V camera
NP-FH50 lithium-ion rechargeable battery
AC adapter with cable
Lens cap and cover strap
Shoulder strap
USB cable
Camera software CD
The Sony Cyber-shot HX100V comes with a ridiculously low amount of internal memory, just 19 MB worth. And like Sony's other cameras, the HX100V takes both SD/SDHC/SDXC memory cards and the proprietary and dated Sony Memory Stick Duo format; I would recommend sticking to the former for lower prices, higher capacities and faster performance. I suggest going with an 8 GB SDHC card at the very least; and make it a high speed card since the camera is able to take advantage of those.
The Sony Cyber-shot HX100V is rated to an excellent 410 shots per charge, making it tied to the Panasonic Lumix FZ150 we just reviewed for best battery life. Competing ultra-zoom models are close in battery life numbers with the Fujifilm FinePix HS20 EXR getting 400 shots per charge while the Canon PowerShot SX40 gets 380 shots per charge. There is one downside though; battery life is said to drop to the 200 or 300 shot range with the camera's GPS enabled, so be sure to watch out and switch GPS off if you'd like the best battery life out of the camera!
The Sony HX100V comes with an actual AC adapter and does not support USB charging. That doesn't change the fact you won't be able to charge a second battery while using the camera, but Sony does make a dedicated battery charger available on the side (costs extra).
Accessories
Quite surprisingly for an ultra-zoom camera, the Sony HX100V is light on accessories; optional extras available for the camera include a dedicated battery charger, HDMI cable and various camera cases. Sony does not officially list the ability to attach filters, lens hoods or conversion lenses to the camera though third party and home-made solutions do exist (and they can be difficult to come by and/or expensive).
Camera Tour
The Sony Cyber-shot HX100V has the typical ultra-zoom look to it: bigger than your average compact camera but smaller than a digital SLR with a prominent grip for your right hand and 'hump' for the flash and electronic viewfinder. The Sony HX100V measures 119.0 x 88.9 x 93.0 mm (4.6 x 3.5 x 3.6 inches) which is compact for a camera with a 30X lens. However, in terms of weight, the Sony HX100V borders on the hefty side, weighing in at 574 grams loaded.
The Sony Cyber-shot HX100V has pretty good ergonomics, save for that frustrating lens cap which comes off too easily. There aren't too many buttons on the HX100V compared to other ultra-zoom cameras and each button has just one function, which helps reduce confusion and uncertainty for those stepping up from pocket point-and-shoot cameras. Build quality of the camera is good; the camera isn't built like a $5,000 camera but it's put together well.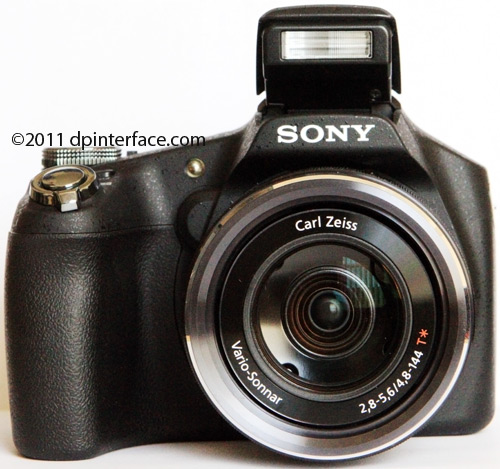 The Sony Cyber-shot HX100V has a big 30X optical zoom lens which covers a range of 27 – 810 mm. That's a lot of zoom power but it would have been nice to see some sort of ultra-wide-angle component to it since it doesn't go as wide as the competition (the competition from Canon, Fujifilm and Panasonic all have lenses that begin at ultra-wide focal lengths of 25 mm or lower). The lens has a decent aperture range of f2.8 to f5.6, which is adequately bright at wide-angle, but f5.6 is a bit dark on the telephoto end. The Sony HX100V has a 16 megapixel backlit CMOS sensor which is slightly higher (but not enough to be a dealbreaker) than the 12 megapixel sensors on the competition.
The Sony Cyber-shot HX100V has Optical Steadyshot, which is Sony's name for optical image stabilization. The image stabilizer helps reduce the chances of taking blurry photos, which comes in handy when shooting in low-light or using a lot of zoom. An active image stabilization mode 'zooms in' to photos very slightly so the system can act more intensely to counter more camera shake than useful, this is useful when recording movies.
The only other things to see here are the autofocus assist light (also blinks for self-timer countdown) and camera flash. The Sony Cyber-shot HX100V has a very powerful built-in flash, which is a good thing since there is no hotshoe for attaching external flashes to the camera. The flash is popped up automatically by changing flash settings to something other than 'flash off', and it covers a range of 30 cm to 12.7 meters (1 to 42 feet) at wide-angle and 2 to 5.9 meters (6 to 19 feet) at maximum zoom.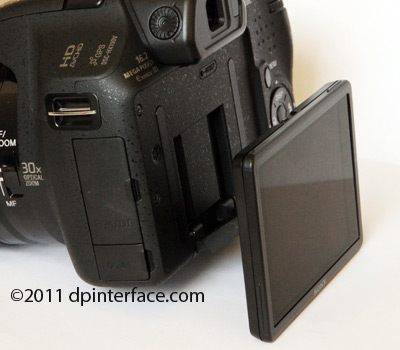 The Sony Cyber-shot HX100V has a big 3 inch LCD that is mounted on two hinges. This allows the display to be tilted down for 'above head' shots or tilted out and up for low-angle photos. The display is sharp, with 921,000 dots and has good visibility in low-light and just decent visibility under bright light/outdoors.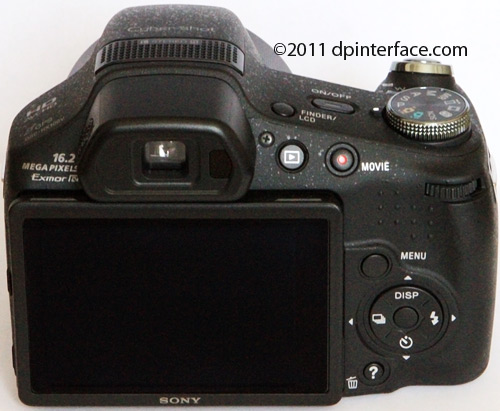 Above the LCD display is the electronic viewfinder (EVF) of the Sony HX100V. The EVF measures an average-sounding (and also familiar) 0.2 inches diagonally and has a resolution of 201,600 dots. The EVF is useful for steadying the camera against your eye, outdoor viewing and playing 'pretend digital SLR' but its relatively low resolution made me prefer using the LCD over the EVF. There is a dioptric correction wheel to the right of the EVF for glasses wearers, which you can get a better view of later on in the side view photo of the HX100V.
There is a proximity sensor which detects your eye to automatically switch between the EVF and LCD. It didn't work too great when holding the camera in some positions. Next to the EVF are two buttons, clearly labeled for playback and movie start/stop respectively.
The Sony Cyber-shot HX100V also has a command dial to the upper right corner on the back. You'll be using it to scroll through menus and adjust camera settings. You can also press it down like a button to cycle through different settings (like shutter speed, aperture, ISO and exposure compensation).
There are two other buttons on the back of the camera: For bringing up the menu and help tooltips (the latter doubles as a button to delete photos in playback), plus the 5 way navigation pad of the HX100V:
Up – Display (Toggle what is shown on-screen)
Down – Self-timer (2 or 10 seconds, portrait timer 1 and 2); using the 'portrait' option, the camera can automatically take pictures when it detects new faces entering the scene
Left – Burst mode (Off, 2, 5 or 10 FPS)
Right – Flash setting (Auto, on, off slow sync, rear sync)
Center – Subject tracking autofocus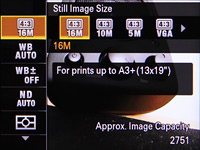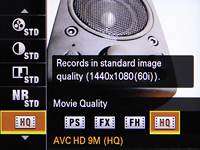 Sony Cyber-shot HX100V and its camera menu
The Sony Cyber-shot HX100V has the usual modern Sony menu system. It contains options for changing image size, white balance (the camera includes a custom option as well as white balance shift on two axes: blue-amber and magenta-green), image stabilization and metering mode, movie mode and also image related settings (you can adjust contrast, saturation, sharpness and noise reduction levels). The Sony HX100V cannot shoot RAW images so you can't get images untouched by the camera's processing to process on your own.
Taking pictures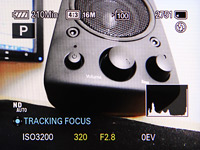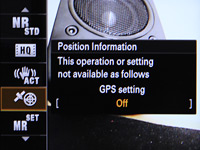 Live view display and GPS on the Cyber-shot HX100V
The Sony Cyber-shot HX100V displays plenty of information on its live view screen, including exposure and shooting info, a live histogram, zoom indicator and a very precise battery level indicator which shows you remaining juice down to the minute.
The Sony HX100V also has built-in GPS functionality, which allows you to geotag photos with the location they were taken at. Unfortunately the GPS feature here is a tad simple with not much you can do besides turn it on and off. There are no built-in landmarks or maps, or fancier location tracking abilities found in other GPS equipped digital cameras.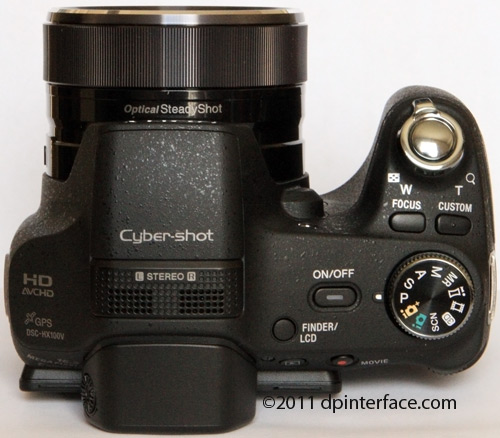 At the top of the Sony HX100V is a pair of microphones for recording stereo sound with the camera, a button for manually switching between the EVF and LCD, a power on/off button and the mode dial. There are not too many modes on the dial so let's check it out:
PASM exposure modes: Program, aperture priority, shutter priority and full manual mode. The ranges for aperture and shutter speed are f2.8/f5.6 to f8.0 and 1/4000 to 30 seconds respectively
Memory Recall mode
Sweep Panorama mode: Camera will automatically stitch a panorama as you pan it from side to side (There's also a 3D panorama creation mode)
Movie mode
3D mode: The camera guides you to take two separate photos so it can combine it into a 3D one
Scene modes: Access all the camera's scene modes here
Intelligent Auto: Camera does everything for you, down to automatically selecting a scene mode
Superior Auto: Same as above but the camera do multi-shot layering when needed (for low-light or HDR photos)
The Sony Cyber-shot HX100V has the same nice panorama mode as other Sony cameras. All you have to do is pan the camera from one side to the other for it to automatically piece together a panorama. The camera also has a Sweep Panorama HD mode which allows it to create a panorama up to 43 megapixels (!) in size.
Unfortunately, the camera doesn't give you a whole lot of flexibility in aperture range since the camera relies on an ND filter inside the lens instead of a real aperture mechanism. Hence you will only get two aperture choices at any given time throughout the zoom range.
The Sony Cyber-shot HX100V has several 'photo layering' modes where the camera takes several photos in a row and combines them into an improved single image. You can do this in the camera's Anti-Blur mode or HDR mode. It also automatically does it for you when needed in Superior Auto mode. The camera also does something similar with photos focused at two different points in Background Defocus mode (for better background blur with portraits) and two photos, each with and without flash, in Natural Flash mode. Other notable features on the camera include face, smile and blink detection and soft skin mode.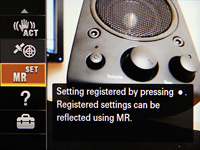 Memory recall mode on the Sony HX100V
The Sony HX100V has a memory recall mode that allows you to save up to 3 sets of your frequently used settings in this position.
The last things to see are the Focus and Custom buttons and shutter button with zoom controller wrapped around it. The custom button allows you assign a camera function to it while the focus button is for selecting an autofocus point or using manual focus enlargement.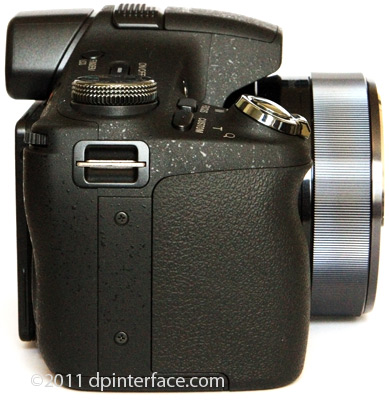 There is nothing on this side of the Sony HX100V.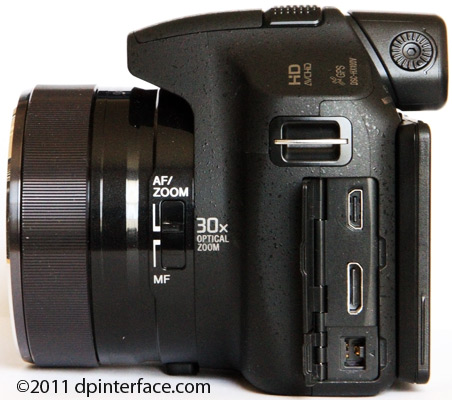 The Sony Cyber-shot HX100V has an electronic ring around the lens barrel whose function is determined by the nearby switch. In autofocus mode, the ring acts as a zoom controller for zooming in/out and in manual focus (MF), it automatically becomes a focus ring used to adjust focusing distance of the lens. The Sony HX100V has an excellent macro mode, with a minimum focusing distance of 1 cm (0.4 inches) at wide-angle and as close as 200 cm (6.5 feet) at telephoto.
Manual focus enlargement on the Sony HX100V
Since the ring is electronic, it doesn't actually move the glass elements within the lens and there is a brief lag between turning the ring and focus/zoom actually getting adjusted. There's manual focusing available on the HX100V along with focus point zooming so you can see if you're doing it right; however the camera does not show which direction on the ring is for nearer/further focusing so you'd better read that camera manual or it might take you a while to figure manually and find out.
There is also a row of ports hidden behind a plastic door here, the first two being HDMI and USB + A/V out ports, while the bottom port is where you'll plug in the bundled AC adapter.
At the bottom of the camera, you'll find the battery/memory compartment and metal tripod mount, which oddly enough is not centered with the lens.
Video Recording
The Sony Cyber-shot HX100V has a great movie mode that lets you record Full HD video with 60p sensor output (though actual frame rate is 60i interlaced). The camera records video with Dolby Digital stereo sound, with options for two codecs: the most space efficient and easier of TV playback AVCHD format and more ubiquitous (but larger) MPEG4 format.
AVCHD 1920 x 1080, 60i; choice of 17, 24 or 28 Mbps
AVCHD 1440 x 1080, 60i; 9 Mbps
MPEG4 1440 x 1080 at 30 FPS; 12 Mbps
MPEG4 Standard HD (1280 x 720) at 30 FPS; 6 Mbps
MPEG4 VGA (640 x 480) at 30 FPS; 3 Mbps
The camera allows you to record movies and use optical zoom, optical image stabilization, wind filter and continuous autofocus when video is being recorded. The Sony HX100V also lets you take still photos while recording movies by pressing the shutter button. Unfortunately, the Sony HX100V lacks any sort of high-speed or slow motion movie option. You also cannot control exposure settings manually while recording.
Here is a sample video taken with the highest settings on the Sony Cyber-shot HX100V:

Performance
Performance testing of the Sony Cyber-shot HX100V was done using a high-speed 45 MB/s Sandisk Extreme Pro SDHC card.
Startup
2.2 seconds
Below average
Good light
0.1 to 0.4 seconds
Fast
Low light
0.6 to 1.5 seconds
Borderline slow
Shot-to-shot (JPEG)
1.5 seconds
Very fast
The Sony Cyber-shot HX100V has a pretty impressive continuous shooting mode. The camera can take photos at your choice of 2, 5 or 10 FPS, though just up to 10 photos in a row, at full resolution (16 megapixels).
The Sony Cyber-shot HX100V is a speedy camera for most part with quick autofocus in good light and fast shooting speeds. Unfortunately, the camera is also bogged down by slow startup time and sluggish (but accurate) autofocus in low-light.
Image Quality
ISO 100

ISO 200

ISO 400

ISO 800
ISO 1600
ISO 3200
The Sony Cyber-shot HX100V allows you to adjust ISO in 1/3 stop increments but we're just posting 'main' ISO settings in 1 stop increments since the in-between settings look too similar for there to be a perceptible difference.
The Sony HX100V carries the unfortunate processing traits of modern Cyber-shot cameras, which includes heavy noise reduction, artifacts in photos and generally below average detail levels compared to other cameras. You can set noise reduction to 'low' on the Sony HX100V, but it does not make much of a difference and image quality still remains slightly inferior to other ultra-zoom cameras.
Image quality at ISO 100 and 200 have low noise but sub-par sharpness and have slightly noticeable artifacts in them. ISO 400 photos begin to look slightly soft with image quality becoming a tad muddy, and things only become worse at ISO 800. ISO 800 would probably be the most you will want to go to get usable medium to large prints out of photos.
ISO 1600 image quality takes a turn for the worse with a fuzzy and very soft look. Details are of course way beyond saving at the point. ISO 3200 is a mess and I would advise touching that setting.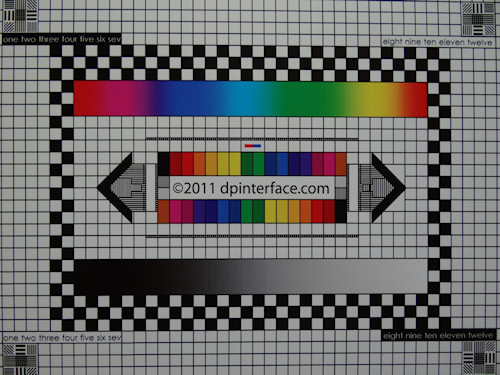 Lens distortion is not an issue with the Sony HX100V, despite the 30X optical zoom lens, and there is visible but generally minimal color fringing (color aberration). Corners of photos were decently sharp with little edge softness to be seen.
Photo gallery
See the Sony Cyber-shot HX100V photo gallery to view photos taken using the camera.
Playback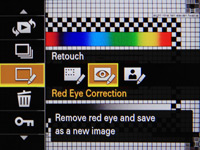 The Sony Cyber-shot HX100V has the same decent but not super fancy playback mode as other Cyber-shot models. There's print marking, image rotation, cropping and protection as well as a slideshow mode. The camera has several tools, including redeye removal and image sharpening (unsharp masking), but lacks any sort of photo effects or movie editing tools.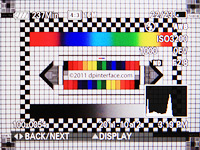 The Sony Cyber-shot HX100V shows you a good amount of information about photos, including camera settings, exposure data and a brightness histogram.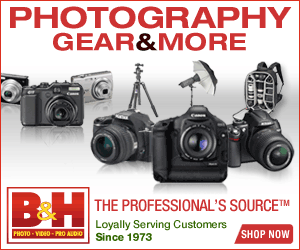 Conclusion
The Sony Cyber-shot HX100V is an ultra-zoom camera with a weird twist: its feature set and operation reminded me of another camera I had reviewed recently. The Sony HX100V felt like an "extra-large" version of Sony HX9V compact super-zoom camera, with a 16 megapixel backlit CMOS image sensor, 3 inch screen, GPS, manual controls and even its feature set is virtually identical.
Of course, the Sony HX100V has some advantages over its compact cousin, with a much larger 30X optical zoom lens (the HX9V has a 16X lens), better ergonomics due to its larger physical size, battery life, lens control ring, EVF (whose resolution isn't great anyway), hinges that allow you to the 3 inch display tilt up/down for flexible shooting and some feature changes (ie, the HX100V lets you control noise reduction, though you can't disable it, and change ISO in 1/3 step increments). Other than that, and as hard as it is to believe due to vast differences in looks and size, the Sony HX100V is extremely similar to the HX9V.
The Sony Cyber-shot HX100V has an array of point-and-shoot features (including two auto modes: Intelligent Auto and Superior Auto), manual exposure controls, white balance shift and bracketing for exposure and white balance as well as a built-in GPS for saving the locations where your photos were taken. The camera also has a Custom button (which you can assign a function to, I picked ISO) and custom mode spot (which can remember 3 sets of settings). Familiar-sounding let downs of the camera include limited aperture choices (the HX100V uses an ND filter instead of a real lens aperture) and the GPS was too basic to be useful to the typical consumer.
The HX100V also has a bunch of impressive and fancy shooting modes thanks to its high-speed CMOS sensor: it can automatically create panoramas up to 43 megapixels in size as you pan the camera, HDR and 3D modes and low-light/anti-blur modes. The camera also has an impressive Full HD movie mode, which only falls short with the lack of manual control and high-speed/slow motion options. You also can't attach external microphones to the camera for better movie sound quality.
The Sony Cyber-shot HX100V lacks a few things that could have made it a great and versatile ultra-zoom for everyone. The camera lacks expandability with no official lens accessories and filters (third party offerings exist but difficult to come by), no RAW mode, poor lens cap design and not even a hotshoe for external flashes. Performance of the Sony HX100V is impressive in good light and when it comes to shooting speed, but focusing in low-light is sluggish and startup time is slow. Image quality hits the barely acceptable line with good lens characteristics but poor detail levels, over-zealous noise reduction and artifacts in images.
As it turns out, the Sony Cyber-shot HX100V takes a backseat when it comes to competing with other ultra-zoom cameras in the market. The camera has some manual controls and lots of fancy features, but its performance and other quirks make it quite a disappointment overall. If you're looking for an ultra-zoom camera of this form factor, then consider other choices. If you don't need this much zoom, you can also get the Sony HX9V which is actually a very similar camera on the inside or try pocket travel zoom cameras for much less money.
What's hot:
Decent image quality
30X zoom lens covers a very versatile range of shooting situations
Big, sharp and legible 3 inch LCD; can be flexibly tilted out and up/down
Excellent battery life (when not using GPS often)
Custom button and can save 3 sets of settings on Memory Recall mode
Full manual mode, exposure/white balance bracketing and white balance shift
Built-in GPS (no other ultra-zoom cameras have GPS right now; though see con below)
Sweep Panorama, HDR, 3D photo/panorama modes, many scene modes
Fast focusing in good light, quick shooting, fast burst mode with selectable speeds (but see below for cons)
Full HD movies with high bit rates, stereo sound; optical zoom, autofocus, wind filter and image stabilization
What's not:
Overprocessed photos with below average detail levels; muddy photos above ISO 800
30X lens does not start out as wide as the competition
GPS feature is overly basic, no landmark or maps features
Only 2 aperture choices at any given time; no RAW image mode
No high-speed/slow motion movie option
Slow startup time and low-light focusing; lens ring has a lag time you can feel
Poor lens cap design (falls off too easily), no flash hotshoe, low-res EVF
No photo effects in shooting mode; Not many playback tools