I've just reviewed the Sony Cyber-shot T900, an ultra-thin camera with a lot of resolution, a massive touchscreen and high definition movie mode. I've also put up the Sony Cyber-Shot T900 photo gallery, containing full-sized photos taken straight out of the camera. The review waits after the jump.
DPInterface Sony Cyber-Shot T900 Review
Brad Soo – April 28th, 2009 (Updated July 13th, 2009)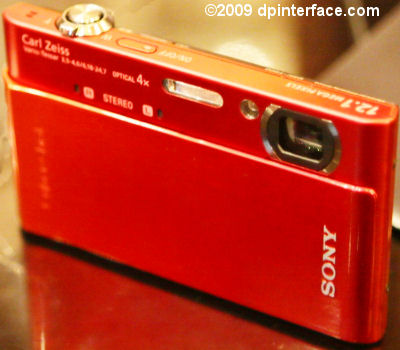 Looking for an ultra-thin camera with high-resolution and a capable movie mode? Well, you might wanna have a look at the Sony Cyber-shot T900. The camera takes most of the T500′s features, throws in a few additional features and puts all of that into a slimmer case which is just as stylish.
To give you a rundown of the Cyber-shot T900′s features, the camera has 12 megapixels, a 4X stabilized zoom lens, 3.5 inch touchscreen and a HD movie mode. Find out how the camera performs now!
Size and Weight
(159.9) 87.0 x 54.5 x 18.4 mm (115 g) - Canon PowerShot SD780 IS Digital ELPH
(172.8) 97.1 x 59.4 x 16.3 mm (121 g) – Casio Exilim FS10
(175.2) 90.5 x 59.0 x 25.7 mm (117 g) - Fujifilm FinePix Z30
(166.0) 90.0 x 53.0 x 23.0 mm (120 g) – Nikon Coolpix S620
(173.1) 97.0 x 54.4 x 21.7 mm (117 g) - Panasonic Lumix FS7
(176.7) 97.0 x 57.9 x 21.8 mm (126 g) - Panasonic Lumix FS25
(172.5) 97.0 x 54.0 x 21.5 mm (110 g) – Pentax Optio P70
(167.7) 94.0 x 55.9 x 17.8 mm (121 g) – Samsung TL100
(165.8) 93.6 x 57.2 x 15.0 mm (128 g) - Sony Cyber-shot T90
(172.0) 97.9 x 57.8 x 16.3 mm (124 g) - Sony Cyber-shot T900
All the weight figures above show when the camera is empty without a battery or memory card
The Sony Cyber-shot T900 checks in as one of the slimmest cameras in the market, with only its sibling, the T90 being thinner than it. The camera has about the same surface area of a typical credit card and it'll fit into your pocket/purse with ease.
Camera box contents
The Sony Cyber-shot T900 comes with a nice bundle; it includes a "multi-output stand" which is essentially a camera dock and used for connecting the bundled cables (or the optional HDMI cable, since there's a HDMI port on the dock) to your computer/TV:
NP-BD1 Rechargeable lithium-ion battery
Battery charger
Wrist strap
Paint pen AKA touchscreen stylus
Multi-output stand AKA camera dock
USB and A/V Out cables
Camera software CD (Picture Motion Browser)
User's manual
Unlike its predecessor, the T700 which came with 4 GB of built-in memory, the Sony Cyber-shot T900 includes a measly 11 MB of internal memory (which holds a grand total of ONE photo at the highest settings) and doesn't come with any memory card. The camera takes Memory Stick Duo cards (and its variations like PRO Duo) and I'd recommend getting a 2 GB or 4 GB card to start with.
210 shots - Canon PowerShot SD780 IS Digital ELPH aka Digital IXUS 100
200 shots - Fujifilm FinePix Z30
250 shots – Nikon Coolpix S620
360 shots - Panasonic Lumix FS7
330 shots - Panasonic Lumix FS25
200 shots – Pentax Optio P70
200 shots – Samsung TL100
220 shots – Sony Cyber-shot T90
200 shots - Sony Cyber-shot T900
All the cameras above are rated with rechargeable batteries with LCD on according to CIPA Standard
The Sony Cyber-shot T900 uses the familiar NP-BD1 lithium-ion rechargeable battery and with it, you'll be able to take up to 200 shots per charge (CIPA Standard). That's about average for an ultra-compact camera, though you should remember that huge 3.5 inch LCD on the back, which not many cameras have at all.
Accessories
There are several accessories available to the Sony Cyber-shot T900 – among them are an AC adapter, HDMI connectivity cable (for your high-definition TV), various camera cases and external GPS dongle for geo-tagging the location coordinates of your photos. The most interesting accessory is the "Marine Pack", which is essentially a waterproof case which allows you to bring the camera underwater down to 40 meters.
Camera Tour
I've said it before and I'll say it again - if you've seen any of the T-series cameras (from the past or present, it doesn't really matter), then you've seen the Sony Cyber-shot T900. The T900 shares the same design and build as those cameras – slim profile with a simple front and a huge LCD touchscreen on the back. The camera is made mostly of metal with some plastic here and there, and feels solid in hand (except the bottom compartment door).
Ergonomics were not so good; the screen will end up getting smudged with fingerprints in no time, there's barely any space on the back for your right hand to go (you COULD try squeezing your thumb on the right bezel/wrist strap mount, but it won't be comfortable) and you'd better watch those left fingers and not block the camera's lens! The interface is not well implemented either – the touchscreen isn't very responsive and it takes just too many 'taps' to change day-to-day shooting settings.
And as you'd expect from a stylish camera, the Sony Cyber-shot T900 comes in your choice of four colors: silver, black, beige/gold and red.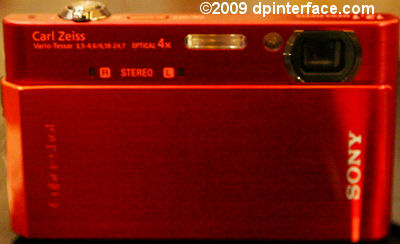 There's a big brushed metal cover on the front of the Sony Cyber-shot T900, serving as a protective lens barrier when the camera is off and as a power switch at the same time. Slide the cover down to turn the camera on, slide it up to turn off.
To the upper right is the Cyber-shot T900′s 35 - 140 mm equivalent, 4X optical zoom lens; with an aperture range of f3.5 to f4.6. The lens workings are self-contained, which means it never protrudes out of the camera. There's also Sony's optical Steady Shot system (Optical image stabilization) which helps counter the effects of camera shake.
Beside the lens are the autofocus assist/self-timer lamp and flash unit. Don't judge the flash by its looks: the T900′s flash is actually quite powerful. At wide-angle, it covers a range of 8 cm to 4.5 m and at telephoto, the flash range shrinks to 50 cm to 3.2 m. Below the flash is a pair of microphones used mainly for recording stereo sound in the T900′s 720p HD movie mode.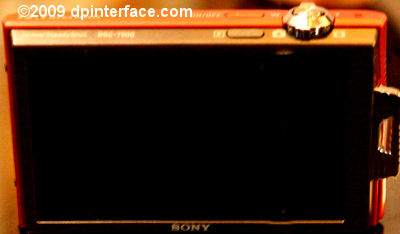 The biggest feature (no pun intended) on the Cyber-shot T900 is the huge touchscreen LCD on the back. The one here measures a massive 3.5 inches and has a whopping 921,600 pixels! Low-light visibility was good while outdoor visibility was just average. While the huge screen is great, ergonomics are not – I've already talked about how much of a challenge it is to hold the T900, a few paragraphs back, due to the lack of real estate on the back.
The Sony Cyber-shot T900 is operated entirely via its touchscreen LCD, whose interface is comprised of large icons. On the negative side, the touchscreen isn't responsive to 'touches' - you'll have to literally press the on-screen icons for something to actually happen. Changing settings isn't a straightforward process either, even the most direct of items requires at least 3 taps (Press the function's icon, then the setting to change, then 'OK').
Then there's the ever frustrating to use Home menu, which I'll talk about later. You would expect that Sony tweak their interface after years of making touchscreen cameras… But, no, the same clunky multiple-menu system they introduced a few years back is still here, unchanged. For comparison's sake, even Nikon got their touchscreen interface right on their first try when they introduced their first ever touchscreen camera late last year!
Above the big touchscreen is a button for entering playback directly, and mode switch which moves you between the T900′s shooting and movie modes.

The top of the Sony Cyber-shot T900 consists of the camera's dedicated power button and a shutter button with a zoom lever wrapped around it. Towards the very right side is the speaker for playing back sound.
There is also a better view of that playback button and mode switch from here.

There's nothing much to see on either side of the Cyber-shot T900, besides the big wrist strap loop on the right side.

At the bottom of the camera are a metal tripod mount, multi-connector port for the camera dock/AC adapter accessory and battery/memory card compartment. The compartment door here feels flimsy so you should be careful when handling it.
And oh, here's the multi-connector port I was talking about – it's used to connect the camera dock (which in turn, is where you connect the USB and A/V Out cables) and optional HDMI cable and AC adapter. The Sony Cyber-shot T900 supports USB 2.0 High-speed connectivity.
Taking pictures (Shooting mode)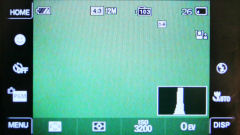 Situated in three of the corners on the touchscreen are icons for entering the Home menu (upper left), Main menu (lower left) and toggle display (lower right) respectively. The screen's edges are also lined with icons for various shooting functions:
Smile shutter (on/off)
Self-timer (Off, 2 seconds, 10 seconds)
Shooting mode (Auto, intelligent scene recognition, program mode, twilight, twilight portrait, backlight, backlight portrait, landscape, macro, portrait)
Autofocus mode (Multiple, center weighted, spot, focus preset)
Metering mode (Multi pattern, center weighted, spot, flexible spot) – flexible spot mode allows you to just 'touch' the area where you want the camera to focus
ISO sensitivity (Auto, 80, 100, 200, 400, 800, 1600, 3200)
Exposure compensation (+/-2 EV in 1/3 step increments)
Macro mode (Off, macro on, auto macro)
Flash setting (Auto, on, slow sync, off)
The Sony Cyber-shot T900 doesn't skimp on shooting details - it shows you various camera settings, exposure information, a live histogram, battery indicator and even a zoom indicator. The Cyber-shot T900 has a mode called Intelligent Scene Recognition which does exactly what it sounds – the camera will automatically pick a scene mode based on shooting occasion and conditions.
There are just a handful of image resolution settings available on the Cyber-shot T900: 12 MP, 8 MP, 5 MP, 3 MP, VGA or 16:9 (8.4 or 2 MP) cropped resolutions. There are no image compression options available here. The camera's Smart Zoom option works by cropping photos as you lower image resolution, so you can get more apparent zoom without compromising image quality like the usual digital zoom. Using VGA resolution, you can get up to 25X total zoom.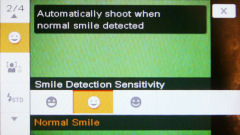 The Sony Cyber-shot T900 has the usual Sony menu system, which comes complete with the confusing Home Menu area. Here's what the T900's Standard menu contains:
Image resolution/size – there are no compression options available
Record mode (Single-shot, burst mode, focus preset)
White balance (Auto, daylight, cloudy, fluorescent 1,2 & 3, incandescent, flash)
Smile detection sensitivity (Big smile, normal smile, small smile)
Face detection priority (Auto, adult priority, child priority)
Flash power (Low, standard, high)
The Sony Cyber-shot T900 has two interesting features you don't see on an ultra-compact camera everyday – first is smile detection sensitivity; this determines how prominent your subject's smile has to be before the camera starts taking pictures automatically. The T900 will continue to take photos until your subject stops smiling or leaves the scene. Next is face detection priority which allows you to set priority of the camera for faces (child or adult) – the camera will also track faces as they move about the scene to reduce lag time between pressing the shutter button and the actual picture being taken.
Focus preset is a faux-manual focus feature which allows you to select one of five preset distances to cut down the time needed for autofocus operation (0.5, 1, 3, 7 meters or infinity focus)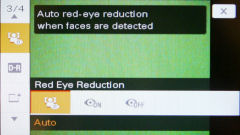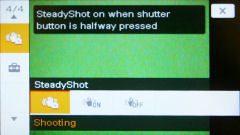 Redeye reduction (Auto, on, off)
Dynamic range optimization (Off, low, auto, high)
Color mode
Optical Steady Shot image stabilization (Shooting only, continuous, off)
Setup area (customize things like the date/time and format the memory card here)
There's Dynamic Range Optimization on the T900, complete with the new 'Plus' mode which actually adjusts exposure/contrast in highlight and shadow areas so the picture will have even exposure. The catch here is that there may be a slight increase in noise and longer processing times.
The camera also has optical image stabilization with two modes. Shooting mode only activates the stabilization system as your photo is being taken and is more effective, while the system is always on in continuous mode to help you compose your photo with minimal shake.
The Sony T900 also has a decent macro mode with a minimum focus distance of 8 cm at wide-angle and 50 cm at telephoto. You can activate the camera's Auto Macro feature so macro mode is activated automatically when you approach a subject closely.
The HOME icon brings up the notoriously confusing, downright illogical Home menu. Some items repeat the options found in the "normal" menu, some take you to the same places that the normal Menu can take you (ie Setup area) while certain items just take you absolutely nowhere (ie the "Shooting" item in the "Shooting" tab takes you back to the main display).
Video Recording
The Sony Cyber-shot T900 moves the ultra-slim T-series a step forward by featuring a HD movie mode that records at 720p (1280 x 720) at 30 FPS with stereo sound. You can choose between two quality settings – a 2 GB card will hold 30 minutes of 720p 'Fine' video or 45 minutes of 720p 'Standard' video. Unfortunately, Sony imposes a software limit of just 10 minutes per movie clip – so you can have multiple 10 minute clips but not a single huge, long video clip in your memory card.
If high-definition isn't your thing, you can lower things down to VGA (640 x 480) quality at 30 FPS, and the T900 still records stereo sound here. Regardless of setting, you can utilize both optical image stabilization and optical zoom here, and the camera automatically adjusts exposure as well. All movies are recorded in MPEG4 format. Overall movie quality was more than usable with good video and audio quality.
Performance
All performance testing of the Sony Cyber-Shot T900 was performed using a 1 GB SanDisk Ultra II Memory Stick PRO Duo card.
The Sony Cyber-shot T900 starts up quickly in just 1.2 seconds after you slide down the front cover. Autofocus was fast when shooting in good light; typically taking 0.2 to 0.6 seconds while low-light focusing was slow but steady (the camera manages to lock focus in 1 to 1.5 seconds).
Shot-to-shot speed - 1 shot every 2.2 seconds, about average
Flash recharge time using a fully charged battery - 4 seconds on average
The a burst mode on the Sony Cyber-shot T900 is quite a bit slower than on previous models thanks to the increased resolution (this 'sacrifice speed for tiny resolution increase' trend been plaguing almost all 12 megapixel compacts this year!). At full 12 megapixels, the camera shoots at around 0.8 to 0.9 frames per second up to 30 shots before slowing down.
The T900's optical zoom lens operates quietly from wide-angle to telephoto in under 2 seconds. There are lots of small steps throughout the 4X zoom range so you can be really precise when using the lens. With no lens to retract, the T900 shuts down instantly when you close the front sliding cover.
The Sony Cyber-shot T900 performs averagely for a 12 megapixel ultra-compact camera with quick focusing in good lighting and slow but sure autofocus in low-light. Shot-to-shot speed was decent but the area where the T900 disappoints is in terms of continuous shooting performance – it's slower than the old T-series models yet on-par with what you'll get on other 12 megapixel fixed lens cameras.
Image Quality
Time for image quality tests with the T900:

ISO 80 (f3.5, 1/6 sec)

ISO 100 (f3.5, 1/10 sec)
ISO 200 (f3.5, 1/13 sec)
ISO 400 (f3.5, 1/25 sec)

ISO 800 (f3.5, 1/50 sec)

ISO 1600 (f3.5, 1/125 sec)

ISO 3200 (f3.5, 1/250 sec)
The Sony Cyber-shot T900 produces fairly clean photos at the two lower ISO settings, ISO 80 and ISO 100, though I can already start seeing small artifacts in the ISO 100 crop. ISO 200 starts seeing more noise but be thankful that most details are still preserved at this point – you could make a midsized to large print out of this.
At ISO 400, there's quite a bit of static-like noise visible and this is the most you should go. At ISO 800, a lot more noise reduction comes in, and noise levels are no better as details get washed away. ISO 1600 and ISO 3200 are completely unusable.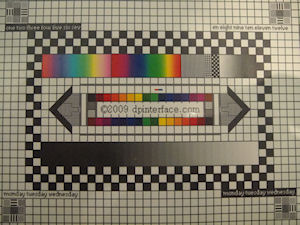 There was some visible lens distortion and a bit of color fringing (chromatic aberration) on the camera. I also did spot a bit of edge softness here. Redeye is not an issue as you can get rid of any using the camera's built-in removal tool.
The Sony Cyber-shot T900 is able to produce usable image quality if you stick to ISO speeds below 400. There was some lens distortion and edge softness… and also some artifacts with noise reduction starting from ISO 200. For this reason, I'd recommend shooting in good lighting with the T900 or stick with the two lowest ISO speeds in low-light, else the artifacts will make a mess of your photos
Photo gallery
Be sure to visit the Sony Cyber-Shot T900 photo gallery for full-sized images taken with the camera.
Playback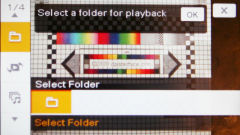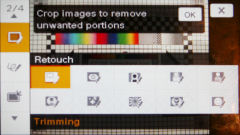 The Sony Cyber-Shot T700 has a fancy playback mode. You can browse through pictures and play back video with sound, all via the touchscreen of course. Photos can be viewed one-by-one, by date in calendar view, by favorites or by folder. Functions include print marking, deletion, playback zoom, image trimming, protection and rotation.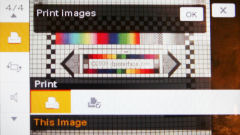 As for the fancier features, you can even "retouch" photos and apply various effects to them (including drawing on photos via the included "Paint Pen" aka stylus and adding shapes and stamps to your photos). Two of the more interesting 'retouch' features include software-based redeye removal and photo filter effects. The Cyber-shot T900 has a nice slideshow feature which plays photos automatically with transition effects and background music.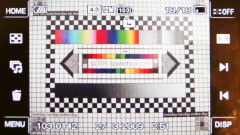 In playback mode, you can view some shooting details, exposure information and even a histogram. You'll have to use the on-screen left-right buttons to browse through pictures, which seems pretty dated compared to the Nikon S60 I have on my desk (where you can just swipe your finger across the screen to browse).
Conclusion
The Sony Cyber-shot T900 is a very slim digital camera with a very big touchscreen. The camera is one of the slimmest cameras in the market yet it has a nice 4X zoom lens with optical image stabilization. There's a huge 3.5 inch touchscreen with good visibility on the back – unfortunately, the camera's ergonomics suffer, partly due to that huge screen; there's barely any space for your hands to hold the camera at the back, and you'll also have to watch out not to block the lens on the front with your fingers too.
The Cyber-shot T900 is just point-and-shoot with no manual controls. The camera has a decent selection of scene modes and Intelligent Scene Recognition which automatically picks a scene mode for you. There are other bells and whistles which can make life a little easier for the casual snapper, such as face detection prioritization for adults/children, face tracking, redeye removal and last but not least, smile shutter – which can automatically take pictures for as long as your subject smiles.
The Sony Cyber-shot T900 has fast performance and a nice selection of playback editing features. The only dislike I have here is continuous shooting performance which, despite being 'average' for a 12 megapixel camera, is still quite a bit slower than the previous generation of 10 megapixel compact cameras.
The largest issue with the Sony Cyber-shot T900 is its user interface. The T900's interface isn't user friendly and the separated Home and Normal menus just add to the confusion. The touchscreen needs hard presses in order to feel responsive and even changing the most direct of settings requires a minimum of three taps. It doesn't help matters much if the camera is quick to snap photos but settings are painfully clunky and slow to adjust.
For its 95% run-of-the-mill point and shoot feature set (other cameras have 720p movie modes too) and how it performs, the Sony Cyber-shot T900 is rather pricey. The only things going for the camera are its visual appeal (ultra-slim, stylish design) and huge touchscreen display… if you're willing to forego the latter, you can get better, less expensive cameras out there. For me, the huge screen, fancy point-and-shoot features and thin design don't justify the camera's price, neither do they offset or compensate for the T900's poor ergonomics, interface usability and so-so image quality.
What's hot:
Usable image quality till ISO 400
Very thin design with 4X zoom lens and optical image stabilization
Huge touchscreen LCD with good visibility
Decently quick (but not blazing fast) performance
Elaborate portrait features: adult/child face detection, smile shutter, redeye removal
720p HD movie mode recording with stereo sound and optical zoom
Fancy playback features
What's not:
Some distortion and edge softness
No manual controls
Measly 11 MB of internal memory (its predecessor had 4 GB memory, now that's gone for unspecified reasons)
Paltry continuous shooting frame rate like other 12 MP cameras
Bad ergonomics; little place to hold the camera, LCD attracts fingerprints
Touchscreen interface needs hard presses and too many presses to reach certain settings
Unintuitive and confusing "normal menu" and "home menu" system
Recommended Accessories:
2 GB Memory Stick PRO Duo memory card
Related articles: