Read our full review of the Panasonic Lumix ZS10 (also known as the Lumix TZ20!). The camera has 14 megapixels of resolution, 16X optical zoom, built-in GPS and plenty more stuffed into a compact, easy-to-bring around design. Also head on to the Panasonic Lumix ZS10 photo gallery to view photos taken using the camera. Otherwise, hit the link to start reading the review.


DPInterface Panasonic Lumix ZS10 AKA Lumiz TZ20 Review
Brad Soo – September 16th, 2011 (Updated January 18th, 2012)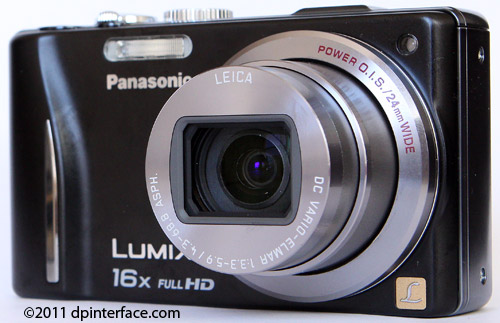 The Panasonic Lumix ZS10 is the latest model in Panasonic's long running family of travel zoom digital cameras. The camera has 14 megapixels of resolution, a 16X optical zoom lens, Full HD movie mode and various high-speed shooting modes. The Lumix ZS10 keeps to its travel-zoom moniker (it's also known as the TZ20 outside of North America) by including a built-in GPS module so it can track and record the location of your photos when going on trips.
Panasonic has been the longest history in making compact super-zoom cameras (they originated the market with the Lumix TZ1 a few years ago), so let's see how their latest, the Lumix ZS10, performs right now. Again, the camera is known as the Panasonic Lumix ZS10 in America but is called the Lumix TZ20 in Europe, Asia and practically everywhere else.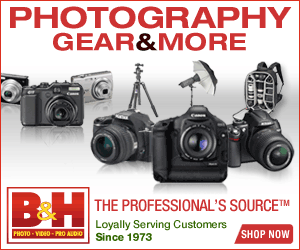 Size and weight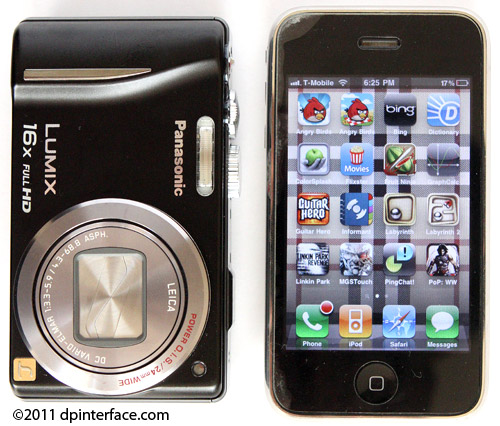 Panasonic Lumix ZS10 compared to the Apple iPhone
The Panasonic Lumix ZS10 is a pretty compact digital camera, considering its really ambitious 16X optical zoom lens. The camera is mostly flat save for the protruding grip on the right and lens barrel. The Lumix ZS10 measures a relatively compact 104.9 x 57.6 x 33.4 mm (4.1 x 2.3 x 1.3 inches), which makes it suitable for throwing into large pockets, purses or backpack… it might not fit so well in your pair of Levi's 511s though (AKA skinny jeans)! The Lumix ZS10 packs a decent amount of heft that you can feel, but won't bog you down; it weighs around 197 grams (7 ounces) empty.
In the camera box
The Panasonic Lumix ZS10 comes with a fairly standard bundle which includes:
Panasonic Lumix ZS10 camera
DMW-BCG10 lithium-ion rechargeable battery
Battery charger
Wrist strap
Touchscreen stylus
USB and A/V cables
Camera software CD
User's manual
The Panasonic Lumix ZS10 comes with a standard bundle with the addition of a stylus for its touchscreen. I think Panasonic should have just saved the stylus since just about all consumer touchscreen devices nowadays are 'finger-friendly'; and I think the Lumix TZ10 has a sufficiently finger-friendly user interface too (I never even took the stylus out of the box during my time with the camera).
The Panasonic Lumix ZS10 includes a paltry amount of internal memory, just 18 MB worth, which means you won't be going anywhere with a memory card of your own. As usual, I would recommend at least an 8 GB high-speed memory card, though more would definitely be nice. The Panasonic Lumix ZS10 supports SD, SDHC and SDXC memory cards; and will perform faster for most part using a high-speed card.
The Panasonic Lumix ZS10 is one of the few cameras that comes with a dedicated battery charger, with many manufacturers nowadays switching over to USB chargers (like those you use with your phone) for their compact cameras. I like standalone chargers because you can charge any spare batteries you have back at home or hotel room, while taking the camera out for a day (USB charging requires you to plug in the camera itself, which is less convenient).
The Panasonic Lumix ZS10 has a battery life rating of 260 shots per battery charge, which is slightly above average for a camera like this. I would surely recommend picking up a spare battery if you plan on taking the camera on extended trips and use the GPS/movie mode a lot.
Accessories
There aren't a lot of accessories available for the Panasonic Lumix ZS10; just a two-part AC adapter kit and a waterproof case that allows you to bring the camera down to 40 meters underwater.
Camera Tour
The Panasonic Lumix ZS10 looks a whole lot like its predecessors, which isn't such a bad thing since I've been quite pleased with build quality and ergonomics of cameras from the past. Despite now sporting a touchscreen, the changes Panasonic made here aren't very drastic – they still kept the buttons and navigation pad on the camera and just added a couple of touch controls, which add on rather than replace traditional ways of control. If you wanted, you could even use the camera and change settings without ever touching the screen.
In terms of ergonomics, the camera felt nice and easy to use with all physical controls located on the right side. It would seem that Panasonic added a touchscreen for 'just because' reasons since it doesn't add much value to the camera other than convenience. Still, that's not a bad thing, I never found the touchscreen to get in the way of normal shooting and I'm sure there will be folks who might appreciate the 'full zoom now please' icon on-screen, among other controls. The only rant I have about the camera's design is the flimsy door over the bottom compartment.
The Panasonic Lumix ZS10 (again, also known as the Lumix TZ20) comes in your choice of five colors: silver, black, blue, brown or red (I'm surprised Panasonic didn't include pink!).
The Panasonic Lumix ZS10 has a large 16X optical zoom lens, which is equivalent to an incredible 24 to 384 mm. Panasonic does note that focal length drops to 29-464 mm in movie mode (the camera 'crops' the center of the image sensor slightly), resulting in slightly more perceived zoom power while sacrificing the wide-end of the lens.
The camera has an aperture range of f3.3 – f5.9 which is decent at wide-angle but pretty 'dark' at full zoom. Because of that, expect to boost ISO or take photos in good light when shooting at full-zoom to reduce chances of taking a blurry shot.
There are two things worthy of not that none of us can see, at that's the stuff behind the Lumix ZS10's lens. The camera now sports a CMOS sensor (Panasonic has traditionally been using their own CCD sensors for the past couple of years now) which brings about a change in image quality output. There's also the new (but not spanking new) Power Optical Image Stabilization system by Panasonic, which is supposed to be more effective than the old Mega OIS system. The camera has a new 'active' mode carried over from Panasonic's more expensive cameras and camcorders, and that readies the stabilization system for intense camera shake (very useful in movie mode).
The second feature behind the lens is the camera's sensor-shift image stabilization system, which compensates for camera shake to prevent blurry photos. That still won't allow you to take long exposures without a tripod like Superman, but the camera does offer several 'handheld low-light' modes (which I'll discuss later).
Moving on, there are two other things to see here. There's the autofocus assist light on the upper right side of the lens, and that light also doubles a self-timer countdown lamp. On the other side is the camera's flash. The Panasonic Lumix ZS10 has fairly good flash power; at auto ISO, the flash covers a range of 60 cm to 5 meters (2 to 16.5 feet) at wide-angle and 1 to 2.8 meters (3 to 9 feet) at telephoto. That's all there is to the front of the camera, let's move on to the back of the Panasonic Lumix ZS10.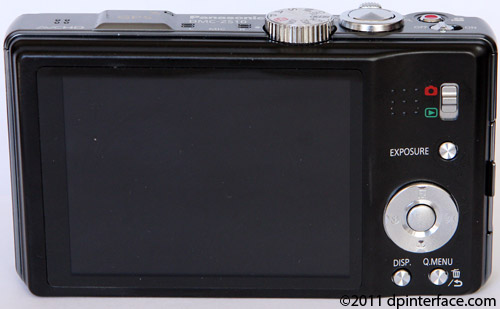 Over here, you'll find the 3 inch touchscreen of the Panasonic Lumix ZS10 and yes, although it looks like a conventional display, it IS indeed a touchscreen. Touch response is so-so, which means you'll have to get some pressure down (and not just a light swipe like on your iPhone or something) with your finger for the camera to respond; I'm guessing it's because of that nice and thick protective plastic covering the screen.
The touchscreen has a fairly standard 460,000 dots and it is both sharp and fluid. Screen legibility is excellent both indoors and out. Panasonic has a history of making its camera displays very nice and bright, even under a lot of light.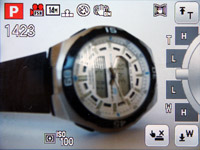 Touch controls on the Panasonic Lumix ZS10
There aren't a lot of things you can do on the touchscreen (as I mentioned, it merely supplements existing buttons), so here are the main things you can do with it:
Touch zoom – the camera puts several zoom controls on the screen: slow/fast zooming in and out, as well as an 'instant zoom' icon which moves the camera's lens all the way to full zoom
Touch focus – you can select an autofocus point anywhere on the screen with your finger
Touch shutter – does the same thing as above except the camera will immediately take a picture after locking focus
Menu navigation – you can navigate certain parts of the camera's menu system with your finger; though things do get awkward when you reach certain points and must switch back to the navigation pad
Touch playback – you can browse photos, zoom in and move around using the touchscreen
To the right side are a couple of physical controls you'll find on the Panasonic Lumix ZS10. The first thing you will see is the mode switch which moves you between shooting and playback modes. That's followed by the exposure button which allows you to shift between adjusting aperture value and shutter speed in Manual mode.
Next up is the camera's navigation pad which you'll be using for a lot of things: browsing pictures, navigating menus, changing some settings as well as these direct functions:
Up – Exposure compensation (+/-2 in 1/3 increments), autofocus bracketing and autofocus tracking
Down – Autofocus mode (Auto macro, macro zoom, normal focus)
Left – Self-timer (Off, 2 seconds, 10 seconds)
Right – Flash setting (Auto, on, slow sync, off; redeye reduction available)
Center – Main menu/OK
At the very bottom, you'll see two buttons: the Display button (for toggling information being showed on-screen) and Quick Menu button. In addition to binging up the aptly-named 'Quick Menu' which gives you a bunch of settings you'll most likely want to access frequently, the button also doubles as a button used to delete photos in playback or go back to the previous page in the menu system.
On the top of the Panasonic Lumix ZS10 are a bunch of things. Starting on the very left, there's the speaker, small hump for the camera's GPS receiver, a pair of stereo microphones and the camera's mode dial. The camera has a bunch of shooting modes on the mode dial, which we will look at now:
Program mode – the camera will select both shutter speed and aperture while allowing you to change other settings; there's no program shift available so you can't tweak the shutter/aperture combinations
Shutter priority – pick a shutter speed (between 1/4000 to 8 seconds) and the camera will select a matching aperture value
Aperture priority – pick an aperture value and the camera will select a matching shutter speed; the selectable range is tiny, ranging from f3.3/f5.9 to f6.3
Manual mode – Pick both shutter and aperture values; the longest shutter speed here is 30 seconds
Custom mode – Store your favorite or frequently used settings here
3D mode – Pan the camera and it will pick two positions automatically to create a 3D photo file (which naturally, is only viewable on a 3D monitor or 3D TV)
Scene position – Pick one of various scene modes available on the camera
My Scene 1 and 2 – Choose and save your two most used scene modes on these positions
Intelligent Auto mode – The camera handles just about everything and most settings cannot be changed manually; just point-and-shoot
Further right, you'll find the shutter button with a zoom controller wrapped around it, dedicated movie button and the on/off switch. The Panasonic Lumix ZS10 gives you a choice of two zooming speeds, so you can either be quick or precise when zooming, depending on how much pressure you put on the zoom controller.
On this side of the Panasonic Lumix ZS10 is the camera's wrist strap loop as well as two ports hidden under a plastic door. The ports here are a mini HDMI port and combo A/V and USB port. You'll plug in the optional AC adapter via the bottom of the camera through a 'dummy battery' insert. You can also see how much the Lumix ZS10's 16X optical zoom lens extends in this picture.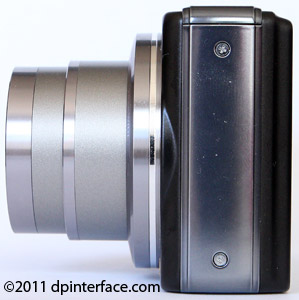 Nothing to see on this side of the camera save for its lens at the wide-angle position.

There's a metal tripod mount (that isn't in-line with the lens) and the compartment for the battery/memory card hidden under a rather flimsy plastic door here.
GPS feature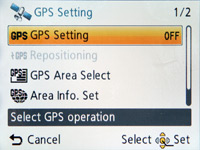 One of the notable features of the Panasonic Lumix ZS10 (aka Lumix TZ20) is its GPS feature. The Lumix ZS10 isn't Panasonic's first camera to sport a GPS, so that's definitely a plus here since Panasonic has already spent time developing and improving the GPS system. The camera can track your location while matching it to one of 1 million well known locations/landmarks across the globe. The GPS updates the camera on its location every once in a while so it doesn't take as long for the camera to lock on to a position.
As with most GPS devices, the one on the Panasonic Lumix ZS10 works best out in the open; location acquisition takes much longer (or never) when indoors or in big cities.
Taking pictures (Shooting mode)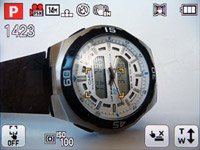 The Panasonic Lumix ZS10 gives you a very detailed look at things on its display; the camera shows you shooting and exposure information, a battery indicator and zoom indicator. You can also choose to display a live histogram and framing gridlines (both not shown here) to help with composition of your photo.
Shooting settings
The Panasonic Lumix ZS10 has the standard Panasonic menu system mashed up with a touch-based interface. It's perfect for use with the camera's navigation pad, but if you plan on enjoying that touchscreen, prepare for that awkward moment when you figure only the first page of the menu system (as shown above) can be used with touch.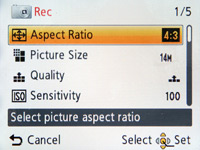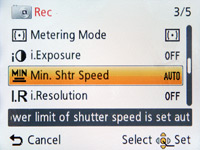 In the shooting menu, you'll find options for settings like ISO sensitivity, white balance, face detection and recognition, image color mode and more. The Panasonic Lumix ZS10 has a custom white balance option that allows you to manually set white balance.
Setup menu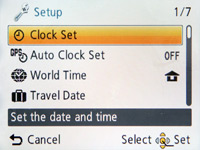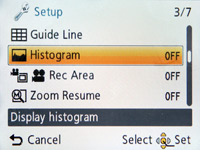 Inside the camera's setup menu, you'll find settings that you won't be tweaking very often, but they're still worth a look when you first configure the camera.
Scene modes and macro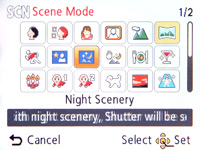 The Panasonic Lumix ZS10 has a large number of scene modes, which include portrait, soft skin, transform, self-portrait, scenery, panorama assist, sports, night portrait, night scenery, handheld night shot, food, party, candle light, baby, pet, sunset, high sensitivity, flash burst, starry sky, fireworks, beach, snow, aerial, pinhole, film grain, high dynamic, photo frame, underwater and high speed movie.
One thing the Panasonic Lumix ZS10 lacks is any sort of 'automatic panorama stitching' mode, which is not something to be overlooked. Automatic panorama stitching can sound gimmicky to the camera traditionalist, but I think it is extremely useful and a lot more convenient to compose panoramas without having ever to touch a computer to stitch photos together.
The Panasonic Lumix ZS10 has a very good macro mode which lets you get as close as 3 cm to your subject at wide-angle, and 100 cm at telephoto. That's great for taking nice and close pictures of your subjects.
Video Recording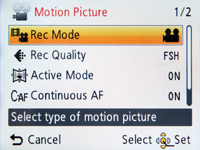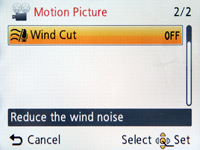 The Panasonic Lumix ZS10 has an elaborate movie mode with plenty of options and output rates. The camera maxes out at Full HD (1920 x 1080) resolution at 60 FPS, with Dolby Digital Stereo sound. There are two types of recording formats you can choose between: AVCHD (at 17 Mbps, higher quality and smaller file sizes) or MJPEG (better compatibility with video players straight-out-of-the-camera but larger file sizes). Another plus of using the AVCHD format: You can tag videos recorded with GPS location data.
The resolution and frame rate options available include:
AVCHD: Full HD (1920 x 1080) at 60i
AVCHD: Standard HD (1920 x 1080) at 60p
MJPEG 30p: Standard HD (1280 x 720), VGA (640 x 480) and QVGA (320 x 240)
You can use optical zoom and optical image stabilization while recording movies as well as toggle continuous autofocus and wind filter. The Panasonic Lumix ZS10 also allows you to take still photos in the midst of recording a movie, where the camera will automatically insert a brief 'break' in between.
Performance
All performance testing of the Panasonic Lumix ZS10 aka Lumix TZ20 was performed using a high-speed 16 GB SanDisk Extreme SDHC card. A high-speed memory card is recommended if you want to get the most out of the camera in terms of performance.
The Panasonic Lumix ZS10 starts up in shooting mode and is ready to shoot in around 2 seconds which is decent. I noticed a very weird issue with the Lumix ZS10 starting up directly in playback mode, which takes a whopping 8 seconds, even with a high speed memory card without many pictures on it.
Autofocus performance of the Panasonic Lumix ZS10 was quite average in terms of performance. The camera takes an average of 0.2 to 0.4 seconds to focus at wide-angle, and 0.3 to 0.8 seconds at telephoto.
Shot-to-shot speed (JPEG) - 1 shot per 1.5 seconds
Flash recharge time using a fully charged battery - 3 seconds on average
The Panasonic Lumix ZS10 has a full-resolution burst mode that allows you to shoot at a whopping 10 pictures per second, up to 15 photos in a burst. You can take more pictures in a row by lowering resolution or you can boost continuous shooting speed up to 60 FPS by reducing image size to 2 megapixels.
The Panasonic Lumix ZS10 is a fairly fast digital camera which demonstrated good performance in just about all areas except startup speed.
Image Quality

ISO 100 (f3.3, 1/60 sec)

ISO 200 (f3.5, 1/100 sec)

ISO 400 (f4.0, 1/160 sec)
ISO 800 (f4.0, 1/320 sec)

ISO 1600 (f4.0, 1/640 sec)
The Panasonic Lumix ZS10 starts out with a good but not great ISO 100 with great sharpness and detail but with visible grain and slight amount of artifacts. We actually see evidence of noise reduction kicking in as early as ISO 200, as noise levels actually go down in the next shot; along with detail levels. Something similar happens at ISO 400 as the camera attempts to keep noise suppressed at around the same level; but this time, there's a slight reduction in saturation too.
Noise goes up again at ISO 800 and image smudging is introduced into the mix too, making this setting about the highest you should probably use with the Panasonic Lumix ZS10. At ISO 1600, there's a significant jump in detail loss and smudging, making it usable only if you intend to stick to using photos in tiny 4×6 prints or as your phone wallpaper.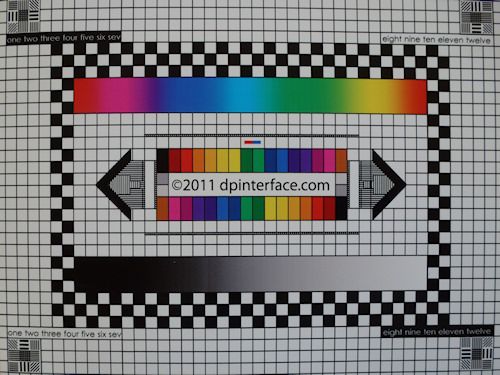 The Panasonic Lumix ZS10 produced images with a mild amount of lens distortion, which is expected from a small lens with plenty of optical zoom stuffed in it. Corner softness was present but not an issue since it isn't widespread and only occurs at the very edges of photos.
Image quality on the Panasonic Lumix ZS10 was just average. The camera had notably good corner sharpness (with softness only existent at the very edges), but noise levels, distortion and sharpness were all average for most part. At ISO 400 and above, noise reduction is problematic as it introduces softness and smudging in photos.
Photo gallery
Visit the Panasonic Lumix ZS10 (AKA Lumix TZ20) photo gallery for all the pictures taken using the camera.
Playback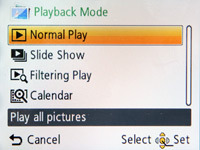 The Panasonic Lumix ZS10 doesn't have a particular elaborate playback mode. The camera comes with the usual playback features you might expect, plus some very basic tools. There's slideshow and calendar view available if you prefer to browse photos that way, as well as filtering through different types of photos from different modes.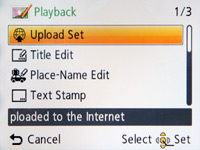 The camera allows you to add text to photos, giving them either a title, location name or your own text (this is when the touchscreen gets kinda handy). Other than that are pretty standard features: video splitting, image resize, cropping and protection as well as marking photos as favorites. The camera is missing any sort of image editing tools for photo effects, redeye removal and brightness adjustment, which just about all of the competition has.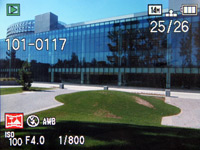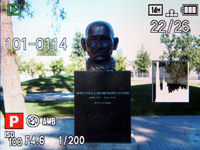 The Panasonic Lumix ZS10 tells you all you need to know about photos, ranging from exposure information, shooting details, location info (not shown here) and a brightness histogram.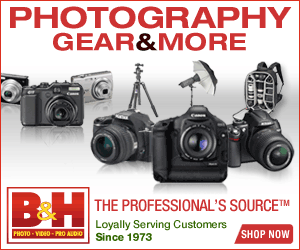 Conclusion
The Panasonic Lumix ZS10 (AKA Lumix TZ20) is a compact travel zoom camera with 14 megapixels, a big 16X zoom lens and a very familiar design. The Lumix ZS10 sports close to the largest zoom lens in its class (the Nikon S9100's 18X lens takes first place but that camera doesn't have manual controls) which makes it a formidable leader in the newfound "optical zoom race".
The Lumix ZS10 has many features on paper which make it sound like an extremely appealing camera: Full manual controls, a 3 inch touchscreen, GPS for the frequent traveller and the holiday maker, high speed shooting and a very feature-complete movie mode. The camera does very well in implementation of some of those features, such as its fast signal-snatching GPS unit and close to perfect movie mode.
However, some features were not maxed out to their full potential: such as the limited aperture adjustment range and interface that had 'touch' functions slapped on in some places but forces you back to button-pressing in other parts of menus and adjustment of settings. There was also a noticeable lack of (fancy but sometimes very useful) convenience features such as a form of 'pan/sweep' panorama, effects or 'better than basic' playback editing tools; which while not a life-and-death thing for most of us, will not go overlooked by the average Joe user or even the salesperson trying to sell them the camera.
The Lumix ZS10 produced image quality that's suited more for outdoor shooting and situations where you don't need to push ISO above 400 or 800; with its bright colors, good sharpness output and pretty good corner sharpness. The reason? Detail loss and smudging at higher ISOs – bad news for shooting in low-light or fine detail. The camera does excel in the movie mode department and performance.
Ultimately, the Panasonic Lumix ZS10 is worth a look if you have your sights set on a fast camera with excellent movie capabilities (and don't care for using photo effects or playback editing tools), which you'll expect to be using in moderate to well-lit situations most of the time.
What's hot:
Average image quality, better than average corner sharpness
16X optical zoom lens, optical image stabilization
Above average battery life
Full manual controls along with a plethora of scene modes
Built-in GPS with location information
Bright and very legible 3 inch touchscreen
One custom mode dial spot for your own settings, plus places for two of your favorite scene modes
Very good performance and high speed continuous shooting mode
Full-fledged movie mode; Full HD 1080p, stereo sound, choice of two recording codecs, GPS geotagging, wind cut filter, optical zoom and continuous focusing available while recording
What's not:
Noise reduction woes: NR starts at ISO 200, smudging and softness at ISO 400 and up
Touchscreen use limited to certain parts of the user interface
Average startup time in shooting mode, very sluggish playback startup
No automatic panorama stitching, HDR or special multi-shot low-light modes
Playback mode is rather plain versus the competition