Check out my review of the Sony Cyber-shot TX100V, a premium ultra-thin camera that's packed with features and a huge 3.5 inch OLED touchscreen. The camera packs a 16 megapixel backlit CMOS, plenty of scene modes, Full HD movie mode and ability to take photos at high-speed. Also head on to the Sony Cyber-shot TX100V photo gallery to view full-sized photos taken using the camera.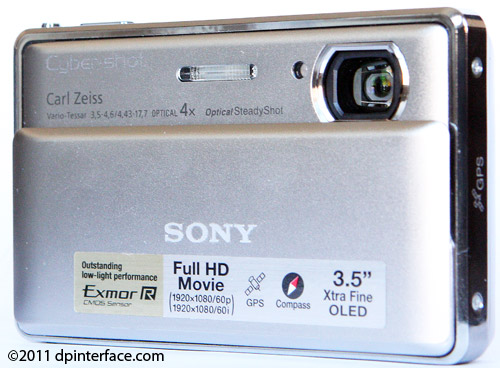 Small, stylish and feature-packed are three words to describe the Sony Cyber-shot TX100V. The camera has just about every feature that screams 'fancy and high-tech', from that internal 4X optical zoom lens to a really high-resolution 3.5 inch touchscreen, from a built-in GPS to high-speed shooting and a full-fledged movie mode. Find out more about the camera now.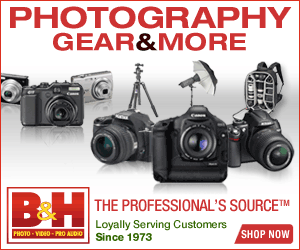 In the camera box
The Sony Cyber-shot TX100V features a small box that comes with just the basics to get you started:
Sony Cyber-shot TX100V camera
NP-BN1 lithium-ion rechargeable battery
AC adapter charger with USB cable
Stylus AKA paint pen
Wrist strap
Camera software CD
The Sony Cyber-shot TX100V has a single memory card slot which is compatible with both SD type cards (SD, SDHC, SDXC) and the ancient and proprietary Sony Memory Stick Duo cards. I would recommend sticking with the former, even if you have some Sony Memory Stick cards lying around, for the reason that SD cards are faster, available in higher capacities and of course still in production.
The Sony Cyber-shot TX100V performs noticeably faster with a high-speed memory card so I would recommend getting at least a Class 4 SDHC with at least 8 GB in capacity.
The Cyber-shot TX100V also comes with a stylus, or what Sony calls a paint pen. It's meant for drawing stuff on your photos using the editing tools in playback but I did not find myself using it once during my time with the camera.
Like Sony's other cameras, the TX100V comes with a lithium-ion battery and USB charger. You'll be plugging the camera into the wall like a smartphone whenever you need to charge the battery. My caveat with USB chargers is that you can't leave a spare battery charging at home unless you get the optional standalone charger (which costs extra). The Sony TX100V has a battery life of 220 shots per charge which is average for a compact camera, and pretty good once you take into account that huge 3.5 inch screen.
Accessories
There aren't many accessories available for the TX100V. There's that standalone battery charger, HDMI cable, various camera cases and a Party-shot dock (which works with the camera's face and smile detection system to automatically take photos at events).
Camera Tour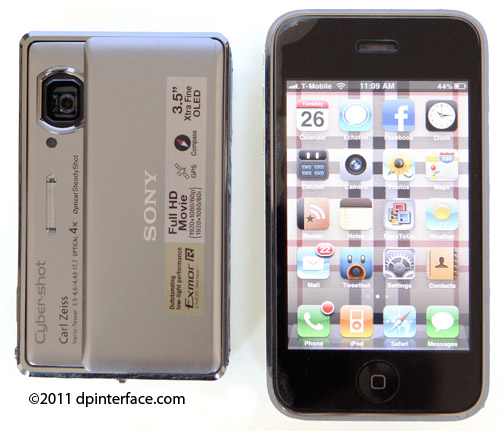 Sony Cyber-shot TX100V compared to the Apple iPhone
For a compact camera, the Sony Cyber-shot TX100V is on the large side thanks to its large touchscreen. The TX100V measures 97.0 x 58.5 x 17.8 mm (3.9 x 2.4 x 0.7 inches) in size, which is still pocketable and easy to carry around in your pocket/purse. The camera weighs 147 grams (5.2 ounces) loaded, which is fairly light.
The Cyber-shot TX100V is made mostly of metal and has good build quality and ergonomics. The spring-loaded vertical sliding cover has a decent amount of friction to prevent accidental opening/closing; it also provides a nice cliff where your fingers can get a good hold of the camera. The Sony Cyber-shot TX100V is a camera you'll be using with both hands because of the controls spread across both sides of the touchscreen. One part of the camera that could be improved is the bottom compartment door which feels flimsy when opened.
The Sony TX100V is available in your choice of three colors: silver, black or red.
The Sony Cyber-shot TX100V has just 4X optical zoom, which is on the low side for a camera this price: Longer but compact zoom lenses engineered for compact cameras have made quite a difference in this area recently. The TX100V has a lens which is entirely self-contained, which means it never protrudes out of the camera. It is equivalent to a decent 25 to 100 mm and has an aperture range of f3.5 to f4.6; it also sports Sony's Optical Steady Shot (image stabilization) system which reduces the chances of taking blurry photos.
Directly next to the lens window is the camera's autofocus assist light, which also doubles as a visual self-timer countdown indicator. Towards the middle part of the camera is the flash which is more powerful than it looks. At wide-angle, it reaches as maximum range of 5.1 meters (17 feet) and at telephoto, that number goes down slightly to 4.0 meters (13 feet); both numbers are above average for a compact camera.
Following the tradition established by Sony's first T-series camera, the Cyber-shot T1 which was introduced near a decade ago, the TX100V has a sliding lens cover which you can flick open/close to turn the camera on/off. The TX100V also has dedicated buttons for power and playback, which are nice alternatives to the sliding cover on/off trigger. The cover is somewhere between 'easy to slide' and stiff, so you'll rarely turn the camera on accidentally.
The biggest feature of the Sony TX100V is the big 3.5 inch OLED touchscreen display on its back. If you've read my recent review of Nikon's touchscreen camera, this 3.5 inch OLED touchscreen may trigger some déjà vu but no, this does not seem like the same display used on the Nikon Coolpix S100. The 3.5 inch screen of the TX100V has 1.23 million dots, which is 50% higher than the 800k dots on the Nikon's display.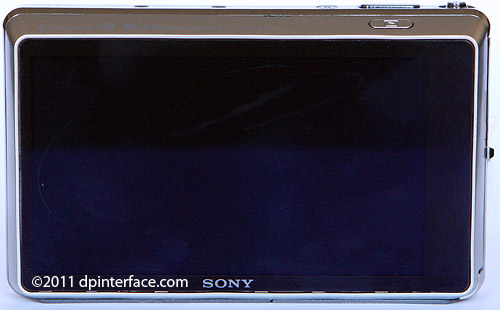 The Sony TX100V's display has very good indoor and outdoor visibility with great colors and smoothness. In terms of touch sensitivity, things are much better on the TX100 than most touchscreen cameras I've tried. The touchscreen isn't yet on level with iPhone or Droid 'light touch' sensitivity due to the thick protective layer above it, but it's close and very responsive.
With that huge touchscreen occupying the back of the camera, it's not surprising that almost everything except triggering the shutter and optical zoom is done via the touchscreen. The Sony Cyber-shot TX100V has a very intuitive interface with large icons, clearly labeled on-screen buttons and supports 'flick' scrolling.
Taking pictures
Touchscreen interface on the Sony TX100
The Sony Cyber-shot TX100V gives you a nice and clear view on its shooting screen with camera and exposure details available, a battery indicator and quick access to any four camera settings of your choice (the row of 4 icons below the MENU button is customizable). A dedicated movie start/stop button is among one of the items you can place on the shortcut row. You can also tap anywhere on the screen to manually select a focus point.
Adjusting white balance on the Sony TX100
The camera has a shooting menu that contains options for exposure compensation, ISO setting, white balance (there is a custom white balance mode on the TX100), exposure metering mode and focus/face detection settings.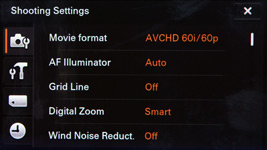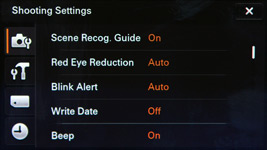 Camera menu in the Cyber-shot TX100V
The Sony Cyber-shot TX100V also has a main camera menu which is composed of various other options which you won't be changing nearly as frequently. In here, you'll find options for toggling the camera's autofocus assist light, on-screen framing gridlines, sound settings and more.
The Cyber-shot TX100's GPS function is also buried in this menu. Unlike other GPS-equipped cameras I've seen lately, the Sony Cyber-shot TX100V has a super simple on/off toggle for the GPS with no other options. The camera simply records location coordinates of where your photo was taken, but no landmark or location names here. There isn't any continuous GPS tracking either, which means it will take a couple of minutes for the camera to acquire your location each time you switch it on.
Macro and Scene modes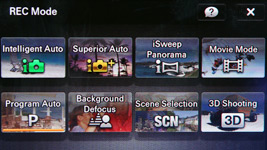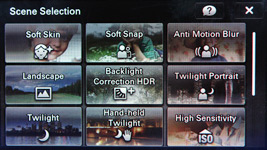 Shooting modes and scene modes on the Cyber-shot TX100V
The TX100V has eight main shooting modes selectable on its record mode menu. They are:
Intelligent Auto: The camera handles all settings for you, including detecting shooting conditions and automatically selecting a scene mode
Superior Auto: Does the same as iAuto but the camera will also take multiple photos and combine them into a higher quality shot if needed (mostly low-light or high contrast scenes where HDR is needed)
iSweep Panorama mode: Pan the camera and it will automatically stitch a panorama anywhere from 120 to 238 degrees wide; the camera will know where to 'stop' once the panning stops. Panoramas can also be made in 3D
Movie mode and program mode
Background defocus: The camera takes two photos taken at two different focus points and combines them to create better background blur
Scene modes: Pick one of the camera's many scene modes
3D mode: The camera will guide you to take several differently angled shots to create a simulated 3D photo
As you can see, the Sony TX100 has quite a bit of emphasis on 3D shooting and its ability to combine multiple shots. The Sony TX100V allows you to simulate 3D viewing in playback by showing different angles of your photo as you tilt the camera, but for actual 3D viewing, you'll need a 3D TV or monitor.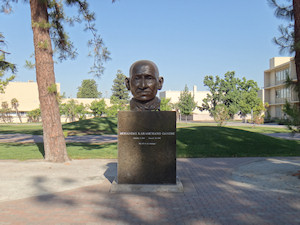 HDR mode on the TX100V: Left taken in auto mode, right photo taken in HDR mode
The camera can also take multiple photos in low-light (using Handheld Twilight or Anti motion blur) to improve the chances of taking a sharp photo. A backlight correction HDR mode also takes several photos in a row, but this time to combine them into a single HDR shot.
The Sony Cyber-shot TX100V has two macro mode ranges; with default autofocusing, the camera can get as close as 8 cm (3 inches) to your subject at wide-angle and 50 cm (1.6 feet) at telephoto. By enabling the camera's macro mode (or letting the camera do it for you via auto scene mode selection in iAuto mode), minimum focusing distance at wide-angle drops to a super close 1 cm (0.4 inches).

At the top of the camera, you'll find all of the TX100V's physical controls. Towards the middle section of the camera is a pair of microphones for recording stereo sound with movies as well as a small speaker slit. Heading over further to the right, there's the power on/off button, shutter button, zoom controller and playback button. The zoom controller is just this little knob that you rock left/right to zoom in/out and yes it is on the small side (but better than having no physical zoom controller at all right?).

The left side of the Cyber-shot TX100V is blank, save for the label on the chrome rim boasting the camera's GPS feature. I'm guessing the GPS unit of the camera is hidden on this side, but there's no telling since the TX100V lacks the telltale 'GPS bump' of other cameras.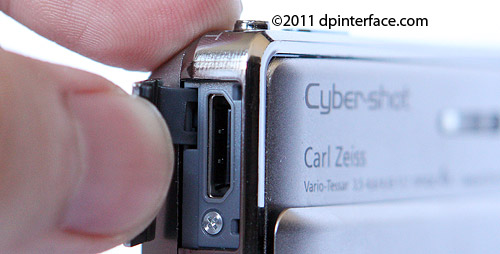 The Sony Cyber-shot TX100V has a HDMI port hidden under a cover on this side. There's also a small loop for the included wrist strap..

Here is the bottom compartment of the camera where you will load in the battery and memory card (either SD or Memory Stick). The door is hinge doesn't feel too strong so you'll have to treat the camera properly when opening it. There's also a tripod mount (slightly obstructed by the open compartment door in this photo) as well as a port right beside the door hinge. This port is where you'll connect the USB cable to transfer photos to your computer and charge the camera's battery.
Video Recording
The Sony Cyber-shot TX100V has a Full HD movie mode that records 1920 x 1080 videos at up to 60i with stereo sound. The camera has two recording codecs, AVCHD (smaller movie file sizes and easier TV viewing/disc burning) and MPEG4 (larger file sizes but no need for conversion to share on computer), and they are fixed depending on which movie setting you choose.
AVCHD 1920 x 1080, 60i; choice of 17, 24 or 28 Mbps
AVCHD 1440 x 1080, 60i; 9 Mbps
MPEG4 1440 x 1080 at 30 FPS; 12 Mbps
MPEG4 Standard HD (1280 x 720) at 30 FPS; 6 Mbps
MPEG4 VGA (640 x 480) at 30 FPS; 3 Mbps
The camera lets you use optical zoom, optical image stabilization and continuous focusing while recording as well as toggle a wind filter beforehand. Movies are also limited to 29 minutes per movie clip. There are no high-speed or slow-motion movie options on the TX100V so the list above is what you'll get.
Here's a sample video recorded at the highest movie settings:
Performance
Performance testing of the Sony Cyber-shot TX100 was done using a high-speed 45 MB/s Sandisk Extreme Pro SDHC card.
Good light
0.1 to 0.3 seconds
Very fast
Low light
0.3 to 1.0 seconds
Moderate
Shot-to-shot (JPEG)
1.5 seconds
Fast
The Sony Cyber-shot TX100V has a continuous shooting mode that can shoot as fast as 10 FPS at full resolution (16 megapixels) but only for up to 10 photos per burst. This seems to be a software cap and the camera writes photos at a decent rate to a high-speed memory card, so you should be able to take another 10 shots after a 7-20 second wait. The Sony Cyber-shot TX100V is a fast camera with excellent shooting and focusing speeds, though it certainly would be a nice touch if Sony had included a slower burst option that could take more photos in a row.
Image Quality
ISO 125
ISO 200
ISO 400

ISO 800

ISO 1600

ISO 3200
Photo quality starts out clean but already overprocessed at early ISO settings (ISO 125 and 200). The Sony TX100V shows obvious signs of an overzealous noise reduction algorithm since photos at low ISO already have finer details looking soft. Thankfully photos still look sharp as a whole and should be usable for most displays and prints.
Image quality remains close at ISO 400 but still with similar characteristics: sharp overall but lacking finer details and some slight artifacts because of overprocessing. Image quality on the TX100V gets muddier at ISO 800 with some smudging of details and a painting-like look to photos. This would be as high as I would recommend going if you want any medium-sized (for letter/A4 prints or computer wallpaper display) use of photos.
At ISO 1600, we see graininess from noise but also further softening of photos as the noise reduction system tries to fight it. You could try squeezing out a postcard sized print out of this setting, but even computer processing cannot get back the details lost from the camera's default processing. And at ISO 3200, things are just a mess and I would recommend avoiding this setting altogether.
The Sony Cyber-shot TX100V produced photos with low lens distortion. Color fringing (chromatic aberration) and edge softness were both visible in photos; that's slightly more than average, considering the small range of this 4X zoom lens. Photo quality of the TX100V was a bit underwhelming, considering the camera looks great on paper and in terms of features. Photos were treated with an apparent overdose of in-camera processing, which makes them lose fine details at earlier ISO settings and getting muddy at higher settings. Pictures will turn out fine if you're just going for casual snapshots, but not for close inspection of details and such.
Photo gallery
See the Sony Cyber-shot TX100 photo gallery to view photos taken using the camera.
Playback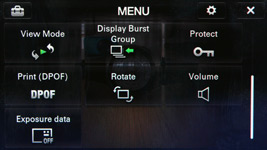 The Sony Cyber-shot TX100V has a fancy playback mode. There's the ever-standard print marking, image rotation and protection, cropping, slideshow mode and 3D viewing mode. The camera also has some retouch features, including digital redeye removal and image sharpening.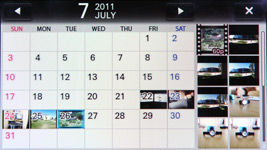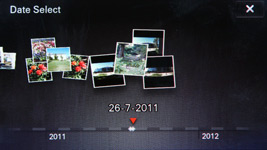 You can playback photos individually, with fancy slideshow effects and background music, or as shown above, by date in calendar view or date view. The Sony Cyber-shot TX100V groups photos taken in burst mode in 'stacks' so playback is better organized and less messy.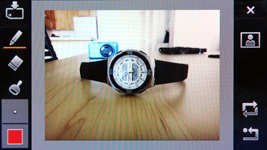 The Sony Cyber-shot TX100V also has a paint mode which allows you put various stamps or draw on top of photos you've taken via the touchscreen.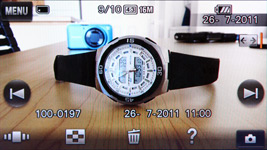 The Sony Cyber-shot TX100V tells you a decent amount of information about your photos but it does skimp on some shooting information. You can also opt to toggle exposure data in the menu.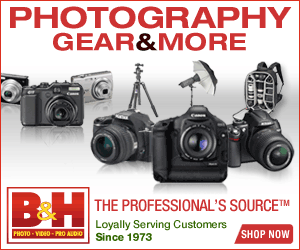 Conclusion
The Sony Cyber-shot TX100V is a feature-loaded compact digital camera. Besides its 16 megapixel CMOS image sensor and 4X zoom lens (a little small for a compact camera these days, even Sony's own super-slim TX55 has a 5X zoom lens), the Sony TX100V is dressed to impress with its 3.5 inch OLED touchscreen, intuitive touchscreen interface, multi-shot capabilities (for panoramas, HDR, low-light and high-speed shooting), built-in GPS, Full HD movie mode and fancy playback mode.
With so much fancy stuff (particularly the large touchscreen and GPS), it isn't surprising that battery life on the TX100V is average, nothing too impressive. The Cyber-shot TX100V is mainly point-and-shoot with no manual controls (though there's custom white balance), with a nice touch-friendly user interface. I have one quirk: the GPS feature of the TX100V seems tacked on for the fun of it with no options other than an on/off toggle.
The Sony Cyber-shot TX100V does pretty well (but not exactly class leading) in terms of speed and its movie mode is pretty impressive too. I did wish there were selectable burst speeds, faster image writing after burst, removal of that pesky 29 minute per movie clip limit (which is present on just about all cameras of all brands) and some options for high-speed/slow motion video recording, but other than that, I'm satisfied with the camera's performance and movie mode.
The Sony Cyber-shot TX100V has lots of bling and shine on paper, but its image quality output touches the below average line. Photos are acceptable for casual snapshots; not horrible but photos look overprocessed and lack finer detail, even at low ISO settings. There's also some color fringing and edge softness, both are average for a compact camera.
I would recommend the Sony Cyber-shot TX100V for folks looking for a stylish camera to casually snap photos with. The camera goes for a pretty low price right now and has two features most similarly priced cameras won't have: a 3.5 inch touchscreen and built-in GPS (I didn't find the latter too useful though).
What's hot:
Large and sharp 3.5 inch OLED touchscreen with good touch sensitivity
User friendly touch interface; customizable row of left icons on-screen, guide tooltips
Plenty of shooting modes, including Superior Auto, Sweep Panorama, 3D photo and 3D panorama, and HDR functionality
Built-in GPS (but very basic, see below)
Excellent performance; high-speed continuous shooting
Full HD video mode with optical zoom, autofocus, wind filter and image stabilization
Fancy playback mode
What's not:
Photos look slightly overprocessed
GPS feature is overly basic; only on/off toggle with no other features
4X optical zoom is on the low side for a camera this price/size
Lacks manual controls; only one continuous shooting mode option
Tiny zoom controller and flimsy bottom compartment door