Read my review of the Nikon Coolpix S100, a fashionable and slim camera with a huge 3.5 inch OLED touchscreen. This point-and-shoot model takes 16 megapixel photos and Full HD video. Check out the Nikon Coolpix S100 photo gallery for full-sized photos taken using the camera.

Here's one of Nikon's slim and stylish cameras: The Nikon Coolpix S100 is under an inch thin and sports a nice and large OLED touchscreen. It also packs the same new-ish 16 megapixel backlit CMOS imaging sensor we first saw when reviewing the Nikon Coolpix S8200 not too long ago, but unlike that camera which has a big 14X zoom lens, the Coolpix S100 has a significantly smaller and non-extending 5X optical zoom lens.
Now, Nikon isn't a newcomer to the touchscreen camera market and we've been impressed by their touchscreen implementations and UI's of past models… question is, will the Nikon Coolpix S100 continue that tradition? And more importantly, how does it perform on the photo side of things? Let's find out.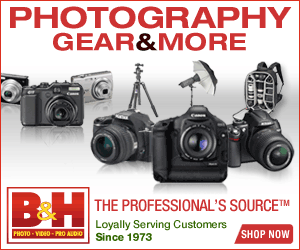 In the camera box
The Nikon Coolpix S100 has an unsurprisingly plain bundle and comes with just the basics; nothing extra or fancy here:
Nikon Coolpix S100 camera
EN-EL19 lithium-ion rechargeable battery
AC adapter charger with USB cable
A/V cable
Wrist strap
Camera software CD
The Nikon Coolpix S100 has 71 MB of built-in memory, which is an acceptable amount for that awkward moment when you leave home with the camera and left your memory card on the kitchen counter. For actually going out there to take pictures, you're going to need to use your own memory card; the Coolpix S100 takes SD, SDHC and SDXC memory cards. As usual, an 8 GB high-speed SDHC is ample to begin with.
The Nikon Coolpix S100 uses the thin EN-EL19 lithium-ion rechargeable battery, which doesn't bode well for battery life. With this anemic battery and the need to power that huge 3.5 inch touchscreen, it isn't surprising the Coolpix S100 gets a paltry 150 shots per charge, which is well below average compared to similar cameras. The S100 comes with an AC adapter and USB cable used to charge the battery within the camera. Yup, that means your camera is stuck to your wall or computer until you finish charging the battery, and with the below average battery life of the Coolpix S100, you'll need at least one spare battery. If you want to charge batteries without relying on the camera itself, Nikon will be happy to sell you a dedicated battery charger for extra dough.
Accessories
The Nikon Coolpix S100 is extremely light on accessories; besides replacement cables for the ones bundled with the camera and that standalone battery charger, there aren't any other optional extras you can get to soup up the S100.
Camera Tour
Nikon Coolpix S100 compared to the Apple iPhone
The Nikon Coolpix S100 has one of the biggest, if not THE biggest display you can find on a camera in the market right now and that doesn't come for free: the Nikon Coolpix S100 is also one of the larger pocket cameras out there. At 0.8 inches (18.1 mm), it's slim but it also has a large surface area of 99.0 x 65.2 mm (3.9 x 2.6 inches), needed to accommodate that 3.5 inch display. The Nikon Coolpix S100 is fairly lightweight though: it weighs just 138 grams (4.9 ounces) loaded with battery and memory card.
The Nikon Coolpix S100 has good but not great ergonomics. The camera is slim but easy to hold in hand, and there are no buttons on the back, just that massive touchscreen and on-screen controls. The camera's touchscreen is pretty responsive to touch so you don't need to tap too hard. I just have three qualms about the camera's design: the not-so-solid feeling compartment door of the camera, the sliding lens cover which is prone to opening accidentally and the complete lack of buttons (even zoom is controlled via the touchscreen!).
The Nikon Coolpix S100 is available in your choice of four colors: black, beige, red or purple.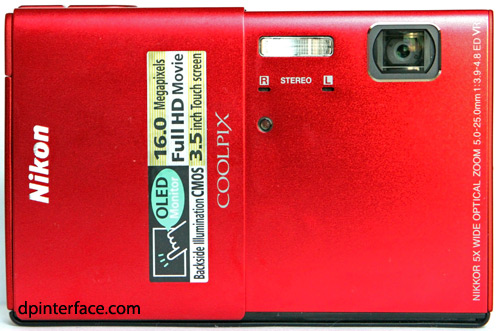 The Nikon S100 has a 5X optical zoom lens on the front, equivalent to 28 – 140 mm, which is a good amount of zoom for a camera this thin. The aperture range of f3.9 – 4.8 of the lens is slow, but nothing too shabby. The camera lens is backed by optical image stabilization (what Nikon labels as Vibration Reduction) which helps reduce the chances of taking blurry images.
Next to the lens is the camera's flash which is decent in terms of power, a pair of microphones for recording stereo sound in movie mode and autofocus assist light.
Nikon Coolpix S100 and Apple iPhone displays compared
The biggest feature of the Nikon S100 (no pun intended) has got to be the 3.5 inch touchscreen OLED display. The display has 820,000 dots, making it sharp and also smooth. Display brightness is good with decent legibility in low-light and outdoors. The display has good touch sensitivity and is very responsive; though it isn't yet on par with smartphone displays because you'll still need some pressure when touching and flicking.
The only button you'll find on the camera is the shutter button at the top of the camera, and there's nothing else to see except an indicator light above the display. There isn't even a power on/off button on the camera; the camera is switched on/off via the front sliding cover (which proves slightly tedious if you just want to enter playback).
Shooting settings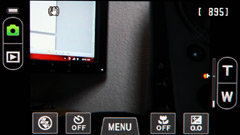 Composing a photo on the Coolpix S100
The Nikon Coolpix S100 is truly a pure touchscreen camera; everything from camera settings to zoom to switching modes is done via the touchscreen. And yes, while it may seem like a 'cool' thing, it isn't the most practical thing to do: simple tasks like controlling zoom can be tedious (it's also hard to be precise using the touchscreen) and slower than on a camera which uses physical controls. I can definitely imagine folks missing a few spur of the moment shots (or not having the right composition, at the very least) thanks to over-reliance on touch-based controls.
There are four main settings you can change while composing photos on the S100: Flash setting, self-timer, macro mode on/off and exposure compensation. The camera shows you exposure information along with a simple battery indicator but lacks a live histogram.
Shooting and setup menus on the Coolpix S100
For all other settings, there's the little Menu tray which brings up settings for image resolution, enabling touch-based focusing and shutter capabilities, ISO speed, burst mode, white balance and an icon to enter a Setup menu to change other settings. The S100 has several preset white balance modes (cloudy, daylight, flash, fluorescent, incandescent) in addition to auto and manual settings.
The Setup menu is the only part of the camera that looks like a typical camera menu, except things are quite finger-friendly here with large, touch-optimized buttons and icons. There aren't any settings which you'll be changing too often in this area, so you won't be spending too much time in here anyway.
Macro and Scene modes
Selecting a shooting mode on the Coolpix S100
The Coolpix S100 lets you select auto mode or one of its various scene modes by touching the shooting mode icon to the upper left side of the shooting screen. There's a whole lot of scene modes here as you can see from the screen above, most of them are self-explanatory and if you need any help, you'll spy a little question mark icon to the upper right corner of the screen – that'll give you shooting tooltips and help anytime you're confused.
The Nikon Coolpix S100 doesn't have any sort of manual exposure mode; however it does have several notable shooting modes such as Easy Panorama (the camera automatically shoots and stitches together a panoramic photo as you pan the camera). It also includes three multi-shot modes: Night portrait, night landscape and backlight HDR modes, which capture several photos and combine them into a single low noise or HDR image. The S100 also has an excellent macro mode which allows you to get as close as 1 cm to your subject at wide-angle.
One side of the Nikon Coolpix S100 is blank while the other side houses its battery/memory card compartment, which is protected by a cover that isn't too sturdy. There's one redeeming thing here: the compartment location allows you to swap battery and memory cards while the camera is mounted on a tripod.
At the bottom of the Coolpix S100, you'll find the tripod mount as well as the camera's connectivity ports.
The two connectivity ports are protected by a flexible cover and they are: a HDMI port for connecting the camera to your television as well as a combo port for USB and charging the camera.
Movie mode
The Nikon Coolpix S100 has a movie mode that's pretty much top notch for a compact camera. The camera can record Full HD 1080p movies with stereo sound at 30 frames per second. You can also opt to lower movie size, and frame rate still remains at 30 FPS:
Full HD 1080p
1920 x 1080
Standard HD 720p
1280 x 720
The S100 lets you use optical zoom and optical image stabilization while recording; it also continuously focuses so everything remains nice and sharp. Movies are limited to 29 minutes or 4 GB per clip, whichever comes first.
The camera also has three high-speed movie modes which record at lower or higher frame rates than usual and plays them back at 30 FPS for fast or slow motion effects:
Setting
Video resolution
Frame rate
Fast motion 1080p
1920 x 1080
15 FPS
Slow motion 720p
1280 x 720
60 FPS
Slow motion VGA
640 x 480
120 FPS
Here are two sample movie clips from the Nikon Coolpix S100 taken in regular mode at Full HD:
Performance
Performance testing of the Nikon Coolpix S100 was done using a high-speed 45 MB/s Sandisk Extreme Pro SDHC card.
Startup
1.1 seconds
Very fast
Good light
0.2 to 0.6 seconds
Decent
Low light
0.4 to 1.4 seconds
Decent
Shot-to-shot
2.4 seconds
Average
In contrast to more expensive and bulkier Coolpix models, the slim Coolpix S100 is relatively average a performer. The camera is not sluggish but not blazing fast either. The Coolpix S100 has several continuous shooting modes, none of which are particularly impressive due to the camera's small buffer:
Continuous shooting (full 16 megapixels): High mode shoots at a little over 7 FPS, though up to 4 photos only; Low mode shoots at 2 FPS up to 14 photos
Multi-shot 16: Takes 16 smaller photos and makes them into a collage
Best shot selector: Takes 5 photos and the camera automatically picks and saves only the sharpest image
Image Quality
ISO 125 (f3.9, 1/30 sec)
ISO 200 (f3.9, 1/50 sec)
ISO 400 (f3.9, 1/100 sec)

ISO 800 (f3.9, 1/200 sec)

ISO 1600 (f3.9, 1/400 sec)
ISO 3200 (f3.9, 1/800 sec)
The Nikon Coolpix S100 starts with sharp and clean image quality at ISO 125 and ISO 200, which is expected from all modern cameras. However, the camera seems to be hasty in applying noise reduction as photos begin to show signs of being overly smooth and very slightly watery at ISO 400. The good thing here is that photo quality is still very acceptable and usable for large prints and display.
ISO 800 image quality takes on a fuzzier painting-like appearance. Finer details are definitely gone at this point but photo quality is still usable for medium sized prints. Photo quality becomes worse at ISO 1600 with a drop in color saturation and more detail loss; before becoming completely unusable at ISO 3200.
The Nikon Coolpix S100 displays a very slight amount of lens distortion in photos, which will be unnoticeable in most cases. There is visible edge softness that can be observed even without zooming in to full-size; along with noticeable color fringing (chromatic aberration) that gets worse with high contrast scenes.
All-in-all, the image quality of the Nikon Coolpix S100 hovers at the below average mark. The photos it produces aren't awful but noise reduction (hence, detail loss) is more than average compared to most compact cameras at higher ISO settings. The camera also has worse than average corner softness and moderate color fringing.
Photo gallery
Visit the Nikon Coolpix S100 photo gallery to view photos taken using the camera.
Playback
The Nikon Coolpix S100 has a fancy playback mode which lets you mark photos as favorites, image protection, print marking, crop, resize, stretch or attach voice memos with photos. The camera has a nice number of editing tools, including skin softening, brightness improvement (D-Lighting), beauty mode, perspective editing and ability to improve saturation with contrast (Quick Retouch). The Nikon Coolpix S100 also has four Filter Effects as well as ability to 'paint' on photos via the touchscreen.
The Nikon Coolpix S100 doesn't tell you much about your photos; what you see above is what you'll get.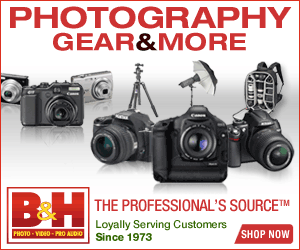 Conclusion
The Nikon Coolpix S100 is a stylish little camera created with simplicity in mind. The camera has a big 3.5 inch touchscreen and 5X optical zoom, with just about everything save for the firing the shutter done via the touchscreen.
While the screen is big, bright and responsive to touch, and Nikon has leveraged their experience in making touchscreen interfaces (having released at least one touch model per year for the last few years) and made the touchscreen menu very intuitive here, the S100 suffers from the lack of physical controls. Zooming and power are particularly tedious since the camera relies on an on-screen zoom controller and the sliding front cover that turns the camera on/off is easy to accidentally bump.
The S100 is purely point-and-shoot with the only 'manual' control being custom white balance. This makes the camera easy to use and suited for its target market of casual users. There's a variety of scene modes, in-camera guide, auto panorama and various multi-shot modes (for low-light and HDR). Unfortunately, camera performance was just average with a specific weakness in continuous shooting duration (the number of photos that can be taken per burst is fewer than other cameras) and the Coolpix S100 also suffers from poor battery life.
The Nikon Coolpix S100 has a nice full-featured Full HD movie mode that comes with a series of options for fast/slow motion video shooting. However, the camera isn't quite as fantastic in the image quality department, despite that cool new 16 megapixel CMOS image sensor, thanks to heavy-handed noise reduction and poor edge sharpness.
Having had a great experience with Nikon's larger-size Coolpix models, it's unfortunate that the Coolpix S100 is a letdown in many areas. I would recommend skipping the Nikon Coolpix S100 and shopping for another compact camera that delivers more value/performance for your money.
What's hot:
Stylish and slim design; 5X optical zoom
Large and colorful 3.5 inch OLED touchscreen
Easy to use; auto scene selection, auto panorama mode and low-light/HDR modes
Fancy playback mode with lots of editing tools
Full HD movie mode with optical zoom, continuous focusing and image stabilization; with fast and slow motion movie options
What's not:
No physical controls except shutter button: awkward zooming via touchscreen and clumsy sliding front cover, cannot enter playback directly without opening lens cover
Lacks manual controls
Detail smudging due to noise reduction; prominent corner softness
Below average battery life
Limited buffer: Small maximum burst
Lack of on-screen information compared to other cameras