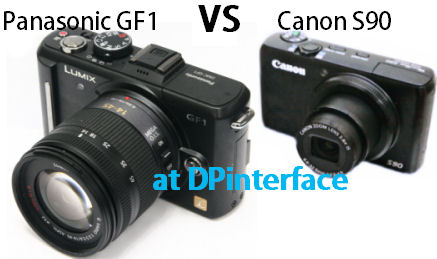 I've decided to post some sample photos from the Canon PowerShot S90 and Panasonic Lumix GF1 cameras, since I had both with me today. I hope no one thinks this is a true, head-to-head fight: It's NOT; the compact Canon S90 and entry-level SLR-class Panasonic GF1 are two completely different animals.
The Canon PowerShot S90 has the advantage of being small and light (it's about the same size as an old Digital IXUS/ELPH I have), with dual control dials; while the Panasonic Lumix GF1 has a big image sensor and lens interchangeability. But both have full manual controls, produce 4:3 ratio photos and, after my mathematical calculations, bundled lens/resolution combinations that could offset each other to produce similar sized crops without resizing.
What you WILL get out of this little article is a sneak preview of production-level sample images from both cameras before I post their respective reviews. Some might also get a shock from reading my final thoughts… so go on and hit the link for all the juicy details and production-quality photos.