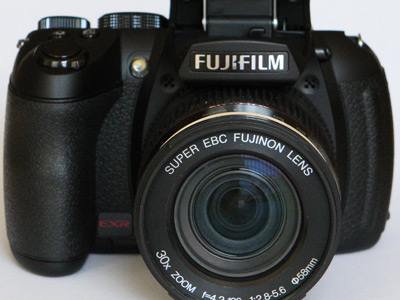 We're back… and with a review of a brand new camera announced earlier this year. Check out the Fujifilm FinePix HS20EXR, a prosumer camera equipped with a 30X optical zoom lens, plenty of manual controls (along with automatic shooting modes) and Fujifilm's EXR CMOS sensor. As with all our reviews, I've got a photo gallery ready so head on to theFujifilm FinePix HS20EXR photo gallery to view full-sized photos taken using the camera. Otherwise, continue on to read our review of the camera!


DPInterface Fujifilm FinePix HS20 EXR Review
Brad Soo – July 9th, 2011
It's rare nowadays that we see super-zoom cameras being made for the prosumer market; most of them are made to cater to consumers wanting huge zoom lenses and good video capabilities. The Fujifilm FinePix HS20EXR is one of those rare exceptions: it's a real and full-fledged prosumer fixed lens camera launched this year that's geared towards enthusiast users while having functions and features easy enough for not-so-seasoned users too. What makes the Fujifilm FinePix HS20EXR exciting? Here are the highlight features of the camera:
A 16 megapixel, 1/2 inch EXR CMOS sensor; that's bigger than most fixed-lens digital camera sensors and it has various EXR modes too (more on that later)
30X optical zoom lens that starts at an ultra-wide 24 mm
Zoom and focus rings on the lens barrel and a real command dial on the top of the camera
Hinge-mounted 3 inch LCD display that you can tilt up/down for creative-angled shots
Full-resolution continuous shooting up to 8 frames per second, can be boosted to 11 FPS at 8 megapixels
Full manual controls, including white balance shift, a flash hotshoe, RAW mode and optional remote control
Pro Focus and Pro Low-light modes let you take photos with better background blur/image quality in low-light respectively
Motion Panorama automatically shoots and creates a panoramic image as you pan the camera
1080p Full HD (30 FPS) movie mode with stereo sound; 720p 60 FPS capture mode available
And there's even more to discover about the camera! Is this the ultimate super-zoom camera? Find out now.
In the camera box
The Fujifilm FinePix HS20EXR comes with a rather average bundle, which includes:
Fujifilm FinePix HS20EXR camera (of course!)
4 AA alkaline batteries
Lens cap with strap
Neck strap
Lens hood
USB and A/V cables
Camera software CD
User's manual
The Fujifilm FinePix HS20EXR's bundle was fairly standard, giving you just about everything you need to start using the camera out of the box, though you'll eventually have to get your own set of batteries and memory card to do some actual shooting.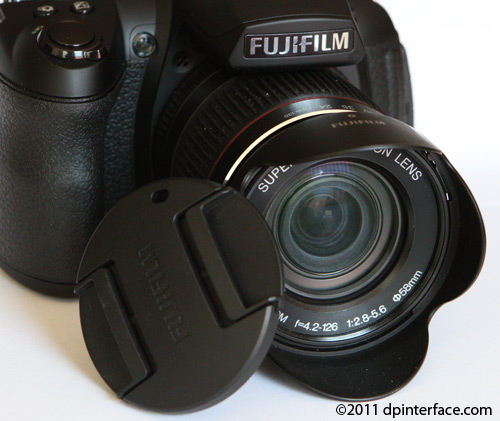 The FinePix HS20EXR comes with a small petal-shaped lens hood that you can attach very easily (it's the attach and rotate-to-lock type) to the camera and it stays nice and firm on the lens. There's also a lens cap which comes with a small strap to attach to the camera so you'll never lose it.
A SD memory card is something you must consider with the Fujifilm FinePix HS20EXR. The camera has 20 MB of internal memory, which is enough for a grand total of 3 photos at the highest settings that lets you know "oh the camera takes pictures and it works!" The camera takes all three variants of SD cards that exist, SD, SDHC and SDXC (including UHS-I SDXC cards). An 8 GB SDHC card is fairly affordable nowadays and a good place to start, though I would recommend more (16 GB or 32 GB) if you plan on taking lots of video or going on long trips with the camera. A high-speed memory card also helps (I would recommend a Class 6 or 15 MB/s or higher card; though something like the 45 MB/s SanDisk Extreme Pro series might be overkill) in reducing the time it takes for the camera to save photos, especially in burst mode.
The Fujifilm FinePix HS20EXR uses 4 AA batteries, which is a nice change from the sea of cameras which use proprietary lithium-ion batteries. The main advantage of AA batteries that they are always and commonly available almost everywhere; whether you're taking the FinePix HS20EXR to Rome or still using it in year 2018, you can pick up a set of fresh batteries from the store when your old ones run out of juice (something you can't do easily with proprietary batteries). The FinePix HS20EXR comes with four non-rechargeable alkaline batteries which, surprisingly, last for quite a bit before they eventually end up in the trash.
I would recommend getting a set of AA NiMH rechargeable batteries and a charger with the camera, since they make things easier on the environment and your piggy bank in the long-run. The camera is said to run up to 350 shots using alkaline batteries, 400 shots with NiMH rechargeable ones and 700 shots with lithium AA batteries; though only NiMH ones are rechargeable. My time with the camera says that Fujifilm's estimates are pretty accurate… you could even throw in a couple of movie clips into the mix.
Accessories
There are a couple of accessories available for the Fujifilm FinePix HS20EXR, which include an optional AC adapter (I believe you'll also need the DC coupler to go along with that) to power the camera from your wall socket, remote control and external flash unit. The camera's lens also has threads for 58 mm filters. However, no conversion lenses are available for the camera.
Fujifilm offers two 'official' flash units, the Fujifilm EF-20 and EF-42 flashes, which have guide numbers of 20 and 42 meters respectively, and these will sync automatically with the camera (which in layman's terms, means you would want these if you want additional flash power but don't know how/don't need to fiddle with flash settings). If you know what you're doing and feeling adventurous, the camera also takes third party flash units, though you will have to manually set them up with the camera and your shooting situation.
Camera Tour
The Fujifilm FinePix HS20EXR is a well-constructed and no-nonsense looking digital camera which looks a whole lot like a digital SLR. In fact, if you didn't know much about cameras (and if I hadn't told you), you could easily mistake the FinePix HS20EXR for a digital SLR… and that's not such a bad thing since the folks at Fujifilm made this camera with functionality in mind. But don't let the camera's looks intimidate you: the FinePix HS20EXR is actually very easy to use, even for first time users or beginners.
As mentioned, the camera is put together very nicely with no signs of flexing or squeaking joints anywhere; the hinges on which the LCD is mounted also feels nice and sturdy. The zoom ring around the lens has a nice rubberized feel and all of the camera's controls feel logically and well placed. You're pretty much expected to hold and use the camera with both hands like you would on a digital SLR since the camera's zoom control is located on the lens barrel; so are the buttons to access various functions on the back and the button to popup the camera's flash.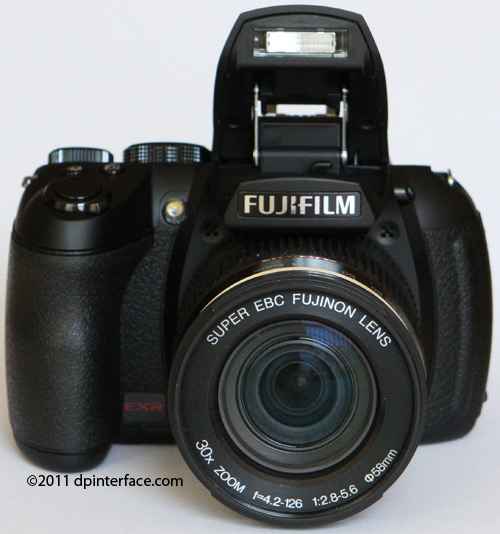 And here's the face of the Fujifilm FinePix HS20EXR… the biggest feature is the camera's 30X optical zoom lens which is equivalent to 24-720 mm in 35 mm terms. That's a whole lot of zoom, as you would imagine, beating out many 'super-zoom' digital SLR lenses which top out at 'just' 250 or 300 mm (equivalent to 375 or 450 mm). The lens has a nicely bright maximum aperture of f2.8 at wide-angle, down to f5.6 at telephoto.
And quite conveniently, Fujifilm has included sensor-shift image stabilization which helps counter blur in photos caused by slow shutter speeds and camera shake… though image stabilization is useful and it works, you need to be aware it doesn't do miracles in certain situations (especially at full zoom, 720 mm!), so you might want to get a tripod or use a steady surface with the camera when shooting at high focal lengths.
Directly above the lens is the camera's popup flash, which is released manually using a button on the side, which I believe you can spot in this photo. The flash is fairly powerful, with a working range of 30 cm to 7.1 meters (1 to 23 feet) at wide-angle and 2 to 3.8 meters (6.5 to 12.5 feet) at telephoto. If you need more flash power (or simply don't like the built-in flash casting a shadow of the lens barrel in photos), the Fujifilm FinePix HS20EXR allows you to attach external flashes via its hotshoe above.
Nearby, you'll find the camera's dual microphones used for recording stereo sound (they're seen flanking the lens/Fujifilm logo in the photo above) along with the autofocus assist light, which helps provide illumination in low-light for the camera to focus. It also doubles as a self-timer visual countdown light.
And now, we have plenty more to discuss on the back of the FinePix HS20EXR. First off, we have the camera's display… the picture above shows the FinePix HS20EXR's LCD in a more traditional position.
But as you may have noticed, the camera's 3 inch LCD is mounted in dual hinges which allow you to tilt it up towards yourself like so, for waist or knee level shots…
…or tilt the display down for 'above your head' shooting as shown above.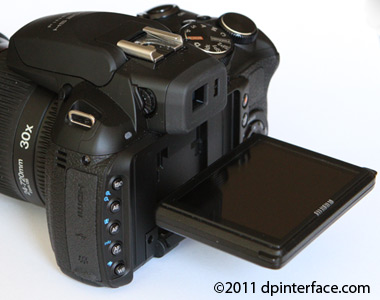 And this picture shows the 3 inch display at maximum tilt on both hinges. The screen is pretty sharp with 460,000 dots on it; also nice and bright enough to be highly legible under bright light and outdoors. The camera brightens the image to a viewable level too when you're shooting in low-light conditions.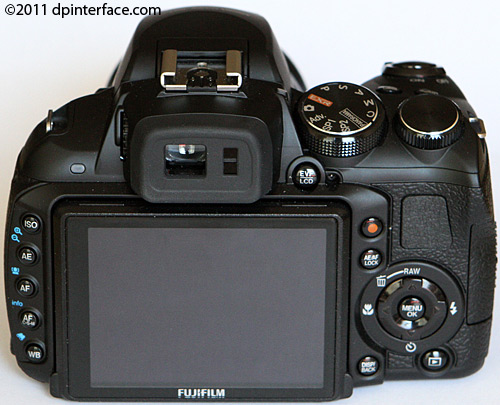 Above the camera's LCD is the electronic viewfinder. Unlike the LCD, the EVF has a tiny 0.2 inch display within the eyepiece with just 200,000 dots. The relatively low resolution shows as the EVF is noticeably grainy and less sharp compared to the nice and smooth LCD. Two other potential turn-offs about the EVF are its small magnification (feels as though you're looking at a small screen at the end of a tunnel) and 97% image cover (so there will be a little bit of 'extra area' outside of the live preview after you've taken the final picture).
However, some reasons you might want to use the EVF over the LCD include a more steady "SLR like" hold of the camera (useful at those long zoom focal lengths) and glare-free outdoor shooting. Fujifilm includes as small dioptric correction knob on the left of the eyepiece for users with less than perfect eyesight. To the right of the EVF window is a proximity sensor that tells the camera to automatically switch between the LCD and EVF when your eye is near enough. At times, it's really convenient but sometimes it gets annoying as the camera switches to the EVF when you really don't want it to (ie when shooting low level shots but something that isn't your eye is too close to the sensor).
Flanking the electronic viewfinder on each side, there's a small status indicator light on the left (it tells you stuff like when the camera is writing photos to the card) as well as a button to manually switch between the EVF/LCD on the right.
On the left side of the LCD display, there is a row of five buttons, each with their own function in shooting and playback:
ISO (Auto, 100, 200, 400, 800, 1600, 3200, 6400, 12800, auto 400, auto 800, auto 1600, auto 3200)/Playback zoom in
Photometry AKA metering mode(Multi, spot, average)/Playback zoom out
Autofocus mode (Center, multi, selectable point, tracking)/Face detection in playback
Focus setting (Continuous, single, manual)/On-screen info in playback
White balance (Auto, custom, sunlight, cloudy, fluorescent 1, 2, 3, incandescent)/Playback image search
The Fujifilm FinePix HS20EXR has various ISO settings, including a bunch of auto modes. The various Auto ISO settings allow the camera to adjust ISO automatically while limiting the maximum setting used to either 400, 800, 1600 or 3200. The camera also has two 'very high' sensitivity settings, ISO 6400 and 12800, which reduce image resolution down to 8 and 4 megapixels respectively when selected.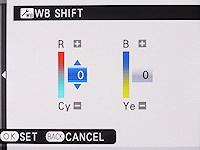 The camera has a plethora of focus and autofocus modes, including manual focus which allows you to use the focus ring around the lens barrel to finely tune focus. There's the ability to set custom white balance based on a reference surface and also adjust white balance on a red-cyan/blue-yellow scale.
Moving along to the other side of the camera, there are four pretty self-explanatory buttons: the 'red dot' record button (which starts/stops movie recording regardless of shooting mode), AE/AF lock (customizable; locks autofocus and exposure by default), display/back (either toggles on-screen information in shooting mode or moves you 'back' to the previous page in menus) and the playback button.
The last thing to talk about here is the camera's navigation pad, which allows you to navigate pictures and menus, and also access these functions:
Up – RAW image mode/Delete photo
Down – Self-timer (Off, 2 seconds, 10 seconds)
Left – Macro mode (Off, macro, super macro)
Right – Flash setting (Auto, on, slow sync, off; redeye reduction available)
Center – Menu/OK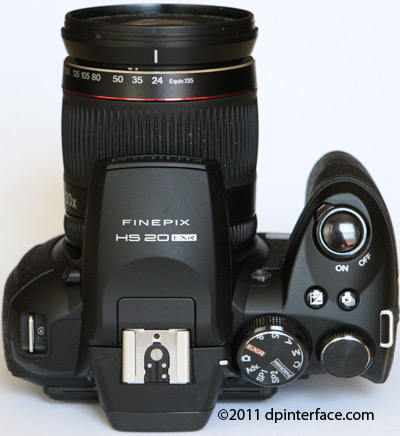 Here's the top of the Fujifilm FinePix HS20EXR, where the first thing you will spot is the hotshoe. The camera will sync automatically with Fujifilm's flash units or manually with third party ones.
To the right, we have the shutter button with a power on/off switch wrapped around it, exposure compensation button and drive mode button. There are several drive modes on the FinePix HS20EXR, and they are: Continuous shooting, best frame, exposure bracketing, Film Simulation bracketing and dynamic range bracketing. The camera allows you to select between 3, 5 and 8 frames per second in terms of continuous shooting speed, along with a 11 FPS option available at lower resolution settings. Best Frame mode does pretty much the same thing as continuous shooting, except the camera starts pre-capturing photos as you half-press the shutter button, and saves the last 8 shots before the shutter button was pressed.
And finally, we can head on to the mode dial which has the following modes (going clockwise):
Automatic shooting
EXR modes – Auto, resolution priority, high ISO with low noise, dynamic range priority
Program mode – the camera will select both shutter speed and aperture; there's program shift available so you can tweak the shutter/aperture combinations
Shutter priority – pick a shutter speed (between 1/4000 to 30 seconds in 1/3 step increments) and the camera will select a matching aperture value
Aperture priority – pick an aperture value (from f2.8/f5.6 to f11) and the camera will select a matching shutter speed
Manual mode – you get full control over both shutter speed and aperture
Custom – save a custom set of settings to this position
Motion Panorama
Scene position 1 and 2 – Pick two of your most used scene modes and quickly access them here
Advanced shooting modes – Access the camera's Pro Focus and Pro Low-light modes here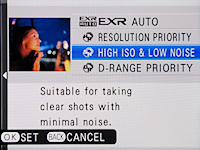 The Fujifilm FinePix HS20EXR has three EXR modes which relate to the Fujifilm EXR CMOS used inside the camera. You can pick from three modes (though just one at a time) to tell the camera to prioritize resolution, low noise (at high ISO speeds) or dynamic range.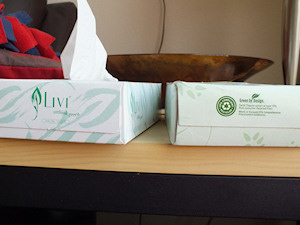 I've got an example of the camera's dynamic range EXR mode in action… it's pretty obvious in the photo above that the 'after' shot on the right reduces the highlight blowout while bringing up more detail in the shadows than the 'before' shot on the left.
The Fujifilm FinePix HS20EXR has a 'sweep' panorama mode which Fujifilm calls "Motion Panorama", where you can allow the camera to capture and automatically create a big panorama (of 120, 180 or 360 degrees, it's your choice) as you 'pan' the camera from side-to-side. The camera can also capture vertical panoramas if that's what you're aiming for.
180 degree Motion Panorama shot (click for full sized photo)
I managed to successfully capture several Motion Panoramas without seeing any visible 'stitch points' (just check out the sample above), though I did bump into the rare occurrence where the camera stopped halfway and told me I was panning too slowly.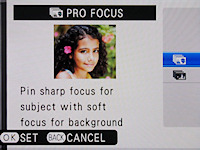 The Fujifilm FinePix HS20EXR has two unique modes under the 'Advanced' position on its mode dial. Both take advantage of the EXR sensor to capture multiple frames and combine them into a single shot. First off is Pro Low-Light mode which takes several photos and combines them into one low noise 8 megapixel photo…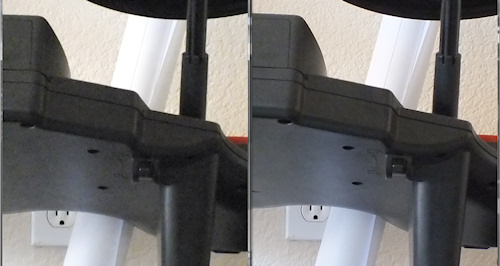 Fujifilm FinePix HS20EXR Pro Low-Light mode before and after
Both photos were taken at ISO 3200 in the photos above, with the 'before' shot zoomed out to match the 'after' shot at 100%. You can see how noticeably less noisy photos are using Pro Low-light mode; though if the sample above doesn't do justice, you can check out the full-sized before and after shots in the gallery.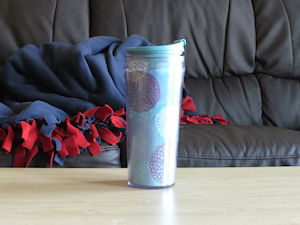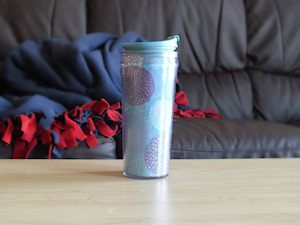 Pro Focus off and Pro Focus on shots
Next up is the camera's Pro Focus mode, which attempts to simulate the background blur or 'bokeh' that make subjects 'pop' in photos taken using digital SLR and large sensor cameras. There are three 'blur' levels you can choose from in Pro Focus; and what the camera does is take several photos at different focal lengths and combines them into one. And just like Pro Low-Light mode, image resolution is lowered to 8 megapixels. You can see that Pro Focus works well though it isn't identical to the 'real deal' you'd get with an actual large sensor camera. Pro Focus only can work at certain focal lengths too (and the camera tells you when you haven't zoomed in enough for the effect to be created).
The final thing at the top of the camera is that blank dial right next to the mode dial. That's actually the command dial and you'll use it to change various settings around the camera (for instance, it's used in-conjunction with holding down one of the five buttons on the left of the LCD).
On one side of the camera, you'll find the memory card slot as well as a small rubber flap to connect the power source when using the optional AC adapter with the FinePix HS20EXR. The door over the memory card compartment feels nice and sturdy.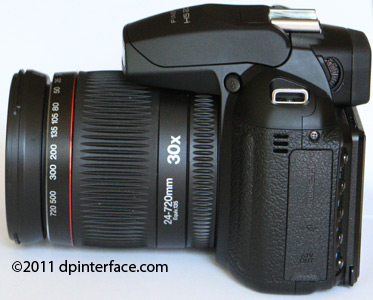 And now we have a better view of the Fujifilm FinePix HS20EXR's 30X zoom lens, which is comparable to the size of an 18-55 mm 'kit lens' of many interchangeable lens cameras. The lens barrel has two things on it: the manual zoom ring as well as the focus ring, which is electronically linked to the focusing elements.
There's also a one of two neck strap loops here, button to raise the popup flash and the speaker.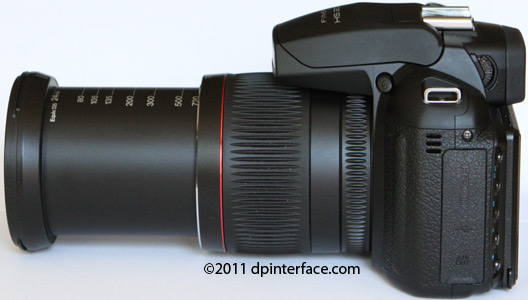 And here's that 30X zoom lens in the fully extended positio