I've just completed my review of the Olympus PEN E-P2 Micro Four Thirds camera, a compact interchangeable lens camera and upscale version of the original PEN E-P1. Visit the Olympus PEN E-P2 photo gallery as well for full-sized photos.
DPInterface Olympus PEN E-P2 Review
by Brad Soo – March 12th, 2010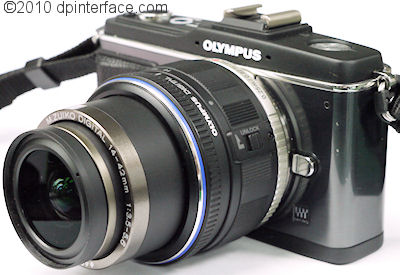 Not long after Olympus had their PEN E-P1 in stores, they decided to create a more upscale model to cater to those wanting additional features: introducing the PEN E-P2. At heart, the Olympus PEN E-P2 has the same core features found on the original PEN: including a 12 megapixel sensor, 3 inch LCD, full manual controls with automatic features available, ISO sensitivity up to 6400, 720p HD movie mode and same 'retro' design. Here's what's new on the Olympus PEN E-P2:
New black/dark gray body design
New accessory port for external electronic viewfinder and optional microphone
New autofocus tracking for photo and movie modes
New iEnhance mode for boosting brightness/saturation of most prominent color in your photo
Two additional Art Filters: Diorama (miniature tilt-shift) and cross-process effects
Playback control via HDTV models that support CEC
Premium bundle: Every PEN E-P2 kit will come with a 1.44 million pixel electronic viewfinder standard
Olympus mentions that the PEN E-P2 will not replace, and instead will sell alongside the more affordable E-P1 model. So far that holds to be true as the original PEN still remains in many retail stores with no sign of phasing out yet.
Is the Olympus PEN E-P2 a camera worth the premium over its more affordable sibling? Find out now.
Size and Weight
(301.6) 128.8 x 97.5 x 75.3 mm (530 g) – Canon Digital Rebel T2i aka EOS 550D*
(311.0) 127.0 x 104.0 x 80.0 mm (560 g) – Nikon D5000*
(284.0) 130.0 x 94.0 x 60.0 mm (475 g) – Olympus E620
#(224.5) 120.5 x 70.0 x 35.0 mm (335 g) – Olympus E-P2*
#(228.3) 114.6 x 72.2 x 41.5 mm (296 g) – Olympus E-PL1*
#(252.8) 124.0 x 83.6 x 74.0 mm (558/593 g) – Panasonic Lumix G10/G2*
#(226.3) 119.0 x 71.0 x 36.3 mm (285 g) – Panasonic Lumix GF1*
(281.5) 122.5 x 91.5 x 67.5 mm (515 g) – Pentax K-x*
#(249.8) 123.0 x 87.0 x 39.8 mm (353 g) – Samsung NX10
(296.7) 128.0 x 97.0 x 71.7 mm (490 g) – Sony Alpha A380
*Features a movie mode (Video recording with sound)
# Small form-factor mirror-less interchangeable lens camera
All the weight figures above show when the camera is empty without any lens, battery or memory card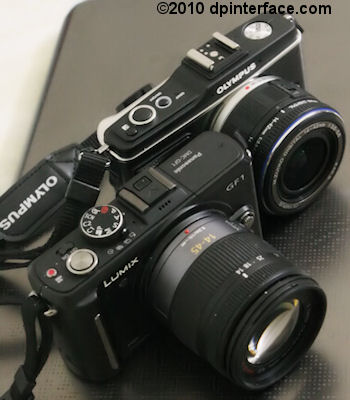 Olympus PEN E-P2 compared to the Panasonic Lumix GF1
The Olympus E-P2 (along with the two other Micro Four Thirds Olympus E-PL1 and Panasonic GF1) is significantly smaller than the other digital SLR cameras in the market, including its own relative, the Olympus E620. The E-P2 is also quite a bit slimmer with no protrusions except the small rubber 'grip' on the front, so it can slip into larger pockets – yes pockets – or bags with ease (either body only or with the 17 mm pancake lens).
Box packaging
The Olympus PEN E-P2 comes with a pretty good bundle that includes the new electronic viewfinder accessory standard. Of course, this 'luxury' has probably been incorporated into the price difference you're paying over the E-P1, but still good to know this viewfinder comes standard as it's very useful. Open up the box and you'll find the following included with the E-P2:
External electronic viewfinder with case
BLS-1 rechargeable lithium-ion battery
Battery charger
Body cap
Neck strap
USB and video cables
Camera software disc (Olympus Master)
User's manual
Olympus M Zuiko Digital 14 – 42 mm f3.5 – f5.6 lens (with kit lens option)
Olympus 17 mm f2.8 lens (with pancake lens option)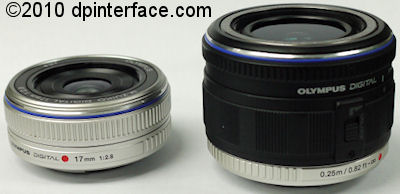 Olympus M Zuiko 17 mm f2.8 pancake lens and 14 – 42 mm f3.5 – f5.6 kit lens
I think Olympus just made a point earlier this year when they announced all their new cameras for 2010 with support for the standard SD/SDHC memory cards only – putting their own proprietary and expensive xD-Picture card format to rest (finally!). The Olympus PEN E-P2 is one of those cameras (albeit announced in late 2009) which supports SD/SDHC memory cards – something that you may have lying around your house from your previous camera or other electronics. If you don't, or are planning to get a new card, I would suggest getting a 4 GB SDHC to start, with at least a 60X speed rating since the camera can perform slightly faster with a high-speed card. If you plan on taking lots of photos and/or video, you have a good reason to get an even larger memory card – 16 GB cards aren't as expensive as before nowadays.
550 shots – Canon Digital Rebel T2i aka 550D
200 shots – Canon Digital Rebel T2i aka 550D (LCD live view)
510 shots – Nikon D5000
210 shots – Nikon D5000 (LCD live view)*
500 shots – Olympus E620
200 shots – Olympus E620 (LCD live view)*
300 shots – Olympus E-P1/E-P2 (LCD live view)
290 shots – Olympus E-PL1 (LCD live view)
380 shots – Panasonic Lumix G10 (LCD live view)
360 shots – Panasonic Lumix G2 (LCD live view)
380 shots – Panasonic Lumix GF1 (LCD live view)
640 shots – Pentax K-x
400 shots – Samsung NX10 (LCD live view)
500 shots – Sony Alpha A380
230 shots – Sony Alpha A380 (LCD live view)
*In-house testing done by DPInterface. Our tests were conducted as close as possible to CIPA's procedures
All the cameras above are rated with rechargeable batteries according to CIPA Standard; when using the viewfinder, unless noted otherwise
The Olympus PEN E-P2 uses the same BLS-1 lithium-ion rechargeable battery as Olympus' other digital SLRs (the E-P1 included). Considering the E-P2 and E-P1 have so much in common, it isn't odd that they both get the same battery life rating of 300 shots per charge (CIPA Standard) using the LCD. You can opt to use the bundled electronic viewfinder on the E-P2 to get slightly better battery life (I estimate the camera will last 5-10% longer) versus using the LCD.
Compared to its nearest competitors, the Panasonic Lumix GF1 and Samsung NX10, both can outdo the Olympus E-P2 by roughly 20%. Compared to 'traditional' digital SLR cameras in live view mode, the Olympus PEN E-P2 does quite a bit better, but naturally, the digital SLRs themselves do much better if you turn off live view and use their optical viewfinders instead.
Retractable 14-42 mm kit lens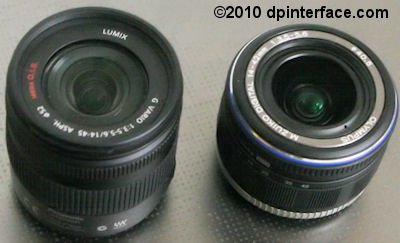 Olympus 14 – 42 mm kit lens compared to Panasonic 14 – 45 mm kit lens
The Olympus PEN E-P2 uses the same special, retractable kit lens as the E-P1. This lens is a lot shorter than other digital SLR kit lenses (and zoom lenses in general, anyway) as you can 'stow away' the two-tier lens barrel when not in use via a "lock" switch. When it's time to take pictures, just turn the zoom ring as usual until the entire lens construction extends outwards to more than double the lens' default size. Portable? Yes. Practical? Yes, be sure to have the lens in the 'extended' position before you capture action shots though. Good image quality? Yes, and find out more later in the review when we talk about image quality.
Accessory port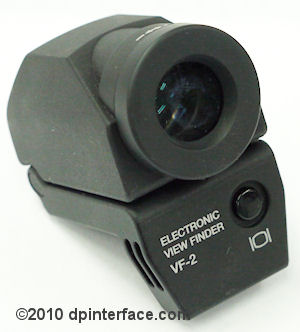 The Olympus PEN E-P2 has a new accessory port directly under its hotshoe (above the LCD), which the brand new PEN E-PL1 also has. This new port allows you to attach special accessories to the camera; the ones that exist now being the external electronic viewfinder (bundled with the E-P2) and optional external microphone adapter that allows you to attach any 3.5 mm jack microphone to it. The accessory port opens up a door to a wide range of potential new accessories, but comes with a downside – you can only use one at a time and cannot attach an external flash to the camera (because it takes up the hotshoe mount).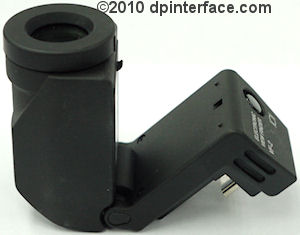 One of the new things that takes advantage of this new accessory port is the external electronic viewfinder that comes with the PEN E-P2 (you can also purchase it separately for the cheaper E-PL1 model). This viewfinder has a super high resolution of 1.44 million pixels and has 1.15X magnification. It's large, bright and very nice; and you can also tilt it up to 90 degrees for low-angle "knee-level" shots.
Before we move on, I am going to answer a question I frequently get asked by many readers: you cannot use Olympus' special port accessories on your Panasonic GF1 camera since they both use different port connectors and there's also a height difference between the port and hotshoe so your accessories for one brand cannot 'clear' the port of the other.
Accessories
The choice of lenses you have in the Micro Four Thirds system has expanded quite a bit since the original PEN E-P1 was released. There are now various lenses ranging from ultra-wide zooms, standard zoom lenses, telephoto zoom lenses and pancake lenses, and oh, a macro lens made by Panasonic. One thing that's still missing are normal prime lenses above the 30 mm range. The E-P2 is also able to take regular Four Thirds and Olympus OM lenses via their respective adapters (which cost around $175 each), though only some Four Thirds lenses will autofocus with the camera. All lenses mounted on the camera will be subjected to the sensor's 2.0X focal length multiplication factor.
You can also add on external flash units to the camera, including third party ones, though only Olympus branded flashes will automatically sync with the camera. Olympus has a basic fixed position FL-14 flash, as well as FL-36R and FL-50R flash models, both of which support wireless flash functionality.
Remember that interesting faux-leather jacket available for the E-P1, that could protect the camera while preserving accessibility to all controls and the lens? Well, good news, you can use that same case on the new PEN E-P2. Olympus does not offer a battery/portrait grip option for the E-P1 – apparently it's meant to be used like a rangefinder/street photography camera. There doesn't seem to be any AC adapter option available for the camera either, though a wired remote control is available.
Camera Tour

Olympus PEN E-P2's retro design versus Panasonic Lumix GF1's industrial look
The Olympus PEN E-