I've just reviewed the Nikon D3000, Nikon's latest affordable, entry-level digital SLR. Visit Nikon D3000 photo gallery as well for full-sized photos taken using the camera. Hit the link for the full review.
DPInterface Nikon D3000 digital SLR Review
Brad Soo – February 10th, 2010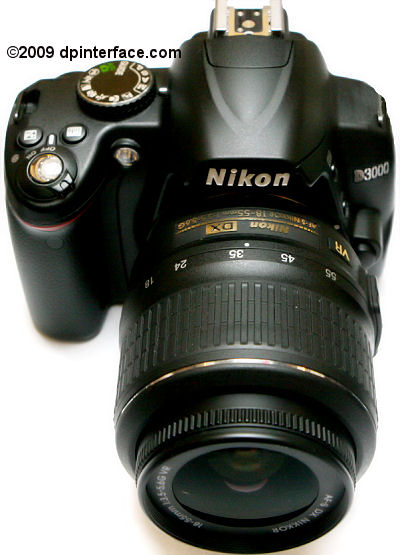 The D3000 is Nikon's new basic digital SLR. Targeting the group of people taking their first step into the SLR world (or just want to show they own a big black camera like the Smiths next door), the Nikon D3000 gives you control over various camera settings while not breaking the bank with its affordable price tag.
10.2 effective megapixel image sensor
3.0 inch LCD display (230,000 pixels)
3 FPS continuous shooting mode
ISO sensitivity range of 100 – 3200
Full manual controls with auto and scene modes available
Guided shooting mode for beginners
Elaborate playback mode with many retouch features
How well does the Nikon D3000 perform? Let's find out now.
Size and Weight
(326.8) 145.5 x 107.8 x 73.5 mm (730 g) – Canon EOS 50D
(288.2) 128.8 x 97.5 x 61.9 mm (480 g) – Canon Digital Rebel T1i aka EOS 500D*
(284.0) 126.0 x 94.0 x 64.0 mm (485 g) – Nikon D3000
(284.0) 130.0 x 94.0 x 60.0 mm (475 g) – Olympus E620
(226.9) 120.6 x 69.9 x 36.4 mm (335 g) – Olympus E-P1*
(258.8) 124.0 x 89.6 x 45.2 mm (385 g) – Panasonic Lumix G1/GH1*
(281.0) 122.5 x 91.0 x 67.5 mm (525 g) – Pentax K2000 aka K-m
(296.7) 128.0 x 97.0 x 71.7 mm (490 g) – Sony Alpha A380
*Features a movie mode (Video recording with sound)
All the weight figures above show when the camera is empty without any lens, battery or memory card
The Nikon D3000 measures the exact same dimensions as the camera it replaces. Compared to other entry-level offerings, the D3000 sits in the middle of the group in terms of size and weight.
Inside the camera box
The Nikon D3000 comes with an average bundle:
Nikon D3000 camera body
EN-EL9a rechargeable lithium-ion battery
Battery charger
Viewfinder eyepiece (attached to the camera out-of-the-box)
Body cap
Neck strap
USB and A/V cables
Camera software CD (Nikon Software Suite disc)
User's manual
Nikkor AF-S 18 – 55 mm f3.5 – f5.6 VR lens
Like all digital SLR cameras, you won't find any memory card inside the Nikon D3000's box. You'll have to use your own memory cards with the camera and the D3000 will take either SD or SDHC cards. Chances are you'd probably have one lying around from an existing compact camera, and the D3000 will readily accept your SD/SDHC. If you're getting a new memory card, I would recommend starting with at least a 4 GB high speed SDHC card. A high speed card is definitely recommended to boost writing speeds when storing photos.
The Nikon D3000 uses the EN-EL9a lithium-ion rechargeable battery and includes a charger in the box. Using the optical viewfinder, the D3000 with its 550 shot per charge rating (CIPA Standard) is on par with other entry-level class digital SLRs of its class. The D3000 does not have any live view functionality, so there aren't any battery life numbers for that.
Accessories
Despite being an entry-level offering, the Nikon D3000 is still compatible with a large range of accessories that you would expect from a digital SLR. The D3000 can take just about any Nikon/Nikkor F lens on the camera, though the camera does lack the lens 'screw drive' mechanism and will only autofocus with AF-S and AI-S type lenses. Some examples of lenses that can autofocus with the D3000 include the Nikon AF-S 18-55 mm f3.5-5.6 VR or AF-S 90 mm f2.8 VR Macro; so be sure to look out for the AF-S/AI-S designation if you want autofocus.
Do you need the mentioned body lens motor? If you're new to the digital SLR world and don't have/don't plan on using 'old' lenses, then chances are you won't miss it. Nikon is slowly phasing out the screw-driven lens system and moving towards in-lens focusing mechanisms, and it just happens that they want to maintain full compatibility on their higher-end models for now.
You can also add on external flash units to the D3000 as well as various flash accessories such as macro lights and brackets. The current Nikon external flash models are the SB-400, SB-600 and SB-900, with the latter able to control (master) additional flash units in a wireless setup. Unlike higher-end Nikon models, the D3000 does not have built-in support for wireless flashes so you'll have to get the Speedlight Commander or SB-900 to be able to create and control multiple flashes wirelessly. Third party flash units work with the D3000 as well, but only Nikon models will sync automatically with the camera.
The Nikon D3000 can be controlled from a distance as well since it supports optional wireless and wired remote controls. Other things like camera bags and cases and AC adapter are available for the camera as well.
What's missing here? Battery grip support and HDMI connectivity. While I suppose most users won't mind, it's worth noting there are some entry-level digital SLRs that are compatible with battery grips (which can not only make your camera last longer, but serve as a comfortable way of holding the camera vertically)
Similarities and differences versus Nikon D5000
Similarities between the Nikon D3000 and Nikon D5000:
Autofocus with AF-S/AI-S type lenses only
11 point autofocus
Shutter life; rated at 100,000 shots
Menu system and user interface design
Differences between the Nikon D3000 and Nikon D5000:
D5000 has a flip-and-twist 2.7 inch screen (230,000 pixels); D3000 has a fixed 3 inch screen (230,000 pixels)
D5000 has a slightly higher continuous shooting frame rate (D5000 shoots at 4 FPS, D3000 shoots at 3 FPS)
D5000 has slightly smaller viewfinder magnification (95% coverage, 0.78X magnification on D5000; versus 95% coverage, 0.80X magnification on D3000)
D5000's maximum ISO is 6400; D3000 maximum ISO is 3200
D5000 has live view functionality and 720p HD movie mode with sound; D3000 has neither of these
D5000 has exposure bracketing, interval shooting options and more playback retouch/scene modes
The D5000 may be more feature-packed than the D3000, but it's also quite a bit pricier and slightly larger/heavier.
Camera Tour
The Nikon D3000 (not the D5000, as many were led to believe) is the direct successor to the old D60. Being an entry-level offering, the Nikon D3000 has fewer buttons than your average digital SLR so it isn't very intimidating for a first-time user to pick up the camera and use it. There's still a single command dial (like other entry-level SLRs) for changing settings quickly and a Function butt