Here's my review of the Canon PowerShot A2000 IS, Canon's latest entry-level camera with a 6X stabilized lens and large 3 inch screen. I've also posted LOTS of pictures in the Canon PowerShot A2000 IS photo gallery, so make sure you check those out as well. Hit the link for the full review of the camera.
DPInterface Canon PowerShot A2000 IS Review
Brad Soo – December 12th, 2008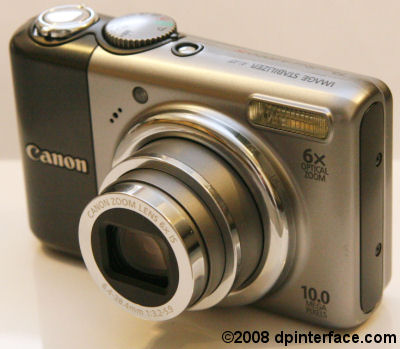 Ever fancied an affordable, compact point-and-shoot with a large 6X optical zoom lens, 3 inch LCD screen, very good battery life and that's simple to use? Well, the Canon PowerShot A2000 IS may be the perfect candidate. The new PowerShot A2000 IS improves upon several areas of its predecessor, the A720 IS, including the style department but also drops the manual controls and expandability of the old camera.
How does the Canon PowerShot A2000 IS perform? Does it make up for the features lost from its predecessor with its new ones? You're about to find out now.
Size and Weight
(188.8) 95.4 x 62.4 x 31.0 mm (155 g) – Canon PowerShot A1000 IS
(197.3) 101.9 x 63.5 x 31.9 mm (185 g) – Canon PowerShot A2000 IS
(172.5) 92.0 x 57.9 x 22.6 mm (146 g) – Fujifilm FinePix J150w
(192.8) 89.5 x 64.3 x 39.0 mm (164 g) – Kodak EasyShare Z1085 IS
(171.0) 93.0 x 54.5 x 23.5 mm (130 g) – Nikon Coolpix S560
(174.2) 94.7 x 56.7 x 22.8 mm (128 g) – Olympus FE370
(192.8) 97.5 x 62.0 x 33.3 mm (141 g) – Panasonic Lumix LZ10
(177.5) 97.5 x 56.5 x 23.5 mm (130 g) – Pentax Optio V20
(174.3) 94.0 x 61.0 x 20.3 mm (140 g) – Samsung TL9
(175.7) 93.7 x 58.0 x 24.0 mm (142 g) – Sony Cyber-shot W170
All the weight figures above show when the camera is empty without a battery or memory card
With the missing right hand grip and a new tapered design, the Canon PowerShot A2000 IS is definitely slimmer, smaller than its predecessor, the A720 IS. But when put up against other compact cameras with big zoom lenses, the A2000 comes out to be the largest of the bunch. The reason? The camera uses AA batteries, and the fact that not many cameras in the list above do, that's why they are slimmer than the A2000 IS. You can easily tell which cameras above use AA batteries – those measuring more than 30 mm in depth. However, the use of AA batteries isn't exactly a bad thing… I'll talk about that in the next section.
If you're wondering about portability, then not to worry – the Canon PowerShot A2000 IS fits into your pants pocket (but not back pocket) with relative ease. That's what I did during my time with the camera and the A2000 goes in/out without much fuss.
Box contents
The Canon PowerShot A2000 IS comes with the usual digital camera affair in the box:
2 AA alkaline batteries
32 MB SD memory card
Wrist strap
USB and A/V cables
Camera software CD (Digital Camera Solution Disk)
User's manual and quick start guide
The Canon PowerShot A2000 IS comes with a 32 MB Secure Digital memory card in the box which is frankly too small for pictures to be meaningful. The PowerShot A2000 is able to support SD, SDHC (SD cards which are 4 GB and above) and MMC (typically slower than SDs) memory cards. Getting at least a 2 GB SD card with the camera is something I would recommend as it can hold almost 750 "Fine" photos at 10 megapixels.
You may also consider getting a high-speed SD card as the camera's performance increases noticeably when using one. Take writing speed for example: Instead of waiting five seconds for the A2000 to store a photo using a conventional SD card, you'll notice the camera takes under two seconds to do the same using a high-speed SD card. A card rated at 60X to 80X speeds would be just nice, anything over that speed would be too much. For me, I used the PowerShot A2000 IS with my usual SanDisk Ultra II (90X) SDHC card and also an 80X Pendrive Professional card.
The Canon PowerShot A2000's power source is from using 2 AA batteries. The two alkaline AA batteries included in the box are not rechargeable and don't last as long as rechargeable ones. So be sure to pick up a set of four AA NiMH rechargeable batteries with a decent charger (those with two charging modes: trickle and fast charge, would be good).
450 shots – Canon PowerShot A1000 IS
500 shots – Canon PowerShot A2000 IS
150 shots – Fujifilm FinePix J150w
250 shots – Kodak EasyShare Z1085 IS
160 shots – Nikon Coolpix S560
200 shots – Olympus FE370
460 shots – Panasonic Lumix LZ10
200 shots – Pentax Optio V20
240 shots – Samsung TL9
390 shots – Sony Cyber-shot W170
All the cameras above are rated with rechargeable batteries according to CIPA Standard
Remember what I said about cameras using AA batteries being larger than competitors which don't use them? On the bright side, the PowerShot A2000 IS manages to pull off with the most battery life in its class. That's 500 shots per charge using rechargeable batteries (CIPA Standard) on the PowerShot A2000 IS; which is even 10% longer lasting than its 4X zoom sibling, the A1000 IS. Another plus of AA batteries is that you can go green using a set of rechargeables; or pick up a set of alkaline or lithium ones at a convenience store if you're in a hurry (times when your camera is out of juice and you're in a rush to Uncle Bob's wedding ceremony).
Accessories
Bad news for people who love expandability on their cameras: The accessories range for the Canon PowerShot A2000 IS has shrunk since its predecessors, which used to have conversion lenses available as optional accessories. Now there's only an AC adapter, slave flash and various camera cases for the camera, and that's about it.
Camera Tour
Looks like the A720 IS went on a diet and became the A2000 IS – the A2000 IS is a lot more slender than preceding cameras in this line. That's because the A2000 IS has lost the protruding right hand grip in favor of a slimmer, more pocketable design. The optical viewfinder is also gone now, to make space for the large 3 inch LCD at the back.
The A2000 IS feels sturdy even though it's a plastic camera, combined with a metal tripod mount and solid compartment door, but ergonomics has taken its toll due to the lack of a grip and less real estate for holding the camera. Unlike its 4X zoom sibling, the PowerShot A1000 IS which comes in your choice of 4 colors, the A2000 IS only comes in one – that's this two-toned light gray-dark gray design you see here.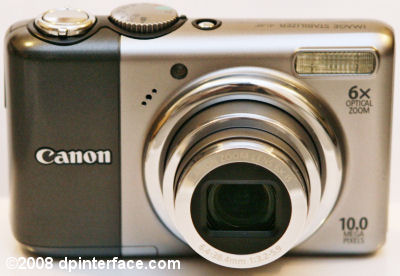 You'll find the 6X optical zoom lens of the Canon PowerShot A2000 IS over here. The lens is equivalent to 36 – 216 mm in 35 mm terms and has an aperture range of f3.2 – f5.9. That means the lens here is slower and has lost a tiny bit of coverage (1 mm) on the wide end in return for slightly more telephoto power compared to previous cameras. However, optical image stabilization still remains in the lens, which helps to reduce camera shake effects.
On the top right of the A2000's front is its built-in flash unit whose flash power is on the average side. At wide-angle, the flash covers 30 cm to 3.5 m and that range drops to 50 cm to 2.0 m at telephoto; both numbers are at Auto ISO. To the other side of the lens is the camera's autofocus-assist lamp which is used to help the A2000 to focus in low-light. The AF-assist lamp also doubles as a visual self-timer indicator. The last thing you'll see in front is the microphone, below the AF-assist lamp for recording sound when using the movie mode or audio clip function.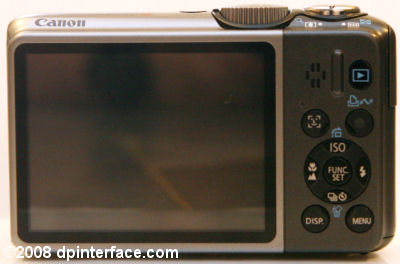 Let's turn the PowerShot A2000 IS around and have a look at that 3 inch LCD. The 3 inch screen on the back of the A2000 is up from 2.5 inches on last year's model, and it's fairly sharp with its 230,000 pixels. In addition, it has a layer of plastic over it for protection, but it's also on the reflective side which means you'll have to find the right angle for clear outdoor viewing. Low-light and indoor viewing, however, are good since the LCD image brightens automatically in those conditions.
One thing that's gone here is an optical viewfinder, which is a compromise that has to be made to make room for a large LCD here. I doubt many people would mind, or even have much choice here since 95% of compact cameras nowadays lack an optical viewfinder. If you're keen, the A1000 IS and A720 IS – which are the A2000's lower end sibling and predecessor respectively – both have optical viewfinders.
To the right side of the LCD screen are all the A2000's controls. First up are the camera's built-in speaker and playback button, with a little bump between them for your thumb to get a grip on the camera. You can also power on the camera directly by hitting the playback button. Next is the Face Detection button, which allows you to select a primary face to track or zoom directly into people's faces in playback mode, and the Print button beside it. The Print button handles both printing and transferring photos to your computer, and can also be assigned to a function in shooting mode.
Nearby the mentioned buttons is the camera's activity indicator light. After that, we'll head on to the five way controller which is used for the usual menu navigation and access to five direct functions:
Up – ISO (Auto, Auto high, 80, 100, 200, 400, 800, 1600)/Playback jump
Down – Drive mode (Single shot, continuous, self-timer [10 seconds, 2 seconds, custom])
Left – Focus mode (Normal, macro, landscape)
Right – Flash setting (Auto, on, off; red-eye reduction and slow sync are turned on/off in the menu)
Center – Function menu/Set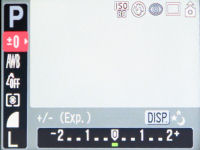 The function menu
The center button opens up the function menu which contains a list of several adjustable shooting options:
Exposure compensation (+/-2 EV in 1/3 steps)/Long shutter (1 to 15 seconds)
White balance (Auto, daylight, cloudy, tungsten, fluorescent, fluorescent H, custom)
My Colors (Normal, vivid, neutral, sepia, black & white, custom)
Metering method (Evaluative, center-weighted, spot)
Image size and compression
The custom option in the My Colors/Photo Effects area enables you to manually tweak contrast, saturation and sharpness. Unlike more expensive Canon models, there are no individual color (RGB) and skin tone settings here.
Lastly, we have the DISPlay and MENU buttons. The former toggles the information being displayed on-screen while the latter brings up the camera menu.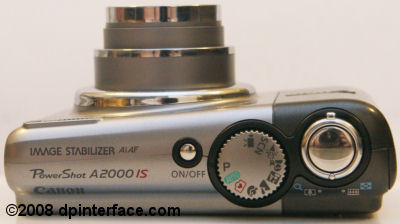 At the top of the Canon PowerShot A2000 IS, you'll see the camera's power button, mode dial and shutter button with a zoom controller surrounding it. Let's take a closer look at the modes available on the PowerShot A2000 IS, going anti-clockwise around the mode dial:
Program mode
Automatic shooting
Easy mode
Portrait mode
Landscape mode
Night snapshot
Kids and pets
Indoor
Other scene modes (Night scene, foliage, snow, beach, sunset, fireworks, aquarium, ISO 3200)
Movie mode
The Canon PowerShot A2000 IS has five directly accessible scene modes, with the rest available under the "SCN" spot on the mode dial. The PowerShot A2000 IS also adds on an "Easy Mode" which is so simple, that it makes traditional "Auto" shooting look complicated. On the negative side, the A2000 has lost all the manual controls its predecessors had and it's now merely a simple point-and-snap camera – very disappointing. The only thing you can do now for exposure is long shutter in the function menu, which allows you to select a slow shutter speed between 1 to 15 seconds.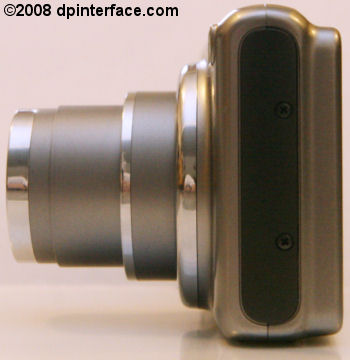 Well, nothing over here, let's move on…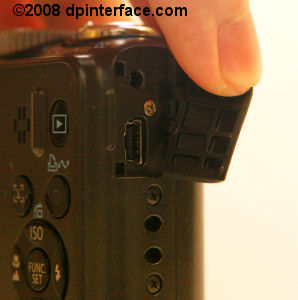 The other side of the camera features a single mini-B jack under a cover which is used for the A/V out and USB 2.0 High-speed connectivity. Above that is a small circular port which is the DC-IN port for plugging in the camera's AC adapter accessory.
And lastly, we have the battery/memory card compartment at the bottom of the camera covered by under a sturdy, metal hinged door and a metal tripod mount.
Taking pictures (Shooting mode)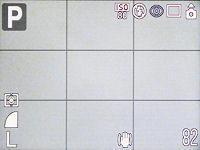 The Canon PowerShot A2000 IS tells you only what you need on its display when taking pictures. There's exposure information (shutter speed and aperture), camera settings and a zoom indicator. You can choose to display a 3:2 guide, 3 X 3 framing gridlines or both overlaid on the screen. There's no battery indicator or live histogram though.
Speaking of battery indicator, the camera is in dire need of one as the "low battery" warning comes out too late and by that time, you had better have a set of spares. Also unlike previous Canon cameras I've used, if your batteries are dead, the A2000 will extend its lens halfway when you press "On" but then show "Change the batteries" on its display – leaving the lens half extended and the camera without any power. The solution around this is to press the "playback" button if your lens is sticking out halfway so it retracts; or risk damaging the half extended lens.
The PowerShot A2000 IS has a few image resolutions for you to select from, including full 10 MP, 6 MP, 4 MP, 2 MP, VGA and widescreen. There are also three image compression modes here: Superfine, Fine and Standard… I'd recommend choosing Fine, which is a good compromise, since SuperFine file sizes are a bit large while Standard compresses pictures noticeably. A 2 GB memory card will hold around 750 full-res Fine, 10 megapixel pictures.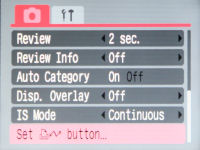 Most of the camera's main settings can be adjusted via the Function menu I described in the previous section, but now let's head on to the other settings in the camera's main menu:
Autofocus mode (Face detection, 9 point AF, center AF)
AF point size (Normal, small) – Choose how size of the camera's focusing point area
AF point zoom – magnify the area the camera focused on
Digital zoom – you should keep this turned off, it lowers picture quality
Flash settings – toggle red-eye reduction (lamp and software based) and slow sync
Custom self-timer settings – Set the countdown interval and number of shots that the camera should take
AF assist beam
Review – This option decides whether the camera will show the image on the LCD screen right after the picture is taken
Review info
Auto category – the camera attempts to organize your photos into categories automatically
Display overlay – Toggle grid lines, 3:2 guide, both or none
IS Mode – Off, Continuous, Shoot-only, Panning
Date stamp (Date, date and time)
Set print button – customize what this button does in shooting mode; you can assign it as a shortcut to a shooting function
The camera has three optical image stabilization modes which are continuous (the system is always on to make composition easier, which uses up more battery power) or shoot-only, where image stabilization only works when you take a picture, which is more effective. Panning mode is self-explanatory.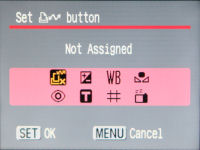 You can assign the print button to one of seven functions in shooting mode
You can also assign one of seven "shortcut" functions to the print button I mentioned earlier. Those functions include exposure compensation, white balance, custom white balance, red eye correction, digital teleconverter, toggle grid lines and display off.
Easy mode is so easy that it only has ONE setting
Well, I've already told you about the Canon PowerShot A2000's shooting modes in the Camera Tour section… so I have just Easy Mode and macro mode to explain here. The A2000's macro mode enables you to close in on a subject down till just 1 cm which is VERY nice.
Easy Mode is a new feature which is sort of like Simple Mode found on Panasonic's cameras – it's made for the ultimate newbie who would want to take pictures with minimal fuss. There's nothing to adjust here – everything is automatic except the camera's flash, which you can either turn on or off.
Video Recording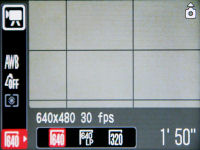 The PowerShot A2000 IS has the "old" Canon movie mode, which still uses Motion JPEG (compared to H.264 on the more expensive SD990 Digital ELPH I reviewed two weeks ago) and that means that movies take up more space. Don't get me wrong though, the A2000's movie mode is still very capable, being able to record VGA (640 X 480) movies with sound at 30 FPS. You can also opt to extend recording time by using VGA Long Play mode (which increases compression) or lower resolution to QVGA (320 X 240) at 30 FPS. There's a limit of up to 4 GB or 60 minutes, whichever comes first, per movie clip.
Finally, there's an "email movie" option which records at 160 X 120 at a pretty choppy 15 FPS. In this mode, each movie clip is limited to 3 minutes each. Exposure is automatically adjusted (or you can lock exposure beforehand) and optical image stabilization is available while recording movies. And while you cannot use optical zoom, you can the 4X digital zoom while recording movies.
Movie quality was good, sound quality acceptable. A 2 GB memory card will hold 16 minutes worth of video at the highest settings. The entry-level Canon PowerShot A2000 IS won't be replacing your camcorder anytime soon but you'll be glad to know the A2000 IS can still record some good quality movies in case you don't have your video camera with you.
Performance
All performance testing of the Canon PowerShot A2000 IS was performed using a high-speed 4 GB SanDisk Ultra II SDHC (90X) card.
The Canon PowerShot A2000 IS starts up very quickly in 1.4 seconds (including time to extend the lens). Auto focusing is quick as well, with times ranging from 1/5 to 1/3 second to focus and up to a little more than a second to focus in low-light/telephoto. The camera didn't have a hard time focusing in low-light too, which is a good thing.
Shot-to-shot speed – 1 shot every 1.8 seconds, above average
Flash recharge time using a fully charged battery – 6 seconds on average
The Canon PowerShot A2000 IS also has a continuous shooting mode which isn't quite award-winning yet, but shoots at a respectable 1.4 frames per second until the memory card fills up. I would definitely recommend a high-speed card for this.
The camera's lens moves from wide-angle to telephoto in one second and a half; quick for a 6X optical zoom lens. However, there aren't many steps in between the zoom range so zooming isn't always that precise and the lens is a bit on the noisy side (use it in a quiet room and you can hear the motorized zooming mechanism).
Overall, the Canon PowerShot A2000 IS performed very well – being fairly speedy to use and writing quickly to the memory card. The camera is definitely very usable in conditions where you need to take some quick snaps and won't keep you waiting.
Image Quality
Now, let's take a look at the Canon PowerShot A2000's ability to take pictures:

ISO 80 (f5.0, 0.8 sec)

ISO 100 (f5.0, 1/2 sec)

ISO 200 (f5.0, 1/4 sec)
ISO 400 (f5.0, 1/8 sec)

ISO 800 (f5.0, 1/15 sec)

ISO 1600 (f5.0, 1/30 sec)
ISO 3200 (f5.0, 1/60 sec)
Photo gallery
Want to see a lot more photos taken in 'real life' situations instead of our image test chart shots, check out the many, many, MANY photos I've taken and posted in the Canon PowerShot A2000 IS photo gallery.
Playback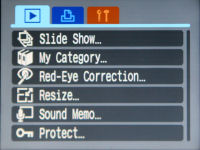 The Canon PowerShot A2000 IS has a fairly ordinary playback mode. You can browse through pictures (complete with two transition effects of your choice) and play back video with sound. Basic playback functions such as print marking, voice clip attachment, image resizing and rotation are all here. You can magnify still photos by 10X and pan around using the 4 navigational buttons; and sort them into categories as well.
Pictures can be played back as individual photos, in sets of nine thumbnails or by category. You can also use the JUMP feature to skip several photos at a time or to 'jump' right to a specific shooting date… not as convenient as the calendar view but it works. There's also a slideshow function so the camera flips through your photos automatically at an interval set by you.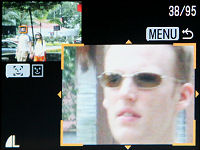 Pressing the face detection button in playback mode automatically magnifies faces, if any, in photos so you can check focus easily. Pressing the DISPLAY button will cycle through several display layouts of information; one of them is an image inspection tool which magnifies the focus point(s) of your photos so you can check focus.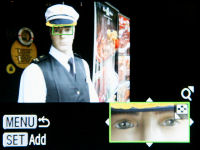 The red-eye removal tool in playback mode allows you to pin point redeye in photos and remove them (and yes, the camera's face detection does pick up mannequins as faces as well).
You can choose to delete single photos and all photos on the A2000 IS but you can't select multiple photos yourself and delete them. An "Easy" playback mode (you need the mode dial to be in Easy Mode as well for this to work) simplifies playback just as much as in shooting mode.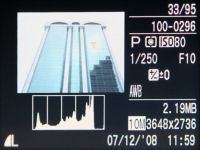 The Canon PowerShot A2000 IS shows you shooting details, mode, exposure information (with shutter speed and aperture value) and everything you need to know about your photos in playback – that includes a histogram as well. An overexposure warning feature makes overexposed areas of your photos "blink" to alert you of them.
Conclusion
The Canon PowerShot A2000 IS is a nice compact camera which is very affordable. With 10 megapixels, a 6X optical zoom lens, optical image stabilization and 3 inch LCD, and now a slimmer design than its predecessors, the PowerShot A2000 is certainly appealing to those looking for a capable camera with a low price tag.
The PowerShot A2000 is by default an easy to use camera with functions and menu navigation that can be understood by most users. And its operation is made even easier still with the camera's Easy Mode. Most point-and-shoot users would be pleased with the simplicity of the camera and a decent handful of scene modes. However, I should note that compared to its predecessors (A700, A710, A720 IS), the Canon A2000 IS has no manual controls, reduced accessory lineup and a slower lens – these were the big selling points of those cameras. Maybe they want you to upgrade to a higher end model, but any way, it's disappointing to see the A-series slowly evolving from budget cameras with full manual controls to cheap point-and-shoots.
The camera delivers fairly good image quality up till ISO 800 as details remain intact and noise levels are fairly acceptable. In low-light, the most you would wanna go would be ISO 400. The camera manages to control lens distortion and color fringing well while the built-in red-eye removal system is very effective; so no rants about red-eye here. The part where you'd like to be weary of would be the camera's slow lens that will tempt you to use higher ISO values in low-light – which will bring a lot of noise once you hit ISO 400 and above; the camera's flash isn't too powerful either so a tripod, a steady grip or both are recommended for low-light shooting.
The Canon PowerShot A2000 IS is definitely worth considering if you're looking for a really capable, all rounder point-and-shoot camera. When it gets dark, the camera's abilities aren't so hot – means going for parties and clubbing with the A2000 IS may be a bit of an issue. Otherwise, the camera is fine for everything else.
What's hot:
Pocketable camera with a 6X stabilized zoom lens
Viewable 3 inch LCD and various useful Face Detection tools
Excellent battery life
Blazing fast performance
Full manual mode, with flash output control and manual focus
Very nice macro mode and VGA 30 FPS movie mode
Effective red-eye removal and low color fringing
What's not:
Manual controls have disappeared since the A720 IS
Not many accessories; no more conversion lenses
Slow lens; about 2/3s of a stop less bright than its predecessor
Not much place for right hand to hold the camera; lack of a proper grip
Lacks a battery indicator; lens doesn't retract if the camera is low on battery
Recommended Accessories:
2 GB high-speed SD memory card
Set of 4 AA NiMH rechargeable batteries and charger