At just 13.2 mm or 1/2 an inch thick, the Sony Cyber-shot TX55 is the world's thinnest camera in the market right now, and I have my in-depth review of this super slim camera online. Enter the Sony Cyber-shot TX55 photo gallery to view all the photos we took using the camera.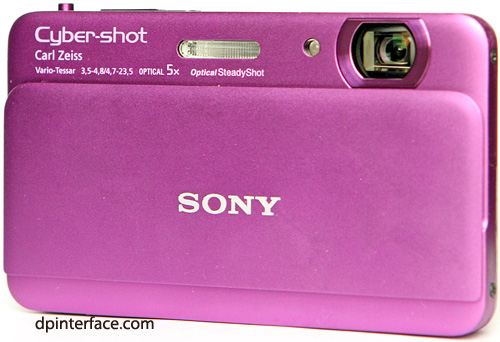 In 2005, Sony was happy to release the Sony Cyber-shot T7 which was, at the time, the world's slimmest digital camera at 14.8 mm thin. Its features included 5 megapixels of resolution, 3X optical zoom, a 2.5 inch LCD and VGA movie mode. Sony has recently outdone themselves with the introduction of the brand new Cyber-shot TX55.
The Sony Cyber-shot TX55 is one of the many examples of how far technology has come in 7 years. The camera measures a slightly thinner 13.2 mm yet packs Sony's latest 16 megapixel CMOS sensor, 5X optical zoom, a 3 inch touchscreen and Full HD movie mode. It has also plenty of shooting features and high-speed continuous shooting ability. Let's find out more about the camera right now.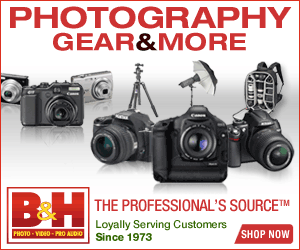 In the camera box
The Cyber-shot TX55 arrives with the standard issue Sony bundle plus a tripod adapter. Say what? That's because the Sony TX55 is far too thin to accommodate a standard tripod mount, so it has a small hole for you to screw in the adapter for that.
Sony Cyber-shot TX55 camera
NP-BN1 lithium-ion rechargeable battery
AC adapter charger with USB cable
Stylus AKA paint pen
Wrist strap
Tripod mount adapter
Camera software CD
With the super-slim profile of the Sony Cyber-shot TX55 comes 'super thin everything'. Instead of using standard-sized SD cards, the Sony TX55 has a microSD/microSDHC card slot (which also supports Sony's proprietary Memory Stick Micro cards). A nice and large class 10 rated microSDHC will do the trick in making the camera perform faster than using a regular microSD. I would recommend getting at least an 8 GB microSD card with the Sony TX55, though higher capacities definitely will not hurt (microSDHC cards are available up to 32 GB). Sony hasn't said anything about microSDXC compatibility (memory makers like Samsung and SanDisk have just recently launched microSDXC cards, which are essentially microSD cards over 64 GB in size).
The Sony Cyber-shot TX55 comes with a paint pen; nice name for a stylus, which you can use to draw on photos in playback (you can also use it on any part of the camera's touchscreen interface, though I don't see why you could want to). As with the Sony TX100V and TX10, I did not find the need to use the stylus, but it's good to know it comes with the camera should you ever need it.
The Sony TX55 comes with a lithium-ion battery and is rated to 250 shots per battery charge, which is above average and quite amazing for a camera as thin as this one. The camera is charged via USB, which is slower and less convenient when charging a spare battery compared to a dedicated battery charger (available as an optional accessory).
Accessories
There are just a small handful of accessories available for the Sony Cyber-shot TX55; a HDMI cable, standalone battery charger, replacement cables and various camera cases.
Camera Tour
Sony Cyber-shot TX55 compared to the Apple iPhone
The Sony Cyber-shot TX55 is a petite camera. At 92.9 x 54.4 x 13.2 mm (3.7 x 2.2 x 0.5 inches), it's one of the smaller pocket cameras I've reviewed. The camera is very light too, weighing just 109 grams (3.8 ounces) including its battery and memory card; this makes it a true ultra-compact camera which you can slip in your back pocket or in a tiny evening purse.
The Sony TX55 is well constructed, save for the flimsy bottom compartment door. Ergonomics are acceptable but not fantastic since the camera is extremely small and the two buttons and zoom knob on it are tiny. The Sony Cyber-shot TX55 is available in your choice of four colors: silver, black, red or this pinkish-purple color.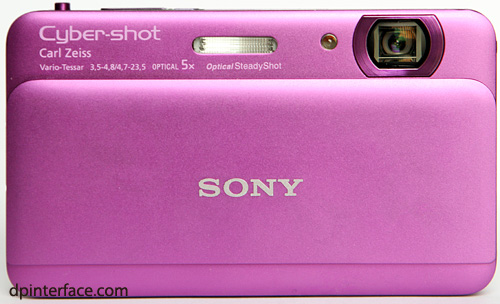 The headline feature of the tiny Sony Cyber-shot TX55 is probably that 5X optical zoom lens; you've got to wonder how Sony managed to cram such a lens into a camera this small. The lens is equivalent to 26 mm to 130 mm which is decently wide-angled and it has an aperture range of f3.5 to f4.8, which makes it on the slightly dark side throughout the zoom range.
Next to that lens, you'll find the camera's autofocus assist light (which blinks to indicate countdown in self-timer mode) and flash. The flash on the camera is certainly more powerful than it looks, reaching an above average range of 5.1 meters (17 feet) at wide-angle and a still above average 4 meters (13 feet) at maximum zoom.
The Sony Cyber-shot TX55 has the classic Sony sliding lens cover which doubles as a power switch whenever you open/close it. That's great because you don't want to have to deal with the camera's tiny power button that often.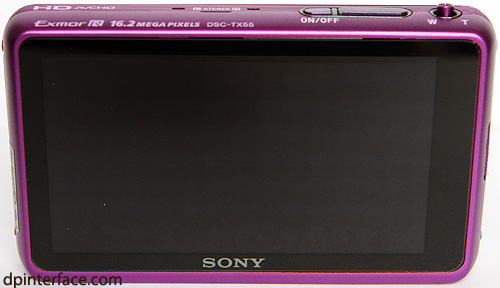 On the back of the Sony TX55 is a new and fancy 3.3 inch OLED touchscreen. The display has very good legibility in both low and bright light, and has an amazing resolution of 1.229 million dots. There are no buttons or controls on the back of the Sony TX55; everything is controlled via the touchscreen. The touchscreen has good touch sensitivity and has an intuitive touch-friendly user interface.
Taking pictures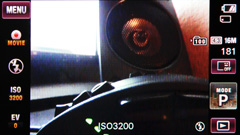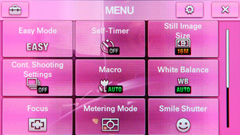 Touchscreen interface on the Sony TX55
If you've seen my reviews on the Sony Cyber-shot TX10 and Sony Cyber-shot TX100V, the Sony TX55 here has essentially the same touchscreen user interface.
The camera tells you about shooting and exposure information, displays indicators for battery and zoom position and includes a customizable row of 4 icons on the left of the screen. I chose to place the movie start/stop button, and controls for flash, ISO and exposure compensation for convenience. The camera allows you to select a focus point selection for subject tracking any time by tapping anywhere on the screen.
The Sony TX55 has a main menu that has options for image size, white balance, continuous shooting, self-timer, face and smile detection settings, autofocus area, metering mode and more. You can also enable Easy mode which enlarges fonts and simplifies the shooting screen.
Macro and Scene modes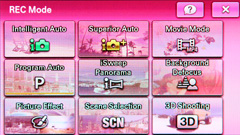 Shooting modes and scene modes on the Cyber-shot TX55
The Sony TX55 has a grid of 9 main shooting modes (up from 8 on the Sony TX10 and TX100V) on its mode selection screen:
Intelligent Auto: Camera does everything for you, down to automatically selecting a scene mode
Superior Auto: Same as above but the camera do multi-shot layering when needed (for low-light or HDR photos)
Sweep Panorama mode: Camera will automatically stitch a panorama as you pan it from side to side (There's also a 3D panorama creation mode)
Movie mode and program auto mode
Background defocus: The camera takes two photos taken at two different focus points and combines them to create better background blur
Picture Effects
Scene modes: Pick one of the camera's many scene modes
3D mode: The camera guides you to take two separate photos so it can combine it into a 3D one
The Sony TX55 has 8 shooting modes similar to its siblings, the Sony TX10 and Sony TX100V, plus the addition of a new Picture Effects mode. There are 7 Picture Effects, including HDR paining, monochrome, miniature mode, toy camera mode, partial color, high-key.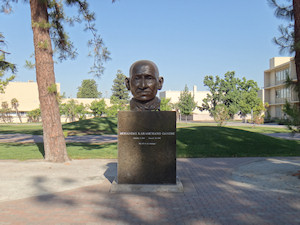 HDR mode: Before and after (example from Sony TX100V review)
The Sony TX55 has the standard set of 'photo stacking' modes; you can let the camera take several shots in a row and combine them into a single image for better photos in low-light (using Handheld Twilight or Anti motion blur)or better exposure/contrast in HDR mode.
Panorama photo taken using Sweep Panorama HD from the Sony HX9V reivew
The TX55 also has an automatic panorama mode as with other Sony cameras which use backlit CMOS image sensors. You can create huge panoramas with the camera and they're pretty accurate with few to no 'stitch points' visible.
The Sony Cyber-shot TX55 has a default minimum focusing distance of 8 cm (3 inches) to your subject at wide-angle and 60 cm (2 feet) at telephoto. Enabling macro mode lets you get as close as 1 cm (0.4 inches) to your subject at wide-angle.
There are just a couple of things to see on the Sony TX55. There's the camera's stereo microphones, speaker, power and shutter buttons as well as that tiny zoom controller knob. Unlike the Sony T7 and T77 ultra-slim cameras from a few years ago, the Sony TX55 has rather straight design lines (versus rounded corners), which doesn't make it look as thin as it really is. You'll have to really see the camera in-person to admire its super sleek design.

Both sides of the Sony TX55 are blank, save for the wrist strap loop on one side.

The Sony TX55 has its battery and microSD card slots located at the usual place at the bottom of the camera. The compartment door is on the flimsy side, though I can't see any way they could have made the door sturdier on this ultra-compact camera.
There's that mini tripod hole for you to screw in the included adapter for a proper tripod mount. There are also two ports here: a micro HDMI port as well as a connectivity port for USB and A/V Out (this is where you will plug in the USB cable to charge the battery in the camera).
Video Recording
The Sony Cyber-shot TX55 has the same great movie mode as other Cyber-shot models. The camera can record Full HD video with stereo sound, in your choice of two recording codecs, depending on movie size: AVCHD (smaller movie file sizes and easier TV viewing/disc burning) and MPEG4 (larger file sizes but no need for conversion to share on computer). Movies are limited to 29 minutes or 4 GB per video file, whichever comes first.
AVCHD 1920 x 1080, 60i; choice of 17 or 24 Mbps
AVCHD 1440 x 1080, 60i; 9 Mbps
MPEG4 1440 x 1080 at 30 FPS; 12 Mbps
MPEG4 Standard HD (1280 x 720) at 30 FPS; 6 Mbps
MPEG4 VGA (640 x 480) at 30 FPS; 3 Mbps
The Sony TX55 lets you use optical zoom while recording and gives you options to enable optical image stabilization, continuous autofocus and wind filter. High-speed or slow-motion movie options are nowhere to be seen on the Sony TX55. Check out our usual fountain and cute squirrel sample videos taken using the Sony TX55:
Performance
Performance testing of the Sony Cyber-shot TX55 was done using a high-speed 45 MB/s Sandisk Extreme Pro SDHC card.
Startup
2.0 seconds
Average
Good light
0.1 to 0.3 seconds
Very fast
Low light
0.4 to 1.2 seconds
Decent
Shot-to-shot (JPEG)
1.7 seconds
Fast
The Sony TX55 has a full-resolution burst mode that tops out at 10 FPS; and it can take up to 10 photos in a row. The camera can take a while, after taking so many photos, to write data to the memory card; so be sure to get a high-speed memory card if you don't want to wait around for the camera. The Sony Cyber-shot TX55 is a fairly good performer in speed. The camera does decently in startup time and low-light focusing, and very well with well-lit shooting situations. There's definitely room for improvement in write speeds and performance though.
Image Quality
ISO 100

ISO 200

ISO 400

ISO 800
ISO 1600
ISO 3200
The Sony Cyber-shot TX55 starts out with pretty much noise-free photos at ISO 100 and 200, but they look overprocessed with image processing artifacts and below average detail levels compared to other compact cameras.
Things quickly go south at ISO 400 as we start to see visible photo smudging caused by the way that the TX55 processes its photos. Details start to look soft and it's just the start of images starting to look watery or painting-like. Saturation drops at ISO 800 and photo quality looks more watery and mushy, limiting the uses of this setting to medium or small prints and display.
Image quality degrades further at ISO 1600 with very bad detail levels, poor color saturation and very soft photos. Photo quality turns horribly crummy at ISO 3200; you would best avoid the top two settings on the Cyber-shot TX55 if you would like usable photos.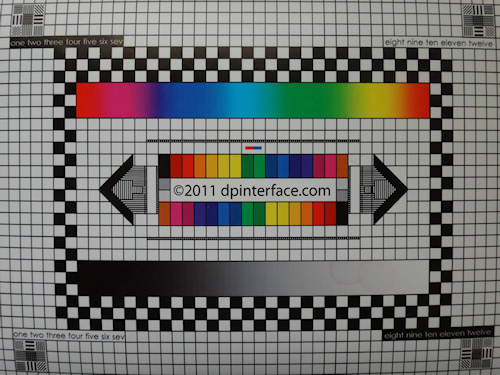 There's visible lens distortion with the ultra-compact 5X optical zoom lens of the Sony Cyber-shot TX55, yet surprisingly extremely low to no color fringing (chromatic aberration) to be seen; I would guess that the camera's image processing algorithms had a hand in making such flaws disappear. Corner sharpness is poor with visibly soft edges in images.
The Sony Cyber-shot TX55 produces below average image quality with poor image sharpness (both edges and center), overprocessing and artifacts in photos, visible lens distortion and generally sub-par ISO performance.
Photo gallery
Visit the Sony Cyber-shot TX55 photo gallery to view sample photos from the camera.
Playback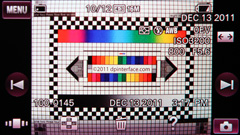 The Sony Cyber-shot TX55 has a fairly good playback mode but it does lack more elaborate editing tools. There are the usual core playback features like image slideshow, calendar and 3D viewing modes, print marking, image rotation, trimming and protection. In addition, the TX55 sports some editing tools for redeye removal, image sharpening and paint mode where you can add stamps and draw on photos via the touchscreen.
The Sony Cyber-shot TX55 tells you an average number of details about your photos; you can configure the amount of information you want to see but the screen is generally dominated by quick access touch icons around the playback image.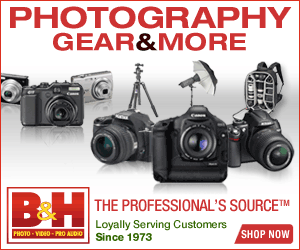 Conclusion
If you've heard about the Sony Cyber-shot TX55, you'll probably know it as the world's slimmest digital camera. The Sony TX55 packs plenty of features for its size, sporting essentially a 99% identical feature set as its TX10 and TX100V siblings yet it is also 33% slimmer than those cameras. The Sony TX55 has a big, high-resolution touchscreen, a capable 5X zoom lens with optical image stabilization and Full HD movie mode with stereo sound.
The camera has the same very intuitive touch-based user interface as Sony's other touchscreen Cyber-shot models. The Sony TX55 also has an array of scene modes and fancy shooting modes, including Sweep Panorama, 3D photo and panorama modes, HDR feature and the latest addition: Picture Effects to give your photos a 'unique' look. As expected, the Sony TX55 does not have manual controls.
The Sony TX55 packs many surprises for its size: it has great battery life, great performance and very capable movie mode. Unfortunately, the small controls (power button and zoom knob) along with the flimsy bottom compartment door are unavoidable things on a camera this small. The Sony TX55 and its compact lens also shows above average flaws (lens distortion and edge softness); made worse by the familiar Cyber-shot processing we've seen lately which gives photos an overprocessed and smudgy look.
The Sony Cyber-shot TX55 is the slimmest digital camera that you can get. This petite camera packs a strong set of features that rival its slightly larger competitors, but is let down by poor image processing characteristics and above average visibility of lens flaws – try again this year and improve on that, Sony. As for shoppers, I would recommend looking at other compact camera models (yes, they won't be as thin and might not be as stylish) which will offer better value and image quality.
What's hot:
Slimmest camera on the market; has a brilliant and sharp 3.3 inch touchscreen
5X optical zoom, great for a camera this thin; better than average flash power
Touch friendly user interface, help screens , customizable quick icons
Plenty of scene modes, Sweep Panorama, 3D and HDR modes, Picture Effects
Great battery life
Good performance and 10 FPS burst mode
Full HD movie mode with optical zoom, autofocus, wind filter and image stabilization
Fairly fancy playback mode
What's not:
Overprocessed photos with artifacts, poor detail levels and below average sharpness; visible lens distortion
Image writing and low-light focusing speeds could be better
No manual controls
Tiny controls, flimsy compartment door
No high speed or slow motion movie options; playback mode could use more tools