DPInterface Sony Cyber-shot DSC-T7 Review
Brad Soo - July 13th, 2005 (Updated January 5th, 2006)

The amazingly compact Sony Cyber-shot T7 is Sony's thinnest camera to date (And possibly the world's thinnest), measuring only 9.8 mm at its thinnest point. Other exciting features include a large, high-resolution 2.5 inch LCD, great battery life, unlimited VGA movies at 30 FPS and of course that high-quality Carl Zeiss lens. Well, the sliding cover came on the T1, went on the T3 and T33 and now, it's back! The T7 has an improved sliding cover which doesn't move up/down too easily.
Size and Weight
Let's compare the T7's size and weight to other cameras of its class:
86.0 x 53.0 x 20.7 mm (130 g) - Canon Digital Ixus 50
90.0 x 55.0 x 18.6 mm (130 g) - Fujifilm Finepix Z1
109.0 x 52.0 x 36.0 mm (149 g) - HP Photosmart M517
83.5 x 56.0 x 22.0 mm (115 g) - Konica Minolta Dimage X60
89.9 x 57.5 x 19.7 mm (118 g) - Nikon Coolpix S1
95.0 x 55.5 x 27.5 mm (115 g) - Olympus Stylus Verve S
94.1 x 50.5 x 24.2 mm (127 g) - Panasonic Lumix FX8
91.6 x 60.0 x 14.8 mm (115 g) - Sony Cyber-shot T7
The Sony Cyber-shot T7 is the lightest and thinnest of the cameras in its class.
Open up the Box
In the box, you'll find the T7 plus:
As you can see, the Sony T7 has some extra goodies included in the box to accommodate its extreme thinness! Those include the desktop stand, interface adaptor and tripod adaptor. The useful Memory Stick adaptor lets you use your Duo card with standard-sized Memory Sticks.
Storage and Power
The NP-FE1 InfoLithium is a new, thinner battery unit. This means you cannot use your old NP-FT1 battery if you're moving over from a T1/T11/T3/T33. The battery life is still the same though, that is 180 shots, which is average:
150 shots - Canon Digital Ixus 50

200 shots - Casio Exilim S500

170 shots - Fujifilm FinePix Z1

200 shots - Nikon Coolpix S1

300 shots - Panasonic Lumix FX8
My recommendation would be to get a spare battery pack as you'll never know when you'll need it.
You may want to start off with a 256 MB Memory Stick Duo since 32 MB isn't much. While the T7 doesn't take advantage of high-speed cards, it does when using Memory Stick Pro Duo cards. VGA 30 FPS movies require Pro cards while VGA at 16 FPS does not.
Extras
The only accessory the Sony T7 has is a camera sports jacket. You are unable to attach conversion lenses or external flashes.
Camera Tour
Of course, the Sony Cyber-shot T7 comes in silver and...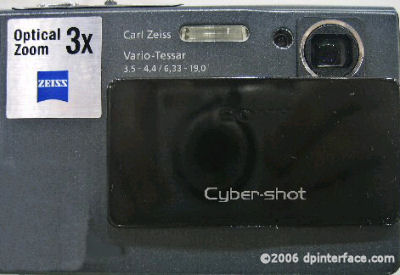 ...black. Quite easy to see that the T7 I'm reviewing here is the black version. Aside from color, there are no differences between the two models. Both are thin and stylish, have 5 megapixels as well as 3x optical zoom.
The Sony Cyber-shot T7 has a nice Carl Zeiss Vario-Tessar lens with a focal length of 38 - 114 mm and aperture value of F3.5 - F4.4, great if you like telephoto power but not so good for the indoor wide-angle photographer. The T7 has a shutter speed of 1/8th to 1/1000th of a second. There's no power switch on the T7 - Instead, the Sony T7 starts up the second you slide down the cover on the front.
The AF-assist beam, also the self-timer light, is located right next to the lens. It's bright and orange, and it helps the T7 focus in low-light. There is a built-in flash on the T7 and it has a range of 0.1 - 1.6 m at wide-angle and 0.5 - 1.5 m at telephoto which is not so good. Compare that to the maximum range of 3.5/2.5 m on the slightly smaller (but thicker) Ixus 50/SD400.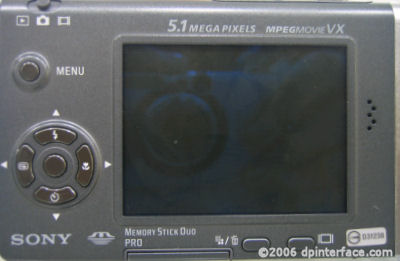 Let's move on to the back, shall we? The Sony Cyber-shot T7 is a left-hander's camera as you can see. You'll get used to it though (It also makes sliding the front cover up/down easier). There is some space on the right for your other hand.
The 2.5 inch Hybrid LCD is extremely high in resolution, with 230,000 pixels. Sharp as ever, the T7's LCD is also clear outdoors and brightens a little in low-light. The Hybrid LCD makes outdoor framing easy and sharp. There is no optical viewfinder on the Sony Cyber-shot T7.
The mode switch moves the Sony T7 around playback, shooting and movie mode while the MENU button, well, brings up the menu. Then there's the 5 way controller which allows you to select and customize camera settings in the LCD menu. When the menu is closed and you're in any one of the shooting modes, the 4 of the 5 buttons act as shortcut buttons:
Up - Flash setting

Down - Self-timer

Left - Quick review

Right - Macro
The display button (At the bottom right corner) turns the LCD backlight on/off and toggles the amount of info on the LCD. Turning off the LCD backlight reduces battery consumption.
The Sony Cyber-shot T7 has a fair amount of scene modes (Though it lacks portrait and slow shutter):
Twilight

Twilight portrait

Soft snap

Landscape

Beach

Snow

Fireworks

High-speed shutter

Candle

Magnifying glass
On the right is the speaker and a little space for holding.
On the top of the T7 is a microphone, zoom controller and shutter button. To zoom, pull the little knob left/right. One thing I like about the Sony Cyber-shot T7 is the very precise 0.1x increment zooming.
There are 2 compartments, one each for the battery and Memory Stick Duo. Both slots have tiny but doors of below average quality. Personally, I found swapping cards a rather clumsy process (but hey there! I have large hands).
Shooting
In burst mode, the T7 took 8 photos (Full resolution) at about, according to my tests, 1 FPS. But on the other hand, the T7 can take 16 (1 megapixel) photos in a row at a tremendously fast pace. The ISO speeds selectable on the Sony T7 are ISO 64, ISO 100, ISO 200 and ISO 400.
The T7 has the average digital zoom and, unlike other cameras (And like most other Sony cameras), the Sony Cyber-shot T7 has Smart Zoom which avoids image quality loss with the catch being it only can benefit from small-sized photos. You get the full potential of Smart Zoom when taking VGA sized stills.
Continuous focusing can be found on the T7 to reduce lag when taking a picture. The Sony Cyber-shot T7 has an advanced battery indicator, showing the approximate time (In minutes) till the battery depletes. There's a preset manual focus feature on the T7.
Using the Magnifying Glass function (Found under Scene Modes), you can go as close as 1 cm. The lens is locked at wide-angle and cannot zoom at this time.
Recording
The T7 is capable of taking VGA movies up to 30 FPS (Only 16 FPS with a normal Memory Stick Duo) which is limited only by the Memory Stick Duo capacity. The Sony T7 is unable to utilize its zoom lens while recording a movie. Movies are recorded in the space-saving MPEG format.
Movie and audio quality were both very good.
Performance
The Sony Cyber-shot T7 starts up and is ready to go from the moment the sliding cover is moved down. The lens goes from wide-angle to telephoto in 2.5 seconds. It takes 1.2 seconds to focus in normal conditions and 1.8 seconds in low-light.
Image Quality
Noise levels are very low and so is chromatic aberration (Color fringing). Photos are a little soft, not that sharp and slightly over-processed but details and words can be seen. Noise levels are quite high at ISO 200 and ISO 400. The T7 produces a lot of red-eye in photos and some above average barrel distortion. Movies are overall sharp and smooth.
Playback
In playback, the Sony Cyber-shot T7 can playback stills and movies (With sound) as well as perform these functions: Protect image, print marking, direct printing (The T7 is PictBridge enabled), slideshow, resize, trim, rotate and edit movies. You can also zoom up to 5x into still photos taken and take a look around using the 4 arrow buttons. Choose to see no info, basic info or lots of info about your photos. When it comes to histograms, the T7 shows a histogram in both shooting and playback. Excellent compared to some ultra-compact digital cameras which only show a histogram after the photo is taken.
Conclusion
The Sony Cyber-shot T7 is a stylish and extremely thin camera which turns heads anywhere it goes. You'll find yourself carrying this ultra-compact camera everywhere you go - Something different compared to carrying a few pound dSLR! Photo quality on the T7 is overall good but could have been better.
The T7 is very fast from turning on to taking pictures. Though it has no true manual controls, the T7 makes up for that with a nice variety of scene modes (Including a 1 cm magnifying glass mode), excellent VGA 30 FPS movie mode and a large, clear LCD.
The T7 has some downsides such as using a clumsy camera dock to connect to your PC/TV and tripod adapter to attach a tripod. The battery and memory card compartment doors could be improved.
What's hot:
Ultra-thin

Improved sliding cover

Extremely fast and almost zero shutter lag

Large and clear 2.5 inch LCD

Variety of scene modes

Excellent movie mode

USB 2.0 High-speed
What's not:
No real manual controls

Weak flash

Flimsy battery and Memory Stick slot doors

Red-eye

Soft photos and blown out highlights

Barrel distortion

Various adapters required (Like a tripod adapter)
Recommended Accessories
~Extra NP-FE1 battery
~512 MB Memory Stick Pro Duo card
~Camera case