I've just posted my review of the Panasonic Lumix ZS7, AKA Lumix TZ10, the latest and greatest compact super-zoom Panasonic has introduced for 2010. The Lumix ZS7 has 12 megapixels of resolution, 12X optical zoom, a 3 inch screen, full manual controls and built-in GPS. Be sure to check out full-sized photos taken straight out of the camera in the Panasonic Lumix TZ10/ZS7 photo gallery too. Read our full review of the camera after the jump.
DPInterface Panasonic Lumix ZS7 aka Lumix TZ10 Review
Brad Soo – April 25th, 2010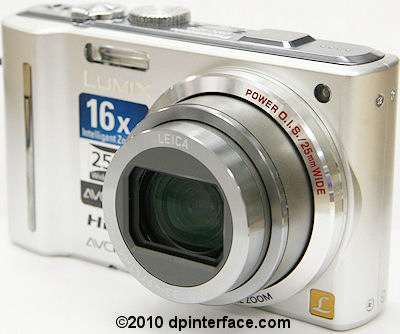 I've been a great fan of Panasonic's 'travel zoom' (TZ) series cameras and for almost every generation, they've received a nice thumbs up from me. But the Lumix TZ series cameras were not without their flaws (most notably lacking manual controls) and in 2009, more than several camera manufacturers joined in the fun; offering at least one or two compact super-zoom cameras in their lineup. And all of a sudden, you could feel a lot of competitive heat in the super-zoom camera market.
This year, Panasonic decided to step up the game once again, with the release of their Lumix TZ8 (AKA Lumix ZS5) and Lumix TZ10 (Lumix ZS7) pair of cameras. I'm looking at the higher end of the two today, the Panasonic Lumix TZ10, the latest in Panasonic's Travel Zoom series and the most feature-packed of them all to date. The new Lumix TZ10/ZS7 not only adds on full manual controls and more megapixels, as Panasonic was nice enough to throw in a big bunch of new features into the mix! Here's what's new on the Panasonic Lumix TZ10:
12 megapixel CCD (TZ7/ZS3 had 10 megapixels)
Full manual controls over exposure (Program mode, aperture and shutter priority modes and full manual mode)
New Power OIS optical image stabilization system (supposedly twice as effective as the old Mega OIS system)
New Venus Engine HD II imaging processor
New Intelligent Resolution feature supposedly improves picture textures and sharpness; also enables a 1.3X 'high quality' digital zoom to be used
New "Sonic Speed AF" claims faster autofocus and response times
New built-in GPS allows for geotagging of photos; camera can automatically tag photos with exact landmark name if possible and auto-adjust its built-in clock based on location
720p HD movie mode records at 30 or 60 FPS in AVCHD Lite format and in "Dolby Digital" stereo sound; new "video divide" basic editing tool in playback
Support for new SDXC memory card standard; slot is backward-compatible with SD/SDHC cards
So the Lumix TZ10/ZS7 takes all the new features above and pairs them up with the familiar, compact design of its predecessor and 12X optical zoom lens, high-resolution 3 inch LCD, straightforward operation and the rest of its features. Is the Panasonic Lumix TZ10/Lumix ZS7 the ultimate compact super-zoom camera?
The camera is actually known as the Panasonic Lumix ZS7 in the US and the Panasonic Lumix TZ10 everywhere else around the world (ie Europe, Japan, Australia, etc). And it remains puzzling why Panasonic (and some other camera makers) chooses to give two names per camera model…
Size and Weight
(197.0) 105.8 x 59.3 x 31.9 mm (215 g) – Canon PowerShot SX210 IS
(198.1) 105.0 x 63.2 x 29.9 mm (183 g) – Casio Exilim FH100
(186.6) 99.3 x 58.9 x 28.4 mm (183 g) – Fujifilm FinePix F80 EXR
(187.3) 103.0 x 57.0 x 27.3 mm (183 g) – Nikon Coolpix S8000
(182.7) 94.0 x 57.6 x 31.1 mm (185 g) – Olympus Stylus 9010
(195.5) 103.3 x 59.6 x 32.6 mm (196 g) – Panasonic Lumix ZS7 aka TZ10
(195.1) 106.6 x 60.5 x 28.0 mm (215 g) – Samsung HZ35W aka WB650
(189.5) 102.9 x 57.7 x 28.9 mm (170 g) – Sony Cyber-shot HX5V and H55
All the weight figures above show when the camera is empty without a battery or memory card
The Panasonic Lumix TZ10 is one of the larger digital cameras in the "compact super-zoom" class, but it's still pretty small and fits in most pockets with ease.
Box packaging
Open up the box and you'll find that the Panasonic Lumix TZ10 (Lumix ZS7) comes with a pretty average bundle that includes:
Rechargeable lithium-ion battery (with case)
Battery charger
Wrist strap
USB and A/V cables
Camera software CD (Photo Fun Studio viewer HD Edition, Quick Time and a USB driver)
User's manual
As with most digital cameras, the Panasonic Lumix TZ10 comes with a very limited amount of internal memory: just 15 MB, and you'll have to go out there and use a memory card of your own. The Lumix TZ10 (Lumix ZS7) supports SD and SDHC cards, as well as the recently announced SDXC standard – and it can also perform faster with a high-speed memory card (60X to 90X speed rating). I would suggest using at least a 4 GB high-speed SDHC with the camera, more if you plan on recording long video clips or take lots of pictures without offloading your photos after every trip. SDXC cards are a little on the expensive side at this time of writing – a 64 GB card will cost you more than buying a new entry-level/basic compact camera!
260 shots – Canon PowerShot SX210 IS
300 shots – Casio Exilim FH100
230 shots – Fujifilm FinePix F80 EXR
210 shots – Nikon Coolpix S8000
250 shots – Olympus Stylus 9010
300 shots – Panasonic Lumix ZS7 aka TZ10
240 shots – Samsung HZ35W aka WB650
310 shots – Sony Cyber-shot HX5V and H55
All the cameras above are rated with rechargeable batteries with LCD on according to CIPA Standard
The Panasonic Lumix TZ10 AKA Lumix ZS7 uses a rechargeable lithium-ion battery and comes with a battery charger. The camera is rated at 300 shots per charge (CIPA Standard) which is a little above average compared to other market offerings.
Accessories
The Panasonic Lumix TZ10 has about the same accessory range as its predecessor. You can find things like an AC adapter, HDMI cable and various camera cases for the camera. There's also a new marine case for the Lumix ZS7/TZ10 that allows you to take the camera up to 40 meters (130 feet) underwater – this is a brand new case that's designed to accommodate the ZS7's GPS 'hump' at the top of the camera.
Camera Tour
Save for a few minor changes such as the small hump on the top for the camera's GPS module and new Exposure button on the back, the Panasonic Lumix TZ10 looks very much like its predecessor. The camera is well built for most part except for the two plastic doors (which aren't the most solid things around) and has decent ergonomics with a small right hand grip and nicely sized buttons.
The Panasonic Lumix TZ10 AKA Lumix ZS7 comes in your choice of four colors, and they are: silver, black, navy blue and red. The model I have here is the silver Lumix TZ10.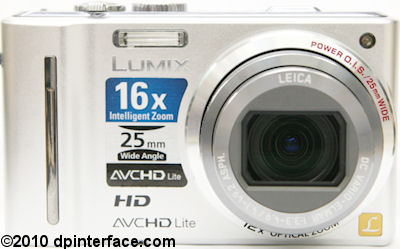 The Panasonic Lumix TZ10/Lumix ZS7 sports a familiar 12X optical zoom lens, the same one first seen on the Lumix TZ7/ZS3. This 12X lens covers a range of 25 – 300 mm in 35 mm terms with a rather average aperture of f3.3 – f4.9. Its wide-end covers a nice 25 mm, which is quite a bit wider than typical compact camera lenses that start at 28 or 35 mm. One of the new things in the Lumix TZ10/Lumix ZS7 is the new Power OIS system (Optical image stabilization), which Panasonic claims to be twice as effective as their previous-generation Mega OIS system at compensating for camera shake.
To the upper right corner of the Lumix TZ10 is the autofocus assist + self-timer lamp which helps the camera to focus in low-light situations. To the other side is the camera's built-in flash. The flash is the same one found on the TZ7/ZS3 and has a pretty average range of 60 cm to 5.3 m at wide-angle and 1.0 m to 3.6 m at telephoto (Auto ISO).
And we're done for the front of the Panasonic Lumix TZ10. Just a quick note: that big "16X" on the sticker is the camera's zoom with "Intelligent Zoom" included (a type of digital zoom). The camera's real, optical zoom is 12X. Panasonic claims their new 'Intelligent Zoom' feature (which apparently works in conjunction with Intelligent Resolution) allows you to artificially extend zoom reach with less degradation of image quality compared to conventional digital zoom. We'll check out how iZoom compares with digital zoom in a bit…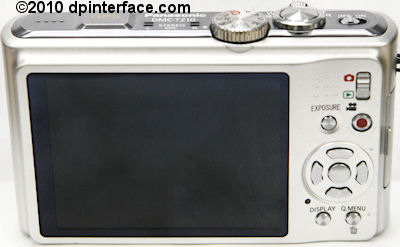 The Panasonic Lumix TZ10/Lumix ZS7 keeps the nice and sharp 3 inch LCD display we first saw on its predecessor. There's 460,000 pixels on this screen, which is double of what you'll find on most compact camera LCD screens, so images and menus are sharp as ever. Screen legibility is very good under bright light thanks to the Power LCD mode and excellent in low-light as the camera automatically brightens the screen image. As with most of their recent cameras, Panasonic has included an Auto Power LCD mode which does the same thing as Power LCD, except the camera will automatically brighten the screen based on what it sees as opposed to manual activation.
To the upper right edge of the back of the Panasonic Lumix TZ10/Lumix ZS7 is a mode switch that moves you between shooting and playback. Right below that are two buttons: You'll use the new Exposure button whenever you want to adjust exposure settings on the Lumix TZ10 (in program, manual, aperture or shutter priority modes) while the button with the red dot on the right is the camera's dedicated movie button. Since there's no movie mode "spot" on the Lumix TZ10's mode dial, you'll be using the movie button to start/stop video recording, regardless of the shooting mode you're in – and that's a good thing, since you can conveniently and quickly start recording and don't miss any important movie moments.
Further down, you'll find the Lumix TZ10's five-way navigation pad, with each direction providing quick access to a specific function by default:
Up – Exposure compensation (+/-2 EV in 1/3 steps)/Exposure bracketing/Multi-aspect/White balance tweaking
Down – Macro (Off, macro, auto macro)/Autofocus tracking
Left – Self timer (Off, 2 seconds, 10 seconds)
Right - Flash setting (Auto, auto with red-eye reduction, on, slow sync with red-eye reduction, off)
Center – Camera menu/Set
The navigation pad is also used for navigating menus, browsing photos in playback and of course, adjusting exposure settings after you've pressed the Exposure button I mentioned above.
Like most of Panasonic's other cameras, the Panasonic Lumix TZ10 has an exposure bracketing feature that lets you take three pictures in a row with different exposure settings (adjustable to +/- 1 EV in 1/3 steps). There's also an aspect ratio bracketing function that allows you to take three pictures in a row, each using the camera's 3 different aspect ratio settings (4:3, 3:2 and 16:9).
The Panasonic Lumix TZ10/Lumix ZS7 has white balance tweaking feature that allows you to choose between warmer or cooler color tints in your photos (up to 10 steps in each direction in 1 step increments).
Towards the very bottom, you'll find the DISPLAY and QUICK MENU buttons. The DISPLAY button toggles the information displayed on-screen while the other button brings up the Lumix TZ10's Quick Menu which contains a handful of camera settings you can quickly change. The Quick Menu button also doubles to delete photos in playback mode.
Let's have a look at the Lumix ZS7's Quick Menu before we move on, shall we? (Moving from left to right):
GPS mode
Drive mode (Single-shot, continuous shooting, continuous AF)
Autofocus mode (Face detection, AF tracking, 11 point AF, center point, center high-speed, spot)
White balance (Auto, daylight, cloudy, shade, halogen, custom)
ISO sensitivity (Auto, 80, 100, 200, 400, 800, 1600)
Intelligent Exposure – brightens dark areas in your photos
Aspect ratio and image resolution
LCD mode (Normal, Power LCD, Auto Power LCD)
There's also AF Tracking and face detection; both are pretty self explanatory features. AF Tracking continuously tracks your subjects around the frame while face detection picks up faces in the frame.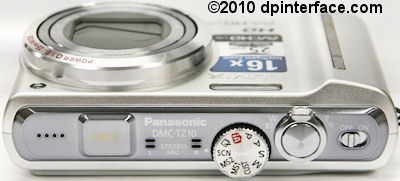 Moving towards the top of the Panasonic Lumix TZ10, you'll find the camera's speaker, GPS module (the protruding hump) and dual microphones used for recording stereo sounds with your movies. Next up is the Lumix TZ10's mode dial which, thanks to the camera's set of manual controls, has a lot more options now versus the mode dial of the Lumix TZ7 (aka Lumix ZS3). Let's examine the mode dial options more closely now (going clockwise from the small red IA icon):
Intelligent Auto – Fully automatic with Panasonic's "Intelligent" features activated
Program mode – All the settings are unlocked but the camera still decides exposure for you. Program shift is available so you can select different aperture/shutter speed combinations
Aperture priority – pick an aperture value (between f3.3/f4.9 to f6.3) and the camera will select a matching shutter speed
Shutter priority – pick a shutter speed (between 1/2000 to 8 seconds in your choice of 1/3, 1/2 or 1 step increments) and the camera will select a matching aperture value
Manual mode – you get full control over both shutter speed and aperture; slowest shutter speed extended till 60 seconds
Custom – Store your own set of camera settings here
MS1 and MS2 – My Scene positions for two of your most used scene modes
Scene modes
Clipboard – for storing and easily accessing pictures of maps, schedules, etc
The Intelligent Auto mode is a fancy name for an automatic mode that does all the thinking for you before and as you take pictures. Using Intelligent Auto mode, the camera activates face detection, auto scene detection, subject tracking, Intelligent ISO, Intelligent Exposure, optical image stabilization and new to the TZ10/ZS7, Intelligent Resolution and Intelligent Zoom. You can also opt to individually toggle the "Intelligent" features manually in other modes; more on them in a bit.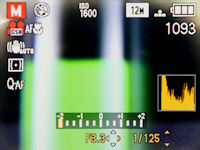 The biggest change on the Panasonic Lumix TZ10 aka Lumix ZS7 compared to previous generations of cameras is the availability of manual controls, the P/A/S/M modes. If you've always fancied tweaking and deciding camera settings for yourself, the TZ10/ZS7 finally allows you to adjust aperture, shutter speed or both. Conveniently, an on-screen 'exposure scale' pops up whenever you begin to play around with exposure, as seen in the screen above).
Unfortunately, I have a little rant about the camera's aperture range, whose largest value is a mere f6.3. In plain English, that means you, depending on your liking, may find shutter speeds to be insufficiently 'slow' with f6.3 being the smallest aperture (versus using an even larger F-number such as f8.0 or f11.0) to create certain effects, such as showing motion when taking photos of a waterfall or short fireworks 'bursts'.
Towards the very right edge of the Lumix TZ10 is its power on/off switch and shutter button with a wrapped-around zoom controller. Like its predecessor, the camera allows you to zoom at two different speeds (slow or fast zooming), depending on how much pressure you put on the controller – so you can zoom in on action really quickly, and also be really precise if you wanted to.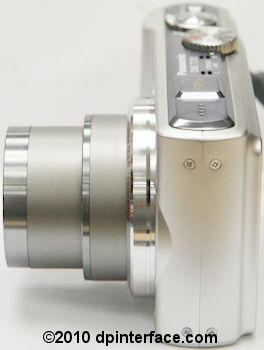 There's nothing to see on this side of the camera other than the camera's lens at telephoto. The lens sticks out quite a bit at maximum zoom, as you may observe here.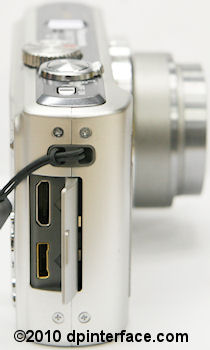 On this side of the Panasonic Lumix TZ10, you'll find two ports hidden under a plastic door and also the camera's wrist strap mount. The two ports on the camera are a mini HDMI port and a combo port for A/V out and USB 2.0 High speed. You can also see the camera's lens at its zoomed out position in the background of this picture.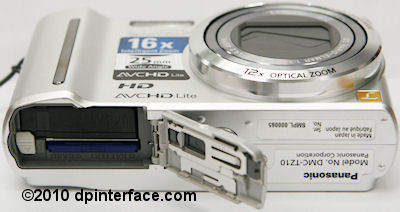 At the bottom of the camera, you will find the battery/memory card compartment with a plastic door of unconvincing build quality over it. The Lumix TZ10/Lumix ZS7 uses a new kind of AC adapter that goes through a dummy battery and an (ahem, rather Canon-like) 'AC hole' on the battery door. Next to the battery/memory card compartment is the camera's off-center tripod mount… and it doesn't look like you'll be able to open the door when the camera is on a tripod.
Taking pictures (Shooting mode)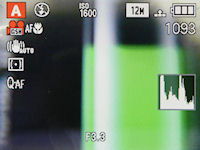 One thing I've been a fan of on Panasonic's cameras is the amount of information shown when shooting. The Panasonic Lumix TZ10 aka ZS7 shows you plenty of information, including various shooting settings, exposure information, a live histogram, optional framing gridlines (you also get to pick one of two grid patterns), and battery and zoom indicators.
The Panasonic Lumix TZ10 offers several dozen combinations of image resolution, compression and aspect ratio settings for you to choose from. The choices you have for image resolution include 12 MP, 8 MP, 5 MP, 3 MP and VGA; while the aspect ratios available are traditional 4:3, print 3:2 or widescreen 16:9. And lastly, the two image compression settings available are Fine and Standard. The Panasonic Lumix TZ10/Lumix ZS7 has a weird-shaped 14.5 megapixel image sensor but it only uses up to 12 megapixels at any given time; the advantage here is that photos at aspect ratios like 3:2 or 16:9 have more vertical pixels to work with (normal sensors just "crop" images of different aspect ratios).
Lowering image resolution will automatically activate the camera's Extra Optical Zoom (sometimes called Extended Optical Zoom in certain locations), which is essentially cropping the photo down to your desired resolution from the camera's base sensor resolution. Using the 8 MP setting, you can extend apparent zoom to 14.7X, but you can go all the way up to 23.4X zoom at 3 megapixels.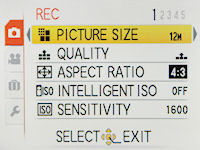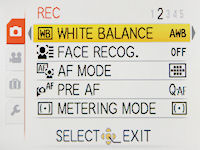 We're going to take a look at the Lumix TZ10's menu pages now. In case they sound familiar, some of the options can be quickly accessed via the camera's Quick Menu:
Picture size, quality and aspect ratio
Intelligent ISO (Off, max 400, 800 or 1600)
ISO sensitivity (Auto, 80, 100, 200, 400, 800, 1600)
White balance (Auto, daylight, cloudy, shade, halogen, custom)
Face recognition On/Off
Autofocus mode (Face detection, AF tracking, 11 multi-area, center, center high-speed, spot)
Pre AF (Off, quick AF, continuous AF)
Metering mode (Multiple, center weighted, spot)
The camera has two "Pre AF" modes which try to improve response time by focusing before you take a picture. Quick AF activates autofocus when camera movement is detected while the camera is constantly focusing in continuous AF (though battery life may take a hit because of this).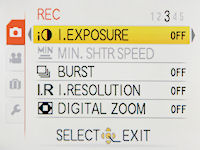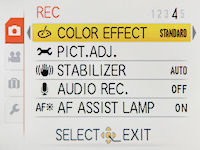 Intelligent Exposure (Off, low, standard, high)
Minimum shutter speed – Set the slowest shutter speed the camera will use
Burst mode Off/High-speed/Unlimited
Intelligent Resolution
Digital zoom
Color effect (Standard, Black & White, Sepia, Cool, Warm, Happy)
Picture adjustment (Contrast, saturation, sharpness and noise reduction)
Optical image stabilizer mode (Off, auto, mode 1, mode 2)
Audio record – Record a 5 second audio clip every time a photo is taken
Autofocus assist lamp
Redeye removal (On/off) – software based redeye removal after each flash photo is taken
Clock set
The Panasonic Lumix TZ10/Lumix ZS7 has two optical image stabilization modes. Mode 1 keeps the system on continuously so everything from composing the shot to taking the picture is steady, while Mode 2 activates the image stabilization only as a photo is taken (which is both more effective and less power consuming). If you're not really bothered with fiddling with things, there's an Auto Stabilization mode which switches between Mode 1 and Mode 2 as the camera sees fit. Or you could turn off image stabilization if the camera is already on a steady surface (ie tripod, table).
New to the Lumix TZ10 is what Panasonic calls Power OIS (optical image stabilization) which they claim to be twice as effective as the 'old' Mega OIS system. Though I cannot precisely measure the improvement in compensating for camera shake, what I can tell you is that I managed to take handheld photos at shutter speeds as slow as 1/6 without blur.
The Panasonic Lumix TZ10 also has a Picture Adjustment menu that lets you adjust output of contrast, saturation, sharpness and noise reduction of your photos in 1 step intervals (up to +/-2). If you're not into adjusting camera settings, a new (and weirdly named) Happy mode automatically makes things brighter and more saturated.
Panasonic's "Intelligent" features
Intelligent Scene Selection: Able to work in both shooting and movie modes, Intelligent Scene Selection will let the camera automatically select one of five scene modes for you (portrait, scenery, night portrait, night scenery and macro) in shooting mode, or one of four modes in movie mode (portrait, scenery, low-light, macro).
Intelligent ISO: Adjusts ISO according to the amount of movement in the frame. More movement would mean the camera will use a higher ISO setting to freeze action while a static scene will make the camera choose a low ISO setting.
Intelligent Exposure is just like D-Lighting, iContrast and Shadow Adjustment from other camera makers. It functions to brighten dark areas of your photo at the cost of some increased noise. It's a shame that this feature is available only in shooting mode – which means you cannot brighten your photos in playback mode after you capture them.
Backlight compensation is only available in Intelligent Auto mode. It's essentially like automatic exposure compensation which comes on if the subject detects a face/faces with strong backlighting behind.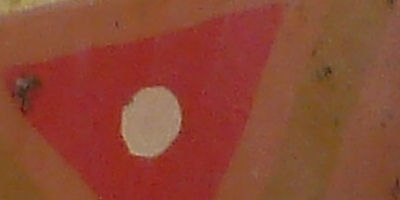 Digital zoom used on the left, Intelligent Zoom on the right
New to the Panasonic Lumix TZ10 are two additional "Intelligent" features: Intelligent Resolution applies additional sharpening to your photos to make details look more defined. Intelligent Zoom apparently makes use of the camera's new imaging processor and allows you to apply an additional 1.3X digital zoom (bringing zoom up to 16X) that's supposedly better than conventional digital zoom. As you can see in the comparison of the two 100% crops above, the photo taken using "Intelligent Zoom" really does look quite a bit better than conventional digital zoom… but in the end, there's nothing better than good ol' optical zoom.
GPS Features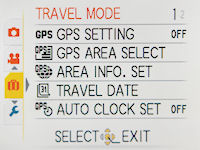 One of the big new features found on the Panasonic Lumix TZ10/Lumix ZS7 is built-in GPS functionality. This allows you to geotag photos with coordinates of the location where it was taken. Panasonic also takes things a step further by including about half a million landmark locations (mostly of tourist destinations and famous places), so the camera can include the location name, city and country your photos were taken at – great for tourists and frequent travelers!
There are also other GPS-related tricks the camera has up its sleeve, including the ability to automatically adjust its internal clock based on location and 'knowing' where it is by automatically updating its location every few minutes (even when the camera is off).
Unfortunately, there are downsides to using the GPS functionality, the same negative points of using GPS on your mobile phone: the GPS feature will drain the camera's battery more quickly (hence reduced battery life for taking pictures) and it also doesn't work that well indoors or dense cities.
Face Detection and Recognition
The Panasonic Lumix TZ10 features face detection and face recognition, though only the former works in movie mode. The camera can detect up to 15 faces in a frame and can offer to remember up to 6 faces if they frequently appear in your shots (you can also manually add them to the list). The face detection system will then give priority to those faces that it recognizes (indicated by the orange frame around a person's face, along with their name beneath the box), and you can even pick a custom focus icon, if you want.
Scene modes and macro
If you're looking for a more straightforward way of taking pictures, the Panasonic Lumix TZ10 has plenty of scene modes available. And they are… portrait, soft skin, transform, self-portrait, scenery, sports, panorama assist, night portrait, night scenery, food, party, candle light, baby 1 & 2, pet, sunset, high sensitivity, high-speed burst, flash burst, starry sky, beach, snow, fireworks, aerial photo, film grain, pin hole and underwater. There are two new scene modes on the Lumix ZS7/TZ10, which are Photo Frame and High Dynamic modes.
Many of the scene modes are pretty self explanatory but there are several modes worth explaining:
Transform mode is "sort of like Beauty Mode" as it compresses/stretches your subject and also smoothens their skin
High sensitivity mode reduces resolution to 3 megapixels while automatically selecting an ISO speed between 1600 - 6400
High speed burst lowers resolution to 3 megapixels and allows you to take up to 100 photos at 6 FPS (image priority) or 10 FPS (speed priority)
Flash burst lowers image resolution and boosts ISO to take up to 5 photos with flash on in quick succession
Panorama assist brings up a guided user interface for taking multiple shots in a row, to be combined into a single panorama later on (in your computer, not camera)
The camera will select a shutter speed up till 8 seconds in Night Scenery mode while Starry Sky allows you to select a preset extra-long shutter speed (15, 30 or 60 seconds)
High Dynamic mode attempts to boost dynamic range of your photos (via in-camera processing) with your choice to shoot normally, or with art or black & white effects
If you're not sure what the various scene modes do, the camera does display a short tooltip, describing each scene mode. And believe it or not, you can actually use most of these scene modes in movie mode (not sure if they'll really make a difference) by picking a scene mode and pressing the movie button to begin.
The Panasonic Lumix TZ10 has a great macro mode which allows you to go as close as 3 cm to a subject at wide-angle and from 100 cm at telephoto; do note that minimum focus distance can increase to up to 200 cm in the middle of the camera's zoom range, so be sure to use either full wide-angle or full telephoto for 'closest' coverage. An option called "Zoom Macro" mode fixes the camera's lens at wide-angle and allows you to use digital zoom to magnify your subject.
Setup menu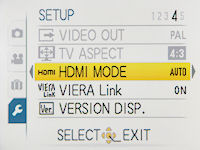 The Panasonic Lumix TZ10 has a standard affair setup menu (comprising of items such as camera sounds and volume, date and time and connectivity to your computer/TV) that allows you to configure the camera the first time you bring it out of the box and before taking any pictures.
Video Recording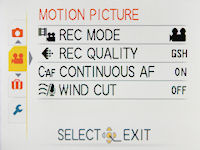 The Panasonic Lumix TZ10 aka Lumix ZS7 sports the same 720p HD movie mode as its predecessor. You can record 720p (1280 X 720) movies at 30 FPS with stereo sound until your memory card fills up. On paper, Panasonic says something about '60 FPS' but to clear up the confusion, the camera sensor's native output is 30 FPS (25 FPS for PAL video) and the camera just doubles up the frame rate (to 60 FPS) when playing videos.
The camera records your 720p movies in AVCHD Lite format, which offers two main advantages over traditional MJPEG-MOV format: smaller file sizes and higher quality audio/video recording. Using AVCHD Lite, you have the option to choose between three audio recording bit rates: Super High (17 Mbps), High (13 Mbps) or Low (9 Mbps). You can fit almost an hour's worth of 720p video with sound on an 8 GB memory card. However, AVCHD Lite videos have one disadvantage: unless you have a PlayStation 3, compatible TV or downloaded VLC Player (it's a free, open source video player I'd recommend to everyone), you'll need to convert AVCHD Lite video into a more widely playable format, to lets say, share with your friends or post on certain websites such as Facebook.
If AVCHD Lite format is not your cup of tea, you can also opt to record 720p videos in Motion JPEG format so you can play movies right out of the camera; though you can only fit 32 minutes' worth of video on an 8 GB card due to larger file sizes and there's a file size restriction of 2 GB (roughly 8 minutes) per movie clip. But fear not, several other (smaller) recording sizes are also available, including WVGA (848 x 480), VGA (640 x 480) or QVGA (320 x 240) with frame rate fixed at 30 FPS.
Once you've finally decided which movie codec to use and what resolution to use, and start recording movies, you'll find you can do plenty of things while recording: optical zoom, optical image stabilization and continuous autofocus all work while recording is in progress. The camera's lens operates very quietly, by the way, so the camera doesn't pick up its motor or operation sounds. There's also a wind filter available – helpful if you're recording movies on a breezy day.
Face detection, Intelligent Exposure, scene modes, Intelligent Scene Selection and now on the TZ10, GPS geotagging all work in movie mode. For the movie 'scene modes', just pick any scene mode from the regular list of options and hit the dedicated movie button. Also, even if it's available as an option, you might not want to use "GPS mode" while recording movies unless you really MUST have it, because geotagged videos may not work with all players.
During my testing of the Panasonic Lumix TZ10, I recorded video clips in both AVCHD Lite and Motion JPEG formats and overall, both video and audio quality was very good – not quite broadcast quality yet but good enough to make you think twice about bringing two separate still photo and video recording devices out the door (Versus one camera in your pocket).
Performance
All performance testing of the Panasonic Lumix ZS3 was performed using a high-speed 4 GB SanDisk Ultra II SDHC (90X) card.
The Panasonic Lumix TZ10 takes slightly under two seconds to startup, assuming that you're not using GPS. With the GPS function enabled, the camera's startup time comes closer to around 3 seconds. The Panasonic claims the Lumix TZ10 can focus much faster than previous cameras thanks to what they call "Sonic Speed AF". I can testify the camera really does focus slightly faster than another Panasonic camera I had around at the same time, and also compared to some compact cameras, but the difference is quite small and only noticeable when focusing in bright conditions.
With good lighting around, the camera is able to lock focus in a swift 0.1 to 0.3 seconds at wide-angle and 0.2 to 0.5 seconds at telephoto. In low-light, it can take up to almost a second to focus, but focusing accuracy is still pretty good thanks to the AF-assist lamp.
Shot-to-shot speed - 1 shot every 1.7 seconds, quite good
Flash recharge time using a fully charged battery - 3 seconds on average
Unlike its predecessor, the Panasonic Lumix TZ10/ZS7 drops the very useful "unlimited burst" mode and has just one normal-speed burst mode that shoots at 2.2 frames per second. The frame rate may sound pretty good (versus the sub-1 FPS speeds most compact cameras have nowadays) but you can only take up to 5 'Normal' quality full-resolution photos in a single burst (or 3 'Fine' ones).
Fortunately, the Panasonic Lumix TZ10/Lumix ZS7 has two high speed burst modes hidden in the scene modes menu. Though these two modes don't completely make up for the base continuous shooting mode's shortcomings, at least you'll get to shoot at your choice of 6 FPS (Image priority) or a whopping 10 FPS (speed mode, where the camera will boost ISO by quite a bit) at 3 megapixels. There seems to be a software-limitation of 100 shots per burst, but you can simply lift the finger off the shutter button and press it again for another round of 100 shots.
The Panasonic Lumix TZ10 has a zoom lens that you can operate at two speeds. Using full-speed zoom, you can move the 12X lens from wide-angle to telephoto in 2.5 seconds.
Overall, the Panasonic Lumix TZ10's performance was on the positive/responsive side with speedy focusing times, responsive operation and fairly quick startup time (provided you have GPS disabled). What I didn't care for is the short burst duration of the camera's main continuous shooting mode (and I don't see any valid reason for dropping the 'unlimited' mode of its predecessor) and the added delay to startup time if you have GPS enabled.
Image Quality
Let's check out how the Panasonic Lumix TZ10 performs in terms of image quality now:
ISO 80 (f3.3, 1/8 sec)

ISO 100 (f3.3, 1/10 sec)

ISO 200 (f3.3, 1/20 sec)

ISO 400 (f3.3, 1/40 sec)

ISO 800 (f3.3, 1/80 sec)

ISO 1600 (f3.3, 1/160 sec)

ISO 1600 High Sensitivity mode (f4.0, 1/125 sec)
The Panasonic Lumix TZ10 takes some pretty smooth photos at lower ISO settings (80 and 100). At ISO 200, pictures look just as smooth, but with some noise reduction thrown in. ISO 400 doesn't look too different from the first three crops but details are more smudged. Still images at this point are more than sufficient for most medium to large printing purposes.
At ISO 800, image quality still looks pretty smooth but with even more noise reduction here. You can see images look fairly watery at this point, with most fine details smudged as a side effect. You could use ISO 800 photos for small prints but nothing more. And I wouldn't step up to ISO 1600 at full resolution (though the dowsnsized, 3 MP version taken in High Sensitivity mode still looks acceptable for smaller prints).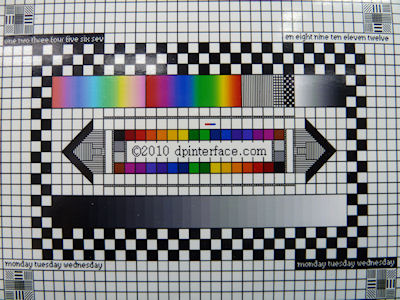 There's not much distortion with the Panasonic Lumix TZ10's 12X optical zoom lens, despite starting at 25 mm and covering such a wide range. There's no vignetting and, in most cases, little to no chromatic aberration (color fringing) either. However, some chromatic aberration does appear in conditions with extreme contrast such as the edges of our test chart (black on white). There wasn't any redeye either, which isn't surprising since the camera uses a two-stage (pre-flash and software) redeye reduction system. However, if any redeye slips past the camera, you'll have to remove it in your computer since there's no redeye removal tool in playback.
All-in-all, the Panasonic Lumix TZ10/Lumix ZS7 produces nicely saturated, smooth looking photos up till ISO 800. Images look fairly clean, though the camera's noise reduction can sometime cause details to be lost. Like the camera before it, the Lumix TZ10 exhibits little lens distortion (apparently the camera's processor corrects any), and little to no redeye and color fringing (the processor takes care of removing those two as well)
Photo gallery
There are full-sized photos available in the Panasonic Lumix TZ10 AKA Lumix ZS7 photo gallery.
Playback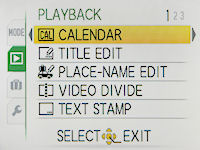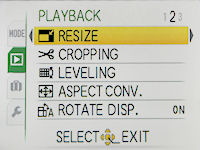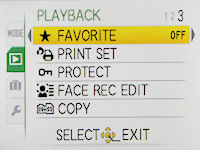 The Panasonic Lumix TZ10/Lumix ZS7 shares the fancy playback mode of its predecessor, but also adds a thing or two here and there. First off are the core playback functions, all of which are present on the camera, including: DPOF print marking, image protection and the ability to tag photos as "favorites". Photos can be enlarged by 16X so you can inspect details/confirm focus and also can be displayed in sets of 12 or 30 thumbnails, or by date in calendar view by hitting 'zoom out' after the two thumbnail options.
There are a couple of editing features that are worth a look at; such as title editing, resizing, trimming (aka cropping), image leveling and the ability to add date/text stamps to photos… but strangely, no image rotation option. You can also copy images back and forth between the camera's internal memory and memory card.
There aren't any movie editing features such as trimming in the camera but two things you might find useful include the ability to split a movie clip into two at any spot you prefer and a "frame grab" function that allows you to turn any frame from a movie clip into a photo. Two things that are missing here are red-eye removal and Intelligent Exposure – both of which can be used in shooting mode, but these two actions cannot be performed AFTER a photo is taken.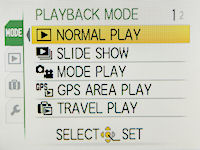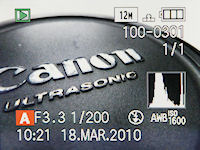 The Panasonic Lumix TZ10 also allows you to select one of six different options for viewing your photos: normal play (traditional playback), slideshow (with effects and background music), category, GPS (filter by location), travel (date and place) or just the photos marked as your favorites.
The Panasonic Lumix TZ10 shows you everything about your photos in playback, including exposure and shooting info, a brightness histogram, names of people registered with the camera's Face Recognition function and now, even the place your photo was taken (if you had GPS on when taking them).
Conclusion
The Panasonic Lumix TZ10 (also known as the Lumix ZS7) is a compact super-zoom digital camera with a fairly solid feature set. The camera sports a familiar 12X optical zoom lens, 3 inch high-resolution LCD (with good legibility too), and design and feature set that's similar to that of its predecessor; and also adds a couple of improved/new features like manual exposure controls, built-in GPS, two new Intelligent features and new imaging processor.
On the outside, there are a few visual tweaks here and there but nothing so drastic that would make the Lumix TZ10 look different from its predecessors. There's a new Exposure button, new slight protrusion for the camera's GPS module and minor rearrangement of the items at the top of the camera. Build quality is fairly good, though compartment doors could've been made less flimsy.
One of the things many people have been harping for, for years, was manual controls on Panasonic's line of TZ-series. And this year, Panasonic finally delivered the good stuff – the Panasonic Lumix TZ10 has manual exposure controls (P/A/S/M modes) that allow adjustment of exposure to your liking. What's left to complain about now is the limited aperture range, which ends with f6.3 as the smallest aperture. For those less bothered with camera settings and such, the Panasonic Lumix TZ10 retains easy operation and plenty of scene modes for the casual user. There's also some "Intelligent" features that many, regardless of skill level, will find useful.
The Panasonic Lumix TZ10 has a 720p HD movie mode that records audio in stereo sound, while letting you use optical zoom and optical image stabilization while recording. There are also plenty of other options, such as the availability of continuous AF, wind filter, choice of three audio recording bitrates and AVCHD Lite/MOV-MJPEG recording. Oh, and there's also a dedicated movie button on the camera so you can quickly start/stop movie recording.
The Panasonic Lumix TZ10 produces good quality and smooth photos right out of the camera until ISO 800. Using the lower end of the ISO spectrum, images can come out fairly detailed but a little on the soft side unless you turn on Intelligent Resolution. At higher ISOs, expect some detail loss thanks to noise reduction, though even medium-size prints will come out nicely as long as they're not subjected to close scrutiny for details. The camera's responsiveness and performance was fairly good too, with the only weakness being the extremely limited burst length in normal continuous shooting mode.
Though not without its flaws, the Panasonic Lumix TZ10/Lumix ZS7 is an exceptionally appealing camera to travelers and holiday-goers with its 12X lens able to cover an expansive range of shooting situations, nicely viewable display and built-in GPS functionality. It's also a great 'everyday' camera too which is sufficiently compact for you to bring almost anywhere you go.
What's hot:
Good image quality till ISO 800; fairly low lens distortion
Versatile 12X lens, starts at ultra-wide 25 mm and has optical image stabilization
Large, sharp 3 inch LCD that's legible in low/bright light
Manual exposure controls
Built-in GPS, tags photos with location coordinates and place name; automatically adjusts clock when travelling
Responsive operation and good performance
Plenty of scene modes and 'Intelligent' assist features; face detection, recognition and auto scene mode selection
720p HD movie mode with stereo sound, optical zoom, image stabilization, continuous AF, face detection and scene modes can be used while recording, dedicated movie button
Fancy playback mode; plenty of info displayed, including photo location
What's not:
Noise reduction smudges finer details in photos
Limited smallest aperture value of F6.3 (f8 or f11 would've been good)
Very short maximum burst duration for continuous shooting (though frame rate is good)
No red-eye removal, image brightening or movie trimming features in playback mode
AVCHD Lite movies not for everyone (though MJPEG is available, thankfully); needs to be converted to more common formats to be shared/uploaded (and no conversion software supplied)
4.0 - Design and build quality
3.0 - Bundle in the box
4.3 - Lens (Zoom, aperture range, image stabilization)
4.0 - Feature set and manual controls
4.0 - Ergonomics and ease of use
4.0 - Performance and speed
4.0 - Image quality
3.90 over 5.0 - Overall rating