Canon has been known to put in fancy new features into their line of little, stylish cameras. A few years ago, it was the WiFi-equipped Digital ELPH Wireless. This year, it's the new SD980 Digital ELPH AKA Digital IXUS 200, which is Canon's first camera to ever sport a touchscreen. I've just posted my review of the camera and also the Canon SD980 Digital ELPH/Digital IXUS 200 IS photo gallery containing pictures taken using the camera. Hit the link for the full review of the camera.
There are also two special features in this review: there are pictures-aplenty from one of my vacations last year and two, I've got two videos which demonstrate the camera's touchscreen interface.
DPInterface Canon PowerShot SD980 IS Digital ELPH/Digital IXUS 200 IS Review
Brad Soo – January 15th, 2010
If you've ever wanted a stylish pocket camera with two very cool features, you're in luck - the new PowerShot SD980 IS Digital ELPH is Canon's first ever touchscreen digital camera, it's also their first fixed lens camera to have a zoom lens that starts at an ultra-wide 24 mm. The SD980 Digital ELPH/Digital IXUS 200 also has an ambitious 5X zoom lens, 12 megapixels of resolution and evolved, lovable Digital ELPH/IXUS design. Is this the ultimate ultra-compact camera? We're going to take an in-depth look now.
The camera has three names: it's called the Canon PowerShot SD980 IS Digital ELPH in the US, while in Europe, Asia and everywhere else, it's called the Canon Digital IXUS 200 IS. And in Japan, the same camera sells under the IXY DIGITAL name.
Size and Weight
(159.9) 89.5 x 54.9 x 20.0 mm (120 g) - Canon PowerShot SD940 IS Digital ELPH
(176.2) 99.9 x 53.4 x 22.9 mm (130 g) - Canon PowerShot SD980 IS Digital ELPH
(180.9) 99.8 x 58.5 x 22.6 mm (146 g) – Casio Exilim FC150
(172.8) 96.5 x 55.9 x 20.3 mm (130 g) – Casio Exilim Z450
(180.0) 97.7 x 58.9 x 23.4 mm (153 g) - Fujifilm FinePix F200 EXR
(175.2) 89.0 x 57.9 x 23.9 mm (115 g) - Fujifilm FinePix Z37
(185.0) 99.5 x 62.5 x 23.0 mm (155 g) – Nikon Coolpix S1000pj
(177.0) 96.5 x 60.5 x 20.0 mm (140 g) – Nikon Coolpix S70
(173.1) 97.5 x 55.7 x 26.2 mm (125 g) – Olympus Stylus 7010
(173.1) 95.7 x 59.6 x 20.2 mm (131 g) - Panasonic Lumix FP8
(172.5) 97.0 x 54.0 x 21.5 mm (105 g) – Pentax Optio P80
(167.7) 99.8 x 59.7 x 18.5 mm (149 g) – Samsung Dual View TL220
(165.8) 93.8 x 58.2 x 16.5 mm (119 g) - Sony Cyber-shot TX1
(165.8) 90.5 x 51.8 x 19.8 mm (120 g) - Sony Cyber-shot WX1
All the weight figures above show when the camera is empty without a battery or memory card
While the Canon PowerShot SD980 IS Digital ELPH aka Digital IXUS 200 isn't the smallest camera around, it still is pretty darn compact and easy to bring around. I didn't find the camera to be a burden to carry around, and it can effortlessly slip into any pocket.
Box packaging
The Canon PowerShot SD980 IS Digital ELPH comes with an average bundle:
Rechargeable lithium-ion battery (NB-6L)
Battery charger
Wrist strap
USB and A/V cables
Camera software CD
User's manual
Despite featuring a touchscreen, the SD980 Digital ELPH/IXUS 200 does not include a dedicated stylus. I have no complain about that since Canon did a good job by including large icons where touchscreen operation is required. The camera also has physical buttons and a navigation pad. In case you absolutely feel the need for one, there's a small tip sticking out from the side of the included wrist strap which you can probably use to tap the screen. Personally, I survived just fine with just my fingers during my time with the camera.
Canon doesn't include any memory card or internal memory with the SD980 Digital ELPH/IXUS 200, so you'll have to use your own. The camera takes SD/SDHC memory cards and I would suggest starting out with a 4 GB high-speed SDHC. Oh, just like all of Canon's other cameras, this one can perform and write faster when paired with a high-speed card (a speed rating of 60X to 80X is sufficient), so do get one if you want shortened writing times.
220 shots - Canon PowerShot SD940 IS Digital ELPH
240 shots - Canon PowerShot SD980 IS Digital ELPH
300 shots – Casio Exilim FC150
550 shots – Casio Exilim Z450
230 shots - Fujifilm FinePix F200 EXR
220 shots – Nikon Coolpix S1000pj
200 shots – Nikon Coolpix S70
170 shots – Olympus Stylus 7010
380 shots - Panasonic Lumix FP8
200 shots – Pentax Optio P80
200 shots – Samsung Dual View TL220
250 shots – Sony Cyber-shot TX1
350 shots – Sony Cyber-shot WX1
All the cameras above are rated with rechargeable batteries according to CIPA Standard
The Canon PowerShot SD980 IS Digital ELPH aka Digital IXUS 200 shares the same diminutive NB-6L rechargeable lithium-ion battery; providing it with enough power for up to 240 shots per charge (CIPA Standard). Based on my time with the camera, that number's accurate… compared to other similar, small cameras, the SD980 Digital ELPH/Digital IXUS 200's battery life is just average; and there are still cameras which do much better.
Accessories
There aren't too many accessories available for the Canon PowerShot SD980 Digital ELPH. You can find an optional AC adapter, slave flash and a variety of cases available for the camera, but you won't be able to take the camera diving or swimming, as there isn't any underwater casing for it. You can also use a standard mini HDMI to HDMI cable (which can actually be found at most electronic stores) to connect the SD980 Digital ELPH to your high-def television set.
Camera Tour
The Canon PowerShot SD980 aka IXUS 200 is stretched slightly longer than your traditional Digital ELPH/IXUS to accommodate its wide touchscreen. The camera still looks as stylish as ever and somehow manages to maintain key design traits that make it instantly recognizable as a Digital ELPH/IXUS. Build quality and ergonomics are decent, the camera is put together well and there are just two large buttons on the back along with the navigation pad. However, I feel the navigation pad and mode switch are both too small and not easy to operate quickly if your fingers are not nimble enough.
The Canon PowerShot SD980 IS Digital ELPH aka Digital IXUS 200 IS comes in your choice of four colors, all of which I managed to see in-person. There's baby blue, light purple, light brown/gold-ish and regular silver available for you to choose from – I tried and tested the less eye-catching but still pretty silver IXUS 200.
The Canon PowerShot SD980 Digital ELPH aka Digital IXUS 200 comes with a brand new 5X optical zoom lens. Not only is that more than average zoom for a compact camera, but it also starts at an ambitious 24 mm (I believe it's Canon's first time putting a 24 mm lens on a fixed lens camera). With the IXUS 200's ultra-wide 24 mm lens, you can pack about 50% more scenery (Angle) into a single photo compared to a lens that starts at a more traditional 35 mm. In simple English, it means you can fit more people into your "group shots" without having to step backwards to squeeze them in – it's also great news for those looking to take photos of wide landscapes and indoors/architecture where space is limited.
The 5X lens covers a range of 24 mm to 120 mm, and has an aperture range of f2.8 – f5.9. The small aperture at maximum zoom is a sacrifice you have to make with a versatile lens like this; so be prepared to face slow shutter speeds at the telephoto end. On the positive side, optical image stabilization is present to help reduce blurring caused by camera shake.
To the upper right side of the camera, you'll find the SD980 Digital ELPH/IXUS 200's autofocus assist lamp (that also acts as a self-timer countdown light) and built-in flash. Although its looks might suggest otherwise, the SD980 Digital ELPH's flash is actually pretty decent in terms of power. At wide-angle, it covers a range of 50 cm to 3.5 m (11.5 feet) and 90 cm to 2.0 m (6.5 feet) at telephoto (both at Auto ISO). Watch your fingers here, it's easy to block the flash by accident when holding the camera.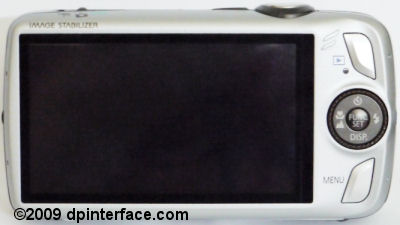 The biggest and newest feature of the camera is found on the back of the Canon PowerShot SD980 IS Digital ELPH/IXUS 200. The camera is Canon's first to have a touchscreen LCD panel, and this one measures 3 inches with a 'widescreen' 16:9 ratio. The LCD isn't big on resolution, with a mere 230,000 pixels, and it shows – despite still being able to inspect details in playback zoom and all, the on-screen images and even some camera icons didn't look as sharp as they could have been. While this wouldn't have been an issue in the past, the electronics world is now starting to be flooded with devices with high resolution screens and you may or may not notice the camera's not-so-optimal resolution.
Display legibility was good, however, as the LCD was nicely viewable under bright light and in low-light conditions. I was also personally surprised by the touchscreen display's resistance to fingerprints and smudges. There's a nice, firm plastic overlay on the screen to protect the touchscreen itself, but it apparently provides some protection against fingerprints as well. Unfortunately, it isn't 100% fingerprint-proof and there are occasional moments where you have to wipe the screen clean. Touchscreen response was good as well since the camera can typically pick up mild to soft touches on the screen.
Moving on to the camera's controls… yes, the SD980 Digital ELPH/Digital IXUS 200 still has several buttons despite its touchscreen because you'll need them. Here's why: Canon didn't re-design the SD980 Digital ELPH/Digital IXUS 200's user interface from the ground up to support the touchscreen. Instead, they slapped on a couple of additional 'touch-related' controls on top of their existing UI and called it a day. Don't get me wrong, the 'touch' side of the camera's operation works very well… the issue here is that you can't browse/operate the camera's main menus/Function menus by touch. If you see relatively large finger-friendly icons, yes, they'll be able to respond to touchscreen operation; but if you see smaller icons and camera menu options, just use the navigation pad (because they will not respond to touch).
There's a small black, textured strip to the right of the LCD that you can feel so your right hand doesn't accidentally stray onto the touchscreen. First, we have two big buttons, for entering playback and the camera menu respectively, flanking the navigation pad. There's the navigation pad itself, which is fairly small, and made worse by the fact there's a scroll wheel surrounding it – so don't change camera settings in a hurry or you might end up bumping one or the other. The scroll wheel itself is alright: it's used for changing some camera settings, scrolling through pictures and menu options; and it provides great tactile feedback "clicks" when turned:
Up – Self-timer (Off, face self-timer, normal self-timer [2 or 10 seconds], custom)
Down – DISPLAY (Toggle the info shown on-screen)
Left - Focus mode (Normal, macro, landscape)
Right - Flash setting (Auto, on, slow sync, redeye reduction, off; some settings can be changed in the flash settings menu)
Center – Function menu/Set
The Canon PowerShot SD980 IS Digital ELPH aka Digital IXUS 200 IS has a Face Self-timer mode, which works in conjunction with the camera's face detection technology. The camera will watch the scene until an 'extra face' is detected, before starting the countdown to take picture/pictures.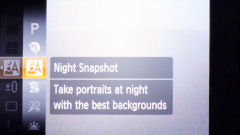 SD980 Digital ELPH/Digital IXUS 200's Function menu
Pressing the center button brings up the Function menu which contains several settings (which you can only change using the navigation pad, not the touchscreen). This is Canon's new, flashy Function menu and you can now view short descriptions for each option too:
Metering method (Evaluative, center-weighted, spot)
My Colors (Normal, vivid, vivid [blue/green/red], neutral, sepia, black & white, positive film, lighter/darker skin tone, custom)
White balance (Auto, daylight, cloudy, tungsten, fluorescent, fluorescent H, custom)
ISO (Auto, 80, 100, 200, 400, 800, 1600)
Sub-shooting mode (Program, portrait, night scene, kids & pets, indoor, other scene modes)
Drive mode (Single-shot, continuous shooting)
Image size and compression
The custom option in the My Colors/Photo Effects area enables you to manually tweak contrast, saturation, sharpness and individual red, green, blue and skin tone levels; all up to +/- 2 in 1 step increments)
At the top of the SD980 Digital ELPH/IXUS 200, you'll find the camera's rather small mode switch in the form of a little sharp triangle. The mode switch moves you between movie, scene/program shooting and Smart Auto shooting modes. In the latter, the camera is fully automatic and automatically picks the right shooting mode and settings based on your scene, so all you need to do is point and click.
You probably can't see it very clearly here but a tiny hole for the built-in microphone is located on the thin, gray line running through the middle section of the camera. Finally, to the very right side is the camera's power on/off and shutter buttons with a zoom controller wrapped around it.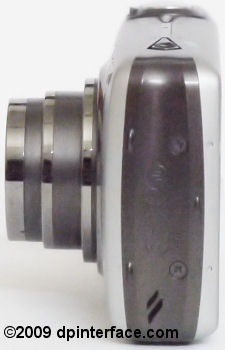 This side of the camera is blank, save for the speaker grille towards the bottom part of the SD980 Digital ELPH.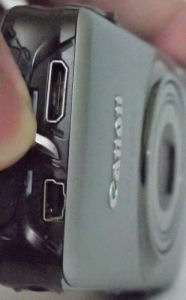 There are just two ports on the Canon SD980 Digital ELPH/IXUS 200: a single mini-B jack for USB 2.0 and A/V Out connectivity as well as a mini HDMI port for connections to a larger display.
At the bottom of the PowerShot SD980 Digital ELPH, you'll find its metal tripod mount and the battery/memory card compartment. The door doesn't feel very flimsy, but it isn't exactly rock solid either.
Taking pictures (Shooting mode)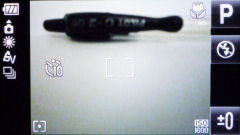 The Canon PowerShot SD980 Digital ELPH aka Digital IXUS 200 shows you plenty of on-screen information, covering shooting details, exposure info, a 3-step battery indicator, zoom indicator and compositional gridlines for framing your photos. What's missing here is a live histogram to indicate overall brightness levels of the frame. Since the camera has a widescreen LCD, the live preview image will be pillar-boxed like above, unless you use the widescreen setting for image size.
See those three big icons over there? Those are the only items in shooting mode you can operate by touch (via the touchscreen, of course): you can change the scene mode being used, exposure compensation value and flash mode. You can also tap anywhere on the screen image to select an autofocus point and make the camera track and focus on that specific area.
The 12 megapixel SD980 IS Digital ELPH allows you to choose from multiple image sizes and compression modes to suit your needs. You can choose to use full 12 MP, 8 MP, 5 MP, 2 MP, VGA and widescreen (at 8.4 MP). There are also two image compression modes here: Fine and Standard. A 2 GB card will hold about 625 Fine-quality photos at 12 megapixels.
| | |
| --- | --- |
| Page 1: Program, portrait, night snapshot, kids & pets, indoor and sunset scene modes | |
| Page 2: Creative light effect, fireworks, long shutter, beach, aquarium and foliage scene modes | |
| Page 3: Snow, ISO 3200, digital macro, color accent, color swap and stitch assist scene modes | |
The SD980 Digital ELPH/IXUS 200 has a total of 17 scene modes, including a "Long Shutter" mode which allows you to manually select a shutter speed between 1 to 15 seconds to take low-light/night shots.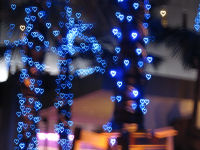 Creative Light Effect mode with "heart" shapes; sans human subject
One interesting scene mode is called Creative Light Effect mode¬¬ which lets you take portraits in low-light with a faux SLR-background blur effect while turning blurred out lights in the background into various shapes of your choice. The two catches here are 1) you have to use the flash and 2) it's only most effective when you aim the camera at people (since it works partially in-conjunction with the face detection system).
The SD980 IS Digital ELPH has a good macro mode with a minimum focusing distance of 5 cm at wide-angle. You can also select Digital Macro, which allows you to utilize the camera's 4X digital zoom to enlarge your subject (but this will also reduce picture quality).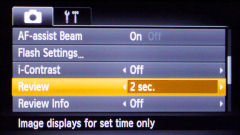 SD980 Digital ELPH/Digital IXUS 200's menu; identical to Canon's other cameras
Let's have a look at those menu options now:
Autofocus mode (Face detection, center AF)
AF point size (Normal, small) – Choose how size of the camera's focusing point area
Digital zoom – you should keep this turned off, it lowers picture quality
AF point zoom – magnify the area the camera focuses on
Servo AF – Turning this on will make the camera focus continuously; turn it off and the camera only auto focuses when you half-press the shutter button
AF assist beam – to help the camera focus in low-light
Flash settings – adjust red-eye reduction and slow sync
iContrast – see below
Review – This option decides whether the camera will show the image on the LCD screen right after the picture is taken
Review info
The camera's iContrast feature brightens dark areas of your photos with four selectable options (Off, auto, low, medium, high). iContrast works but the difference it makes is subtle and not extreme.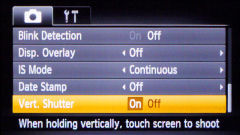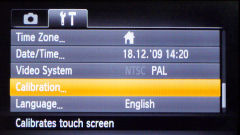 SD980 Digital ELPH/Digital IXUS 120's refreshed menu system, now with 'hints and tips' about menu options
Blink detection – checks for any closed eyes in your photo and alerts you about them
Display overlay (Off, grid lines, 3:2 ratio guide)
IS (Image stabilization) Mode – Off, Continuous, Shoot-only, Panning
Date stamp (Off, date, date and time)
Vertical shutter
Probably one of the more interesting options on the SD980 Digital ELPH/IXUS 200 is the unique Vertical Shutter function, which automatically brings up an on-screen virtual "shutter button" whenever the camera is held vertically (the camera's accelerometer can automatically detect position). So all you have to do is tap the virtual button to take a picture.
The camera also has a setup menu which contains the usual setup options affair. You can change the camera's date and time, language, sounds and beeps and even simple calibration of the touchscreen (think a Windows Mobile style "tap four targets at the corners" to calibrate).
Face detection
The SD980 Digital ELPH has face detection and blink detection. Both face and blink detection worked well based on my experience with the camera, though the camera did wrongly detect a subject's eyes being closed (when they were not) once. Blink detection is still pretty handy; especially if you're the type who takes a lot of people photos, as it displays an unobtrusive on-screen alert if the camera detects any of your subject(s) eyes being closed while the photo was taken. Finally, a software-based redeye removal system takes care of redeye in flash photos (that worked well too).
Video Recording
The Canon PowerShot SD980 IS Digital ELPH/Digital IXUS 200 has a 720p HD movie mode. The camera is able to record 1280 x 720 video clips with mono sound at 30 FPS. Movies are recorded using the H.264 MOV recording codec, a fairly efficient format, so 2 GB will hold a little over 10 minutes worth of 720p HD or 24 minutes of VGA video. Though you can double movie recording times with a 4 GB card, do note the usual file size/time limitation here – each movie recorded can be up to 4 GB or 10 minutes (HD)/60 minutes (VGA and QVGA) per clip, whichever comes first.
Besides 720p HD video, you can opt to lower resolution to VGA (640 X 480) or QVGA (320 X 240) to extend recording time greatly. At both of those resolutions, videos are still recorded at 30 FPS with sound. You can use color accent, color swap and activate optical image stabilization while recording movies. Exposure is automatically adjusted. You can also use digital zoom while recording but not optical zoom. It puzzles me why Canon didn't find a way to reduce the motor sound of this new 5X lens…
Video quality was good with fairly impressive detail levels in HD mode, along with decent audio quality.
Performance
All performance testing of the Canon PowerShot SD980 IS Digital ELPH aka Digital IXUS 200 was performed using a high-speed 4 GB SanDisk Ultra II SDHC (90X) card.
For a camera with an extending lens, this one starts up pretty quickly. The SD980 Digital ELPH/IXUS 200 boots up and is ready to go within 1.4 seconds of pressing the power button. Focusing is quick and accurate in general, clocking in around 0.1 to 0.3 seconds to focus in good light and 0.4 to 0.8 seconds in low-light. Towards the telephoto end of the zoom lens, expect to wait slightly over one second (more often than not, the autofocus assist light will also kick in). There was a bit of shutter lag when using slow shutter speeds (1/15 sec or slower) after pressing the shutter button.
Shot-to-shot speed - 1 shot every 1.4 seconds, above average
Flash recharge time using a fully charged battery - 3 seconds on average
Like other 12 megapixel cameras in the market, the SD980 Digital ELPH/IXUS 200 has a rather sluggish burst mode. No matter how fast your shutter speed, the camera can only shoot continuously at 0.9 frames per second (1 photo per 1.1 seconds or so). Though you can shoot unlimited images in a single burst, you'll probably have better luck trying to hit the shutter button at the moment you want to capture a subject.
The 5X zoom lens can move throughout the entire zoom range in a brisk 1.9 seconds. Shut down time is just about instant, or under one second if you have the lens fully extended. Playback is smooth as moving between photos is instantaneous. The camera does use low-resolution previews when using scroll view or thumbnail mode though.
The SD980 Digital ELPH/Digital IXUS 200 is a camera that certainly will never keep you waiting. Autofocus and shot-to-shot speeds are on the upper end of the compact camera performance scale, and operation in all areas is mostly smooth as can be. The only area that's an exception is… you've guessed it, continuous shooting speed. The camera can shoot continuously until the memory card fills up, but at a sluggish rate of under one photo per second.
Image Quality
Now, let's have a look at the Canon PowerShot SD980 IS Digital ELPH aka Digital IXUS 200's image quality characteristics:

ISO 80 (f2.8, 1/6 sec)

ISO 100 (f2.8, 1/8 sec)

ISO 200 (f2.8, 1/20 sec)

ISO 400 (f2.8, 1/30 sec)

ISO 800 (f3.2, 1/60 sec)

ISO 1600 (f4.0, 1/60 sec)

ISO 3200 (f2.8, 1/250 sec)
Kicking off at lower ISO values as usual, images are pretty clean and detailed at ISO 80 thru 200 with vivid colors and tack sharp output. You can start seeing things turn soft at ISO 400 (even in the crop above) but for most part, images remain very usable for normal to large prints. ISO 800 shots get even grainier and even softer details, but thankfully noise reduction doesn't smudge away too much.
The last two options, ISO 1600 and ISO 3200, are only limited to small prints (as a last resort too) as a lot of fine detail gets mushed away into oblivion. The situation here is still not as bad as some of the competition I've seen, however.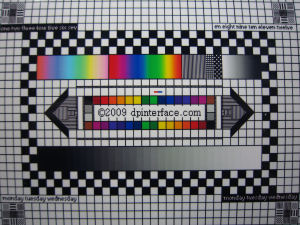 There was mild barrel distortion on the SD980 Digital ELPH/Digital IXUS 200, which isn't surprising for a small lens that starts this wide. Pincushion distortion was not nearly as noticeable. Both corner softness and color fringing (chromatic aberration) were noticeable towards the edges of the frame - With the latter (color fringing) still very slightly present towards even the center of the frame if your scene happens to contain high contrast elements.. Redeye is not an issue as the camera's software-based redeye removal system immediately does away with any redeye the camera can find after taking a photo with flash. If that doesn't work, you can manually pinpoint and remove redeye using the tool in playback mode.
The Canon PowerShot SD980 Digital ELPH (Digital IXUS 200) produces fairly impressive image quality output with low noise and good detail levels. Expect to see some lens-related flaws such as color fringing and distortion due to the ambitious lens range. If you've got time, you can get rid of them in some photo editing software like Photoshop. Otherwise, they're unlikely to bother most people unless you try to make massive prints out of your photos.
Photo gallery
Check out plenty of full-sized photos taken by the Canon PowerShot SD980 IS Digital ELPH aka Digital IXUS 200 IS in the photo gallery.
Playback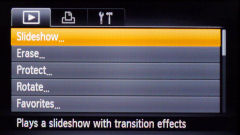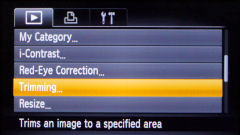 The PowerShot SD980 IS Digital ELPH aka Digital IXUS 200 has the same fancy playback mode as Canon's other compact cameras. You can view photos and play videos you've taken, complete with transition effects as you browse. You can perform basic things on files such as print marking, image protection, resizing, trimming and rotation. You can magnify photos by 10X and pan around using the navigation pad.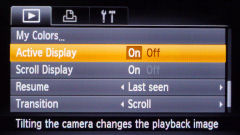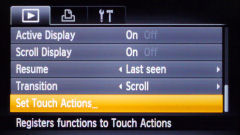 The PowerShot SD980 Digital ELPH has three playback editing tools for still photos. You can also apply My Colors (photo effects) as seen in the screen above, or you can brighten photos (iContrast) and manually remove redeye if you want. Oddly enough, there are no editing features which take advantage of the touchscreen (such as paint or writing mode), unlike competing touchscreen cameras. There are no movie editing tools besides a 'trim' function that allows you to cut the beginning/end of movie clips.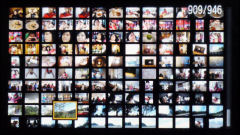 Viewing 3 photos in "scroll view" mode and "130 thumbnails" mode
Images can be viewed individually, in sets of thumbnails (what's new on the SD980 is Canon now allows you to choose from several sets of thumbnails by using 'zoom out' on the zoom controller, from 4 to 130 thumbnails), by category, date, folder or file type (movies or photos). There's even a fancy slideshow feature that allows you to play back photos/video with sound and transition effects. The category function is handy as allows you to tag and organize photos into several preset categories.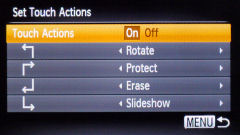 The Canon PowerShot SD980 Digital ELPH/Digital IXUS 200 allows you to configure and use up to four Touch Actions. You can assign just about any playback function to each Touch Action and quickly use it (ie erase image) via a gesture on the camera's touchscreen. The little arrow icons aren't of much help, but what you need to do is slide your finger down the middle section of the touchscreen (not at the edges, as you might be led to believe) in order for the functions to show up.
Here's a little demonstration video that I made of various touch gestures and actions in playback mode: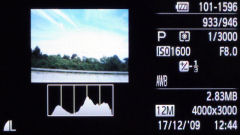 By default, the Canon PowerShot SD980 IS Digital ELPH tells you only the basics about your photos but you can bring up shooting details, mode, exposure information (with shutter speed and aperture value) and a histogram. There's also an overexposure alert feature which "blinks" overexposed areas of your photos to warn you about them. There's a new playback Function menu (brought up by pressing the center button on the navigation pad) which allows quick access to some of the functions mentioned above.
The two touchscreen functions in playback include swiping your finger across the screen to move between photos (swiping really quickly will bring up the 3-photo "scroll view" mode) and tapping on any area of your picture to zoom in to that part.
Finally, the SD980 Digital ELPH/IXUS 200 has the same Active Display feature first seen on some earlier ELPH/IXUS models. This feature takes advantage of the camera's built-in accelerometer to detect movement: you can tilt the camera to the either side to move between photos or start playing video clips, or shake it to move quickly through photos.
Conclusion
The Canon PowerShot SD980 Digital ELPH, also known as the Digital IXUS 200, is Canon's first touchscreen camera. Ironically, the reason why you would want to get the camera is not for the touchscreen, but for the 5X zoom lens with optical image stabilization that starts at an ultra-wide angle 24 mm. The wide-angle lens here is infinitely useful for indoor, group, landscape and creative angled shots; it's quite a bit wider than even 28 mm lenses.
The other big feature on the SD980 Digital ELPH/IXUS 200 is undoubtedly its big, wide 3 inch touchscreen LCD. Screen legibility and response to touch were both good, though more resolution would certainly have been nice. Canon did a good job on adding items with big icons that are optimized for touch (without using a stylus). On the other side of the story, Canon didn't revamp their entire user interface, so there are still a lot of parts of the interface which don't support touch input. Simply put, it's almost like a normal camera that happens to have a touchscreen for only a handful of functions. Hence you would still have to frequently rely on the navigation pad and buttons.
Despite its rather unique design that makes it look like bar of soap, deep at heart, the camera is still a Digital ELPH/Digital IXUS. Save for custom white balance and long exposure, there are no manual controls – instead you'll get a do-everything Smart Auto mode, program mode and 17 scene modes. Out of those seventeen scene modes, there are three fun ones that even enthusiasts will appreciate. Creative Light mode is my favorite – where you can take night portraits with a make-believe digital SLR-like background blur effect; complete with selectable patterns for blurred-out light sources behind. The other two are Color Accent and Color Swap modes, which have been around for about five years now.
A 720p HD movie mode is present on the camera, recording at 30 frames per second with mono sound. Recording quality is pretty good and should be good enough for most uses (ie recording a play or band, home videos, etc). However, try to use zoom sparingly as only digital zoom is usable; optical zoom is fixed once you begin recording. Performance wise, the SD980 Digital ELPH/IXUS 200 is responsive and quick as with Canon's other cameras. Autofocus is typically fast and accurate under various lighting conditions, but has the tendency to slow down at the telephoto end of the lens. My only quibble here is the sluggish continuous shooting, which is a prevalent issue in the compact camera world where 12 – 14 megapixels are becoming a standard.
Image quality produced by the camera was pretty good in terms of noise and detail. The camera's processing likes to keep noise reduction low whenever possible (a good thing) and doesn't smudge details as much as the competition at higher ISO levels, making even ISO 1600/3200 suitable for generic small 4 x 6 prints (though you surely can't discern fine details like hair). However, you will get issues related to the ambitious zoom range used on this lens, such as barrel distortion, edge softness and prominent color fringing.
All in all, the Canon PowerShot SD980 Digital ELPH/Digital IXUS 200 is a good camera to have. I would recommend it but with reservations because it does make one ponder about value when its sibling, the SD940 Digital ELPH/IXUS 120 is almost the same camera, minus the touchscreen and ultra-wide angle lens, sells for quite a bit less. If you find yourself frequently wanting to capture 'wider' shots, then this is one of the few cameras out there with such a versatile lens.
What's hot:
Very good image quality till ISO 800; higher ISOs can be salvaged for tiny 4 x 6 prints
Snappy camera performance (save for continuous shooting)
Good implementation of new touchscreen UI elements (though see issue below)
New 'hints and tips' feature should prove useful for beginners
Smart Auto and a decent selection of scene modes
720p HD movie mode with sound; HDMI output for your movies
Fancy convenience features: face & blink detection, face self-timer, effective red-eye removal tool
What's not:
Lacks manual controls and a live histogram
More than average color fringing levels; noticeable distortion and edge softness
Only "added" user interface elements support touchscreen operation; traditional menus don't
Sluggish continuous shooting rate
Small mode switch and navigation pad; higher LCD resolution would've been good
3.5 - Design and build quality
3.0 - Bundle (in the box)
4.3 - Lens (Zoom, aperture range, image stabilization)
4.2 - Feature set and controls
3.4 - Ergonomics and ease of use
4.0 - Performance and speed
4.0 - Image quality
7.5 over 10.0 - Overall rating