I've just posted the in-depth review of the Canon PowerShot ELPH 510 HS A.K.A. Canon IXUS 1100 HS A.K.A. Canon IXY 51S. The camera is a small and stylish camera, the thinnest one at the moment to feature a 12X optical zoom lens, along with Full HD movie mode, big touchscreen and high-speed shooting abilities Check out the Canon PowerShot ELPH 510 HS photo gallery to take a look at sample photos taken using the camera.


DPInterface Canon PowerShot ELPH 510 HS AKA IXUS 1100 HS Review
Brad Soo – October 23rd, 2011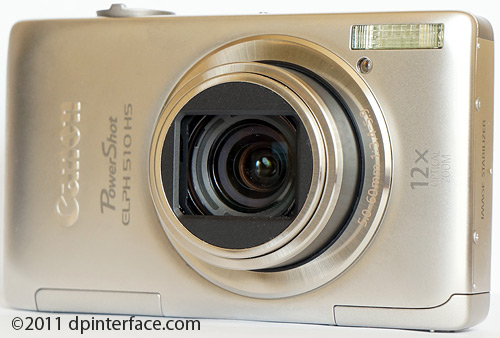 The Canon PowerShot ELPH 510 HS is the latest model in Canon's long running line of premium compact cameras, and what a long way we've come since the first Digital ELPH/IXUS model introduced in year 2000 (2 megapixels, 2X optical zoom, 1.5 inch screen)… The Canon PowerShot ELPH 510 HS packs a whopping 12X optical zoom, the most zoom yet on an ELPH/IXUS model, backlit 12 megapixel CMOS and a big 3.2 inch touchscreen. In terms of features, the camera is mostly point-and-shoot with ISO capabilities up to 3200, Full HD 1080p movie mode and high-speed shooting modes. And oh, a unique new battery which you'll see in a moment.
The Canon PowerShot ELPH 510 HS is the name of the camera in North America, but if you live in Japan, it's also known as the Canon IXY 51S and everywhere else (Europe, Asia, Australia, etc), it's called the Canon IXUS 1100 HS. Confusing huh? For consistency reasons, we'll be calling the camera the ELPH 510 HS in this review, though I'll be injecting the IXUS 1100 HS name now and then to remind you about the camera's other name.
Ready to learn more about Canon's new flagship ELPH/IXUS model? Read our in-depth review!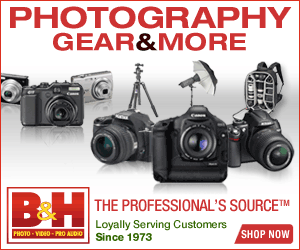 Size and weight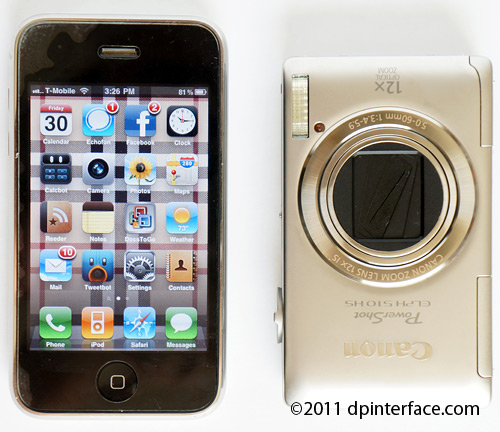 Canon PowerShot ELPH 510/IXUS 1100 compared to the Apple iPhone
Canon touts the PowerShot ELPH 510 as the thinnest camera with a 12X optical zoom lens in the market right now. And yes, that's quite a feat indeed – see and hold the ELPH 510 in person and you'll be amazed at how those guys at Canon managed to cram so much zoom into such a small camera (and without using obscenely long lens barrels too!). By today's standards, the ELPH 510 is small and pocketable, but not tiny like its siblings like the Canon ELPH 100 HS/IXUS 115 HS we looked at recently. If you've used a pre-2006 Digital ELPH model, the ELPH 510 about that size, complete with the boxy design that doesn't make any effort to hide the size.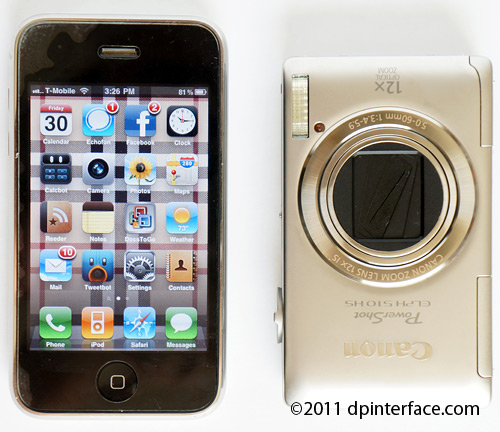 Canon PowerShot ELPH 510/IXUS 1100 compared to the Apple iPhone
The Canon PowerShot ELPH 510 measures 99.0 x 58.9 x 21.9 mm (3.9 x 2.3 x 0.86 inches) and weighs 183 grams (6.5 ounces) empty. As I said, it's nice and pocketable, the camera will fit into most pockets with ease.
In the camera box
The Canon PowerShot ELPH 510 HS gives you a very average bundle:
Canon PowerShot ELPH 510 HS camera
NB-9L lithium-ion rechargeable battery
Battery charger
Wrist strap
USB cable
Camera software CD
As with other Canon cameras, the PowerShot ELPH 510 HS does not come with any bundled or internal memory. Instead, you'll have to get a memory card of your own to use with the camera out of the box. The ELPH 510 supports SD, SDHC and SDXC memory cards and an 8 GB high-speed memory card would be a nice place to start. By the way, a high-speed memory card is important, and especially beneficial when doing high-speed continuous shooting and recording HD video.

Average camera battery on the left and the ELPH 510's Canon NB-9L battery on the right
The Canon PowerShot ELPH 510 uses the all new NB-9L lithium-ion rechargeable battery, presumably thanks to a new internal arrangement within the camera to pack in that 12X optical zoom lens. The battery itself certainly looks bizarre in terms of shape, and is comparable in size and shape to your pinky finger.
As you'd probably expect with a battery this tiny and a touchscreen this large on the camera, both don't bode too well for battery life. The Canon PowerShot ELPH 510/IXUS 1100 is rated to last just 170 shots per charge which is below average compared to the average ultra-compact camera.
Accessories
There aren't many accessories available for the Canon PowerShot ELPH 510: just an AC adapter and external slave flash. Unlike the typical ultra-compact ELPH model, there isn't any optional underwater/waterproof case available for this camera.
Camera Tour
The Canon PowerShot ELPH 510/IXUS 1100 sticks to the rather traditional box-and-circle design that Canon has been using on their ELPH/IXUS cameras since the start. The result is a simple but stylish looking camera, with good build quality to top things off (the ELPH 510 is made mostly of metal). Unlike Canon's ultra-compact ELPH models, the ELPH 510 HS actually has sturdy feeling compartment doors, which is nice.
The camera is operated entirely using the touchscreen, with a grand total of one button on the back of the camera. There's a decent amount of room for you to hold the camera, but you'll eventually get your fingers on that big LCD anyway. The LCD is fairly resistant to fingerprints but I couldn't help compare it to the two Sony touchscreen cameras I had at the same time (which do slightly better in terms of fingerprint resistance than the Canon here). Ergonomics were decent, but the camera's main menu system definitely needs some reworking to better suit touchscreen operation.
The Canon PowerShot ELPH 510 comes in your choice of three colors: silver, black or red. I'm not sure why they call it silver, but the camera I have here looks more gold/beige to me!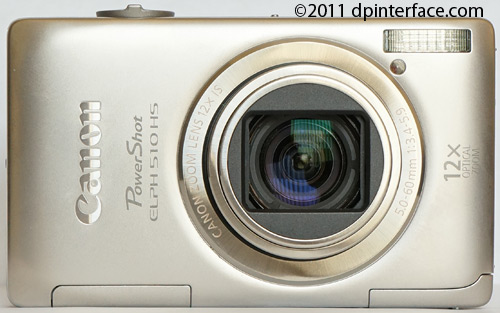 The Canon PowerShot ELPH 510 HS has an all-new 12X optical zoom lens. The lens is equivalent to 28 – 336 mm, which gives you plenty of zoom to reach distant subjects while being wide enough for most general photos. I would normally rant a little about the lack of 'ultra wide' 24 or 25 mm (which bigger travel-zoom cameras have), but since the ELPH 510 is so thin and stuffing a 12X lens into it is a feat of its own, the camera is excused for now. The aperture range of the lens is f3.4 – f5.9 which is fairly dim in brightness, again, another necessary small compromise for the amount of zoom you get.
Just how did Canon stuff in so much optical zoom into a camera like this? Canon hasn't quite dived into technicalities but they did mention something about a "retractable prism lens barrel", paired with relocation of the 'slim battery' to the right of the camera, I'm guessing the camera houses a folded optics system within the body. The camera also has a unique 'rotating' shutter/optics mechanism inside which has its role in size reduction, as you can see in this video I recorded. In your average compact camera, the little iris/eye inside normally retracts with the lens, but in the ELPH 510 HS, it rotates away first before the lens retracts.
To top things off, the camera also has an optical image stabilization system to help reduces chances of taking blurry photos. The ELPH 510 boasts Canon's new Intelligent Image Stabilization technology which automatically picks one of six stabilizer modes (normal, macro, panning, dynamic, powered and tripod mode) based on shooting situation and camera movement.
The front of the camera is fairly simple and there are just two more things to see to the upper right corner: the autofocus assist/self-timer countdown lamp and flash. In terms of power, the flash is fairly weak with a range of 30 cm to 3.1 meters (1 to 10 feet) at wide-angle and just 1.0 to 1.7 m (3 to 6 feet) at telephoto. Canon does offer an external slave flash for the camera, which has a range of 30 feet and automatically fires whenever it detects the camera's on-board flash going off.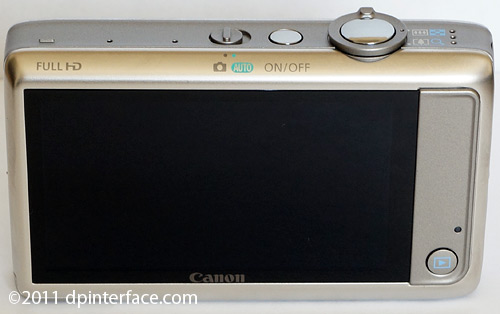 The Canon PowerShot ELPH 510 HS/IXUS 1100 HS has a 3.2 inch wide touchscreen LCD, which is just about the only thing to see on the back of the camera. The display has a resolution of 461,000 dots and it's nice and sharp. The screen brightens up nicely in low-light and has good (but not great) legibility under bright light and outdoors.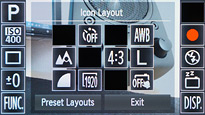 Configurable icons on the ELPH 510 and the Function menu
Unlike the Canon PowerShot SX230 HS I reviewed this week, the ELPH 510 HS puts the blank space of its wide touchscreen to good use with a row of 5 shooting icons on each side. You can even configure 8 of the 10 icon areas with your preferred functions and rearrange them to your liking.
The 3.2 inch touchscreen on Canon ELPH 510/IXUS 1100 versus the iPhone's 3.5 inch display
Before we move on to the Function menu, we'll go over the touch-based functions that can be found on the ELPH 510 HS. You can manually select a focus point anywhere on the image preview and optionally have the camera take a photo immediately after focusing (by toggling the Touch Shutter function). All menu browsing is also done via the touchscreen, as well as image playback and panning around zoomed in pictures (while playback zoom can be done using the touchscreen or the physical zoom controller on the camera). Touch sensitivity is just acceptable, with a little pressure needed for the camera to register your actions… not anywhere near the 'light swipes and flicks' the capacitive screen on your smartphone though.
Miniature mode Creative Filter (screenshot from ELPH 300 review)
The Function menu contains many shooting functions, including metering mode, drive mode (continuous and self-timer) and image effects (My Colors), among others. You also get some sort of control over white balance thanks to the custom white balance option, as well as manually select shutter speeds over 1 second in the Long Shutter scene mode. The camera also has various Creative Filter effects, which exist as just ordinary looking scene modes over here. I've gone through what each effect does in the article I've written.
There are more things to see up here: holes for the camera's stereo microphones, a mode switch that moves you between automatic and program/scene modes, power on/off button, shutter button with a zoom controller wrapped around it and speaker holes at the very right. The ELPH 510 allows for two different zooming speeds, depending on how much pressure you put on the zoom controller.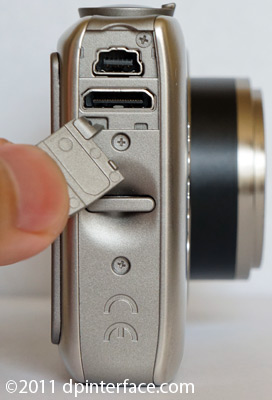 One side of the camera features the wrist strap mount and two ports hidden under a flexible cover (USB 2.0 High-speed and HDMI out). The photo on the left shows the ELPH 510's 12X lens at maximum zoom, where the lens still retains an absurdly compact length of extension.

At the bottom of the ELPH 510 are two compartments, for the battery and memory card respectively, each protected by a sturdy door. There's also the camera's metal tripod mount, which can easily prevent you from swapping batteries when the camera is mounted on a tripod.
Taking pictures (Shooting mode)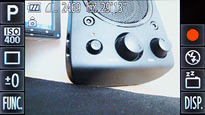 The Canon PowerShot ELPH 510 HS aka IXUS 1100 HS tells you just about everything you need to know about your picture-taking settings, exposure information and battery indicator. The camera also displays a zoom indicator when you use the zoom controller, and also lets you toggle framing gridlines to help compose your photos.
Shooting settings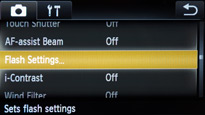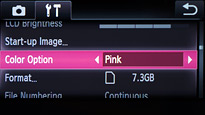 The camera's main menu looks just like your typical Canon menu, except widened to fit the ELPH 510's touchscreen. Over here, you'll have access to things such as flash settings and the camera's autofocus modes and face/blink detection settings. While it's easy to understand the various options in the menu, navigating around is more complex. This 'wide' menu is certainly too short in height for easy 'finger flick and scroll'. It certainly would have helped if Canon shifted things around to make things more touch-friendly.
Macro and scene modes
The Canon PowerShot ELPH 510 HS has pretty good closeup abilities. Even using 'standard' focusing mode, the camera allows you to get as close as 5 cm (2 inches) to your subjects at wide-angle and 1 meter (3 feet) at telephoto. Toggle the camera's macro mode and the minimum focusing distance at wide-angle gets lowered significantly to just 1 cm (0.4 inches!).
The Canon PowerShot ELPH 510 HS aka IXUS 1100 HS has a large pool of scene modes that you can choose from, and they are: portrait, kids and pets, smart shutter, high-speed burst, best image selector, handheld night scene, low light, color accent, color swap, beach, foliage, snow, fireworks, long shutter and movie digest. The camera features Canon's recently introduced Movie Digest mode which lets you record several very brief clips throughout the day before the camera automatically pieces them together into a single long movie at the end of the day.
The camera can take several shots and combine them into a single lower noise (but lower resolution) shot in modes such as Handheld night scene. The camera's smile, wink and face self-timer (you can set the camera to automatically take a picture when it detects smiles/winks/a new face) are located under Smart Shutter mode. Following Canon's other camera models, the ELPH 510 is missing an automatic panorama mode (the kind which automatically captures and stitches a panorama as you pan the camera).
Video Recording
The Canon PowerShot ELPH 510 HS has a very nice Full HD movie mode. The camera can record Full HD 1080p (1920 x 1080) video at 24 FPS with stereo sound, optical image stabilization and continuous autofocus. You can also use optical zoom while recording movies and toggle a wind filter if you want. As usual, you can record movies up to 4 GB or 30 minutes per video file, whichever comes first. At 1080p, the camera will hit the 4 GB limit in around 15 minutes. For smaller file sizes, the camera offers three other resolution settings: 720p Standard HD (1280 x 720), VGA (640 x 480) or QVGA (320 x 240), with frame rates set at 30 FPS.
There are also two high-speed, slow motion movie modes (available under the scene modes section under the name Super Slow Motion movie) which record movies at high frame rates but play them in slow motion at 30 FPS. The high-speed movie modes include extra restrictions, which are fixed focus and zoom, no sound recording and limit of 30 seconds per clip, and are available in your choice of two resolutions:
VGA (640 x 480) at 120 FPS
QVGA (320 x 240) at 240 FPS
The Canon PowerShot ELPH 510 HS produces movies with good quality video and sound, and combined with its large 12X zoom range, will definitely make a good substitute to your average camcorder when you want to carry something that's very pocketable. I've got two sample videos for you over here, both recorded in Full HD and with some optical zoom action:
Performance
All performance testing of the Canon PowerShot ELPH 510 HS/IXUS 1100 HS was performed using a high-speed 16 GB SanDisk Extreme SDHC card.
The Canon PowerShot ELPH 510 HS has a fairly sluggish startup time, which is quite unlike other Canon cameras that I've tested, thanks to the unique lens setup I mentioned above. Not only does the lens move slower when extending (apparently there's a lot of glass to move in there), it also has to 'rotate' the shutter setup into place each time too. Startup time clocked in at a little over 2 seconds.
Thankfully the camera's autofocus performance was better (but by no means record-breaking). The camera records times range from 0.2 to 0.5 seconds at wide-angle with good light, about a split second longer at telephoto; and around 0.4 to 1.2 seconds in low-light. Focusing accuracy in low-light was good thanks to the autofocus assist light.
Shot-to-shot speed (JPEG) - 1 shot per 2.2 seconds (decent)
Flash recharge time using a fully charged battery - 4 seconds on average
The Canon PowerShot ELPH 510 HS sports a decent burst mode that allows you to shoot until the memory card fills up. At full resolution of 12 megapixels, the camera's shooting rate is around 2 frames per second, which is decent, and in the camera's high-speed burst mode, frame rate goes up to 6.5 FPS while resolution drops to 3 megapixels.
The ELPH 510 HS also adds a 'continuous autofocus' burst mode, where the camera refocuses between every shot to keep things sharp and in focus. Using continuous AF burst, the camera takes 1 photo every 1.5 seconds (0.6 FPS) at full-resolution. Continuous live view burst keeps the camera's image live view on between shots and shoots at the same 0.6 FPS as in continuous AF burst mode.
Save for its startup speed which is a tad below average, the Canon PowerShot ELPH 510 HS is a responsive camera with good shooting speed and decent autofocus performance. That said, the ELPH 510 HS isn't blazing fast and there are faster cameras out there (either from Canon or not).
Image Quality

ISO 100 (f3.4, 1/40 sec)
ISO 200 (f3.4, 1/60 sec)
ISO 400 (f3.4, 1/125 sec)
ISO 800 (f3.4, 1/320 sec)

ISO 1600 (f3.4, 1/640 sec)
ISO 3200 (f3.4, 1/1250 sec)
The Canon PowerShot ELPH 510 HS does well in terms of noise and detail. The camera produces sharp and clear photos with little to no noise from ISO 100 to 400. At ISO 800, we start to see some graininess and slight detail loss but image quality still remains very usable. ISO 1600 photos get softer and less detailed, but image quality here is not too shabby for downsizing and small prints/viewing. ISO 3200 amplifies the detail loss and softness, though you can still clean up photos using noise reduction software and make an acceptable small print/computer wallpaper later.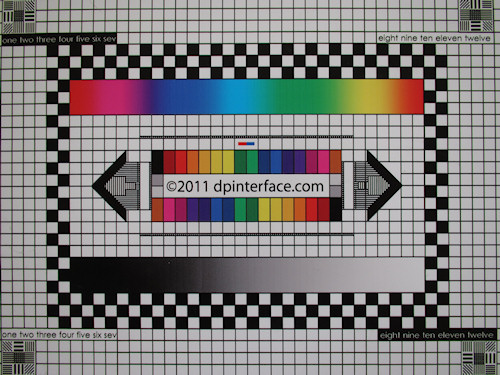 The Canon PowerShot ELPH 510 does an impressive job in terms of distortion and edge sharpness. Distortion levels are extremely low and edges of photos have above average sharpness (compared to other compact cameras); very impressive considering the camera's compact physical lens size with ambitious zoom range. One area where the camera did not fare so well is in the color fringing (chromatic aberration) department, where the camera exhibited color fringing that was slightly worse than other compacts along with a bizarre 'green fringing' characteristic (probably due to the lens) that's obvious in high-contrast scenes.
The Canon PowerShot ELPH 510 AKA IXUS 1100 HS produces very good image quality that is above average. Photos are detailed, sharp and have fairly low noise levels throughout ISO 100 to 800. Edge sharpness was better than most cameras, despite the ELPH 510's compact lens size. The only area where you'd want to watch out is the color fringing department (which thankfully you can skirt around if you have the time to run photos through something like Photoshop to cut down on fringing).
Photo gallery
Go to the Canon PowerShot ELPH 510 HS/IXUS 1100 HS photo gallery to view sample photos taken using the camera.
Playback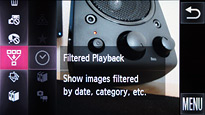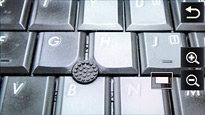 The Canon PowerShot ELPH 510 HS has the standard-issue Canon playback mode, which lacks any sort of touch-oriented features. Still, you get a fairly capable playback mode with playback zoom up to 10X, fancy slideshow mode, image editing (redeye removal, iContrast brightness and contrast improvement, tweaking the look of photos using My Colors and basic video trimming) along with image rotation, resizing, cropping and protection.
The camera includes the Smart Shuffle (suggests to you 4 random pictures as you browse) and Movie Digest (combines all the clips from the day that were taken in the identically-named shooting mode and plays them back as a single movie) features we saw in previous cameras like the Canon PowerShot SX230 HS and Canon ELPH 100 HS/IXUS 115 HS.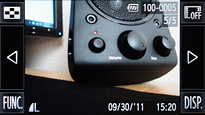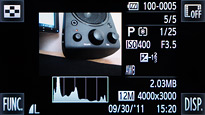 The Canon PowerShot ELPH 510 HS tells you the usual things about your photos; shooting information, exposure details and a brightness histogram.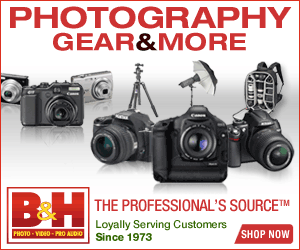 Conclusion
The Canon PowerShot ELPH 510 HS aka IXUS 1100 HS is a compact 12 megapixel camera with lots of optical zoom, much more than your typical pocket camera. The camera has a pretty rare optics system that allows it to pack 12X optical zoom, complete with image stabilization, in a lens that doesn't extend far from the camera. Unfortunately, that also means a relatively sluggish startup time from all that lens fanciness.
The ELPH 510 gives you a large 3.2 inch touchscreen to work with, along with a row of customizable icons. The touchscreen itself has good legibility but better sensitivity to light touches would be nice… and a touch-optimized menu system is definitely a must since the ELPH 510's current menus shared with other PowerShot models feel like a quick and easy "slap it into the camera and call it a day": not too intuitive for touch.
The camera is basically point-and-shoot with no manual controls, save for custom white balance and metering mode, making it easy and straightforward to use but not too exciting for those looking for a little more control over exposure. The camera also lacks certain features like any 'sweep/pan' panorama and high-speed continuous mode (at full 12 megapixels) that have gone mainstream in today's camera market.
Speaking of continuous shooting, the ELPH 510 HS has a fairly good unlimited continuous shooting mode, provided you don't mind the frame rates which aren't slow, but not blazing fast either. In terms of performance, the ELPH 510 HS is a good performer but it definitely does feel a tad slower than what one would normally expect from a Canon compact. Battery life is also sub-par thanks to the skinny battery and big touchscreen. However, kudos to the camera in terms of photo output: the Canon PowerShot ELPH 510 HS does excel at image quality, with just one fairly prominent flaw (color fringing) which can be corrected in your computer if you wish to do so.
I would recommend the Canon PowerShot ELPH 510 HS, though not wholeheartedly. You won't find a camera this size with this much optical zoom at the moment and image quality is certainly very good; and the ELPH also has a fairly decent point-and-shoot feature set. But you do have to make sacrifices in terms of battery life, get used to using the touchscreen (and its not so touch-friendly menus) and startup speed.
What's hot:
Very good image quality
Compact with plenty of optical zoom; optical image stabilization available
Big 3.2 inch touchscreen; decent legibility and touch responsiveness
Straightforward operation with auto and many scene modes
Customizable set of touch icons that also can be arranged to your liking
Unlimited continuous shooting, decent (but not class leading or super speedy) performance
Full HD 1080p movie mode with optical zoom, continuous focusing and stereo sound
What's not:
Battery life a tad below average
Camera needs reworked menus optimized for touch; Capacitive (more responsive) touchscreen and some 'touch' playback editing tools would be nice
No manual controls and no automatic panorama mode
Color fringing level is slightly higher than average
Slow startup time and no high-speed burst at full resolution