I've got my in-depth review of the Nikon D5100 digital SLR camera ready. The camera is a 16 megapixel model with a rotating display, full manual controls and expandability as well as a Full HD movie mode. Remember to visit the Nikon D5100 photo gallery to view full-sized sample photos taken using the camera.

The Nikon D5100 is a digital SLR camera that sits between Nikon's entry-level D3100 and lower mid-range D7000 models. The camera sports a 16 megapixel sensor, ISO up to 25,600, full manual controls, 4 FPS continuous shooting mode, Full HD movie mode and Nikon's latest Expeed 2 imaging processor. The D5100 also packs other new features not found in the preceding camera such as photo effects, HDR mode and an input for stereo external microphones.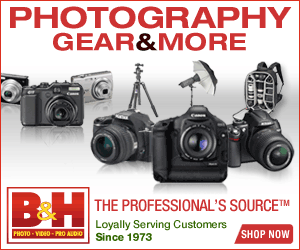 In the camera box
The Nikon D5100 comes with a fairly standard bundle with nothing out of the ordinary or fancy.
Nikon D5100 camera
EN-EL14 lithium-ion rechargeable battery
Battery charger
Body cap
USB and A/V cables
Shoulder strap and eyepiece cover
Camera software CD (Nikon ViewNX 2) and printed user's manual
Nikkor AF-S 18 – 55 mm f3.5 – f5.6 VR lens (with kit lens combo)
As you might expect from a digital SLR camera, the Nikon D5100 doesn't come with any memory card so you'll have to get one right off the bat unless you have one already. The Nikon D5100 takes SD, SDHC and SDXC cards, and a high-speed card is a must to get the best performance out of the camera. I would normally recommend an 8 GB high-speed SDHC but I would suggest going for a 16 GB high speed card if you plan on taking a lot of photos and using the camera's movie mode frequently.
The Nikon D5100 uses the familiar EN-EL14 lithium-ion battery, shared by the two other consumer models in Nikon's current digital SLR lineup, the D3100 and D7000. The battery powers the D5100 to an above average 660 shots per charge (which is 50% more than the 440 shots per charge of the direct competitor from Canon, the EOS 600D/Rebel T3i).
Lenses and accessories
The Nikon D5100 is compatible with all of Nikon's F-mount lenses, but the camera can autofocus only with lenses with the AF-S designation, so be sure to watch out for those when shopping for lenses (fortunately Nikon AF-S type lenses have become pretty much mainstream in the past few years). The Nikon D5100's APS-C sized sensor gives all lenses a 1.5X crop factor, which means that 18-55 mm Nikkor kit lens is equivalent to a less-wide 27-83 mm.
The Nikon D5100 is compatible with many accessories, including wired and wireless remote controls, wireless flash controllers (the Nikon Wireless Speedlight Commander), external stereo microphone, GPS attachment, external flashes, viewfinder attachments, AC adapter and various camera cases. Nikon does not appear to have an official battery grip accessory for the D5100 but there sure are 3rd party options.
The Nikon D5100 has a standard-sized hotshoe, so you can use both Nikon's official flashes and third party flashes (the latter are not likely to sync automatically with the camera, so you might have to set them up manually). Current Nikon flash models include the SB-400, SB-700 and SB910 speedlights (the latter two support master control of other flashes).
Camera Tour
The Nikon D5100 is relatively compact for a digital SLR. Despite being physically smaller at 127.0 x 96.5 x 78.7 mm (5.0 x 3.8 x 3.1 inches) than its Canon counterpart, the EOS Rebel T3i/EOS 600D (which measures 133.1 x 99.5 x 79.7 mm or 5.2 x 3.9 x 3.1 inches), the Nikon D5100 feels just as ergonomic. Like other cameras of its class from Canon and Sony, the Nikon D5100 is made mostly of plastic but is put together well. The camera isn't very hefty, weighing just 560 grams (under 20 ounces) empty.
The camera has had its controls relocated to the right side since the D5100's display hinge is now mounted on the left side (making it slightly more versatile than the D5000's bottom mounted hinged display). Other than that, the camera's controls and user interface are intuitive with a very low learning curve. One small issue with the D5100 and its operation is that the camera relies heavily on menus; some buttons (like the navigation pad) being assigned directly to shooting functions would be nice.
The Nikon D5100 looks like any other typical digital SLR camera from the front. There's that Nikkor lens mount where you'll attach lenses; since the D5100 lacks a built-in lens motor (just like the D3100 and D5000), autofocus won't work with older/ancient lenses without the AF-S name in it. Behind that mirror is the D5100's 16 megapixel CMOS image sensor and the camera has several features in place to remove or prevent dust from being on the sensor (an airflow system that uses mini gusts of wind by the mirror to blow dust into a chamber away from the CMOS sensor, a low-pass filter that vibrates dust away during startup and software based dust mapping to digitally remove dust particles).
Right next to the lens mount is the button to release the lens and to the other side is the camera's autofocus assist light which is used to provide illumination to help focusing in low-light. The autofocus assist light also doubles as a redeye reduction lamp and self-timer countdown light. Nearby is an infrared receiver for the optional wireless remote control.
Above the lens mount is the camera's built-in flash. The flash on the D5100 is average in terms of power, with a guide number of 12 meters at ISO 100. If you want more flash power, you can buy an external flash to use with the camera's hotshoe. Unlike Nikon's more expensive models, the D5100 does not support wireless flash control by itself; you'll have to get the optional wireless flash commander or a flash that supports master control (either the SB-700 or SB-910; though older models like the SB-900 will work) for that to happen.
You can see the camera's mono microphone located just above the D5100 logo; you can attach an optional stereo microphone to the camera via the port which we'll take a look at in a bit.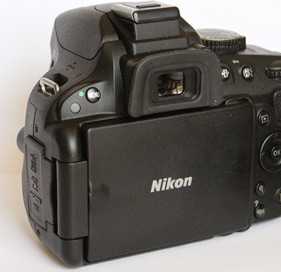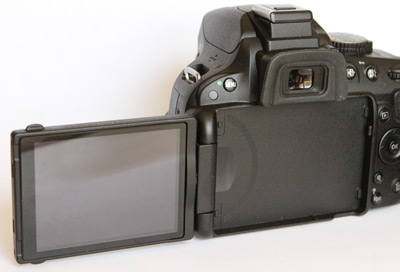 The Nikon D5100 has a 3 inch display that is hinge mounted on the left side. You can flip out and rotate the screen for shooting at odd angles. It can also be faced inwards and 'closed' to protect the LCD when not in use. The display has a high resolution of 921,000 dots, making it sharp and fluid.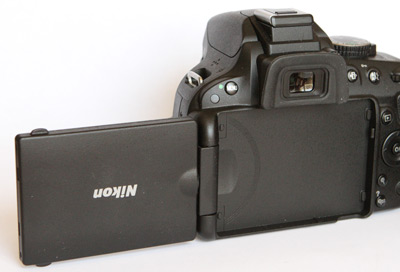 The display can also be rotated forwards to face you for self-portrait photos. Legibility in low-light and under bright light is both very good.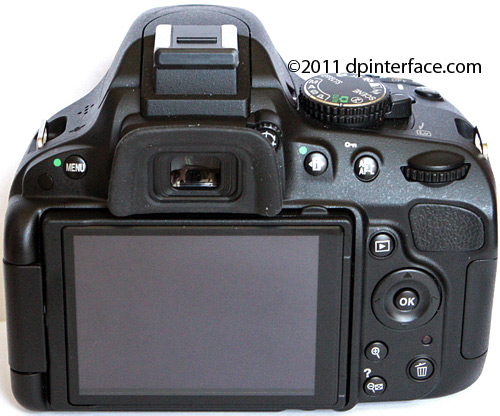 The next thing to see if the optical viewfinder of the Nikon D5100 which has 95% frame coverage and 0.78X magnification, making it on the slightly small side. There is a dioptric correction knob to the upper right to adjust the viewfinder image for glasses wearers. In addition to displaying traditional viewfinder info, the D5100 displays a very nice relative distance scale using the exposure compensation bar in manual focus; the arrows to the left/right show just how much nearer/further you need to turn that manual focus ring to ensure proper subject focus.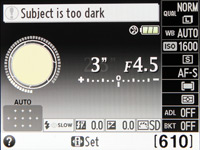 Info screen on the Nikon D5100
To the left of the viewfinder is the MENU button and to the right is the Info select button, which is used to bring up the screen above; in the menu above, you can adjust:
Image quality and resolution (16 MP, 8 MP, 4 MP; Basic, normal, fine compression, RAW mode)
White balance (Auto
ISO expansion up to ISO 12800
Release mode
Focus mode (Single AF, continuous/full-time AF, manual focus, auto)
Autofocus area (Viewfinder: Single or auto area; Live view: Face detection, wide area, normal area, subject tracking)
Metering mode (Matrix, center-weighted, spot)
Active D-Lighting (Off, auto, low, normal, high, extra high)
Bracketing
Picture Control – see below
Exposure compensation (+/-5 EV)
Flash exposure compensation (-3 to +1 EV)
Flash setting
The camera has three autofocus modes and manual focus. AF-S is your standard issue 'press and lock focus once', AF-C (known as AF-F in live view) focuses continuously all the time to track your subject while AF-A lets the camera automatically choose between the two, depending on shooting situation. In standard viewfinder mode, the camera lets you select one of 11 AF points (or let the camera do it for you) but in live view, you can manually select the focus point anywhere around the scene. Face detection up to 35 faces is also possible in live view mode.
Moving further right, we have the focus/exposure lock button (doubles as a button for image protection) and the single command dial on the camera (switching back and forth adjusting shutter speed/aperture/exposure compensation is done using the button at the top of the D5100). The other controls further down include the camera's 5 way navigation pad (used for navigating menus, selecting an autofocus point and photo playback) and four buttons with playback related functions: playback, zoom in/out (also works with live view magnification) and delete photo. You can also bring up help tooltips and shooting tips by pressing the 'zoom out' button in menus.
The Nikon D5100 has several preset white balance settings (cloudy, sunlight, flash, fluorescent, incandescent, shade) as well as a custom white balance setting. There is also a white balance tuning option where you can move color balance on the blue/amber and magenta/green axes.
The Nikon D5100 has several Picture Control settings that you can change to tweak how photos come out. There's Standard, landscape, vivid, neutral, portrait, monochrome as well as 9 custom spots (you can also tweak the 6 preset options). For each of these options, you can adjust sharpness, contrast and brightness, saturation and hue; the latter two are replaced by filter effects and tone color in monochrome mode.
The Nikon D5100 has an Active D-Lighting setting that improves contrast by brightening dark areas and preventing bright areas from becoming all washed-out and white. You can switch between low, normal, high, extra high or auto, and also turn the feature off. Two reasons you would turn it off is that it slows down shooting slightly and you may not always like the 'look' of photos. If you ever have second thoughts, you can also do the same thing in computer processing software like Photoshop.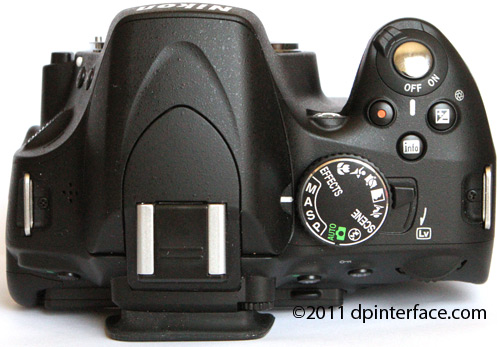 There are a couple of things to see at the top of the Nikon D5100; towards the left side is the speaker, followed by the flash hump and hotshoe. You can attach any external flash that fits, but only Nikon branded flashes will sync automatically and seamlessly with the camera. The D5100 has a maximum flash sync speed of 1/200 sec. Unlike the competing Canon Rebel T3i/600D, the Nikon D5100 does not support wireless flash control direct from the camera (though professionals with a lot of existing equipment may not really see this feature as a dealbreaker).
Continuing on further right, there is a mode dial which sports the camera's main shooting modes: Auto, program, shutter and aperture priority and full manual mode. The available aperture range depends on the lens used on the camera (for the 18-55 mm kit lens, it's f3.5/f5.6 to f22/f36), while the shutter speed range spreads from 1/4000 to 30 seconds, with a bulb mode that will keep the shutter open for as long as you like (either holding down the shutter button or via the optional remote control).
The D5100 has many scene modes available too, with close-up, sports, child, landscape, and portrait modes available for direct access on the mode dial while the other modes are tucked in the Scene position. There is also a new Effects mode which allows you to select between several in-camera effects: night vision, color sketch, miniature effect, selective color, silhouette, high and low key.
Right beside the mode dial is a lever used to toggle live view, as well as three buttons which are the movie start/stop, exposure compensation and info buttons. At the very end of the grip is a shutter button with power on/off switch wrapped around it.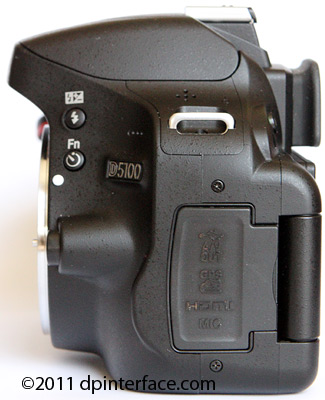 Over here are two more buttons: one for flash release and setting flash exposure compensation after the flash is up, along with a self-timer button which can be customized and assigned to another function. You can also get a better view of the mono microphone above the D5100 logo.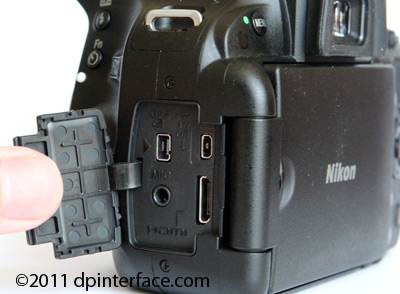 The Nikon D5100 has its 4 ports placed behind a big rubber cover, shown above. The ports include an accessory port for optional extras (such as the external GPS and wired remote control), microphone input, combo USB + A/V output and HDMI.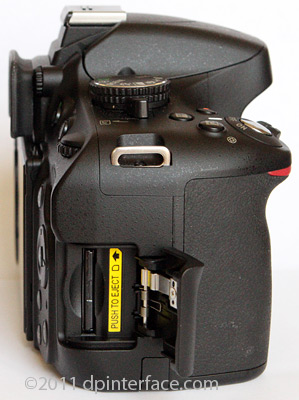 The other side of the Nikon D5100 sports a SD/SDHC/SDXC memory card slot with a compartment door of decent quality.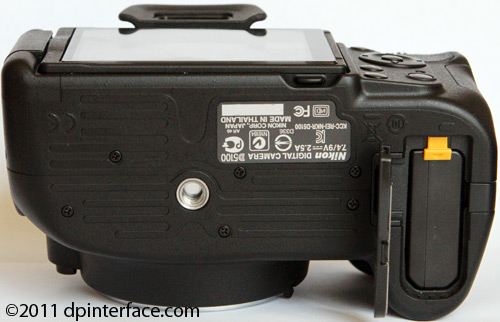 The bottom of the camera sports a tripod mount that is in-line with the lens as well as a battery compartment.
Shooting settings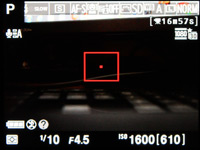 We've already talked about the D5100 and its optical viewfinder, so let's move on to the live view display. Nothing much has changed on the D5100's live preview screen from other existing Nikon digital SLR cameras: the live view image reflects exposure and white balance you will get when the picture is taken, it covers 100% of the frame, there's information about both camera settings and movie settings and frame zooming is available to help in manual focusing. One thing that the D5100 does lack is a live histogram.
Camera settings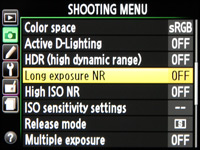 Shooting menus on the D5100
The Nikon D5100 has its settings distributed into several tabs. The shooting tab contains some items we've already seen on the camera's info display such as white balance and Picture Control. You can also toggle settings for long exposure and high ISO noise reduction (and turn them off if you want to), adjust sensitivity and shutter speed limits for Auto ISO mode, movie settings and configure the camera for interval shooting.
The Nikon D5100 has two kinds of image overlap modes. The first of which is HDR mode, which we all know about, that combines one dark and one bright image to create a more evenly exposed image with better contrast. The other mode is Multiple exposure mode which just outright combines two or three (you can choose) images on top of each other.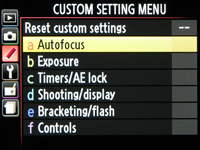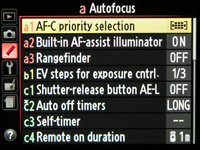 Custom Setting menu on the D5100
The next tab houses Custom Settings which has things for setting exposure steps, camera beeping, exposure delay, date stamps, configuring the self-timer/Function button, AE/AF lock button and dial directions, whether ISO is shown in the viewfinder and more.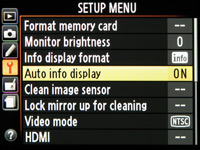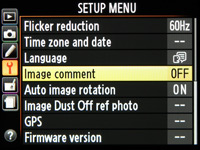 Setup area
The last tab in the menu of the Nikon D5100 which contains stuff related to taking pictures is the setup menu which has settings for language, date and time, TV and HDMI output, sensor cleaning and display brightness, as well as options for accessories such as GPS and Eye-Fi memory cards.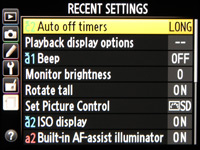 Recent settings
The Nikon D5100 has a handy Recent Settings section which lists down a bunch of items you recently accessed. This is convenient but there's still room for improvement: Nikon could have made this list configurable so that you can customize what settings to leave 'pinned' on the list.
Video Recording
The Nikon D5100 has a Full HD movie mode, which records mono sound with videos by default but you can attach an external microphone to the camera to record stereo sound. The camera tops out at 1920 x 1080 resolution at 30 FPS, with a 18 Mbps recording bit rate. Here is a full list of available movie resolution sizes and frame rates on the D5100:
Setting
Video resolution
Frame rates available
Full HD 1080p
1920 x 1080
24 or 30 FPS
Standard HD 720p
1280 x 720
24 or 30 FPS
VGA
640 x 480
25 or 30 FPS
The camera also allows you to choose between high or normal recording quality (bit rate) and records using the H.264 MPEG4 codec. Unlike other interchangeable lens camera models, the D5100 is rather limited in terms of options. You can use optical zoom and optical image stabilization (with a VR lens) and choose between fixed or continuous autofocus. You can also adjust exposure compensation but you cannot directly adjust exposure (ie both shutter speed and aperture) while recording. There is no wind filter option available and you cannot take pictures while recording movies.
I should also note that the camera's sluggish autofocus abilities in live view mode, which means that you'll see some focus hunting in your movies if you want the camera to continuously autofocus. Movies are limited to 4 GB or 20 minutes per movie clip, whichever comes first.
Performance
Performance testing of the Nikon D5100 was done using a high-speed 45 MB/s Sandisk Extreme Pro SDHC card.
Startup
0.2 seconds
Instant
Autofocus (18-55 mm lens):
Good light
0.1 to 0.3 seconds
Fast
Low light
0.4 to 0.9 second
Decently fast
Live view ON
1 to 3 seconds
Slow
Shot-to-shot speed:
0.4 second
Fast
The Nikon D5100 performs excellently in terms of speed, as you would expect from a digital SLR, with speeds and numbers that clock in almost identically to other digital SLR models. Want faster autofocus? That's up to the lens; modern high-end lenses with larger apertures tend to focus faster with the camera. The focusing performance of the 18-55 mm kit lens is great if this is your first time using a digital SLR, you'll definitely notice it to be a nice step up from compact fixed lens cameras. However compared to pricier and better lenses, the 18-55 mm sits towards the slower end in terms of focusing speed.
The Nikon D5100 may perform quickly with its viewfinder but one area where it takes an arrow to the knee is in terms of live view focusing. Autofocus in live view mode on digital SLR cameras has been inherently slow, though we may see this change in the future with the next generation of SLR cameras, and the D5100 is no different. Expect the camera to lock focus between 1 to 3 seconds in good to decent lighting, while typically failing to lock focus at all in low-light in live view mode.
The Nikon D5100 has a very capable continuous shooting mode. The camera can shoot at a steady 4 frames per second up to 9 RAW + JPEG, 12 RAW or 30 JPEG photos in a row; and can continue beyond that at a slowed down shooting speed.
Image Quality

ISO 100

ISO 200

ISO 400

ISO 800
ISO 1600

ISO 3200

ISO 6400
ISO 12800

ISO 25600
The Nikon D5100 shows good image quality traits with unnoticeable noise and a decent level of sharpness from ISO 100 to ISO 1600. You only start seeing noise at ISO 3200, and even then it's just a touch of graininess and photos are extremely usable for large printing and display.
Move up a notch to ISO 6400 and image quality is still pretty good; there is some visible noise but the Nikon D5100 manages to retain plenty of detail and sharpness. With a little processing on your computer, you're good to go with large prints and display. As you hit ISO 12800, photos become quite a bit noisier, restricting you to medium sized prints. I wouldn't touch ISO 25600 unless you absolutely have no choice and are willing to do some work on photos after that in Photoshop.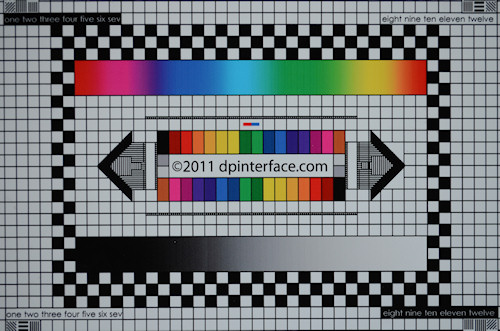 The amount of lens distortion and other characteristics depend vastly on the lens being used on the camera. In the case of the basic 18-55 mm lens, there's some noticeable lens distortion along with some slight edge softness. Sharpness of photos in general was also not optimal; sufficient for those just starting out with a digital SLR but quickly classifiable on the 'soft' side once you compare photos taken using better (and yes, more expensive) lenses. There was also some chromatic aberration (color fringing) to be seen in high contrast photos, but it's nothing too awful and not a big deal.
The Nikon D5100 is definitely a very good performer in terms of image quality with sharp, nicely saturated and clean photos up till ISO 3200, and usable all the way up to ISO 12800 (or even ISO 25600 sometimes). Looking at photos side-by-side with the Canon Rebel T3i/EOS 600D, the Nikon D5100 has a marginal advantage in the ISO department thanks to its slightly lower pixel count (16 versus 18 megapixels). The main weakness is no fault of the D5100, but lies in the choice of lens used with the camera. Simply put, you pay for what you get; with the basic 18-55mm lens, results are just passable but start using a higher end lens and sharpness is impressive and lens flaws are typically far more suppressed/eliminated with better glass.
Photo gallery
See the Nikon D5100 photo gallery for full-sized photos taken using the camera.
Playback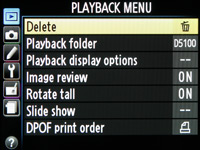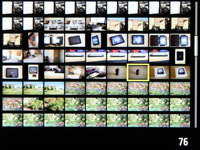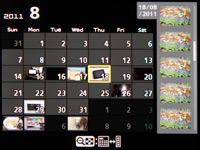 The Nikon D5100 has an extremely elaborate playback mode with plenty of editing features and playback tools. It goes without saying that the camera has image protection, print marking, slideshow mode, thumbnail viewing (4 to 72 thumbnails) and calendar viewing mode.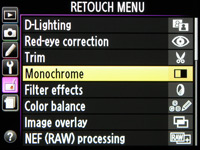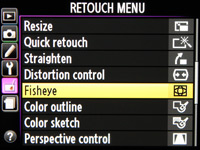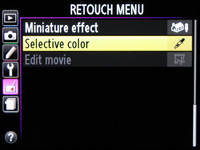 The camera also has plenty of editing tools in the Retouch tab of the menu system, including:
D-Lighting: Brighten photos
Software redeye removal
Cropping
Monochrome mode (You get to choose between black and white, sepia or cyanotype tones)
Filter effects (skylight, warm, RGB, cross screen, soft image)
Color balance tweaking
Image overlay: Combine two RAW images into a single photo
RAW processing: Edit and convert RAW images right in the camera (options include white balance, exposure compensation, Picture Control, ISO noise reduction and D-Lighting)
Resize
Quick Retouch: Boosts brightness and improves contrast/saturation of photos
Straighten image
Distortion control: Reduces lens distortion
Fisheye effect
Color outline and color sketch modes
Perspective adjustment
Miniature effect
Selective color: Pick a color to keep and other colors will be turned black and white
Movie editing: Cutting video at the beginning/end and frame grabbing
That's a very comprehensive bunch of playback editing tools. The Nikon D5100 also displays images side-by-side so you can see the 'before' and 'after' look of photos.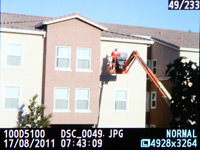 The Nikon D5100 displays literally everything about your photos with a comprehensive listing of shooting and exposure information as well as camera settings, a brightness histogram and RGB histograms.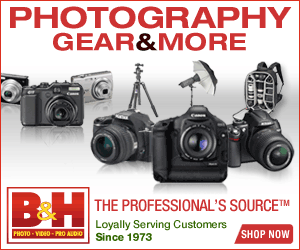 Conclusion
The Nikon D5100 is a digital SLR that offers plenty to satisfy the needs of buyers looking to get a big sensor interchangeable lens camera for a relatively affordable price (under a thousand bucks/Euros). The D5100 has a 16 megapixel APS-C sized CMOS sensor, 3 inch swivel LCD (that's both sharp and great in viewability) and is compatible with Nikon's full range of modern AF-S type F-mount lenses. The camera can also take older non-AF-S lenses but you'll have to make do without autofocus in those cases.
The Nikon D5100 has a lot going for it; it's easily one of the smaller (if not the smallest) digital SLR currently in the market yet has very pleasant ergonomics, is easy to use and even sports help tooltips for most of its functions. The camera has a full array of manual controls, expandability and compatibility with various accessories; yet it also has automatic shooting and scene modes for casual users who want great image quality from a 'big camera'.
The D5100 has excellent performance with very quick shooting speeds, responsive operation and a continuous shooting mode that can take a good number of images in a row before slowing down. The only place where the camera could have done better is autofocus speed and accuracy in live view mode.
The Nikon D5100's strengths lie in taking still pictures and operating the photo side of things. While it can record Full HD 1080p movies and support external microphones, the lack of manual exposure control, wind filter option and slow continuous autofocus make the D5100 average at most in the movie mode department.
Image quality wise, the Nikon D5100 produces photos with superb characteristics: low noise, good saturation, very detailed and very usable all the way up to ISO 12800. Cheaper lenses like the 18-55 mm that comes with the camera do make images look on the soft side, though if you want to see image quality at its peak, that is easily remedied with the purchase of better (but pricier) lenses.
There's a lot to love about the Nikon D5100, and very, very little to complain about; the downsides are very minor and easily ignored if you don't use movie mode/live view a lot. I would highly recommend the Nikon D5100: it's a superb camera for both those starting out in photography and existing Nikon users looking for a backup/second camera. And here's a tip, if you want the best sharpness out of the camera, you can save 100 bucks by buying the Nikon D5100 body only and shopping for a better lens yourself.
What's hot:
Excellent image quality with low noise and good image traits (sharpness could be improved using good lenses)
Small size for an SLR with good ergonomics
Flexible rotating 3 inch high resolution LCD with very good legibility
Great (Above average) battery life
Excellent performance, great burst mode for an entry-level SLR
Full manual controls, RAW image support, customizable Function button
Plenty of scene modes, Auto mode for beginners and help tooltips
Full HD movie mode with external microphone support (though see downsides below)
Extensive range of playback tools and effects, including RAW image processing
What's not:
Kit lenses produce photos on the soft side (Solution: get better lenses if you want better sharpness)
Limited movie mode functions: No manual exposure control, no wind filter, slow AF
Poor autofocus performance in live view mode
Camera is a tad too reliant on menus (needs more function-assigned buttons); no built-in wireless flash control