I've just posted my review of the Olympus Stylus Tough 8010 (also known as the Mju Tough 8010). In terms of durability, it's essentially everything-proofed with its main photographic features being comprised of a 5X zoom lens, 2.7 inch display, Tap Control and a 720p HD movie mode. Remember to check out the Olympus Stylus Tough 8010 photo gallery for full-sized sample photos from the camera.
DPInterface Olympus Stylus Tough 8010 aka Mju Tough 8010 Review
Rowen Hen – July 18th, 2011
Olympus, being the pioneer of truly rugged digital cameras, has had quite a number of rugged camera models over the years. The Stylus Tough 8010 has a 14 megapixel CCD, a 5X optical zoom lens, 720p HD movie mode, fancy playback mode and Tap Control. Although the camera is a year 2010 model, what makes it still relevant is its lowered price tag along with build quality that continues to make it one of the most rugged cameras you can find in the market at the moment.
Is the Olympus Stylus Tough 8010 a good buy? Find out now.
Box contents
Like Olympus has done to their other models, they've included a fairly 'green' bundle with the Stylus Tough 8010, putting only the cables and essentials into the box while eliminating physical copies of the user's manual and camera software by stuffing digital-versions into the camera's large internal memory bank (which we'll get to in a second):
LI-50B rechargeable lithium-ion battery
AC adapter charger
Wrist strap
USB and A/V cables
The Olympus Stylus Tough 8010 comes with a whopping 2 GB of internal memory, which is way more than you'll find in other cameras. Olympus mentions that 400 MB of the camera's internal memory is taken up by the built-in guide/manual and included quirkily-named IB imaging software (which you'll have to load onto your computer from the camera) so things work out to give you 1.6 GB of free space for photos and video right out of the box.
Of course, if you wanna expand things a bit (or simply have a preference for memory card readers over setting up a camera-computer connection), the Stylus Tough 8010 also supports SD/SDHC cards. Getting a 4 GB memory card, of any speed, would be a nice start. Olympus doesn't mention anything about SDXC compatibility.
The Olympus Stylus Tough 8010 uses the familiar LI-50B lithium-ion rechargeable battery. The camera gets a battery life rating of 200 shots per charge, which is on the low side. Compared to other rugged digital cameras in the market, that's below average. The Stylus Tough 8010 supports charging via USB, so you can connect the camera to your computer or external battery and charge it from there. Sadly, Olympus doesn't include a standalone battery charger with the camera, so you can't really use the Olympus Stylus Tough 8010 away from the power socket unless you buy either an additional battery or dedicated battery charger (which Olympus will gladly sell to you for extra).
Accessories
The Olympus Stylus 8010 shares the same accessories range with its cheaper sibling, the Stylus Tough 6020. There's a standalone battery charger which comes in handy if you want to leave and charge a second battery at home while you go out with the camera. There's also an underwater case that lets you take the camera as deep as 40 m (130 feet) underwater, underwater flash and light, a float strap and carabiner strap for keeping the camera with you under water.
Camera Tour
The Olympus Stylus Tough 8010 shares the same industrial design as its predecessors. The camera has excellent build quality, which is exactly what you want from a camera that's supposed to withstand a lot of abuse. The camera is waterproof to 10 meters (33 feet), shockproof to 2.0 meters (6.6 feet), freezeproof to -10 Celcius (14 degrees), dustproof and crushproof to withstand 100 kg (220 lbs) of force.
The Olympus Stylus Tough 8010 has had its control layout reworked so the camera suffers from less clutter than its predecessor. So, you can now rest your right thumb on the back of the camera without accidentally bumping into anything. However, ergonomics are not yet top notch as the buttons are still on the small side and difficult to press. The Olympus Stylus Tough 8010 comes in your choice of silver or black or blue.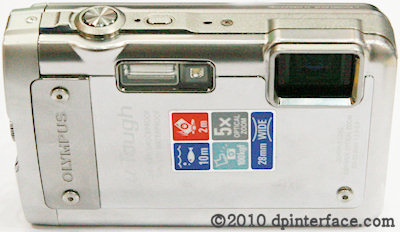 The Olympus Stylus Tough 8010 sports a 5X optical zoom lens, which is an improvement from the 3.6X lens on previous cameras. The lens covers a range of 28 – 140 mm in 35 mm terms and never extends out of the camera, preventing the elements from getting in. It also has a built-in protective barrier which covers the lens when the camera is off. The lens has an aperture range of f3.5 – f5.1 and there's sensor-shift image stabilization to reduce blur caused by camera shake and/or slow shutter speeds. Sadly, as with all cameras with sensor-shift image stabilization, you cannot use stabilization while recording a movie.
To the left of the camera's lens is the versatile LED lamp and flash. The LED light is useful when it comes to taking close-up pictures and shooting in low-light; it's also usable in movie mode. The flash has a decent range of 20 cm to 4.0 m at wide-angle and 50 cm to 2.7 m at telephoto (ISO 800).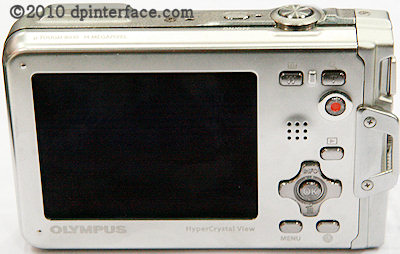 On the back of the Olympus Stylus Tough 8010 is a 2.7 inch screen. It has 230,000 dots of resolution and is a HyperCrystal 3 display, which is Olympus' moniker for LCDs which are legible under a variety of conditions. And yes, the display image was nicely viewable in low-light and under bright light too; making it one of the better screens out there for a camera this price.
All of the Stylus Tough 8010's buttons are located on the right side, so it's easy for you to operate the camera with one hand. To the upper right side are the camera's zoom in/out buttons and gone is the clunky mode dial of the previous camera, replaced with a new dedicated movie button. So when you feel like recording a video clip, you can hit the movie button anytime, regardless of camera mode you're in. There's also the speaker grill nearby along with the playback button.
The next thing we'll be looking at is the camera's five-way navigation pad, which is used for navigating menus and playback, as well as performing these direct camera functions:
Up – INFO (Toggles the amount of information shown on-screen)
Down – Delete photo
Left – Tap Control info
Center – Function menu/Set
The redesigned Function menu on the Stylus Tough 8010
The new function menu is a lot more organized and complete; instead of having shooting functions fragmented and scattered all over multiple menus in Olympus' old user interface, everything is now within reach in a single list of functions:
Shooting mode (Intelligent Auto, Program mode, Magic Filter, panorama, beauty mode, scene modes, movie mode)
Flash setting (Auto, auto with redeye reduction, on, off)
Macro mode (Off, standard macro, super macro)
Self-timer (Off, 2 seconds, 12 seconds)
Exposure compensation (+/-2 exposure in 1/3 step increments)
White balance (Auto, daylight, cloudy, tungsten, fluorescent 1,2 & 3)
ISO sensitivity (Auto, high auto, 64, 100, 200, 400, 800, 1600)
Drive mode (Single-shot, normal burst, high-speed burst)
Camera main menu
The camera has a changed Perfect Shot Preview feature: instead of the old split-screen "4 previews" implementation, the camera now gives you a side-scrolling preview of 3 different settings when adjusting white balance or exposure compensation.
The Olympus Stylus Tough 8010 has a panorama mode that allows you to shoot and combine several pictures into a single large one. You get a choice to take up to three photos and let the camera combine it on the spot, or shoot up to 10 photos and let the camera's bundled software stitch them together on your computer.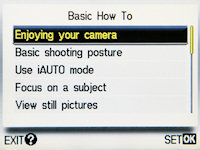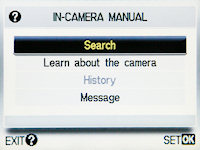 In-camera manual and guide tooltips on the Stylus Tough 8010
The two buttons at the bottom are the MENU and HELP buttons, which bring up the main menu and in-camera guide respectively. The Olympus Stylus Tough 8010 has a fairly extensive and intuitive help system that allows you to browse through various topics about using the camera and (hopefully) taking better pictures. There's also tooltips about individual menu items that can be brought up while you're navigating the camera's menu.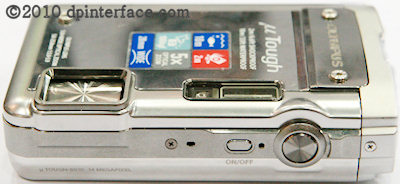 On the top of the Olympus Stylus Tough 8010, you'll find the mono microphone, power on/off button as well as shutter button.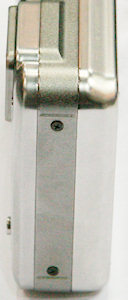 This side of the camera is blank…
On this side of the Stylus Tough 8010 is a large compartment door that covers and seals away the camera's memory card slot, battery and connectivity ports. The camera has a new two-step locking mechanism which prevents the door from being opened by accident. Its placement also allows you to swap batteries and memory cards while the camera is on a tripod.
The camera has two ports flanking the memory card slot: a combo port for USB 2.0 High-speed and A/V out connectivity as well as a mini HDMI port for hooking the camera up to your HDTV (the Olympus Stylus Tough 8010 supports remote playback control over HDMI).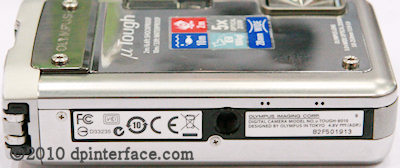 There's nothing on the bottom of the camera except its metal tripod mount.
Tap Control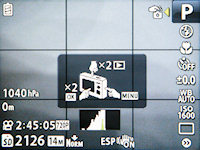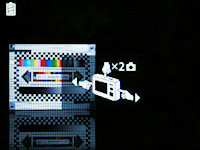 The Stylus Tough 8010 continues the tradition of Olympus' line of rugged cameras of including Tap Control. Tap Control now works in playback too. Here's what Tap Control does in shooting mode:
Double tap top – Toggle between shooting and playback mode
Double tap back surface – OK/Confirm
Shooting mode: Tap right side – Camera MENU
Playback mode: Tap sides to move to the next/previous photo
I still wish Olympus would allow you to customize Tap Control with your own functions though.
Taking pictures (Shooting mode)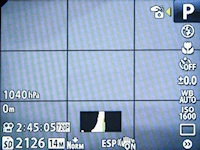 Shooting display on the Stylus Tough 8010
It's information galore on the Olympus Stylus Tough 8010's shooting display! The camera tells you a whole bunch of stuff about what's going on: there's shooting and exposure information, a live histogram, 3 X 3 framing gridlines, 3 step battery indicator, movie settings and get ready… atmospheric pressure and altitude, thanks to the camera's built-in manometer.
The camera has a bunch of image resolution options: 14 MP, 8 MP, 5 MP, 3 MP, 2 MP, 1 MP and VGA; along with two image compression options; Fine and Normal. There's also a widescreen aspect ratio which lets you choose between 10 or 2 megapixel '16:9 ratio' wide photos that fill your TV screen nicely.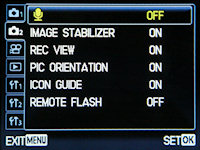 The 2010 Olympus menu system
Gone is the old and disorganized grid-list mixed menu that used to plague Olympus cameras. The new tabbed menu system, though not exactly revolutionary, does its job of being intuitive. Here's what's in the shooting menu:
Image size and compression
Shadow Adjustment (On/off)
AF mode – iESP (multiple point), face detection, spot, AF tracking
Exposure metering – ESP (Evaluative), spot, face detection
Fine zoom and digital zoom – Digital zoom lowers image quality as usual by using digital magnification while fine zoom crops your pictures instead
Sound memo (On/off)
Sensor-shift image stabilization (On/off)
Record view – The camera shows a preview of the picture after it's taken
Picture orientation – Let the camera automatically rotate pictures based on the orientation they were taken
Icon guide
Remote flash – for triggering slave flashes
Setup menu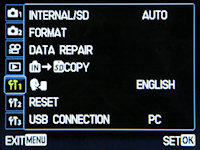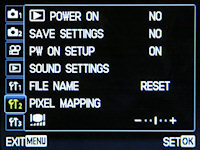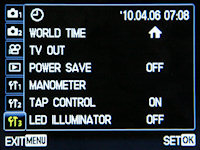 Setup menu
Internal/SD memory – choose which memory area the camera saves pictures/video to
Format memory
Data repair
Copy data from internal memory to memory card
User interface language
Reset settings
USB connection
Playback power on – turn the camera on directly via the playback button
Save settings
Password protect setup settings
Sound settings – for camera audio playback and beeps
File name
Pixel mapping – for 'refreshing' and recalibrating hot or dead pixels on the sensor
LCD display brightness
Date and time/world time
TV Out settings
Power save – let the camera power off automatically when idle
Enable/disable Tap Control and the front LED light
Macro and scene modes
The Olympus Stylus Tough 8010 has two macro modes; standard macro has a minimum focusing distance of 20 cm at wide-angle and 50 cm at telephoto, which isn't all that close. Super macro mode reduces that distance (but locks the lens at wide-angle) and lets you go as close as 3 cm to your subject.
The Olympus Stylus Tough 8010 does not have any manual exposure controls but has 19 scene modes available to you: portrait, landscape, night scene (which will use a shutter speed up to 4 seconds long), night portrait, sport, indoor, candle, self portrait, sunset, fireworks, cuisine, documents, beach and snow, pet mode, underwater snapshot, underwater wide 1 & 2 and underwater macro.
The camera also has an Intelligent Auto mode that automatically detects the scene and selects one of five scene modes (Portrait, landscape, night portrait, macro or sports). There's a Beauty Mode on the Stylus Tough 8010 that removes wrinkles, blemishes and smoothens skin. And speaking of people, the camera has a face detection system that can find up to 12 faces in a frame.
Magic Filters
The Olympus Stylus Tough 8010 has four Magic Filters (also known as Creative Art Effects in some places), which are a set of preset effects applied to photos as you shoot them and they are: Pop art, fisheye, drawing and pinhole.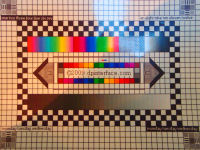 Pop Art and Pinhole effects
Pop Art intentionally increases saturation and makes photos look slightly warmer while Pinhole simulates the effect of photos taken by a pinhole camera by adding excessive vignetting (dark corners) to pictures.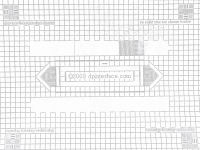 Fisheye and Sketch effects
The fisheye and sketch effects here are both pretty self-explanatory. The first three Magic Filters can be used at full 14 megapixels except Sketch, where resolution is lowered to 3 megapixels.
Video Recording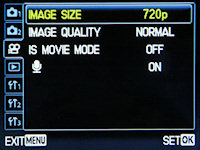 The Olympus Stylus Tough 8010 has a 720p HD movie mode; where you can record 1280 x 720 video at 30 FPS with mono sound. There are also lower resolutions you can choose; VGA (640 x 480) and QVGA (320 x 240), which also record at 30 FPS with sound. The Stylus Tough 8010 has a restriction of 4 GB per video clip, and for the 720p setting, 29 minutes per clip (whichever comes first).
The camera automatically adjusts exposure while a movie is being recorded, and it also lets you use the optical zoom lens, albeit with slower zooming action. However, like all other cameras that use sensor-shift image stabilization, you cannot use the real thing while recording movies – instead, you get digital image stabilization which isn't as effective and makes videos appear a little more "zoomed in" than usual. Overall movie quality was just average, with nothing spectacular to brag about. Video and audio quality should suffice most consumers looking to record the occasional movie clip with the camera; but the Olympus Stylus Tough 8010 has the advantage of being rugged so you can record underwater video too.
Performance
All performance testing of the Olympus Stylus Tough 8010 was performed using a 4 GB SanDisk Extreme SDHC memory card.
The Olympus Stylus Tough 8010 boots up in just 1.3 seconds. The camera's autofocus speed was acceptable but not exactly lightning fast, taking 0.2 to 0.4 seconds to focus at wide-angle/with good lighting, around twice that at full zoom and upwards of one second in low-light. The Olympus Stylus Tough 8010 lacks a real autofocus-assist lamp, but there's always that LED light you can toggle on.
Shot-to-shot speed - 1 shot every 1.7 seconds, about average
Flash recharge time using a fully charged battery - 4 seconds, average
The Olympus Stylus Tough 8010 has a crappy continuous shooting mode that shoots full resolution photos at 0.33 FPS (1 picture every three seconds) until the memory card fills up. It's probably those big 14 megapixel photos which bog down shooting speed. There's a low resolution burst mode that lets you take 3 megapixel pictures at 1 frame per second, which is still very mediocre.
While the Olympus Stylus Tough 8010 is a rugged camera that you can take anywhere to snap photos, you're certainly not gonna be taking too many action photos with the Stylus Tough 8010's rather average performance paired with its sub-par burst mode. The Stylus Tough 8010 is good for casual shots and still life though; anything that doesn't move around too much.
Image Quality
Let's go ahead and check out the Olympus Stylus Tough 8010's image quality:

ISO 80 (f3.9, 1/8 sec)

ISO 100 (f3.9, 1/10 sec)

ISO 200 (f3.9, 1/25 sec)

ISO 400 (f3.9, 1/40 sec)

ISO 800 (f3.9, 1/100 sec)

ISO 1600 (f3.9, 1/200 sec)
The Olympus Stylus Tough 8010 starts out with very clean photos at ISO 80 and ISO 100. They also look nicely sharp and saturated. Photos at ISO 200 only get a tad noisier with increased amounts of visible grain but relatively little to no noise reduction going on. But the opposite happens at ISO 400 when noise reduction comes in at almost full force and three things happen: there's still an increase in noise (despite the reduction), details become smudged (look at the line separating two color boxes) and saturation takes a slight drop.
There's even more noise at ISO 800, along with even stronger noise reduction. Detail levels become worse and photo quality is now muddier than before. This might be the highest setting you might want to use since it only gets worse as you go up to ISO 1600 where there's plenty of noise, mush and not much detail preserved.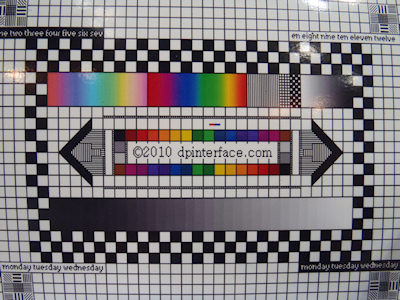 There was quite a bit of lens distortion and color fringing (chromatic aberration) in its photos. Edge sharpness was not an issue though, since corners of photos did not appear to be too soft. Also, redeye was a non-issue since the camera effectively removes any it detects in photos.
Overall, the Olympus Stylus Tough 8010 displayed fairly decent image quality. The camera performed nicely in terms of noise and detail levels up till ISO 400, with ISO 800 barely acceptable for downsized use. Colors were accurate and detail levels were good at lower ISO levels too. However, lens related flaws (distortion and color fringing) were a tad higher than I would have liked.
Photo gallery
Have a look at full-sized photos in the Olympus Stylus Tough 8010 photo gallery!
Playback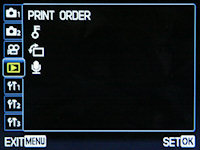 The Olympus Stylus Tough 8010 has an elaborate playback mode with plenty of features. You'll find four basic playback features in the 'Playback' tab in the menu: print marking, image protection, rotation and voice clip attachment. All the camera's other playback features can be found in the Playback Function menu (center button on the 5-way controller). Photos can be magnified by 10X for detail inspection.
You can view photos individually (complete with transition effects as you move between pictures), in sets of 12 or 30 thumbnails, by category or have them play automatically as a slideshow. The camera also has a bunch of editing functions, which comprise of software redeye removal, Shadow Adjustment (brightening dark parts of your photos), Beauty Fix (smoothens skin, removes blemishes and now, brightens eyes! Really!), saturation adjustment, conversion to sepia or black-and-white. Some less advanced editing options include resizing and cropping images, as well as creating a basic calendar out of photos you've taken.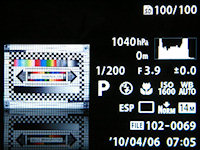 The Olympus Stylus Tough 8010 tells you pretty much everything about your photos: shooting details, exposure information (with shutter speed and aperture value) and a brightness histogram, as well as atmospheric pressure and altitude at which you took your photo..
Conclusion
The Olympus Stylus Tough 8010 is still relevant in today's digital camera market since it's a really tough (literally) camera. If it weren't for its ruggedness, it would have been gone with the wind by now, or more appropriately, gone with last year's models.
The camera bears somewhat of a resemblance to Olympus' 2011 rugged camera models with its LED lamp, rugged design, 5X optical zoom lens and 720p movie mode. What it doesn't have versus the latest (its direct successor being the 2011 Olympus TG810) is a new higher resolution image sensor, high resolution LCD, GPS and compass built-in, 3D photo mode, auto panorama mode and additional bells and whistles. It does, however, retail at a hundred bucks cheaper than its successor
The camera has no manual controls and performance that doesn't exactly blow your mind, so you'd want the Olympus Stylus Tough 8010 for mostly casual snaps by the beach or in the mountains where all you'll be doing is point-and-shoot. The Stylus Tough 8010 produces decent image quality, which I'll recommend for use in mostly outdoor and well lit conditions; although the camera still can perform 'just' acceptably in low-light.
Bottom line is the Olympus Stylus Tough 8010 is something to check out if you want a camera that's totally rugged while not spending a whole lot of bucks. The camera has its pros and cons but ultimately doesn't produce the best image quality in the market. If you don't need an everything-proof camera, then there are definitely better all-rounder options out there.
What's hot:
Decent image quality; good for outdoor shooting
Rugged design: waterproof, shockproof, crushproof, dustproof and freezeproof; one of the most rugged cameras in the market
Useful LED lamp for closeup and low-light shooting
Plenty of internal memory; SD/SDHC support
Good movie mode
Intelligent Auto mode, Magic Filters and in-camera guide
Plenty of tools in playback mode
What's not:
No manual controls
Chromatic aberration (color fringing) and soft edges a minor issue
Detail loss and smudging from noise reduction at higher ISO
Below average battery life
Poor continuous shooting mode
Small and cluttered buttons