Miniature effects and toy camera mode? What are these things? Well, they're the various new effects that Canon has released on their various fixed lens (ie PowerShot and ELPH) cameras in 2011. As part of the new 'Learning' section of the site, I'm going to start off with details about the various effects modes that manufacturers have on their cameras (and no worries, I'll get to other brands as I get their latest stuff for review, for instance; Olympus and their Art Filters, Casio and their various photo effects, etc.)
For now, if you're interested in learning more about the various new effects modes introduced on Canon's 2011 models, hit the link to read more!


DPInterface: Canon Effects 2011 Overview
Brad Soo – July 14th, 2011
In the recent years, camera manufacturers have been putting forward various new effects and modes on their digital cameras so that users can easily soup their photos up with effects right within the camera itself, without having to go through computer software such as Photoshop. These effects are almost effortless to apply onto photos – just a couple of button presses and you've got 'em! No fumbling around with filters or Photoshop settings, no long wait times or hassle as you wait for your computer to process photos one at a time – think of it as Instagram built into your digital camera!
In this overview, I'll be going over the new 2011 Canon camera effects (though they are not labeled as such in the camera; instead they each have their own mode, such as toy camera mode). What you have to understand before we proceed is this isn't a review of scene modes nor is this a complete list of shooting/scene modes available on cameras. Canon's PowerShot and ELPH cameras have a lot more scene modes than the ones listed below (check out our individual full reviews for details) but I'm just going through the new ones they've introduced for 2011.
Do note you can also view photos in full-size by clicking on any of the thumbnails below. Photos were taken using the Canon PowerShot ELPH 300HS and are straight out of the camera. These photos are subject to the same copyright policy as those displayed in review galleries: You may print them out for personal use but you may NOT reuse, republish or redistribute them in any form or for commercial use without written permission from DP Interface (you may contact us here if you would like to use our sample photos: dpi A.T dpinterface D.O.T com).
Original photo
And with that out of the way, let's begin our tour with the original image which shows my new favorite glass building with the scenery around it, untouched and without any effects applied to it.
The modes that we are going to cover here today are poster, super vivid, monochrome, toy camera effect, miniature effect and fisheye mode.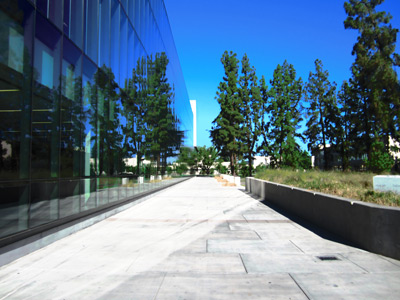 Canon Poster mode
The first effect is Poster mode which gives photos a high-contrast and bright look, as if they were taken for some poster on your wall. Images have this slight 'sketch' or pencil-like effect as if they were drawn and painted in pencil and watercolor. Very self-explanatory indeed – you would want to use this mode if you'd like to make photos look as if they were half-photographed, half-painted… useful for your actual wall, or Facebook wall, whatever floats your boat.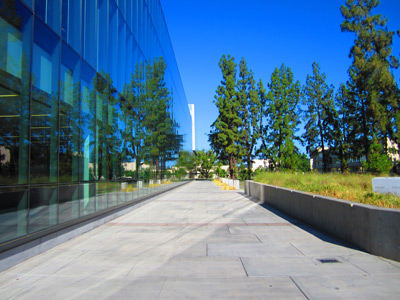 Canon Super Vivid mode
Next up, we have Super Vivid mode which is another straightforward effect. What this effect does is vivifies your photos by dramatically increasing saturation and boosting sharpness slightly. It also appears that contrast has received a very minor bump too. This is the mode you'd want to use to make photos and subjects 'pop', and works especially well in scenes with a lot of color – say a Christmas tree, a beach full of colorful umbrellas or a bunch of flowers.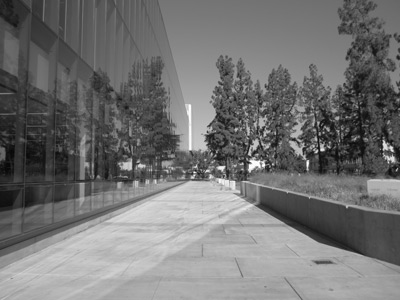 Canon Monochrome mode
Monochrome mode turns your photos colorless with a single tone cast over them. By holding down the MENU button on your camera, you can bring up a selector that lets you choose between black-and-white, sepia or blue tones. I find the blue tone gives photos a unique and more vintage-like look (and also something different from the regular B&W or sepia photos folks use to make their shots look 'aged').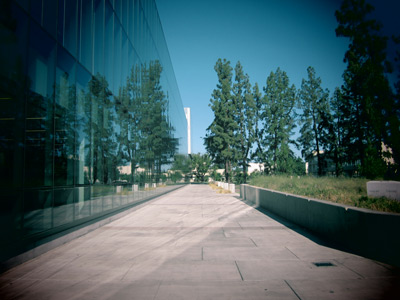 Canon Toy Camera mode: Standard setting
Canon Toy Camera mode: Warm setting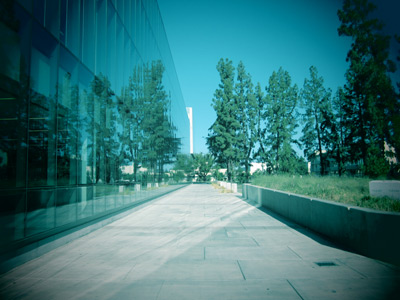 Canon Toy Camera mode: Cool setting
Next up we have Toy Camera mode which gives you three settings to choose from: Standard, cool and warm. The effect makes photos look as if they were taken through the lens of a pinhole camera… or in Canon's case, a toy camera. The camera introduces digitally-inserted vignetting (dark corners), though you can't adjust the intensity or level of these dark corners, along with a decrease in color saturation.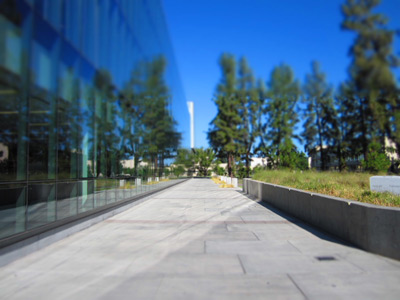 Canon Miniature mode
This setting gives photos a 'miniature' look, as if you were looking into a glass case containing a miniature model of real-life structures. Kind of like the little 'toy-like' but realistic looking structures you see before buying a house or constructing a building. What the camera does is let you pick out a portion of the photo to keep in focus, while it blurs out the rest of the non-selected area.
This on-screen display does a better job at showing how you compose your Miniature photos. You can select the area, size of the area (small, medium, large) and level of blur intensity (three steps). The camera can also let you record video at extra slow frame rates (1.5 FPS to 6 FPS) with the effect in use, and play them back at 30 FPS to give a 'fast, in-motion' type of effect to movies. Sound is not recorded. Miniature mode can be used in both horizontal and vertical orientations.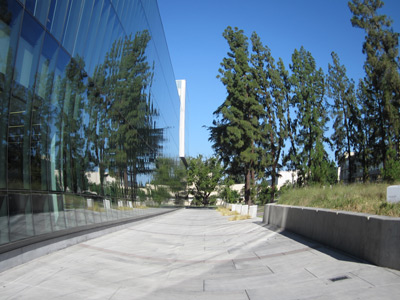 Canon Fisheye mode: Standard setting
Canon Fisheye mode: Low setting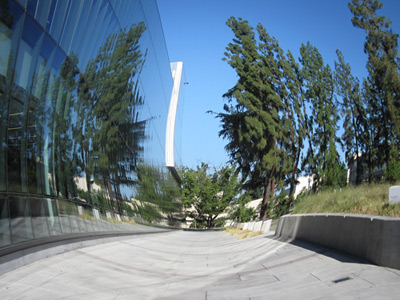 Canon Fisheye mode: High setting
The last new effect is Fisheye mode which gives photos a distorted look by bloating the center part of the image as if looking through a magnifying glass. This comes in handy when you would like to emphasize on a single element in the center of the frame or give photos a look as if they were taken using an ultra-wide-angle lens. This effect seems to work best (most pronounced) with Canon models with 24 mm ultra-wide angle lenses (ie ELPH 300HS and ELPH 500HS, or IXUS 220HS and IXUS 310HS) though it does work as well with lenses starting at other focal lengths. You can select from three distortion levels of 'Fisheye' distortion, which come in low, standard and high flavors.
And with that ends our tour of new effects on 2011 Canon PowerShot and ELPH models. These effects will definitely be familiar and might please you if you're a frequent user of the Instagram app on your iPhone, or equivalent photo effect apps on other phones. Do note, however, that as of July 2011, these effects can only be use in shooting mode, since they ARE individual modes by themselves – you cannot apply them later in the camera after you've taken a photo. It would sure be great, since these are digital effects and can also be achieved in your computer (famously, Photoshop) but with more steps and time, if we could see Canon implementing these as part of in-camera playback editing tools in the future.