I've just posted my review of the Olympus Stylus 9010 (also known as the Mju 9010), a small and stylish compact super-zoom digital camera from Olympus. Head on to the Olympus Stylus 9010 photo gallery for full-sized sample photos from the camera.
DPInterface Olympus Stylus 9010 aka Mju 9010 Review
Brad Soo – July 11th, 2011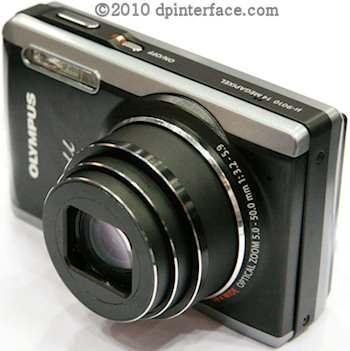 With compact cameras packing bigger and bigger zoom lenses in smaller bodies nowadays, Olympus has come up with their own offering on the affordable end of the market – the Stylus 9010. The camera features 14 megapixels of resolution, a 10X optical zoom lens, 720p HD movie mode and pocketable design; and there's no doubt about who the direct competitors from other brands to this camera are. How does the Olympus Stylus 9010 fair in the crowd of compact super-zoom cameras? Find out now.
The Olympus Stylus 9010 is also known as the Olympus Mju 9010 in Europe, Asia and Australia.
Size and Weight
The Olympus Stylus 9010 measures a slightly chubby (compared to tiny pocket cameras with 3 to 5X lenses we've been used to over the years) 94.0 x 57.6 x 31.1 mm, but believe it or not, it's actually one of the smaller compact super-zoom models out there. The camera weighs a moderate 171 grams, which is pretty light for the amount of zoom the Stylus 9010 has, but you certainly won't miss it when it sits in your pocket!
Box contents
The Olympus Stylus 9010 comes with a plain bundle:
LI-50B rechargeable lithium-ion battery
AC adapter charger with USB cable
Wrist strap
A/V cable
The Olympus Stylus 9010 has 2 GB of internal memory which is more than on any compact camera. Olympus has included their IB imaging software and user guide in the camera's internal memory which you'll have to load onto your computer from the camera. If you're the type that enjoys using bundled software with your camera, then the camera's 1.8 GB worth of internal usable memory might be useful… but for the rest of us, getting a memory card is a lot more convenient and faster in moving pictures to and from the camera. The Stylus 9010 takes SD/SDHC memory cards (no word of SDXC support) and I would suggest getting an 8 GB card to start with.
The Olympus Stylus 9010 uses the LI-50B lithium-ion rechargeable battery, which gets you roughly 180 shots per charge. That's below average compared to other cameras; both tiny ones and compact super-zoom models alike, so consider picking up a second battery if you get the camera. The Olympus Stylus 9010 supports USB charging and does not come with an actual battery charger; so you'll have to connect the camera itself to your computer or supplied wall charger to charge the battery within it. The downside to this is that you cannot charge a second battery at home while bringing the camera out with you. However, Olympus does offer a battery charger… as an optional accessory.
Accessories
There are not many accessories available for the Olympus Stylus 9010 save for a neckstrap and dedicated battery charger I mentioned above.
Camera Tour
The Olympus Stylus 9010 has a rather boxy, industrial look to it; no doubt inspired by Olympus' own rugged Stylus Tough models which have similar design concepts. The camera is well built and feels sturdy. However, its rather large zoom lens makes space scarce on the front of the camera; so be sure to not block the flash while holding the camera. The camera also may feel slightly small and light to hold steady, especially at full zoom, so be aware of that.
The Olympus Stylus 9010, unlike some compact cameras out there, only comes in one color; which is the silver-accented black design you see here.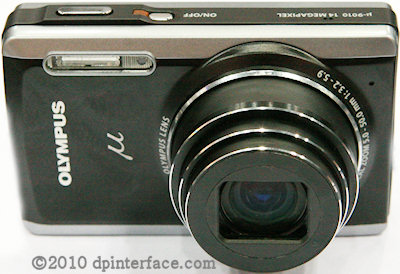 The Olympus Stylus 9010 features a 10X optical zoom lens, which you probably wouldn't expect from a camera of this size and form factor. But there we go… the lens is equivalent to a fairly versatile 28 to 280 mm (in 35 mm equivalent terms), though some of the more pricey competitors have lenses that start at an ultra-wide 24 mm, or go beyond 280 mm.
The lens has an aperture range of f3.2 to f5.9, which is on the 'slow' side (meaning you might need more light around when taking pictures to prevent shutter speeds from getting too slow that will cause blurring). The Olympus Stylus 9010 has sensor-shift image stabilization built-in to reduce the chances of photos coming out blurry.
To the upper right side of the lens is a small hole which is the camera's microphone hole. On the other side, you'll find the camera's built-in flash and self-timer lamp. The flash packs quite a bit of power, with a range of 10 cm to 5.3 meters at wide-angle and 60 cm to 2.9 meters (though these numbers were obtained with ISO at 1000, so expect range to be slightly shorter when using lower ISO values).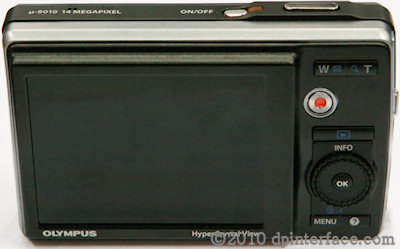 The Olympus Stylus 9010 uses a 2.7 inch LCD display with 230,000 dots of resolution, which is decent by today's resolution standards. The LCD is very usable outdoors and in low-light, which is a good thing. Speaking of low-light, the Olympus Stylus 9010 has a pretty unique feature on a digital camera: backlit buttons.
The camera automatically illuminates its back buttons with a purplish-blue backlight whenever you press any of them, which comes in handy when shooting in low-light… though with the Stylus 9010's actual performance in those conditions, I'm not sure if you would actually want to use it in low-light too often.
At the very top right of the camera where your thumb goes, you can find the zoom controller, followed by the dedicated movie button. Moving further down, there's the camera's playback, menu and Help buttons surrounding the navigation pad. The Help button enables you to bring up the in-camera guide and help system.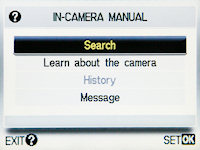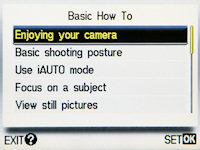 In-camera manual and help system
And finally there's the scroll wheel combined with the 5 way navigation pad. The scroll wheel lets you quickly roll through menu options and images in playback, but feels slightly on the loose side (so watch out and don't accidentally bump it with your fingers!). The Olympus Stylus 9010's navigation pad also gives you direct access to these functions:
Up – INFO (Toggles the amount of information shown on-screen)
Down – Delete photo
Left – Function menu
Center – Function menu/OK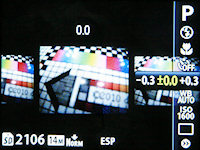 New and improved function menu on the Olympus Stylus 9010
The Olympus Stylus 9010 has the Function menu that Olympus first introduced into their compact cameras starting in 2010. The menu contains most of the main functions that you would normally access, including:
Shooting mode (Intelligent Auto, Program mode, Magic Filter, panorama, beauty mode, scene modes, movie mode)
Flash setting (Auto, auto with redeye reduction, on, off)
Macro mode (Off, standard macro, super macro)
Self-timer (Off, 2 seconds, 12 seconds)
Exposure compensation (+/-2 exposure in 1/3 step increments)
White balance (Auto, daylight, overcast, tungsten, fluorescent 1,2 & 3)
ISO sensitivity (Auto, high auto, 64, 100, 200, 400, 800, 1600)
Drive mode (Single-shot, normal burst, high-speed burst)
Camera main menu
The Olympus Stylus 9010 has a panorama mode which lets you take and combine several pictures into a single, large panorama. If you choose do let the camera do this, there's a 3 shot limit, but if you want to take them yourself and stitch them together later using the bundled iB computer software, you can take up to 10 photos.
The camera gives you plenty of basic shooting controls but no access to manually set exposure. There's no custom white balance option either. For those looking to spice up photos with effects, the Stylus 9010 presents four Magic Filters: Pop art, pinhole, fisheye and sketch effects for your photos.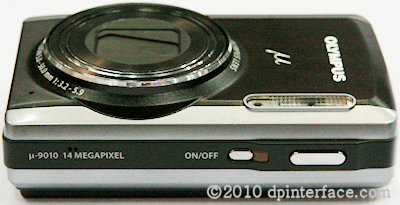 On the top of the Olympus Stylus 9010, you'll find the camera's power button, shutter button as well as two very small speaker holes above the '14 megapixel' label.
There's nothing to see on this side of the camera other than the Stylus 9010's 10X optical zoom lens at its telephoto position.
On the other side of the camera, you'll find the camera's wrist strap loop (not shown) as well as two connectivity ports hidden under a small cover.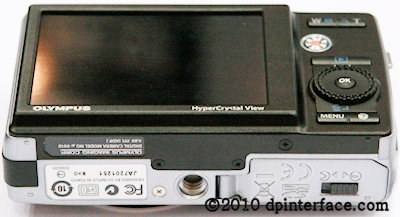 At the bottom of the Olympus Stylus 9010, you'll find the camera's metal tripod mount as well as the compartment for the memory card and battery. The tripod mount is not in-line with the lens and its placement will make you unable to access the battery/memory card compartment while the camera is on a tripod.
Taking pictures (Shooting mode)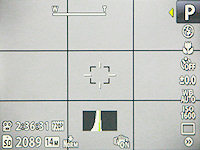 The Olympus Stylus 9010 shows you a lot of information on its on-screen display, from shooting settings to exposure information, and to even remaining capacity for photos and video. A zoom indicator appears when you use the zoom controller; and you can also enable optional 3X3 framing gridlines and a brightness histogram, as shown in the picture above.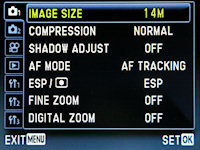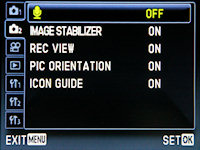 The Olympus Stylus 9010 has the standard issue user interface that Olympus has on all their other cameras. And in the menu, you'll find two pages worth of shooting settings:
Image size (14 MP, 8 MP, 5 MP, 3 MP, 2 MP, 1 MP and VGA, wide 10 MP or wide 2 MP)
Image compression (Fine, normal)
Shadow Adjustment (On/off)
Autofocus mode – iESP (multiple point), face detection, spot, AF tracking
Exposure metering – ESP (Evaluative), spot, face detection
Fine zoom and digital zoom – Digital zoom lowers image quality as usual by using digital magnification while fine zoom crops your pictures instead
Sound memo (On/off)
Sensor-shift image stabilization (On/off)
Record view – The camera shows a preview of the picture after it's taken
Picture orientation – Let the camera automatically rotate pictures based on the orientation they were taken
Icon guide
Setup menu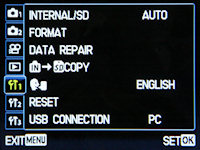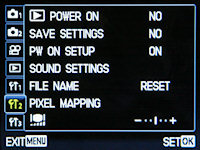 Setup menu
Internal/SD memory – choose which memory area the camera saves pictures/video to
Format memory
Data repair
Copy data from internal memory to memory card
User interface language
Reset settings
USB connection
Playback power on – turn the camera on directly via the playback button
Save settings
Password protect setup settings
Sound settings – for camera audio playback and beeps
File name
Pixel mapping – for 'refreshing' and recalibrating hot or dead pixels on the sensor
LCD display brightness
Date and time/world time
TV Out settings
Power save – let the camera power off automatically when idle
Macro and scene modes
The Olympus Stylus 9010 has a conventional macro mode which allows you to be as near as 10 cm (4 inches) to your subject at wide-angle or 90 cm (3 feet) at telephoto. Super macro mode disables zooming but reduces that minimum distance to just 1 cm (0.4 inch).
The Olympus Stylus 9010 is basically a point-and-shoot camera with no manual controls, but with a bunch of scene modes, which include: portrait, landscape, night scene (which will use a shutter speed up to 4 seconds long), night portrait, sport, indoor, candle, self-portrait, sunset, fireworks, cuisine, documents, beach and snow and pet mode. The camera's face detection abilities can detect up to 12 faces in a scene.
Video Recording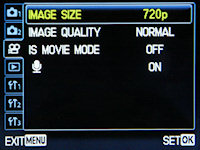 The Olympus Stylus 9010 has a 720p HD movie mode and can take 1280 x 720 video at 30 FPS with mono sound. To conserve memory, you can also opt for either one of two lower resolution settings: VGA (640 x 480) or QVGA (320 x 240), which still record at 30 FPS with sound. There's a limit of 4 GB or 29 minutes per movie clip, whichever comes first.
The camera automatically adjusts exposure and allows you to zoom while a movie is being recorded but does not allow you to use the camera's sensor-shift image stabilization. In place of that is digital image stabilization, which isn't quite as effective and narrows the camera's field of vision slightly. Video quality was decent for a compact camera and will satisfy the needs of most casual users.
Performance
All performance testing of the Olympus Stylus 9010 was performed using a 16 GB SanDisk Extreme SDHC memory card.
The Olympus Stylus 9010 starts up in a little over 1.5 seconds, which is pretty fast, especially with the big lens to extend. The camera was rather average in terms of autofocus speeds, taking 0.3 to 0.6 seconds on average to focus. The camera did poorly in low-light, thanks to the lack of any autofocus assist lamp.
Shot-to-shot speed - 1 shot every 2.1 seconds, decent
Flash recharge time using a fully charged battery - 5 seconds, average
Optical zoom speed (from wide-angle to telephoto) – 1.5 seconds, very fast
The Olympus Stylus 9010 has a rather sluggish continuous shooting mode that takes one photo every 2 seconds (Around 0.5 FPS) at full-resolution. The camera has two high-speed modes that shoot at around 6 and 10 frames per second at 3 and 2 megapixels respectively, for up to 17 images.
The Olympus Stylus 9010's performance was on the below average side, with not-so-fast focusing speeds, poor focusing in low-light and sluggish continuous shooting frame rate at full resolution. In other respects, the camera performed at a moderate-average level, such as shot-to-shot speed.
Image Quality
ISO 64 (f3.0, 1/10 sec)

ISO 100 (f3.0, 1/20 sec)

ISO 200 (f3.0, 1/30 sec)

ISO 400 (f3.0, 1/60 sec)

ISO 800 (f3.0, 1/125 sec)

ISO 1600 (f8.3, 1/30 sec)
The Olympus Stylus 9010 begins with a not very promising start, with a slight hint of color noise at ISO 64. There's a little more noise at ISO 100, and though it usually won't be noticeable when you show them on your screen or in print, this is certainly noisier than other cameras out there.
At ISO 200, noise levels hover around the same level at before but with reduced noise specks – definitely some sort of noise reduction at play here. Images become noisier at ISO 400 and lose detail and saturation at ISO 800. At this point you should consider downsizing photos for smaller viewing and uses, and also try to use lower ISO settings if you want to preserve finer detail. At ISO 1600, photos become very grainy and lose even more detail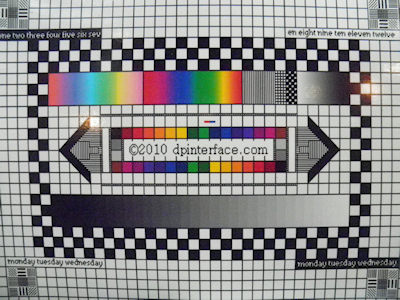 Photos taken by the Olympus Stylus 9010 showed noticeable lens distortion, more than average for a 28 mm lens. That means straight lines and buildings might turn out to be slightly curvy when you take pictures. There was also chromatic aberration (color fringing) present along with above average levels of edge softness. Redeye, however, was a non-issue photos taken by the camera.
Overall photo quality of the Olympus Stylus 9010 was on the disappointing side as images appeared rather soft and already grainy at lower ISO levels, and quickly turn out mottled and softer than ever as you turn ISO levels up. The lens also performed mediocrely at distortion and edge sharpness tests.
Photo gallery
Check out full-sized photos in the Olympus Stylus 9010 photo gallery!
Playback
The Olympus Stylus 9010 has a very feature-complete playback mode. You'll find the basics such as print marking, image protection, rotation, 4-second voice clip attachment and up to 10X playback zoom. There's also a thumbnail viewing mode (selectable between 12 or 30 thumbnails), slideshow mode and various editing features that include software-based redeye removal, Shadow Adjustment (brightens dark parts of your photos), Beauty Fix (smoothens skin, removes blemishes), saturation adjustment, conversion to sepia or black-and-white, cropping and resizing.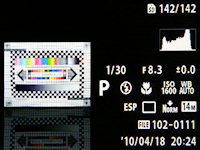 The Olympus Stylus 9010 tells you all you need to know about your photos from shooting and exposure info to a brightness histogram.
Conclusion
The Olympus Stylus 9010 packs plenty of optical zoom for a camera its size and being smaller than other 'compact super-zoom models, it may sound like the ultimate travel camera. The camera has lots of internal memory, straightforward usability and 720p HD movie mode. However, it lacks manual controls and has poor battery life.
If you've read the review since the start, you'll know that the Olympus Stylus 9010 is a 2010 camera model that is very affordable now, but not without its compromises. Appealing as the price tag is at the moment, the camera delivers underwhelming image quality and shooting performance, and especially in low-light.
What's hot:
One of the smaller cameras with big zoom lenses
Simple operation, backlit buttons and very good screen visibility
Plenty of internal memory
Good playback mode with editing features
Affordable
What's not:
Sub-par battery life; camera doesn't come with standalone battery charger
No manual controls; no custom white balance
Below average image quality: more noise and softness than competing cameras; visible lens distortion and edge softness
Sluggish performance and poor full-resolution continuous shooting
Poor low-light performance (no AF assist lamp, trouble focusing and high ISO noise/softness)