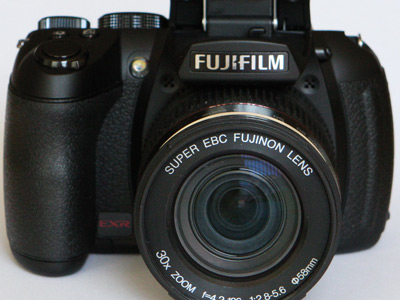 We're back… and with a review of a brand new camera announced earlier this year. Check out the Fujifilm FinePix HS20EXR, a prosumer camera equipped with a 30X optical zoom lens, plenty of manual controls (along with automatic shooting modes) and Fujifilm's EXR CMOS sensor. As with all our reviews, I've got a photo gallery ready so head on to theFujifilm FinePix HS20EXR photo gallery to view full-sized photos taken using the camera. Otherwise, continue on to read our review of the camera!


DPInterface Fujifilm FinePix HS20 EXR Review
Brad Soo – July 9th, 2011
It's rare nowadays that we see super-zoom cameras being made for the prosumer market; most of them are made to cater to consumers wanting huge zoom lenses and good video capabilities. The Fujifilm FinePix HS20EXR is one of those rare exceptions: it's a real and full-fledged prosumer fixed lens camera launched this year that's geared towards enthusiast users while having functions and features easy enough for not-so-seasoned users too. What makes the Fujifilm FinePix HS20EXR exciting? Here are the highlight features of the camera:
A 16 megapixel, 1/2 inch EXR CMOS sensor; that's bigger than most fixed-lens digital camera sensors and it has various EXR modes too (more on that later)
30X optical zoom lens that starts at an ultra-wide 24 mm
Zoom and focus rings on the lens barrel and a real command dial on the top of the camera
Hinge-mounted 3 inch LCD display that you can tilt up/down for creative-angled shots
Full-resolution continuous shooting up to 8 frames per second, can be boosted to 11 FPS at 8 megapixels
Full manual controls, including white balance shift, a flash hotshoe, RAW mode and optional remote control
Pro Focus and Pro Low-light modes let you take photos with better background blur/image quality in low-light respectively
Motion Panorama automatically shoots and creates a panoramic image as you pan the camera
1080p Full HD (30 FPS) movie mode with stereo sound; 720p 60 FPS capture mode available
And there's even more to discover about the camera! Is this the ultimate super-zoom camera? Find out now.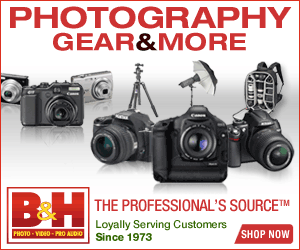 In the camera box
The Fujifilm FinePix HS20EXR comes with a rather average bundle, which includes:
Fujifilm FinePix HS20EXR camera (of course!)
4 AA alkaline batteries
Lens cap with strap
Neck strap
Lens hood
USB and A/V cables
Camera software CD
User's manual
The Fujifilm FinePix HS20EXR's bundle was fairly standard, giving you just about everything you need to start using the camera out of the box, though you'll eventually have to get your own set of batteries and memory card to do some actual shooting.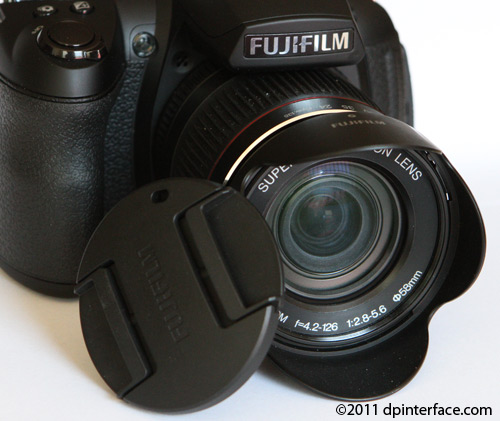 The FinePix HS20EXR comes with a small petal-shaped lens hood that you can attach very easily (it's the attach and rotate-to-lock type) to the camera and it stays nice and firm on the lens. There's also a lens cap which comes with a small strap to attach to the camera so you'll never lose it.
A SD memory card is something you must consider with the Fujifilm FinePix HS20EXR. The camera has 20 MB of internal memory, which is enough for a grand total of 3 photos at the highest settings that lets you know "oh the camera takes pictures and it works!" The camera takes all three variants of SD cards that exist, SD, SDHC and SDXC (including UHS-I SDXC cards). An 8 GB SDHC card is fairly affordable nowadays and a good place to start, though I would recommend more (16 GB or 32 GB) if you plan on taking lots of video or going on long trips with the camera. A high-speed memory card also helps (I would recommend a Class 6 or 15 MB/s or higher card; though something like the 45 MB/s SanDisk Extreme Pro series might be overkill) in reducing the time it takes for the camera to save photos, especially in burst mode.
The Fujifilm FinePix HS20EXR uses 4 AA batteries, which is a nice change from the sea of cameras which use proprietary lithium-ion batteries. The main advantage of AA batteries that they are always and commonly available almost everywhere; whether you're taking the FinePix HS20EXR to Rome or still using it in year 2018, you can pick up a set of fresh batteries from the store when your old ones run out of juice (something you can't do easily with proprietary batteries). The FinePix HS20EXR comes with four non-rechargeable alkaline batteries which, surprisingly, last for quite a bit before they eventually end up in the trash.
I would recommend getting a set of AA NiMH rechargeable batteries and a charger with the camera, since they make things easier on the environment and your piggy bank in the long-run. The camera is said to run up to 350 shots using alkaline batteries, 400 shots with NiMH rechargeable ones and 700 shots with lithium AA batteries; though only NiMH ones are rechargeable. My time with the camera says that Fujifilm's estimates are pretty accurate… you could even throw in a couple of movie clips into the mix.
Accessories
There are a couple of accessories available for the Fujifilm FinePix HS20EXR, which include an optional AC adapter (I believe you'll also need the DC coupler to go along with that) to power the camera from your wall socket, remote control and external flash unit. The camera's lens also has threads for 58 mm filters. However, no conversion lenses are available for the camera.
Fujifilm offers two 'official' flash units, the Fujifilm EF-20 and EF-42 flashes, which have guide numbers of 20 and 42 meters respectively, and these will sync automatically with the camera (which in layman's terms, means you would want these if you want additional flash power but don't know how/don't need to fiddle with flash settings). If you know what you're doing and feeling adventurous, the camera also takes third party flash units, though you will have to manually set them up with the camera and your shooting situation.
Camera Tour
The Fujifilm FinePix HS20EXR is a well-constructed and no-nonsense looking digital camera which looks a whole lot like a digital SLR. In fact, if you didn't know much about cameras (and if I hadn't told you), you could easily mistake the FinePix HS20EXR for a digital SLR… and that's not such a bad thing since the folks at Fujifilm made this camera with functionality in mind. But don't let the camera's looks intimidate you: the FinePix HS20EXR is actually very easy to use, even for first time users or beginners.
As mentioned, the camera is put together very nicely with no signs of flexing or squeaking joints anywhere; the hinges on which the LCD is mounted also feels nice and sturdy. The zoom ring around the lens has a nice rubberized feel and all of the camera's controls feel logically and well placed. You're pretty much expected to hold and use the camera with both hands like you would on a digital SLR since the camera's zoom control is located on the lens barrel; so are the buttons to access various functions on the back and the button to popup the camera's flash.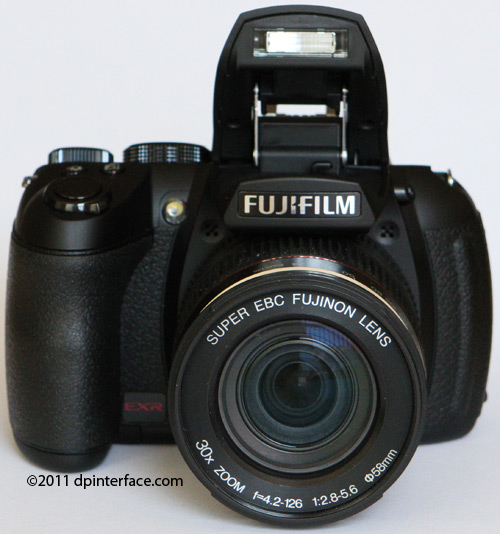 And here's the face of the Fujifilm FinePix HS20EXR… the biggest feature is the camera's 30X optical zoom lens which is equivalent to 24-720 mm in 35 mm terms. That's a whole lot of zoom, as you would imagine, beating out many 'super-zoom' digital SLR lenses which top out at 'just' 250 or 300 mm (equivalent to 375 or 450 mm). The lens has a nicely bright maximum aperture of f2.8 at wide-angle, down to f5.6 at telephoto.
And quite conveniently, Fujifilm has included sensor-shift image stabilization which helps counter blur in photos caused by slow shutter speeds and camera shake… though image stabilization is useful and it works, you need to be aware it doesn't do miracles in certain situations (especially at full zoom, 720 mm!), so you might want to get a tripod or use a steady surface with the camera when shooting at high focal lengths.
Directly above the lens is the camera's popup flash, which is released manually using a button on the side, which I believe you can spot in this photo. The flash is fairly powerful, with a working range of 30 cm to 7.1 meters (1 to 23 feet) at wide-angle and 2 to 3.8 meters (6.5 to 12.5 feet) at telephoto. If you need more flash power (or simply don't like the built-in flash casting a shadow of the lens barrel in photos), the Fujifilm FinePix HS20EXR allows you to attach external flashes via its hotshoe above.
Nearby, you'll find the camera's dual microphones used for recording stereo sound (they're seen flanking the lens/Fujifilm logo in the photo above) along with the autofocus assist light, which helps provide illumination in low-light for the camera to focus. It also doubles as a self-timer visual countdown light.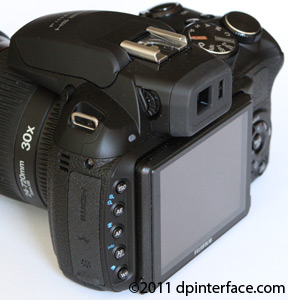 And now, we have plenty more to discuss on the back of the FinePix HS20EXR. First off, we have the camera's display… the picture above shows the FinePix HS20EXR's LCD in a more traditional position.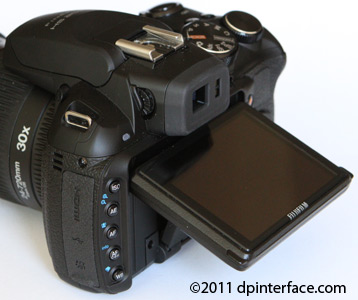 But as you may have noticed, the camera's 3 inch LCD is mounted in dual hinges which allow you to tilt it up towards yourself like so, for waist or knee level shots…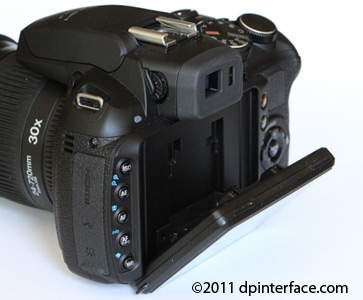 …or tilt the display down for 'above your head' shooting as shown above.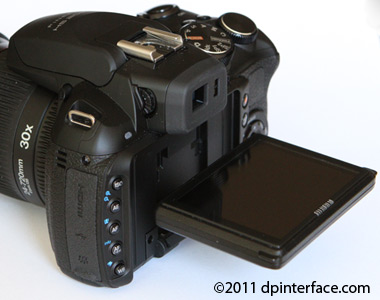 And this picture shows the 3 inch display at maximum tilt on both hinges. The screen is pretty sharp with 460,000 dots on it; also nice and bright enough to be highly legible under bright light and outdoors. The camera brightens the image to a viewable level too when you're shooting in low-light conditions.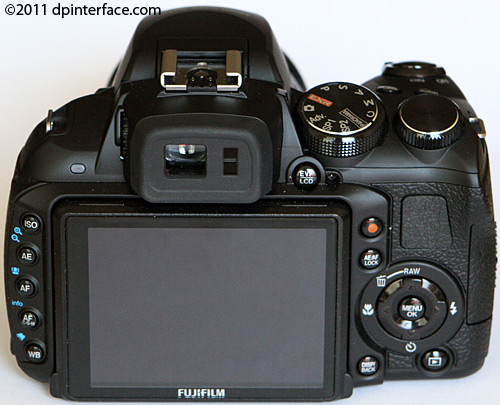 Above the camera's LCD is the electronic viewfinder. Unlike the LCD, the EVF has a tiny 0.2 inch display within the eyepiece with just 200,000 dots. The relatively low resolution shows as the EVF is noticeably grainy and less sharp compared to the nice and smooth LCD. Two other potential turn-offs about the EVF are its small magnification (feels as though you're looking at a small screen at the end of a tunnel) and 97% image cover (so there will be a little bit of 'extra area' outside of the live preview after you've taken the final picture).
However, some reasons you might want to use the EVF over the LCD include a more steady "SLR like" hold of the camera (useful at those long zoom focal lengths) and glare-free outdoor shooting. Fujifilm includes as small dioptric correction knob on the left of the eyepiece for users with less than perfect eyesight. To the right of the EVF window is a proximity sensor that tells the camera to automatically switch between the LCD and EVF when your eye is near enough. At times, it's really convenient but sometimes it gets annoying as the camera switches to the EVF when you really don't want it to (ie when shooting low level shots but something that isn't your eye is too close to the sensor).
Flanking the electronic viewfinder on each side, there's a small status indicator light on the left (it tells you stuff like when the camera is writing photos to the card) as well as a button to manually switch between the EVF/LCD on the right.
On the left side of the LCD display, there is a row of five buttons, each with their own function in shooting and playback:
ISO (Auto, 100, 200, 400, 800, 1600, 3200, 6400, 12800, auto 400, auto 800, auto 1600, auto 3200)/Playback zoom in
Photometry AKA metering mode(Multi, spot, average)/Playback zoom out
Autofocus mode (Center, multi, selectable point, tracking)/Face detection in playback
Focus setting (Continuous, single, manual)/On-screen info in playback
White balance (Auto, custom, sunlight, cloudy, fluorescent 1, 2, 3, incandescent)/Playback image search
The Fujifilm FinePix HS20EXR has various ISO settings, including a bunch of auto modes. The various Auto ISO settings allow the camera to adjust ISO automatically while limiting the maximum setting used to either 400, 800, 1600 or 3200. The camera also has two 'very high' sensitivity settings, ISO 6400 and 12800, which reduce image resolution down to 8 and 4 megapixels respectively when selected.
The camera has a plethora of focus and autofocus modes, including manual focus which allows you to use the focus ring around the lens barrel to finely tune focus. There's the ability to set custom white balance based on a reference surface and also adjust white balance on a red-cyan/blue-yellow scale.
Moving along to the other side of the camera, there are four pretty self-explanatory buttons: the 'red dot' record button (which starts/stops movie recording regardless of shooting mode), AE/AF lock (customizable; locks autofocus and exposure by default), display/back (either toggles on-screen information in shooting mode or moves you 'back' to the previous page in menus) and the playback button.
The last thing to talk about here is the camera's navigation pad, which allows you to navigate pictures and menus, and also access these functions:
Up – RAW image mode/Delete photo
Down – Self-timer (Off, 2 seconds, 10 seconds)
Left – Macro mode (Off, macro, super macro)
Right – Flash setting (Auto, on, slow sync, off; redeye reduction available)
Center – Menu/OK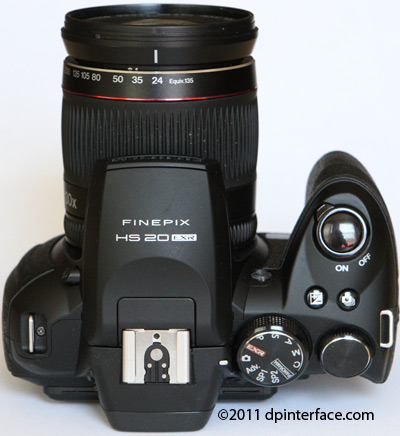 Here's the top of the Fujifilm FinePix HS20EXR, where the first thing you will spot is the hotshoe. The camera will sync automatically with Fujifilm's flash units or manually with third party ones.
To the right, we have the shutter button with a power on/off switch wrapped around it, exposure compensation button and drive mode button. There are several drive modes on the FinePix HS20EXR, and they are: Continuous shooting, best frame, exposure bracketing, Film Simulation bracketing and dynamic range bracketing. The camera allows you to select between 3, 5 and 8 frames per second in terms of continuous shooting speed, along with a 11 FPS option available at lower resolution settings. Best Frame mode does pretty much the same thing as continuous shooting, except the camera starts pre-capturing photos as you half-press the shutter button, and saves the last 8 shots before the shutter button was pressed.
And finally, we can head on to the mode dial which has the following modes (going clockwise):
Automatic shooting
EXR modes – Auto, resolution priority, high ISO with low noise, dynamic range priority
Program mode – the camera will select both shutter speed and aperture; there's program shift available so you can tweak the shutter/aperture combinations
Shutter priority – pick a shutter speed (between 1/4000 to 30 seconds in 1/3 step increments) and the camera will select a matching aperture value
Aperture priority – pick an aperture value (from f2.8/f5.6 to f11) and the camera will select a matching shutter speed
Manual mode – you get full control over both shutter speed and aperture
Custom – save a custom set of settings to this position
Motion Panorama
Scene position 1 and 2 – Pick two of your most used scene modes and quickly access them here
Advanced shooting modes – Access the camera's Pro Focus and Pro Low-light modes here
The Fujifilm FinePix HS20EXR has three EXR modes which relate to the Fujifilm EXR CMOS used inside the camera. You can pick from three modes (though just one at a time) to tell the camera to prioritize resolution, low noise (at high ISO speeds) or dynamic range.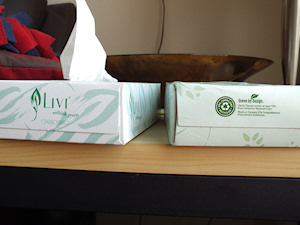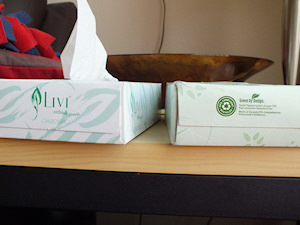 I've got an example of the camera's dynamic range EXR mode in action… it's pretty obvious in the photo above that the 'after' shot on the right reduces the highlight blowout while bringing up more detail in the shadows than the 'before' shot on the left.
The Fujifilm FinePix HS20EXR has a 'sweep' panorama mode which Fujifilm calls "Motion Panorama", where you can allow the camera to capture and automatically create a big panorama (of 120, 180 or 360 degrees, it's your choice) as you 'pan' the camera from side-to-side. The camera can also capture vertical panoramas if that's what you're aiming for.

180 degree Motion Panorama shot (click for full sized photo)
I managed to successfully capture several Motion Panoramas without seeing any visible 'stitch points' (just check out the sample above), though I did bump into the rare occurrence where the camera stopped halfway and told me I was panning too slowly.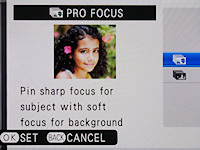 The Fujifilm FinePix HS20EXR has two unique modes under the 'Advanced' position on its mode dial. Both take advantage of the EXR sensor to capture multiple frames and combine them into a single shot. First off is Pro Low-Light mode which takes several photos and combines them into one low noise 8 megapixel photo…
Fujifilm FinePix HS20EXR Pro Low-Light mode before and after
Both photos were taken at ISO 3200 in the photos above, with the 'before' shot zoomed out to match the 'after' shot at 100%. You can see how noticeably less noisy photos are using Pro Low-light mode; though if the sample above doesn't do justice, you can check out the full-sized before and after shots in the gallery.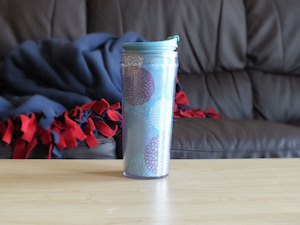 Pro Focus off and Pro Focus on shots
Next up is the camera's Pro Focus mode, which attempts to simulate the background blur or 'bokeh' that make subjects 'pop' in photos taken using digital SLR and large sensor cameras. There are three 'blur' levels you can choose from in Pro Focus; and what the camera does is take several photos at different focal lengths and combines them into one. And just like Pro Low-Light mode, image resolution is lowered to 8 megapixels. You can see that Pro Focus works well though it isn't identical to the 'real deal' you'd get with an actual large sensor camera. Pro Focus only can work at certain focal lengths too (and the camera tells you when you haven't zoomed in enough for the effect to be created).
The final thing at the top of the camera is that blank dial right next to the mode dial. That's actually the command dial and you'll use it to change various settings around the camera (for instance, it's used in-conjunction with holding down one of the five buttons on the left of the LCD).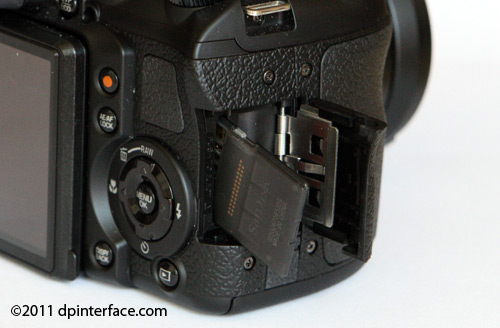 On one side of the camera, you'll find the memory card slot as well as a small rubber flap to connect the power source when using the optional AC adapter with the FinePix HS20EXR. The door over the memory card compartment feels nice and sturdy.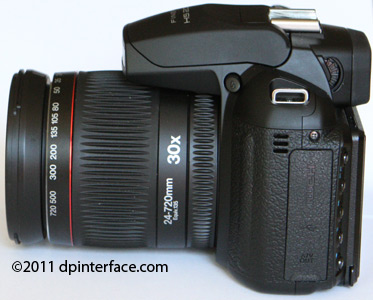 And now we have a better view of the Fujifilm FinePix HS20EXR's 30X zoom lens, which is comparable to the size of an 18-55 mm 'kit lens' of many interchangeable lens cameras. The lens barrel has two things on it: the manual zoom ring as well as the focus ring, which is electronically linked to the focusing elements.
There's also a one of two neck strap loops here, button to raise the popup flash and the speaker.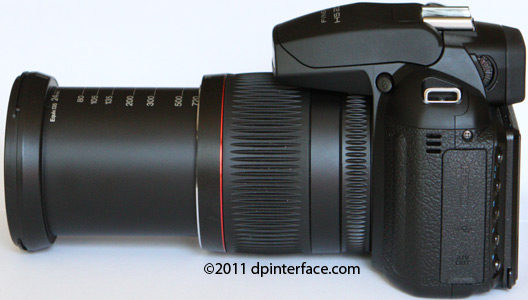 And here's that 30X zoom lens in the fully extended position. The zoom lens is moderately smooth, but tight enough so there isn't any "lens creep" when you hold the camera downwards or upwards.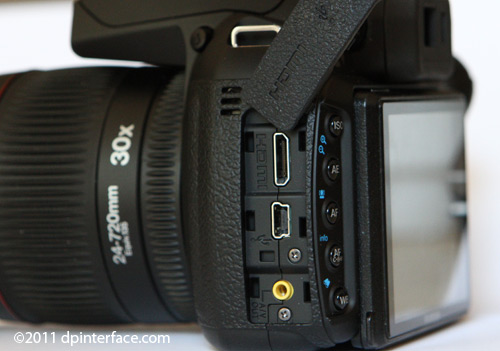 Over here, there are three ports located under a cover, which are: HDMI port, USB port (the camera supports USB 2.0 High-speed) and A/V out port.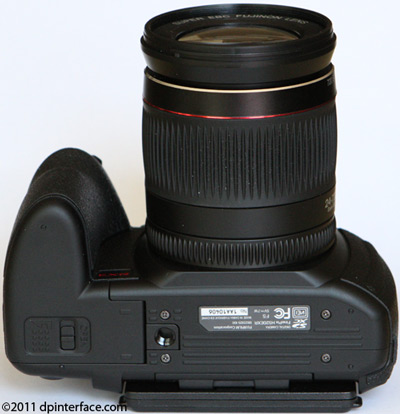 The bottom of the camera is bare, save for the battery compartment and tripod mount, which isn't in-line with the lens. Its position means the battery compartment door will be blocked when you mount the camera on a tripod.
Our tour of the Fujifilm FinePix HS20EXR ends with the opening of the last door on the camera: The battery compartment door. The camera takes four AA batteries.
Taking pictures (Shooting mode)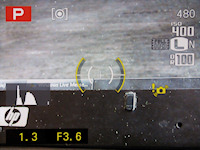 The Fujifilm FinePix HS20EXR has a pretty informative shooting display, showing you details about exposure and camera settings. You can also opt to show a brightness histogram OR 3 x 3 framing gridlines (yes, just one at a time apparently). A zoom indicator pops out the second you start using the zoom ring and tells you precisely the amount of zoom you're using. The only thing that's missing here is a battery indicator.
Shooting settings
The Fujifilm FinePix HS20EXR has just three image resolution options, which are: 16 megapixels, 8 megapixels and 4 megapixels. There are also three aspect ratio options available: 16:9, 4:3 and 3:2, along with two compression settings: Normal and Fine. The camera also sports a RAW image mode which lets you take uncompressed images (which you can later convert to JPEG photos using the bundled software on your computer).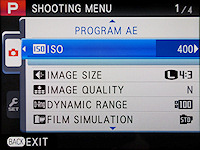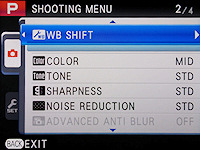 The Fujifilm FinePix HS20EXR has four pages worth of menu options:
ISO sensitivity
Image resolution and compression
Dynamic range (Auto, 100%, 200%, 400%)
Film simulation (Standard, vivid, soft, b&w, sepia)
White balance shift (Red-Cyan, Blue-Yellow)
Color (High, mid, low)
Tone (Hard, standard, soft)
Sharpness (Hard, standard, soft)
Noise reduction (High, standard, low)
Advanced anti-blur
Face detection
Face recognition
Movie mode autofocus (center, continuous)
Movie settings (1080p, 720p, VGA, all at 30 FPS; high-speed options: VGA 80 FPS, QVGA 160 FPS, 320 X 112 320FPS)
AE bracket steps (1/3, 1/2, 1 EV steps)
Flash exposure compensation (up to +/- 2/3)
External flash
Custom set – save settings to the Custom position on the mode dial
Electronic level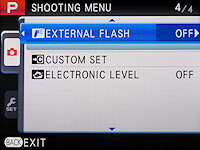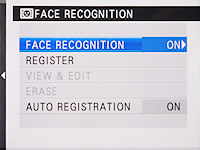 The camera also has a face recognition mode and electronic level which you can toggle for the shooting display.
Setup menu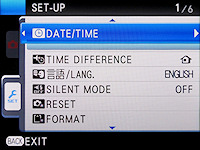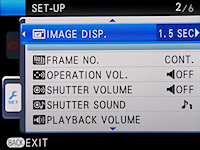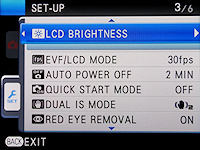 The Fujifilm FinePix HS20EXR also has plenty of stuff in its setup menu, all of them are thankfully pretty self-explanatory:
Date/time
Time zone
Language
Silent mode
Reset
Format
Image display (post shot preview) – 1.5 or 3 seconds, auto-zoom preview
Frame number (Continuous, reset)
Shutter sound; shutter, operation and playback volume
LCD brightness
EVF/LCD (30 FPS, 50 FPS)
Auto off
Quick start mode
Dual IS (continuous, shoot only)
Redeye removal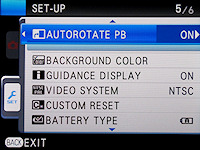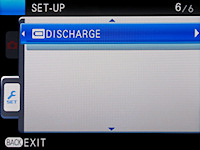 The good thing is you don't actually have to dive into the setup menu very often and adjust all of the settings. There are just a couple of things, such as date, time and battery type, which you have to configure in here, while you can leave everything else at their defaults if you want to.
AF illuminator (On/off)
AE/AF lock mode and function – Customize what the button does
RAW mode
Focus check – Zoomed in magnification in manual focus
Save original image during redeye removal, Pro Focus and Pro Lowlight modes
Auto-rotate images
Menu background color
Guidance display
Video system
Custom reset
Battery type
Discharge battery – For AA NiMH batteries only!
Scene modes and macro
The Fujifilm FinePix HS20EXR, as mentioned, isn't an enthusiast-only camera that beginners can't pick up. It also offers plenty of scene modes, including Natural Light mode, portrait, portrait enhancer, dog and cat modes (!), landscape, sport, night, fireworks, sunset, snow, beach, party, flower and text modes. And if even that is too mind boggling for you, the camera can make things even simpler by automatically picking a scene mode for you!
The camera also has two macro modes. Normal macro mode lets you close in to your subject between 10 cm to 3 meters (0.3 to 10 feet) at wide-angle, and 2 to 5 meters (6.5 to 16.5 feet) at telephoto. If you wanna get closer, a super-macro mode is available that lowers minimum focusing distance down to 1 cm (0.4 inches), though it's no surprise your ability to use optical zoom is limited here (since you're already really close!)
Video Recording
The Fujifilm FinePix HS20EXR has a very elaborate movie mode with plenty of options for the DIY video enthusiast. The camera can record 1080p Full HD movies (1920 x 1080) at 30 FPS with stereo sound. The great thing about the camera's movie mode is that you can use optical zoom while recording (though it is a little awkward using the zoom ring while trying to hold the camera steady as you'll see in our sample video) and autofocus is fully operational (but expect some awkward blurry moments as the camera takes a second or two to refocus).
You can expect to be able to pack an hour and 15 minutes worth of Full HD video on an 8 GB memory card, though there's a software limit of 29 minutes per clip. The camera can record at two lower resolutions as well: Standard HD (1280 x 720) and VGA (640 x 480), with the 29 minute per video file limit still present. The camera also boosts frame rate to a buttery-smooth 60 frames per second if you select the 720p Standard HD option (but also causing movies taken at this setting to take up as much memory as 1080p Full HD clips at 30 FPS).
The FinePix HS20EXR also sports three high-speed movie options. You can record VGA (640 x 480) sized movies at 80 FPS, QVGA (320 x 240) videos at 160 FPS or 320 x 112 (tiny!) videos at a whopping 320 frames per second! However, there's a 30 second per video clip limit using any of the three high-speed movie modes.
One downside of the FinePix HS20EXR's use of sensor-shift image stabilization is that it doesn't work when recording movies (it's just the nature of sensor-shift stabilization in general). Overall video quality was decent (though slightly grainy) with acceptable sound quality. You'll definitely be able to nicely fill up your computer or TV screen with those full HD movies.
Performance
All performance testing of the Fujifilm FinePix HS20EXR was performed using a high-speed 16 GB SanDisk Extreme SDHC card. A high-speed memory card is recommended if you want to get the most out of the camera in terms of performance.
The Fujifilm FinePix HS20EXR is good and ready to go within 2 seconds of flipping the power switch, which is slightly slow, considering the camera's lens doesn't have to physically extend at startup.
Focusing times on the Fujifilm FinePix HS20EXR vary quite a bit, which isn't surprising considering the large focal range covered by its 30X zoom lens. At wide-angle, focusing is extremely quick, clocking in at around 0.1 to 0.3 seconds with good light around and 0.2 to 0.5 seconds in low-light. As you move somewhere towards the middle of the zoom range (~300 mm or 12X), focusing takes roughly 0.2 to 0.4 seconds longer than the respective numbers at wide-angle. At full-zoom, expect focusing to take a full one to two seconds (there's some focus hunting involved) with decent to good lighting.
At lower zoom magnifications, the autofocus assist lamp is able to effectively help the FinePix HS20EXR to lock focus. However, the camera struggles to focus in low-light at higher zoom values (though paired with the kind of shutter speeds you'll get in low-light, I would discourage using high focal lengths in low-light in generally any camera)
Shot-to-shot speed - 1 shot per 2 to 3 seconds (camera has to refocus between individual shots)
Flash recharge time using a fully charged battery - 5 seconds on average (built-in flash)
One of the highlight features of the Fujifilm FinePix HS20EXR is its 8 frames per second continuous shooting mode (you can also pick between 3, 5 or 8 FPS frame rates). At full 16 megapixels, you can take up to 8 photos in a row, regardless of frame rate setting, before the camera stops and shows a 'saving photos' wait screen (you can't do anything except cancel the burst sequence during this time). There is a noticeable wait while the camera writes photos to the memory card, even with a high-speed card, but getting a high speed card certainly helps cut down wait times significantly.
When you lower resolution to 8 or 4 megapixels, a fourth frame rate opens up: 11 FPS. You can take up to 16 and 32 photos in a single burst for the 4 and 8 megapixel settings respectively. The Fujifilm FinePix HS20EXR's continuous shooting modes are apparently made for folks who know what they're doing (instead of taking a bunch of endless continuous shots) since you can only capture one to three seconds of action in a single burst (depending on frame rate and resolution). It would be nice if the camera allowed more pictures to be taken per burst at lower frame rates though.
The Fujifilm FinePix HS20EXR showed mixed performance numbers thanks to its ambitious zoom range. On one hand, continuous shooting and focus rates in good light were very good, but on the other, there's the slightly slow startup time and focusing speeds at the telephoto end of the lens. Bottom line is, the camera is most responsive with good lighting around (ie outdoors or brightly lit indoor conditions) while you should stick to wider focal lengths (I'd recommend 250 mm/10X zoom and below) when shooting in low-light.
Image Quality
ISO 100 (f3.6, 1/15 sec)

ISO 200 (f3.6, 1/27 sec)
ISO 400 (f3.6, 1/56 sec)

ISO 800 (f3.6, 1/110 sec)

ISO 1600 (f3.6, 1/220 sec)

ISO 3200 (f3.6, 1/450 sec)
ISO 6400 (f3.6, 1/950 sec)
ISO 12800 (f3.6, 1/1800 sec)
The FinePix HS20EXR continues Fujifilm's good history of making high ISO, low noise sensors as it produces very clean and smooth photos at the two lower ISO settings, 100 and 200. Photos at ISO 400 still look good with very low levels of noise. Going up to ISO 800 introduces some slight fuzziness to photos but images are still very usable at this point, say for large 8 x 10 prints or use as your computer wallpaper.
Photos at ISO 1600 turn muddy with the introduction of noise reduction (noise reduction was set to 'low' in all our gallery photos, and there is no way to disable it unless you shoot in RAW) which washes details away. You might best save this for very desperate shooting situations (example: when you really need to get a sharp photo in that dimly lit concert). Things only get worse in the ISO 3200 setting where there's plenty more visible noise.
The FinePix HS20EXR has two upper ISO settings, ISO 6400 and 12800, which lower resolution down to 8 and 4 megapixels respectively. Photos at these two settings are not very grainy, but it's no surprise that noise reduction did its thing here by reducing noise (but also reducing details at the same time).
That said, however, the Fujifilm FinePix HS20EXR certainly does better than most of the competition and other compact cameras in the market; not many cameras can even reach ISO 400 or 800 without details getting blurred or taking pictures full of noise. While ISO 12800 might be pushing it, you might be able to savage shots taken at ISO 3200 and ISO 6400 by downsizing them for small prints and display. Or alternatively, use the camera's Pro Low-light mode I mentioned earlier in the review.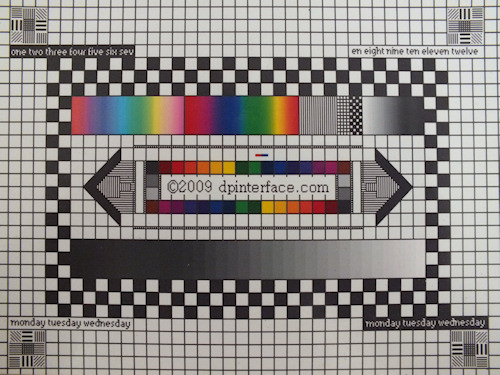 The camera showed a slight amount of barrel distortion at wide-angle when shooting in JPEG, since the image processor does its job at reducing it. It's more noticeable with RAW images, which come out untouched by the camera's processing, but distortion levels are really low considering the FinePix HS20EXR's 30X lens covers a really large range (24 to 720 mm!). Pincushion distortion towards the telephoto end of the lens was not an issue either.
There was a touch of chromatic aberration (color fringing) in photos but the levels are low enough to not be troublesome. Redeye was a non-issue as the camera effectively removes any it can detect, and you can run the software-based redeye removal tool in playback too.
The Fujifilm FinePix HS20EXR produced overall good image quality; it demonstrated excellent low-noise characteristics in its images, extremely low levels of lens related distortions and it takes sharp, well saturated images right out of the box. One thing I did see was some very slight but perceptible softness in some photos (particularly foliage shots), even at low ISO settings, when inspecting them at 100% size. However, this is a non-concern for most users unless you plan on making really, really huge poster prints from such photos; in which case you should shoot in RAW and make fine adjustments as needed to sharpness.
Photo gallery
Check out the Fujifilm FinePix HS20EXR photo gallery for plenty of full-sized photos taken straight out-of-the-camera.
Playback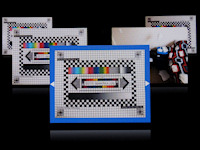 The Fujifilm FinePix HS20EXR has a decent playback mode. There are the features that you've come to expect in digital cameras, such as image protection, cropping, resizing, rotation, voice memo, copying between internal memory and the memory card, print marking, playback zoom and slideshow playback. There are no fancy editing features in the camera, save for basic software-based redeye removal, but there are other three noteworthy features here…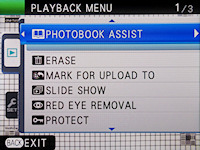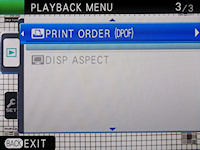 The FinePix HS20EXR gives you the ability to mark photos and video clips to either YouTube or Facebook, and all you have to do is connect the camera to your computer (with the bundled software installed) and said photos will be uploaded to either or both of the desired marked locations.
The camera also sports a 'photobook assist' mode which lets you classify (typically, your favorite) photos into various 'photobooks', or in simpler terms, collections of albums.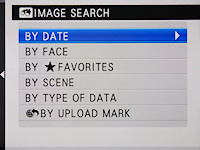 There's also image search, accessible by the search button to the left of the LCD, which allows you to search photos by date, face (with face recognition enabled), photos marked as favorites, scene mode, type and upload mark – pretty handy when you've got a ton of photos taken on your memory card.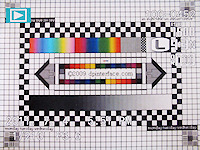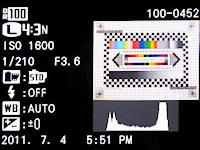 The camera tells you pretty much everything about your photos in playback mode and even includes a brightness histogram in one of the more advanced views.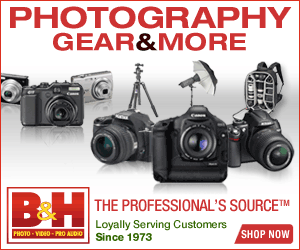 Conclusion
The Fujifilm FinePix HS20EXR is a fixed lens camera that does a nice job at blending an 'SLR like' experience (but minus the weight and costs of a bunch of lenses involved if one was to buy into a SLR system) with the long zoom lens and small size benefits of a more compact camera. With a retail price of $499, the camera has an impressive feature set to go and plenty of noteworthy features. The camera has a larger-than-average 1/2 inch EXR CMOS sensor, whose specialty is low noise but also delivers very good image quality out of the camera along with other EXR modes like high dynamic range.
The camera's build quality was good with a nice ergonomic grip and well-placed controls. I liked that Fujifilm paired the extremely versatile 30X optical zoom lens with manual zoom and electronic focus rings which improves usability a bunch versus buttons and levers used on other cameras to operate zoom/focus. The big and sharp LCD can also be tilted outwards to shoot at high and low angles; an EVF is present for those who want to use it but the LCD presents a much better experience than the small and comparatively low-resolution EVF.
The camera has lots of manual controls, including a flash hotshoe, RAW image mode and white balance tweaking (there's a custom white balance setting present too), which more advanced users will appreciate. However, the FinePix HS20EXR is also easy to use enough for beginners and will have them feeling right at home with a broad array of scene modes. The camera sports quite a number of physical buttons which are straightforward to understand with just one function per button (along with playback-related functions indicated with blue icons).
The FinePix HS20EXR also has plenty of tricks up its sleeve; the camera's high-speed shooting and panorama features are the two of its abilities which I liked the most, along with two 'advanced' shooting modes that give interchangeable lens cameras and big sensor cameras a run for their money. Those two modes are Pro Focus and Pro Low-light modes which create pictures with improved background blur and low-light image quality respectively. The camera managed to perform well in the speed department and especially well in terms of image quality. However, there were some minor quirks which may bother some, such as the limited images per burst and noticeable waiting after every continuous shooting sequence, along with below average startup time.
One of the other main appealing features of the FinePix HS20EXR is its movie mode with its various settings. You can choose between shooting at Full HD at 30 FPS, standard HD at 60 FPS or one of three high-speed modes that record at up to 320 FPS. Optical zoom and continuous focusing can be used throughout recording, though it would be good if they included more controls such as manual exposure.
All-in-all, the Fujifilm FinePix HS20EXR is a great all-rounder, prosumer camera that should be on your consideration list if you're looking for an all-in-one camera that's easy to use. The camera has several small imperfections (but what camera is perfect?) but they are minor enough for most folks to overlook, especially with the big list of other appealing features of the FinePix HS20EXR. I would highly recommend the Fujifilm FinePix HS20EXR indeed.
What's hot:
Very good image quality with low noise
Digital SLR-esque design; ergonomic and very good build quality
Lots of optical zoom (30X!) with zoom and focus rings
Full manual controls; flash hotshoe, RAW image mode
Handy hinge-mounted 3 inch LCD can be tilted out at unconventional angles; good legibility in bright and low light
Very fast 8 FPS full-resolution burst mode; can be boosted to 11 FPS at lower settings
Pro Focus and Pro Low-light modes work great
Motion Panorama, dynamic range priority and Best Frame modes are very useful
Excellent battery life; uses AA batteries (which are very commonly available)
Elaborate movie mode; Full HD recording, 60 FPS frame rate at 720p and 3 high-speed movie options; optical zoom and continuous focusing available while recording
Useful upload marking and image search features in playback
What's not:
Small and unsharp electronic viewfinder; doesn't cover 100% of the frame
Slow startup time for a camera with a non-extending lens
Limited number of images per burst in continuous shooting mode; noticeable wait time to save photos after a burst
No 'real' image stabilization or manual controls available in movie mode and slight softness in movies
Slight softness in some photos when viewed at 100%, even at low ISO settings
Image retouch/effects tools in playback would be nice