Here's my review of the Nikon D300S (finally, right? I promise I'll have more reviews in the coming days/ weeks), a semi-professional camera from Nikon's digital SLR lineup. Head on to the Nikon D300S photo gallery as well for full-sized photos taken using the camera. Our full review awaits after the jump.
DPInterface Nikon D300S digital SLR Review
Brad Soo – April 5th, 2010

In late 2007, Nikon shook up the mid-range digital SLR market a little with their D300 SLR. The Nikon D300 was priced slightly higher than typical mid-range digital SLRs, but offered a feature set so similar to Nikon's flagship SLR that some even labeled the D300 as the "mini D3". About two years later in late 2009, Nikon decided to give things a little refresh, adding several new features into what you see now as the D300S. What's new on the D300S? Here's a handy list of changes:
Dual memory card slots (Compact Flash I/II and SD/SDHC)
7 FPS 'native' continuous shooting (vs 6 FPS on D300); can be boosted to 8 FPS with battery grip
720p HD movie mode with sound; support for external microphone
New live view and info buttons; improved navigation pad
New quiet mode and virtual horizon
New simple movie and RAW editing playback tools
How does the Nikon D300S perform? Let's find out now.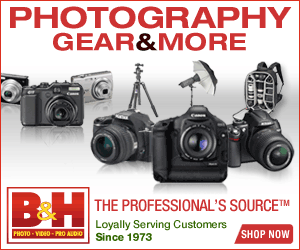 Inside the camera box
The Nikon D300s comes with a pretty standard digital SLR bundle:
Nikon D300s camera body
EN-EL3e rechargeable lithium-ion battery
Battery charger
Viewfinder eyepiece (attached to the camera out-of-the-box)
Transparent plastic screen protector
Body cap
Neck strap
USB and A/V cables
Camera software CD
User's manual
Not surprisingly for a digital SLR camera, the Nikon D300S does not come bundled with any sort of memory so you'll have to use your own memory card. The Nikon D300S now features a new SD/SDHC memory card slot on top of the Compact Flash Type I/II card slot that the original D300 already had. That means you'll get to use dual memory cards on the D300S like on a full professional digital SLR (ie Nikon D3S and Canon EOS 1D Mark 4). At least a 4 GB high-speed memory card is recommended for the Nikon D300S, more if you plan on taking advantage of the camera's HD video recording capabilities.
The Nikon D300S uses the EN-EL3e lithium-ion rechargeable battery and comes with a charger. Using its optical viewfinder, the D300S is rated to last 1,000 shots in between battery charges (CIPA Standard) which is excellent. You can further extend the camera's fantastic battery life via the optional battery grip (and up maximum continuous shooting rate while we're at that). Of course, if you use the D300S' live view feature, expect numbers to drop significantly to just under a third of battery life using the optical viewfinder.
Accessories
The Nikon D300S is compatible with a vast array of accessories, and just about every single Nikon/Nikkor F lens. The D300S will also support autofocus on most lenses too, thanks to the built-in legacy focus motor, but it's still better off to buy newer AF-S/AI-S lenses as Nikon continues to phase out lenses lacking in-lens focus motors.
You can also add on external flash units to the D300S as well as various flash accessories such as macro lights and brackets. The current Nikon external flash models are the SB-400, SB-600 and SB-900, with the SB800 and SB900 able to control (master) additional flash units in a wireless setup. Third party flash units work with the D300S as well, but only Nikon models will sync automatically with the camera.
The Nikon D300s can be controlled from a distance as well since it supports optional wireless and wired remote controls. Other things like camera bags and cases, HDMI cable and AC adapter are available for the camera as well. There are also more fancy accessories such as a wireless transmitter which allows you to automatically transfer pictures over to your computer as you shoot and GPS attachment which will let you geotag the location of your photos.
The most famous accessory of them all is the MB-D10 battery grip (first seen on the original D300) which will not only give you an option to comfortable shoot with the camera held in vertical position and give you a mirror set of the camera's right hand back controls, it can also let you 'boost' maximum continuous shooting frame rate from 7 to 8 FPS if you use the (also optional) EN-EL4a battery/tray of AA batteries.
Camera Tour
Besides the addition of a built-in microphone, speaker and two new buttons, the Nikon D300S looks (and feels) a whole lot like the original D300. As you'd also expect from a camera on this level (semi-pro), the D300S is solidly built, made of magnesium alloy and comes complete with weather-sealing. There are a lot of buttons and controls spread (but well placed) around the camera with instant access to main settings such as white balance, metering mode and drive mode. That's great news for seasoned Nikon users but intimidating if you haven't (or never) dabbled with digital SLRs for long.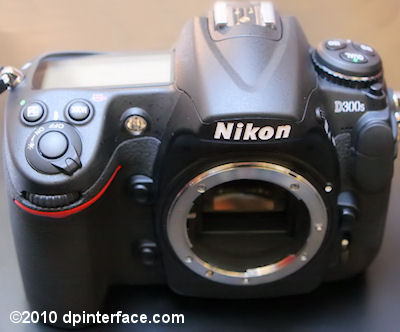 Over on the front of the Nikon D300S, you'll see its Nikon F lens mount with an in-body motor so you can attach just about any Nikkor lens with the camera (and use autofocus with most of them too). As this is not a full frame camera, all lenses attached to the D300S will be subjected to the 1.5X crop factor of the camera's APS-C sized CMOS sensor (but you already knew that, right?). The Nikon D300S' shutter mechanism is rated to last 150,000 cycles.
The Nikon D300S has various implementations to combat dust from appearing in your photos. There is your generic dust reduction system that shakes off dust on the low-pass filter and anti-static coating to prevent dust from 'sticking' to the sensor (both approaches only seem to be effective in removing large/loose dust particles while smaller particles still remain). If you still find dust in your photos, you can map out dust particles in Nikon's bundled Capture NX software and remove them in RAW images, or you could just manually clean the sensor (the most effective yet most troublesome method, in my opinion).
Right above the camera's lens mount is the built-in flash which has a guide number of 12 m at ISO 100, which is fairly average for an SLR built-in flash. For added power and flexibility, you can attach an external flash to the camera's hotshoe or hook one up to the flash sync port.
Situated between the lens mount and grip is a lamp which does three things – it acts as an autofocus assist light (to help autofocus in low-light), self-timer visual countdown and redeye reduction. Below that lamp are two buttons: the top one used for depth-of-field preview while the bottom one toggles exposure bracketing (it's also customizable, so you can assign it to handle another function).
On the right side of the lens mount are two things, the lens release button right next to the mount and a rubber cover below the "D300S" logo; the ports hidden under that cover are the flash sync port and remote control/GPS attachment port respectively.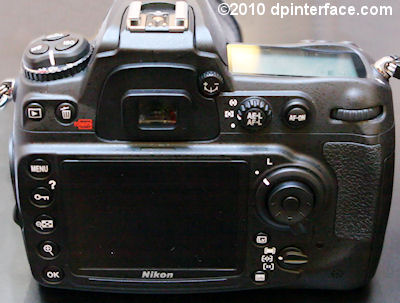 The Nikon D300S sports a big and high resolution 3 inch LCD display which you'll be using for browsing photos, navigating menus and live view on the camera. The screen has a whopping 921,000 dots, which is about four times the resolution of your average 230,000 dot camera LCD, so everything is fluid and very sharp (especially important when manual focusing). You'll also get excellent legibility in low-light and under bright light.
Above the LCD of the D300S is the optical viewfinder. The viewfinder here is pretty big with 100% frame coverage and 0.94X magnification. In and around the viewfinder image, you'll be treated to a vast amount of information, including the camera's 51 AF points (which don't appear unless they're selected and used), exposure (ISO, shutter speed, aperture value), battery level, flash and general shooting details (ie remaining shots, burst buffer remaining). To the upper right of the viewfinder is a dial for adjusting dioptric correction, used to focus the viewfinder image (usually for glasses wearers and users without 20-20 vision).
Alright, there's a ton of buttons and dials around here, so let's see… where shall we start? To the upper left side of the D300S, there are the playback and delete photo buttons (the delete button can also bring up the format memory card screen when pressed in conjunction with the mode button). That's followed by a row of five buttons next to the LCD:
MENU
Protect image/help menu
Zoom out/thumbnail mode
Zoom in
OK/Confirm
Moving on to the right side of the Nikon D300S, there's a button for focus/exposure (AF/AE) lock with a dial around it for metering mode (choose from center weighted, 3D matrix or spot metering). Going further right, there's the AF-ON button (for activating autofocus separately from the shutter button) and one of two command dials on the D300S (the other one is located in front on the camera grip).
Working our way to the bottom of the camera, you'll find the five-way navigation pad (which also allows you to directly select autofocus points) somewhere in the center of the camera – this navigation pad has a dedicated lock switch around it so you can disable it if you're afraid of accidentally pressing it. Further down, there's the dedicated Live View button as well as INFO button for bringing up shooting settings on the LCD. Then you'll also spot YET ANOTHER switch – this one is for selecting autofocus area (choose from one point, dynamic area or all 51 points).
Gone is the manual unlock switch from the D300 for opening the memory card compartment door – instead the D300S has a more conventional "pull outwards and open" plastic door over its memory card slots. The last item on the back of the D300S is the camera's speaker, located at the bottom right corner.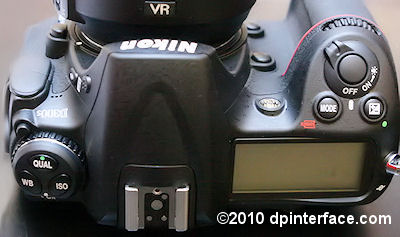 At the top of the Nikon D300S is the flash hotshoe which allows you to attach any flash (though only Nikon ones will sync automatically with the camera). The Nikon D300S can sync as fast as 1/250 sec with an external flash or up to 1/8000 if you enable high-speed sync.
Hold your horses, we're not done with buttons, dials and switches just yet! On the right side of the flash/hotshoe, you'll find a faux mode dial with three buttons on it (for ISO, white balance and image quality) and a drive mode dial (Single shot, continuous high/low speed, quiet mode, self-timer mode, mirror lockup mode) integrated within it.
Jump over to the other side of the camera and you'll find a few more things, including a secondary display panel for telling you about the camera's various settings and two buttons. There's a MODE button for selecting a shooting mode on the camera and another button for adjusting exposure compensation (+/-5 in 1/3 step increments). Here are the modes available on the D300S:
Program mode – the camera will select both shutter speed and aperture; there's program shift available so you can tweak the shutter/aperture combinations
Shutter priority – pick a shutter speed (between 1/8000 to 30 seconds) and the camera will select a matching aperture value
Aperture priority – pick an aperture value (depends on lens) and the camera will select a matching shutter speed
Manual mode – you get full control over both shutter speed and aperture; bulb mode available
Not surprisingly for a semi-professional digital SLR, the Nikon D300S doesn't have any auto mode or scene modes at all!
At the very tip of the camera's grip is the shutter button surrounded by a power switch. To turn on the backlight of the secondary display I mentioned, you just have to push the power switch just beyond the "ON" position (see that bulb icon?) to activate the backlight.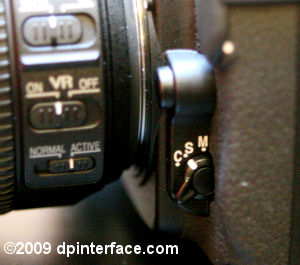 On this side of the camera, you can find two buttons near the flash (one for releasing the popup flash and another for picking flash setting [auto, on, slow sync; redeye reduction option available] as well as adjusting flash exposure compensation [+/-5 EV]). Towards the lower part of the camera is a switch for focusing mode, which you can see in the photo above – using this switch, you can move between single, continuous and manual focusing.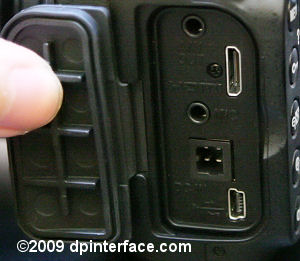 On that same side of the Nikon D300S is a large rubber flap that covers five (!) more ports used by the camera. From top to bottom, the ports are: audio/video out, mini HDMI out, external microphone in (for better sound quality in movie mode), DC-IN for AC adapter and USB 2.0 High speed.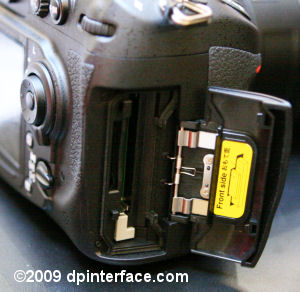 On the right side of the Nikon D300S, you'll find the camera's memory card compartment. Again, the D300S has dual memory card slots so you can insert one Compact Flash card and one SD/SDHC into the camera. The door over the compartment, though weather-sealed like the rest of the camera, is the camera's weak spot as it's made of plastic.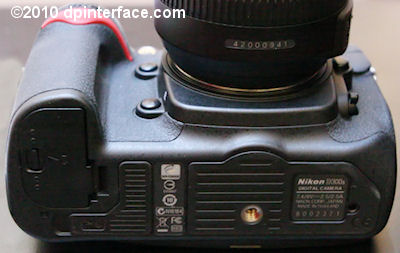 At the bottom of the Nikon D300S are its metal tripod mount (in-line with the lens), battery grip connector and battery compartment.
Taking pictures (Shooting mode)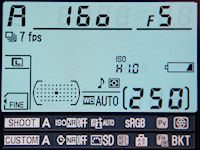 Over here is the Nikon D300S' info display screen. It now shows you quite a bit more details about your shooting settings than on the D300. You can also change several of those settings directly (new on the D300S), from custom mode to color space to ISO settings.
The Nikon D300S has the venerable 51 point autofocus system that it shares with Nikon's flagship D3S digital SLR. All points are selectable, and of the 51 points, 15 of them are cross-type points (the center 3 x 5 cluster).
There are several bracketing functions on the Nikon D300S. First off is exposure bracketing, where you can take three to nine pictures with different exposure settings (and you can set them in multiple steps of 1/3, 1/2 or full stops). There's also white balance bracketing that allows you to take 2 to 9 photos with different white balance settings.
Live view
Live view comes in handy for studio and macro shots, and the camera can even be remote controlled (complete with live view feed) via your computer. Unfortunately, remote live view software for the Nikon D300S doesn't come bundled with the camera – you'll have to shell out extra for the optional software (quite strange, considering how much you're paying for a camera like the D300S, and also Canon bundles remote capture software standard with all their digital SLRs).
In live view mode, the D300S' LCD shows 100% of the frame with shooting and exposure information in live view mode. There are also optional framing gridlines and focus enlargement available but the camera lacks a live histogram. There are two live view modes on the Nikon D300S, namely tripod mode (phase detect AF) and handheld mode (regular contrast detection mode). There's no screen blackout in contrast detection mode when focusing compared to phase detection focusing, but autofocus is really sluggish.
The Nikon D300S has a new quiet release drive mode that lets you "hold" the mirror/shutter position and not make any noise until you let go of the shutter button.
Shooting settings
The Nikon D300S has just three image resolution options: 12 MP, 6.7 MP and 2.9 MP. There are three compression settings available (Fine, Normal and Basic) for each resolution setting. There are also RAW, RAW+JPEG and TIFF image modes; with the RAW option allowing you to choose between two compression settings or going completely uncompressed.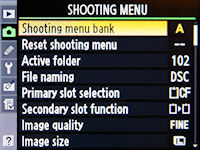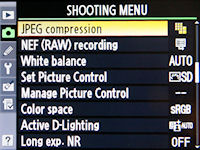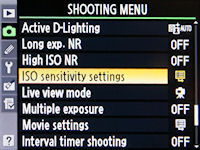 The Nikon D300S has Nikon's now-standard tabbed user interface with plenty more stuff and menu options than your typical Nikon digital SLR. Here are the items in the tab that covers shooting functions:
Shooting menu bank (4 slots) – Allows saving of four sets of menu options
Reset shooting menu
Active folder – where you save pictures on your memory card
File naming – customize the first
Primary slot selection – choose the primary memory card the camera saves to first when there are two memory cards inserted
Secondary slot function – choose what the second memory card does; you can backup (simultaneous write) or "overflow" images to the second card
Image resolution, JPEG compression and NEF RAW mode
White balance (Auto, incandescent, fluorescent, sunlight, cloudy, shade, flash, custom, color temperature)
Picture Control – more on this in the dedicated section below
Color space (sRGB, Adobe RGB)
Active D-Lighting (Off, auto, low, normal, high, extra high)
Noise reduction for long exposure and high ISO
ISO sensitivity – you can also set maximum ISO Auto speed and minimum shutter speed
Live view settings (Tripod or handheld mode and drive mode)
Multiple exposure – combine 2 to 10 shots into a single photo; there's an autogain fun
Movie settings
Interval shooting
The D300S features adjustable white balance, where you can tweak any of the preset settings up to +/-9 steps along the amber-blue and green-magenta axis's respectively. If you like, you can also set color temperature yourself (within a range of 2,500 to 10,000 Kelvin).
Picture Controls
The Nikon D300S features a bunch of Picture Controls, which are sets of image parameters you can tweak and switch between quickly. Each Picture Control choice allows you to adjust various parameters such as sharpness, contrast, brightness, saturation and hue. You can pre-"mix" various Picture Control parameters of your own and save them to/from your computer, which is very useful if you have several Nikon digital SLRs and want consistent image output.
The D300S has two color space options: sRGB and AdobeRGB.
Setup menu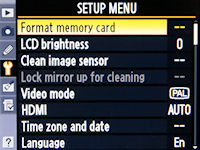 The Nikon D300S has a fairly standard setup section in its menu where you can set the date and time, screen brightness and perform sensor cleaning (both auto and manual).
Custom Settings menu
The Nikon D300S has three pages worth of Custom Settings, split up into six categories which are:
Autofocus
Metering/exposure
Timers/AE lock
Shooting/display
Bracketing/flash
Controls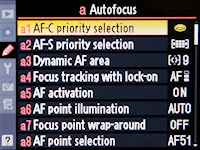 Autofocus
AF-C priority selection (Release, focus, both)
AF-S priority selection (Release, focus)
Dynamic autofocus area (9 points, 21 points, 51 points, 51 points with 3D tracking) – choose how many focus points the camera can pick in auto AF area mode
Focus tracking lock on (Off, short, normal, long) – how quickly the camera will wait before tracking a subject
AF activation – choose which buttons activate autofocus
AF point illumination (Auto, on, off)
Focus point wrap around – automatically trigger peripheral focus points around your chosen AF point
AF point selection (limit to 11 points or 51 points)
AF assist lamp (On/off)
AF-ON for MB-D10 – set the function of this button on the battery grip
Exposure
ISO step increments (1/3, 1/2 or 1 step)
Exposure control step increments (1/3, 1/2 or 1step)
Exposure compensation step increments (1/3, 1/2 or 1 step)
Easy exposure compensation – set whether you can directly adjust exposure compensation or if you need to press the dedicated button first
Center-weighted area – area metered for the center-weighted metering setting
Fine tune optimal exposure – tune and preset exposure compensation for each metering option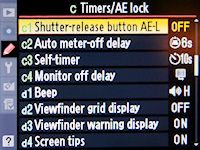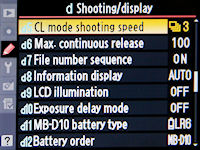 Timers/AE lock
AE exposure lock when shutter is half-pressed
Auto power off duration
Self-timer delay duration and shots taken after countdown
Monitor off delay – idle time before LCD turns off automatically
Shooting/delay
Beep sound (off, low, high)
Viewfinder grid display (On/off)
Viewfinder warning display (On/off) – warning for low battery
Screen tips (On/off) – help tooltips for menu options
CL mode shooting speed – continuous shooting speed for "low speed" burst mode
Max continuous release – optionally put a software limit on number of shots you can take in a single burst
File number sequence (Off, on, reset)
Information display
LCD illumination – for the secondary display at the top of the camera
Exposure delay mode (On/off) – this works like mirror lockup; adds a deliberate delay between pressing the shutter button and when the shutter is actually released
MB-D10 battery type – type of AA batteries you're using in the batter grip
Battery order (Grip/body) – which source the camera uses first when battery grip is used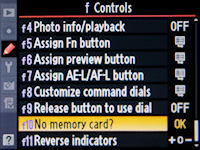 Bracketing/flash
Flash sync speed – set the fastest normal sync speed the camera can use
Flash shutter speed – set the slowest shutter speed the camera can use with flash
Flash control for built-in flash
Modeling flash (On/off)
Auto bracketing
Auto bracketing in manual mode (adjust flash only, flash and shutter speed and/or aperture)
Bracketing order
Controls – customize the camera's physical controls to your liking here
Illumination switch
Multi selector center button – customize its separate functions in shooting and playback modes
Multi selector
Photo info/playback – triggering direction functions of the navigation pad in playback
Customize Function, Preview and AE/AF lock buttons
Reverse command dial rotation
Release button to use dial (On/off)
No memory card – whether the camera can take pictures without a memory card (image won't be saved though)
Reverse indicators
As you probably would've figured by now, the D300S offers an extremely comprehensive set of custom settings that allow you to customize the camera in almost every way imaginable.
My Menu
The Nikon D300S has a My Menu section that allows you to pick your most frequently used camera settings and place them in a single page. You even have the option of arranging and reordering the items.
Video Recording
The Nikon D300S sports a move mode that's similar to the one found on Nikon's D90 and D3000 models. The D300S can record 720p resolution videos with sound in AVI MJPEG format. The Nikon D300S has the same hidden, complex to activate pre-recording process I first saw on Nikon's entry-level D3000 – in order to start recording a movie, you first need to activate live view, half-press the shutter button to autofocus (don't press it fully, if not the camera will take a picture instead) and then hit the OK/center button on the navigation pad. That's kind of overly long-winded, considering the D300S' direct competitor, the Canon EOS 7D, merely needs a flick of a switch and press of a start/stop button to start recording video.
Movie resolution/frame rate options available on the Nikon D300S are:
720p high definition (1280 x 720) at 24 FPS
3:2 "almost" VGA (640 x 424) at 24 FPS
3:2 "almost" QVGA (320 x 216) at 24 FPS
Unfortunately, there are a couple of limitations here and there. First off, there's a 5 minute per clip limit for 720p videos (20 minutes with the two lower resolutions). The other thing is the camera records mono sound using its built-in speaker, at a low 11 kHz (even if you attach an external microphone, that doesn't change).
Video quality was good (better than compact cameras with small sensors), though moving around too quickly isn't advisable due to the rolling shutter effect, exhibited by most digital SLR sensors when recording movies with too quick/much movement. Audio quality was so-so (see the main limitation above).
Performance
All performance testing of the Nikon D300S was performed using a high-speed 8 GB SanDisk Extreme IV Compact Flash card. A high-speed memory card is recommended if you want to get the most out of the camera in terms of performance.
The Nikon D300S starts up just about instantly the moment you flip the power switch, slightly longer if you've enabled dust reduction at start up. Auto focusing times depend on the lens being used but with a decent lens (like the AF-S 16-85 mm f3.5-f5.6 VR), it takes roughly 0.1 to 0.3 seconds to lock focus in most lighting conditions (except pitch darkness). Low-light focusing accuracy and speed were both good thanks to the AF assist system helping to illuminate the subject.
Shot-to-shot speed - 1 shot as fast as you can press the shutter button; very fast
Flash recharge time using a fully charged battery - 4 seconds on average (built-in flash)
The Nikon D300S has two selectable continuous shooting speeds: low speed, where you can set frame rate anywhere between 1 to 6 FPS, and high speed which is fixed at 7 FPS (boosted to 8 FPS if you have the optional MB-D10 battery grip with high power lithium/AA batteries). At high-speed, the Nikon D300S has a fairly constant shooting speed that hovers around 7 frames per second.
If you're shooting JPEG photos, there's a software limit of 100 shots per burst (with little write delay after a full burst session). All you have to do is lift your finger off the shutter button and hold it down again for another 100 shots. If you're shooting in 12-bit RAW, you still can shoot at 7 FPS, though buffer becomes a factor and the camera's continuous shooting speed will slow down significantly after 16 shots or so. And if you're shooting in 14-bit RAW, continuous shooting speed just maxes out at a paltry 2.5 FPS (while the competing EOS 7D can shoot at a full 8 FPS when shooting 14-bit RAW).
The Nikon D300S is a fast camera that offers the high-speed operation and responsiveness you'd expect from a mid-high range digital SLR. The camera can handle just about any shooting situation you throw at it (helped by the 51 point AF system it shares with the flagship Nikon D3S) and as long as the camera is turned on beforehand and you time things correctly, chances are you won't be missing important/spontaneous moments. I have just two rants here: about the need to get the battery grip and high-powered battery in order to get a boost from 7 to 8 FPS and the sluggish frame rate when shooting in 14-bit RAW, while the Canon EOS 7D (the D300S' direct competitor) has native 8 FPS shooting, regardless of image mode or setting.
Image Quality
Moving on, we're going to have a look at image quality produced by the Nikon D300S:

ISO 200 (f5.3, 1/6 sec)

ISO 400 (f5.3, 1/13 sec)

ISO 800 (f5.3, 1/25 sec)

ISO 1600 (f5.3, 1/60 sec)

ISO 3200 (f5.3, 1/125 sec)

ISO 6400 (f5.3, 1/250 sec)
Just like the D300, the Nikon D300S has a base ISO range of 200-3200, expandable to ISO 100 to 6400. Photos are very clean in general with good color saturation and detail levels. However, images do start out with moderate sharpness (like many higher end/professional digital SLRs), which may seem 'soft' to some, so photos can actually benefit from a little do-it-yourself sharpening (either through the Picture Control menu or post-processing on your computer).
Images are pretty much smooth and close to noise free for the first few ISO settings up to ISO 400. The low amount of noise doesn't change much when ISO is upped to 800. That's good, seeing that the D300S with its high shooting frame rate will probably be used by many for low-light and action shooting. Going up to ISO 1600, images look a little grainy here but you still should be able to make large prints out of photos at this level, especially if you shot in RAW and did your own post-processing.
Noise at ISO 3200 becomes fairly visible, especially if this setting is used in low-light conditions, so it's advisable to stick to mid-sized prints or shoot in RAW so you can do some cleaning up later on your computer. At ISO 6400, noise becomes even more prominent, but image quality at this point is still quite usable for mid-sized prints.
Lens characteristics such as chromatic aberration (color fringing), distortion and vignetting/edge sharpness typically depend on your choice of lens. With the 18-200 mm VR super-zoom lens, there was quite a bit of chromatic aberration (color fringing) and some distortion to be found. Overall sharpness is a tad below average, you might fare better with a higher-end lens or increased in-camera sharpening. Redeye was not a problem with the Nikon D300S, even using the built-in flash. In case you ever come across any redeye, you can always use the redeye removal playback tool or use an external flash.
The Nikon D300S offers very good image quality, exactly what you'd expect from a digital SLR of this class. Images are pretty clean throughout the ISO range until 3200, and for most part, is usable right out of the camera. However, given the D300S and its positioning of being a camera catered to photography enthusiasts or professionals looking for a good primary or backup camera, it doesn't produce overly bright or sharp photos (commonly seen in point-and-shoot and entry-level digital SLR cameras) using its default settings. What I'm saying here is that some may want to do some tweaking and test snapping by playing with different Picture Control parameters so the camera produces your desired output of image sharpness/saturation.
Photo gallery
Head on to the Nikon D300S photo gallery for full-sized sample photos taken straight out-of-the-camera.
Playback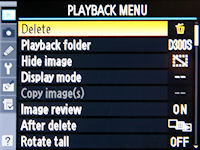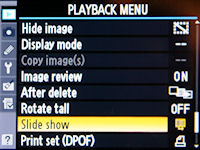 The Nikon D300S has a full-fledged playback mode which comes with several editing functions you can use on your photos (and one for trimming movies). You can play back photos with magnification (apparently up to "full size", good news for pixel peepers) available to confirm focus and details. Basic functions like print marking, simple slideshows, image rotation and protection are all present. Photos can be viewed one at a time or in sets of thumbnails (various sizes).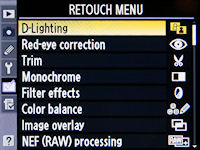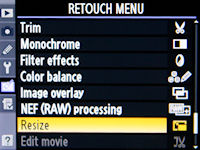 First seen in Nikon's entry-level digital SLRs, the D300S also has the retouch menu which contains a bunch of functions and editing effects you can use on your photos:
D-Lighting (low, medium, high)
Redeye correction (software based)
Image trimming aka cropping
Monochrome conversion (Black and white, sepia and cyanotype; with saturation adjustment)
Filter effects (R/G/B, softness, warm, skylight, cross filter)
Color balance correction
Image overlay – overlay (combine) two photos; only can be used with RAW shots
NEF (RAW) processing
Resize
Edit movie – trim your movies right in the camera
One useful feature is the RAW processing tool that allows you to convert RAW files into JPEG photos, which can help save a lot of space and trouble (processing images on your computer) later on, should you not want an image in RAW any more. You can also make minor changes to things like exposure and white balance directly in the camera.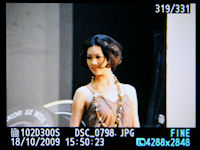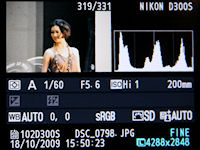 Like on their other digital SLRs, the Nikon D300S can show you just about everything for photos you've taken. There are several different info screens you can choose from; and they cover everything ranging from shooting details, mode, full exposure information (with shutter speed and aperture value), a brightness histogram (an option for RGB histograms with their respective color channels is available) and even the lens used and focal length! The camera can even make overexposed areas (highlights) of your photos blink and show you the Picture Control setting used along with other details.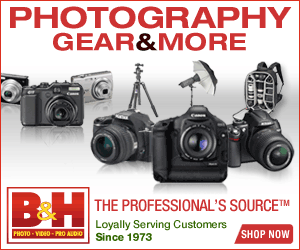 Conclusion
When people call the D300S a "smaller and lighter" version of Nikon's flagship D3S (which also happens to cost more than twice as much), you'd better believe it. The D300S has a feature set that's extremely similar to that of the D3S (save for the latter's full-frame sensor of course). The D300S is a decent upgrade to its predecessor, the D300; sporting a new 720p HD movie mode, a few new/updated controls, improved 7 FPS native burst mode (up from 6 FPS) and several additional shooting features.
The Nikon D300S is a upper mid range digital SLR that's built very well out of mostly magnesium alloy, and even comes with weathersealing. Ergonomics are top notch – your hands go nicely around the camera and attached lens, and there's a physical button/switch/dial for main shooting functions. New to the D300S is an SD/SDHC slot which adds to the existing CF Type I/II slot found on the D300 – so you get dual memory card slots which are usually found only on pro-level digital SLRs (like the D3S and Canon 1D series) and all the various options (ie backup or overflow, primary/secondary config) that come along with them. Oh, did I mention the Nikon D300S also benefits from high-speed memory cards and supports UDMA-enabled Compact Flash cards?
That brings us to the next part of the goodness of the Nikon D300S – speed. The Nikon D300S has a 51 point AF system with 15 of the points being cross-type points (just like on the flagship D3S) and with that comes snappy and accurate autofocus; even in low-light, thanks to the camera's autofocus assist lamp. And besides being quick at regular shooting, the D300S offers a 7 FPS burst mode which can shoot an unlimited number of JPEG files (as long as you have a fast memory card and re-press the shutter button every 100 shots) or slightly over 2 seconds worth of 12-bit RAW files. You can even boost speed to a whopping 8 FPS, but only by using (read: spending cash if you don't have them) the optional battery grip and an optional battery unit. The only negative thing I have to say about the D300S and its performance is burst rate when shooting 14-bit RAW images is fixed at a paltry 2.5 FPS.
The Nikon D300S has just about every manual control you'd want/need on a digital SLR this size – in fact, the camera has just as many controls and is almost just as customizable as the Nikon D3S – and I can't stop repeating myself on how closely tied the two cameras are! The camera is also compatible with a large range of lenses, flashes and other accessories; just name it and Nikon's got it. Unfortunately, I'm not too big a fan of Nikon's "it's there, but you have to pay if you want to use it" way of doing things (kinda reminds me of Modern Warfare 2 and their DLC content already in the game but you had to pay to "unlock" them, but that's another story) – I've already named the first thing: the need get the battery grip and optional battery to enable 8 FPS shooting… the other thing is the need to purchase software for remote shooting separately (for the record, Canon, Sony and pals bundle such software in the box). Supposedly some people would just be happy that 7 FPS is "fast enough" and not everyone really needs to remotely control their camera with live view from their computer, but for those who do, get ready to shell out extra bucks on top of the camera's price.
Another new feature the Nikon D300S has, that the original D300 doesn't, is a 720p HD movie mode. The camera lets you record 720p HD video clips with sound, and even lets you attach an external microphone for 'better' sound. Unfortunately, the D300S skimps on movie controls, has limited audio recording bitrate and requires you to perform a rather tedious ritual before you start recording (activate live view, half-press shutter button to autofocus [but not fully press] and OK to begin recording). The movie mode on the D300S may be handy to have, but not something you'd want to use all the time or start your own talk or reality show with.
The Nikon D300S is not just a "poor man's D3S", it IS the D3S – minus the full-frame sensor, a few small things here and there – and albeit in a smaller, lighter and slightly less rugged body. Image quality produced by the camera is also pretty good - though it can't best the quality of Nikon's full-frame flagship, it is on par or better compared to the image quality of competing cameras. Besides its minor flaws (which some can close one eye to), the Nikon D300S does its job well as a feature comprehensive camera that's relatively "affordable" and within reach for bonafide photographers and enthusiasts, and it's also able to serve as a main camera for professionals.
What's hot:
Very good image quality
Excellent build quality and ergonomics; weathersealing and dedicated buttons/dials for shooting functions
Dual memory card slots; UDMA CF card support (Takes advantage of high-speed cards)
Excellent battery life; extendable using battery grip (which doesn't require removal of battery in the camera)
Full manual controls; custom settings allow in-depth customization of camera settings/controls
Speedy shooting performance; fast and precise 51 point AF system (15 are cross-type points)
Plenty of accessories: wireless transmitter, GPS module attachment, full compatibility with most Nikon contemporary lenses
Elaborate playback mode with plenty of retouch tools; in-camera RAW processing feature is particularly handy
720p movie mode produces good quality video; decent enough for capturing video when you don't have a camcorder around
What's not:
Higher quality (more expensive) lenses and/or tweaking/post-processing recommended for better sharpness
Slow 14-bit RAW burst rate and battery grip/optional battery required for maximum 8 FPS burst
Remote control/shooting software not bundled with camera
Live view autofocus is slow; live preview lacks live histogram and exposure preview
Unconventional way to start movie recording; limited audio bitrate for sound in movies and (like all large sensor digital SLRs) rolling shutter effect still an issue