I recently had the opportunity to attend Panasonic's launch event for their new 2010 video camcorders and digital still cameras.
Jeff Lee, Tony Endoh and Michiharu Uematsu (left to right) from Panasonic, each holding a new Lumix camera
The event started off with a short sketch, depicting a situation where Panasonic's versatile Lumix cameras would come in handy (the ability to capture good quality stills along with option for HD video recording). That was followed by the introduction of the new fixed-lens Lumix lineup as well as video camera/Lumix G-series by their respective product managers, Patricia Yaw and Siaw Yee Yen.
Among the products unveiled were a bunch of new video cameras along with a new 'white' (think the Apple iPhone's glossy white) Lumix GF1. There were also a few display tables full of cameras, covering everything that was announced by Panasonic from earlier this year till now.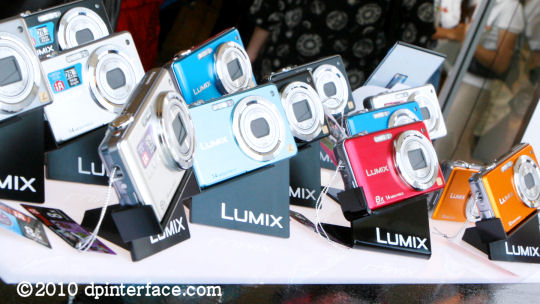 As I said, everything you saw from our news coverage of Panasonic's new cameras from here and here was shown live at the Panasonic launch event. That includes the new Panasonic Lumix TZ8, TZ10, ZR8, FT2, FX68, FH22, FH20, FH3, FH1, FP3, FP1 and F3.
Tony Endoh, Kenji Onishi and Michiharu Uematsu, and a table full of new Lumix cameras
More information is available on www.panasonic.com.my as well as Panasonic Global www.panasonic.net
Reviews of Panasonic's new cameras should come once we receive their new products.