Olympus made a second round of camera announcements for 2010 today, bringing out their new line of Ultra Zoom series cameras and rugged Stylus Tough cameras.
In terms of zoom, Olympus' UZ series (Ultra-zoom) live right up to their name, one of which features a 15X optical zoom lens, while the other has a whopping 30X optical zoom in a single lens. Yes, you heard that right, THIRTY times optical zoom (I wonder how anyone can handhold that and take a sharp photo for anything but landscapes on a sunny day). The two new UZ cameras take several small steps forward with plenty of internal memory, 720p HD movie mode, plenty of bells and whistles, and how could we forget, that huge 30X lens… but they also take a big step backward in terms of control - both of today's newly announced cameras lack any sort of manual exposure controls (unlike their predecessors and forefathers). Plus they also lack electronic viewfinders (presumably to reduce size, not that either camera is pocketable)
Next up are two rugged cameras. Olympus, the pioneer of rugged digital cameras (I think their first one came out in 2005/2006), has always been at the front if 'super heavy duty', ultra-rugged cameras are what you want. These two new Tough series cameras sport decent improvements, including a brand new 5X optical zoom lens and 720p HD movie mode. Let's see if their image quality can live up to their features.
Previews of Olympus' new ultra-zoom and rugged cameras to come!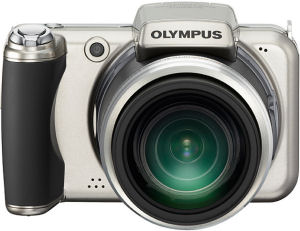 Olympus SP600 UZ and SP800 UZ
(Ultra-zoom cameras)
SP600 UZ: 12 effective megapixels
SP800 UZ: 14 effective megapixels
SP600 UZ: 28 – 420 mm (f3.5 – f5.4) 15X optical zoom lens
SP800 UZ: 28 – 840 mm (f2.8 – f5.6) 30X optical zoom lens
Sensor-shift image stabilization
SP600 UZ: 2.7 inch LCD (230,000 pixels)
SP800 UZ: 3.0 inch LCD (230,000 pixels) widescreen
Neither camera has an electronic viewfinder (EVF)
No manual controls (huh?! why?!)
Magic Filters, AF tracking and Intelligent Auto features
720p HD (1280 x 720) 30 FPS movie mode with sound
Takes SD/SDHC cards
SP600 UZ has 1 GB internal memory
SP800 UZ has 2 GB internal memory
Uses a lithium-ion battery
Available in March for $250 (SP600 UZ) and $350 (SP800 UZ)
Olympus Stylus/Mju TOUGH 6020 and Stylus/Mju TOUGH 8010
(Rugged compact cameras)
14 effective megapixels
28 – 140 mm (f3.9 – f5.9) 5X optical zoom lens
Sensor-shift image stabilization
2.7 inch LCD (230,000 pixels)
No manual controls
Built-in LED lamp to illuminate photos and videos
Tap Control allows you to adjust settings by tapping the camera's sides
Magic Filters, AF tracking and Intelligent Auto features
720p HD (1280 x 720) 30 FPS movie mode with sound
Takes SD/SDHC cards
Stylus/Mju Tough 6020 has 1 GB internal memory
Stylus/Mju Tough 8010 has 2 GB internal memory
Uses a lithium-ion battery
Available in February for $300 (Stylus/Mju Tough 6020) and $400 (Stylus/Mju Tough 8010)
Stylus Tough 6020: Waterproof (16 feet/5.5 meters), shockproof (5 feet/1.5 meters), dustproof, freezeproof (14 F/0 C)
Stylus Tough 8010: Waterproof (33 feet/11 meters), shockproof (6.6 feet/2.0 meters), dustproof, freezeproof (14 F/0 C), crushproof (220 lbs/100 kg)