Canon unveiled four new compact cameras today, and all four are entry-level, sub-$200 models. The breaking news here is that Canon is the first (of many) camera makers this year that will support the upcoming SDXC standard in their latest cameras. Like what SDHC did to SD, SDXC will bring even higher maximum capacities (someone's been dropping hints of a 64 GB SDXC around the corner!) and faster read/write operation speeds compared to SDHC.
The first two cameras Canon has in store for today are the PowerShot A3000 and A3100 twins. These two cameras will replace last year's A2000 and A2100 models respectively. From their features list, it appears that these cameras are 'refresh' models - the only noticeable changes are in terms of camera design (they look even sleeker and more stylish) and the use of lithium-ion batteries (versus AA batteries), and of course SDXC support.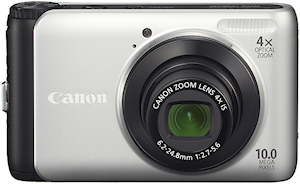 Canon PowerShot A3000 and A3100
(Entry-level cameras)
A3000: 10 effective megapixels
A3100: 12 effective megapixels
35 – 140 mm (f2.7 – f5.6) 4X optical zoom lens
Optical image stabilization
2.7 inch LCD (230,000 pixels)
No manual controls (just point-and-shoot operation with scene modes)
Face detection, software redeye removal
VGA (640 x 480) 30 FPS movie mode with sound
Takes SD/SDHC memory cards (SDXC ready)
Uses a lithium-ion battery (both A3000 and A3100 share the same NB-8L)
Available in February for $150 (A3000) and $180 (A3100)
A3000 comes in a two-toned silver/black body only
A3100 comes in your choice of silver, blue or red
Canon decided to come up with two budget/super basic cameras this year (instead of one each year). These two cameras appear to be rehashes of last year's PowerShot A480 with some minor changes.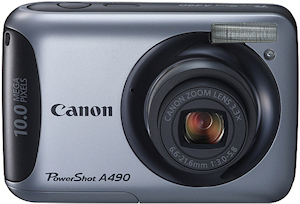 Canon PowerShot A490 and A495
(Entry-level cameras)
10 effective megapixels
37 – 122 mm (f3.7 – f5.6) 4X optical zoom lens
NO image stabilization
2.5 inch LCD (115,000 pixels)
No manual controls (just point-and-shoot operation with scene modes)
A490: 5 point autofocus, A495: 9 point autofocus
Face detection, software redeye removal
A495 only: Face self-timer mode and two additional scene modes (Super Vivid and Poster Effect)
VGA (640 x 480) 30 FPS movie mode with sound
Takes SD/SDHC memory cards (SDXC ready)
Uses 2 AA batteries
Available in February for $110 (A490) and $130 (A495)
A490 comes in one color only (silver)
A495 comes in your choice of silver, blue or red